This Italian Pulled Roast Beef Slider recipe starts with slowly smoked Chuck Roast finished in an amazing beef braise with Italian Seasoning. Pull the tender Beef and add to your favorite slider rolls for the perfect game day appetizer, tailgating treat, or even making into full Roast Beef Sandwiches. These may be easy, but they sure don't compromise on flavor!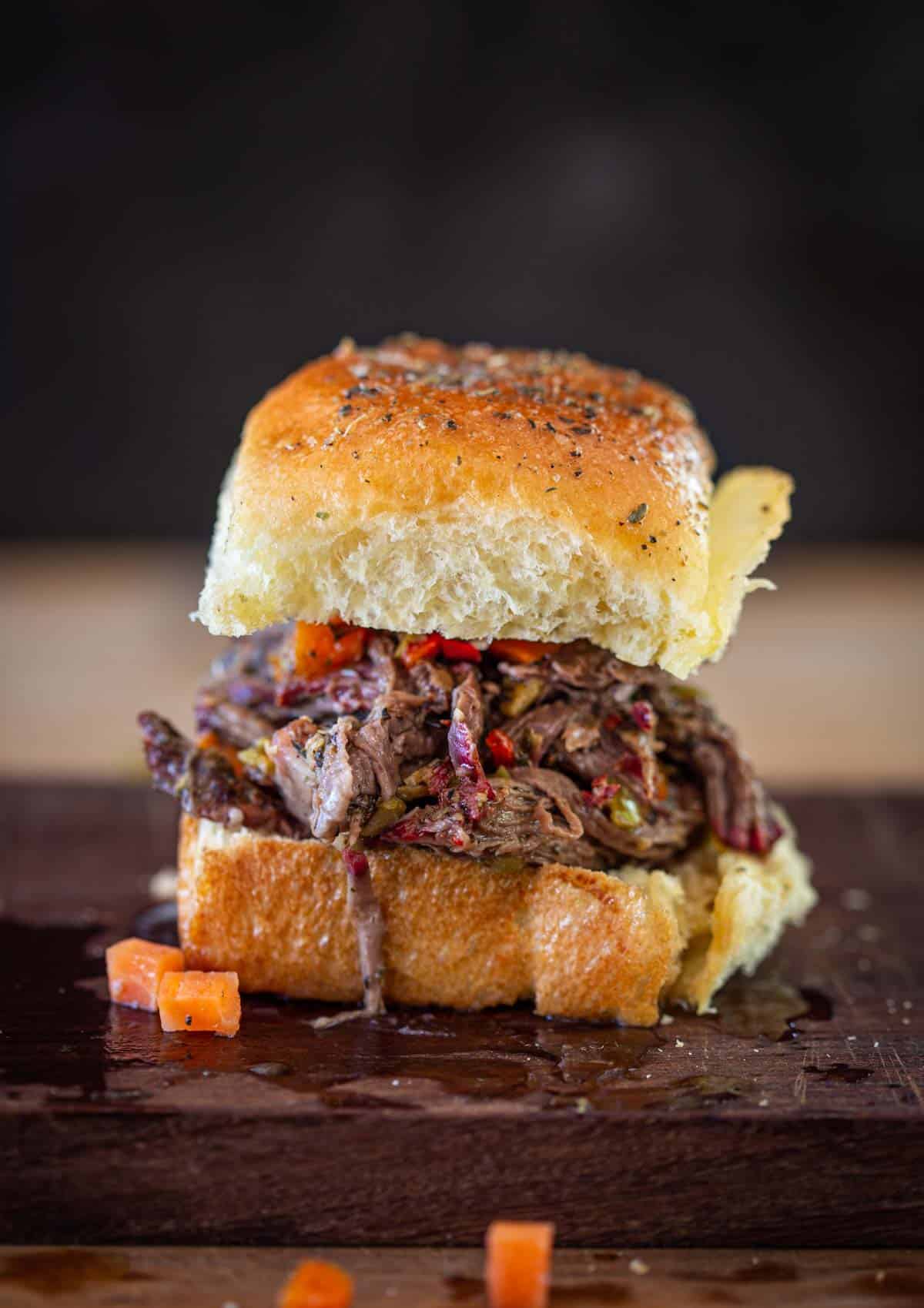 This recipe is sponsored by Beef. It's Whats for Dinner. on behalf of the Beef Checkoff. All opinions are our own.
Jump to:
Recipe Highlights
Adding giardiniera (jar-din-AIR-ah) gives the dish a slightly spicy and rich acidic flavor.
This recipe is great to make in advance and makes for easy game day sliders or a tailgating treat.
Melted butter combined with Italian seasoning on the top of the rolls gives extra flavor.
Can be easily modified if you want to add melted cheese or additional toppings.
Roast Beef Sliders Ingredients
Chuck Roast – This great cut from the shoulder of beef cattle is perfect for slowly braising and pulling.
Slider Buns – With the Italian influence we are using something similar to hoagie or dinner rolls with brioche slider buns. Hawaiian sweet rolls can be a substitute as well, or any small soft rolls. If making this as a main dish consider large hoagie rolls or something that won't fall apart with the au jus.
Beef Stock – This is the base for the braising liquid and au jus.
Giardiniera – This Chicago influenced pickled mix is how we add incredible flavor with minimal preparation.
Italian Seasoning – This is a mixture of dried herbs and spices like oregano, garlic powder, onion powder, and others. If your seasoning does not contain salt then we recommend you add some additional kosher salt.
Red Wine Vinegar – Acid is the backbone of this dish and helps the flavor shine. You can substitute with apple cider vinegar or even white wine vinegar.
Kosher Salt and Black Pepper
Chuck Roast for Roast Beef
The definition of Roast Beef is simply a roasted cut of beef. Historically, for deli Roast Beef, you'll find anything from sirloin to eye of round.
Because our goal is to pull the beef for sliders, the Chuck Roast is the perfect cut for this Roast Beef slider recipe. The Chuck is a hard working muscle from the shoulder region and has a lot of intramuscular tissue. Because of this it should be slowly roasted, smoked, or braised to allow the connective tissue to break down and tenderize. This is why it makes for the best cut for pulled beef.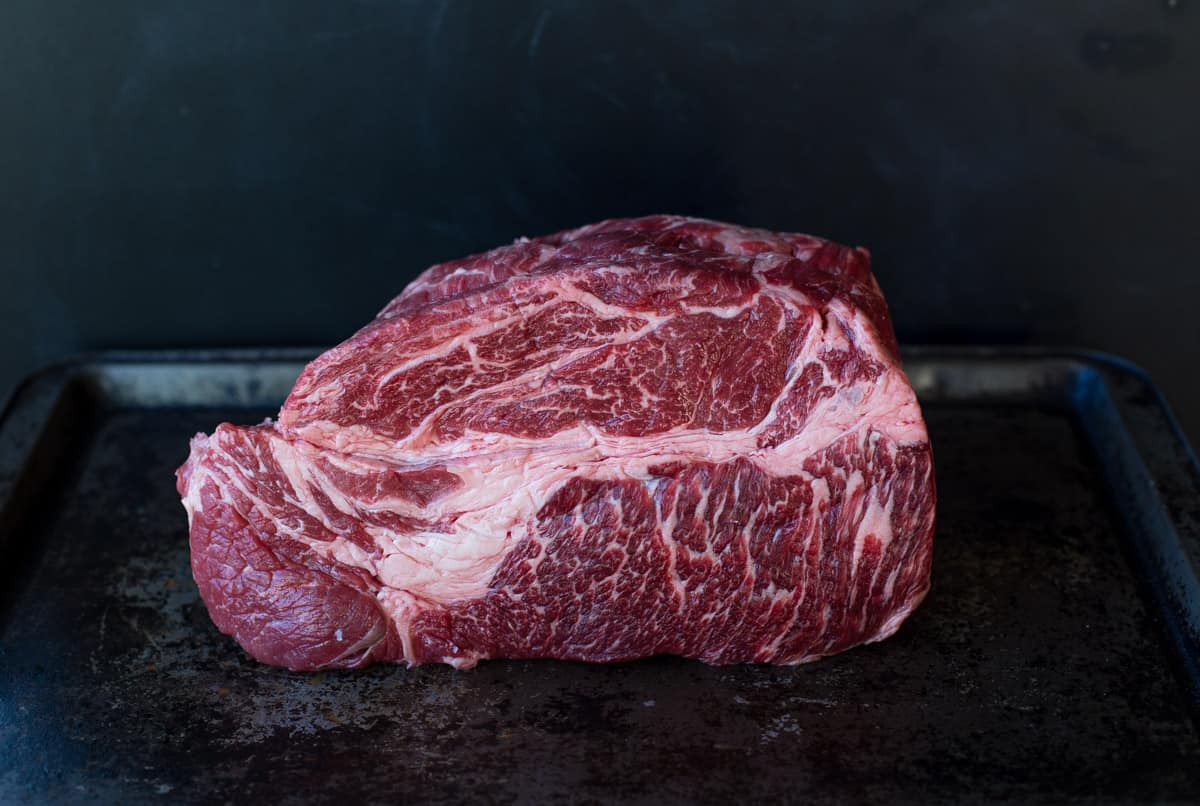 Target a 3.5 pound chuck roast for 12 slider buns. If you planned on slicing versus pulling the best alternative cut would be Top Sirloin or Eye of Round.
Preparation
Start with trimming excess fat from the outer edges of the chuck roast. If the chuck roast is tied off, remove the kitchen twine.
Prepare your smoker for 275 degrees Fahrenheit using your favorite wood. We like oak or fruit woods for this recipe.
Prepare your seasoning in a small bowl and then liberally apply to the trimmed chuck roast.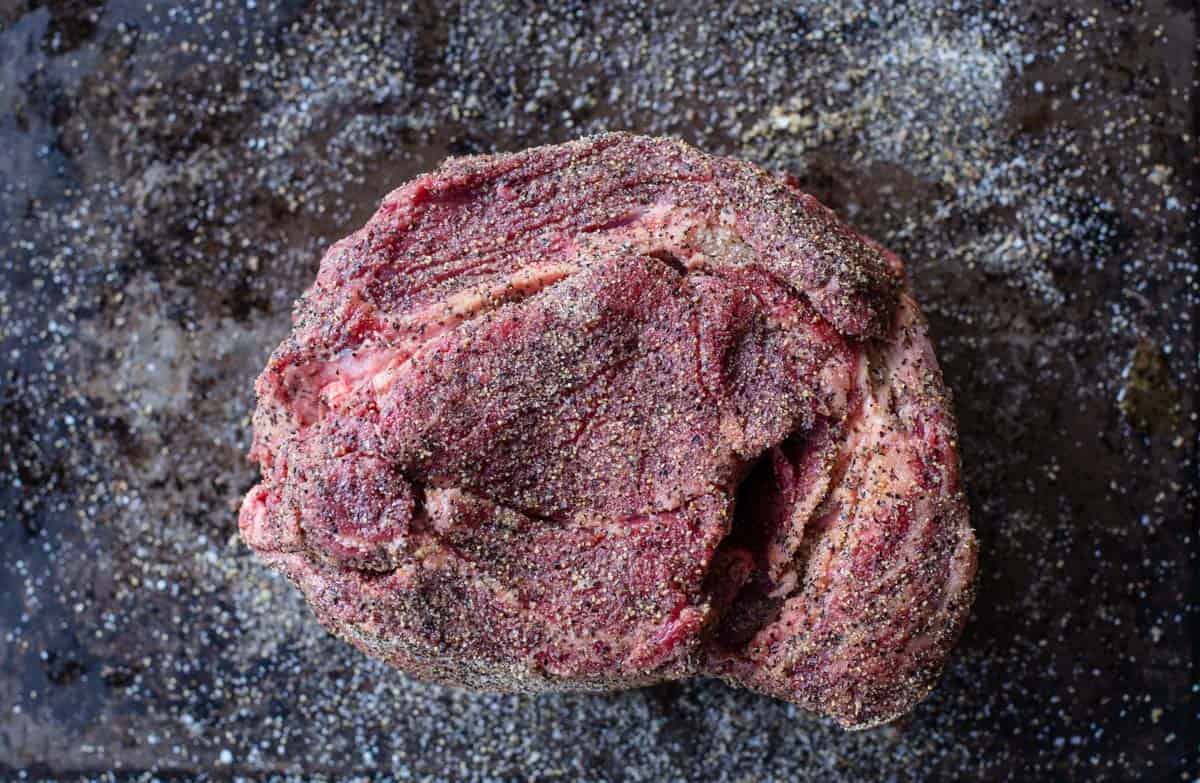 Smoking Roast Beef Sliders
Smoking at low heat first will allow smoke flavor to infuse with the chuck. Then get the Chuck to pull temperature with a braise.
Smoke: Place the seasoned chuck roast on the smoker and insert a good Bluetooth instant read thermometer like the Thermoworks Smoke Unit. Close lid and smoke until the internal temperature of the beef roast reaches 165 to 170 degrees F (about five hours).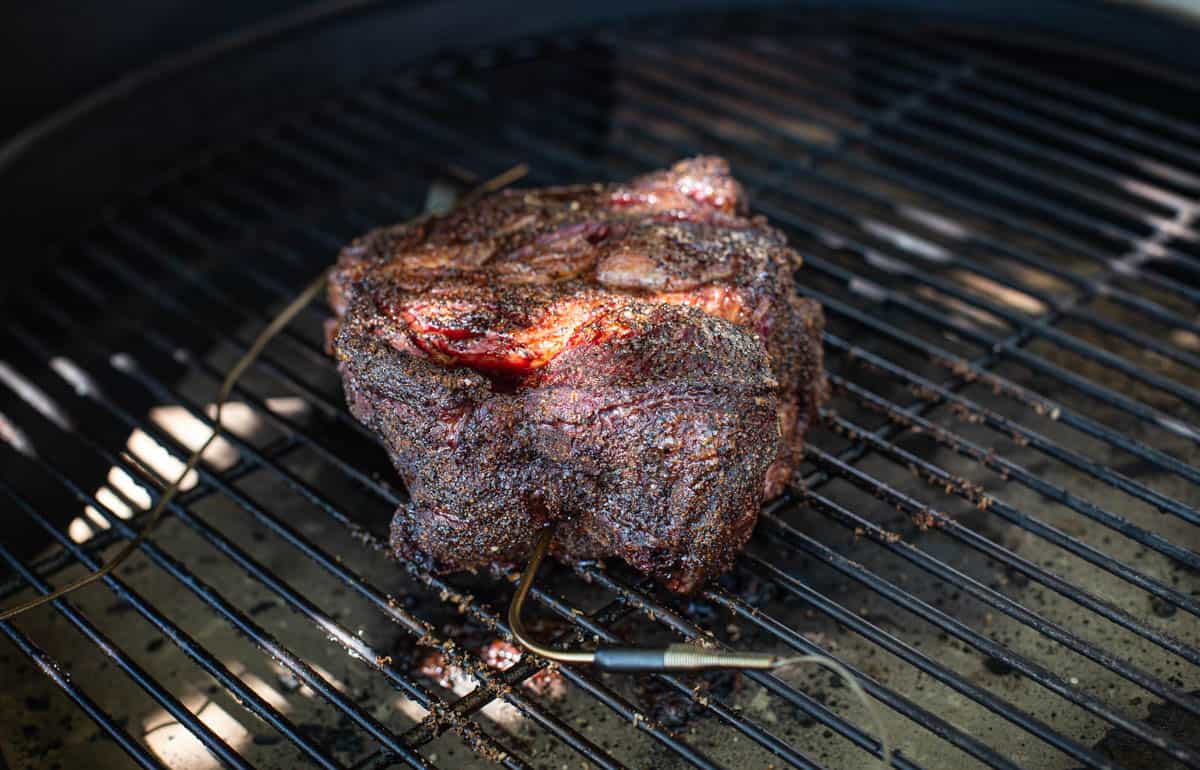 Braise: When the roast comes to temperature of 165, place beef stock, giardiniera, Italian Seasoning, red wine vinegar, salt and pepper into a large pan (we used a 13-inch baking dish) and mix together. Place the chuck roast beef into the pan and cover with aluminum foil. Insert the instant read thermometer back into the roast and place the dish back into the smoker until it reaches an internal temperature of 203 – 210 degrees Fahrenheit or when an instant read thermometer inserted into the roast feels like it's going into room temperature butter.
Prep Sliders: While the beef rests remove and let rest for 30 minutes. Take 2 tablespoons of butter and microwave on high in 10 second increments until melted. Add the reserved Italian seasoning (and kosher salt if there is none in the seasoning). Cut the slider buns in half with a serrated knife and place on a baking sheet. On the top half of the buns brush on the butter and seasoning mixture. Add back to smoker for 5 minutes to let them harden.
Rest: After 30 minutes remove the foil from the beef roast and pull the meat using two large forks and mix the tender meat with the braising liquid. Discard any excess fat pockets.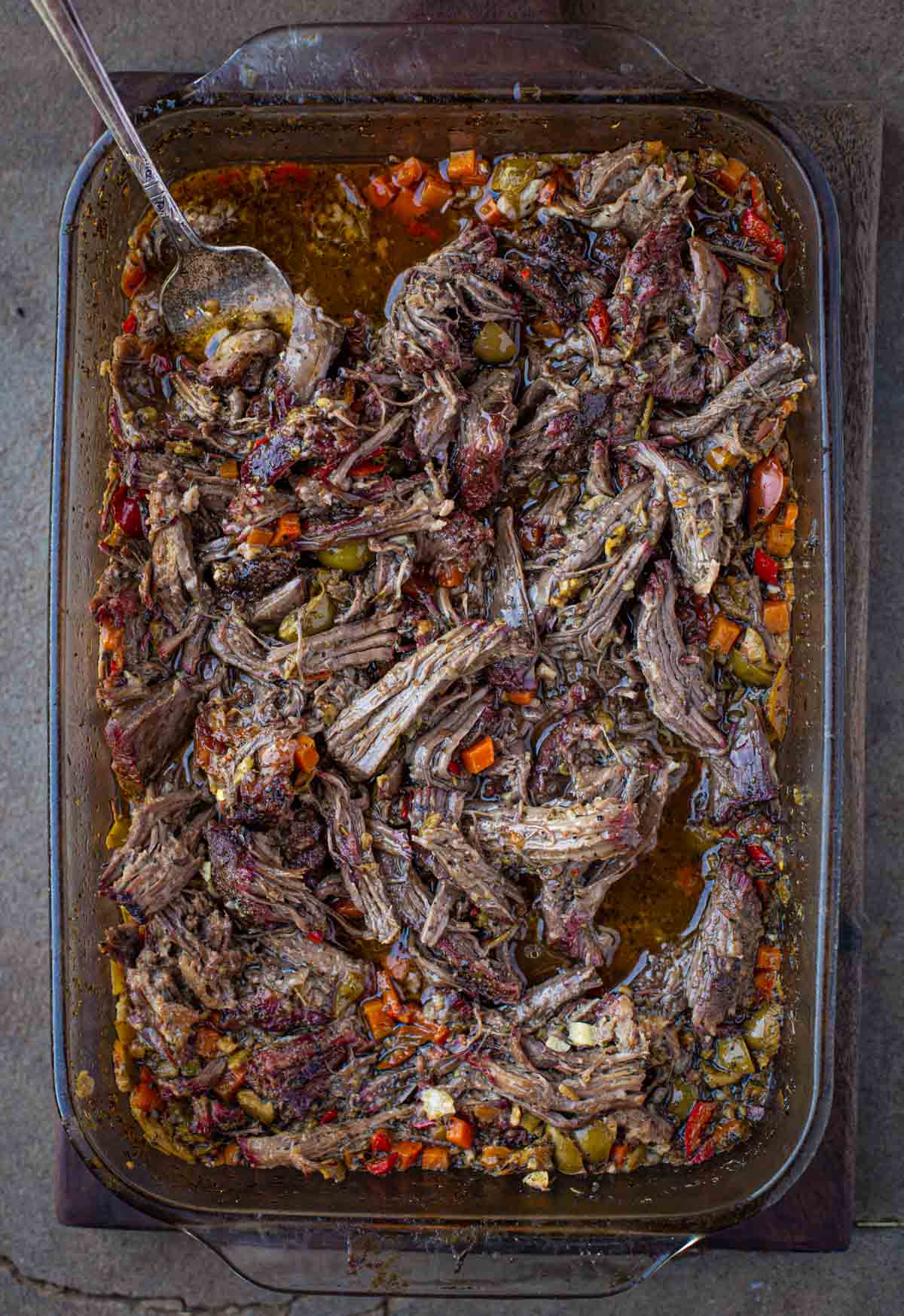 Variations
An important step for flavor in this roast beef slider recipe is to coat the top of the rolls with the butter and seasoning mixture. If you want even more flavor sprinkle freshly shredded Parmesan cheese to the top buns before warming. You can even add a provolone cheese slice and bake for five minutes for some melted cheesy goodness.
If you want more spice for the sliders then consider a horseradish sauce like from our prime rib steak sandwich.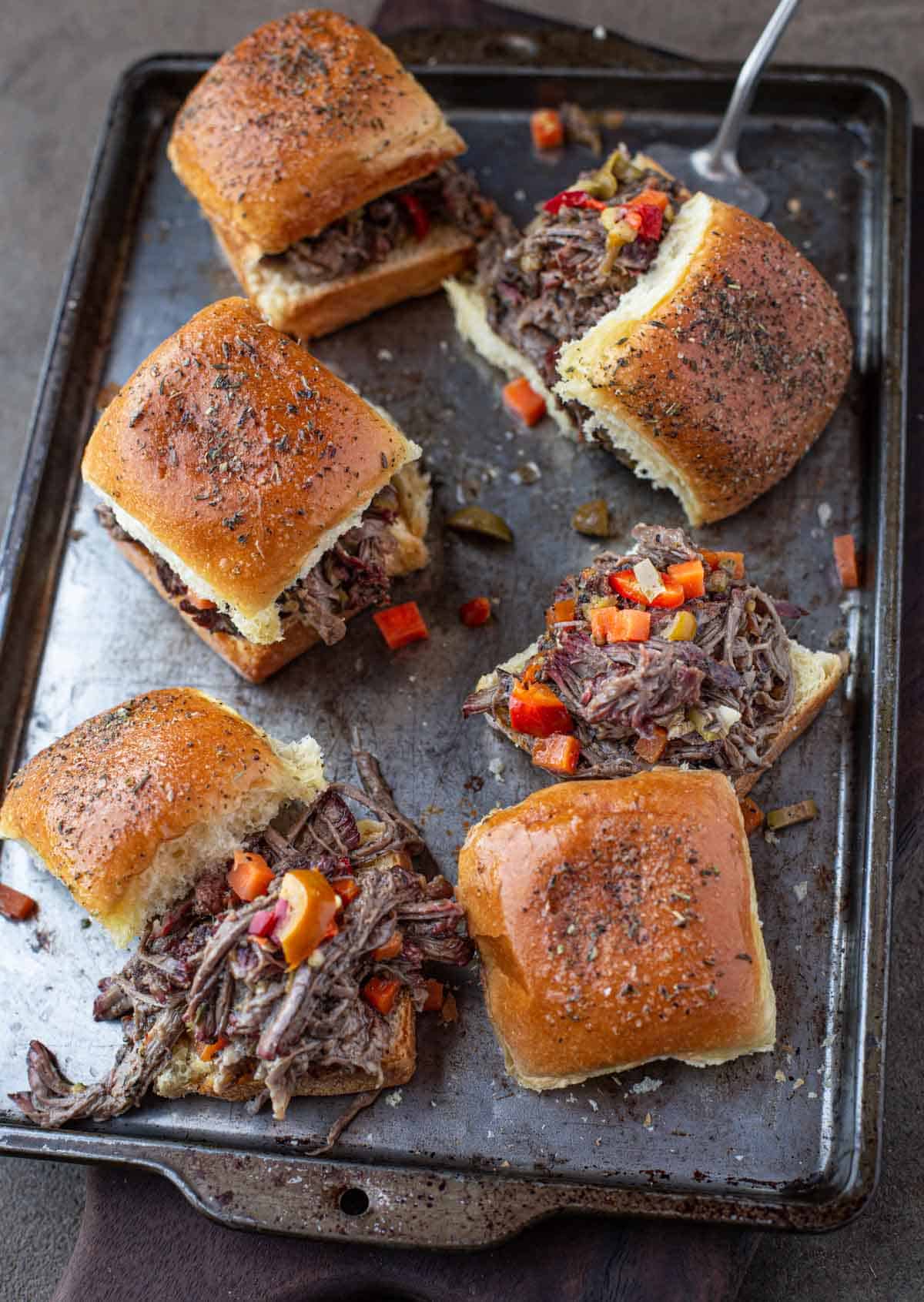 Making the Sliders
With the beef shredded and the braising liquid as the au jus, you're ready to build the pulled roast beef sliders.
Add the pulled beef to the bottom half of the buns.
Top with the au jus. Then using a slotted spoon add some additional giardiniera to the top.
The au jus will coat the beef and soak into the bottom buns. Then add the top of the rolls over the slider and you're ready to dive in.
Best Side Dishes
You can check out our full list of BBQ side dishes for some of our favorites, including:
Additional Recipe Inspirations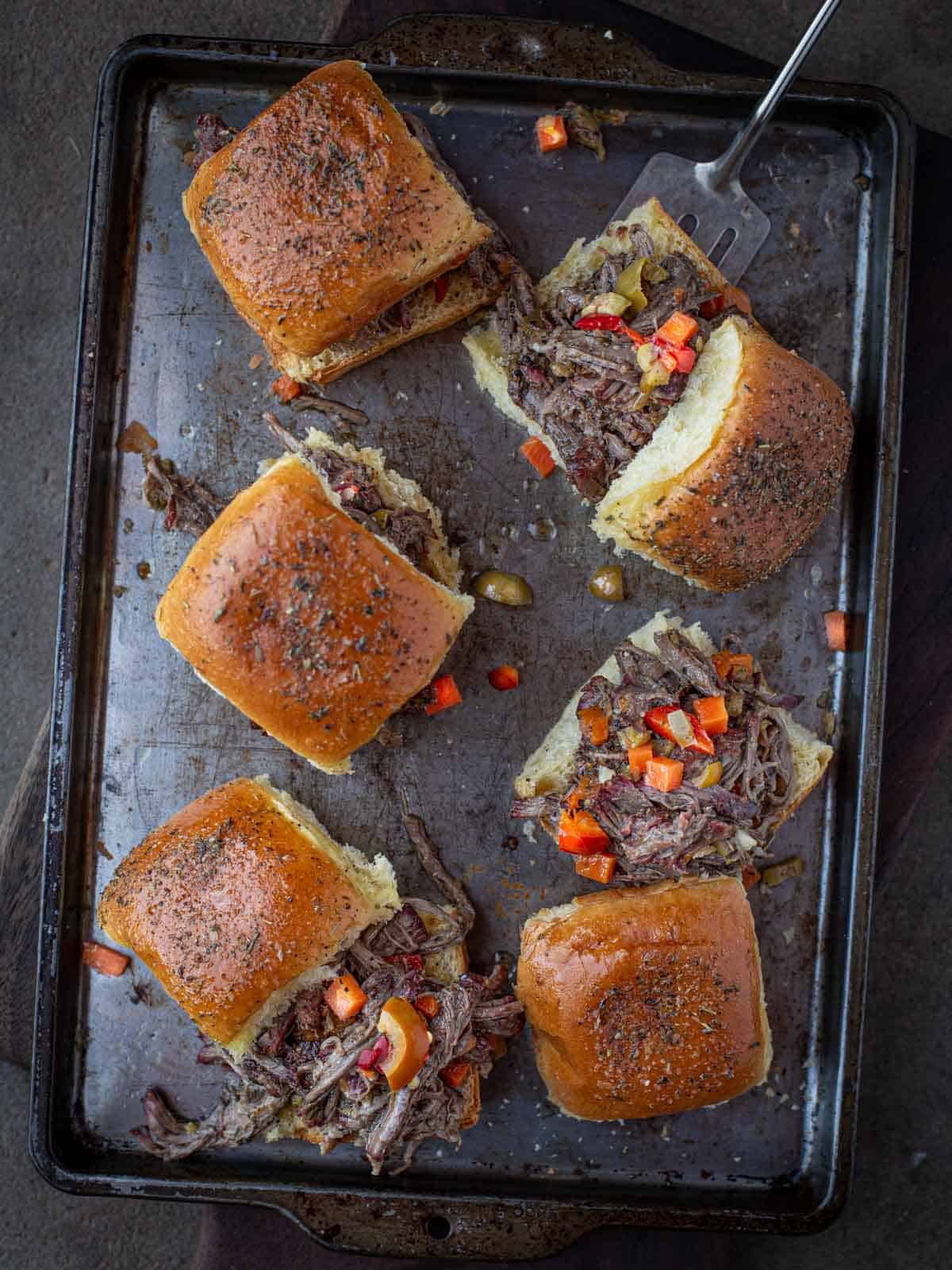 Tried this recipe? Give us a star rating and we would love to see! Mention @vindulge or use the hashtag #vindulge on all the social media handles. And consider subscribing to our newsletter where we drop all our favorite ideas and inspirations every week.
This post may contain affiliate links. This means if you click on the link, we may receive a small commission if you purchase through the link. We partner with brands we know and love and use and it helps keep the blog going!
---