Smoked Lamb Meatballs, made with ground lamb shoulder, are jam-packed with flavor and offer an awesome way to jazz up any pita sandwich. Don't like lamb? Try smoking this first and see how the flavor mellows out and adds a ton of flavor.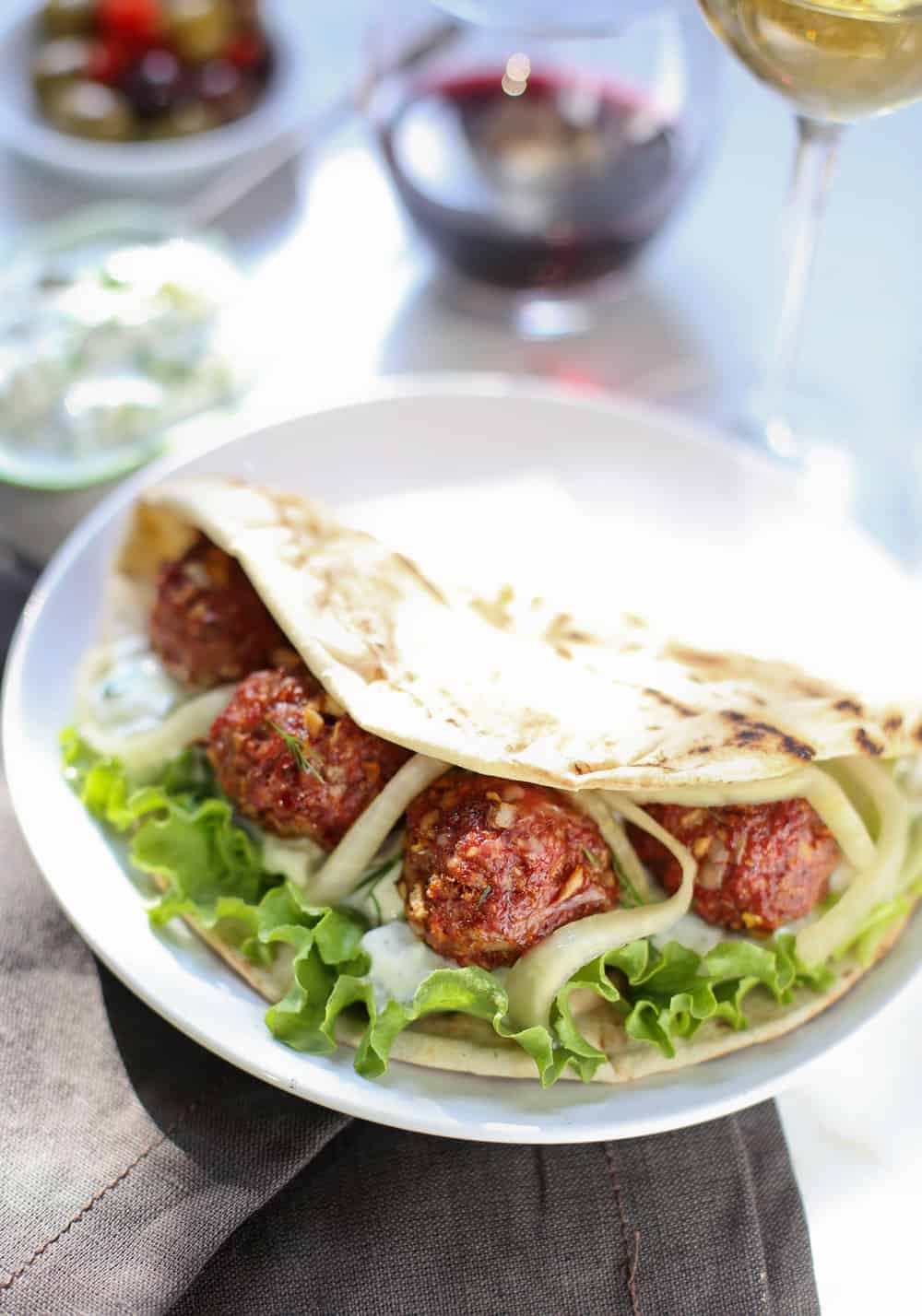 I didn't grow up eating lamb. But as an adult I've really grown to love and appreciate it's distinct earthy and savory, flavors. And it takes to smoke like a champ! We're constantly testing out new ways to enjoy lamb, like these lamb lollipops, burgers, smoked chops, or even smoking an entire lamb shoulder (and pulling it like pulled pork for lamb sliders).
Enter these smoked lamb meatballs!
Lamb Meatballs
Like any meatball, you need ground meat (lamb in this case). And if you want to understand a little more detail on what the gamy flavor of lamb is, the article from Cooks Illustrated talks about the branched-chain fatty acids which give it that unique pastoral flavor.
We use lamb shoulder for the ground beef. It's often what has been ground up in the case at your local butcher. It's a nice cut with no additional fat needed.
Butcher Tip: If you can't find ground lamb meat, ask your butcher to grind up some lamb shoulder for you. We called our local grocery store in advance to ask if they'd grind up a few pounds of meat and they had it ready for us by the time we arrived so we didn't even need to wait around. It never hurts to ask! The shoulder has a natural balance of fat and lean meat that mimics 80/20 beef, where 80% of the meat is lean and 20% is fat.
Ingredients
We tested quite a few different combinations of flavors for these lamb meatballs. We have learned that a little bit of heat goes a long way and to be creative with spices to balance the lamb flavor.
So we scale back on heat to bring forward the natural lamb flavor.
We also discovered that some sweetness, from baking spices like cinnamon, adds the perfect touch. Lamb has such great natural flavors that you really don't need to add too much to create great meatballs. Simply add the meat and the ingredients in a large bowl and mix together. We like using our hands to prevent over mixing, or making the meatballs tougher.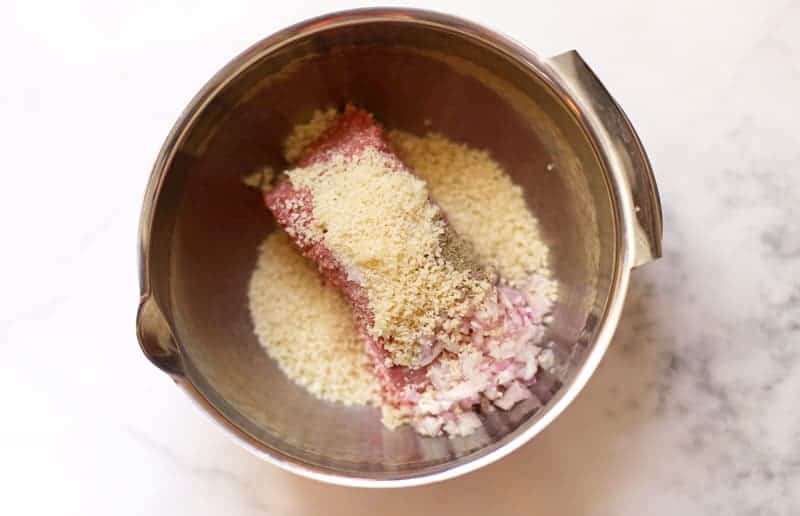 How to Smoke Lamb Meatballs
Preheat smoker: To 250 degrees (F) using fruit wood.
Prepare lamb meatballs: Mix the ground lamb with all the ingredients and roll into your preferred size meatball (we went with golf ball size to fit nicely inside the pita). A nice hack is to make the meatballs with a 1 tablespoon scoop.
Smoke meatballs: place on your smoker and cook until the internal temp of the meatballs reach 160 degrees using a high quality instant read thermometer. This should take roughly an hour, depending on any heat fluctuations inside your smoker.
Test Temperature and Remove: Make sure to always test the temperature of your meat using a good thermometer. We love the Thermapen and also it's little brother the ThermoPop.
How to Prepare Lamb Meatball Pitas
We've enjoyed these several ways, including in a simple Pomodoro sauce served with pasta (yum!). But our favorite has been in these pita sandwiches.
Warmed up a pita
Stuffed with some fresh crispy greens, like green leaf lettuce
Tzatziki sauce
The tzatziki is a great option if you do chose to make the meatballs on the spicy side. The yogurt-based sauce has a nice cooling effect on the spicy meat.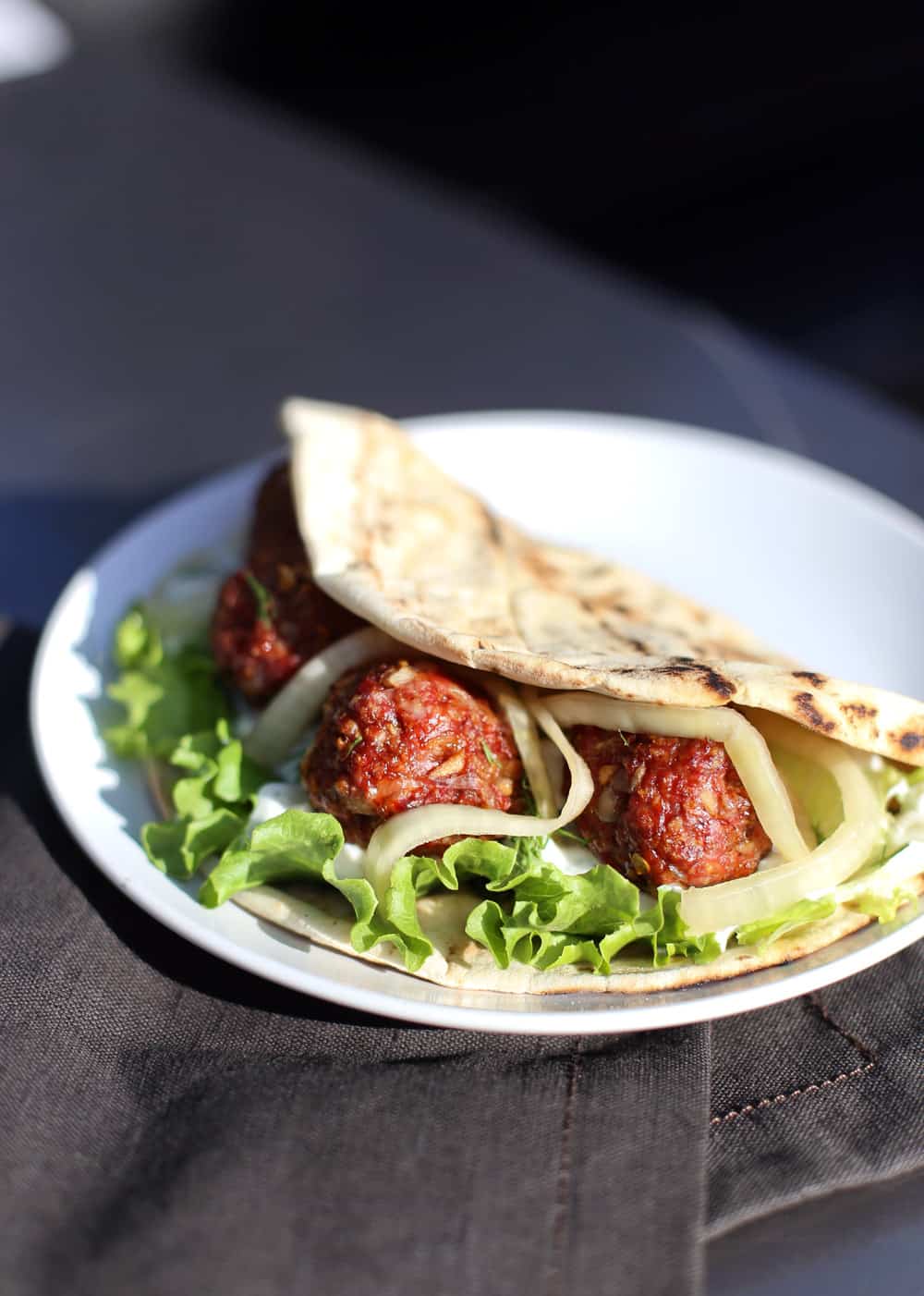 Encouraged by few bottles of Lebanese wines we wanted to try, we decided to go with a loosely Mediterranean influenced spread and make pita sandwiches. It's a great way to stretch your dollar with lamb, and encourages picky eaters to experiment too (our kids love pita sandwiches).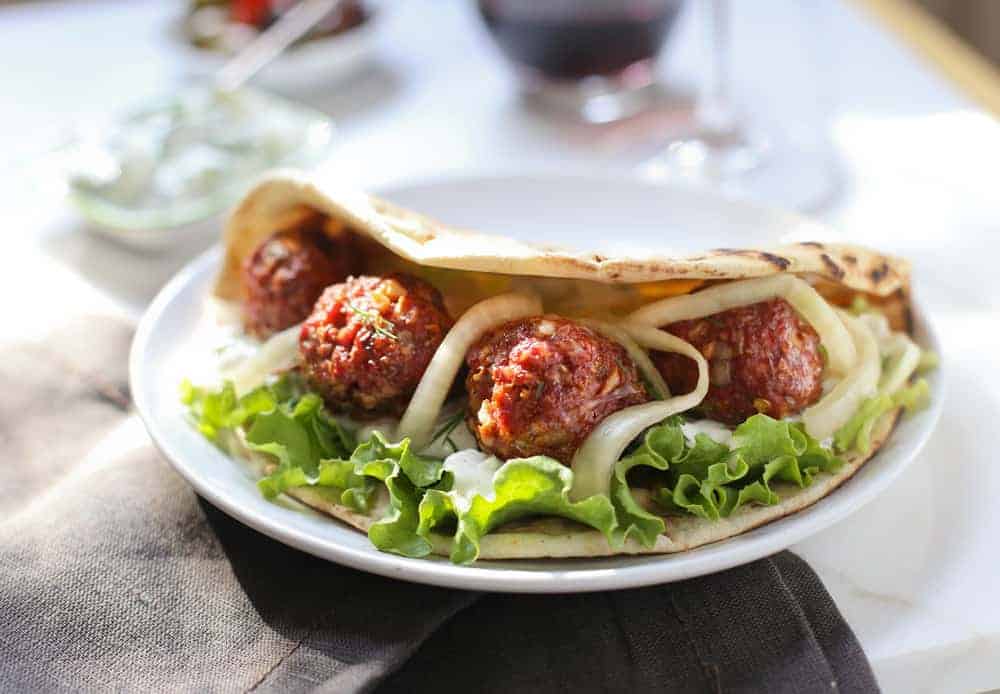 Boom. There you have it!
Related Recipes
Wine Pairing with Lamb
Greek red wines work well with lamb and these smoked meatballs. Rhone Style French reds would be a nice alternative. And with the pita combination a fruity and crisp rosé would be pretty killer!
We were trying to come up with something fun to pair with a few wines from Lebanon I received. Not having tried any wines from the country before I decided to try all three with the meatballs to see how the range complements with the food. They ranged from a Chardonnay to a Bordeaux Blend.
These were certainly fun to pair and held up well to the meatballs. While hard to find locally, I've seen quite a few Lebanese wines at Barbur World Foods here in Portland. Worth a try to check out, or find an alternative in similar blends.
This post was originally published September, 2016, and updated in September, 2020, with additional recipe steps and details. The recipe remains the same.

Smoked Lamb Meatballs Recipe
---
This post may contain affiliate links. This means if you click on the link, we may receive a small commission if you purchase through the link. We partner with brands we know and love and use and it helps keep the blog going!
---
If you like this recipe we'd truly appreciate it if you would give this recipe a star review! And if you share any of your pics on Instagram use the hashtag #vindulge. We LOVE to see it when you cook our recipes.