Smoked Lamb Shoulder is an absolute treat. This slowly smoked lamb shoulder is spritzed with a savory mix of apple cider vinegar and juice, and then pulled for tender and flavorful lamb. This recipe is a great one for your next summer cookout!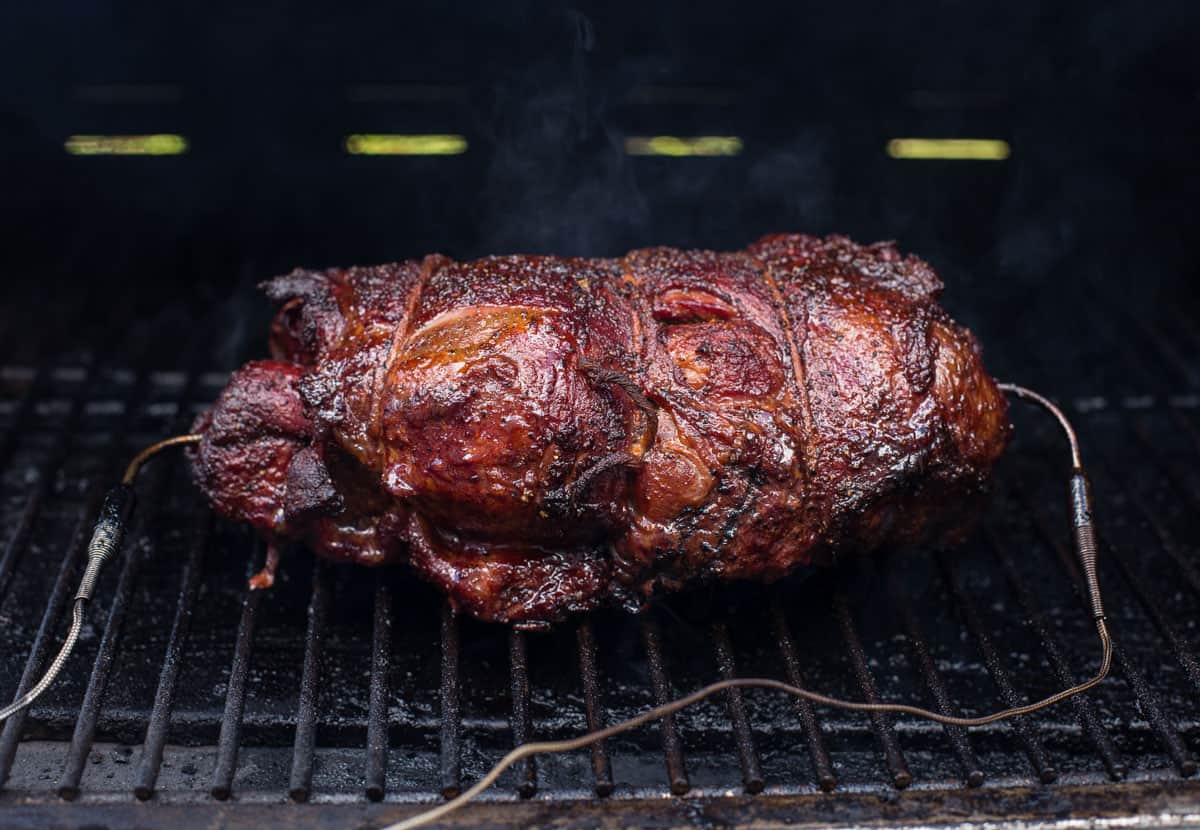 Why This Recipe Works
Lamb Shoulder needs a low and slow cooking method, either on a smoker or in some braising liquid for the tender pulled texture.
The lower temperature slowly renders the intramuscular fat for a juicy and tender bite.
The style of cooking is similar to pork shoulder and beef chuck roast.
It's common to hear folks dismiss the flavor of lamb. This is unfortunate, as it can be absolutely incredible when done right (and sourced from quality meat). This misconception often comes from the experience of eating overcooked lamb, or even mutton (meaning lamb that is over 1 year old, and thus not officially "lamb"). The idea for this lamb shoulder recipe was inspired by how we smoke pork shoulder. The technique is identical and the flavor is out of this world, especially when you start with a high-quality lamb.
Jump to:
The Cut
Lamb Shoulder, as implied by the name, comes from the upper portion of the leg of a lamb. Most often it's from the front legs and can also be called lamb arm. It's similar to the pork shoulder in that it is a muscle that gets a lot of movement, which makes for a tough cut.
The meat is tough if you just grilled it hot and fast, therefore it really needs to be slowly braised or slowly smoked in order to render out the intramuscular fat resulting in that soft delicious texture. As it smokes, it also mellows out the unique and often gamey flavors that can come from lamb. But those signature flavors will also vary from rancher to rancher, so don't assume a fresh lamb is going to be gamey at all.
Buying Lamb Shoulder
Lamb shoulder will either come bone-in or boneless. We have smoked both and found that buying boneless is much easier for consistency in size and for the pulling process after it's done. For the price of lamb, it also cuts back on the per pound price that you would pay for by adding the bone.
Consider buying from a reputable butcher where they know the lamb rancher. This assures that the lamb will be fresh and less than 1-year old sheep. The older the lamb and as it crosses the 1-year threshold, the more it can take on the more pronounced flavor of mutton. You can read more about lamb in our recipe for leg of lamb.
Another option is to source your lamb from a reputable mail order company, like D'Artagnan Foods. They source their lamb from small and sustainable farms from around the world. The attention to detail shows in amazing flavor of the meat.
Preparation
For this lamb shoulder recipe we are preparing a boneless lamb shoulder.
Start by removing the butcher twine holding it all together. Do this to open the meat up for trimming and seasoning. Lay it out flat on a sheet pan.
Next trim away any excess fat on both sides of the shoulder or cartilage using a good quality filet or boning knife (click on the link for 10% off our favorite).
Coat both sides of the lamb with olive oil and lamb seasoning. For this lamb shoulder recipe we use a mix of sugar and spices from our ultimate dry rub bringing slight sweet, salty, and savory spices. If you want a more savory rub with no sugar, consider our herb-focused chicken seasoning.
Tie the lamb back up again with more butcher twine tightly so it's one uniform roast as you put it on your smoker.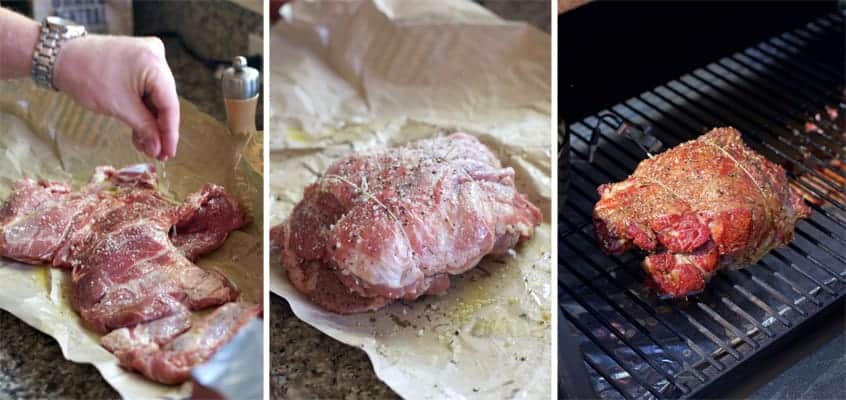 Now it's time to smoke the lamb shoulder.
How to Smoke Lamb Shoulder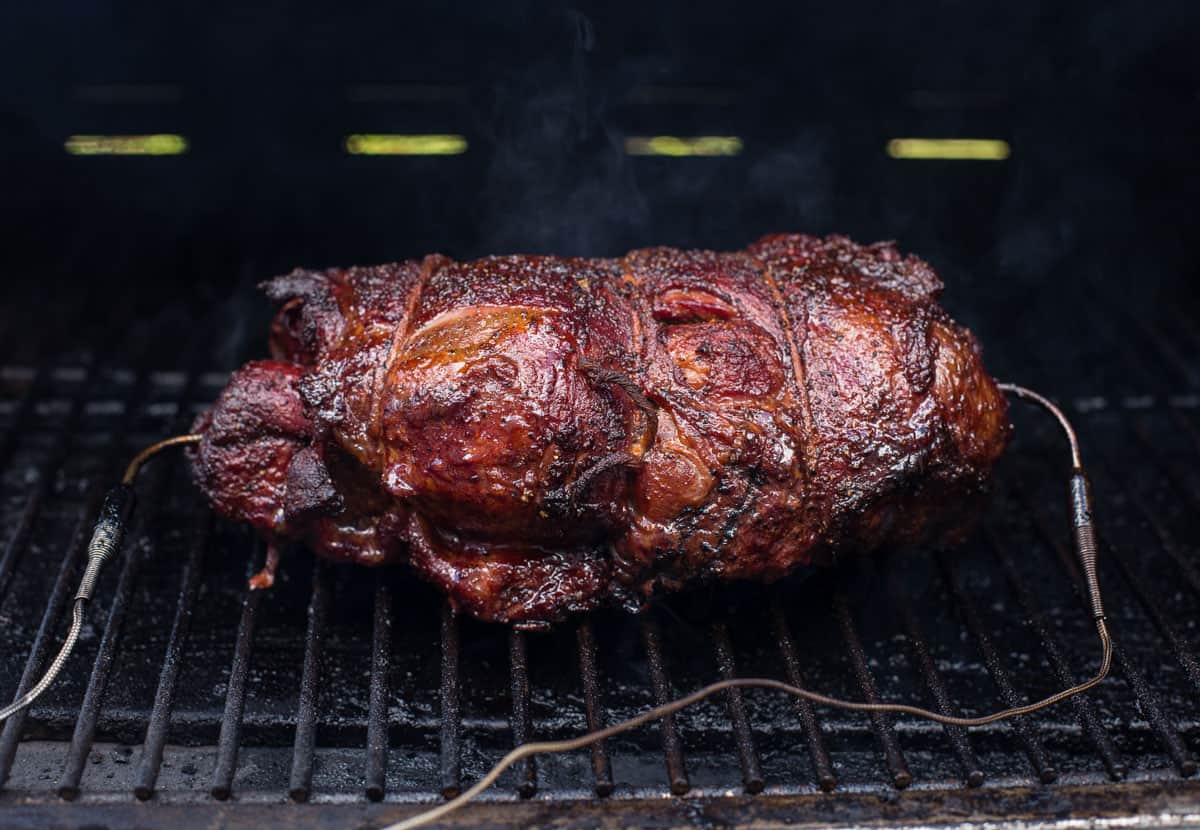 Prepare your smoker targeting 250 degrees Fahrenheit (F) using fruit wood, like apple or cherry. Alternatively oak or hickory are good options. We find mesquite a little too smoky for lamb.
Place the lamb shoulder on the smoker and smoke for three hours. Insert an instant read Bluetooth thermometer, like the Thermoworks Smoke Unit, to monitor the internal temperature. In this phase the smoked lamb will start to turn red and develop a bark.
After three hours, start to spray the shoulder with the spritz. The spritz adds some moisture to the smoked lamb, and helps the smoke molecules to stick to the meat. Make sure to use a food safe spray bottle for this.
After spritzing for two to three hours (five to six hours total) the internal temperature of the shoulder should be at, or around, 165 – 170 degrees Fahrenheit. At this point, wrap the shoulder in butcher paper or aluminum foil and place back into the smoker to continue cooking.
Place the thermometer probes back into the shoulder and continue smoking until the internal temperature of the lamb reaches 200 – 205 degrees F. You know it's done when somewhere in that range an instant read thermometer can probe the meat with no resistance, much like the feeling of room temperature butter (i.e. it should feel soft and tender).
Remove the roast and then let it rest for 30 minutes. Then remove and pull the meat.
Chef's Note: If the smoked lamb is done earlier than you want to serve, then store the lamb wrapped (not pulled) in a cooler with no ice for up to four hours. This will hold the temperature until ready to pull and serve.
Pulling
Using two large forks, or a pulled pork shredding tool, gently pull at the edges of the shoulder. If you pulled while probe tender, the meat should easily come off. As you shred, remove any cartilage or leftover fat pockets and discard.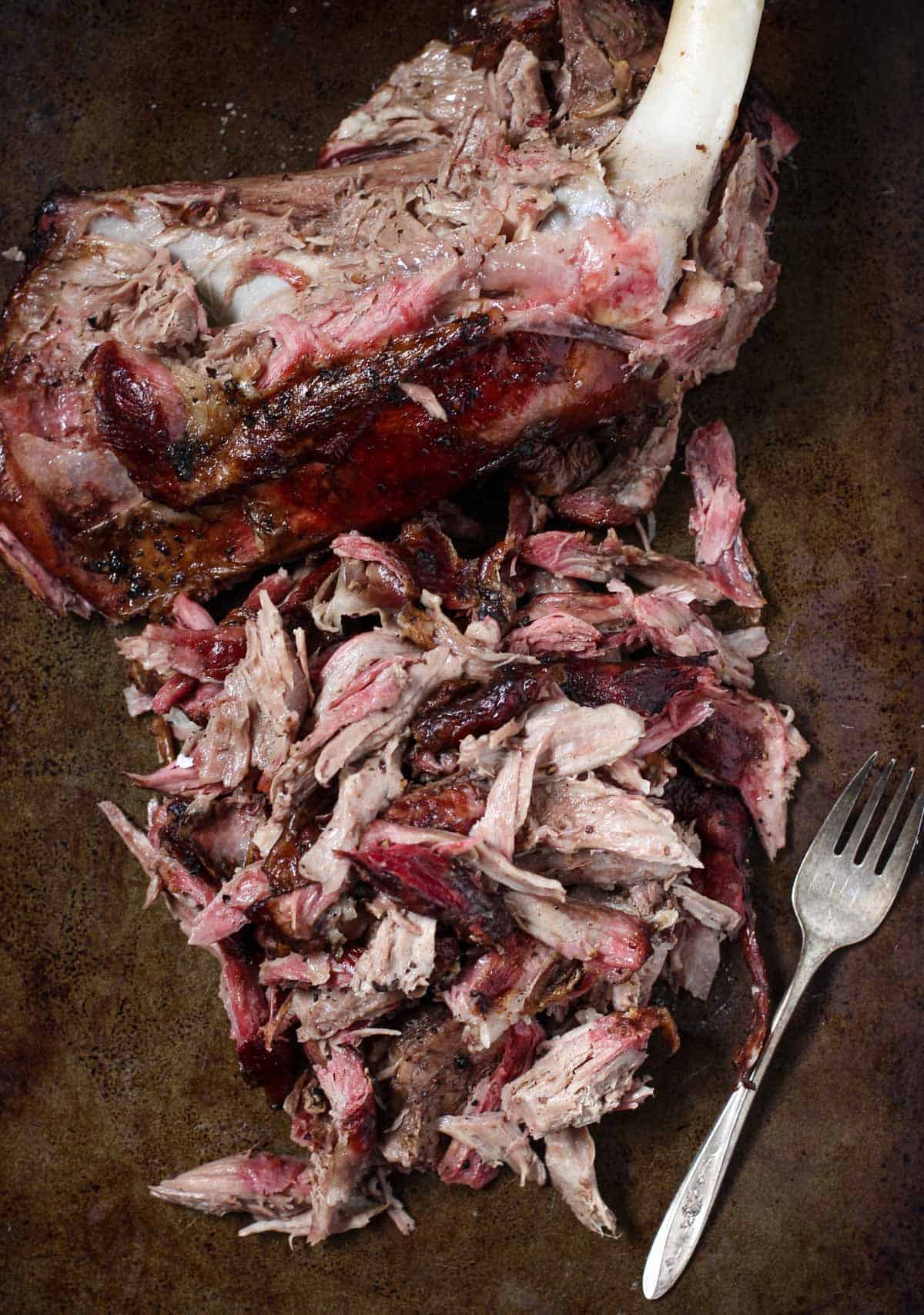 Saucing
There are a number of sauces we would recommend. If using a sauce, just toss it with the warm pulled lamb.
What to do with Smoked Lamb Shoulder
To stretch your dollar you can serve it as an appetizer and place on a crostini, similar to this brisket crostini recipe. You can also use it for a pizza or sliders.
But one of our favorite uses is to serve it in pita bread with a little bit of tzatziki sauce. The smoky and super tender meat is nicely balanced by the fresh and cooling tzatziki. Just fill some pita bread with some crunchy greens, a hefty amount of the pulled lamb, and top with your favorite tzatziki recipe.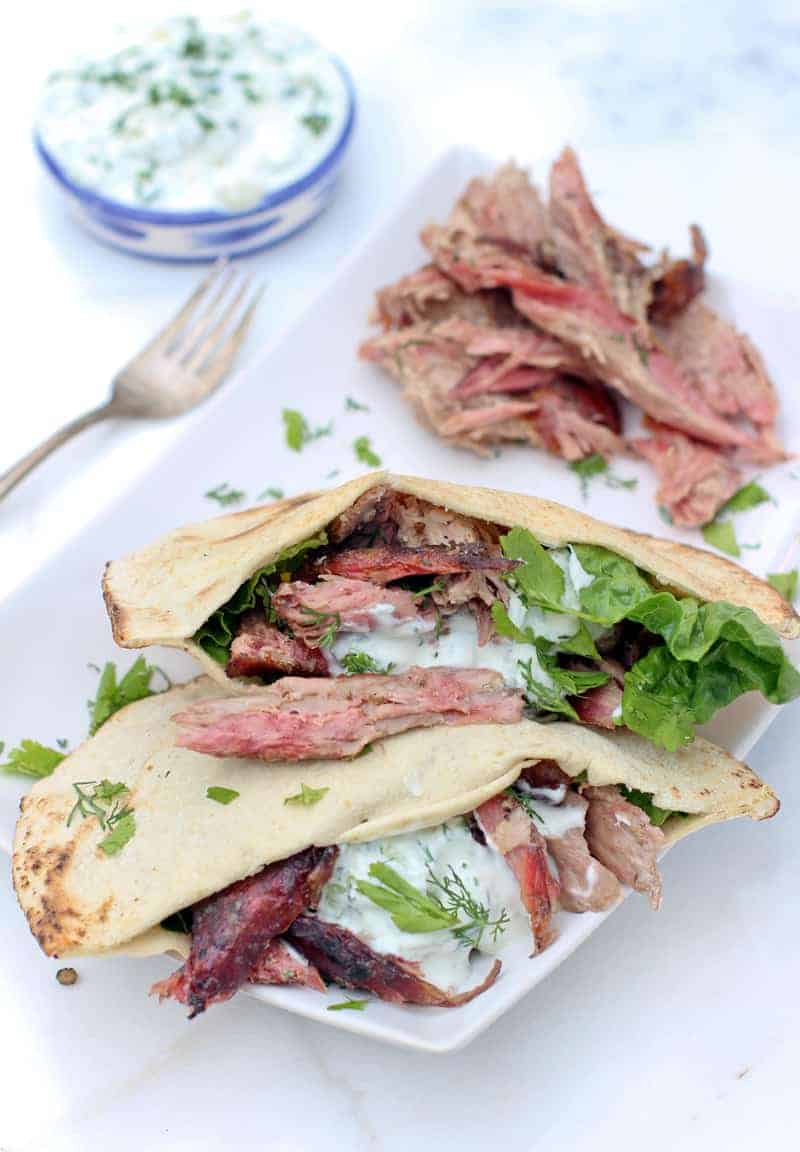 Wine Pairing for Lamb Shoulder
For the lamb alone I loved it with a nice Pinot Noir (I vote Oregon Pinot for the balance of earthy and fruity flavors). But with pitas, smothered in that bright citrusy and herbal tzatziki sauce, it works surprisingly well with a bright and fruity rosé.
More Lamb Recipes
---
Mary (a certified sommelier and recipe developer) and Sean (backyard pitmaster) are co-authors of the critically acclaimed cookbook, Fire + Wine, and have been creating content for the IACP nominated website Vindulge since 2009. They live in Oregon on a farm just outside Portland.
*This post was originally published April of 2016 and updated June of 2021 with more recipe details, how to instructions. The recipe remains the same.
This post may contain affiliate links. This means if you click on the link, we may receive a small commission if you purchase through the link. We partner with brands we know and love and use and it helps keep the blog going!
---