Smoked Stuffed Meatloaf is pure indulgence! The tender meat is jam packed with flavor, then stuffed with creamy mozzarella cheese, smoked on the grill, and finally finished with a spicy Sriracha ketchup.
This is the meatloaf of dreams. You can also check out our cookbook for another great meatloaf recipe.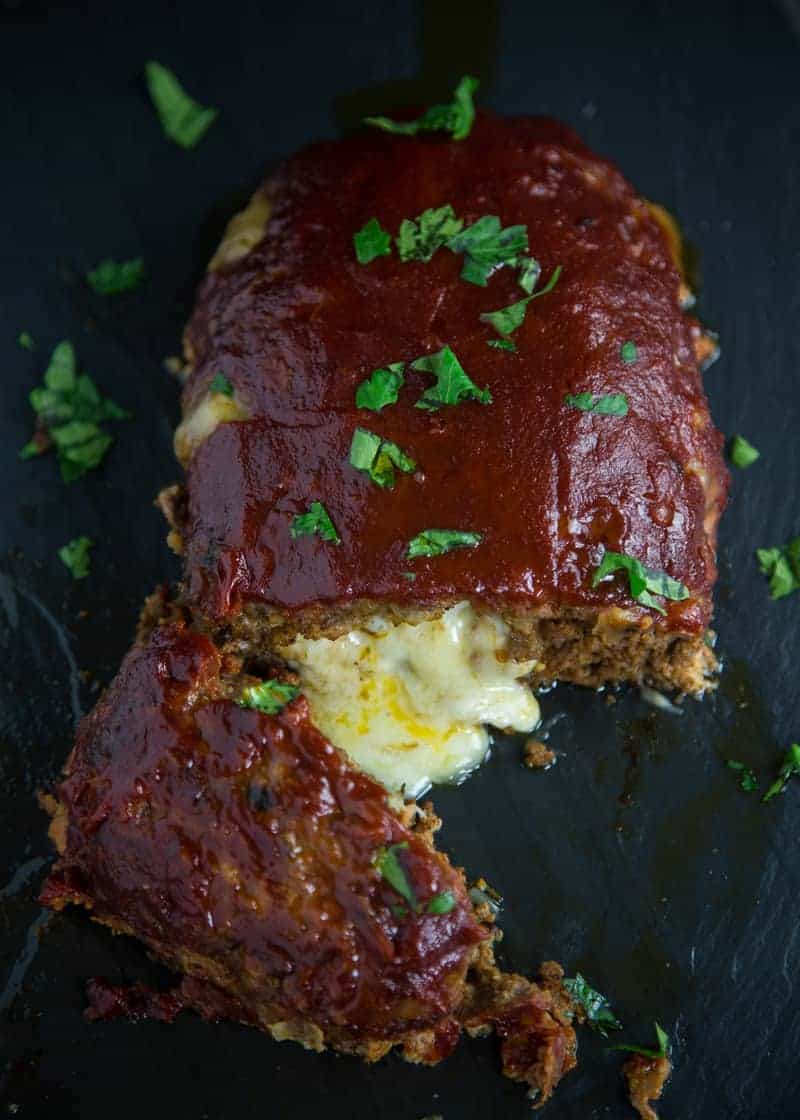 Jump to:
I was never a meatloaf fan growing up. No offense, mom, but you had other talents! Meatloaf was always too dry and bland for me. And the whole loaf idea just creeped me out.
Flash forward to these giant smoked meatballs, and everything changed. Our neighbor had created that recipe for his wife because meatloaf grossed her out, so he made meatballs instead (using the same flavors he'd want in a loaf). Smart thinking.
So I started giving meatloaf a chance. And woah, when it's not overcooked and filled with great complimentary flavors, it can be pretty awesome. And when it's cooked on the smoker, it's downright delicious. Stuff it with a little cheese and top it with a spicy and sweet Sriracha ketchup, and, well, let's just say I'm ready to marry you.
How to make Smoked Stuffed Meatloaf
What we're doing with the smoker is slowly bringing the temperature of the meat up, giving it that sweet smoke infusion, and then finishing it with the sweet and spicy glaze at the end. Similar to how you'd cook it in your oven, but the smoker gives this BBQ stuffed meatloaf incredible flavor.
Which meat for smoked stuffed meatloaf?
We're using a combination of ground beef and chorizo sausage. The flavor combination of these two is out of this world. Don't have chorizo? Use any sausage blend you like like Italian sausage mix. We love using Snake River Farms ground beef, it's a perfect mix of lean and fat.
You want to mix all of your meatloaf ingredients to fully incorporate (much like you would a meatball). But I learned a great trick from my foodie shero, Ina Garten, in that I don't like my meatloaf add-ins raw.
I like to soften my onions and garlic first (believe me, it's worth this step!).
I also don't like milk in my meatloaf (I don't think it needs it). Instead we're adding chicken stock to the saute (you could use beef too), tomato paste, thyme, and Worcestershire sauce, just to give it that added moisture while it cooks.
In a separate bowl, mix the beef, sausage, egg (as a binder), breadcrumbs (you can use gluten free as well with same ratio), dry rub, and onion mix.
Once your meatloaf is mixed together (but not over-mixed) you can prepare to stuff it. We like to use our hands!
How to Stuff Meatloaf
Break the meat mixture in half and place it on a piece of parchment paper and press it out into the shape of a rectangle. In this case it was about 10″ long. Give it a sturdy base (close to 1″ if you can). Then place the cheese in the middle. I like mozzarella for this (because it melts well and it's a mild flavor), but you can also use cheddar, gouda, or your favorite melt-worthy cheese.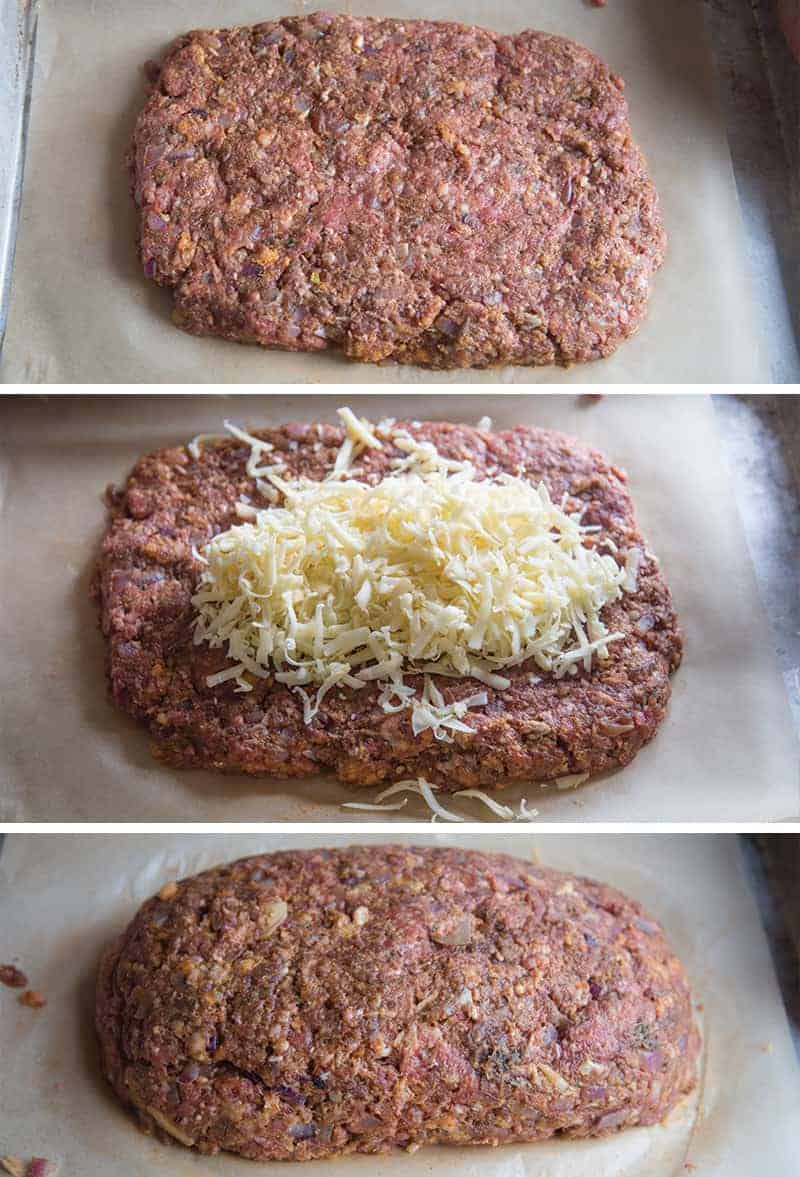 Next roll out the remaining meat mixture as wide as the base and gently place it over the top, sealing the sides together, trying to avoid any holes or open areas for the cheese to seep out of.
Make sure the loaf is nice and sealed, and it's now ready for the smoker.
How to Smoke Meatloaf
I recommend you keep it on your parchment paper for this for ease of transferring. I take the extra step of keeping on a sheet pan while cooking (though this is optional).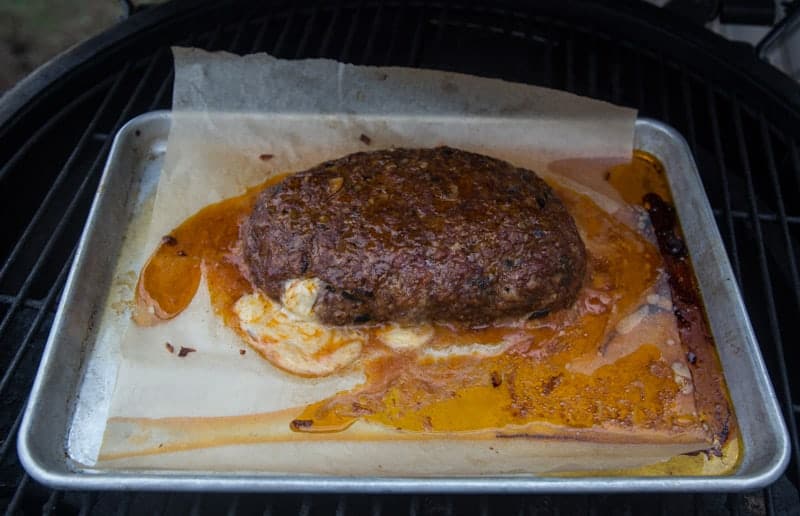 Smoke Meatloaf: Smoke your stuffed meatloaf at 250 degrees F using apple wood for about 1 ½ hours, or until the internal temperature of the meat is 150 degrees F.
Glaze Meatloaf: Add your Sriracha ketchup mix. We keep it simple by just adding about ½ cup of ketchup to ¼ cup Sriracha. Taste it and if you find it too spicy add more ketchup (or even a smidge of brown sugar). It's going to be up to your taste preferences and sensitivity to Sriracha. You can also use BBQ sauce instead of Sriracha if you don't care for the spice (but I love me a little spice!).
Continue Cooking: Cover the smoked stuffed meatloaf with the sauce and then close the lid and smoke for an additional 20-30 minutes (until the internal temperature of the meat is 165 and that Sriracha ketchup has caramelized a little.
Remove from heat, allow to sit for 5-10 minutes, just long enough to handle but you don't want the cheese to harden up, then dig in!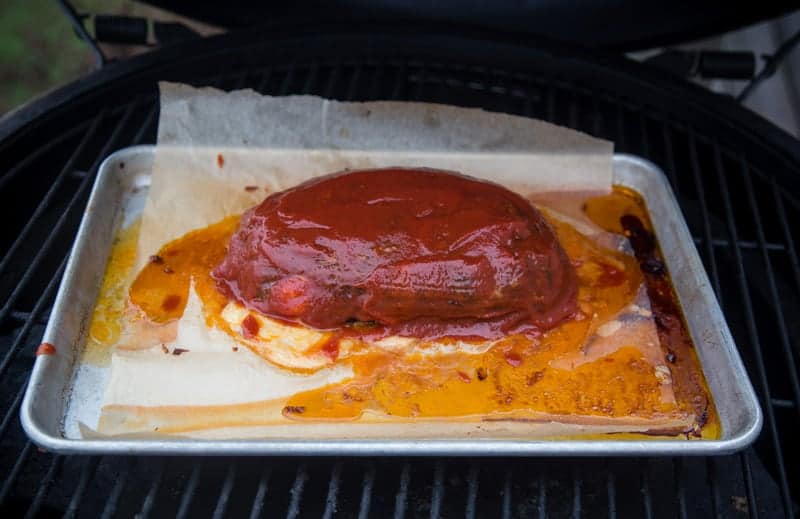 Related Recipes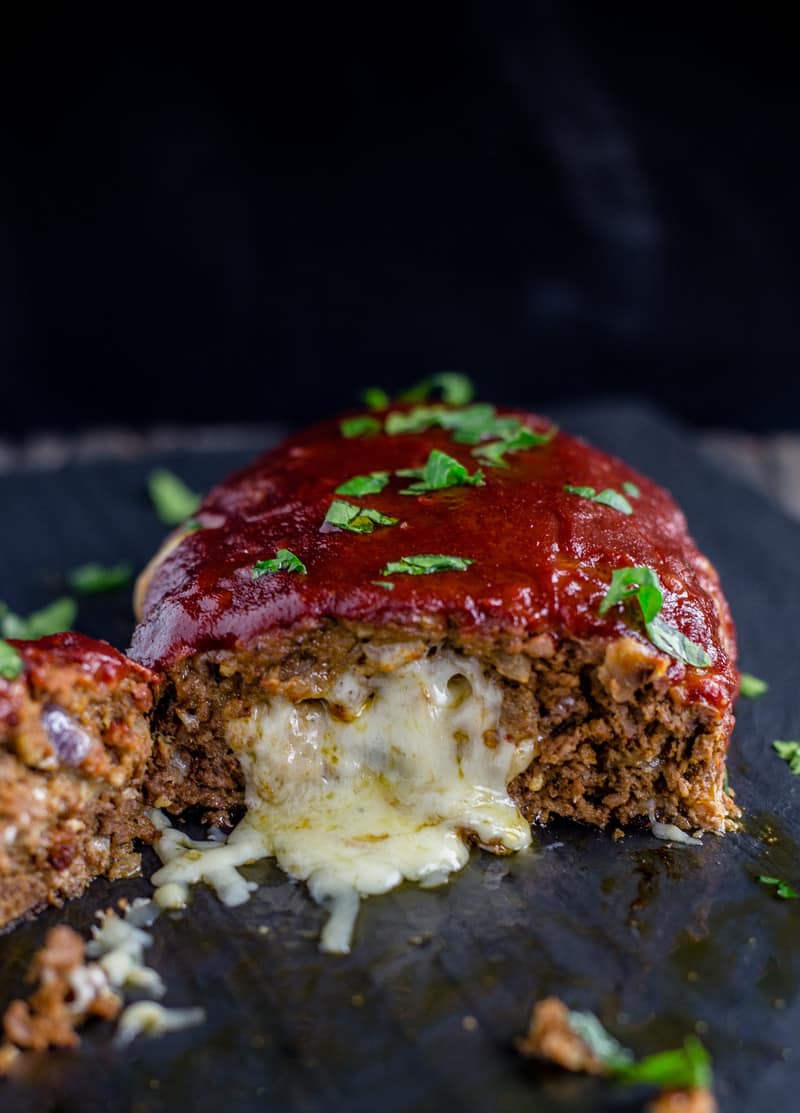 If you like this recipe we'd truly appreciate it if you would give this recipe a star review! And if you share any of your pics on Instagram use the hashtag #vindulge. We LOVE to see it when you cook our recipes.
This post may contain affiliate links. This means if you click on the link, we may receive a small commission if you purchase through the link. We partner with brands we know and love and use and it helps keep the blog going!