Skip the grocery stores and make your own homemade Mexican Chorizo. This fresh chorizo flavor is far superior to store-bought chorizo and is easy to adapt based on your preference. This recipe is perfect for ground pork.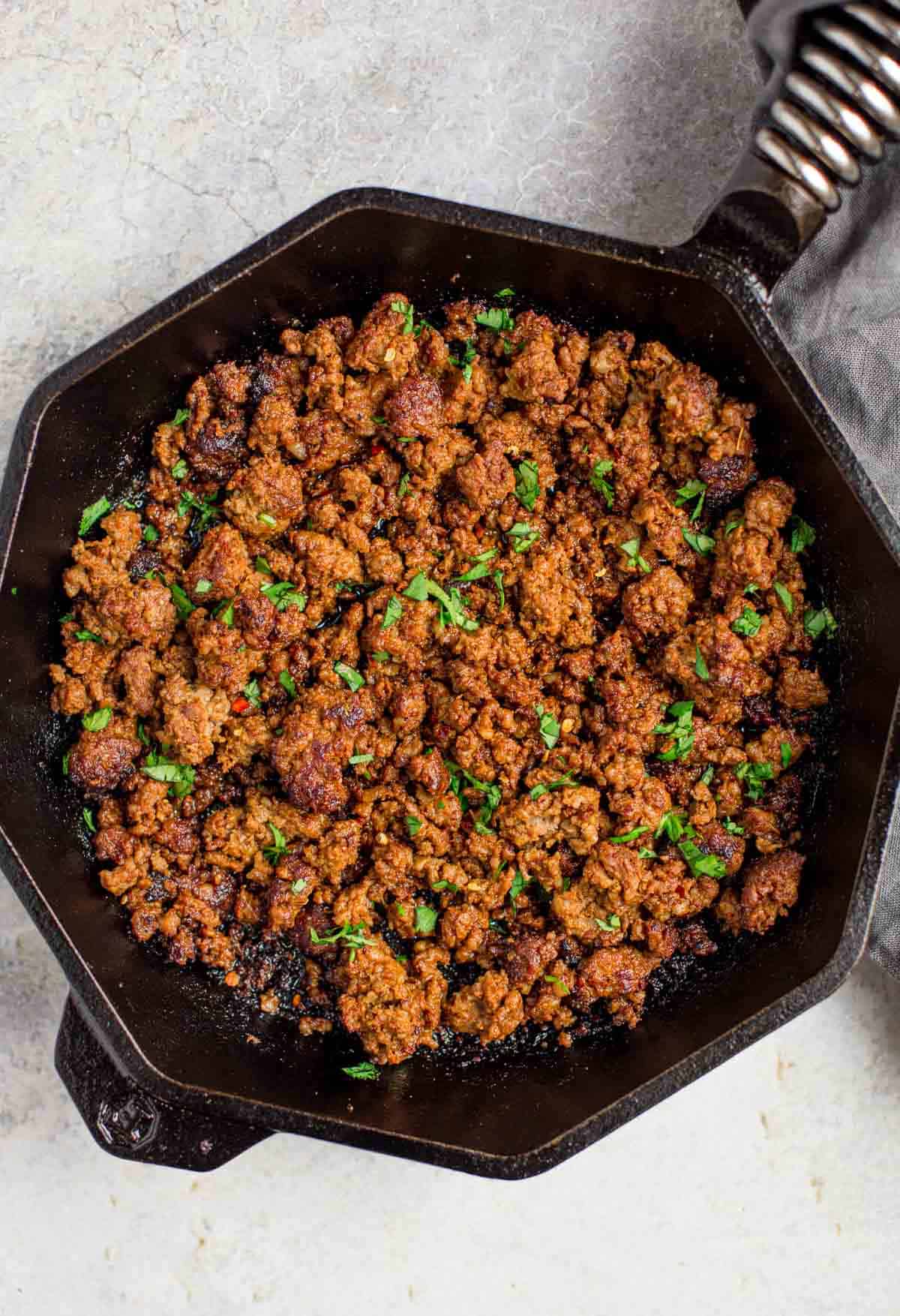 Mexican Chorizo Recipe Highlights
This recipe uses chili powder versus specific dried chiles and our chorizo seasoning.
This is a medium heat level (mild/medium/hot/spicy) using red pepper flakes. Easy to adapt to different heat preferences.
Perfect as a base for ground meats for breakfast, queso, or your favorite recipes using chorizo.
One of my most nostalgic aromas, instantly transforming me to my mom's kitchen growing up, is the vibrant smell of chorizo cooking in the kitchen. Growing up in a Mexican-American household, chorizo was a staple, cooked for breakfast most weekends, served with eggs, potatoes, and a tortilla for the most comforting breakfast burritos ever.
Jump to:
Where I live now though, it's hard to find good chorizo, so we've been testing to make a homemade version that is just as good as the version I grew up with.
We found it, and I came to the discovery that it's pretty darn easy to make. Why have I been buying store-bought for all these years???
And if you think it's hard to make your own chorizo recipe, it's not. In fact, most of the spice ingredients may be in your pantry already. So let's enjoy our take on this Mexican cuisine and a journey to one of my favorite meals growing up.
Mexican Chorizo versus Spanish Chorizo
There are different types of chorizo depending on where in the world you are. Spanish sausage chorizo tends to be paprika heavy and most often seen in cured meats when shopping at the grocery stores. Mexican chorizo is more commonly chili pepper heavy and seen as raw sausage form (in casings) or bulk in ground pork (similar to Italian or breakfast sausage).
Ingredients
Ground Pork (or ground beef) – You can substitute with any ground meat, just note the portion of spices per pound. If you have a meat grinder you can mix pork shoulder and pork fat (pork back fat is best) at a ratio of 80/20 pork to fat.
Chorizo Seasoning – Mix dried spices together, including: chili powder, paprika, Mexican oregano, cinnamon, cloves, and more. See our chorizo seasoning recipe for more details.
Red Wine Vinegar – You can substitute with apple cider vinegar or white vinegar, but we like the specific added flavor from red wine vinegar.
Extra Virgin Olive Oil – For cooking the ground pork.
While many authentic Mexican Chorizo recipes utilize a variety of dried peppers, like guajillo and ancho, we use our chorizo seasoning, which is a blend of dried spices starting with a more generic "chili powder" (which is easier to find).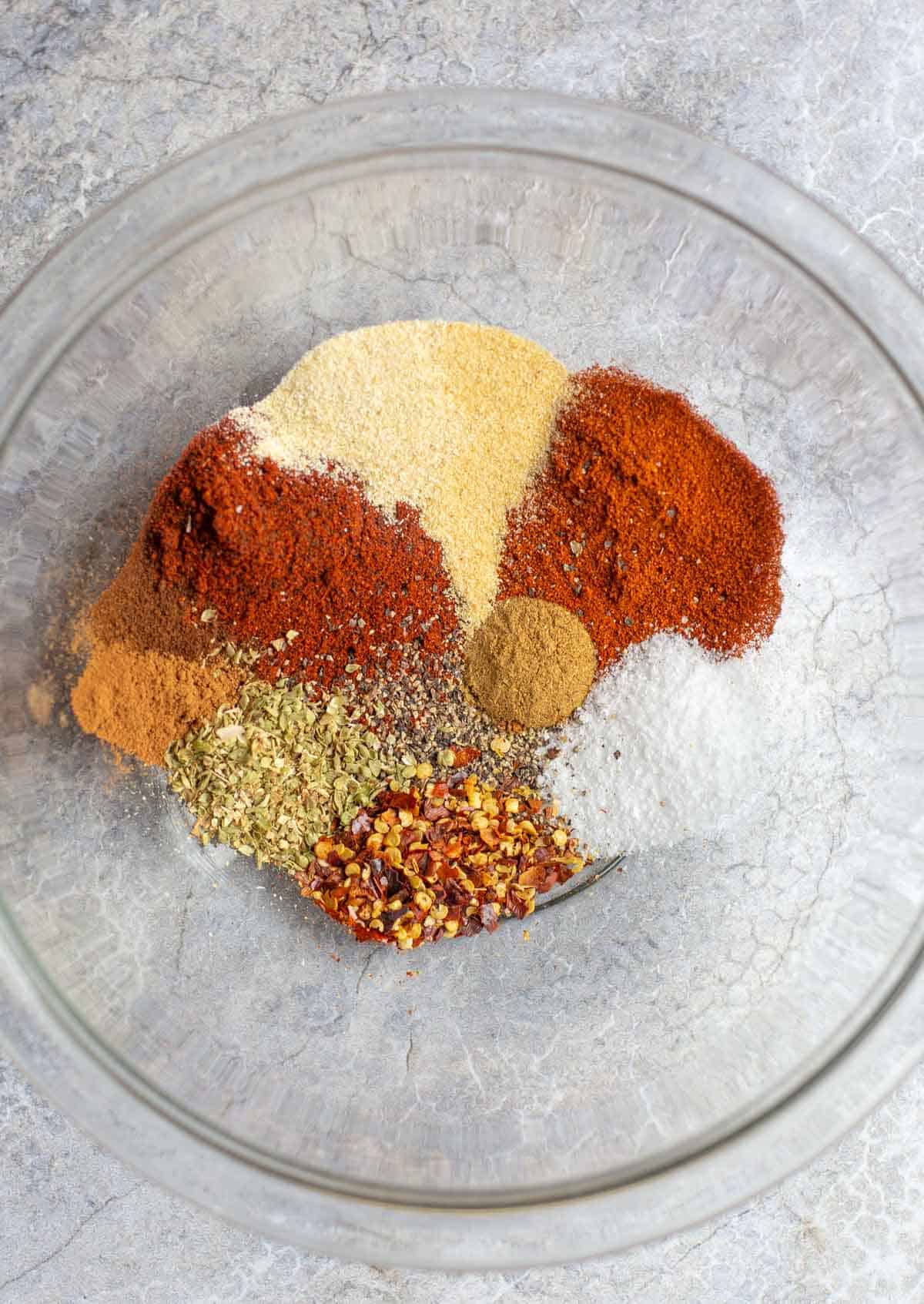 How to Make Homemade Chorizo
In a large mixing bowl add the ground pork. Next add the dried spices and the red wine vinegar. Using your hands gently mix together the pork, seasoning, and spices. We like to gently squeeze the pork a few times and then gently stir it to combine it all together.
If you plan to use all two pounds go straight to cooking it. Otherwise you can store the chorizo for future use in the refrigerator or freezer.
Chef's Note: We do not recommend mixing this in a food processor. Do it by hand. It's faster, easier clean up, and keeps the fresh sausage meat proteins intact when cooking.
Cooking Chorizo
Our favorite way to eat homemade chorizo is to cook it in a large skillet and then serve with eggs and potatoes for breakfast. That's how we ate it going up. It's not fancy, but it's darn delicious. But you most certainly are welcome to use it for tacos for dinner if you wish too! It's good for all meals of the day!
This recipe is good for two pounds of ground pork.
Place olive oil in a large skillet over medium-high heat. When olive oil just starts to smoke add the chorizo sausage and make sure it's evened out across the entire skillet. Let it cook for 5 minutes, or until it's starting to brown on the bottom. Then mix up the mixture (we like using a wooden spoon) and continue cooking over medium-high heat until the remainder of the sides are browned and the chorizo is cooked through.
Remove from heat and serve with your favorite roasted potatoes and scrambled eggs.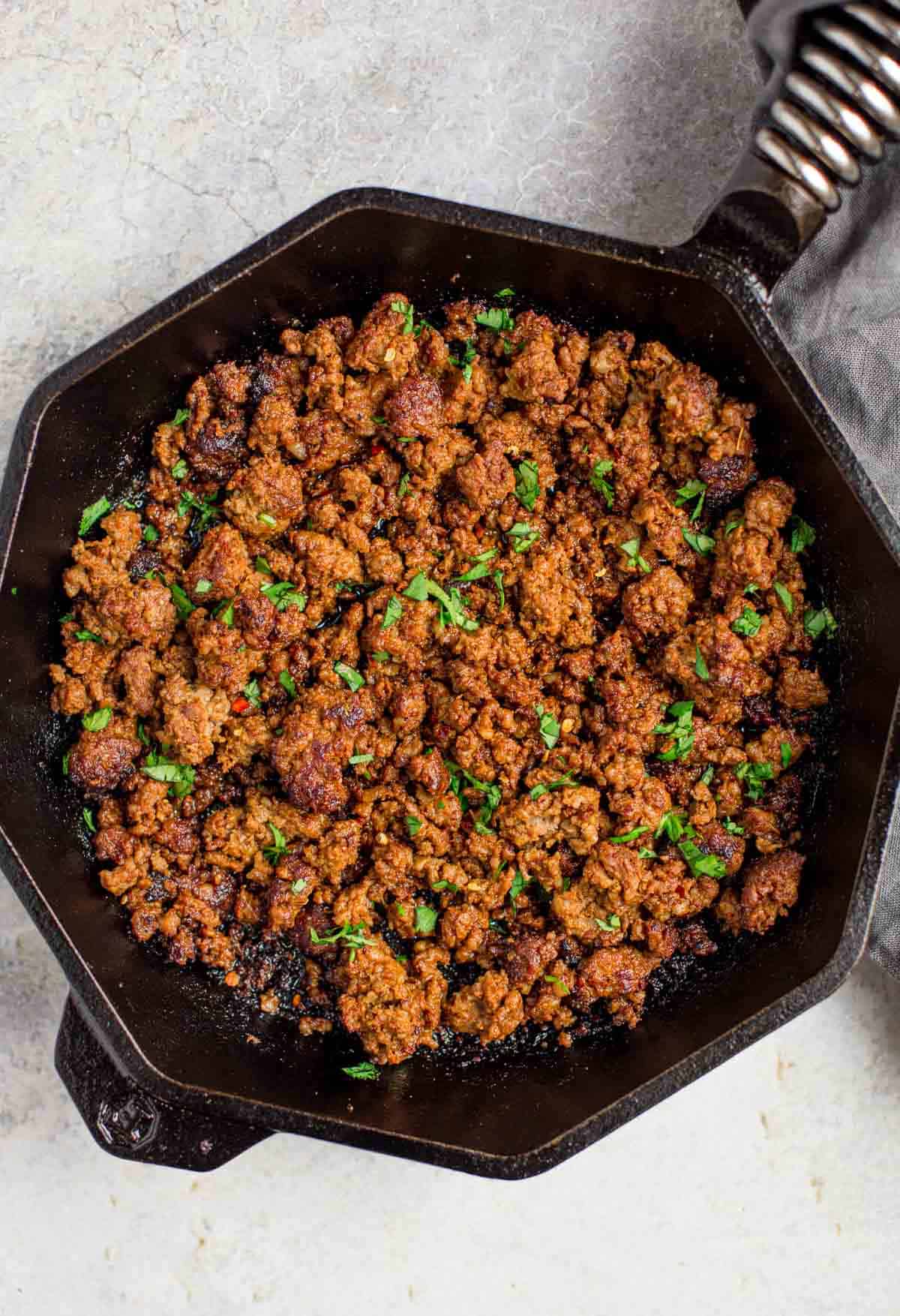 Storage
If you want to prepare this in advance, combine the raw pork, seasoning, and vinegar together, then store (uncooked) in an airtight container for up to one week (7 days). Or you can make a large batch of this chorizo recipe and freeze.
If you freeze we recommend freezing in one pound increments so you can pull it out as you need the portions. To do this place the chorizo into a quart sized baggie, close most of the zipper and squeeze excess air out. Then completely seal the zipper and place in the freezer. It will last up to 12 months. Be sure to label the date and what it is on the baggie!!!
How to Eat Chorizo and Recipe Inspiration
Chorizo Burritos: Serve alongside of eggs and potatoes wrapped in a flour tortilla for the ultimate chorizo breakfast burrito.
Chorizo Tacos: You can warm up corn tortillas, cheddar cheese, and the pork chorizo sausage, for your next taco night. A touch of freshly squeezed lime juice is perfect.
Blend some into this beer cheese dip for some kick ass flavor!
Use as the base to a Mexican hamburger.
Add as toppings to your favorite pizza, like our Green Chile and Chorizo pizza.
Other Mexican Recipes
Modifications for this Chorizo Recipe
Protein – You can use any ground meats, like ground chicken, ground turkey, or ground beef. The ratio is the same of ¼ cup of seasoning and two tablespoons of red wine vinegar per pound of ground meat.
Heat – If you want more mild heat use ½ the portion of red pepper flakes. For hot substitute the red chili pepper flakes with cayenne pepper. For spicy, leave the red chili pepper and add 1 teaspoon of cayenne pepper.
Frequently Asked Questions (FAQ)
How do you know when chorizo is done?
When cooking with ground pork the best way to confirm it's done is to use an instant read thermometer to check the larger chunks. The internal temperature should be 165 degrees Fahrenheit (or 74 degrees Celsius).
How long does chorizo last in the fridge?
After seasoned the fresh (uncooked) chorizo should last 7 days.
What is the correct way to cook chorizo?
The best way is to sauté pork chorizo in a pan for serving with breakfast or tacos.
If raw, incorporate into your favorite recipes with ground meats, like burgers or meatloaf.
Tried this recipe? Give us a star rating and we would love to see! Mention @vindulge or use the hashtag #vindulge on all the social media handles. And consider subscribing to our newsletter where we drop all our favorite ideas and inspirations every week.
This post may contain affiliate links. This means if you click on the link, we may receive a small commission if you purchase through the link. We partner with brands we know and love and use and it helps keep the blog going!
---