Our Tomato Galette Recipe is a great way to use fresh summer tomatoes! This galette recipe is super easy by using a store bought puff pastry, and cooked directly ON THE GRILL! No need to heat up the house with your oven.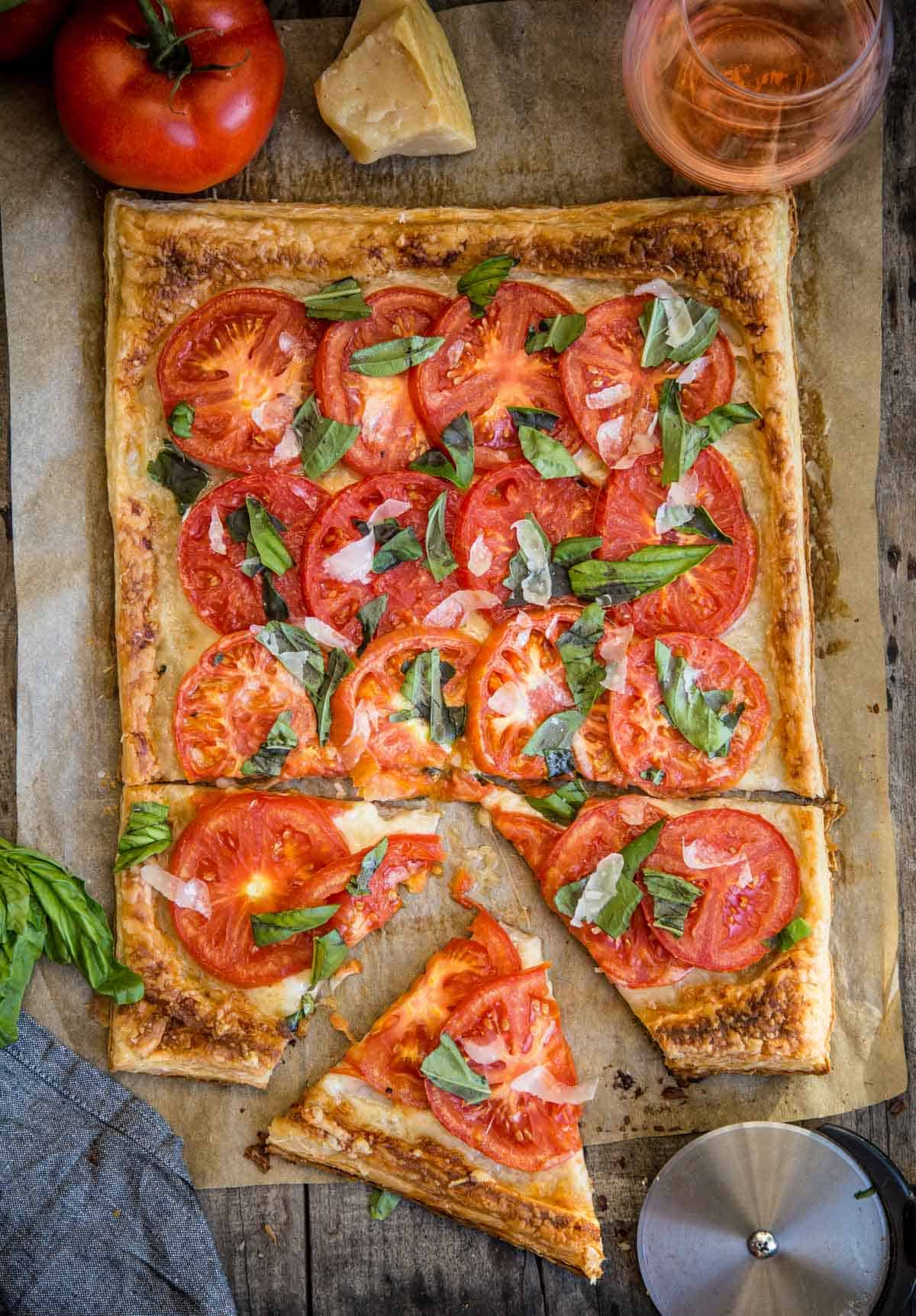 Nothing. I repeat. Nothing beats the flavor of fresh summer tomatoes when they're nice and ripe. It's what summer is made for!
Fresh tomatoes can be used for so many amazing meals. They're great on their own (yes, you can eat wedges of them just like an apple), or simply prepared for a number of refreshing summer dishes.
A tomato galette recipe is one of my favorite ways to enjoy the fruits of the bountiful season.
What is a galette (versus a crostata)?
A galette, also referred to as a crostata, is a rustic sweet or savory pastry, which is piled with fruits or veggies, in the center. The edges of a galette are then gently folded in to create the crust. Galettes are free form and rustic looking, vs a tart, a tart is made using a tart pan for a more uniform circular look. Crostata is the Italian term for this dish, and galette is French. So you can use them interchangeably, depending on where your allegiance lies that day 😉
You can make your own homemade pastry dough, like we do in this berry galette recipe. Or, for an easy galette recipe you can make quickly, buy a store bought puff pastry dough, defrost, and roll it out. Then layer the galette with garlic oil, some freshly grated mozzarella cheese, and your tomato slices (we love heirloom) and slide it onto a pizza stone on your grill to cook.
How to prepare your tomato galette
Important: To start we want to remove some of the moisture out of the juicy tomatoes. Slice the tomatoes into ¼″ rounds, place them on a baking sheet with a cookie drying rack, and salt them on both sides. This will release enough of the moisture, so that the galette puff pastry won't be soggy when cooked.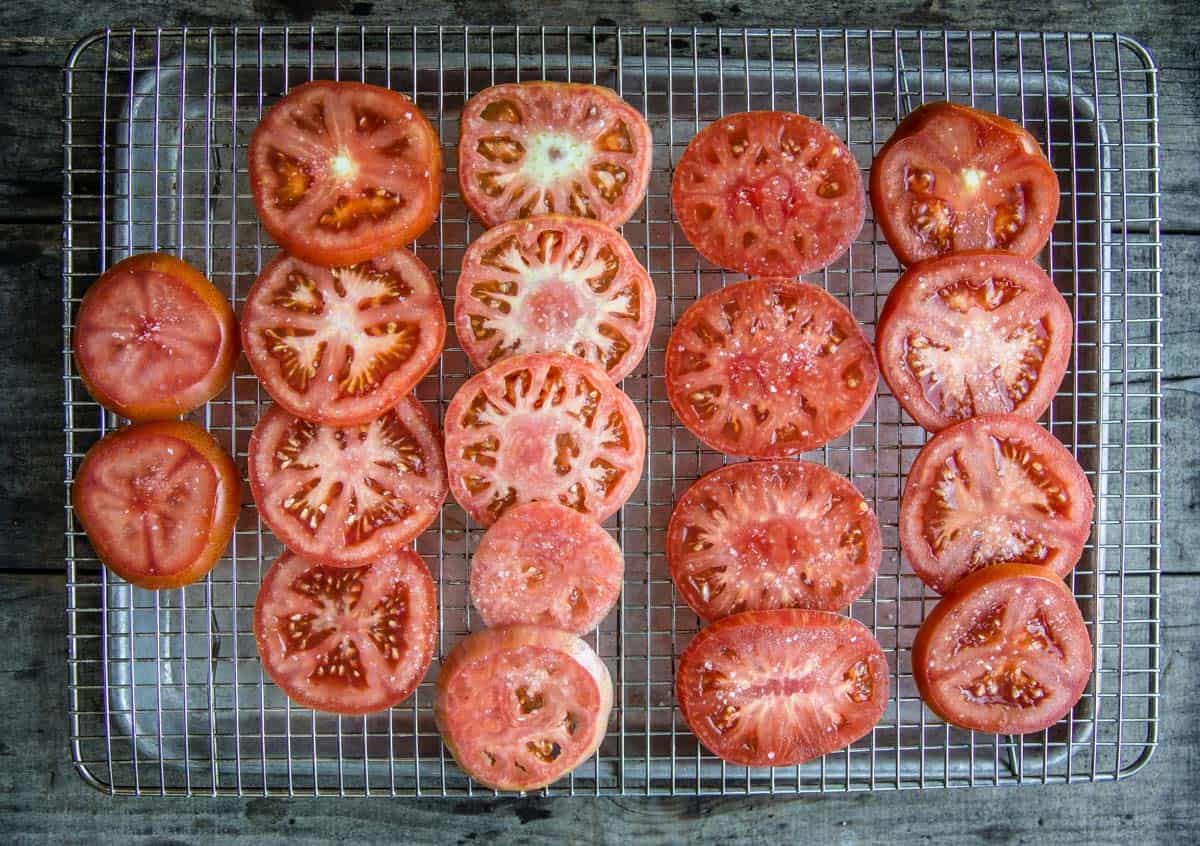 Next, roll out the puff pastry dough to about 12″ wide onto parchment paper. We used a rectangular pastry dough. If you're making your own dough, or have circular puff pastry, follow the same instructions and roll it out to a 12″ round. Most puff pastry comes in sheets.
For the base layer of the galette we're adding a garlic infused oil.
Pro Tip: To make this you're going to want to shave garlic, using a fine grater, and then mix it with a couple tablespoons of olive oil. Then use a food safe brush to gently brush the oil/garlic mixture on the puff pastry.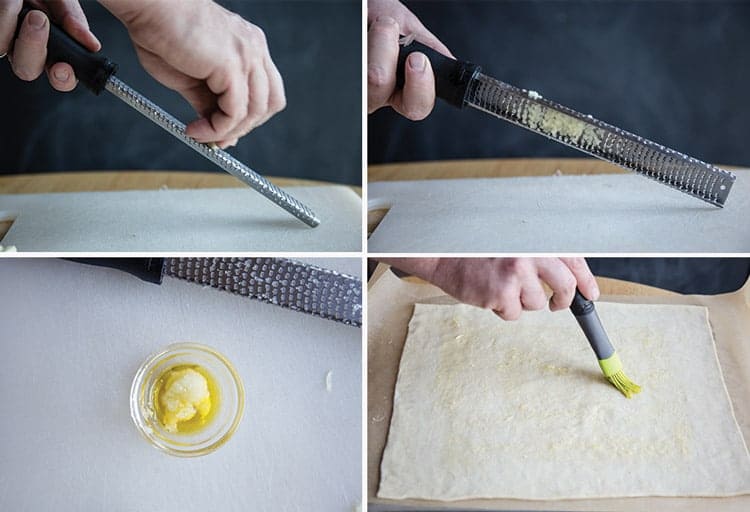 Layer the mozzarella cheese and tomatoes.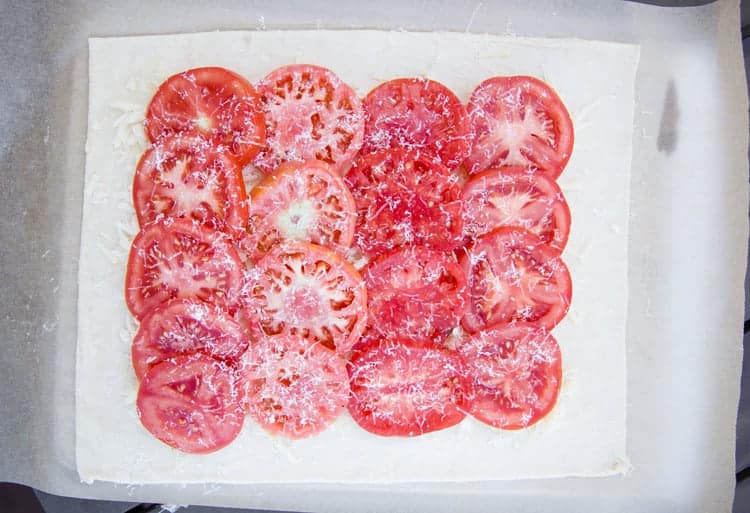 Finally, place the tomato galette (still on the parchment paper) onto a pizza stone in the center of your grill (set to 400 degrees). *Going any higher than 400 will cause the puff pastry to burn while the tomatoes roast.
Cook for 10 – 12 minutes. Using a pizza peel, peek under the pastry to see if the bottom is golden and remove.
This easy galette recipe can be modified for an oven using the same method and a pizza stone.
Wine Pairing for Tomato Galette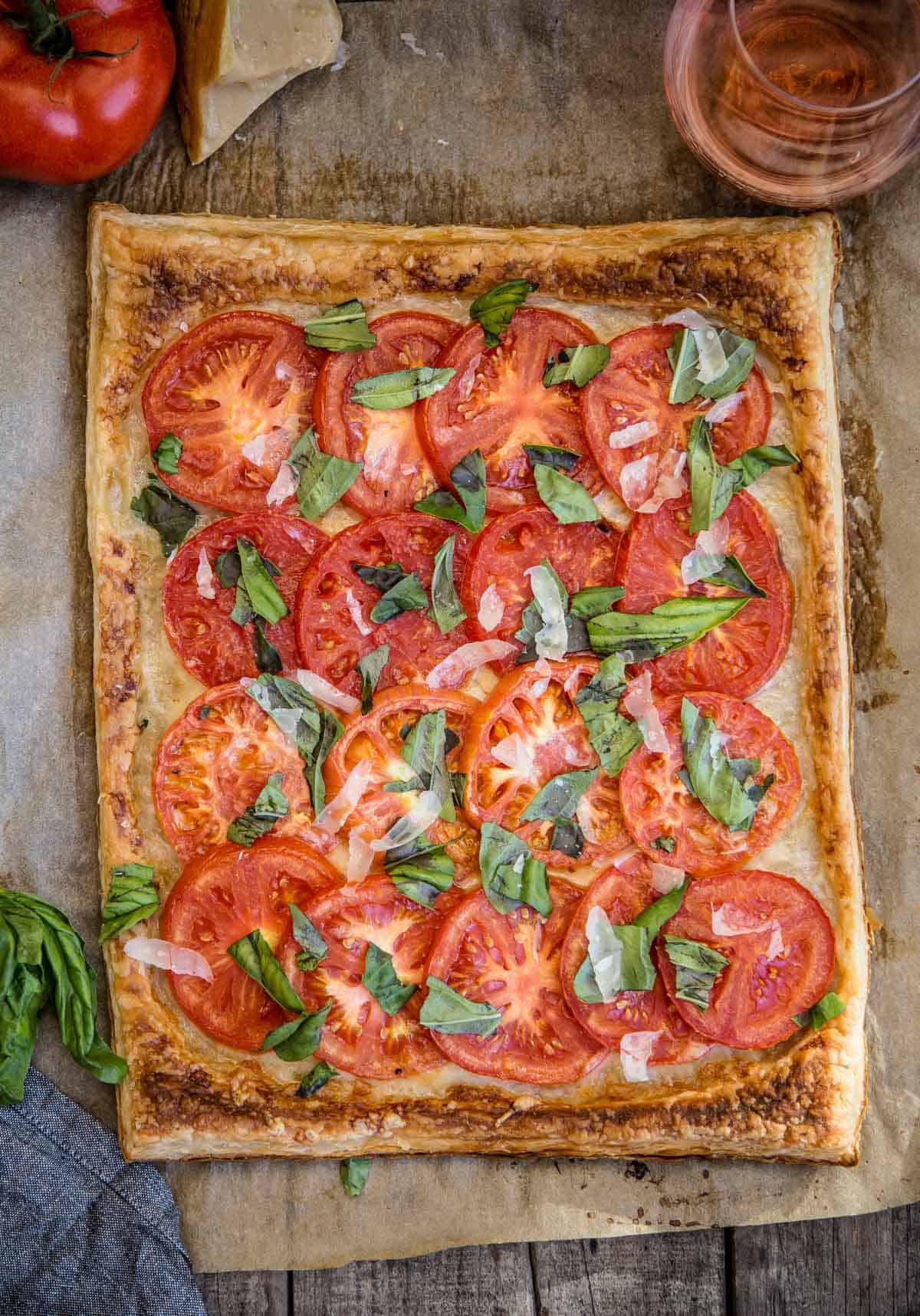 Summer tomatoes and fresh rosé go together like peanut butter and jelly. Look for a light bodied, dry, rosé for this dish. The bright light berry flavors and vibrant acidity is a perfect match for the juicy tomatoes, fresh basil, and sharp parmesan on the top of the buttery pastry dough.
More Summer Tomato Recipes for the Grill or Smoker
Recipe for Easy Tomato Galette cooked on the Grill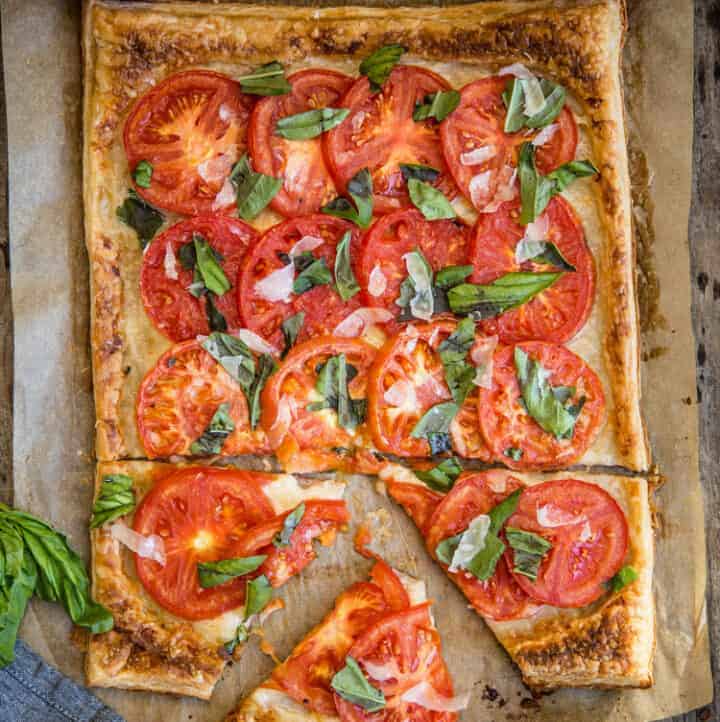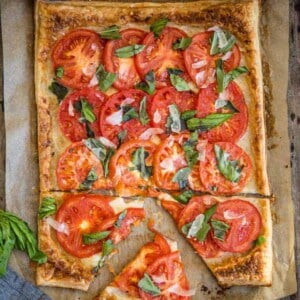 Easy Tomato Galette on the Grill
Tomato Galette made easy by using store bought puff pastry, and cooked directly on the grill. This is simply the BEST recipe for those fresh summer heirloom tomatoes!
Print
Pin
Rate
Ingredients
1 ½

pounds

heirloom or other ripe tomato

1

teaspoon

kosher salt

2

garlic cloves, minced

1

tablespoon

extra virgin olive oil

1

pound package puff pastry

½

cup

low moisture shredded mozzarella cheese

1 ½

teaspoons

freshly grated Parmesan cheese

5

basil leaves, chopped

finishing salt to taste
Instructions
Slice tomatoes into ¼ inch slices and salt both sides. Place on a cooling rack for 30 minutes (up to an hour) to remove excess moisture from tomatoes.

Preheat grill to 400 degrees Fahrenheit, and place pizza stone per your grills directions as the grill warms up.

Using a extra fine grader, grade garlic clove and mix with olive oil in a small dish.

Roll out puff pastry to a 12" by 16" rectangle and brush with the garlic oil mix, leaving 1 ½ inches along the edges unbrushed as that will be folded over onto the tomatoes.

Sprinkle mozzarella cheese into the center of the galette and then add tomatoes in layers. Top with Parmesan cheese and basil (again, leaving 1 ½ inches along the edge with no ingredients).

Place onto the pizza stone in the grill for 10 – 12 minutes or until the puff pastry is golden brown and tomatoes are cooked. Remove with a pizza peel and serve warm. Top with a pinch of finishing salt.
Find the perfect wine pairing at the Vindulge Wine Shop
If you like this recipe we'd truly appreciate it if you would give this recipe a star review! And if you share any of your pics on Instagram use the hashtag #vindulge. We LOVE to see it when you cook our recipes.