Smoked Tomato Marinara Sauce is an incredible and crowd-pleasing sauce made from your garden tomatoes roasted on the smoker or grill. Smoke roast tomatoes and then blend them into the most flavorful homemade tomato sauce, with that sweet kiss of smoke and natural tomato flavors.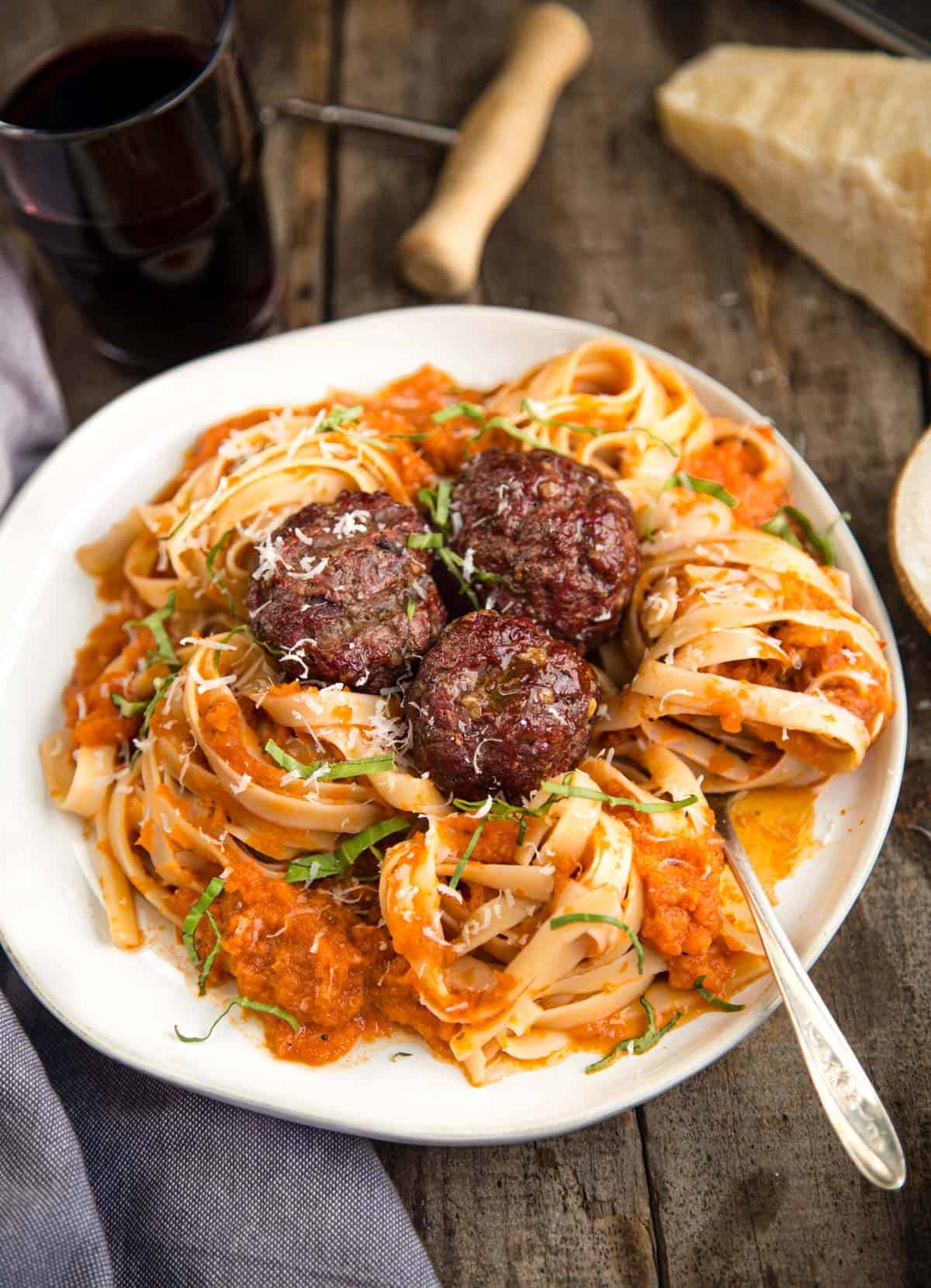 Tomatoes are one of the greatest things to roast in the grill, and take well to the subtle smoky flavors.
Jump to:
We smoke tomatoes year round to use in recipes like Smoked Bloody Mary's, salsas, or even Smoked Tomato Bisque. But this is hands down a staple in my house, and one I make often to use in recipes throughout the year.
Smoked Tomato Sauce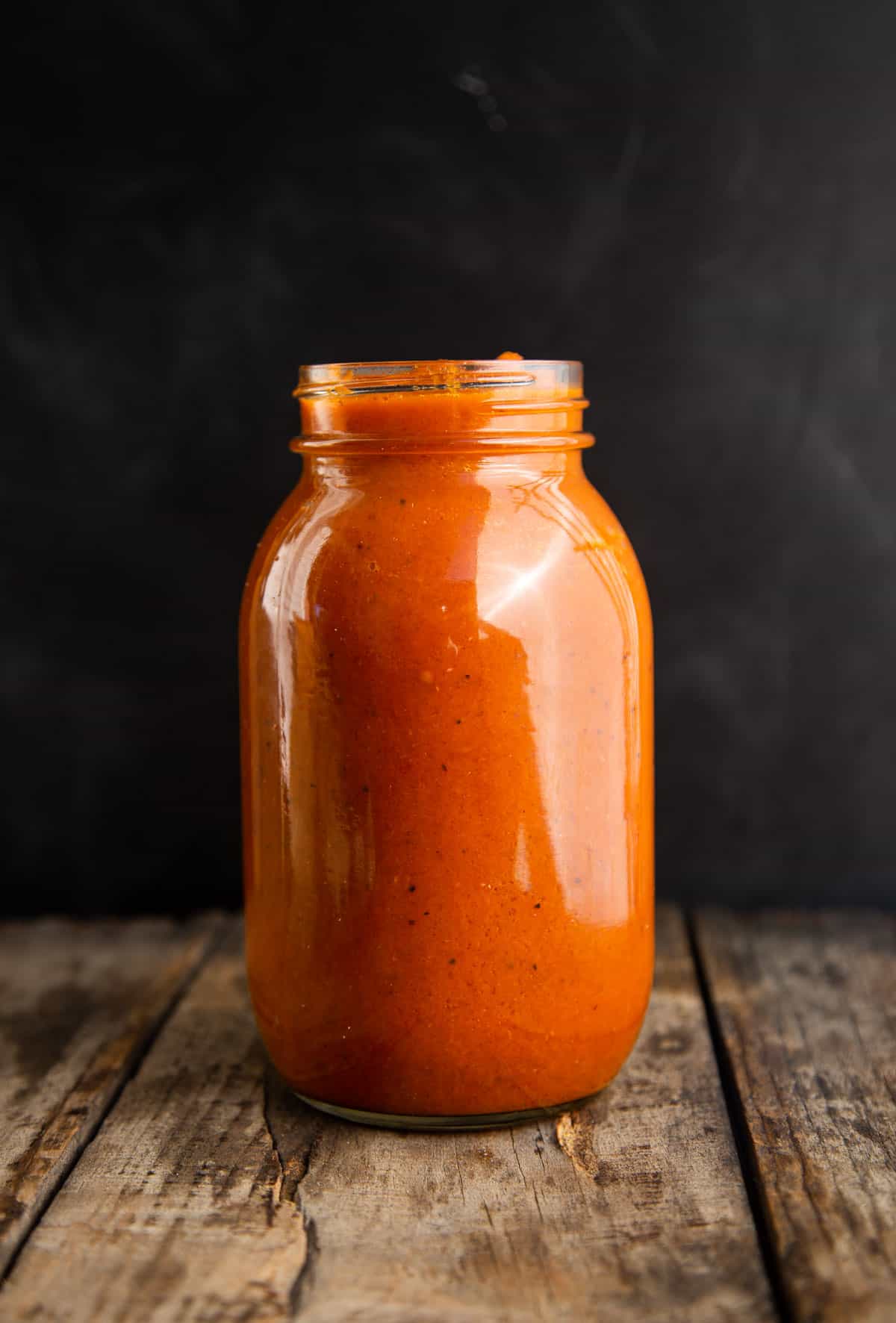 For this recipe we start with garden fresh tomatoes, and a few simple ingredients, in order to bring out the natural sweetness of the tomatoes with that sweet kiss of smoke. Summer tomatoes are certainly the best, since they are fresh and naturally sweet, but you can make this smoked sauce year round (you just may need to supplement with some sugar in the winter if the tomatoes aren't very sweet).
This sauce is rich enough to use as a sauce for pasta, or even a base for pizza or lasagna.
We keep the flavors simple by sautéing onions, a few seasonings, a splash of wine, and a bunch of the smoked tomatoes. This way the tomatoes are the star of the show.
The Best Homemade Sauce
The key to making this fresh and delicious sauce starts with smoking fresh tomatoes. And during peak tomato season I'm sure there are plenty of folks looking for uses for the bounty of tomatoes coming your way. If not, store bought tomatoes work just great (and it's what we use throughout the year when we don't have any in our garden).
If you only have canned tomatoes, the best to use are the 28-ounce whole tomatoes (use 2 cans). San Marzano are our favorite. Simply add them to a smoker safe dish and smoke for 90 minutes, stirring once. Then use that with the recipe for the sauce.
How to Smoke Tomatoes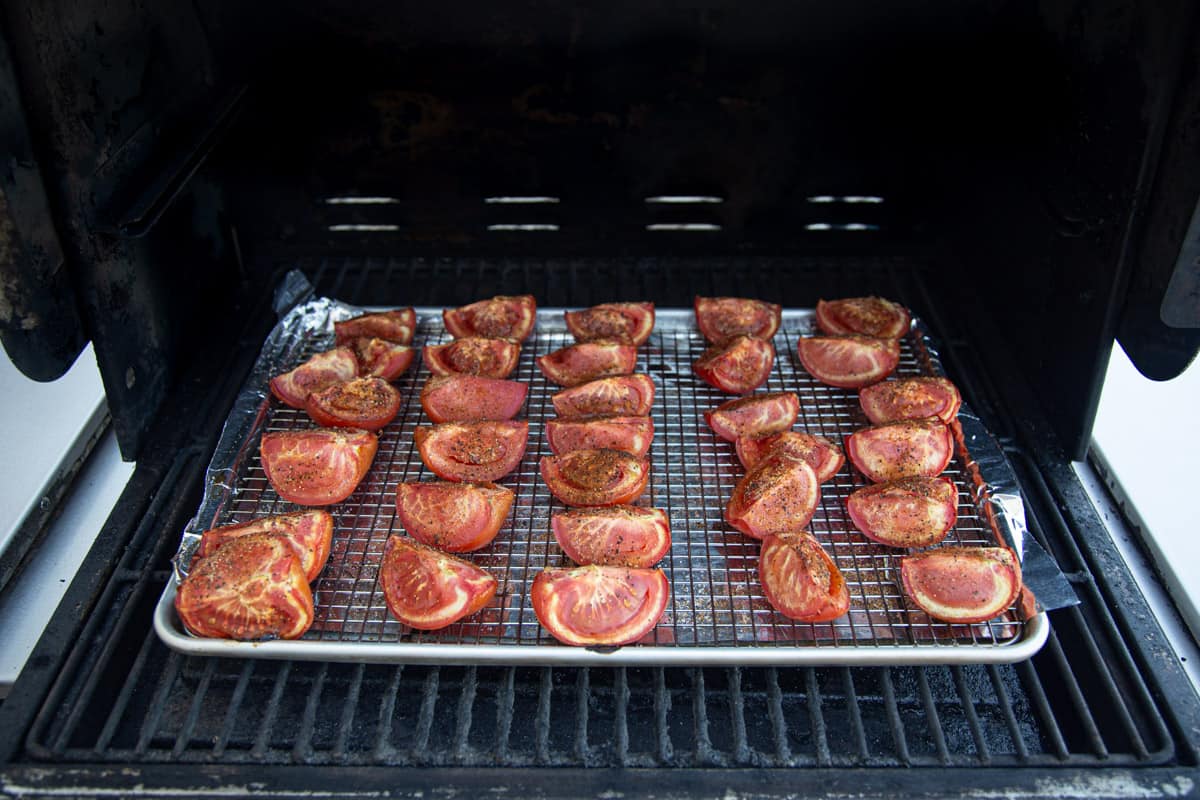 Preheat the grill to 250 degrees F. You can use whatever smoker you have for this. We go back and forth between our offset stick burner and our MAK Two-Star General pellet smoker, or grill using indirect heat.
Start by quartering your tomatoes, then toss them in some olive oil, salt, pepper, and bay seasoning.
Line them on a foil lined baking tray. I like to place the tomatoes on a thin drying rack on top of the baking sheet for better ventilation and ease of transferring.
Smoke them at 250 degrees for about 2 hours.
Let them cool just enough to work with, then peel the skin immediately. They peel so easily if you do it while they're still a bit warm. They just glide off… like buttah.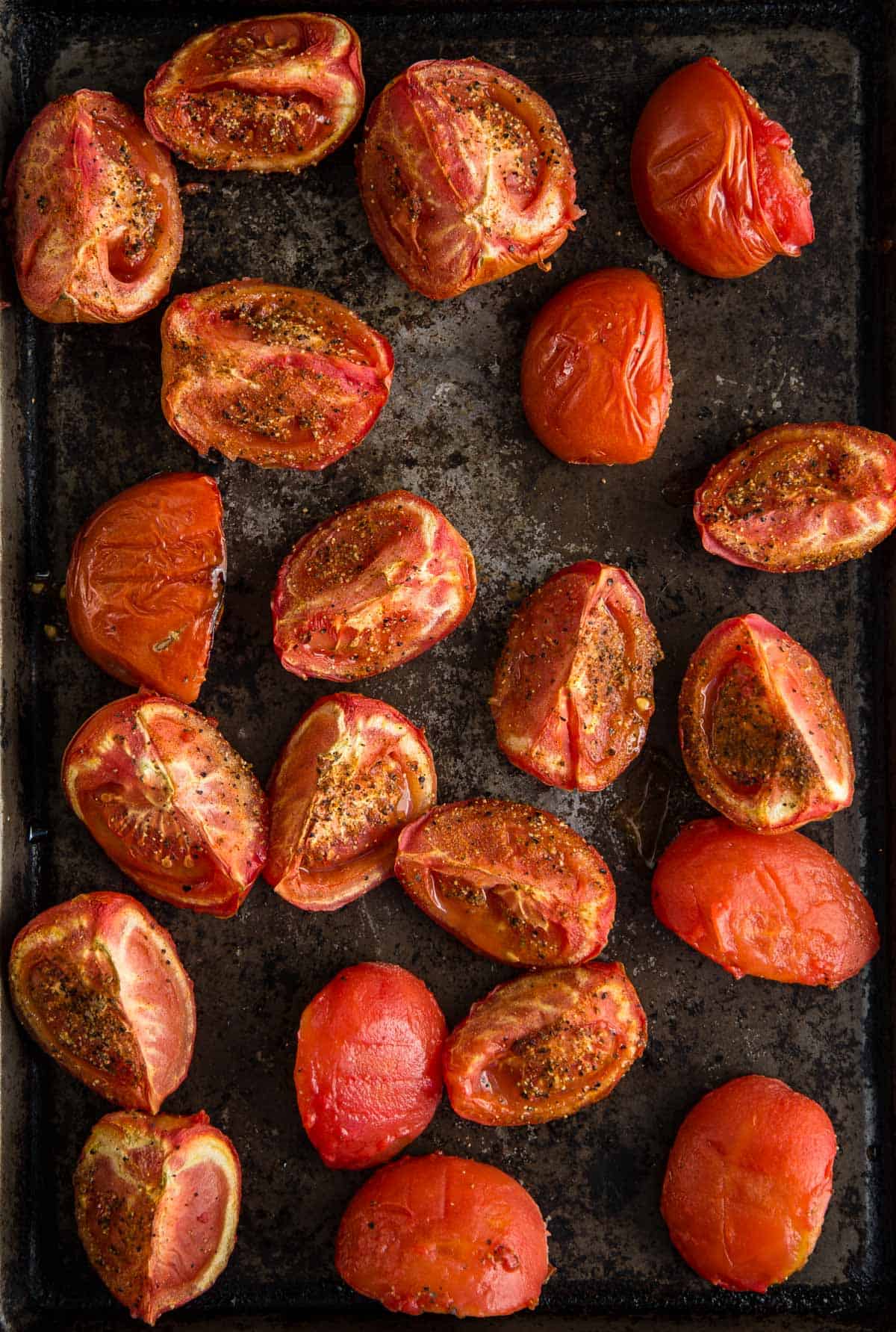 Once the tomatoes are peeled you can start your sauce.
How to Make Smoked Tomato Marinara Sauce
Start by sautéing some onions in olive oil in a stock pot for about 10 minutes, just to let them get soft and sweet. Then add some garlic and some simple seasoning (salt, pepper, a pinch of red chili flakes). Sir those together for about a minute, then add some wine. Bring wine to a simmer for 3-4 minutes, then add your smoked tomatoes, and continue simmering for an additional 20 minutes.
If the sauce is chunky you can use a hand immersion blender to break up the chunks, or transfer to a blender, depending on how chunky or smooth you like your sauce.
Taste and adjust for preferences. The tomatoes taste a little different each time we make this recipe (it will depend on how ripe and sweet they are pre-smoking). Sometimes they're naturally perfectly sweet and we don't need to add any sweetener at all. If your sauce isn't as sweet as you'd like feel free to add a pinch of sugar, honey, tomato paste, or whatever you like for sweetness. Slowly adjust the flavors until you get to the sauce you love.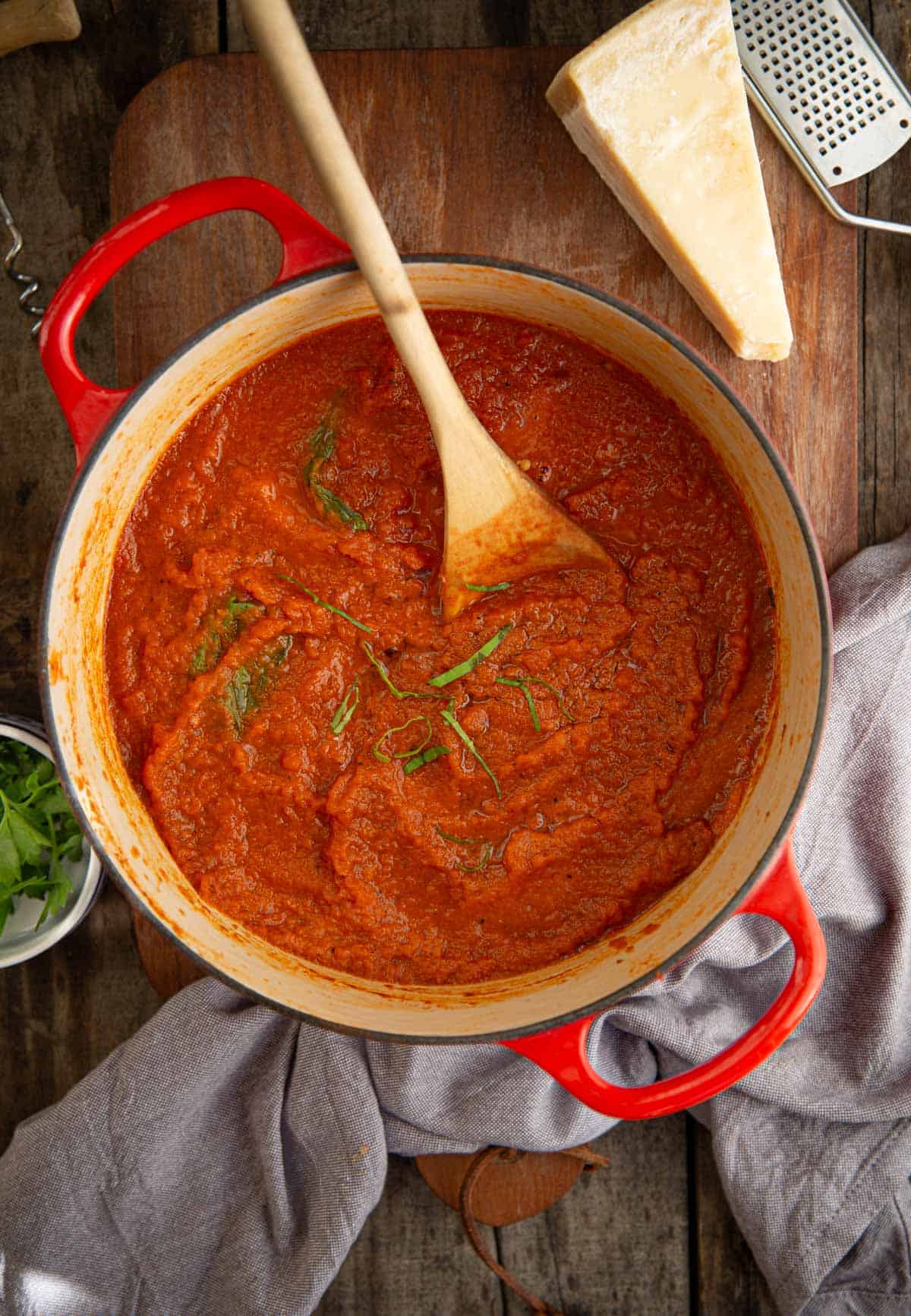 What to use Smoked Sauce in
Tomato sauce for a simple pasta or spaghetti and meatballs
Baked Ziti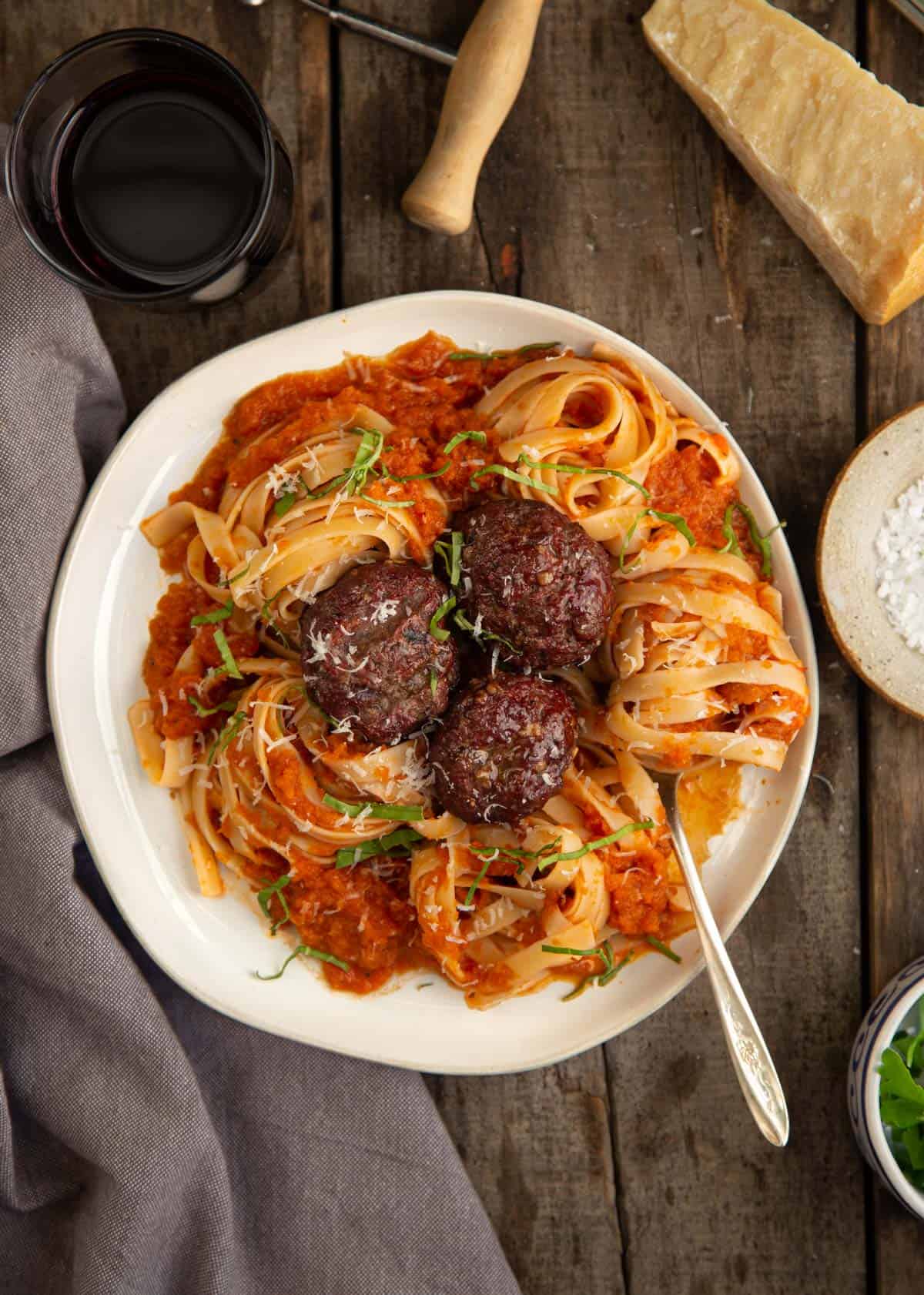 Related Recipes
*This recipe was originally published in August of 2015, and updated in August 2020 with updated photos. The recipe remains the same.
---
If you like this recipe we'd truly appreciate it if you would give this recipe a star review! And if you share any of your pics on Instagram use the hashtag #vindulge. We LOVE to see it when you cook our recipes.