This could be the red for your red, white, and blue celebrations this coming weekend!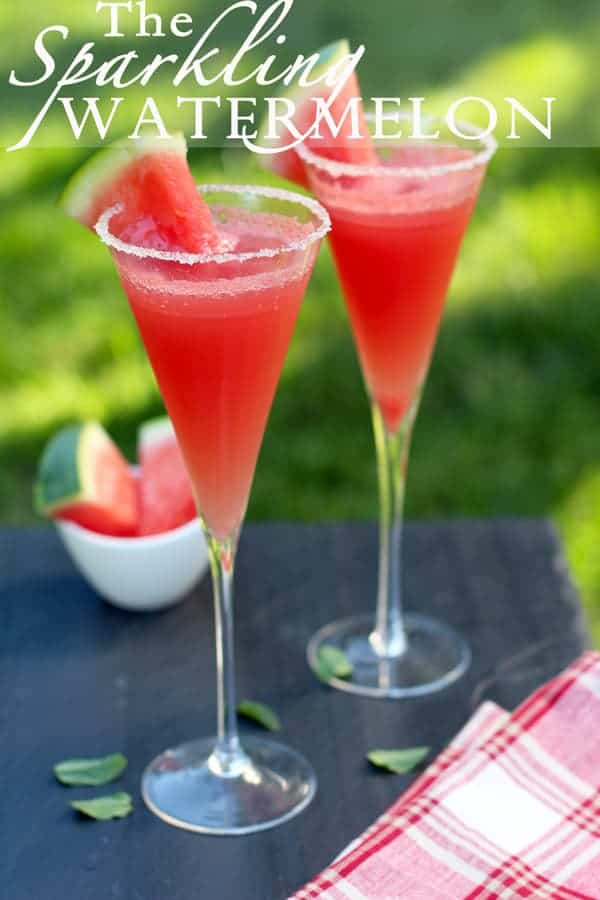 I used to have an aversion to artificial watermelon-flavored things (candy in particular). But fresh watermelon, I could gobble up for days. And with one of my favorite holidays on the horizon it's time to bust out some watermelon. There's something so very "4th of July" about a ginormous plate full of perfectly cut watermelon wedges on the table of a backyard barbecue waiting to be devoured. Am I right?
But what's better than a plate full of fresh watermelon wedges? I'll tell you.
Blending said fresh watermelon and mixing in some sparkling wine, that's what.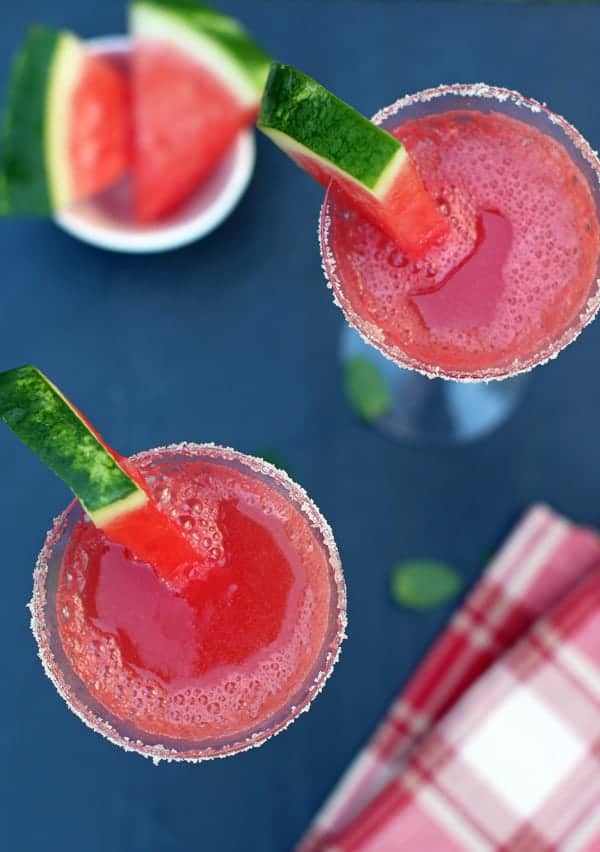 Bubbly, watermelony, fresh, and delicious.
This drink is easy to make, and super refreshing.
All you need to do is puree some fresh watermelon, strain it to smoothen it out by removing any remaining seeds or chunks, and chill it until you're ready to make your cocktails.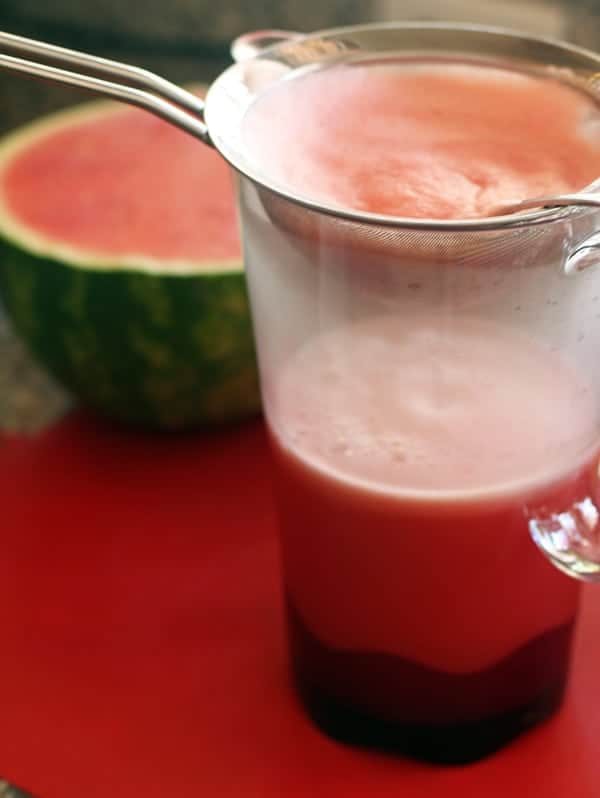 I like to throw in some mint leaves for some added freshness and flavor. The only sweetness in this drink comes from the natural sweetness of the watermelon, so make sure you like the flavor of the watermelon you're using. If it's not sweet enough for your liking, you can easily add some simple syrup to the juice. Just heat up about ½ cup of the juice with about ½ cup of sugar in a small saucepan. Once dissolved add it back to your pitcher of juice. I prefer the natural flavor of the juice so I usually leave out the extra sugar, except for the small bit on the rim. Your call.
All you need to do now is add your sparkling wine and you're ready to party!
But which wine to use for sparkling wine cocktails?
For sparkling wine cocktails I focus on the sweetness level of the drink I am trying to achieve. If the mixer is already sweet (like a traditional orange juice mimosa for example) I use a dry sparkling wine, like dry Cava, because I don't want to accentuate the sweetness level of the drink. If the mixer itself isn't super sweet and I want to add just a touch of added sweetness without adding sugar then I'll lean towards a wine that has some natural residual sugar, like Prosecco.
For this cocktail I went with Mionetto Prosecco Brut, which can be found for around $10-$12. This wine is fruity and fresh with a touch of sweetness that added a nice element to the cocktail.
In terms of price I usually tend to stick in the $7-$15 range for sparkling wines that I mix into cocktails. I liken it to a vodka cocktail. If I'm making a vodka drink I usually use something like Absolute or Sky (something in the mid-range in price). I absolutely love the raw flavor of Greygoose, so I tend to use that for a straight up vodka martini, and rarely mix it with other things. But I completely avoid the bottom shelf vodkas that come in cheap plastic containers because they taste like hairspray. Yuck.
Likewise, I also avoid the cheapest sparkling wines (you know which ones I'm talking about; those found in the $4-$5 range that claim to be "California Champagne"). Alternatively, if I'm going to be buying an expensive Champagne then there's no way I'm altering its pure delicious flavor by adding in juice or anything else. That's why I stick to something in the mid-range, like Cava or Prosecco.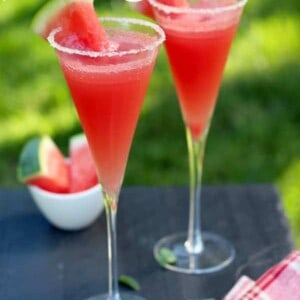 The Sparkling Watermelon (Sparkling Watermelon Cocktail)
The perfect 4th of July or summertime cocktail. Festive, fresh, and delicious.
Print
Rate
Ingredients
½

small watermelon

roughly cut up into cubes (approximately 5 cups cut up)

15

mint leaves

optional

¼

cup

sugar

1

lime

cut into wedges

1

bottle sparkling wine

Watermelon wedges

for garnish
Instructions
Place the watermelon in a blender and process until liquefied and smooth (about 20-30 seconds should do the trick). Using a fine sieve, strain the watermelon into a pitcher to get rid of any chunks or seeds. Add the mint leaves to the strained juice and place in refrigerator until chilled (around 30 minutes).

Place sugar on a small plate.

Rub lime wedges around the edge of the champagne flute, and dip into the sugar to rim the edges.

Pour about 2 oz of the watermelon juice into a champagne flute. Fill the remaining glass with sparkling wine.

Garnish with a small watermelon wedge
Notes
* You can easily make a non-alcoholic version by serving with club soda instead of sparkling wine. My kids love it.
* For a sweeter drink: In a small saucepan, warm about ½ cup of the watermelon juice with ½ cup sugar and stir until dissolved. Pour back into the pitcher with the remaining juice before refrigerating.
Monthly Bubbles Challenge Update
I recognize that I have completely failed at my monthly sparkling wine challenge that I started at the beginning of this year (oops!). What can I say; I've never been good at keeping New Year's resolutions. BUT, I plan to make it up to you by posting some of my favorite sparkling wine cocktails over the next few weeks starting with this tasty treat. Fair trade? Maybe? Just stop by this weekend and I'll make it up to you by having one of these for you to sip on!
What about you? What are you planning to sip on to celebrate the 4th of July this weekend? Will it be red, white, or blue?
Speaking of 4th of July, if you're looking for some food inspiration, check out our roundup from last year of our favorite holiday recipes.
---