Create your own unique flavor for ribs with a sweet and savory honey Dijon sauce for the ultimate Smoked Honey Mustard Ribs. You can use this recipe on baby back ribs or spare ribs (including St. Louis cut).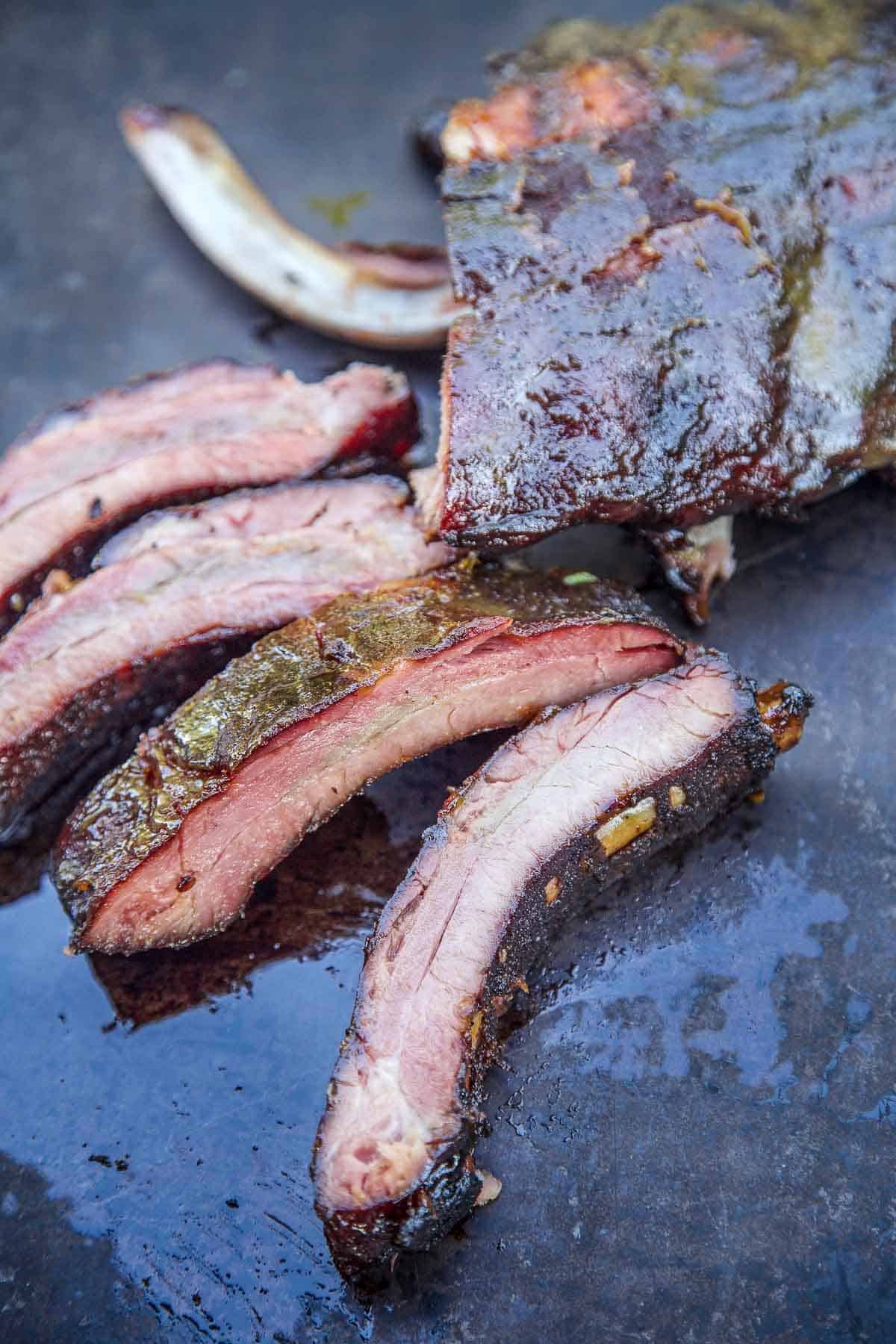 One of my favorite things about barbecue is that there are no rules. There are methods and products up the wazoo, but what it comes down to is experimentation, flavor, and tenderness. There's no one way to cook anything, and there's no one sauce to rule them all. And thus we put together this tangy and sweet honey mustard glaze with just four ingredients for smoked ribs.
Jump to:
Two flavors I absolutely love together are honey and mustard. Mustard for that heat and kick, and honey to add that natural sweetness, just enough to create balance. And we add apple cider vinegar for that acidic touch. So we added both to these ribs for one of our favorite honey mustard rib recipes.
Ingredients for Honey Mustard Ribs
Ribs – We are using baby back ribs. Alternatively you can use spare ribs, or spare ribs trimmed in the St. Louis style. Baby backs cook faster and spare ribs tend to have more meat but take longer to cook.
Seasoning – We use Dijon mustard for the binder and our ultimate dry rub for pork seasoning.
Honey Mustard Glaze – This no bake glaze uses Dijon mustard, honey, apple cider vinegar, and the same dry seasoning.
Spritz – Equal parts apple cider vinegar and apple juice helps with smoke flavor. See below for more details.
Portions
We always like to cook two racks of ribs for up to six people.
Ribs Preparation
For this honey mustard ribs recipe we're using baby back ribs. They have the distinct curvature to them versus St. Louis cut (or spare ribs). Although you can make these with both cuts.
On the top side of the ribs remove any excess fatty pockets.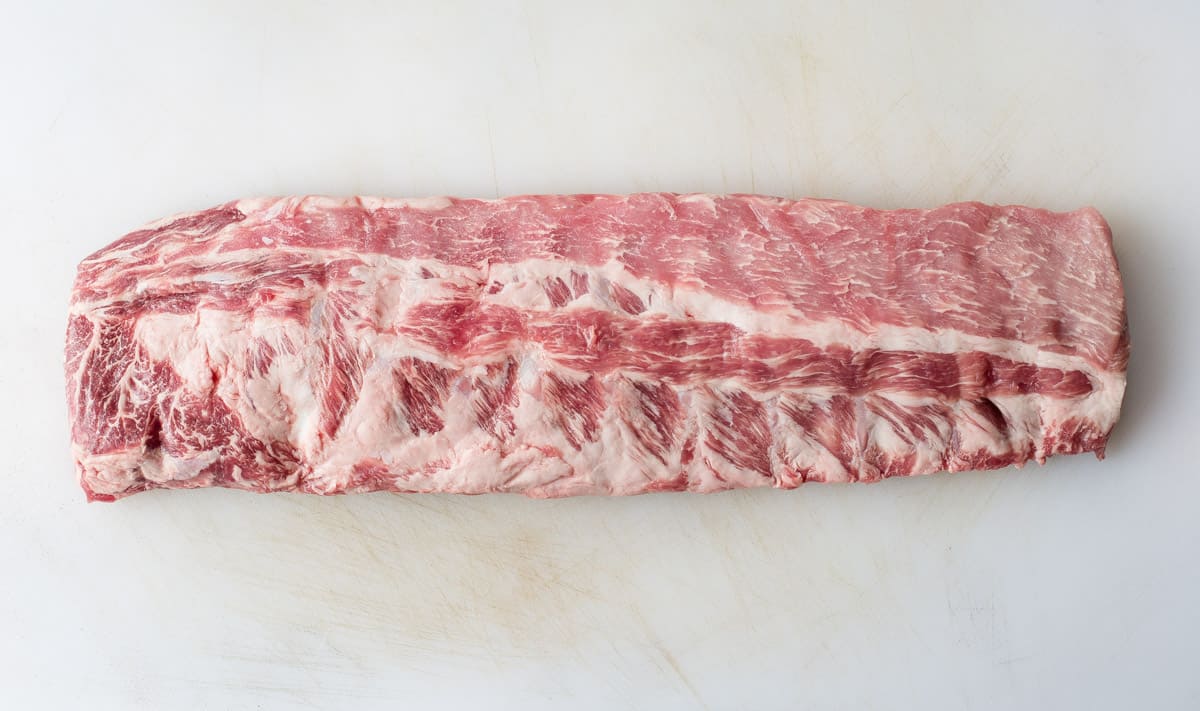 Remove any silver skin that is on the bone side of the ribs, and trim off any excess fat or flap meat (flap meat is more common on spare ribs).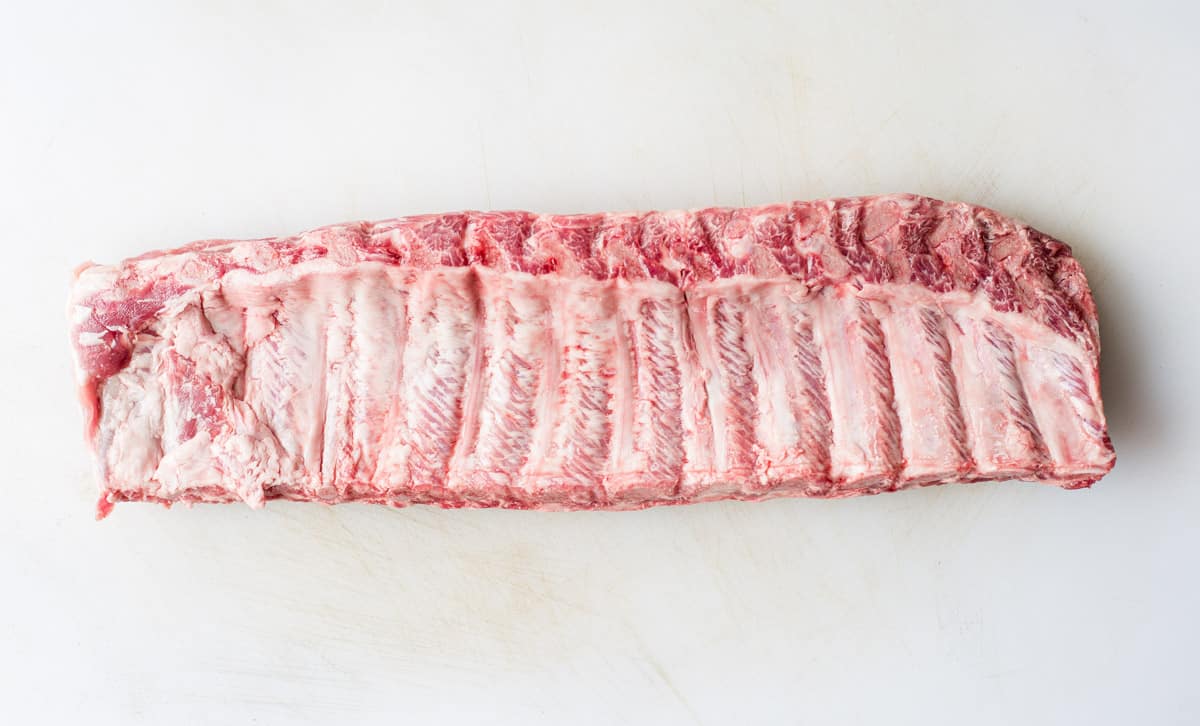 Seasoning
Start by putting a coating of Dijon mustard on the ribs so the dry rub will stick. This is called the binder. Then liberally apply your seasoning. In this recipe we are using our ultimate pork seasoning with a mix of sugar, salt, and spices.
A rub that has sugar in it will really help in creating a deep color and bark that is the first thing you'll see when you take your first bite. You are also going to be adding the honey mustard sauce, which will add additional flavor.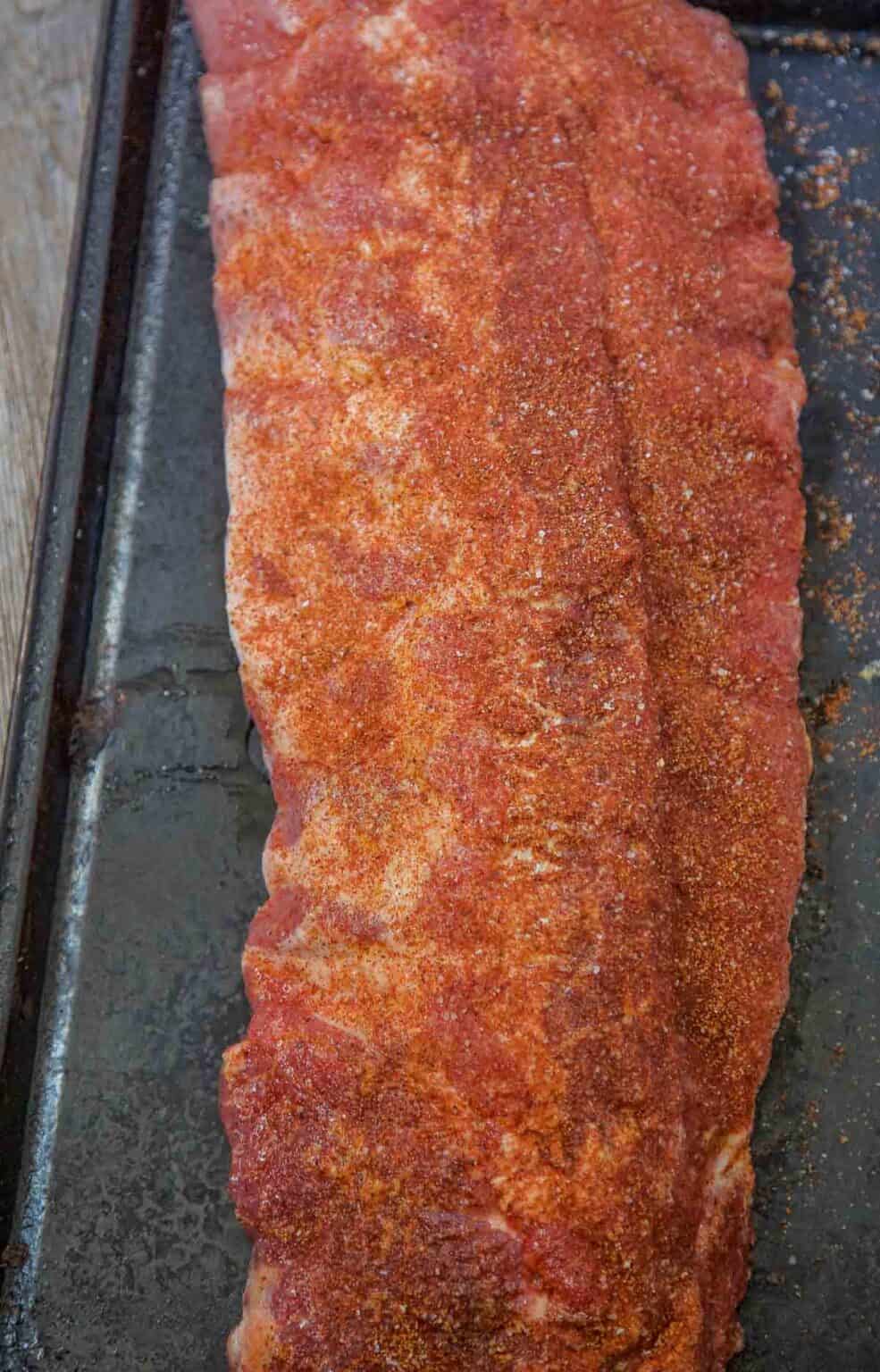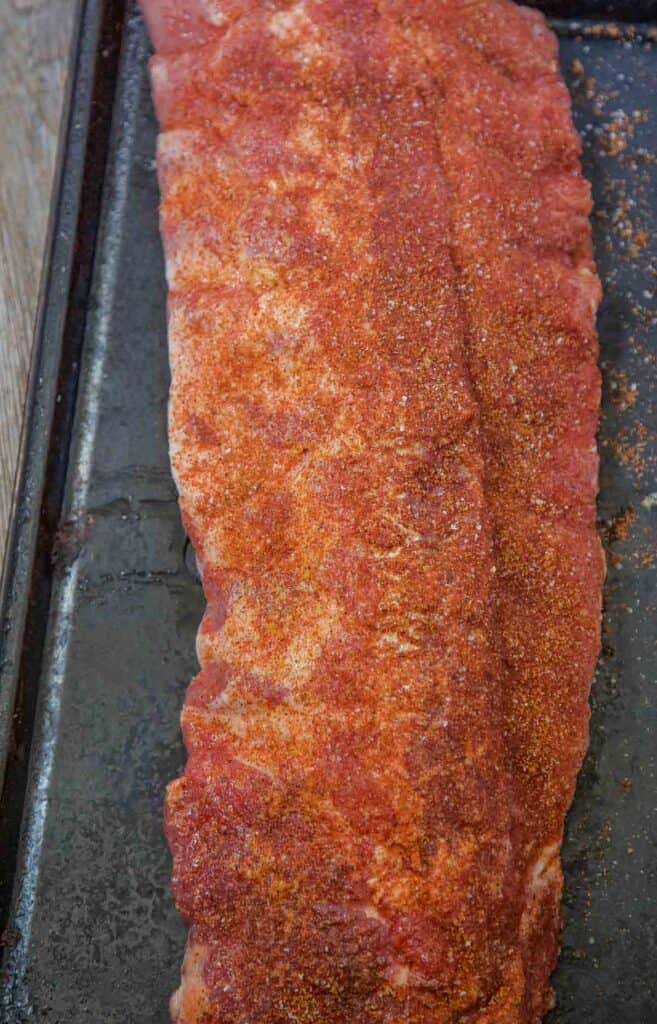 If you season the day prior, wrap them tightly in plastic wrap and store in the refrigerator. Then remove them from the fridge and the plastic wrap and place on the warm smoker. Try and allow the seasoning to set for at least 15 minutes prior to putting them in the smoker.
Temperature For Smoking Ribs
Keep the temperature at 250 degrees Fahrenheit during the entire cook. For wood we like using fruit wood (like cherry or apple) for ribs. This is the same for both baby back ribs and spare ribs.
If you want more smoke flavor then consider using hickory or oak. Mesquite will have the most smoky flavor.
Adding Moisture To Ribs- Spritzing
A spritz is a spray of liquid that helps the smoke stick to the water and it helps keep some humidity in your cooking chamber.
If you are using a pellet grill or offset smoker we recommend a water pan to help retain humidity in the cooking chamber. You do not need it with a Big Green Egg or other kamado style smoker.
Honey Mustard Glaze And Sauce
This four ingredient honey mustard sauce and glaze is a great balance of acid and savory with a touch of sweet. The four ingredients are Dijon mustard (strongly recommended over yellow mustard), honey, apple cider vinegar, and the same seasoning we used on the ribs.
Combine them all in a bowl and whisk until combined. Then it's ready to glaze and dip.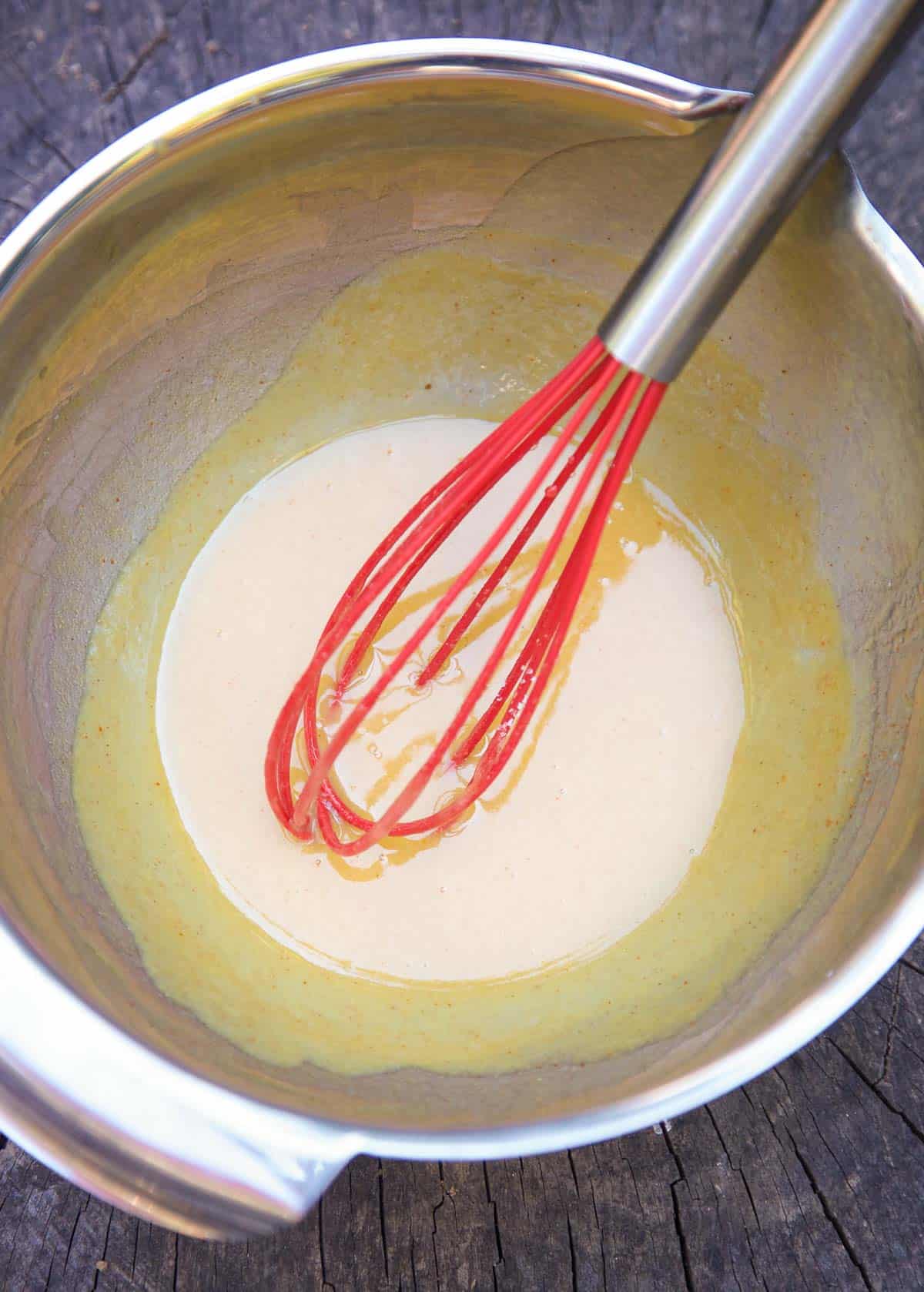 The Cooking Process – 5 Hours
Yes, we smoke the honey mustard ribs for 5 hours. 3 hours smoked and then 2 hours wrapped up and basting in butter and the glaze for a total of 5 hours cooking time.
If you are new to ribs you can get more details on the wrapping process in our guide on 3 2 1 ribs.
During the first 3 hours, you'll want to spritz your meat occasionally to keep the meat moist. We use a mix of apple cider vinegar and water (or apple juice). It adds a touch of sweet due to the apple, so a nice way to offset a savory rub. Spritzing after that first hour every 15 minutes helps lock in flavor. Moisture helps that smoke influence stick to the meat. And with the sugar, helps with the caramelization.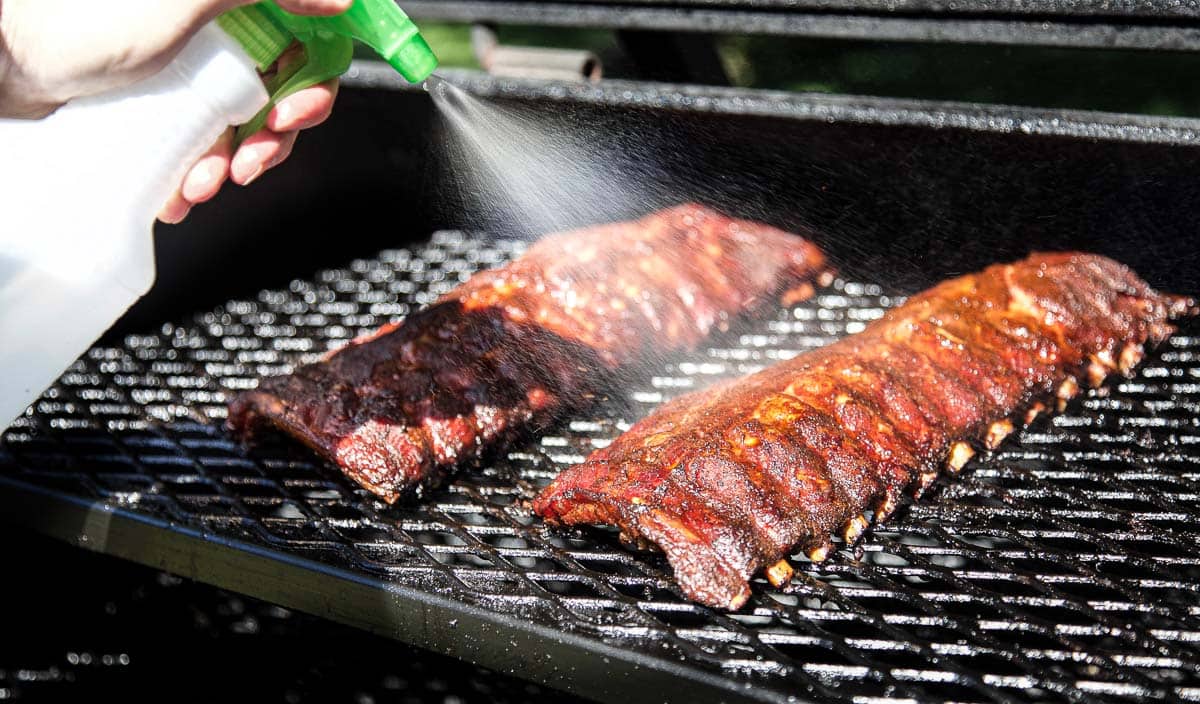 Now we focus on wrapping. By now the bones from the ribs should start to show.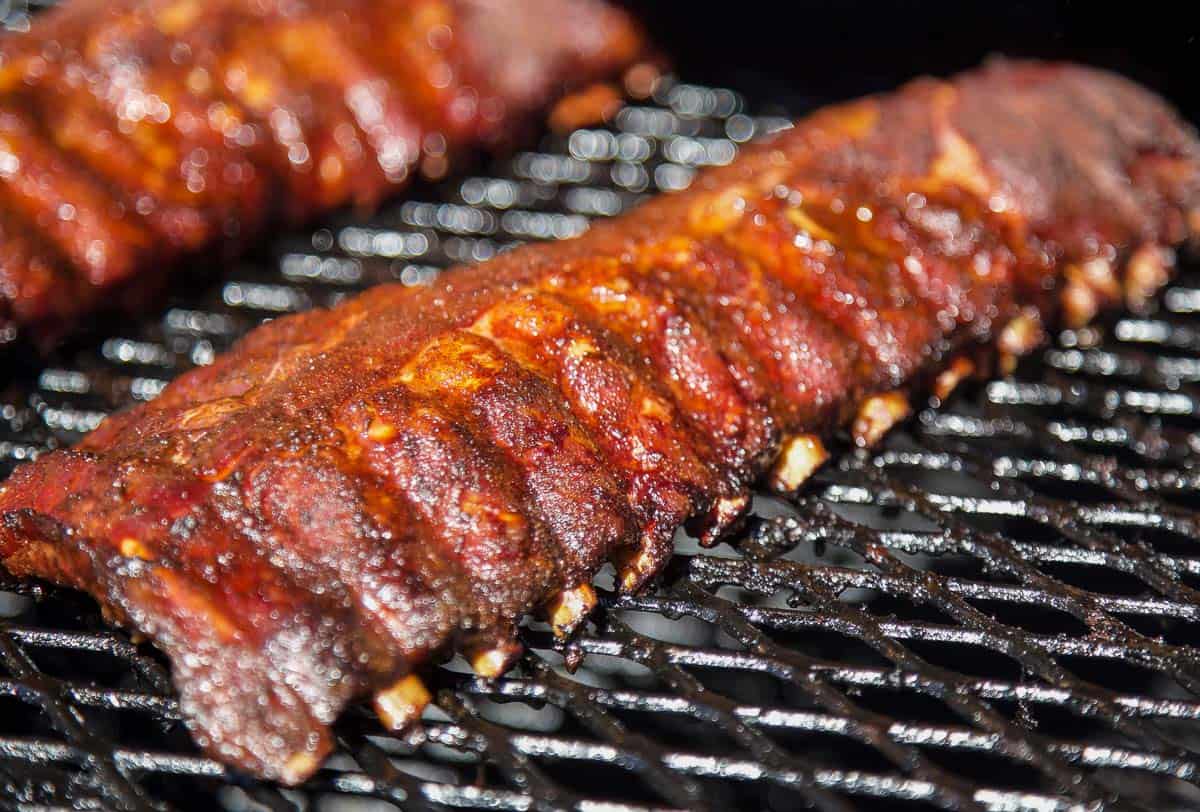 The wrapping will allow the meat to baste with a modest liquid to create tenderness. Lay out aluminum foil and place 2 tablespoons of butter and some of that honey Dijon glaze you made. Feel free to add some of the spritz liquid too. Then enclose the ribs in a foil pouch and place meat side down your cooker. Wrap as tight as possible.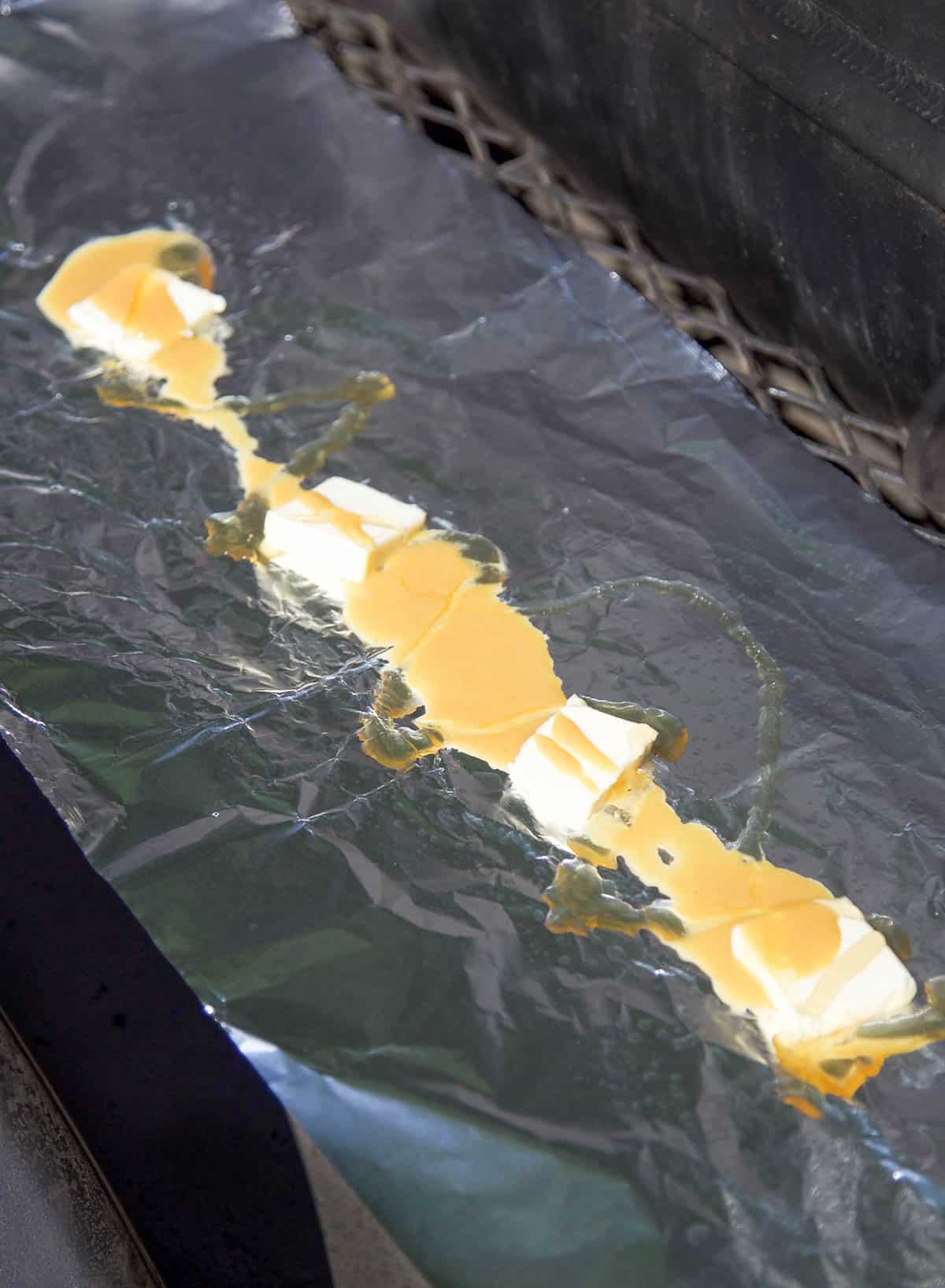 Over the next two hours it will steam and baste in the liquid creating that soft texture. After 90 minutes wrapped, open the foil and gently wiggle the bones. They should move slightly but not pull out of the ribs. If it's still pretty firm, smoke an additional 30 minutes. Then remove, let rest for 10 minutes, slice and serve with remaining honey mustard sauce.
Chef's Note: You know it's done when you can wiggle the bones and they are slightly able to come out with a tug.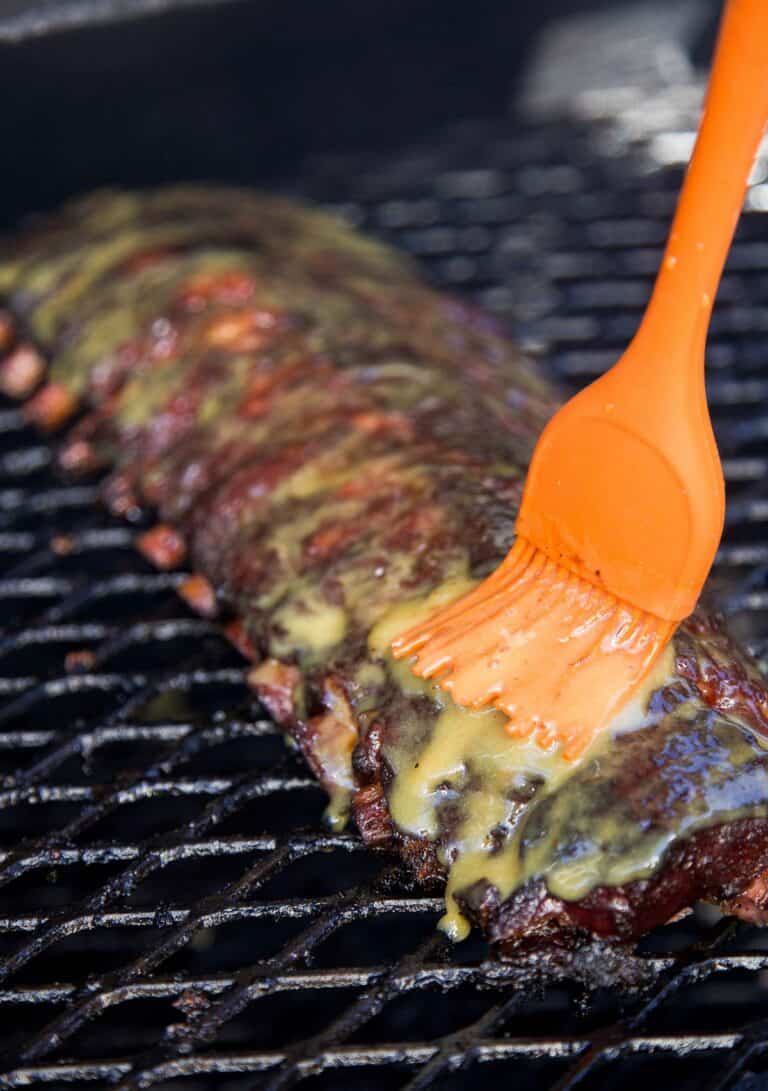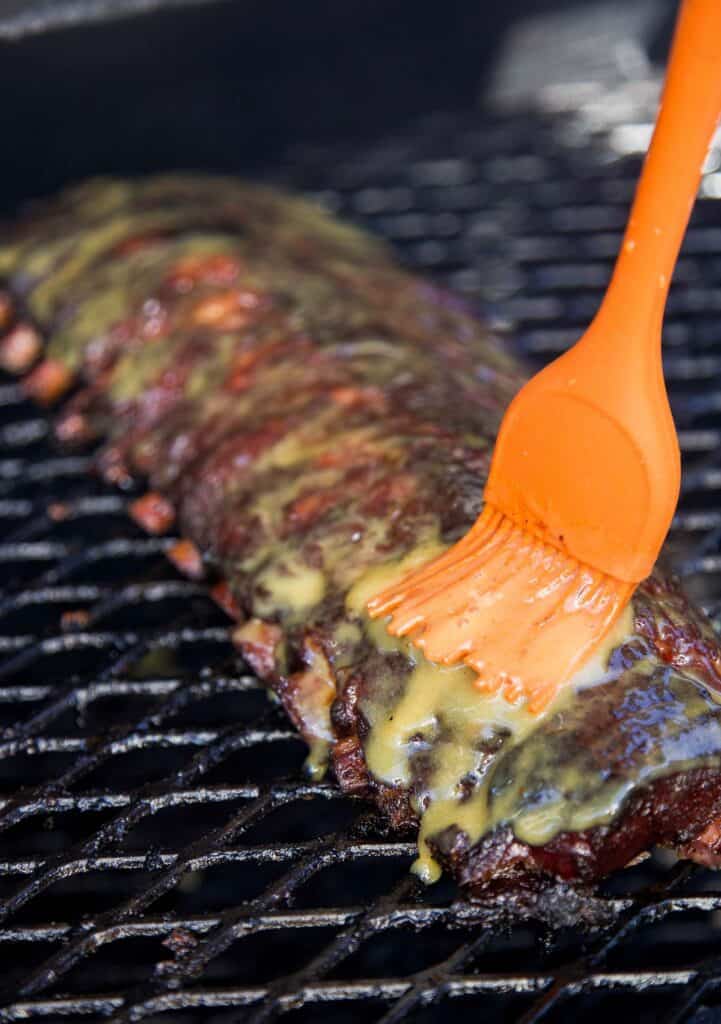 That's it! Enjoy with your favorite sides.
Side Ideas for Honey Mustard Ribs
Other Rib Recipe Inspirations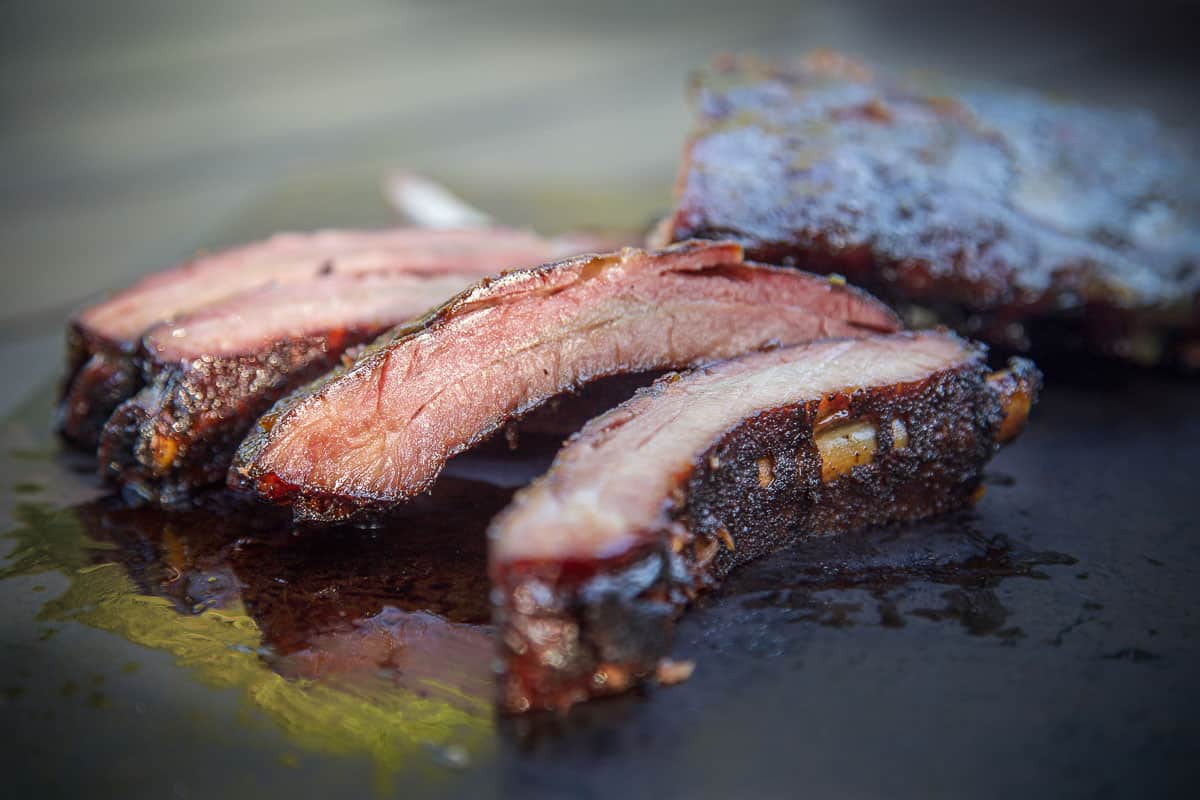 Mary (a certified sommelier and recipe developer) and Sean (backyard pitmaster) are co-authors of the critically acclaimed cookbook, Fire + Wine, and have been creating content for the IACP nominated website Vindulge since 2009. They live in Oregon on a farm just outside Portland.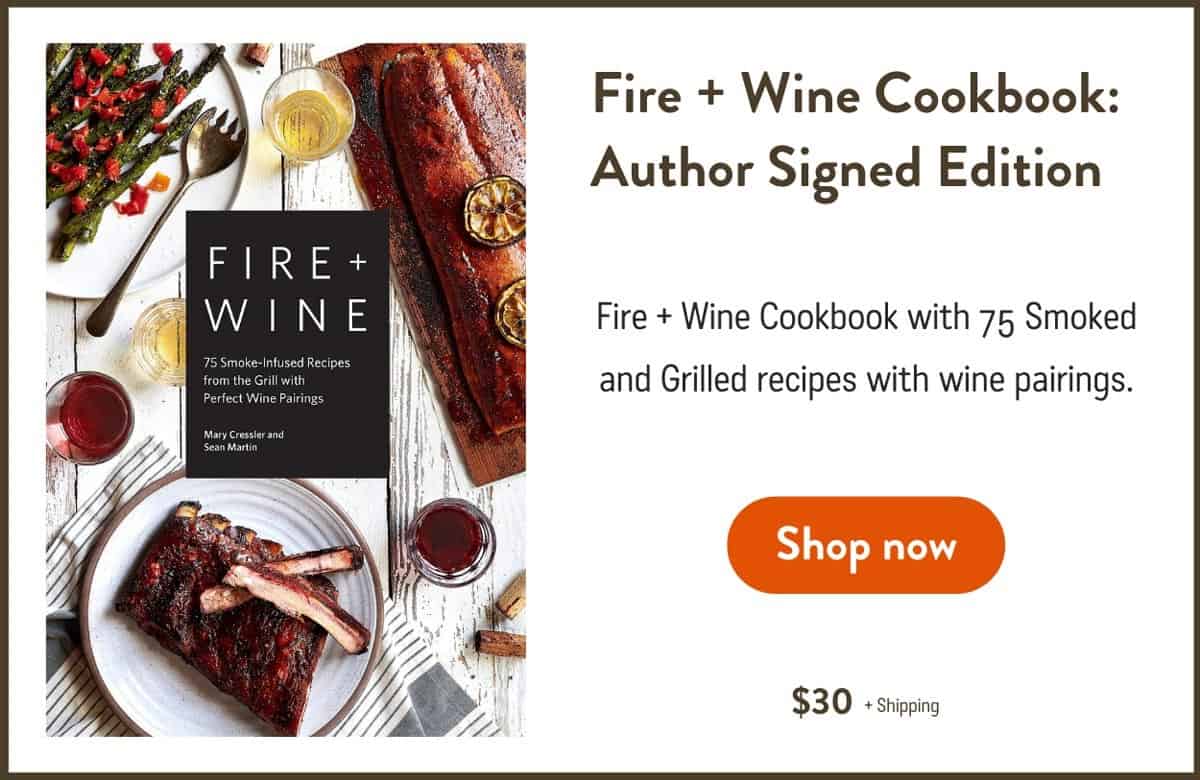 If you like this recipe we'd truly appreciate it if you would give this recipe a star review! And if you share any of your pics on Instagram use the hashtag #vindulge. We LOVE to see it when you cook our recipes.
This post may contain affiliate links. This means if you click on the link, we may receive a small commission if you purchase through the link. We partner with brands we know and love and use and it helps keep the blog going!