Create your own unique flavor for ribs with a sweet and savory honey Dijon sauce.
This post was sponsored by Smithfield. As always all opinions, statements, and recipes are my own.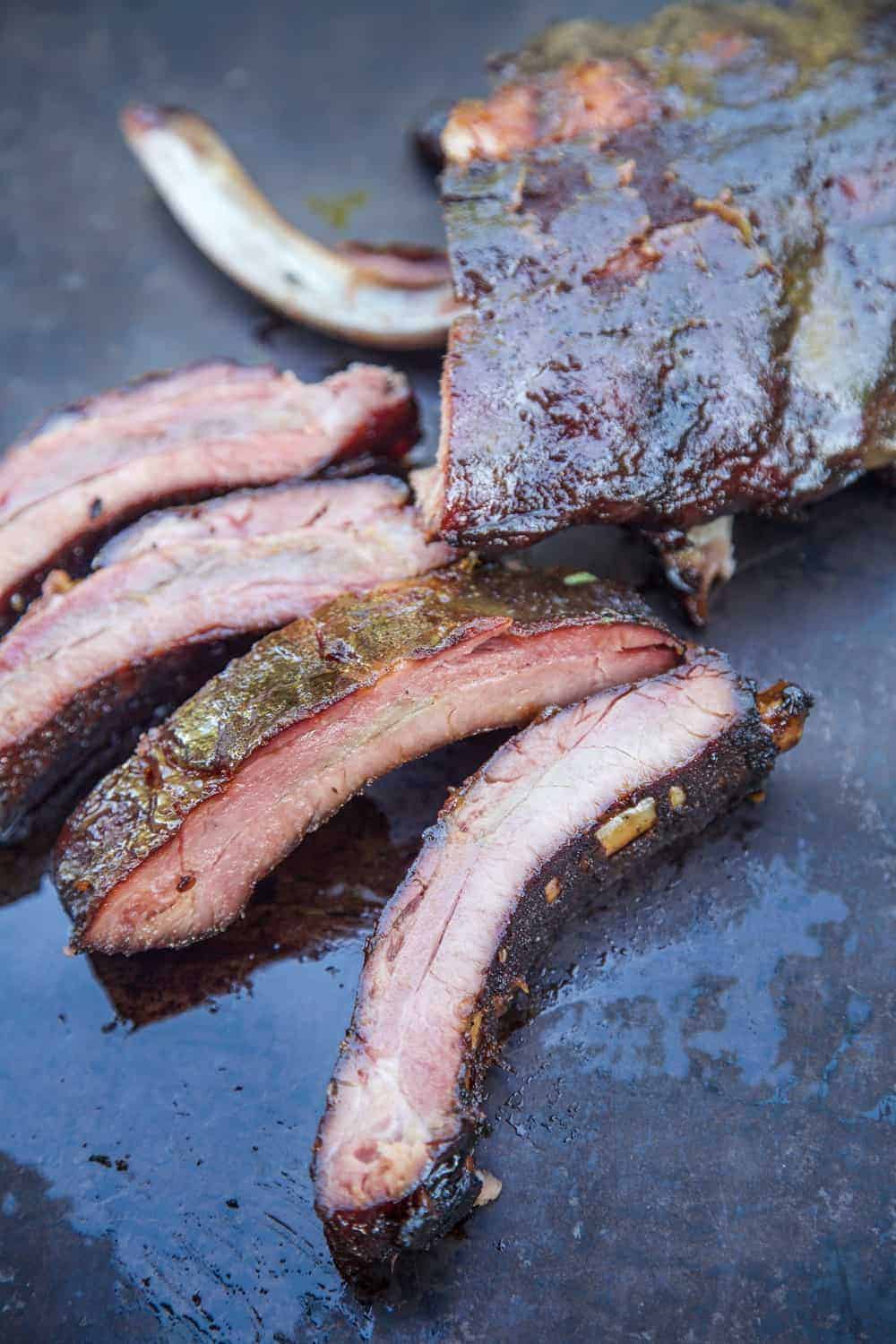 One of my favorite things about barbecue is that there are no rules. There are methods and products up the wazoo, but what it comes down to is experimentation, flavor, and tenderness. There's no one way to cook anything, and there's no one sauce to rule them all.
Ask any two people and they'll tell you two completely different styles they like their ribs for example. My husband is a salt and pepper guy, and I like to finish mine with a sauce or glaze. Others may like theirs falling off the bone and dripping in sauce. Unless, that is, we're in a BBQ competition. In that case the judges are right and a good bite through without coming off the bone is king 😉
But at home you call the shots. And this summer Smithfield wants to see you grilling with their "Get Grilling America" campaign and are holding a photo contest to see your grilled goods! (more on that below)
So this summer I want to encourage you to experiment making your own sauces and flavors. They don't have to be fancy or elaborate with 20 ingredients either! Keep it simple. We're not big sweet tooth people around here. Meaning we don't really go for super sweet sauces, heavy sugar content, etc. We like a balance of sweet and savory, something you don't tend to find as much of on the shelves at your supermarket. So we make our own.
Two flavors I absolutely love together are honey and mustard. Mustard for that heat and kick, and honey to add that natural sweetness, just enough to create balance. And we add apple cider vinegar for that acidic touch.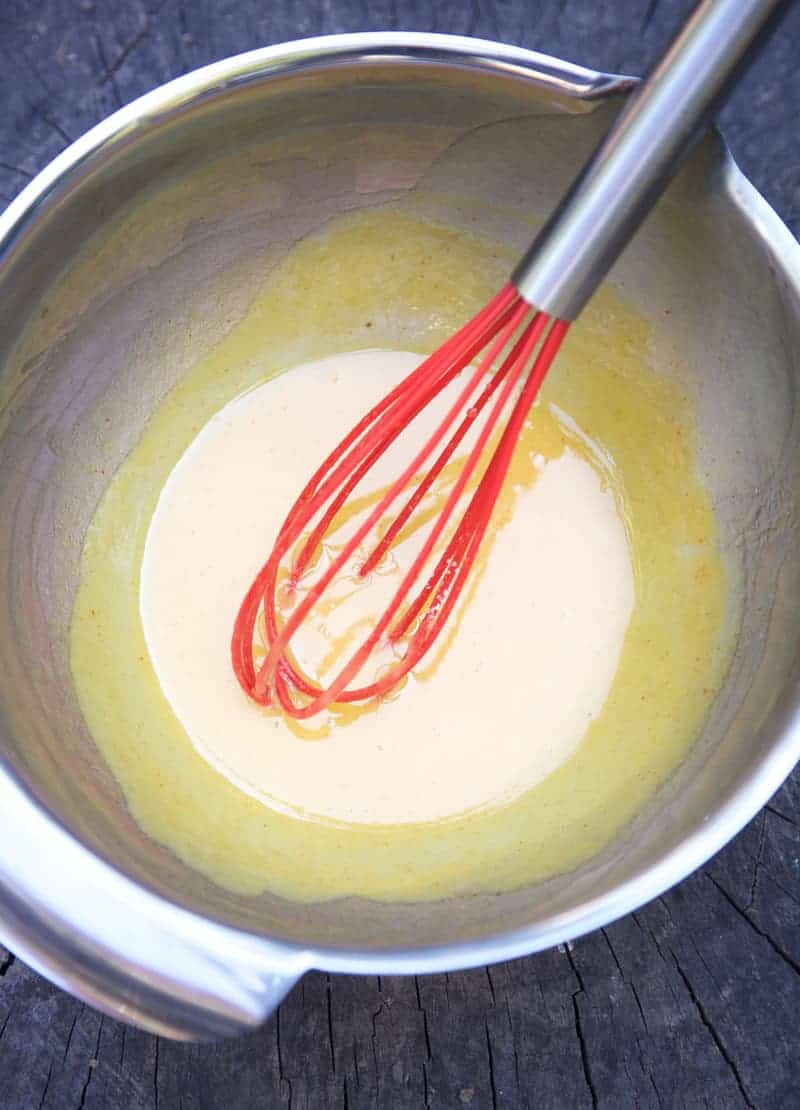 Once you have your sauce inspiration it comes down to buying a quality rack of ribs. Smithfield ribs are available throughout the country, and here locally you can even find them easily at your local Winco among others.
THE CUT
We used Smithfield Extra Tender Fresh Pork Back Ribs for these. Pay attention to the amount of meat on your ribs. This will affect cooking times. These were hearty ribs, which required more cooking time than if they had been smaller and leaner.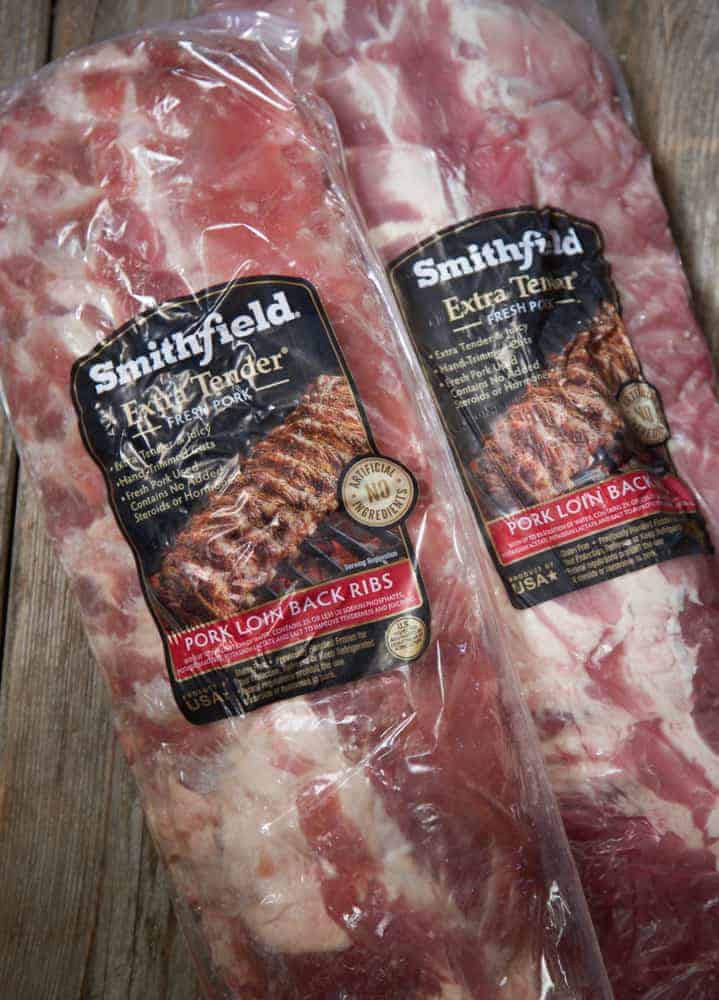 Remove any silver skin that is on the bone side of the ribs, and trim off any excess fat.
THE RUB
Start by putting a coating of Dijon mustard on the ribs so the dry rub will stick, and then apply your favorite dry rub. Wanting to keep the sugar to a minimum? Try equal parts salt and pepper and liberally apply. A rub that has sugar in it will really help in creating a deep color and bark that is the first thing you'll see when you take your first bite. You are going to be adding a sauce slather at the end of the cooking, which will add additional flavor. For our rub, we went heavier on savory flavors like onion powder, dry mustard and paprika to offset the typical mix of sugar.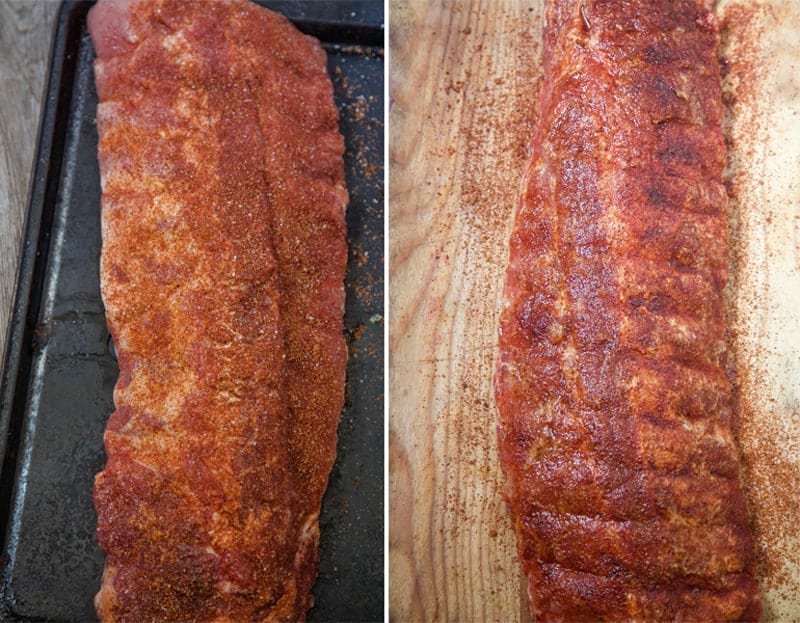 Let the rub sit awhile before placing on the smoker. In this case just 15 minutes starts to let the rub set. You'll see the sugar and salt dissolve and liquefy which is getting into that cut of meat. If you have a few hours, then put that rub on a few hours before you cook.
TEMPERATURE FOR RIBS
We keep the temperature around 250 degrees Fahrenheit during the entire cook. For wood we like using fruit wood (like cherry) for ribs.
ADDING MOISTURE TO RIBS
I always cook with a water pan. The added moisture to the cooking chamber really helps with color on the ribs in my opinion and keeping the texture moist. Now on to the cooking method.
3-2-1 METHOD OF SMOKING RIBS
Not everyone agrees on the 3-2-1 method, but it works for us, so we're sticking with it!
We used a variation of the 3-2-1 method this time. If you're not familiar with that process see this post. Simply put, you smoke for 3 hours, then wrap for 2 hours, then uncover and sauce for up to an hour letting the sauce tack up.
3 — During the first 3 hours, you'll want to spritz your meat occasionally to keep the meat moist. We use a mix of apple cider vinegar and water (or apple juice). It adds a touch of sweet due to the apple, so a nice way to offset a savory rub.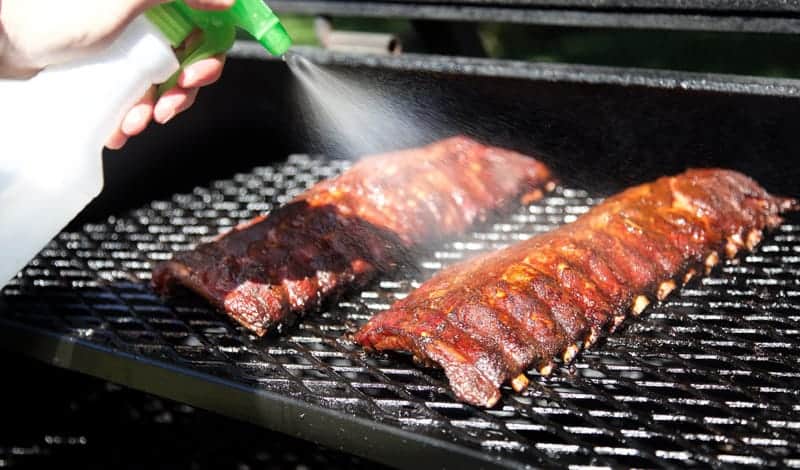 Spritzing after that first hour every 15 minutes helps lock in flavor. Moisture helps that smoke influence stick to the meat. And with the sugar, helps with the caramelization.
2 – Now we focus on wrapping. By now the bones from the ribs should start to show.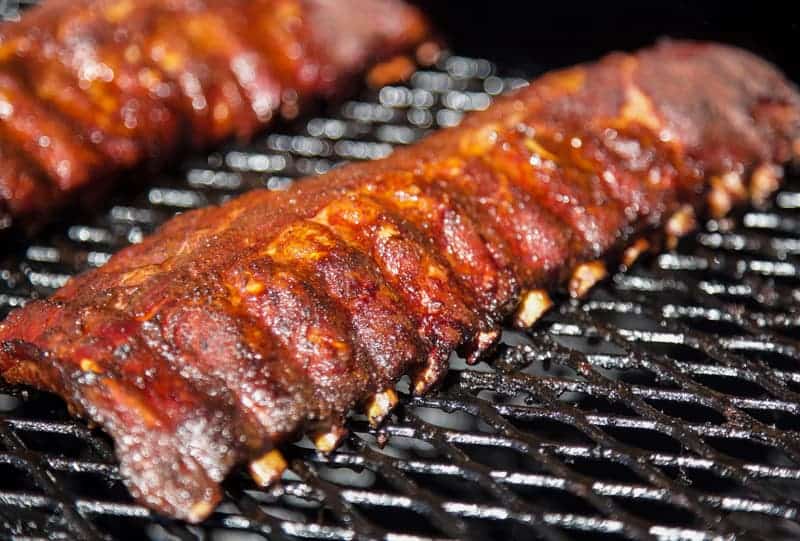 The wrapping will allow the meat to baste with a modest liquid to create tenderness. Lay out aluminum foil and place 2 tablespoons of butter and some of that honey Dijon glaze you made. Feel free to add some of the spritz liquid too. Then enclose the ribs in a foil pouch and place meat side down your cooker. Wrap as tight as possible.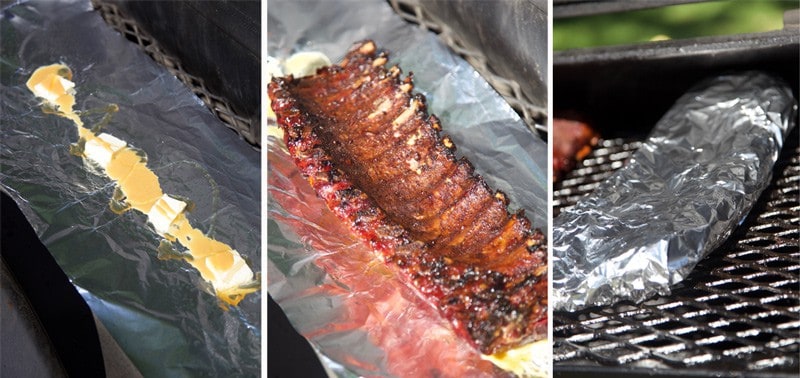 Over the two hours it will steam and baste in the liquid creating that soft texture. As you approach that second hour in the wrap. Remove the foil after 90 minutes to two hours; you'll see that the bone in the rib is showing more. This is where that butter and glaze used basted the ribs and added a ton of flavor.
1 – The last hour is unwrapped. Here is where you apply that glaze. Apply your honey mustard glaze just when you unwrap and continue cooking.
You know it's done when you can wiggle the bones and they are slightly able to come out with a tug.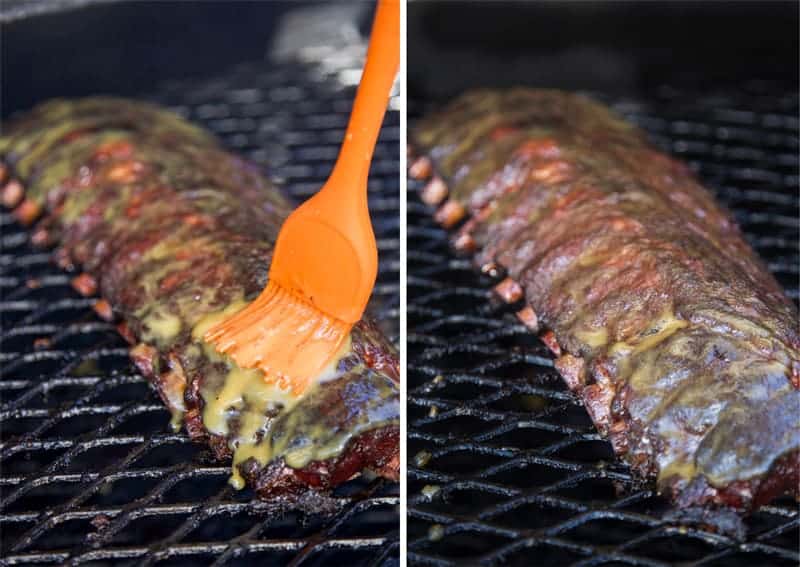 That's it!
Enjoy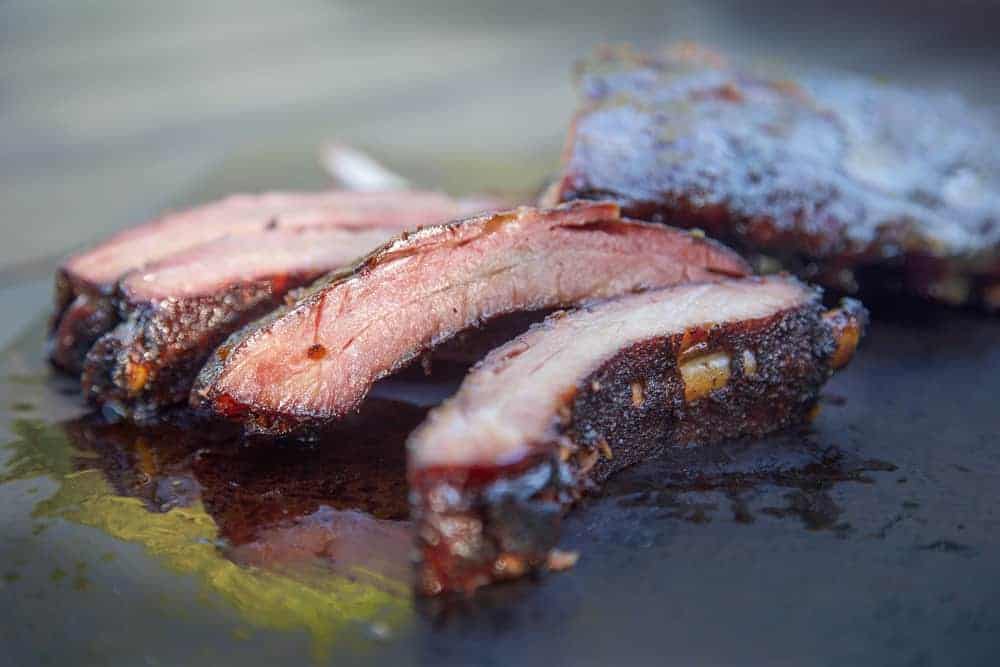 Honey Dijon Glazed Smoked Ribs Recipe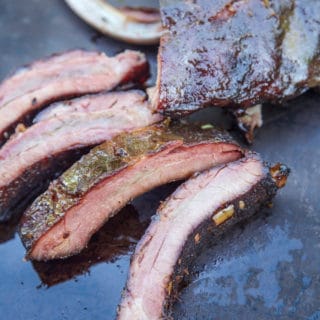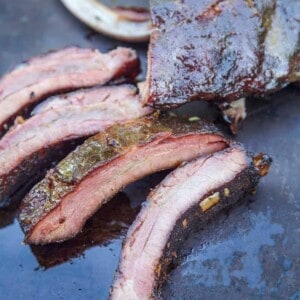 Ingredients
1

rack pork back ribs

we used Smithfield Extra Tender Fresh Pork Back Ribs

2

tablespoon

Dijon mustard

3

tablespoon

of your favorite dry rub

we used a variation of this one
For the Spritz:
1

cup

apple cider vinegar

1

cup

water or apple juice

Place into a food safe squeeze bottle
For the Honey Mustard Glaze:
¼

cup

Dijon mustard

¼

cup

honey

1

tablespoon

apple cider vinegar

1

tablespoon

dry rub used for the ribs

Whisk all ingredients together
Instructions
Preheat smoker to 250 degrees (F)

Prepare ribs by removing membrane off of the bone side of the ribs using a paper towel, then rinse under cold water and pat dry.

Coat the ribs with the Dijon mustard and then liberally apply your favorite dry rub.

Let sit at least 15 minutes or let rest for several hours in fridge seasoned.

Place ribs on the smoker for about 60 minutes. After 60 minutes, you'll start to see the color of ribs darken, this is a good time to spritz the ribs. Spray liberally after quickly lifting the smoker door every 15 minutes for another two hours. (3 hours total time)

When the bones start to protrude from the ribs, you are going to wrap in foil.

Layout your foil and place 2 tablespoons butter and a drizzle of your glaze along foil, take care to keep at least ¼ cup of the glaze for after the wrap.

Then place your ribs meat side down, on top of the butter and glaze and wrap tightly. Place back on smoker for roughly 2 hours. Check at about 90 minutes, you are ready to remove the foil when the bones are loose as you pull on them, but not coming out of the meat.

After removing the foil, place ribs meat side up onto the smoker and apply your glaze. Let sit another 20 – 30 minutes or until the glaze has tacked up.

Remove from smoker and let rest for 10 minutes loosely tented in foil. Then cut up and serve.
Notes
This recipe is for one rack. In general this should be enough for 4 people (if the rack is nice and big). But if you're up for the task this could be enough for 2 people.
Find the perfect wine pairing at the Vindulge Wine Shop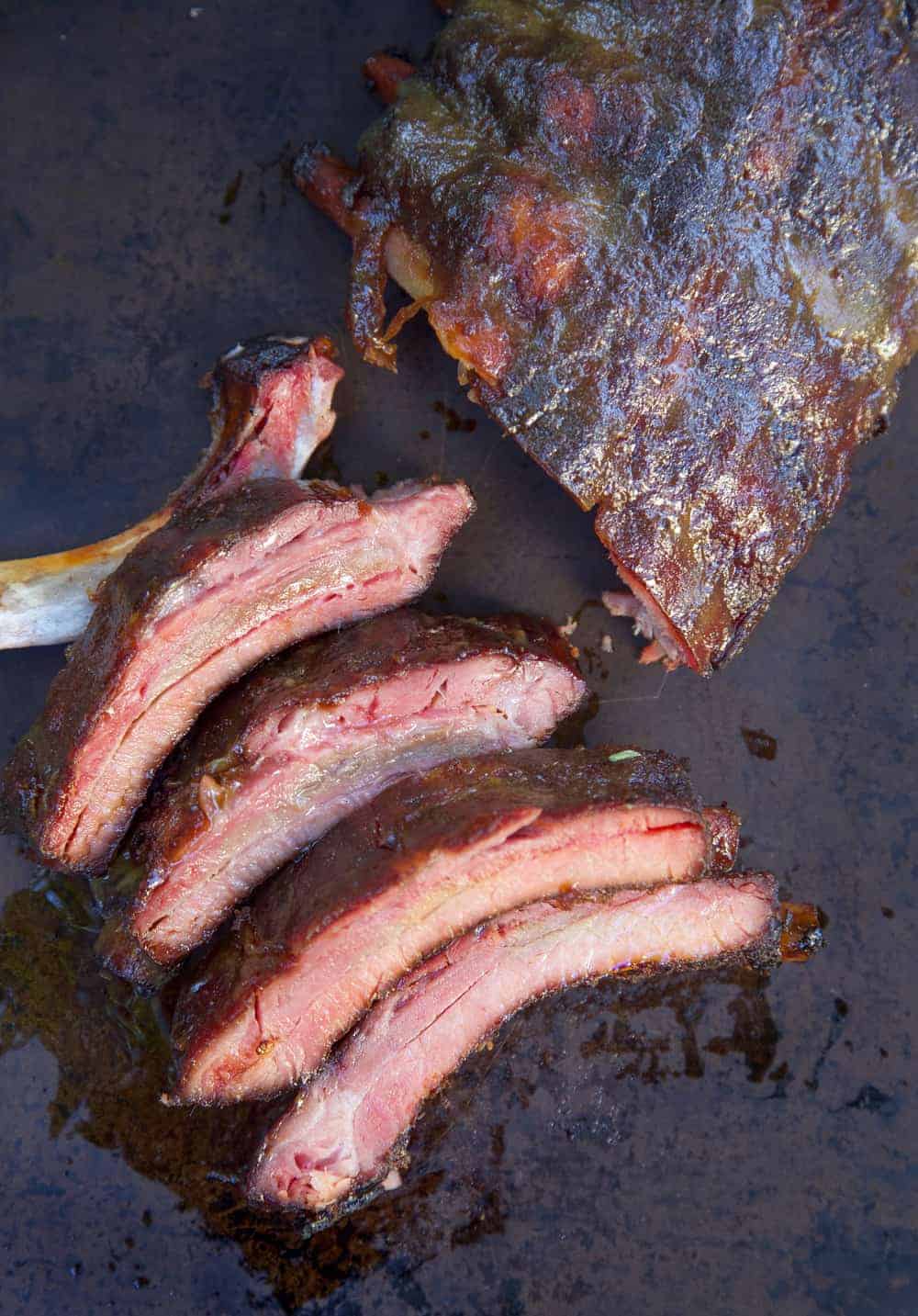 GET GRILLING AMERICA!
Smithfield wants to see your grilling magic this summer. Visit SmithfieldGetGrilling.com to submit your photo within one of the four contest waves for a chance to win a grand prize of $5,000. How cool is that?!
Photos will be judged on the appearance/quality of the photo, how well it matches with the overall theme for the entry period, and popularity based on votes
For each of the four contest entry periods, the five entries that receive the highest score will be declared a Finalist, and will receive a Weber smoker (woot woot!!!).
Additionally, hundreds of prizes will be given out to those who submit a photo (one per entry period) or vote on a photo (limit one drawing entry per day), via weekly drawings. What are you waiting for? Go win yourself some prizes!!!
For additional tips, inspiration, and videos for summer grilling check out the Smithfield website.
Oh, one more thing. Be careful with these ribs! If you take your eyes off of them even for one second, say to grab your phone to Instagram these ribs, it's possible someone may sneak in there to steal a few! Pro tip 😉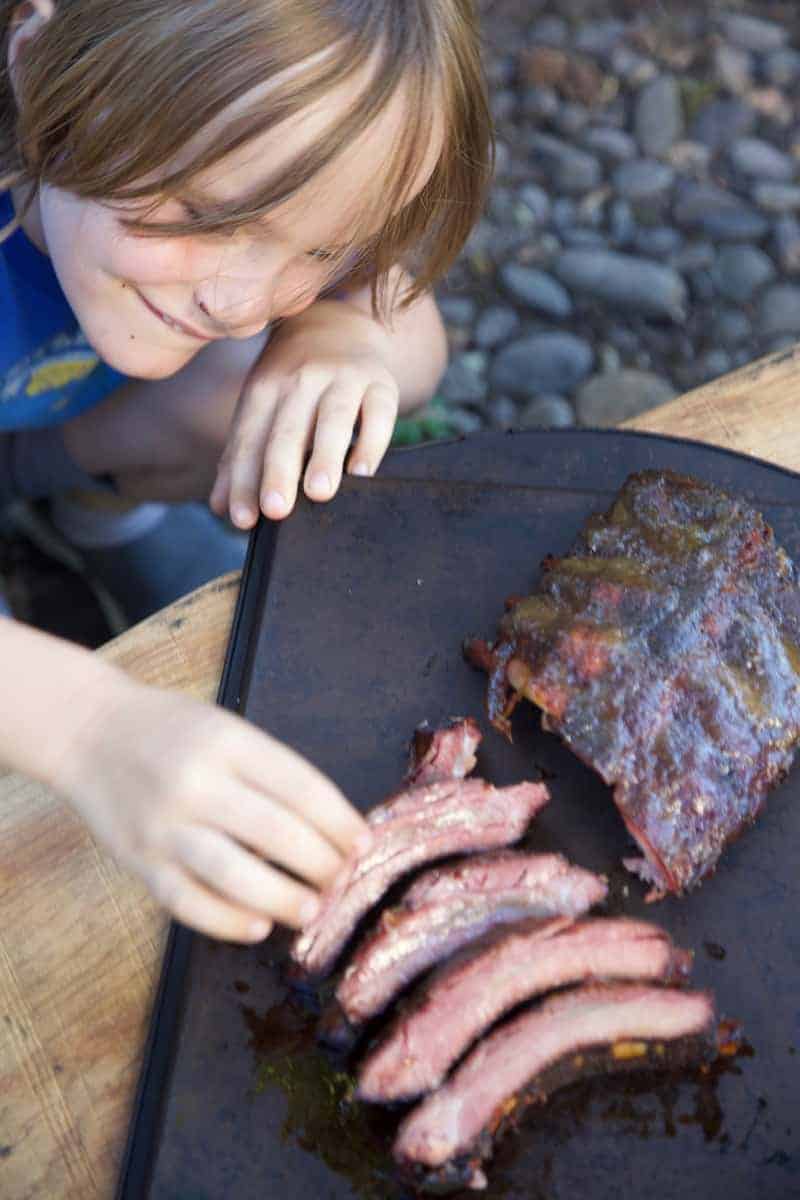 This is a sponsored post written by me on behalf of Smithfield. All opinions are my own. 
If you like this recipe we'd truly appreciate it if you would give this recipe a star review! And if you share any of your pics on Instagram use the hashtag #vindulge. We LOVE to see it when you cook our recipes.
---