This isn't meant to be a "what to drink for New Year's" post, or a "top sparkling wines of the year" list by any means!  If you've read more than one blog post here you know sparkling is my favorite style of wine, I drink them year round, and write about them year round.
Instead, this post is intended to highlight some of the sparkling wines I've enjoyed just this month alone and would recommend — all for very different reasons.  I believe there are bubbles for all occasions, and you will find that the wines below can be enjoyed from anything from a simple brunch to the most special of special occasions.
I'm also fairly a traditionalist when it comes to sparkling wine.  And by that I mean I tend to prefer sparkling wines made from traditional Champagne grapes (Chardonnay and Pinot Noir).  This month, however, I've been branching out to bubbles made from non-traditional grapes.  You'll find a wide range of styles in this month's list.
Large Group, Party, or Mimosa Bubbles 

Prosecco and Cava:   As I mentioned above I generally prefer sparkling wines made from traditional grapes (Pinot Noir and Chardonnay) for sipping alone, but the four wines below (made from non-traditional grapes) would be nice choices if you plan to make holiday mimosas or if you are having a party.  Prosecco's are nice for parties (as they typically have a slight level of sweetness that will appeal to casual wine drinkers), and Cava's are my favorite for mimosas (they are usually inexpensive, dry, and therefore make for a nice base for your mixed drink).  
Rossinyol de Moragas Cava Brut NV
Cava, Spain
$12  |  12% abv
We enjoyed this wine with friends during a holiday brunch get together.  Made from 35% Macabeo, 35% Xarel-lo, and 30% Parellada, it was light, bright, and fruity (think apple and pear), dry and slightly tangy.  This wine was quite nice to sip on its own, but even better as a base for the pomegranate mimosas we enjoyed that afternoon.  And doesn't a pomegranate mimosa sound perfect for New Year's Day brunch?!
Mionetto Prosecco Brut NV 
Veneto, Italy
$12-$15 range  (media sample)
Made from 100% Prosecco, these bubbles had nice bright apple and melon flavors on the nose, slightly sweet to the palate (but not distracting), and would make for a nice party wine for large groups or as an aperitif, as its slight sweetness will appeal to wide range of casual drinkers.
Zonin Sparkling Brut Rosé NV 
Italy
$10-$15 range  (media sample)
Fresh and crisp with a touch of sweetness, though not very sugary or syrupy.  Its sweetness may appeal to those who may typically shy away from bubbles (like my mom who thinks they are all far too dry for her taste).  If you can find this on the lower end of the price spectrum ($10-$12) it would make for a nice party bubbly or brunch choice.
Zonin Prosecco Brut NV
Veneto, Italy
$15 range  (media sample)
Soft apple aromas, very frothy in the mouth, and slightly sweet.  Though I didn't love this wine on its own, it was quite nice blended into a traditional orange juice mimosa.
Great Values and Old Standby's 
Orange River Cellars Star Tree Brut NV
South Africa
$10  |  12%
I selected this wine from my local wine shop simply because it was from South Africa, and it's been awhile since I've had bubbles from there.  Plus it was only $10, so my expectations weren't too high.  Made from 100% Chenin Blanc, one of the most important grapes in South Africa, this wine is very fresh, slight minerality, acidic but balanced out by the rich sweet apple, pineapple and lemon flavors.   If you enjoy branching out and trying new styles of sparkling wine, this is one to put on your list.  The fact that this wine is from South Africa and priced at only $10 is reason enough to try the wine, but the strong and intriguing flavors will have you coming back for more.  Would be nice as an aperitif for parties; the strong acid will hold up to a variety of appetizers.  Did I mention it's only 10$?!
Caves Louis de Grenelle Saumur Corail Brut Rosé NV  
Saumur, Loire, France
$15  |  12.5% abv
Made from Cabernet Franc grapes, this wine was nicely balanced, light and fruity with mild strawberry aromas with crisp yet elegant bubbles.  For only $15 this is a refreshing rosé to have on hand for dinner or holiday parties, or even just a quiet dinner paired with grilled or roasted chicken.  Good value.
Gruet Blanc de Noir NV
New Mexico, USA
$15  |  12% abv
I poured this wine for a class that I recently taught.  I begin most of my classes with bubbles as a way of welcoming students and guests before we begin.  This is one of my favorite "welcome wines".  My guests were all blown away by how flavorful the wine was.  And when I told them it was from New Mexico nobody believed me (I had to pass the bottle around to prove it).  I've always been a fan of Gruet sparkling wines, and this particular bottle has been very appealing to me lately.  It is fresh, bright, fruity, super crisp, and super full of flavor, and an incredible value for the money.  And yes, it's from New Mexico!
Gloria Ferrer Brut Royal Cuvée 2002 
Carneros, Sonoma, California
$32 (for the current vintage – 2004)  |  13% abv
A blend of Pinot Noir and Chardonnay, this wine is reminiscent of Champagne with its fine bubbles, light tart apple and toasty/brioche aromas, a creamy mouthfeel, but without the price tag of most Champagnes.  I was a wine club member at Gloria Ferrer a few years back and this was one of my remaining bottles I had in my collection, and we finally enjoyed it during the weekend of our twin boys second birthday.  Though this vintage will be less likely to find, you can seek out their current vintage (the 2004) for around $32.
If you can't find the Royal Cuvée don't fret, I generally enjoy most bubbles produced by Gloria Ferrer.  To me they are my old standby.  Like I said, I was in their club, and for a reason — they make quality wines at good prices!
Splurge Worthy Champagnes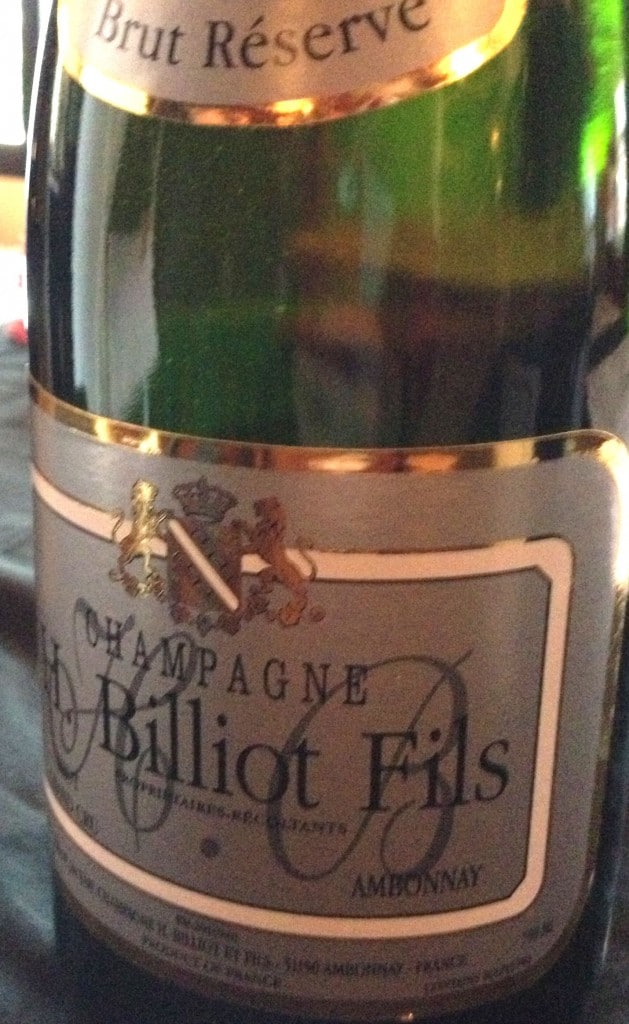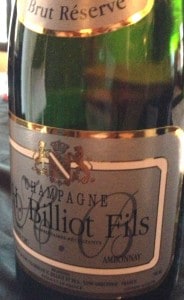 H. Billiot Fils Reserve Grand Cru Brut NV 
Champagne, France
$55  |  12.5% abv
Grower Champagnes are a favorite for many sparkling wine lovers, and I had this wine at a local wine store tasting and had to buy some to take back and drink immediately.  The grapes, 75% Pinot Noir 25% Chardonnay, come from just 5 hectares of Grand Cru vines in Ambonnay, spread over 18 parcels.  Approximately 3,750 cases are produced annually (and only 350 make their way into the US), so it is very small production and very high quality.  If you want to see what Grower Champagnes are all about, this is an excellent example.  This Champagne packs big flavors — fruit, brioche, toast, caramel, concentrated, deep, and balanced.  My notes exclaimed "a mouth full of pure joy!".  Yeah, I guess that about says it all.
Gaston Chiquet Special Club Grand Cru Brut Millesime 2005
Champagne, France
$75  |  12% abv
On a different side of the spectrum, this Grower Champagne is made from just 30% Pinot Noir, and the rest Chardonnay.  This Champagne gives you less of the jam packed fruit flavors of the wine above, but more expressive of the lemon, yeasty, toasty, flavors from the Chardonnay and incredibly elegant, creamy and frothy in the mouth. Devine!
For the curious you can click here to read more about the "Special Club" designation from Michael Skurnik, who imports the above two Champagnes.
As for what I'll be drinking this New Year's Eve?  I've got my eye on another bottle of that H. Billiot Fils Reserve Grand Cru Brut Champagne.  I can't stop thinking about it.  Otherwise, I do have a bottle of 1995 Pommery Grand Cru Vintage Brut Champagne that has been waiting patiently in my cellar for someone to show it some love.
Related reading on Champagne and sparkling wine: