My dad recently sent me a text saying "do you have Champagne glasses?"  I initially wanted to respond,  "Um duh, who do you think you're talking to???"   Then I thought perhaps it was a trick question. Was this question really intended for me?  I mean its ME for heavens sake, the bubbles queen.  Then I thought, oh, wait maybe he just found some nice ones he wanted to get me for Christmas, so I immediately changed my response to: "of course silly, but one can never have too many Champagne glasses."  At that point my phone rang with my dad giggling on the other line, saying he texted the wrong daughter. The text was intended for my sister, whom we are all spending the holidays with this year.
He had just finished reading an article in the paper about how people are always prepared with Champagne during the holidays, but most people over look one of the most important things – the proper stemware for serving Champagne.  He was trying to contact my sister and make sure she was prepared for hosting this holiday season and her wine snobby sister.
This reminded me that I had failed to produce the second installment of my Champagne series.  Doah! I guess I could blame the twins for keeping me so busy these days.  Or just the holidays in general, for distracting me.  Oh, you can also add it's getting so dark so early these days.  Not sure what that last one has to do with anything except for the darkness making me tired and less willing to write a blog post.
Many wine bloggers and writers are probably sick of seeing articles on sparkling wine and Champagne this time of year, but I am going to be cliché and add my two cents.  Besides I promised you all a part two in my Champagne series, and after all, it IS the season where most bubbles are consumed so it is only fitting to continue the series now.  So here goes…
Champagne and Sparkling Wine Series: Part II



In part I we defined what exactly Champagne is and how it is produced.  In this post I hope to explain the different styles of Champagne, and introduce you to sparkling wine made in other countries.  I might even throw in some additional tips on bubbly – but you'll have to read till the end to find out 😉
So now that you know (from reading part I) that Champagne is only true Champagne if it comes from the Champagne region of France, it is also helpful to understand the various styles you will encounter.  As with the majority of wines produced in France, you will rarely see the names of the grapes used in the wine.  Even though only three grapes are permitted in most Champagne, it is also helpful to know the following styles so you can better identify what you like best:
Blanc de Blanc:  literally means "white from white", white wine made from white (Chardonnay) grapes, and usually lighter in style than the following types.
Blanc de Noirs:  translates to "white from black", meaning white wine made from black grapes (Pinot Noir and/or Pinot Meunier)
Rosé:  most often made by blending red wine and white wine together prior to bottling.
NV (Non Vintage): meaning that the wines are a blend of different vintages of wines. Champagne producers blend multiple vintages together in order to achieve a consistent "house style". This creates consistency, so that you, the consumer can expect similar tasting product year after year.
Vintage Champagne:  produced only in the most exceptional years, and 100% of the grapes used must come from the vintage stated on the bottle.  Less than 10% of Champagne produced each year is vintage Champagne. 
 In the first post I also mentioned that a small dose of sugar (dosage) is added to the wine prior to determining what style of wine (level of sweetness) it will be.  Understanding these terms will come in handy if you are particular about a wines level of sweetness (like I am!):
Brut Naturelle/Non Dosage:  bone dry, usually no sugar is added
Extra Brut:  very dry, less than 1%
Brut:  very dry to fairly dry (this is also the most common style you'll see)
Extra Sec or Extra Dry:  dry to medium dry (around 3% sugar)
Sec:  medium dry, or some call it medium sweet, whatever you call it its right there in the middle of the scale
Demi-Sec:  we're getting sweet here people
Doux:  Boo yah…..think dessert, because that's the level of sweetness we're talking about here.  Pucker up and hand me a cookie sweet.
 BUBBLES OUTSIDE OF CHAMPAGNE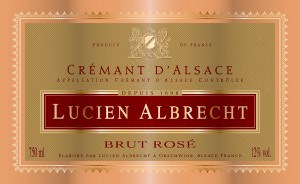 Crémant – This is the term used to label sparkling wines made in the traditional method (méthode champenoise) that are made within France but outside of Champagne.  Some of my favorite Champagne alternatives come from this designation at a much better price then their peers in Champagne.  You will typically see the term Crémant followed by the region the bubbles were made – Crémant d'Alsace (méthode champenoise wine made in the Alsace region); Crémant de Bourgogne (made within Burgundy), Crémant de Loire, and so on.  One of my favorite bottles that I have written about numerous times here on this blog falls into this category.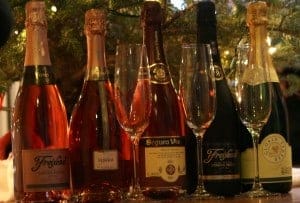 Cava:  Sparkling wines originating primarily in Northeast Spain.  Though many grapes grow here, you will typically find the following grapes used in Cava – Macabeo, Xarel-lo, Parellada and increasingly Chardonnay.  Most commonly produced in the traditional méthode champenoise style (it will usually say so on the label), and also comes in a variety of levels of dry to sweet, Cava can be incredible values and you can find decent examples of Cava starting at around $8.  I recently tasted a variety of (mostly) Cava's for a twitter tasting and confirmed some of my favorites, and not so favorites.  Though not in the twitter tasting, Cristalino Brut Cava remains one of my favorite under $10 Cavas (I recently found it on sale for $6 and bought a case), with Segura Viudas Brut Reserva Cava being a very close second for the same price.  Freixenet Cordon Negro Brut, while very popular, was a bit too dry with bubbles that dissipated almost instantly.  For the same price, go for the Cristalino or the Segura Viudas Brut.   Note the grape varieties are different, so expect different flavor profiles than traditional Champagne.  Explore!
Prosecco:  Produced in the Veneto region in Northeast Italy, Prosecco is the name of the grape and the wine made from it.  Though they can be still wines, most Prosecco is sparkling or "frizzante" or "spumante" and are not made in the same method as Champagne or Cava.  Most Prosecco is produced through the Charmant method – where secondary fermentation occurs in pressurized tanks rather than in the individual bottles. This is less expensive, less time consuming, less labor intensive and produces (arguably) less interesting wines, but still tasty nonetheless!  Another region where you will find some good values for bubbles.  Think budget and mimosa friendly options.
OTHER REGIONS:
Sparkling wines are produced all over the world. Though the most famous derive from France, Spain, Italy, and the United States, there are good examples to be found in Germany, Australia, and even South Africa.  In California, the best examples are made in the traditional method, using the traditional Champagne grapes (Chardonnay, Pinot Noir, and Pinot Meunier), and from the cooler climate regions (like the Carneros region shared by both Sonoma and Napa).  My former home state of Oregon also has some fantastic sparkling wine producers (look for Soter Brut Rosé, and also the bubbles by Argyle to name a couple). This makes sense considering the region already produces delicious Pinot Noir and Chardonnay. I just wish more Oregon producers would jump on the bubbly bandwagon <hint hint>; but it is an expensive venture.  Believe it or not, another domestic favorite comes from New Mexico – Gruet, who makes some awesome sparklers for around $12-$15 (depending on where in the country you are).
TIPS



 Opening a bottle of bubbles – Safely that is!
Opening bubbles is different than regular still wine. No cork screw necessary, but extra precaution is.  And regardless of what you may have seen on TV, you should not attempt to create a loud POP with wine oozing over the bottle onto the ground (spilled bubbles is a sad thing).  So while it may seem fun to hear loud noises and watch projectile foam spill all over, the point is to be safe and calm, and put those bubbles where they belong – in your belly!
Key word – Safety.  I don't want anybody losing an eye here!
First of all make sure your bottle is cold.  Remove the foil capsule, then grab yourself a small towel and use it to cover the top of the bottle.  Use your thumb to put pressure on the cork, towards the bottle.  Point the bottle at around a 45-degree angle and AWAY from people (I don't want you shooting any eye's out, including yours).  Use your other hand to twist the wire cage capsule. Twist it approx 6 times to loosen the wire cage, but do not remove it (taking your thumb off the bottle even for a second could allow the cork to pop out, so to be on the safe side, don't remove the wire). Keeping the pressure against the cork, then twist the bottle, not the cork, in a back and forth motion, until you hear a slight fizz or sigh (as opposed to a loud POP which results in wine overboard – not a good thing). 
For a video example you can check this video out  by David Glancy, Master Sommelier. It is a formal example focused on proper service, and may seem a bit dry dry, but it is important info.  Besides he was one of the instructors for my first sommelier class.
SERVING CHAMPAGNE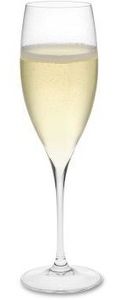 To my sister, if you are reading this, pay attention! This is why dad texted you.
The importance of stemware and Champagne is to preserve those beautiful bubbles!  All that hard work went into creating them, the last thing you want is to witness the bubbles dissipating instantly. And dissipate is what will happen with the wrong glass. Look for a standard tulip shape glass (as shown). These not only allow for you to admire those pretty little bubbles, but also for you to experience the beautiful aromas of the wine. You don't need to spend a lot of money, but you do want this (or a similar) style.  There's a lot of people who prefer to drink sparkling from a typical red wine glass, so that you can smell all the beautiful aromas.  Personally, I prefer the flute.  A lot of time goes into making the bubbles, and I hate to see them go flat so quickly.
Serve COLD.  Ideally your bubbles should be between 40-45 decrees. Too cold and the flavors will be muted. It is best to either put your wine in the fridge a couple hours before you intend to drink it, or place in an ice bucket with ice AND water for about 30 minutes and that should do the trick.
This should be enough to get you through your holiday parties!  Next up we will talk about the nitty gritty of Champagne – producers, from the large to the small growers.  But that, my friends, is a story for another time.  Right now I need to get back to wrapping presents, watching holiday movies, cuddling with my boys, and sipping on my bubbles.
If I don't post again until after the new years, I hope you all have an absolutely wonderful holiday (whichever you celebrate) and a happy and bubbly New Years!   I will be celebrating with my family in Arizona so that alone is reason for me to pop open a bottle of Champagne 🙂
Cheers and Happy Holidays to you and your families