All about Albariño wines, and why you should be drinking this white Spanish wine year-round.
One of my favorite white wines to drink with a variety of foods is Albariño. I'm constantly writing about it and hailing it as a versatile food wine, explaining to folks that it can pair with anything from salads, to seafood, chicken, pasta, and pizza. There's a reason for this. But first, what is Albariño and where is it from?
What is Albariño Wine
Albariño is a white grape variety with origins in the Rías Baixas region of northwest Spain (though you can find lovely examples outside of Spain as well. But we'll get back to that in a minute).
Albariño's origins — Rías Baixas

original photo source
Rías Baixas (pronounced "ree-ahs buy-shuss" not "re-axis buy-axis" like my hubby kept pronouncing it during our panel) is a region in Galicia, located in northwest Spain. It is a lush, green, and fairly rainy region along the Atlantic seacoast, directly above Portugal. Rainfall here is high, getting anywhere from 45-70 inches of rain. And y'all thought Oregon was wet and green! Albariño not only can survive in this environment, but it thrives here due to its thick skin and resistance to mildew.
For a wine to be labeled Rías Baixas, the grape composition must be at least 70% Albariño (with Treixadura, Caiño Blanco and Loureiro also permitted). Albariño, however, makes up 90% of the total plantings in the region and is pretty much synonymous with Rías Baixas.
Key characteristics of Albariño
Aromatically strong with peach, apricot, pineapple and citrus fruit (lemon, lime, grapefruit).
On the palate you'll find lots of minerality and bracing acidity.
Overall you can find a mix of wines that are citrus driven, bright, and acidic, to a more lush juicy fruity style (with ripe peaches and apricot), which are more round in the mouth with a savory and briny side.
All of these characteristics make for a great food wine.
Food Pairing for Albariño
This wine is often hailed as a great summer wine. Why not? It's refreshing, bright, and can be a great appetizer or picnic wine. But I believe that it's so much more than just refreshing wine reserved for hot months. It is one that can stand up to anything from appetizers, soups, seafood dishes (both light and heavy), pastas, pizzas, and even roasted chicken.
Albariño outside of Spain
Rίas Baixas may be the birthplace of Albariño, but it is also grown extensively in the Vinho Verde region of Portugal and can also be found in the US and other "new world" regions. Here in Oregon, for example, you'll find one of my favorite producers of Albariño – Abacela – and more and more producers experimenting with this awesome grape variety.
---
6 Albariños to Try
I held a panel recently with some new Albariños and some old favorites (about 12 total). Here are the standouts.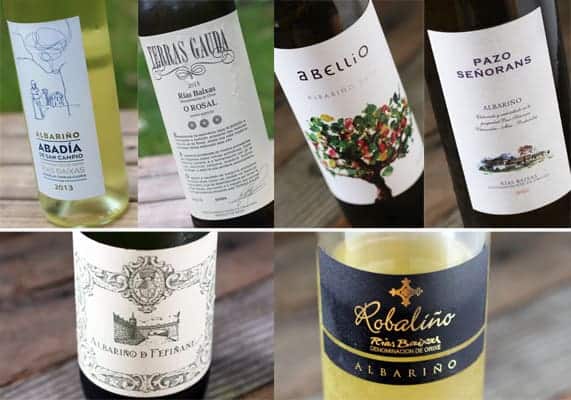 From the light bright citrusy style to the lush richer style.
Terras Gauda 'Abadía de San Campio' 2013 (Rías Baixas, Spain) — $20
Crisp and citrusy with apple, pineapple, and fresh lemon aromas, and a bit bold in the mouth with more tropical fruit becoming dominant with vibrant acidity. Overall, dry, crisp, citrusy, and acidic.
'Robalino' Albariño 2013 (Rías Baixas, Spain) — $18
Bright, crisp, with pineapple and citrus focus (lots of lemon and lime, and a bit of grapefruit). This one has bracing acidity that can be tamed by drinking it with a meal! Not one for sipping alone. Dry, crisp, lemony.
Abellio Albariño 2013 (Rías Baixas, Spain) — $12
Fragrant with apricot, passion fruit, peach, pear, and a touch of fresh squeezed lemon. Pretty juicy on the palate with more flavorful passion fruit, juicy apricot, and a nice savory component. Overall best value of the panel!
Pazo de Senorans Albariño 2013 (Rías Baixas, Spain) — $25
Pear dominated nose, with a touch of ripe pineapple. The wine opens up nicely and becomes more complex with melon, juicy ripe pear, and apple with bright acidity. In the middle in terms of style with a mix of brightness and lushness.
'Albariño de Fefinanes' 2013 (Rías Baixas, Spain) — $25
Tropical and juicy peach and pear fruit aromas initially, evolving into a combination of citrus, apples, and juicy peach flavors. This one was the most complex and had the most balance in the panel, with a good mix of bright acidity, lushness, and pretty minerality with a salinity making me crave food. I'm thinking shrimp pasta with lemon butter sauce or mussels. Mmmm Mussels.
Terras Gauda O Rosal 2013 (Rías Baixas, Spain) — $24
An intriguing mix of tropical and stone fruit (peach, apricot) aromas that constantly evolve and the wine opens. Rich and smooth textures in the mouth with a lingering savoriness. Overall, richer, rounder, smooth. Would be good with richer seafood dishes.
---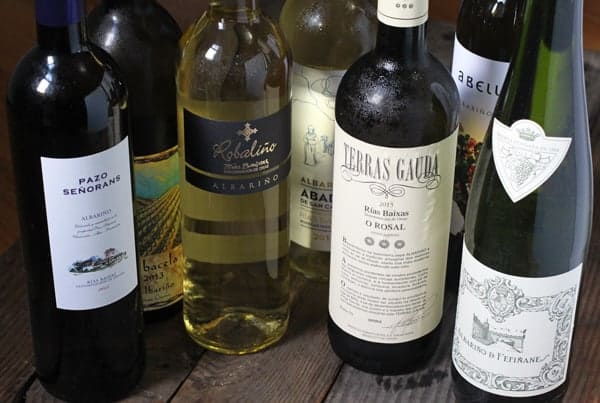 Other past favorites (not on the panel), worth trying for their value and ease of locating:
Martín Códax Albariño 2013 (Rías Baixas, Spain) — $12
Citrus and peach driven, with a balance of lush fruit and crisp acidity. Great value!
Burgans Albariño 2013 (Rías Baixas, Spain) — $14
Fresh, crisp and refreshing with green apple, peach, apricot, and tropical fruit and a minerally finish.
---
Bonus Oregon Albariño
Abacela Albariño (Umpqua Valley, Oregon) — $20
Abacela has been making Albariño in Oregon since 2001, and they are one of the leaders of Spanish wine varieties here in the Pacific Northwest. This one isn't as juicy as its Spanish counterparts, but does have great citrus fruit (lemon, grapefruit, lime, lime peel) along with green apple and pear aromas. Crisp, dry, and zingy on the palate with a crisp and acidic finish.
*The six wines on the panel were all samples for review. The remaining three were ones I've purchased and enjoyed in the past.
---