Grilled Pork Loin is a great way to add outdoor flavor to an incredibly rich and delicious pork roast. Add a glaze with blackberries, red wine, balsamic, and caramelized shallots for the perfect flavor combination of rich tender pork with the tangy and rich glaze.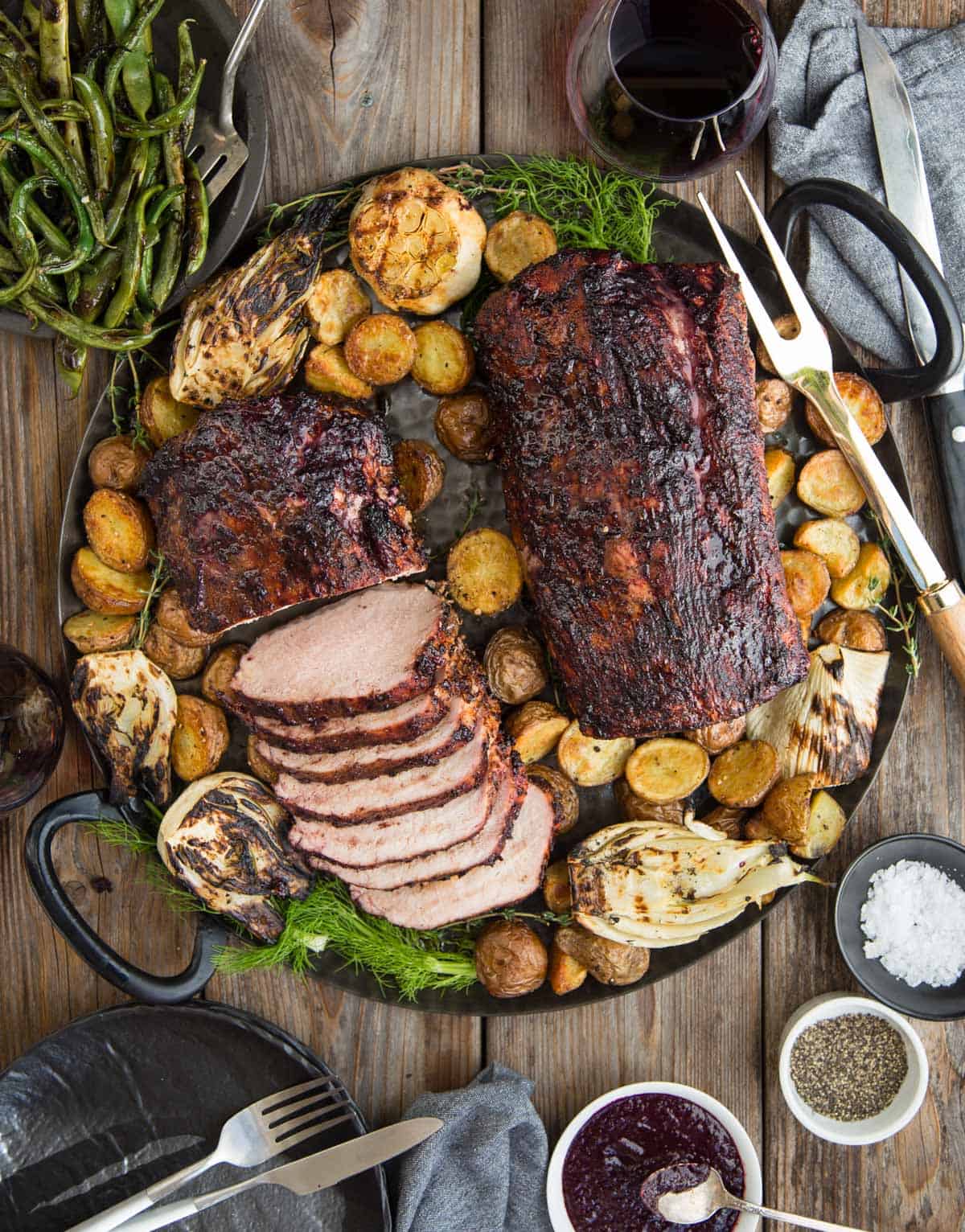 This post is sponsored by the National Pork Board, all opinions and commentary are our own. And highlights the awesomeness of celebrating grilled pork outside all summer long!
When it's summertime, and it's hot, there is no better way to cool off than firing up the grill outside and cooking your favorite dishes. One dish that is a favorite in our house, is to buy a whole pork loin roast and cook it on the grill. Not only does the pork loin feed a crowd, it also is easy to make and is packed with flavor and tenderness.
Turn off the oven, warm up the grill, hang out with your family and enjoy a new take on a grilled pork recipe.
Jump to:
The Cut
First, let's start with the cut. pork loin is not the same as pork tenderloin. They are two different parts of the pig. Pork loin is a tender and lean muscle that comes from along the rib cage of the pig. A loin is often seen as a large roast and can be bone-in or boneless. The tenderloin is a smaller boneless cut that is from along the backbone of the pig and is very different in size and is much smaller than a loin.
Pork loin on its own is a leaner cut, but also full of buttery flavor and tenderness. It is one of our favorite things to grill and to buy to cut up into steaks. And there is no better way to taste the amazing flavor than on the grill.
Buying Pork Loin
You likely have seen a loin without realizing it. A boneless pork loin roast (often up to 7 or 8 pounds) is often cut up into pork steaks or pork chops. But buying it as a whole roast is a great idea for the grill, as the larger cut is much easier to grill to the proper internal temperature so that it remains juicy. It also makes it easier to present all the meat at once versus several individual steaks.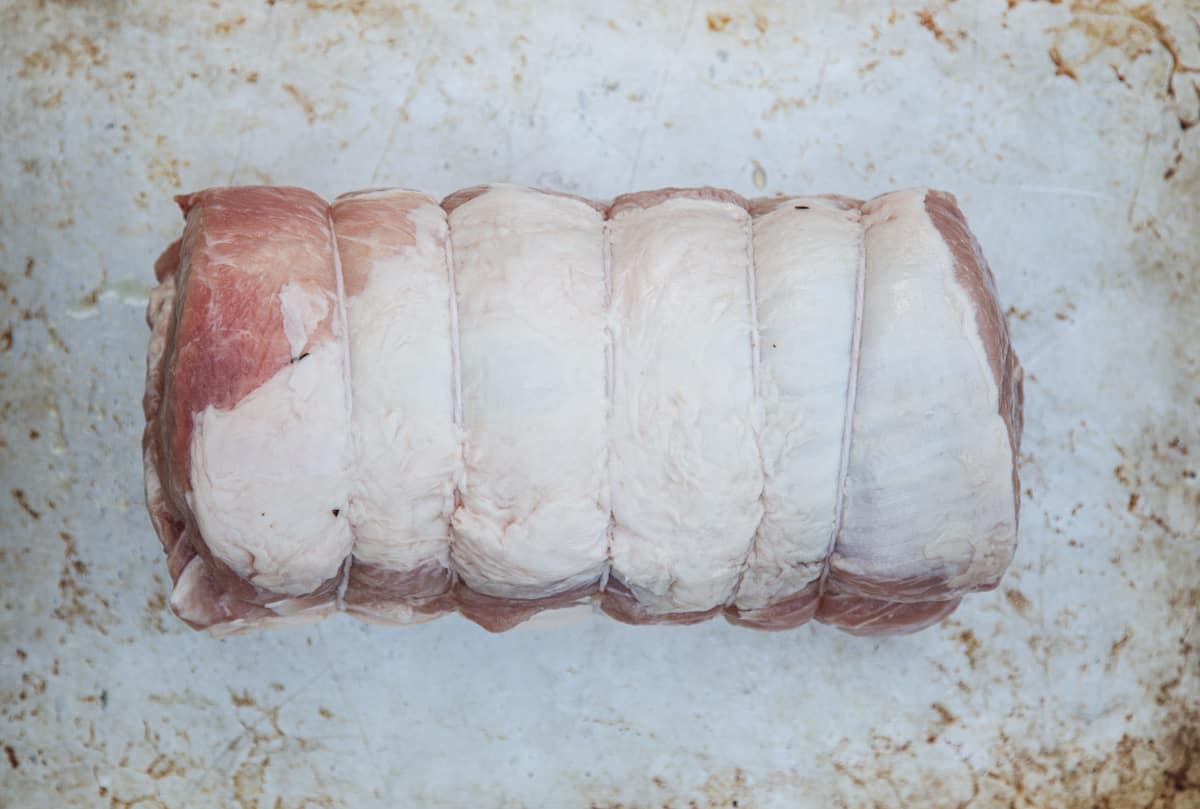 When buying a pork loin, look for the entire roast. The full roast can be up to 18 inches long, so it is not uncommon to see the full pork loin cut in half and tied together (like the photo above). If you have a smaller crowd, then a half a roast should easily feed 4 – 6 people.
When planning how much pork loin to buy, we plan ½ pound of meat per person.
Preparation
Before putting the pork loin on the grill, remove the string if the two halves are tied together. It will be easier to grill both sides separately and avoid an under-cooked interior and burned exterior.
When trimming the meat, remove any excess fat using a sharp boning or filet knife. It's unlikely you will have to remove much as the loin is generally a leaner cut. But there may be some pockets of extra fat on one side of the loin.
For grilled pork loin, any seasoning used should have no or minimal sugar. Sugar over a direct flame can burn, creating a bitter flavor. In addition to the sugar, the small layer of fat along one side of the loin will also render and drip into the flame causing flare ups. So, it's important to minimize sugar to avoid an unpleasant flavor.
For pork on the grill, a savory herb rub with a touch of salt and paprika is our favorite. It adds a nice balance of flavor, but still allows the natural delicious pork flavor to shine.
Coat the pork loin with olive oil. This will allow a layer of moisture the rub will stick to. Then liberally apply your favorite low or no sugar savory rub to the loin on all sides. You can do this the night before or just before putting on the grill.
Grilling Pork Loin
The best method for grilling pork loin is to use a two-zone method of cooking, where you have one side of the grill with the heat source directly under the pork and one side of the grill with no direct heat underneath.
Prepare the grill with charcoal using the two-zone method, targeting 400 – 425 degrees Fahrenheit over the direct heat.
Grill one side the seasoned pork over direct heat for up to 5 minutes or until you see a nice char on the outside.
Flip the pork loin and continue grilling the other side over direct heat for 4 – 5 minutes until you like the color.
Move the grilled pork loin to the indirect side of the grill and insert two remote meat thermometer probes into the thickest part of the roast and close the lid.
Continue grilling over indirect heat until the internal temperature of the roast reaches 125 degrees F, using the probes or an instant read thermometer. This can take up to 30 minutes, so plan up to an hour of total grilling time for a full roast.
At 125 degrees, glaze the roast and then continue grilling over indirect heat. The glaze will caramelize, or tack up, while the pork loin continues to cook.
Remove from heat when the internal temperature reaches 140 degrees F. Glaze the pork loin again as soon as you remove it from the grill and while it rests. Carryover cooking will occur bringing the internal temperature of the pork to 145 degrees F (or medium rare) while it rests.
Slice and serve with your favorite sides, like Grilled Green Beans.
How Long Until It's Done
With all of our grilling and barbecue recipes, we stress the importance of cooking to the correct temperature, not time. For a 6 pound roast, expect about 40 – 60 minutes to get to 145 degrees F.
Besides, this gives you time to enjoy outside with everyone.
This is also another reason why investing in a reliable digital meat thermometer is important.
Blackberry, Wine, Balsamic Glaze
A glaze is a thicker sauce that is used to brush onto the roast. This glaze is meant to have a savory and sweet flavor profile and is offset with the acidity from the wine and balsamic. This is best to do ahead of grilling so it is ready when you glaze the grilled pork loin.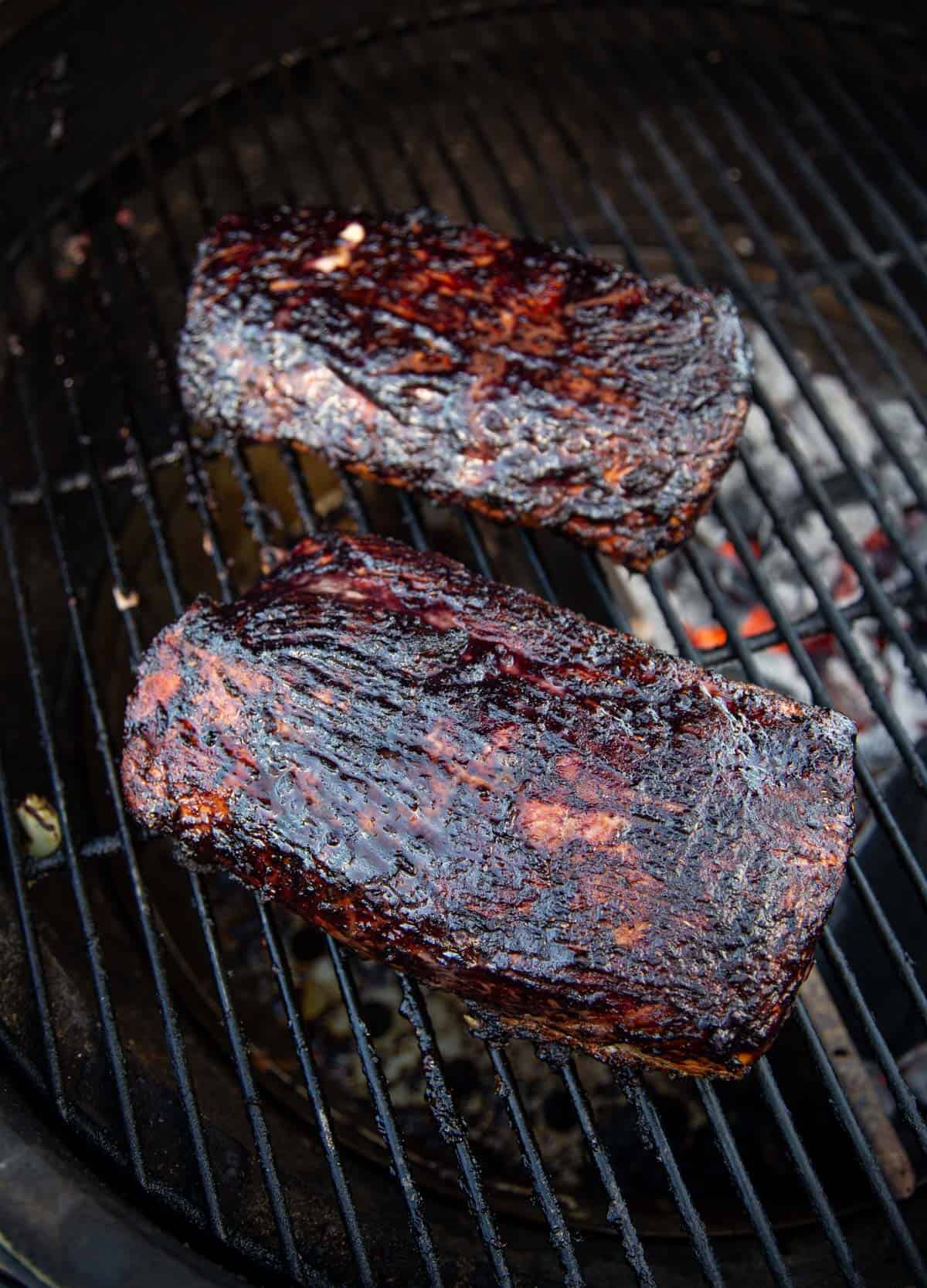 To make the glaze for grilled pork loin:
In a medium size sauce or cast-iron pan over medium heat, add butter, olive oil, and shallots. When shallots start to sauté, reduce the heat to as low as you can go while still seeing some slight bubbles occurring. Stir the shallots frequently for up to 25 minutes allowing the shallots to caramelize and get sweet. Add garlic toward the end to soften when the shallots have the right color.
Increase the heat to medium and add wine and balsamic vinegar. Bring to a simmer for 5-6 minutes.
Add the blackberries and brown sugar and continue to stir and simmer. The blackberries will render as the ingredients simmer and the sauce will thicken. Simmer for an additional 20 minutes.
If you want a finer texture (or to reduce chunks from the berries), place the glaze into a food processor and blend the glaze until smooth and creamy.
Let cool and thicken and use as the glaze.
Wine Pairing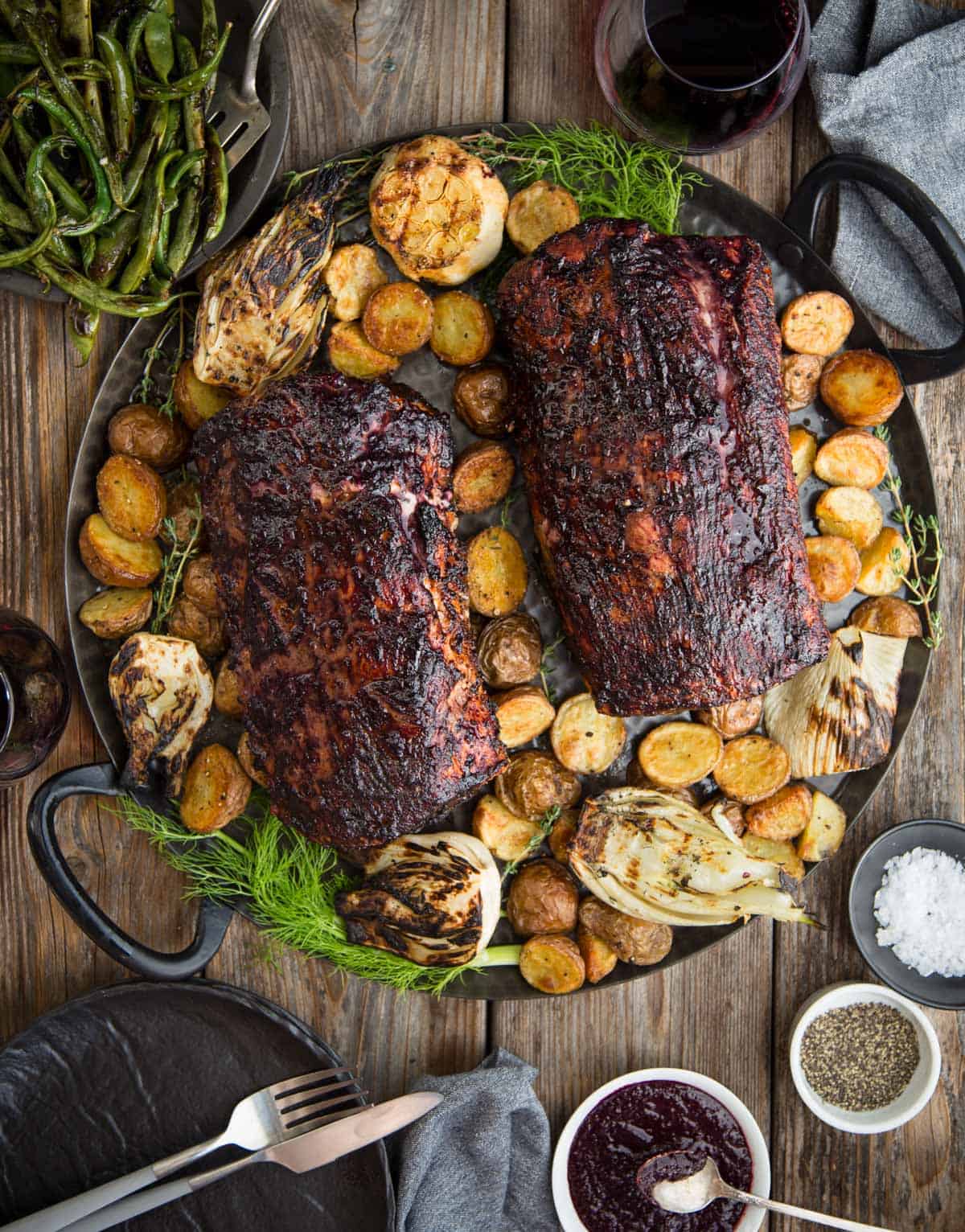 Use a dry red wine for the glaze, like a Malbec or a bolder style Pinot Noir. It complements the dark berry flavor and is a natural match with pork. Simply use that same wine to pair with the grilled pork loin. Check out our wine selection at VindulgeWine.com
Variation for Gas Grill
On a gas grill, the flames can be adjusted or lowered, but we still suggest a two-zone method of grilling. Have one side with one or two burners going at the same temperature (400 – 425) and then after the sear, move the loin to the indirect side to finish.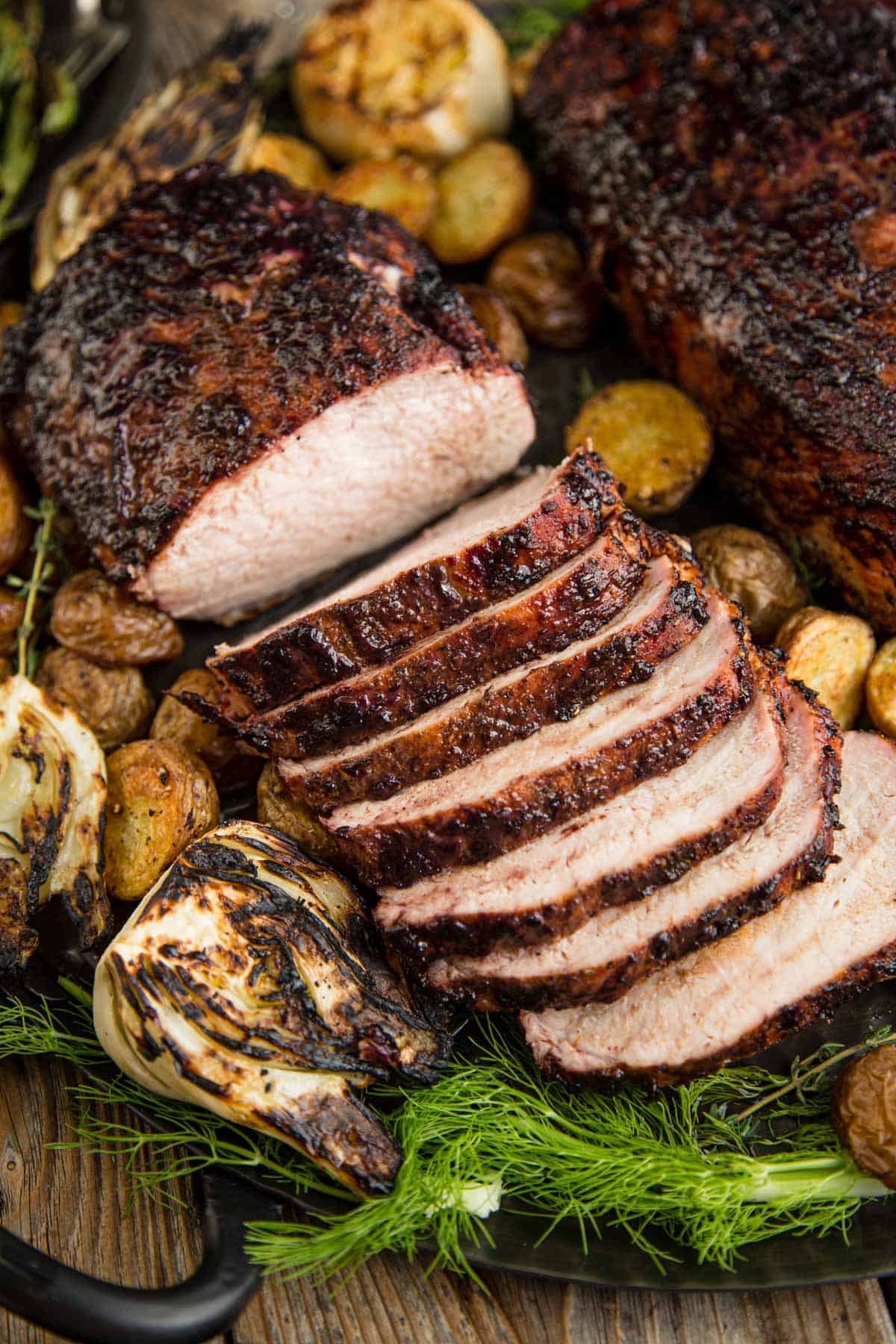 Leftover Ideas for Pork Loin
It happens. You may have leftovers (or you purposefully buy more just for the amazing leftover ideas). How about a variation of this Porchetta Sandwich using the loin leftovers. Yes please.
Sides Great with Grilled Pork
---
*This post may contain affiliate links. We only recommend and promote products we use and love and contribute to great barbecued and grilled foods, like a good digital thermometer!
If you like these recipes we'd truly appreciate it if you would give this recipe a star review! And if you share any of your pics on Instagram use the hashtag #vindulge. We LOVE to see it when you cook our recipes.
---