When my two favorite seasons – grilling season and berry season – combine, you get Grilled Chicken with a delicious Blackberry BBQ Sauce!
We featured this recipe for Grilled Chicken with Blackberry BBQ Sauce live on Portland's KATU News program, AM Northwest. You can view the segment below.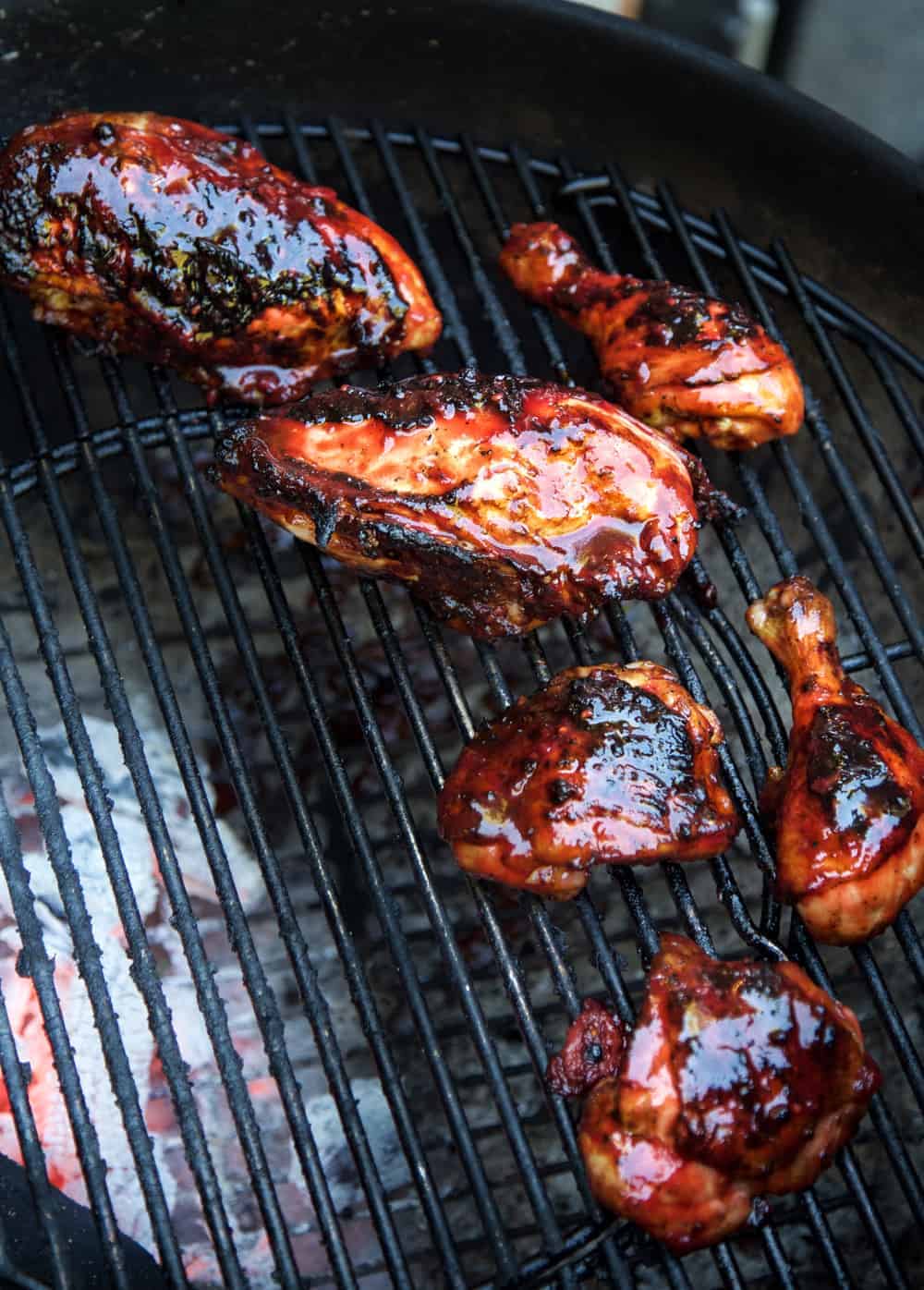 Jump to:
Berry season is a universal favorite in my household. We take the kids out berry picking almost weekly during the summer. But my kids tend to go a bit overboard, picking more berries than we can eat before they start to go bad.
Not being huge bakers around here, we like to experiment with berries in savory dishes and sauces, like this blackberry BBQ sauce.
And using it on one of the most under-appreciated proteins, chicken, this sauce is an excellent way to jazz up an otherwise boring cut of meat.
Best Parts of Chicken for Grilling
We like to get a whole chicken, and then cut it into quarters. If you don't see this at your store your butcher should be able to cut up a whole chicken for you. Just ask!
Otherwise, feel free to use the equivalent of your favorite cut of chicken. Ideally with the bone-in and skin on to maximize flavor.
Grilling Chicken
Season Chicken: First coat your chicken with olive oil then season it liberally with your favorite dry rub. We like this dry rub for chicken.
Prepare Grill: Set your grill for indirect (or 2-zone) cooking, like this.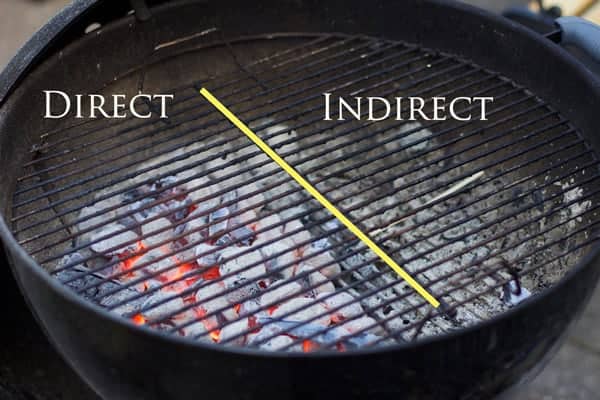 Grill Chicken: The key is to start with the chicken cooking over the direct heat to get that crust on each side, then move to the indirect side so you can slowly bring the meat up to temperature.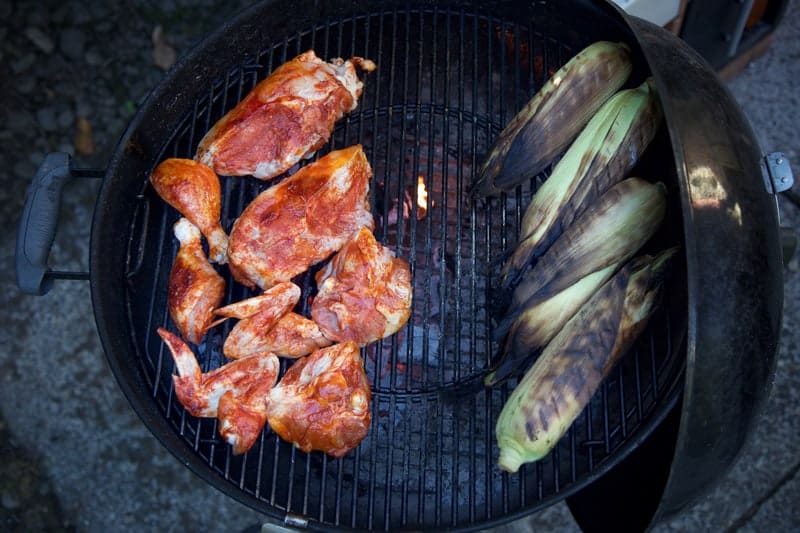 Blackberry BBQ Sauce
What we're doing is infusing some berries into your favorite style of BBQ sauce. The naturally sweet flavors from the berries will add great flavor to your typical BBQ sauce.
Which Berries to Use for BBQ Sauce?
You can use whatever berries you like, and whatever is in season. Berries that are in season will have the freshest and sweetest flavor.
If strawberries are in peak season, feel free to use those. You can also use blackberries, marionberries, blueberries. Make it your own and use your favorite. Just know that the riper the berries the sweeter they will be. If you buy store-bought berries they tend to be less sweet and possibly less ripe. So feel free to adjust the amount of berries based on the sweetness when you taste them.
What kind of sauce to use as a base?
For this recipe we're using a Carolina style sauce as a base. This is a vinegar-based sauce. But if you prefer a Kansas City style, which are tomato-based, less acidic, and usually sweeter, then do that!
How to make Blackberry BBQ Sauce
Add the berries and BBQ sauce ingredients together in a saucepan and bring to a simmer.
Cook about 10-15 minutes until the berries are soft and the sauce has reduced a bit.
Blend. You can transfer the sauce into a blender or food processor and mix until smooth, or just pour everything through a strainer (the blender method will make for a thicker sauce, while the strainer method will be just a touch thinner since you will have removed some of the remaining berry pulp).
Brush the sauce over the grilled chicken during the remaining few minutes of grilling.
When to glaze the Grilled Chicken
Once your chicken is almost at proper temperature, glaze the meat. You don't want to do this too soon otherwise you risk burning the sauce and the meat.
High heat + sugar sauces = easily burned.
Wait until your chicken is about 155 degrees, then glaze the meat. You can do this by dipping your pieces of chicken into the sauce, OR just brush the chicken with a food-safe paint brush.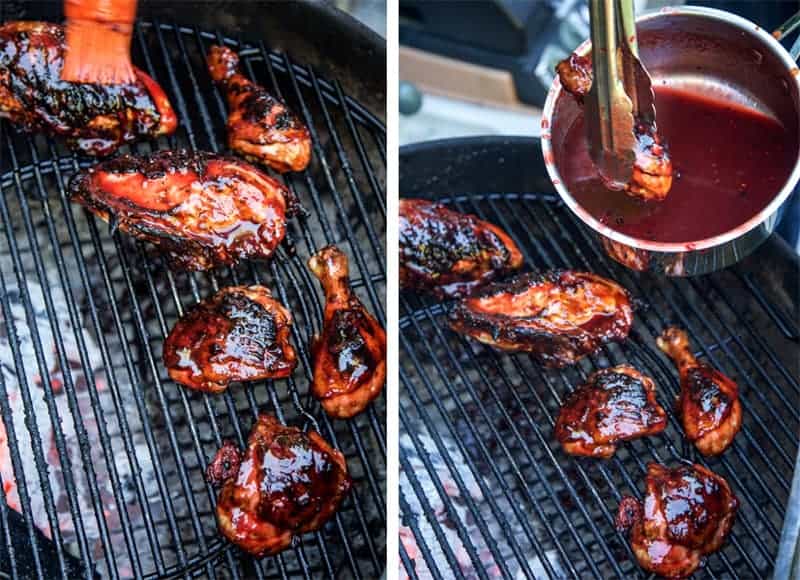 Let the chicken finish cooking over indirect heat, which will help caramelize the sauce onto the meat, until the internal temperature of the meat is 165 degrees.
Each piece of meat will finish cooking at different times. The legs and thighs will cook quicker since they are smaller, and the breast meat will take the longest, since it's the biggest.
Make sure to always use a good digital thermometer so you make sure you cook your chicken to the perfect temperature and don't overcook it (causing the dreaded dry overcooked chicken!).
Watch us cooking this Grilled Chicken with Blackberry BBQ Sauce on live TV over at AM Northwest.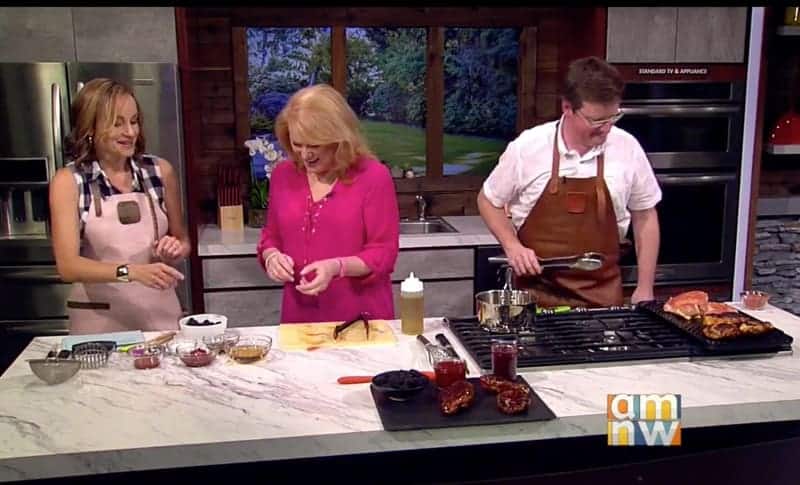 ---
If you like this recipe we'd truly appreciate it if you would give this recipe a star review! And if you share any of your pics on Instagram use the hashtag #vindulge. We LOVE to see it when you cook our recipes.
This post may contain affiliate links. This means if you click on the link, we may receive a small commission if you purchase through the link. We partner with brands we know and love and use and it helps keep the blog going!
---