This Beer Cheese Dip is creamy, cheesy, and indulgent, and is perfect for any appetizer cravings you have for beer and cheese and is the ultimate game day dip. The best part is that this recipe is also super easy to make!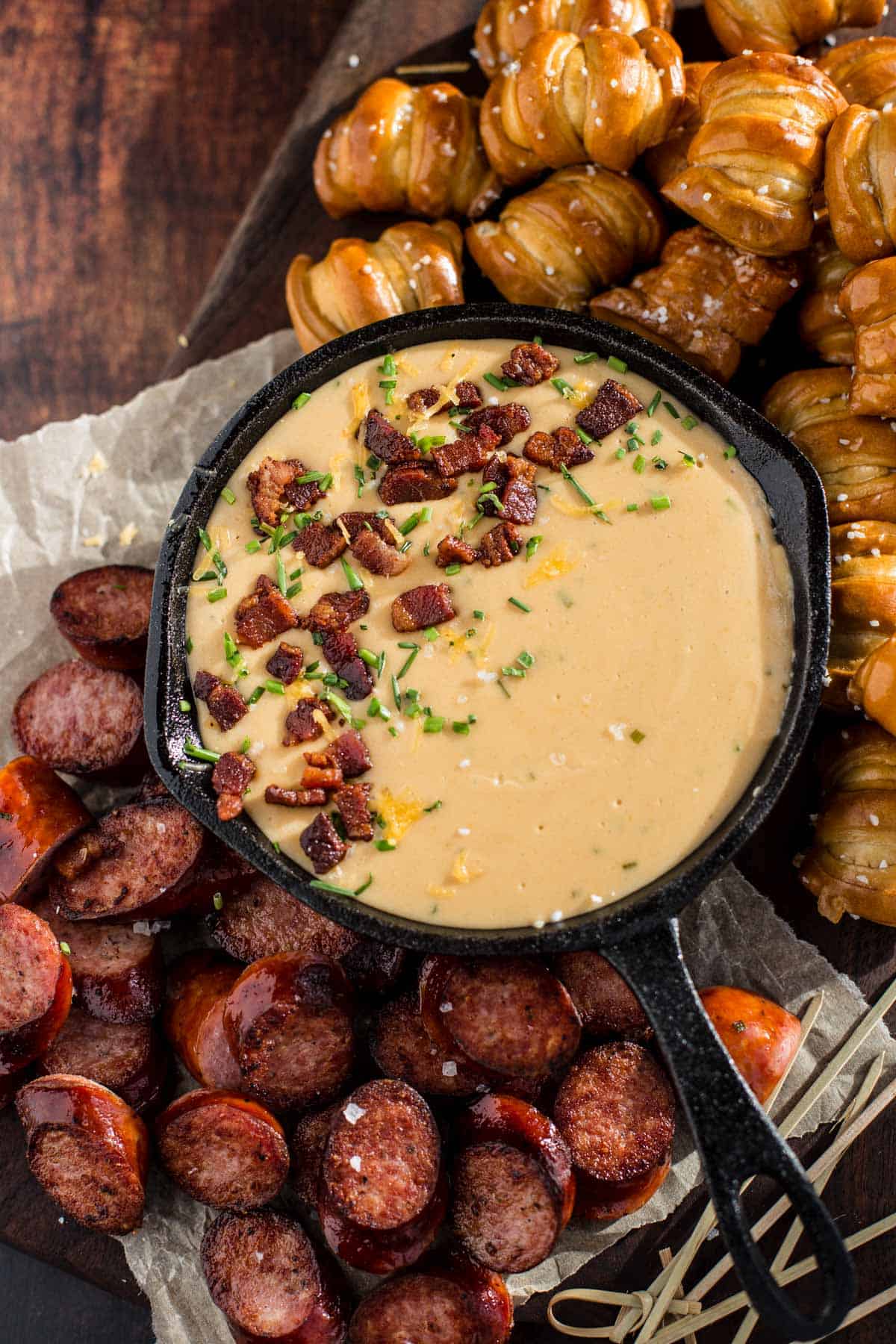 It is no lie that we love our dips around here. Our most popular, with millions of views, is a simple grilled brie cheese dip that taught us to keep things simple, while keeping the flavors big!
Why This Beer Cheese Dip Recipe Works
A simple roux (equal parts flour and butter) helps form the texture
It can be easily adapted with 1:1 Gluten Free Flour for a Gluten Free Version

The style of beer will change the flavor profile allowing a fun way to adapt the recipe

Adding salty pretzels and sausage are great for dipping (along with the classic bread and crackers), and also enhances the flavor
Jump to:
Ingredients
When choosing ingredients we recommend using whole fat versions of the dairy to get the best flavor and texture.
Roux – All Purpose (AP) flour and unsalted butter are preferred. Gluten Free 1:1 flour works great if you're looking for a GF version.
Cheeses – Cream Cheese for creaminess and tang plus sharp white and yellow cheddar are the perfect combination.
Milk – Whole milk is best, although you can adapt to 2% or skim. With the lower fat milks, more cheese may be needed to balance and keep the texture. Heavy Cream is too thick for this recipe.
Beer – We recommend a lager for the balance of crisp and caramel flavor.
Flavor – Good Dijon mustard is key for the extra punch and a touch of Worcestershire will bring out a nice savory note. Chives also add a nice touch of onion without the pungency of red onions or shallots.
Bacon – This adds a nice crunch to the texture of the Beer Cheese Dip.
Styles of Beer for Beer Cheese Dip
Depending on the beer you have, the flavor profile of the Beer Cheese Dip will change. Some things to consider when selecting any beer for beer cheese recipes from light to dark. We typically use a lager for our recipe.
Pilsner – (pale lager) This will add the lightest beer flavor and a touch of the crisp flavors that come from a classic pilsner. Select higher quality Pilsner with distinct flavor versus your more generic versions.
Lager – (our preferred) A darker lager is nice and adds a slightly more aromatic and beer like flavor to the dip.
IPA – IPA will add a distinct fruity characteristic. If you and your guests like IPA, then it will be a nice addition. But if you don't, the beer cheese flavor will be more fruity with a slight bitterness to it.
Amber – Amber adds more caramel or sweeter flavor profile.
Stout – Stout will be the most distinct flavor profile with the dip taking on more chocolate and coffee like flavor. It also makes the dip very thick. If you use stout, the white cheddar is your best option to balance the earthiness and you may need to increase the amount of milk by ½ cup.
Best Cheeses for Beer Cheese Dip
There are many combinations of cheese that can be used. The base of (softened) cream cheese gives the more acidic flavor we like and the (shredded) white cheddar adds a mellow richness. The yellow cheddar adds more flavor and acidity. You can substitute any other cheeses for the cheddar including, but not limited to: extra sharp yellow cheddar, smoked cheddar, comtè, or even gruyère. We recommend keeping the cream cheese as a base flavor.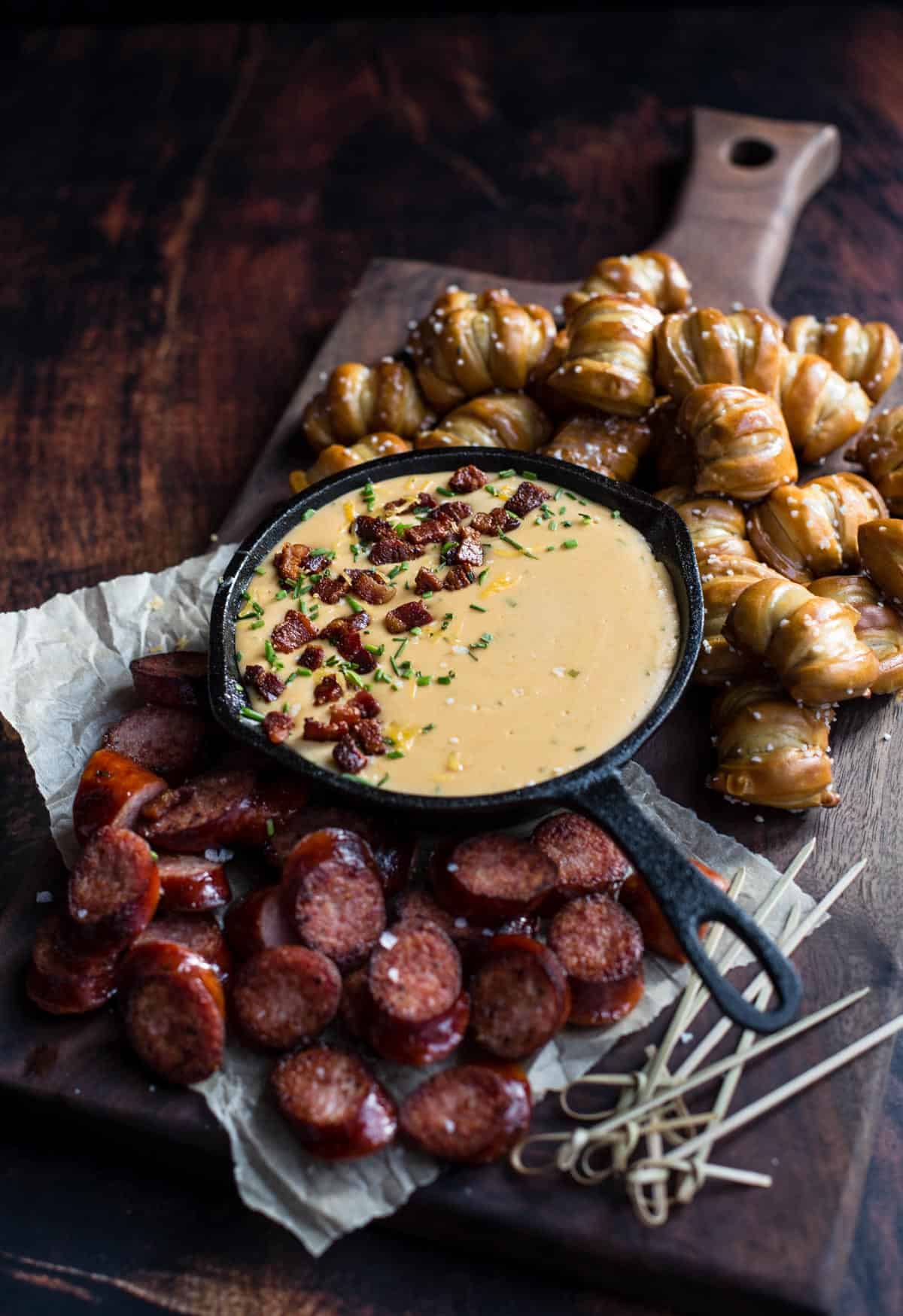 Making the Beer Cheese Dip
This is an easy one-pot meal where all the ingredients are combined together in stages.
Crisp up bacon: In a medium sized cast iron pan (you'll use this to make the cheese dip), add diced bacon pieces over medium heat and stir until crispy. Remove and reserve, discard the bacon fat.
Make the roux: In the same pan over medium heat add equal parts AP flour and unsalted butter. Using a whisk, stir to combine the two ingredients. Once the butter is completely melted continue to stir frequently for three minutes to activate the roux. *See chef's note below regarding the roux.
Add liquids: Add the beer, stir, and let the beer simmer for 2 minutes (stir often). Be sure the heat is adjusted so that there is enough to be simmering the beer. After 2 minutes add the milk and continue to simmer for an additional 2 minutes. You'll see the texture of the liquids start to increase.
Add cheese: Add in the cream cheese and shredded cheddar cheeses and reduce the heat to low. Stir. The cheese will melt and combine after 2 minutes.
Add flavor: Now add the remaining ingredients: Dijon, Worcestershire, and chives, and stir again.
Top with bacon and serve: Add bacon over the top of the cheese sauce and serve immediately or transfer to a fondue or warming pot to stay warm and melted. Dip with fresh pretzels, corn chips, and grilled sausage.
Chef's Note: You don't want to brown the roux for this dish. The ideal state of the roux is to look like it is slowly simmering together but not browning. Adjust the heat down (or up) as needed for a golden roux that is slightly bubbling, which is why we start on medium heat. The roux will activate with the liquids and as the liquids simmer, this will create the thickening.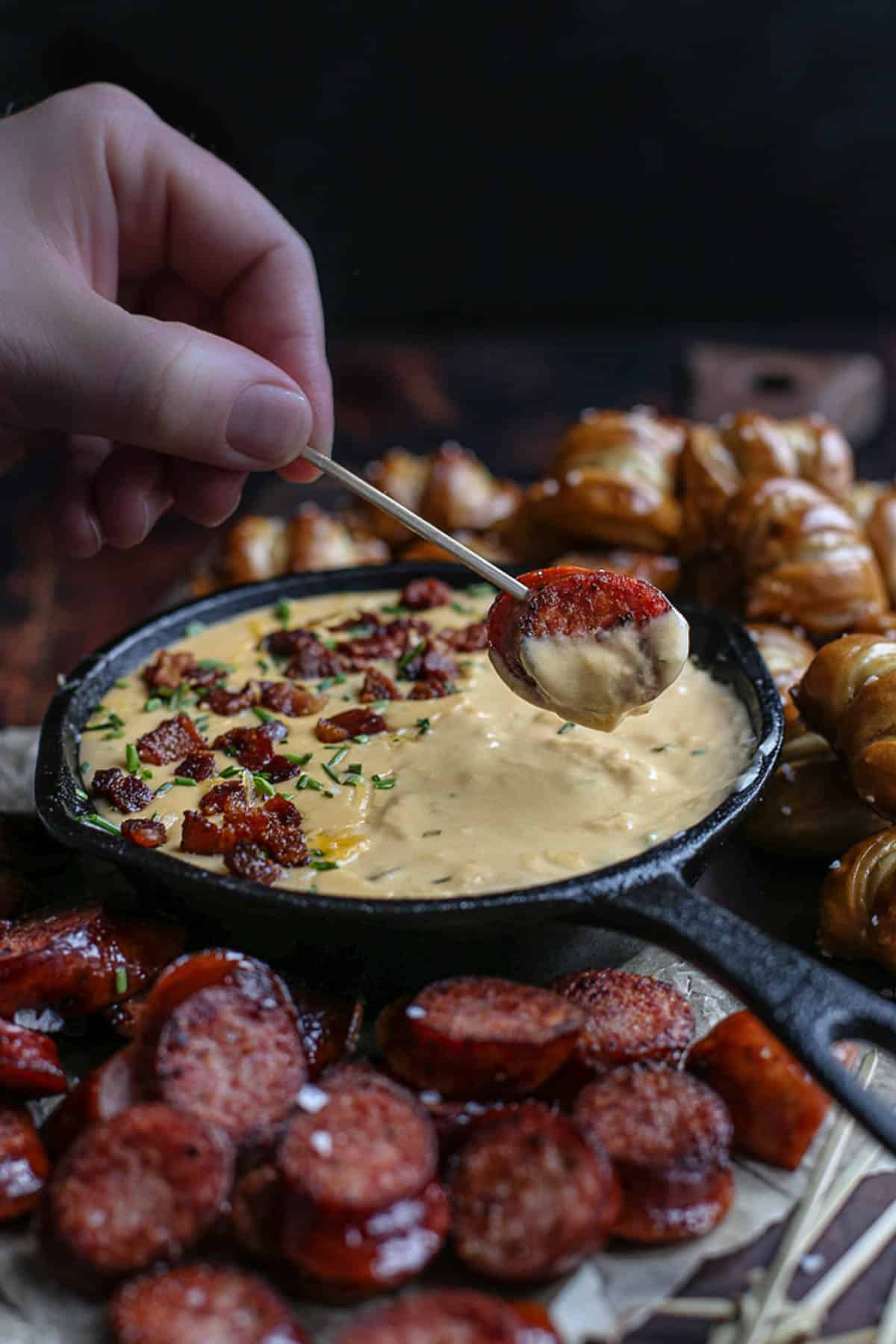 Best Dipping Sides
There are endless things you can use to dip into Beer Cheese Dip. Our favorite two are highlighted below and in the recipe.
Pretzels or Soft Pretzel Bites
Kielbasa Sausage or Smoked Sausage – Grill them for an extra char flavor
Corn chips
Baguette slices
Carrots or other vegetables
Adaptations – Gluten Free
We have tested this recipe using Bob's Red Mill 1:1 gluten free flour and it works with the same portions. Add you favorite GF pretzels to the mix for a great way to adjust to your dietary preference.
More Cheese Inspired Dips
---