Coffee adds great flavor to both a marinade and dry rub for a grilled New York Strip Steak. This recipe for coffee marinated steak is easy enough for a weeknight, but indulgent enough for a special occasion.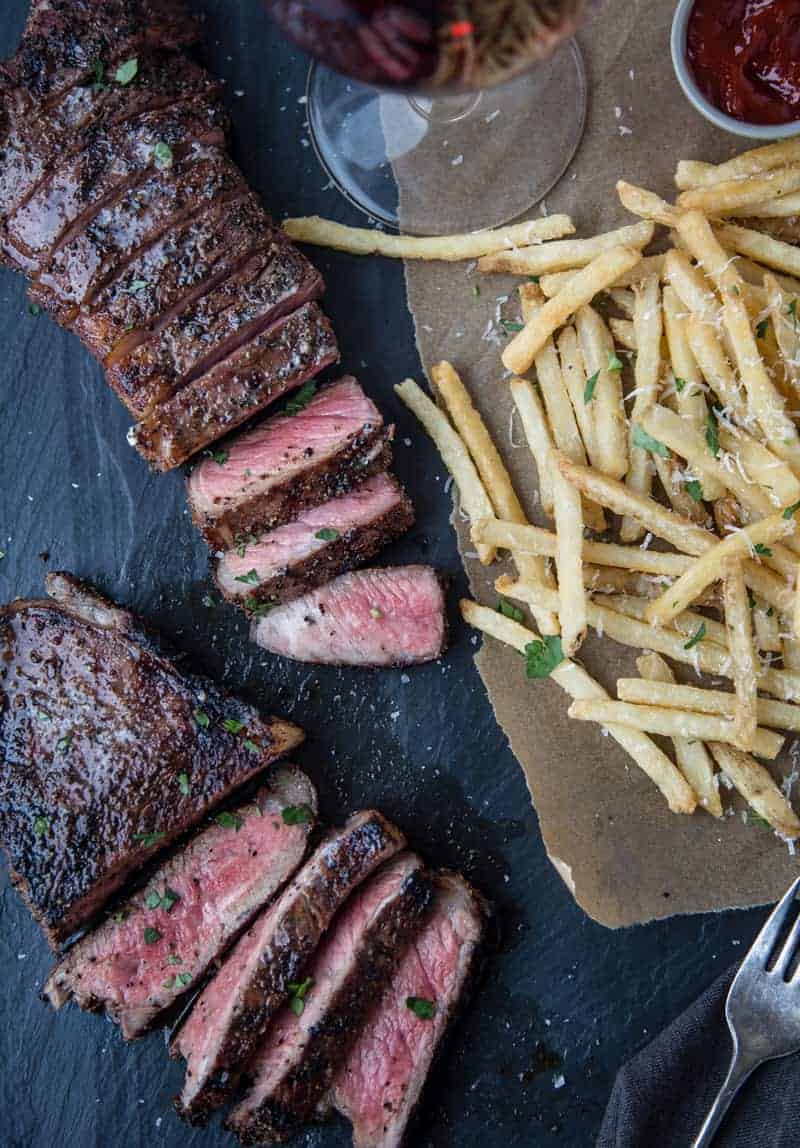 For years I used to give Sean a hard time for being obsessed with visiting Starbucks on a daily basis during work. The guy used to take his breaks to go to the S-bux nearest his office and spend $3-5/day… on coffee. It seemed wasteful to me (both financially and the time he wasted going back and forth).
So for Christmas a few years back I bought him a Nespresso machine that he could keep at his office. I figured, while it wasn't the cheapest option, it was a better alternative than his Starbucks addiction. He loved it, and has been using it ever since, and has ended his love affair with Starbucks.
And then this past Christmas our own home coffee maker broke, and I was denied my daily caffeine jolt. It was terrible! And living in the country we don't have the luxury of being able to swing by a coffee shop. So I made due with an old, small, French press made for camping. It wasn't the same. For two full weeks I suffered. Then serendipitously the folks at Gourmesso reached out to me to partner on a recipe and sent me my very own Nespresso machine to experiment with. I finally got to see what the fuss was all about.
While I still enjoy having a pot of coffee to refill at my leisure, I've grown to appreciate the single cup richness provided by the Nespresso machine. And it's nice to know there are more affordable pod refills out there to rely on like these Nespresso compatible pods from Gourmesso.
That being said, one of the cool things about having a single cup machine is being able to use coffee in recipes intended for dinner. Our pot is usually empty by 10am, so if we wanted to use coffee for a marinade we'd have to brew a new pot, which ends up being a bit wasteful. This method would also be fantastic to use in our Brisket Chili, which also has some coffee in it.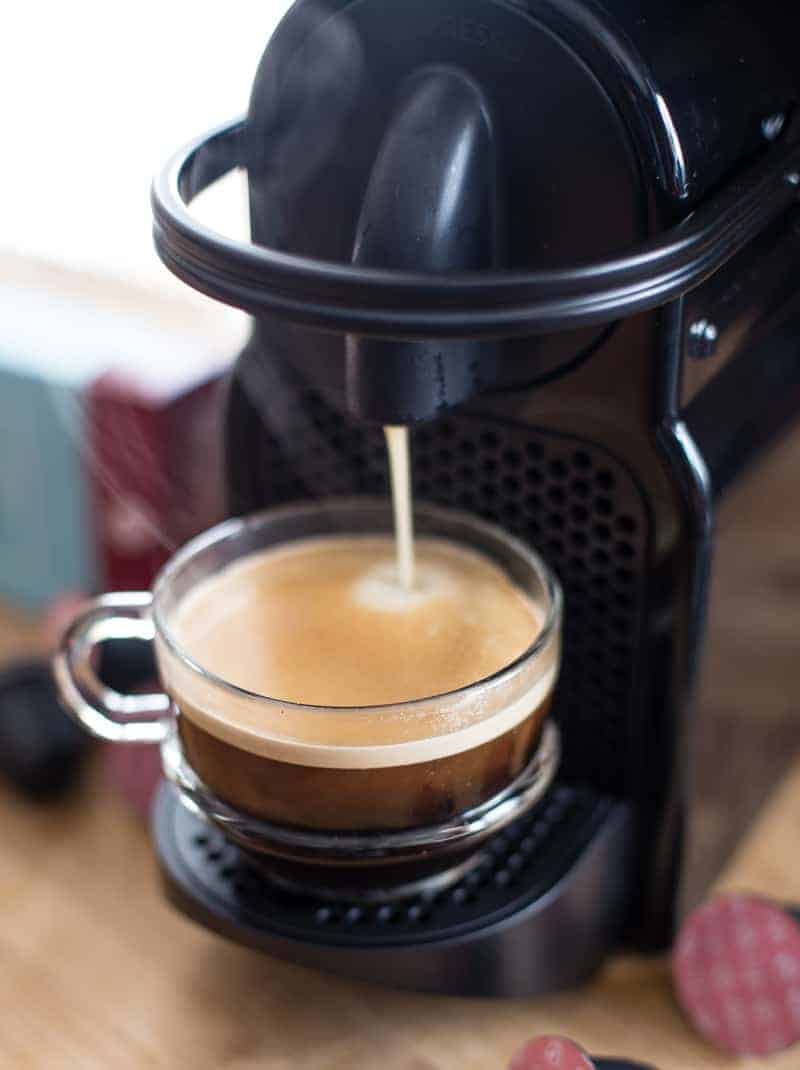 Making a single pod was a perfect solution. It makes it easy and quick to add that great rich flavor to a steak marinade.
NY Strips are a great candidate for a coffee marinade like this. They really soak up that great flavor, but when grilled you still get to taste the purity of the meat.
Coffee Marinade & Dry Rub for Steaks
We start this marinade with a cup of strong brewed coffee, then a cup of red wine, some Worcestershire, garlic, onions, sugar, and some dry rub and spices.
Let it marinate for about two hours.
After it's done marinating, pat it dry and apply the dry rub.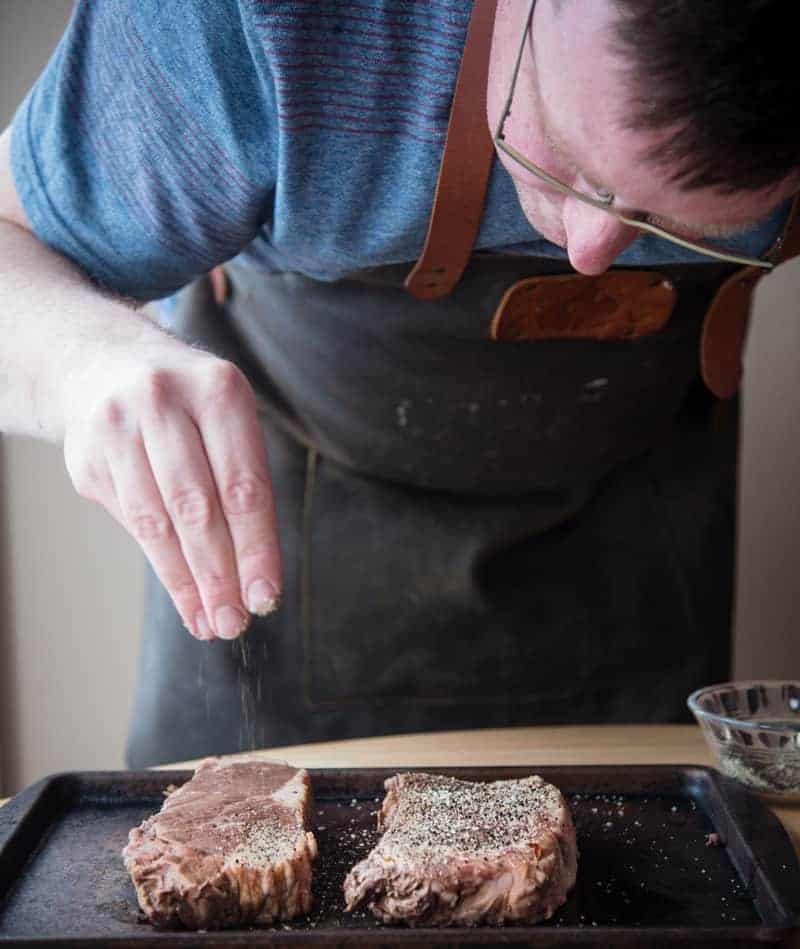 We like to use coffee both in the marinade and also the dry rub. We start with a base of our favorite steak rub (roughly two tablespoons total of equal parts salt, pepper, garlic powder), then add to that 1 teaspoon of coffee grounds. Liberally apply to the steaks. As the steak soaks in the marinade it pulls that flavor into the meat. The coffee in the rub also adds a nice earthy dimension as the grounds interact with flame and the meat as it cooks.
Then time to grill.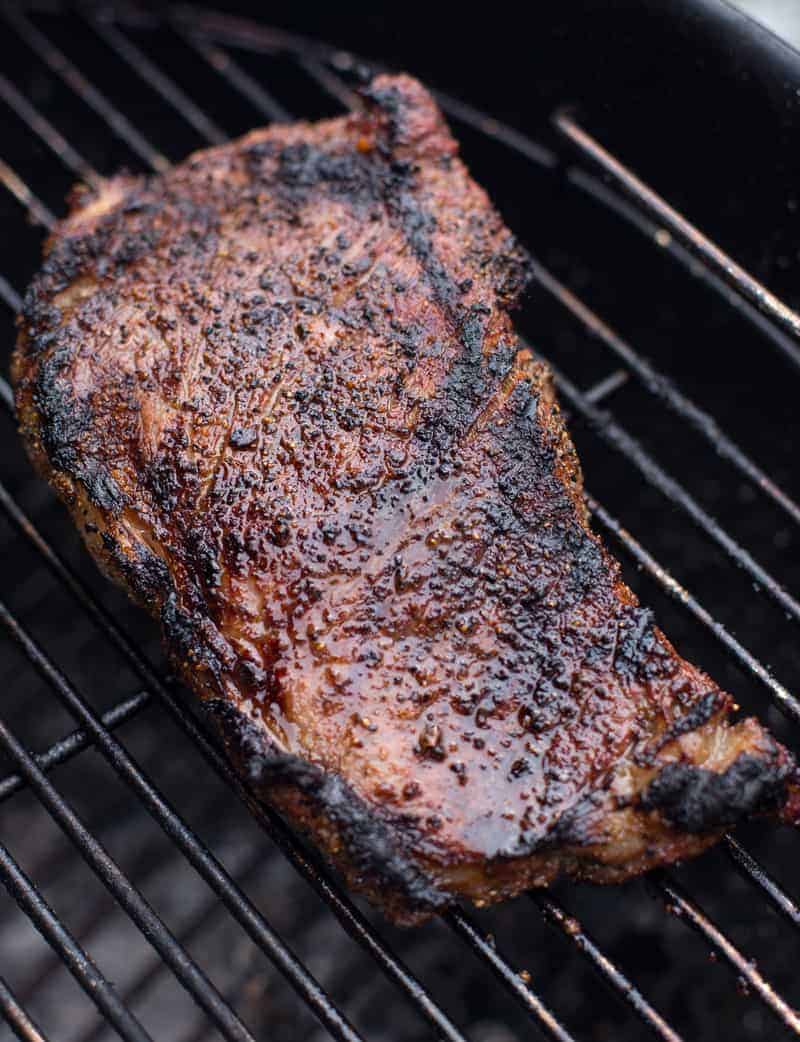 Then get your grill nice and hot. Cook on direct heat for about 3 minutes per side, then transfer to indirect heat until your desired temperature (we go for around 125 degrees Fahrenheit for rare).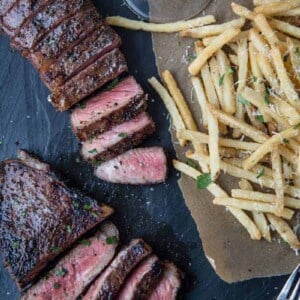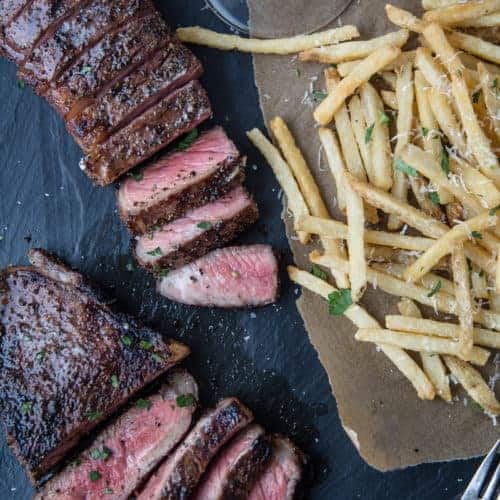 Coffee Marinated Grilled New York Strip Steak
Grilled New York Strip Steak marinaded in a rich coffee and wine base, then grilled.
Print
Rate
Ingredients
2 New York Strip Steaks (about 12 oz each)
Marinade
1

cup

coffee

1

cup

red wine,

we used Pinot Noir

¼

cup

brown sugar

¼

cup

Worcestershire

1

small shallot, roughly chopped

2

garlic cloves crushed

1

teaspoon

red chili pepper flakes
Dry Rub
2

tablespoons

rub (equal parts salt, pepper, garlic powder)

1

teaspoon

dry ground coffee
Instructions
For marinade, combine all ingredients in a large Ziploc bag and place the NY strips into the bag. Let sit in the fridge for two hours.

After two hours of marinade, remove the steaks from the fridge, take out of the bag and pat dry. Combine dry rub ingredients (equal parts salt, pepper, garlic), then add the ground coffee. Season the steaks with the dry rub and let come to room temperature while you prepare the grill.

Set your charcoal grill for indirect cooking. Typically this will take 20 – 30 minutes with a charcoal chimney starter. For the love of God don't use lighter fluid or its charcoal equivalent!

Place your steaks over the direct heat for three minutes and cover grill. Then flip for another three minutes over direct heat and cover. Then move steaks to indirect heat and cover for around four more minute or until your desired internal temperature. We like to pull rare (125 degrees Fahrenheit).

Let the meat sit for 15 minutes before cutting to let the juices redistribute and then cut and serve.
Wine Pairing for Coffee Marinated Grilled New York Strip Steak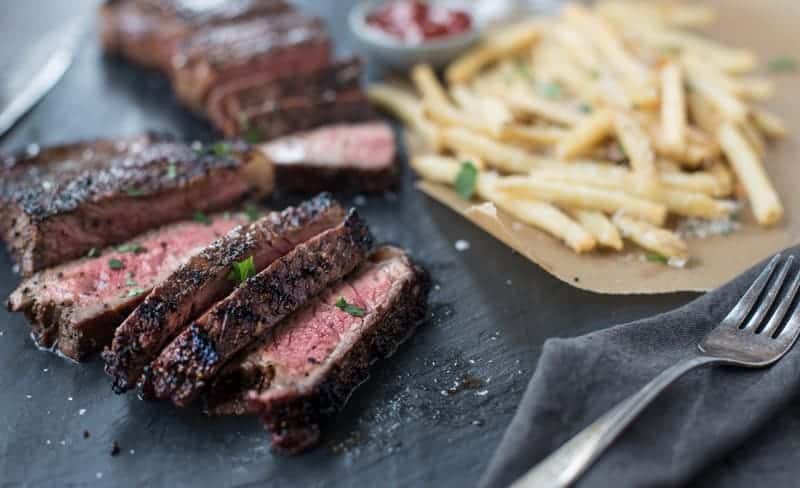 While Cabernet Sauvignon is a usual choice for a grilled steak like this, it's not the only choice. You want something with power and structure to stand up to the bold flavors of this grilled steak, but also with good acidity and moderate tannins to cut through the fat and richness of the dish. We tried this steak recently with a Rhone red from Gigondas and it was a remarkable match —  2015 Domaine La Bouissiere Gigondas (Rhone, France). As the wine opened it showed lots of fresh ground pepper, earthiness, and even a savory meatiness that was so interesting matched with the earthiness that showed in the steak. The wine was delicious, as was the steak!

---
*The wine and Nespresso Machine were media samples for review. As always my opinions are my own.  See my sample policy here. 
---
If you like this recipe we'd truly appreciate it if you would give this recipe a star review! And if you share any of your pics on Instagram use the hashtag #vindulge. We LOVE to see it when you cook our recipes.