Grilled NY Strip Steak is a tender and flavorful cut of beef with amazing marbling. Perfect for grilling. Add a marinade and rub with coffee for a flavorful coffee rubbed steak that is rich, intense, and flavorful.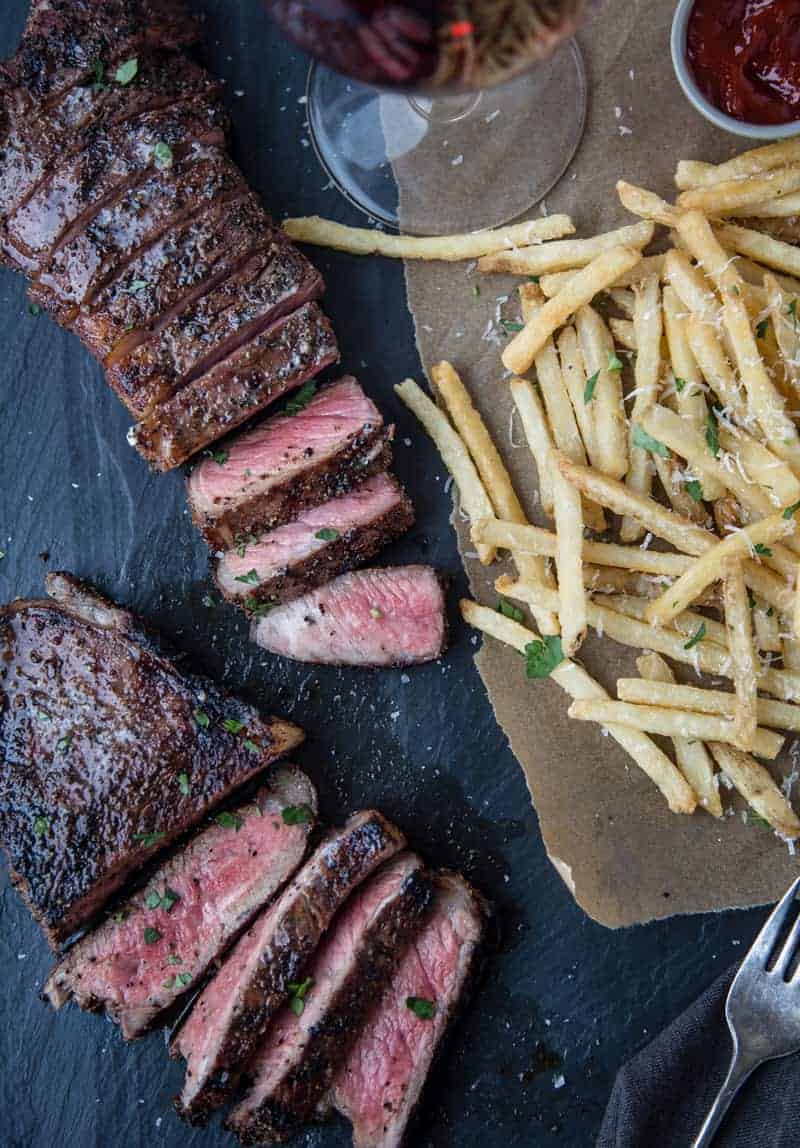 We have used coffee in many of our recipes to add a richness in flavor that is subtle like our award winning brisket chili. It is subtle, so it isn't overpowering the dish, instead adding a nice background to the flavor and using coffee in the marinade and the rub. The steps are also pretty simple.
What is NY Strip Steak
NY Strip steak comes from the strip loin of a cow. Also called strip steak. This tender area of the cow is along and just under the backbone. The entire strip loin is cut into smaller steaks and the front end of the roast is the NY Strip Steak. It's tender because it is not moving like a brisket or the sirloin, giving a nice marbling and tender bite. It's great for grilling and one of our favorite cuts.
The quality of beef is also important when grilling. When selecting a NY Strip Steak be sure to look for distinct marbling throughout and a small fat cap.
Alternatively the Ribeye Steak, or T-Bone (bone in combination of NY Strip and Filet Mignon) is another great option with similar marbling.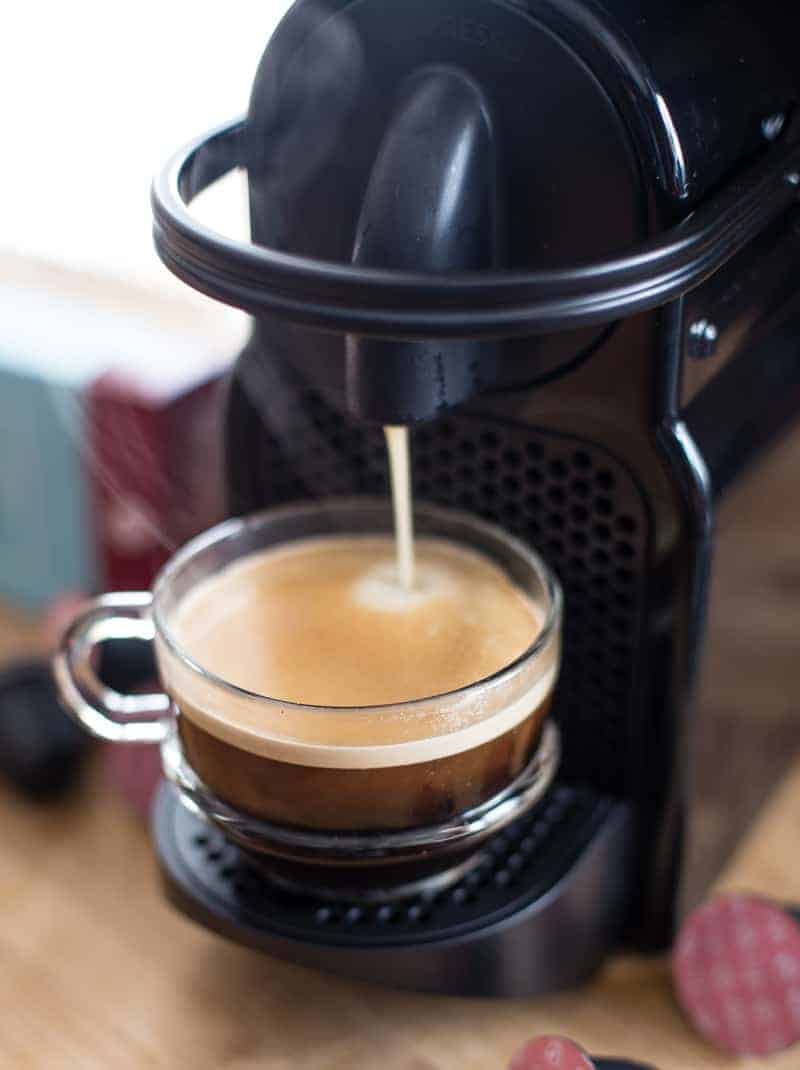 Coffee Marinade
Combine wine and coffee to balance the acidity and earthiness. Fresh ingredients and herbs add the aromatics.
In a one gallon plastic bag combine the following:
Strong brewed coffee – can be your leftovers from the morning
One cup of red wine
Worcestershire, garlic, onions, sugar, and some dry rub and spices
Let it marinate for about two hours. Very simple.
Dry Rub
After it's done marinating, remove the steak from the baggie and discard marinade. Pat it dry and apply the dry rub. It's a simple combination of kosher salt, coarse black pepper, and granulated garlic, with unused finely ground coffee grinds.
Use a higher quality coffee for this as the cheaper versions will almost taste like cardboard. The coffee rubbed steak also adds a nice earthy dimension as the grounds interact with flame and the meat as it cooks.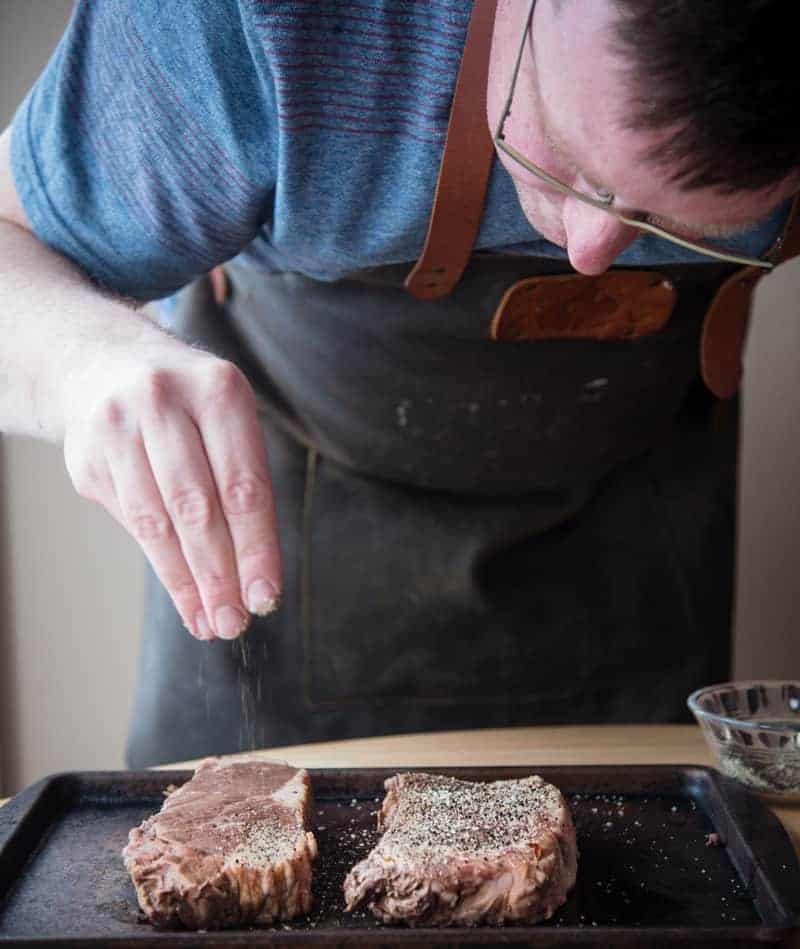 How to Grill NY Strip Steak
Use a two-zone or direct/indirect method of grilling using lump charcoal. For a coffee rubbed steak, the flame will hit the grounds and it will lift out some of the coffee flavor while still getting a nice crust.
Prepare the grill using the two zone method using lump charcoal. Target 450 degrees Fahrenheit over the direct side before applying steaks. This will take about 20 – 30 minutes depending on your cooker.
Grill the NY Strip steaks over direct heat on each side to get the sear. About 3 minutes per side.
Then move the steaks to the indirect side, close the lid and then grill for at least 8 more minutes or until the internal temperature of the steak reaches your desired level of doneness. We like 125 degrees F for rare using a Thermoworks MK4 Thermapen.
After it hits your desired temperature, let the steak rest for 10 minutes. Then slice and serve it.
Temperature Ranges for Beef
Rare: 120-130 degrees F
Medium Rare: 130-140 degrees F
Medium: 140-150 degrees F
Medium Well: 150-160 degrees F
Well Done: 160 degrees F (and not recommended)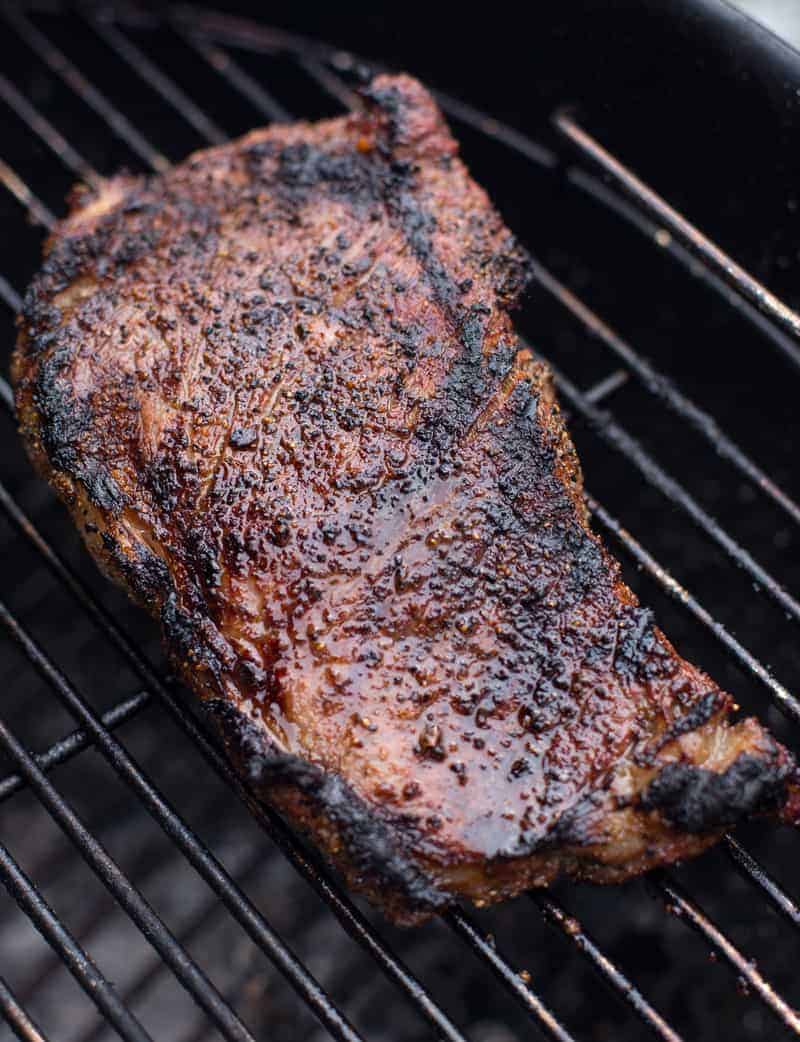 NY Strip Steak and Wine Pairing
While Cabernet Sauvignon is a usual choice for a NY Strip Steak steak, it's not the only choice. You want something with power and structure to stand up to the bold flavors of the coffee rubbed steak, but also with good acidity and moderate tannins to cut through the fat and richness of the dish.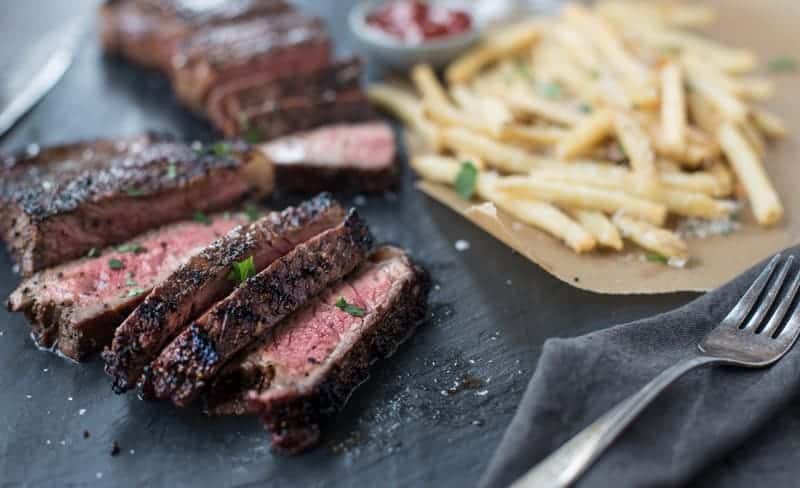 We tried this steak recently with a Rhone red from Gigondas and it was a remarkable match. As the wine opened it showed lots of fresh ground pepper, earthiness, and even a savory meatiness that was so interesting matched with the steak.
Other Great Grilled Steak Recipes
Sides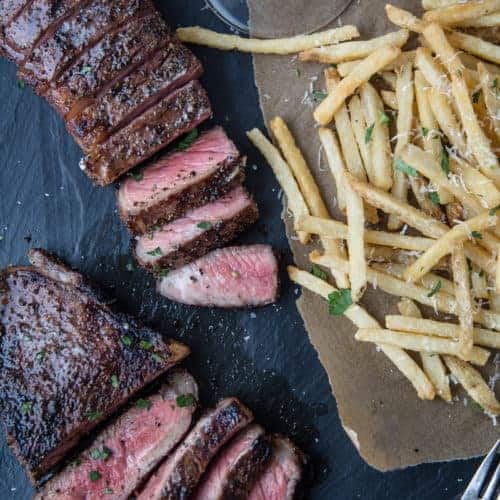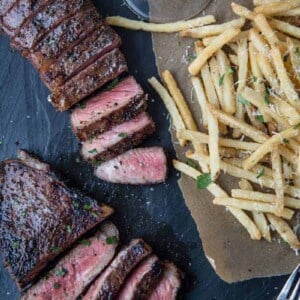 Grilled NY Strip Steak Recipe
Grilled New York Strip Steak marinated in a rich coffee and wine base, seasoned with a coffee rub, then grilled. 
Print
Pin
Rate
Ingredients
Marinade
1

cup

coffee

1

cup

red wine

we used Pinot Noir

¼

cup

brown sugar

¼

cup

Worcestershire

1

small

shallot, roughly chopped

2

cloves

garlic crushed

1

teaspoon

red chili pepper flakes
Dry Rub
2

tablespoons

SPG Rub

1

teaspoon

dry ground coffee
Instructions
Coffee Marinade and Seasoning
Combine all ingredients in a large plastic bag and place the NY strips into the bag. Let sit in the fridge for two hours.

After two hours of marinade, remove the steaks from the fridge, take out of the bag and pat dry. Combine dry rub ingredients (equal parts salt, pepper, garlic), then add the ground coffee. Season the steaks with the dry rub as you prepare the grill.
Grilling
Set your grill for indirect or two zone cooking using lump charcoal. Typically this will take 20 – 30 minutes with a charcoal chimney starter.

Place your steaks over the direct heat for three minutes or until you see a nice crust and cover grill. Then flip for another three minutes over direct heat and cover again.

Then move steaks to indirect heat and cover for around 6 – 8 minutes or until your desired internal temperature. We like to pull rare (125 degrees Fahrenheit) using and instant read thermometer.

Let the meat rest for 10 minutes before cutting to let the juices redistribute and then cut and serve. This is great with french fries.
Find the perfect wine pairing at the Vindulge Wine Shop
Nutrition
Calories:
264
kcal
|
Carbohydrates:
43
g
|
Protein:
1
g
|
Fat:
1
g
|
Saturated Fat:
1
g
|
Cholesterol:
1
mg
|
Sodium:
356
mg
|
Potassium:
591
mg
|
Fiber:
1
g
|
Sugar:
32
g
|
Vitamin A:
132
IU
|
Vitamin C:
10
mg
|
Calcium:
114
mg
|
Iron:
4
mg
---
This post was first published in July of 2018 and updated with more details on the grilling steps October 2020. *The wine and Nespresso Machine were media samples for review. As always my opinions are my own.  See my sample policy here. 
If you like this recipe we'd truly appreciate it if you would give this recipe a star review! And if you share any of your pics on Instagram use the hashtag #vindulge. We LOVE to see it when you cook our recipes.