This Pulled Beef Sandwich is ultra-tender from slowly smoking a Chuck Roast for hours and extra juicy from a savory wine braise. We then take that shredded Beef for the base for an incredible and indulgent sandwich!
We're slowly smoking Chuck Roast and then transferring it to a savory wine braise until fork tender. Then we're shredding the Beef and making a sandwich with spicy peppers and coleslaw for the ultimate pulled beef sandwich.
This post is sponsored by Beef. It's What's for Dinner. on behalf of the Beef Checkoff.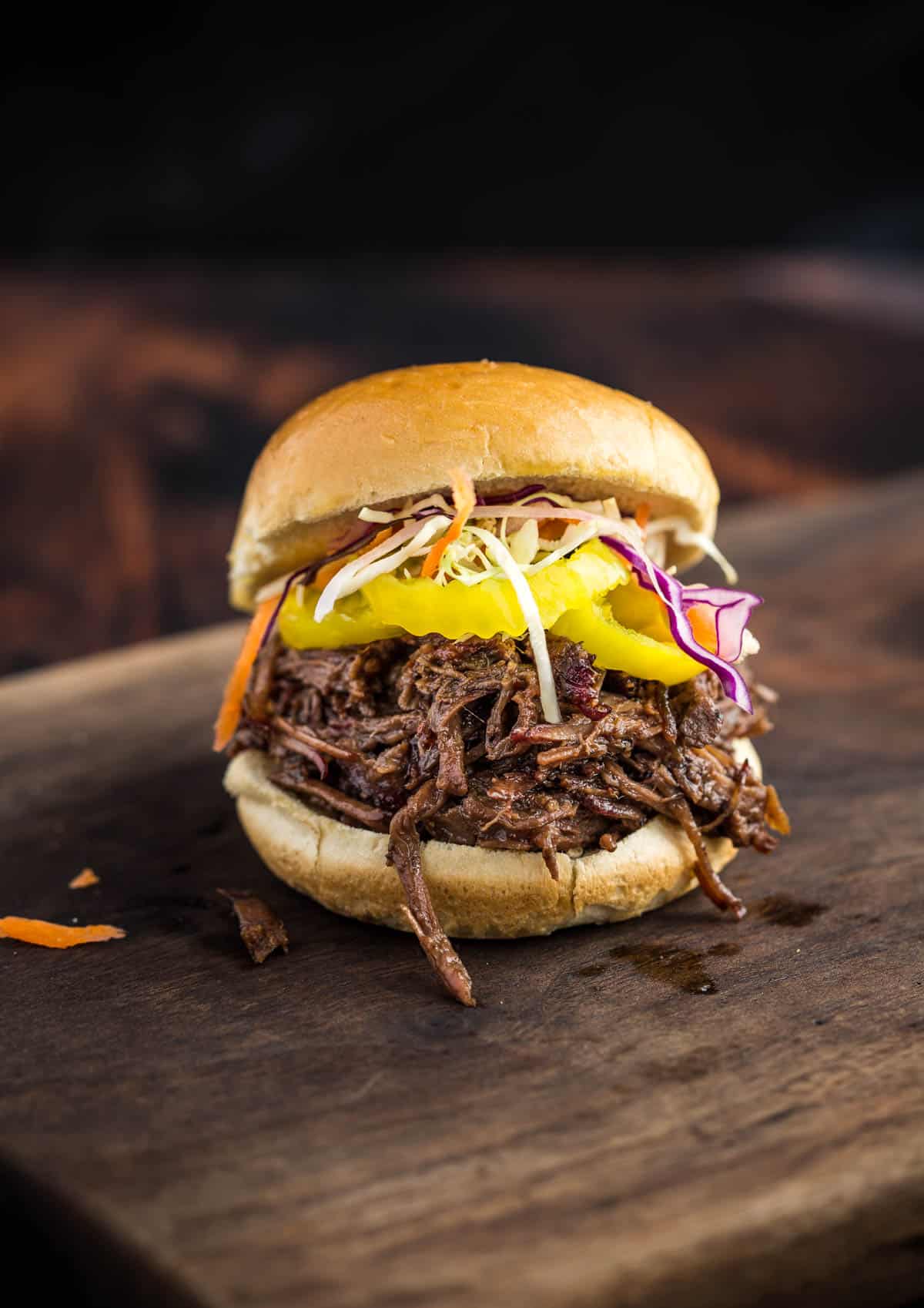 Jump to:
When it comes to Shredded Beef, there are a few cuts you can use. Brisket can be cooked low and slow, or braised, and it will fall apart tender if you get the internal temperature high enough. Another great option is Short Ribs, which we like to call Brisket on a stick. Both of those cuts are amazing, but they can also be expensive.
So another great option is one of our favorite affordable cuts – what we think is often an under-appreciated cut — the Chuck Roast.
What is Chuck Roast
The Chuck is actually a primal cut of Beef that is from the shoulder of the cow, often called the Square Chuck Primal. The Chuck Roast is a part of that primal cut and has modest intramuscular marbling (imagine a really big shoulder with bone that is carefully trimmed to get various cuts of meat). This part of the cow gets a fair amount of movement, which tends to mean a fair amount of intramuscular connective tissue. There are also modest amounts of intramuscular fat as well, which means flavor.
When buying and cooking Chuck Roast, it is best for slow braising and dishes that will help to slowly render the intramuscular fat and tissue for a tender and flavorful dish.
Buying Chuck For Shredded Beef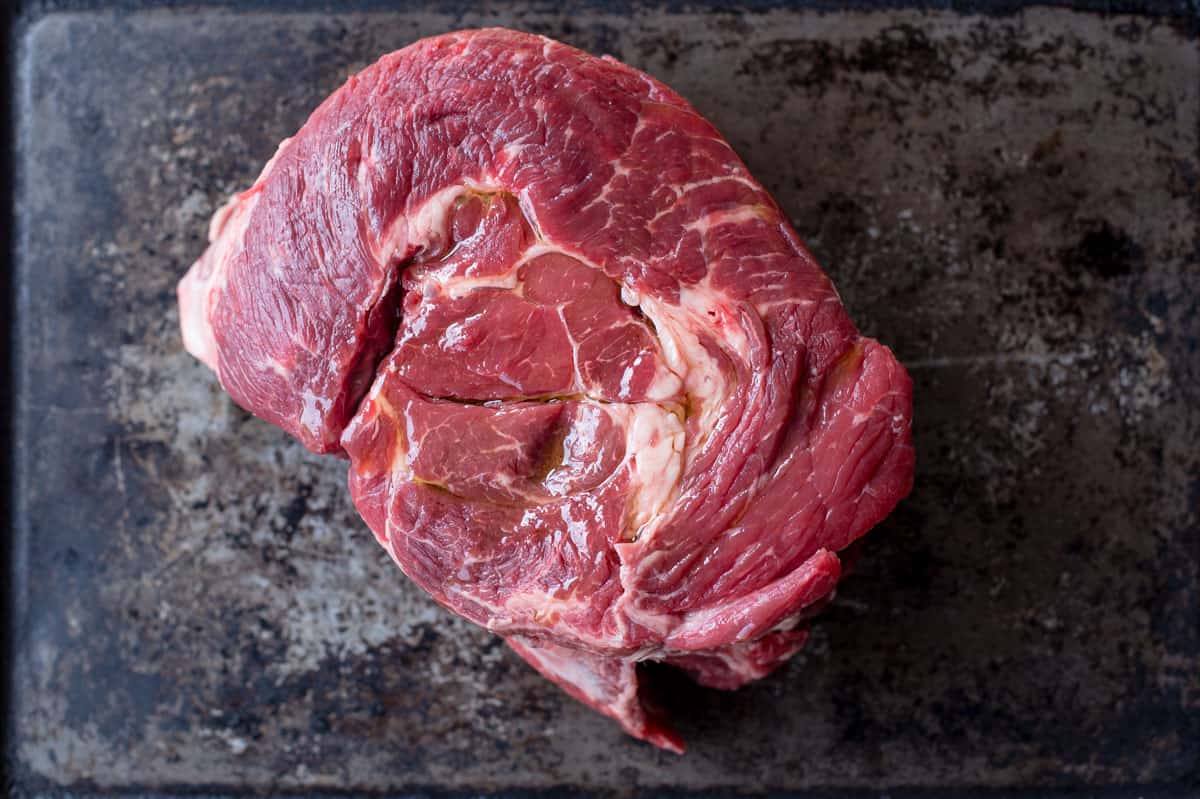 When buying Chuck Roast for a pulled Beef sandwich, specifically we recommend buying a boneless Chuck Roast, each Chuck Roast will vary in size depending on the store. We look for a 4-5 pound Chuck Roast for this recipe. Depending on how it is cut up, it may be tied because they removed some bones, or it may be a whole piece. Either will work for this recipe.
One key factor when buying is to seek out a cut that has visible white marbling through the meat. If the Chuck Roast is too lean, it won't render and fall apart as easily as one with a distinct amount of marbling when smoking versus a straight braise, so look for some marbling.
If you are only doing a small Chuck Roast (because it's all you could find, or you have a smaller crowd), then a 2 – 3 pound Chuck Roast will work just as well. Just know it will just cook faster.
Plan for two cups of Shredded Beef per pound as your yield after cooking. Our 4.5 pound Chuck Roast would serve around eight people depending on the sandwich size.
Preparation and Seasoning
Chuck Roast is typically trimmed pretty well from the butcher. But it's good to see if you need to remove any excess fat or cartilage pockets prior to seasoning using a good boning or filet knife.
For seasoning start with olive oil. This will coat the Chuck Roast and allow the seasoning to stick. Plan two tablespoons for a 4 – 5 pound roast. You don't need to drench it.
Finally use your favorite beef seasoning and liberally coat the chuck roast. We use ¼ cup of seasoning for a 4 – 5 pound Chuck Roast.
That's it, and it is that easy.
Smoking Pulled Beef
The next step is preparing the smoker and getting the smoke flavor infused into the meat. Slowly roasting the Chuck Roast will help to break down all the intramuscular fat and add flavor and texture when it's all done.
Prepare your smoker for indirect cooking targeting 275 degrees Fahrenheit. We used apple wood for our cook, hickory, or oak work well also.
Place the seasoned Chuck Roast onto the smoker, and insert an instant read thermometer into the center of the Chuck Roast to track the internal temperature.
Close the lid and smoke until the internal temperature of the roast is between 165 and 170 degrees Fahrenheit. This will take roughly 4 – 5 hours. Cook to the internal temperature, not time.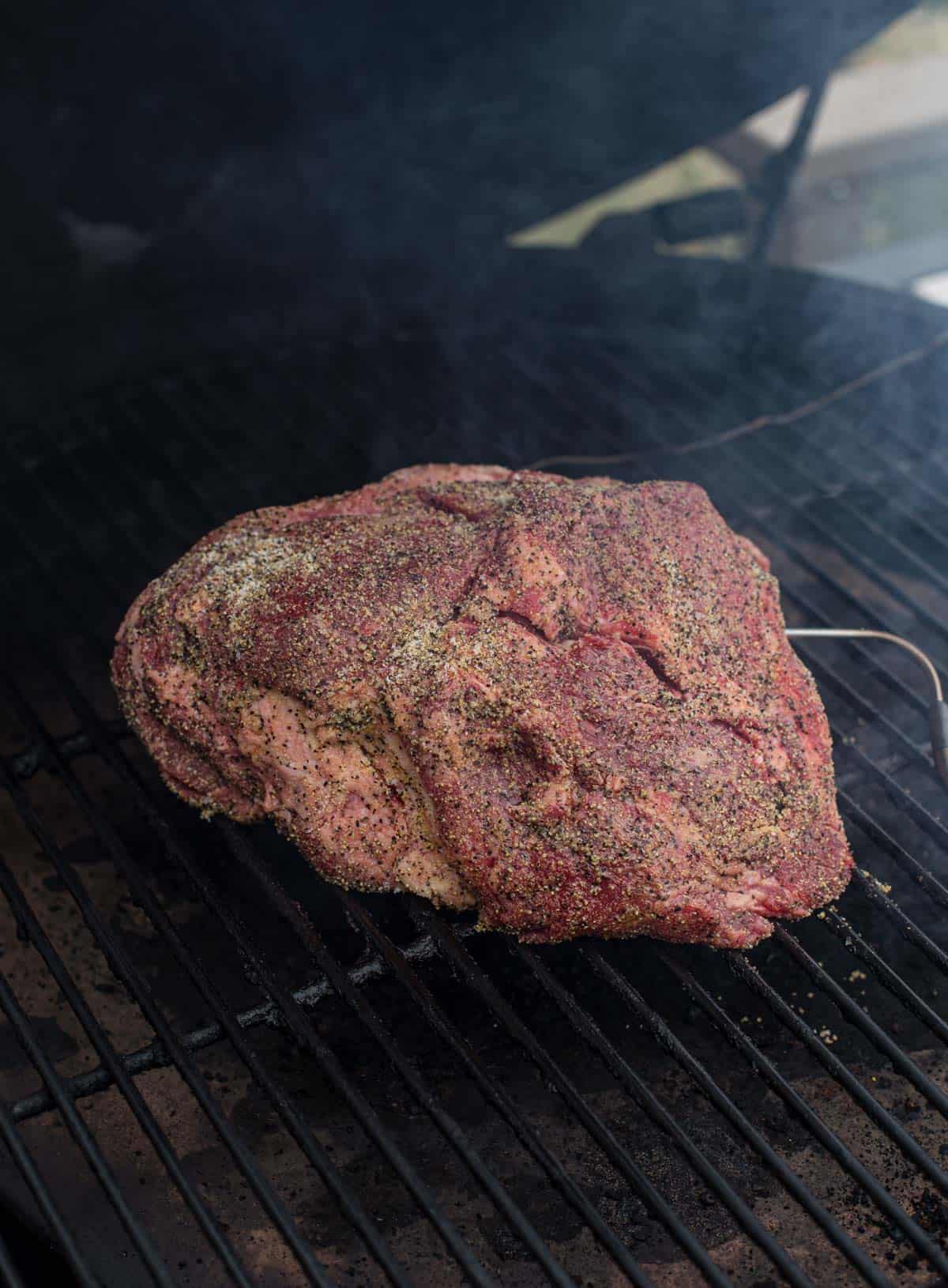 Then it's time to braise.
Braising Ingredients
While the Chuck Roast is smoking, make the braising liquid. Combine all the ingredients together in a large bowl and mix. Then pour in your smoker safe dish.
Fruity Red Wine – We like Zinfandel or a Malbec
Brown Sugar – This will slightly sweeten the braise
Worcestershire sauce – We like the savory and rich mouthfeel this offers
Dijon Mustard – This helps with backbone to the dish and adds nice flavor as it reduces
Balsamic Vinegar – This adds a nice rich flavor and balances the acidity of the wine well
Red Chili Pepper Flakes – Adds a slight amount of heat
If you want to make extra sauce to use as a topping (or dipping sauce) for the sandwich, consider making a double batch of the braising ingredients. If you make a double batch, then add the second batch to a sauce pan, and bring to a simmer and then slowly reduce in half for about 30 minutes. This will concentrate the flavor and slightly thicken the sauce.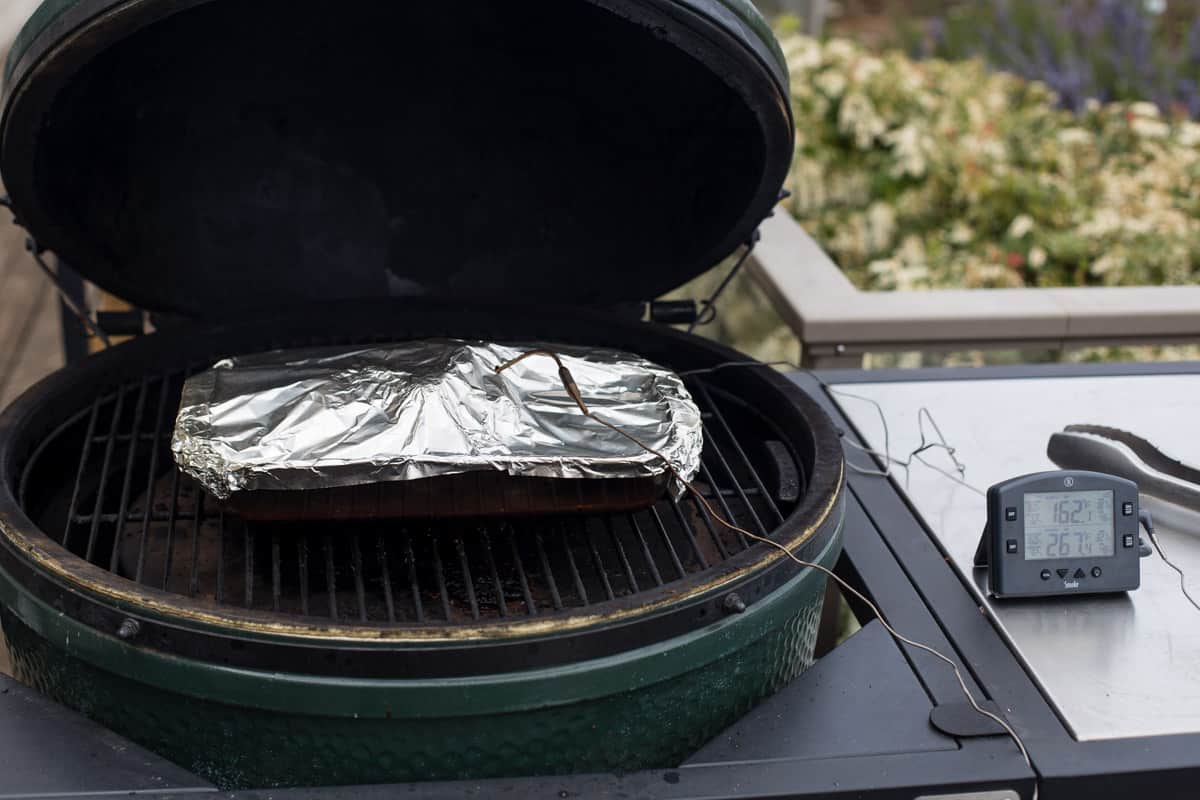 Braising For Pulled Beef
We find that the difference between good and great pulled Beef Chuck Roast is in braising versus just smoking until it's ready to pull.
Once the internal temperature of the Chuck Roast is between 165 and 170 – remove the temperature probes and then place the Chuck Roast in a smoker safe dish along with the braising liquid.
Cover the dish tightly with foil and place the probe back into the Chuck Roast. Place back on the smoker and continue smoking until the internal temperature of the Chuck Roast is between 200 and 210 degrees F, or when another temperature probe inserts easily like through room temperature butter. This can take 2 – 3 additional hours.
Then remove the dish with the braising Chuck Roast and let rest for 30 minutes covered.
Then we pull the meat and make the sandwich.
Sandwich Ingredients
While the Chuck Roast is resting prepare the rest of the ingredients for the sandwich.
Brioche Bun – these are soft and buttery. You can serve slightly warmed or cold. We really like them because they tend to be smaller and airier. For buns we try not to have more bun than meat.
Banana Peppers – These add a nice bite with some minor heat. The texture and pickled flavor are an awesome complement to the rich Beef. Pickled onions are a good alternative.
Coleslaw – You can buy your own or make it, either way the cabbage crunch and fresh flavor are another balance to the rich Beef.
Pulled Beef and Making Sandwich
Now everything is prepped and ready and it's time to pull the Beef and build the sandwich.
Using two large forks, gently separate the meat and pull in small pulls in the same dish. This incorporates the pulled Beef into the braising liquid. You may run into fat pockets, if you do, use your hands to separate the good meat and discard the fat or cartilage. Continue to pull until you like the texture.
Place the pulled Beef onto the bun, and then top with the banana peppers and some coleslaw. If you made extra sauce, drizzle it over the top and then add the top of the bun.
Serve and enjoy warm!
These also make great sliders if you want to make the portions stretch.
If you are making this ahead of time, pull the Beef first! When reheating the smoked pulled Beef, place in the oven at 300 degrees Fahrenheit until it's warm (about 15 minutes). Then serve immediately.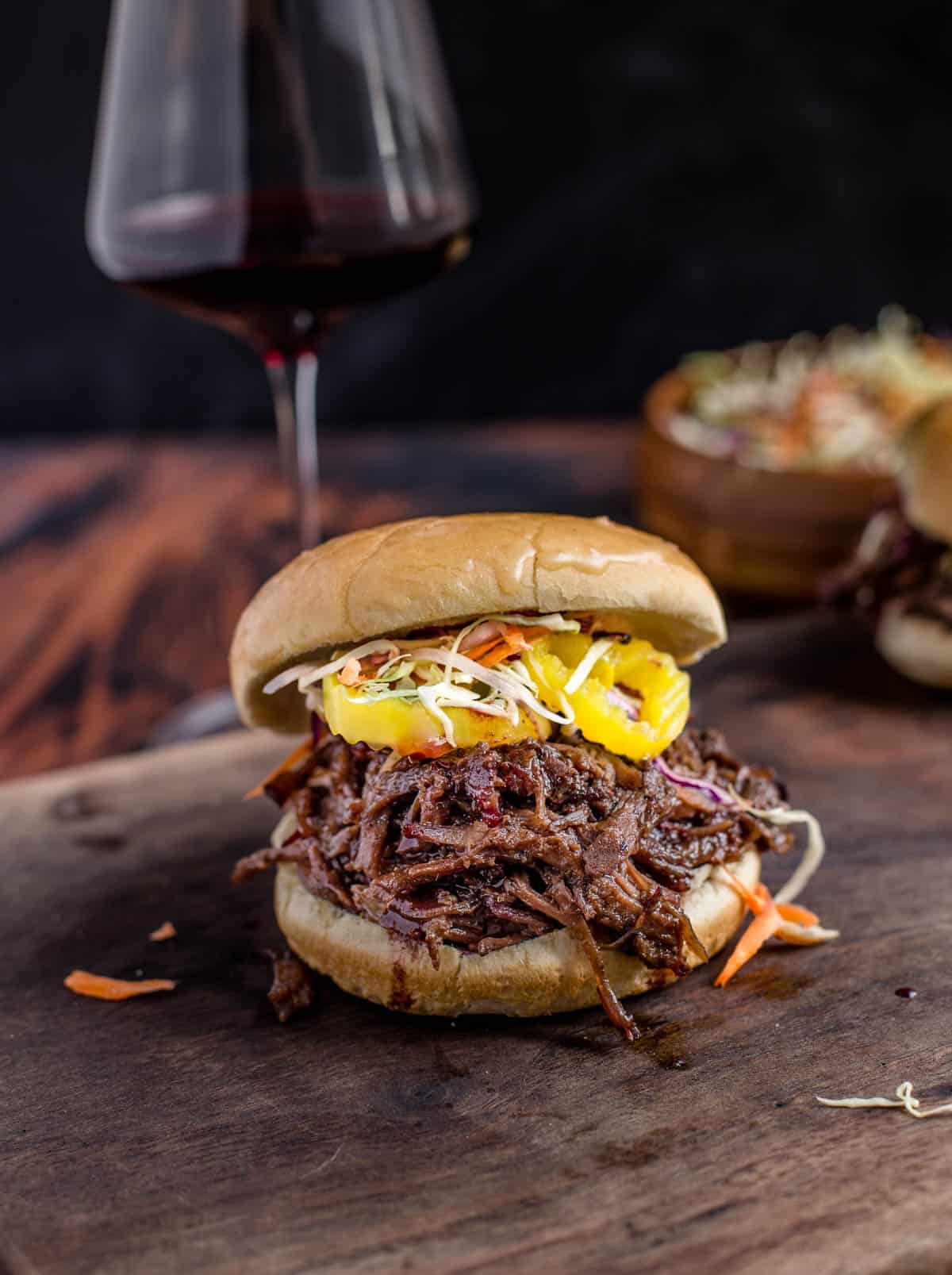 Other Beef Inspirations
Side Ideas for Pulled Beef Sandwiches