French Dip Sandwiches made with leftover Prime Rib, and dunked into a homemade Au Jus, is truly the ultimate sandwich for all you meat lovers out there!
Nothing beats a warm toasted bun and french dip sandwich with an herbaceous and equally warm Au Jus sauce. Use leftover Prime Rib or any roast beef and dunk it into a flavorful beef stock based sauce.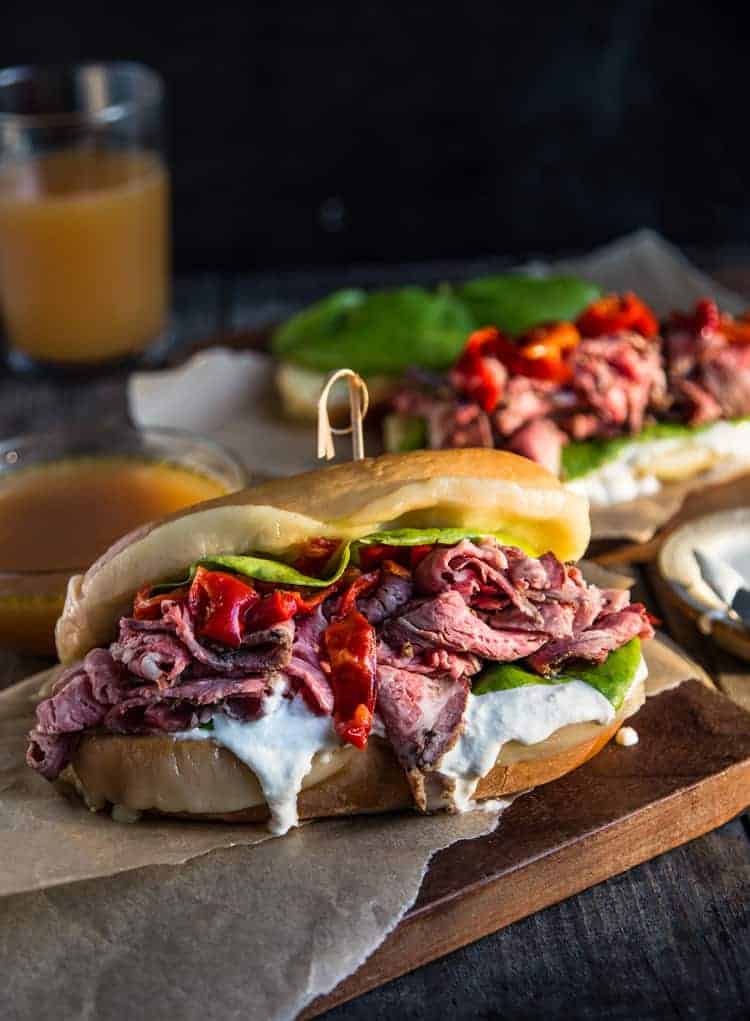 Jump to:
After holiday meals we often find ourselves with leftover Beef Rib Roast or Prime Rib and look for creative ways to use it. One of our favorites, is this simple French Dip that takes just minutes to make and can easily feed one, or a whole family.
What is a French Dip Sandwich?
Simply put it's a roast beef sandwich served warm, and often served with a beef stock based dipping sauce called Au Jus to dip the sandwich in. And while several U.S. based restaurants claim to have the original, it's uncertain who actually invented the sandwich (and no it wasn't originated in France). This meat filled sandwich can also beef called a beef dip, or dip sandwich.
While not traditional, we absolutely LOVE topping our sandwiches with some spicy pickled peppers (like Mama Lil's). (That's totally NOT an affiliate link, by the way, we just love those peppers and think you will too!). We also like to serve our sandwiches with some spicy horseradish mayo and Swiss or Provolone cheese.
What is the Best Meat for French Dip Sandwiches?
There are several cuts to choose from, and they don't all have to be beef. The key is thin slices, and that's why this makes a great leftover meal for beef roasts. Some ideas include:
Prime Rib or Rib Roast Beef
Sirloin Roast
Strip Loin
What is the Best Roll for a French Dip?
We love the classic French Roll. It's soft and holds the meat and cheese well. Other great options include a baguette, hoagie, or even a ciabatta. Ideally use a roll that has some length, making it easy to dip in the au jus beef sauce.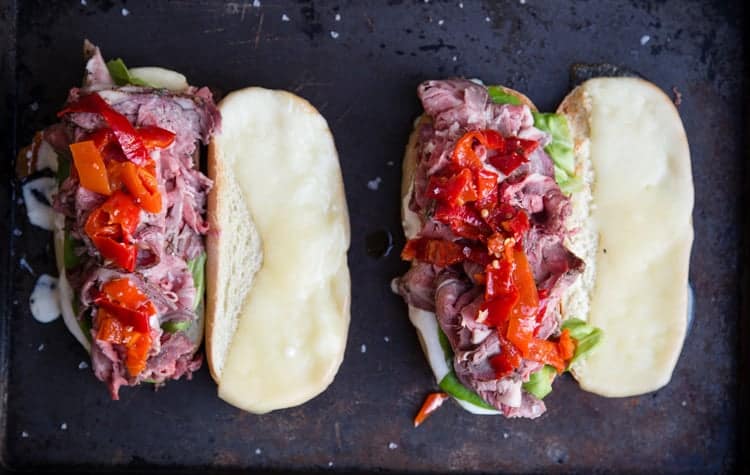 How to Make a French Dip Sandwich
Thinly slice the roast beef, ideally using a meat slicer.
Using broiler on high, broil the roll with cheese for 3 minutes, to allow the cheese to melt and toast the roll a bit.
Make the Au Jus so you can serve it warm.
Pile the meat and additional ingredients on the sliced roll and dunk in the Au Jus.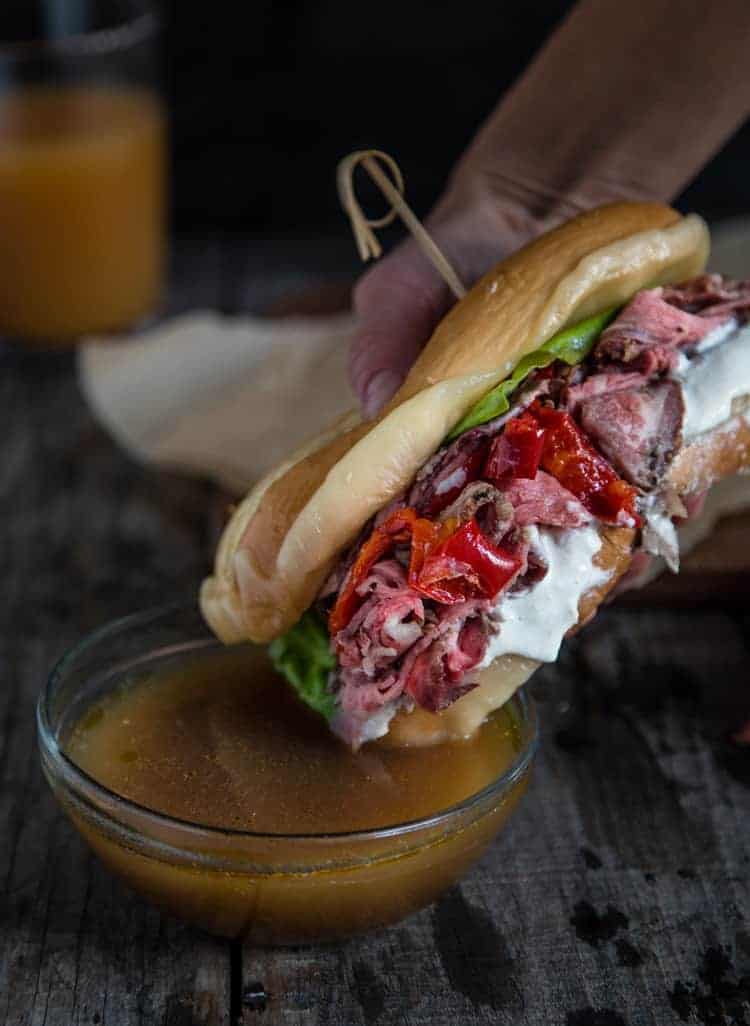 What is Au Jus
Au Jus is technically the juices of meat from its own cooking. Our beef dip or French Dip Au Jus is based in beef broth, with added flavors (vegetables) because we are using leftover meat. Beef broth itself is not very flavorful so we add our own flavor to it at a slow simmer.
How To Make Au Jus
Start with two cups of beef stock or broth.
Add any ingredients you like for flavor (we like to add sautéed vegetables, like leeks, celery, and carrots). As the ingredients slowly simmer with the beef stock, the flavor is pulled from the ingredients into the stock.
Strain the stock after 15 – 20 minutes and serve with the sandwich.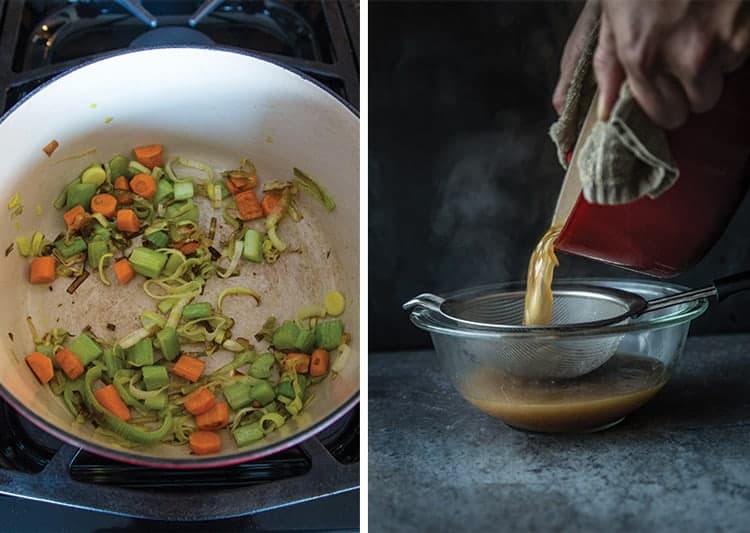 Other Sandwich Recipes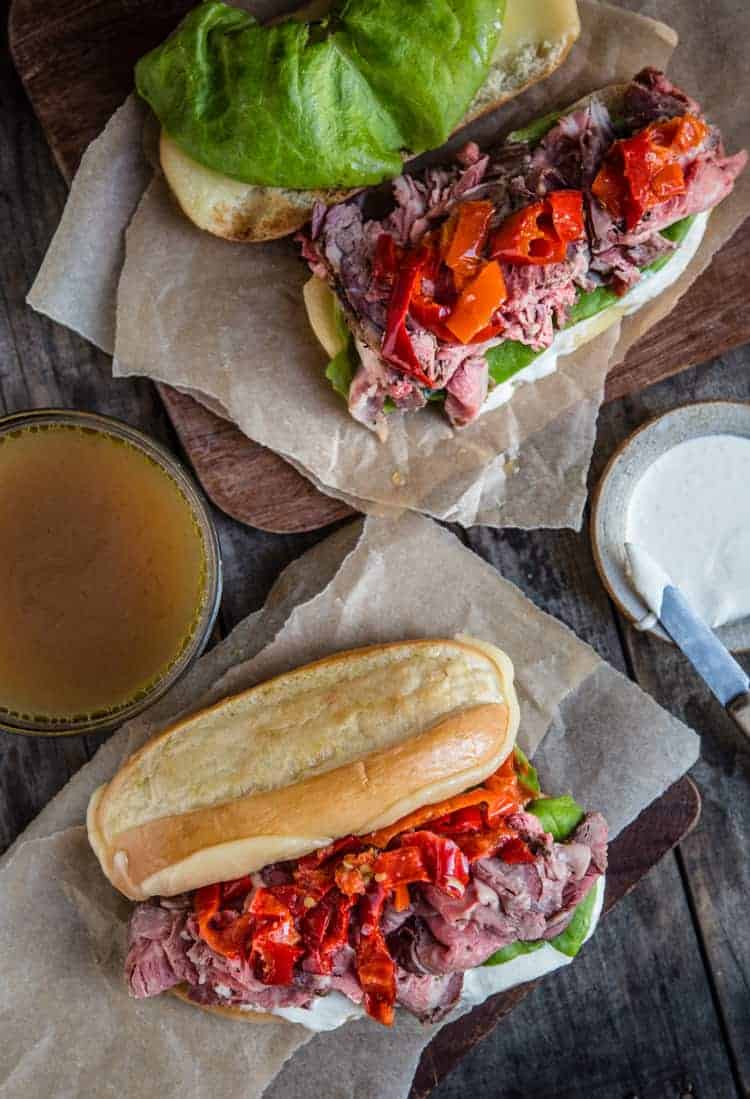 ---