Delicious, crispy, Pulled Pork Wontons. We veer from the traditional Chinese wonton soup and instead fill our wrapper with leftover Smoked Pulled Pork, barbecue sauce, cheese, and onions.
Sometimes some of the best meals are made from leftovers.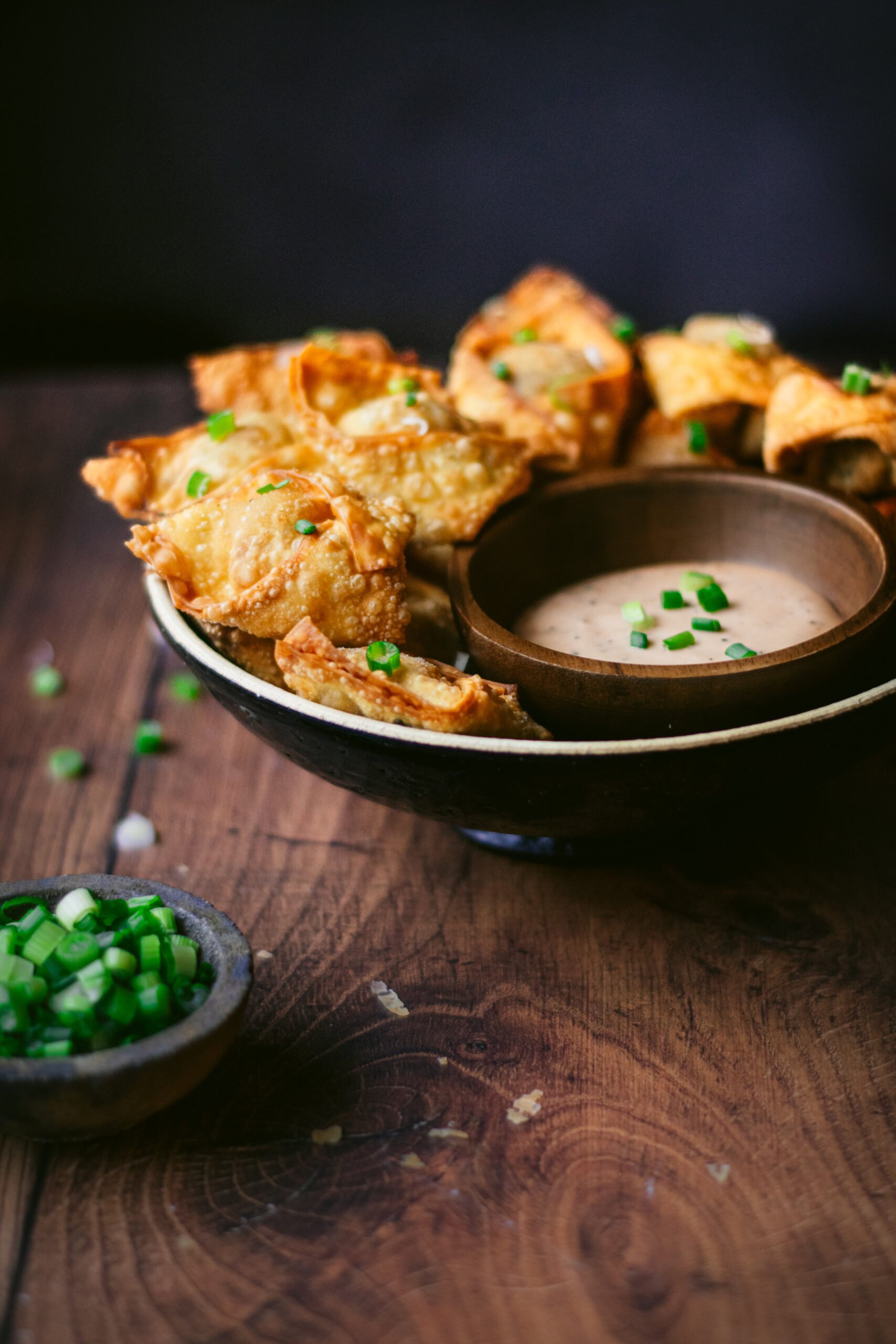 What could be better than pork shoulder, perfectly smoked, finely pulled, juicy and tender? Using the leftovers to make these Smoked Pulled Pork Wontons! Well, I suppose that statement is arguable. Freshly pulled pork is pretty darn awesome. But I can say, without a doubt, that this is a genius use for any meat that didn't get consumed.
Jump to:
Now I know most of you are thinking, "Who the heck ever has leftover smoked pulled pork?"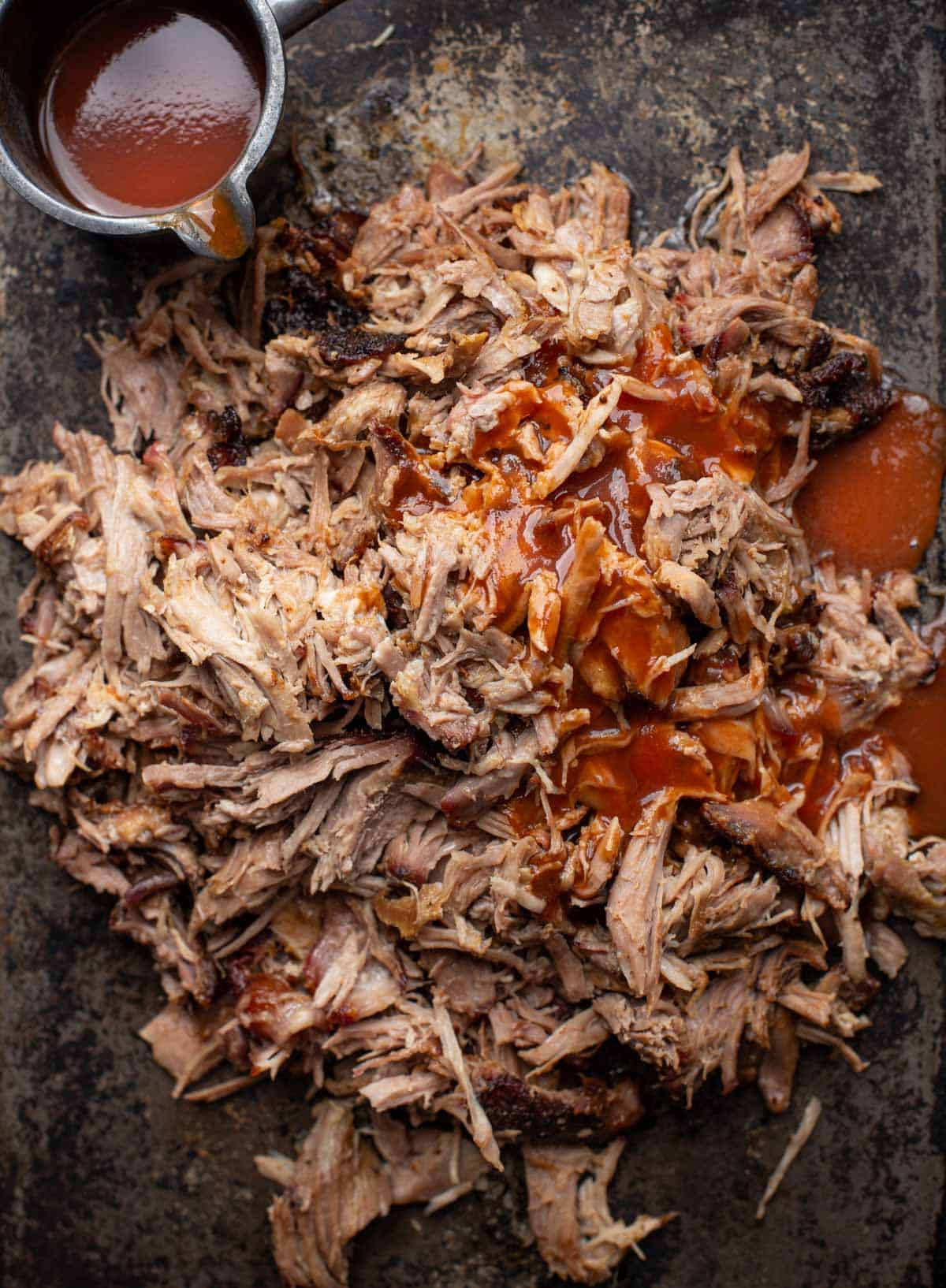 We do. That's who.
We love smoking pork butt (both through events with our catering company, Ember and Vine, and simply for a long weekend cook with the family), often leaving us with pounds of leftovers to either quickly use or freeze for later. There are worse problems to have I suppose.
Side note: pulled pork freezes remarkably well. Just re-heat it in a skillet. If it's too dry, add some apple cider vinegar or BBQ sauce to add moisture back to the meat.
One of our favorite uses so far has been these pork wontons.
Tips for Making Pulled Pork Wontons
After making a few variations of this pork wonton recipe we discovered a few important things.
Moisture is important for the filling. We added some BBQ sauce, green onions, and shredded cheese for added flavor and moisture to the filling.
The dipping sauce is important. Since we have traditional barbecue flavors, we wanted to highlight similar flavors in the sauce (as opposed to going the traditional wonton route with a sweet and spicy chili dipping sauce). Our recipe combines sour cream, hot sauce, BBQ sauce, and other flavors for a tangy and delicious dipping sauce for these crispy and tender wontons.
You don't have to consume all of these crispy wontons immediately. They are good the next day too. Just reheat them in the oven on a baking tray so they don't get soggy.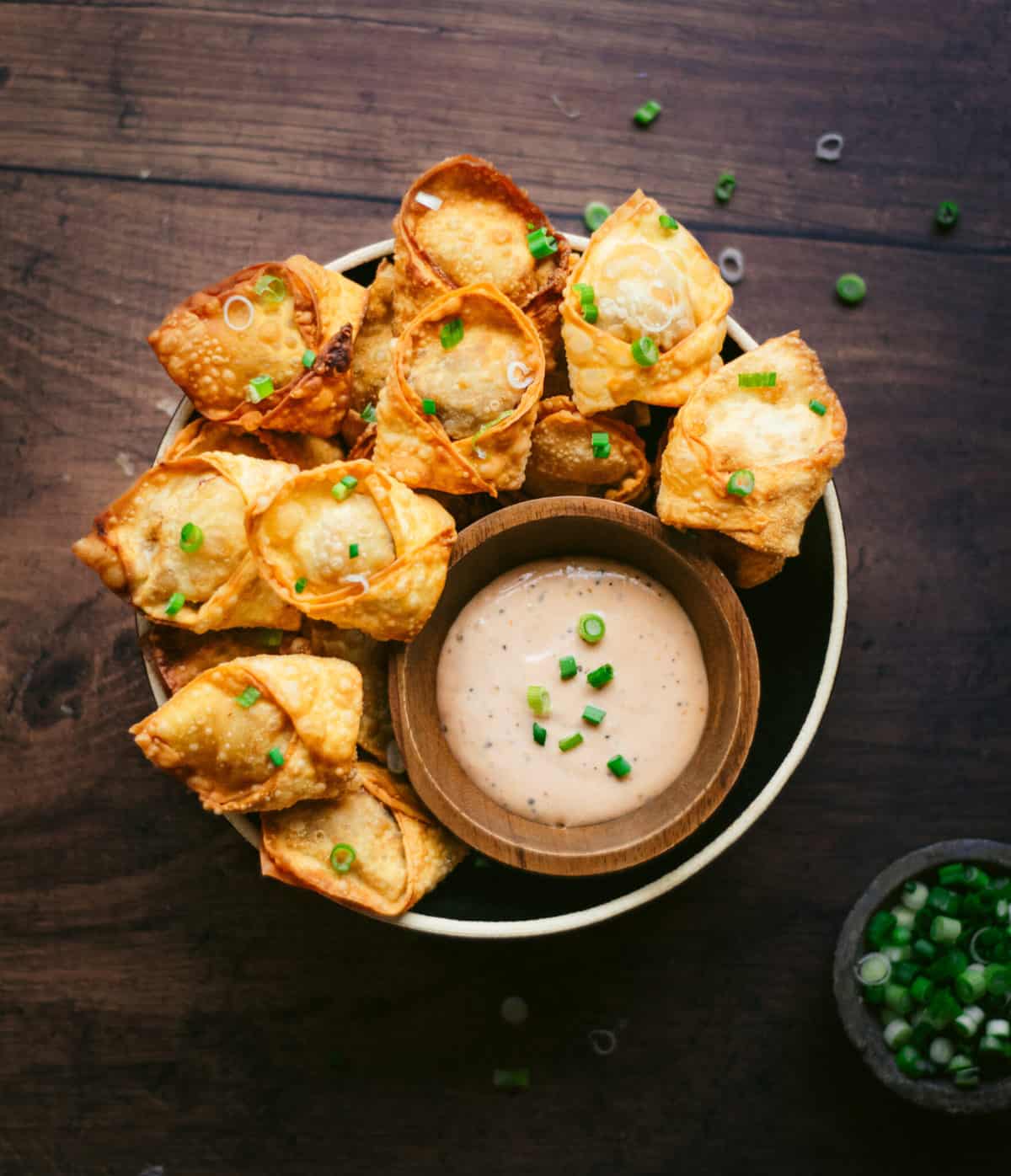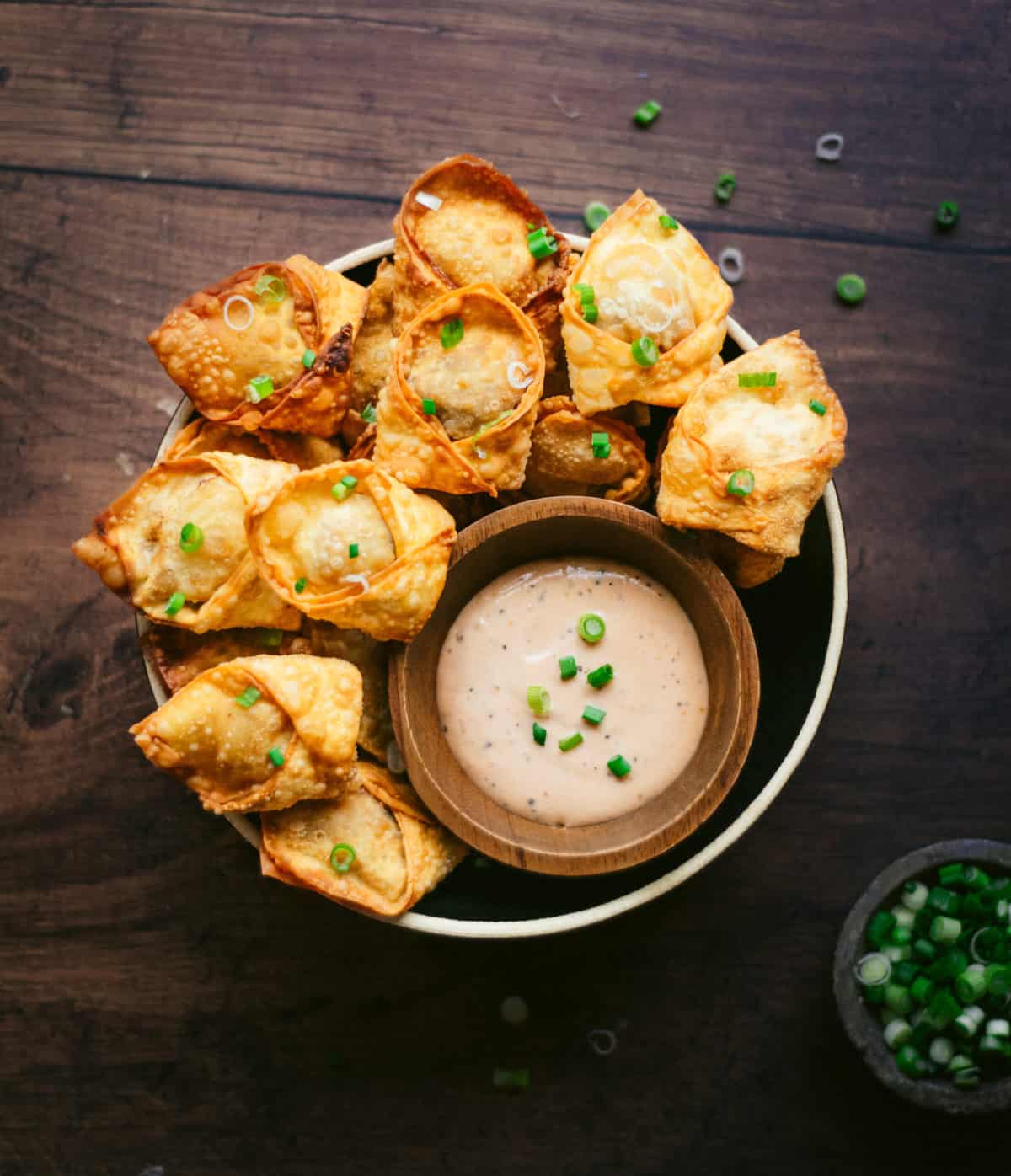 How to Make Pulled Pork Wontons
Prep Leftover Pulled Pork: First, you need killer smoked pulled pork! If you already have leftovers, awesome. If not, check out our complete guide on how-to make the best smoked pulled pork.
Make the Filling: Combine all filling ingredients together in a large bowl and mix together well.
Make the Wontons: Take about 1 teaspoon of your filling and place in the center of your wonton wrapper. Too much filling could lead to a wonton explosion. Using your finger, lightly brush the outer edges with an egg wash (1 egg whisked with a little water or milk). Fold corner to opposite corner making a triangle. Pinch shut so there is no air getting through. Then fold the two ends of the triangle into each other, and pinch them together. See the step-by-step photos (below) of my excellent hand model (aka hubby) for his demo. Bravo, Sean. Bravo.
Fry Wontons: Heat up a cast iron pan with about 1 inch of oil and get it hot. Gently place the wontons in the hot oil and let them fry until crispy and lightly browned (2-3 minutes).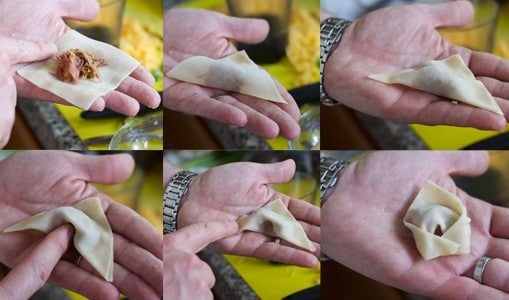 Incidentally kids can also get involved.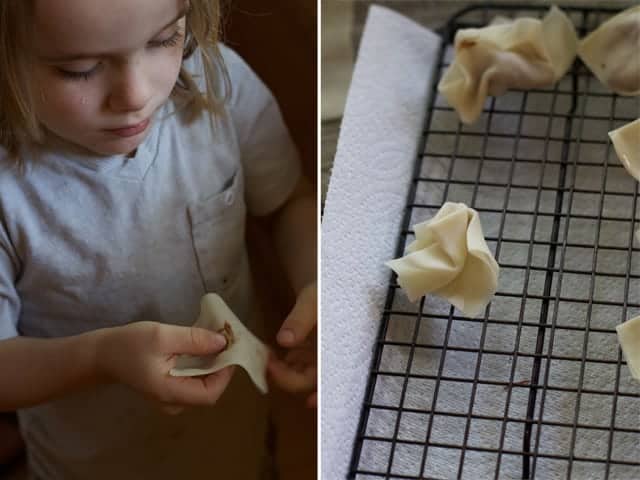 Wine Pairing
Most traditional wontons will pair well with Riesling or something with a touch of residual sweetness. They play well with not only the sweet, tangy, and even spicy flavors, but the acidity is great cutting through the crispy wontons.
But these aren't your traditional wontons!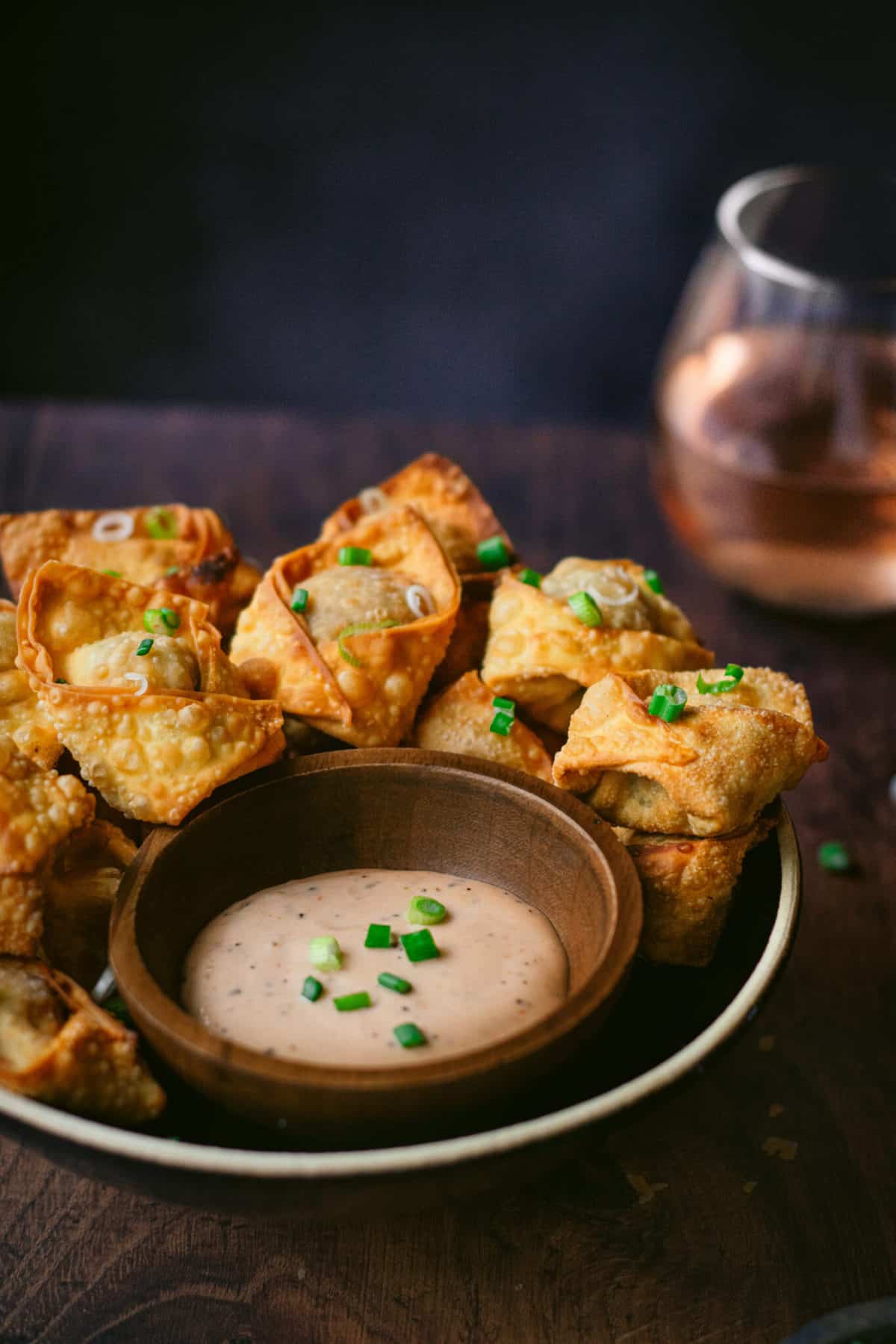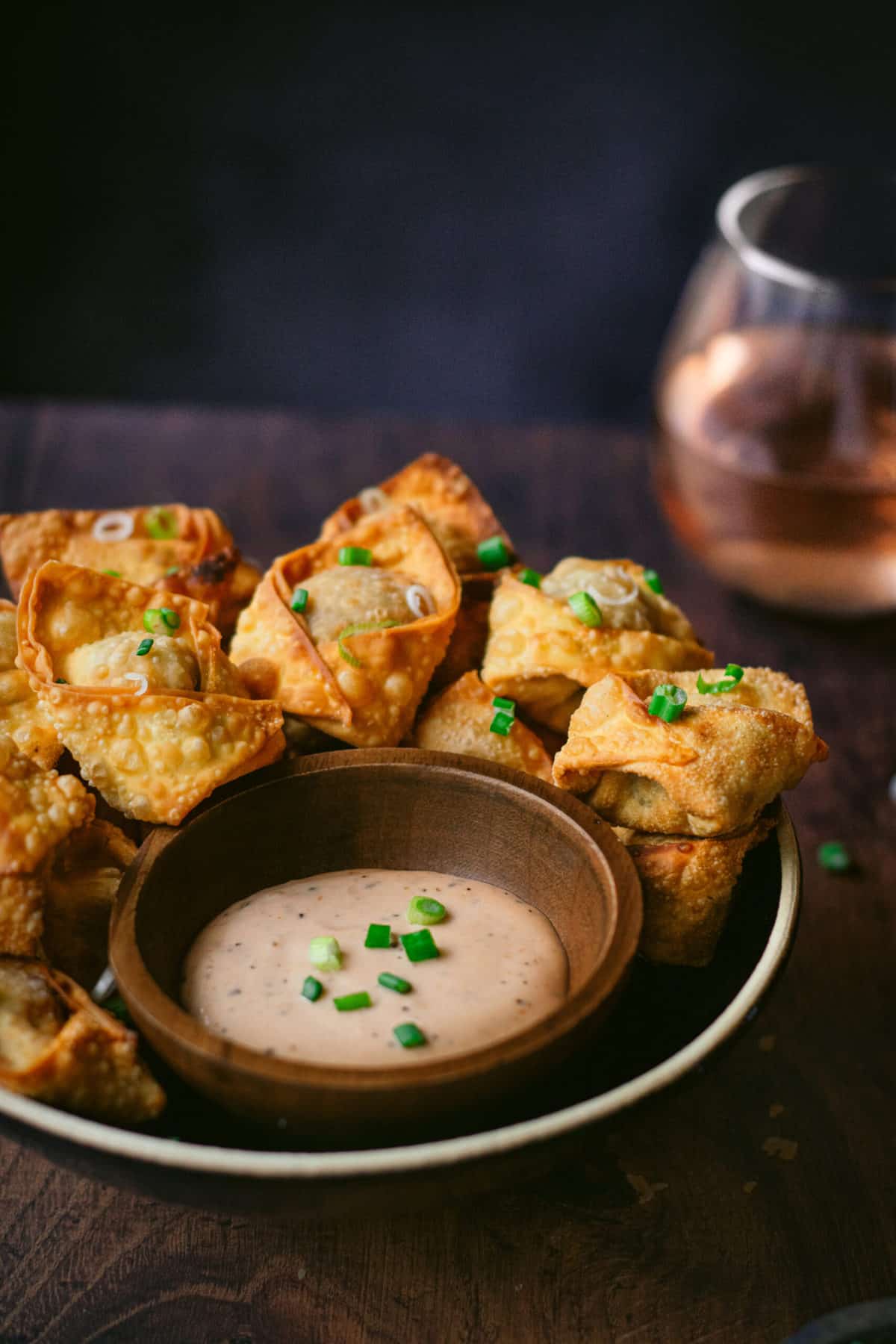 These are BBQ inspired. Instead of the sweet and spicy we have creamy with mild BBQ and hot sauce influences from the sauce. The wontons are equally crispy since they are fried. My two favorite wines for the nuances in these wontons are a dry (yet fruity) rosé and sparkling wine. And if you want the full effect, go with a sparkling rosé. The acidity works well with the crispy wonton outer layer and the fruity flavors of the wine stand up like a rock star to the tender flavorful filling. These are going to be your most refreshing bet, outside of an ice cold beer of course (and ain't nothing wrong with pairing these delicious smoked pulled pork wontons with a cold one).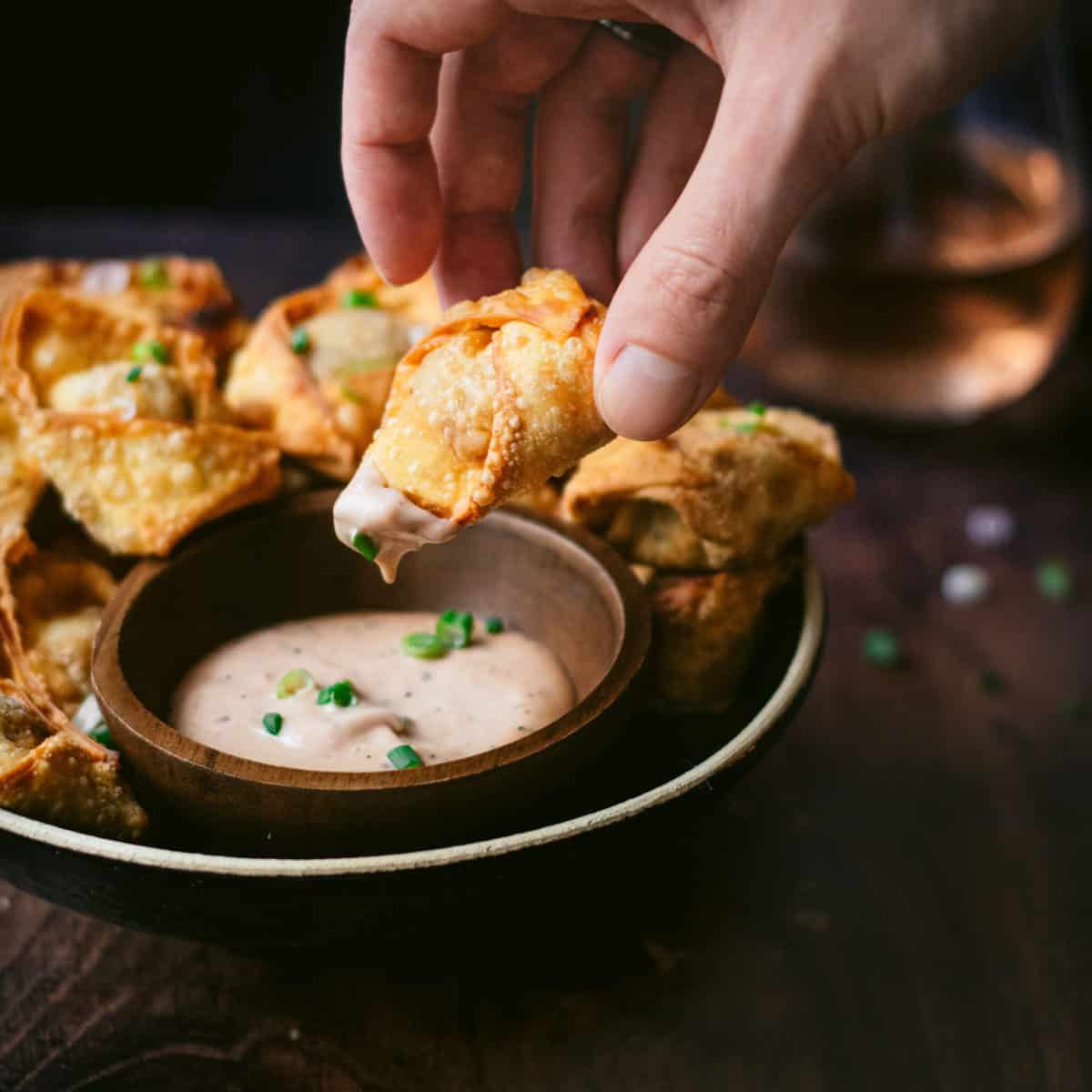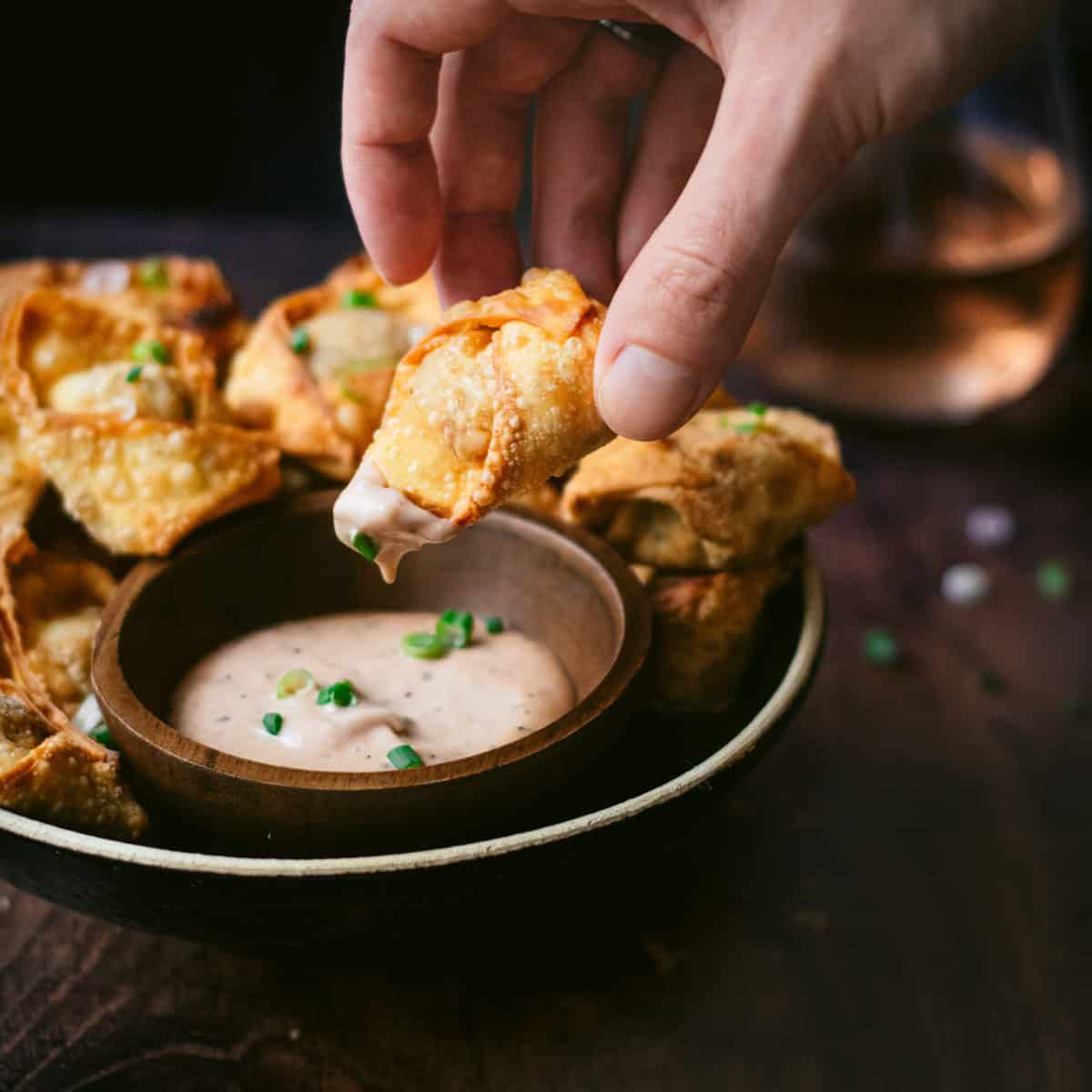 Leftover Pulled Pork Recipes
If you happen to find yourself with more leftover pulled pork, give one of these recipes a try. Start with our ultimate guide to leftover Pulled Pork Recipes. Or just start here.
---
*This recipe was originally published in August, 2015, and updated in January 2022 with new photos. The recipe remains the same. *
---
This post may contain affiliate links. This means if you click on the link, we may receive a small commission if you purchase through the link. We partner with brands we know and love and use and it helps keep the blog going!
Tried this recipe? We would love to see! Mention @vindulge or use the hashtag #vindulge!
---