…Not your average Thanksgiving wine post…
I had a very hard time accepting the fact that I would spend my first Thanksgiving away from my family in Arizona.  This was many years ago mind you.  We had many family customs that made me nervous to explore what others traditions would be like. My family never served cranberries; my mother always served turkey both ways, traditionally roasted, and also her famous green chili turkey.  We also served beans and tortillas along with other more common traditional favorites, green bean casserole and stuffing (never homemade, can you say, "ahem", Stovetop).
My first Thanksgiving away from home involved many foods I never had before at thanksgiving – Brussels sprouts, cranberries (real homemade sauce, nothing from a can), and wine. Lots of wine.
I ended up having a fantastic time and since then I have not spent too many Thanksgivings at home, not for any other reason than it just didn't work out.  What has happened more often is hosting Thanksgiving at our house.  I have discovered I now have a secret obsession with hosting the big day.  Since both my husband and I have developed a passion for cooking, we absolutely LOVE hosting this particular dinner.  We now have combined many of my family favorites along with new traditions (like making everything from scratch. That means not a single can of Campbell's cream of mushroom soup is used for my green beans!)   And since hubby acquired his smoker, we have used it to smoke our bird for the last four years.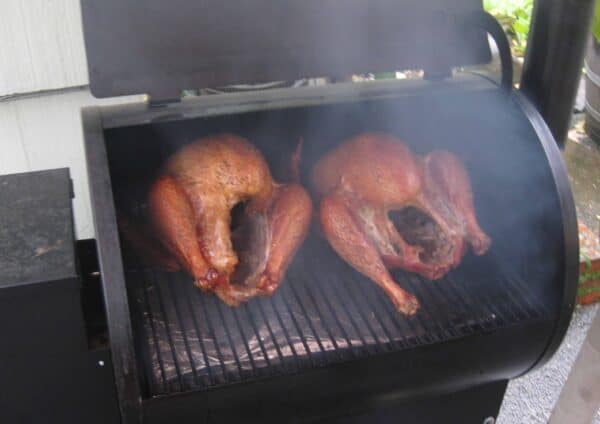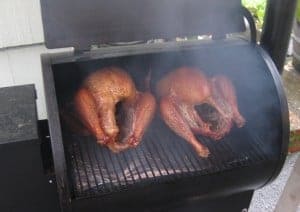 Our first year living in Connecticut was a bit different.  We "hosted", but only because I was eight months pregnant with twins on strict bed rest and had no other option than to stay at home, on my sofa, and watch my hubby do all the fun work.  I tried to participate, but it was nearly impossible in my condition.  Something I have grown to love. I was just a room away but wasn't allowed to help.  It sucked!  I guess it would have been better than Thanksgiving dinner in the hospital, but still!  Dinner was still nice, but it wasn't the same. I couldn't help.  The only plus was that I didn't have to wash a single dish (I mean I couldn't, right? I was on strict bed rest).
This year, we have two boys just shy of their first birthday, and were invited to the in-laws for the holiday in upstate New York.  The boys FIRST Thanksgiving!  As much as I would have loved to get my hands dirty and cook my favorites, we could never say no.  Besides I am quite excited for the boys to meet some of their New York family for the first time.  I just thought, darn, for two years straight I can't cook Thanksgiving dinner.
Then last Saturday morning, as we sat on the sofa watching the annual Food Network Thanksgiving episodes hubby had an idea. "Why don't we make our own Thanksgiving dinner to celebrate this amazing year we have had. Just you, me, and the boys.  We can do it this weekend."
I did marry this guy for a good reason.
Many good reasons apparently.
And that is exactly what we did.
We made our very own Thanksgiving dinner.  It was a bit excessive, but who cares.  We followed Ina Garten's entire menu from her "Thanksgiving Pot Luck" special – roasted turkey roulade, oven-roasted vegetables, cranberry fruit conserve and homemade gravy.
There was no green bean casserole or sweet potatoes, but the flavors of Thanksgiving were there, and I got my hands dirty.
It was perfect.
The wine:
Most Thanksgiving wine recommendations will tell you to not fret about the wine.  It's not about the wine they say, so don't stress about finding a "perfect" pairing.  I also believe that to be true.  But when your Thanksgiving dinner involves just you and your spouse, then yes you can make a big deal about the wine.  The whole point IS to NOT stress. There is enough to stress about so don't add to that.  But for me, picking out a wine is never a stressful event. I love it!
This year I have taken a more sentimental route to pairing wines my Thanksgiving dinner.  This past year has made me grow sentimental about, well, everything – I blame pregnancy, then childbirth, then watching these two little itty bitty babies grow into two little curious boys. I have become the woman who not only cries at hallmark commercials, but also lifetime movies!!!
So this year, my wine pairings follow a single theme – gratitude.
I will be pairing my dinner with wines that remind me of the things, people, and places that I am thankful for this year – reminders of where we have been and where we are going.
For our first dinner last weekend, just me and my hubby, we opened up a special California sparkling wine made by a group of friends through Cushpad custom wine making facility.  We all pitched in and in return all received a case of custom sparking wine. It was a project three years in the making but we received the wine this past fall and it did not disappoint.  In fact it is pretty darn delicious.  The wine is not sold anywhere; only a few cases were produced for my friends and me.
The wine was grown and produced in California and it reminds me of all the wonderful people I have in my life, especially the wine geeks and wine bloggers like myself who are willing to invest money and time to wait three years for a case of wine.
For our second Thanksgiving dinner I will also be opening up wines from the places we have lived.  Zinfandel from California reminding me of where we spent five years of our lives and where my passion for wine began, Pinot Noir from Oregon reminding me of where we bought our first house and started to set some roots.
In addition we will add to the mix a Riesling showdown with a Washington Riesling and (since we are in upstate NY this year for Thanksgiving) a Finger Lakes Riesling!  Most importantly, the wines this year will reflect the people we love and places we have lived over the last ten years.
For you, if you are still asking yourselves what wines to pair with your dinner tomorrow, don't stress about it.  As I mentioned in my Thanksgiving wine recommendation post a few years ago, there really isn't a single "perfect" wine that will pair with every dish on the table, so instead perhaps try to find a different theme.  Perhaps try to buy all American wines considering this is a very American holiday?  Or if you live near a decent wine region, try buying all local wines this year?
If all else fails, check out my post from a couple years ago about why certain wines may pair well with your dinner – Thanksgiving Wine Pairing & Buying Guide.
While it has been many years since I have celebrated Thanksgiving at home in Arizona, I have since developed many new traditions that I can't wait to share with the newest members of my family.  As for wine, no matter what it is, where it comes from, how much it costs, it will always be a part of our new family traditions.
Happy Thanksgiving to you, your family, and friends!
Cheers