This Green Beans Bundles recipe uses blanched green beans, an easy salt and pepper seasoning, wrapped with savory Prosciutto slices. The Green Bean Bundles are grilled over direct heat and ready in less than 10 minutes.
A super simple (and healthy!) crowd-pleasing side dish for dinner or holidays.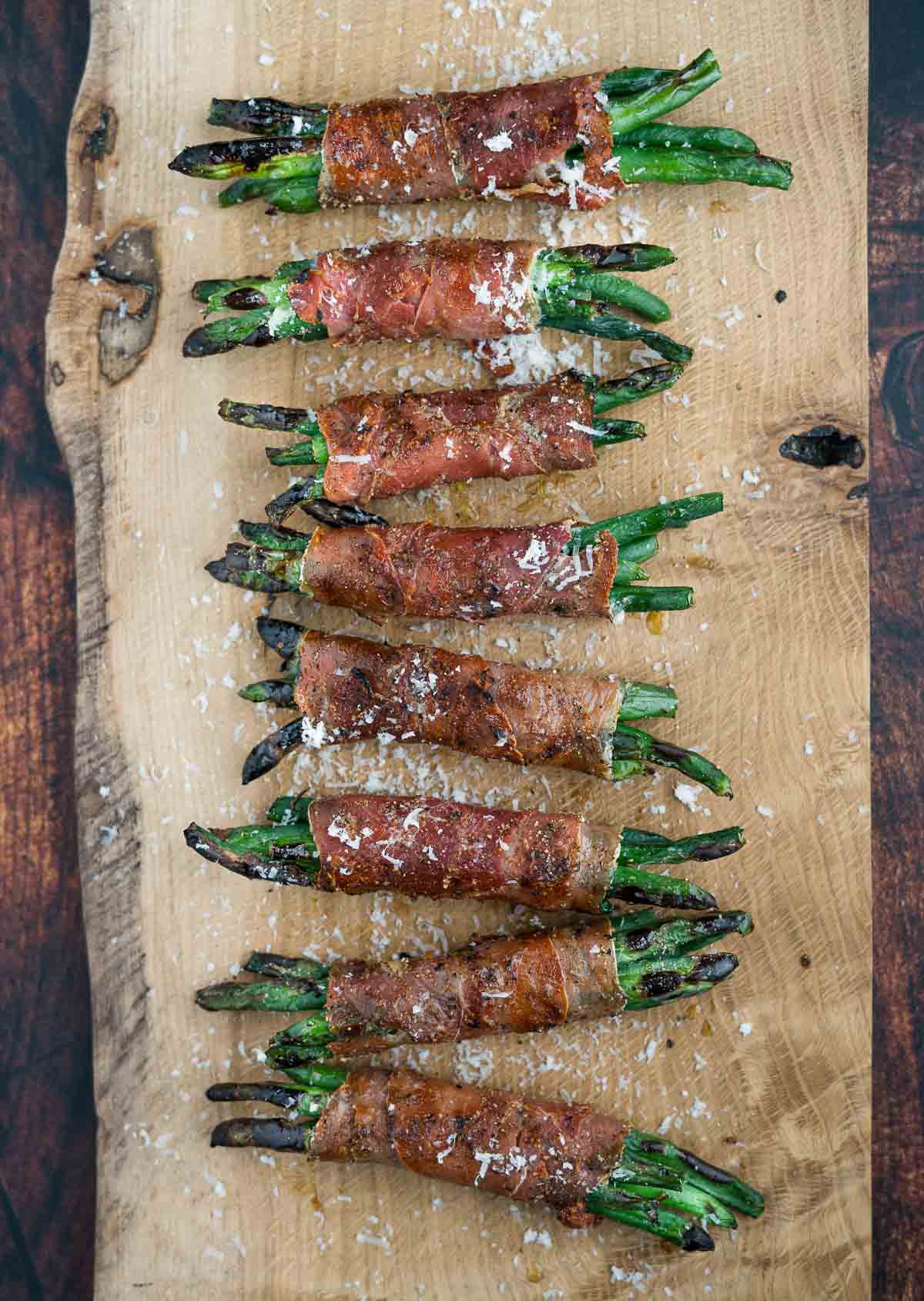 As live fire caterers we are often asked about easy but elevated grilled appetizer ideas. One of our go-to recipes is prosciutto wrapped green bean bundles. They are super easy to prep, easy to make, easy to scale up, and the elevated flavor prosciutto adds versus bacon makes it an easy crowd pleaser.
And the best part is kids love this vegetable side dish too (thank you, prosciutto).
Jump to:
Ingredients
Green Beans – We prefer French Green Beans for their length and flavor. They may be labeled haricots verts. The most important component of ingredients is using fresh green beans. See FAQ for more details on how to buy fresh green beans.
Seasoning: Extra Virgin Olive oil, kosher salt, and coarse black pepper.
Prosciutto: Prosciutto is easier to cook than bacon and crisps up much better than bacon when wrapped around the green beans. You can buy the pre-packed prosciutto. If you do be sure it's at least 4 ounce packs which typically have 8 slices. Or think 1 piece of prosciutto to every 5 green beans.
Serving: Add a slight dusting of freshly grated Parmesan cheese to take the flavor over the top. An optional and fun finish is also some lemon flavored olive oil. Just a light drizzle after they are done adds a nice fresh flavor profile.
Chef's Note: We strongly recommend using freshly grated Parmessan. Invest in a good microplane. Just microplane the cheese right over the finished green bean bundles.
Preparation
We need to quickly blanch the green beans in order to grill them properly and make sure they cook (once wrapped in the prosciutto). We find this to be the best method when wrapping green beans for the grill.
Have an ice bath ready (large bowl of ice and water) before you boil the beans.
Rinse the green beans and remove the stem. Layout your sheet tray for drying the beans. This is a good time to start your grill and prepare it for direct grilling. Target 450 degrees Fahrenheit using lump charcoal.
Blanch Green Beans
We have tested this recipe many ways and the best flavor AND texture is to quickly blanch the green beans. Blanching is boiling the beans and then quickly stopping the cooking process through the use of an ice bath.
Bring water to a boil and then add the green beans. Note, bring the water to a boil FIRST.
Boil for two minutes. That's it. Then remove the green beans from the boiling water and immediately place them in the ice bath.
After 1 minute remove the blanched green beans and place them on a sheet tray lined with paper towels. Dry them.
Should I salt the boiling water? No, because they are cooking so quickly there is little added flavor a salted water would add to the beans versus salting water in our roasted potatoes recipe.
If you choose not to blanch just know that the green beans will take longer to cook through and the texture will be slightly softer because of the additional time.
Seasoning
In a large bowl add the dried green beans. Then add the olive oil, salt, and pepper. Toss to combine. Now it's time to make the bundles.
Discard the paper towels you used in the sheet tray and layout the green beans in piles of 4 or 5 beans of similar length. Then wrap each bundle of beans with one slice of prosciutto tightly. Keep just the tip and ends visible.
Then they are ready to grill.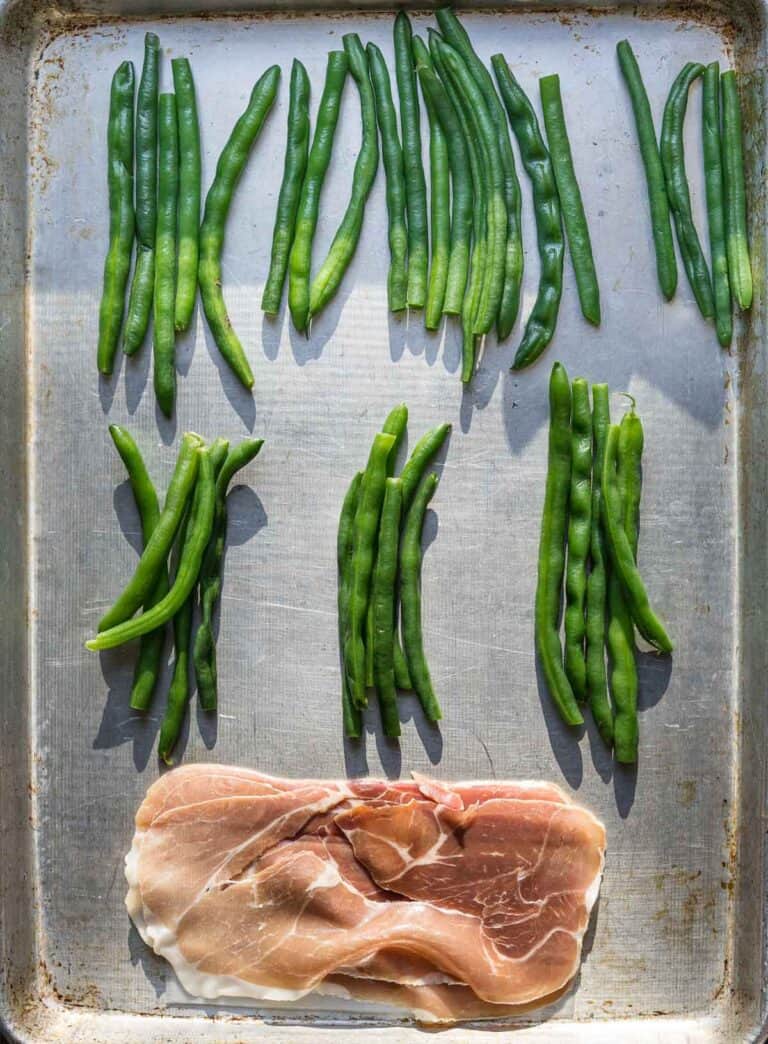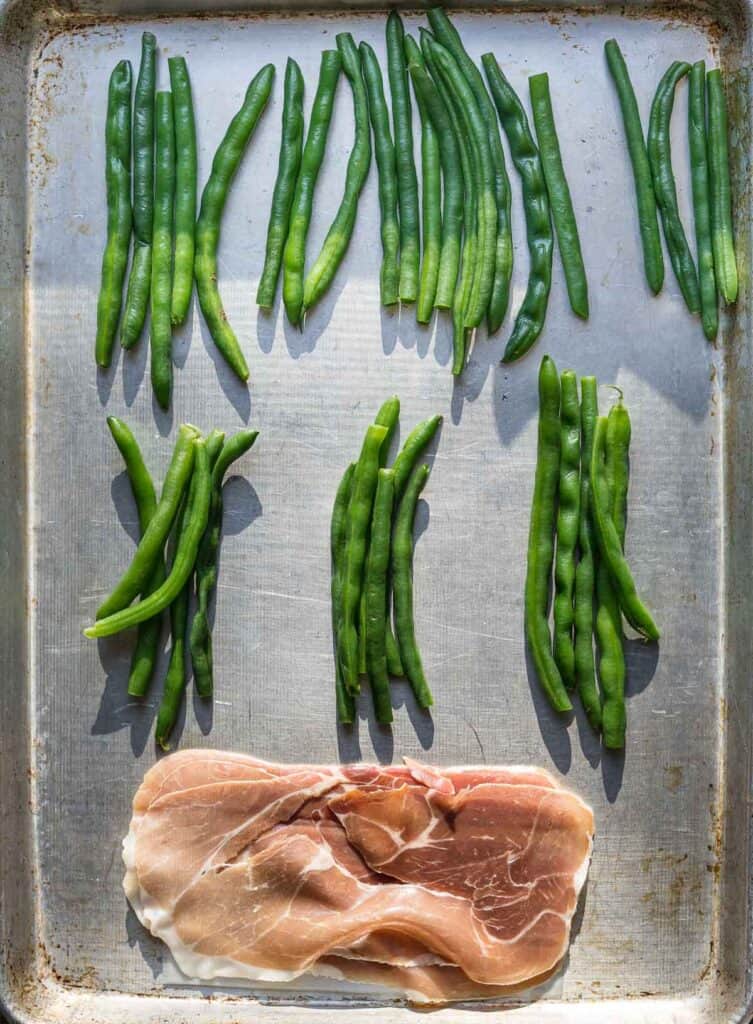 Grilling the Prosciutto Wrapped Green Bean Bundles
You can also learn more about grilling beans in our guide on how to grill green beans.
Place the prosciutto wrapped green bean bundles on the grill, over direct heat, on the grill grates. Close the lid and grill for 2 – 3 minutes. Begin to flip the bundles and continue grilling for 2 additional minutes.
Continue to flip and grill over direct heat until the prosciutto has crisped up and the ends of the green beans begin to show grill marks. Adjust the position of the green bean bundles if you notice any hot spots. Keep flipping and rotating, and then remove after 10 minutes.
Place on a serving platter and dust with a little bit of Parmesan cheese and optional lemon olive oil drizzle and serve warm.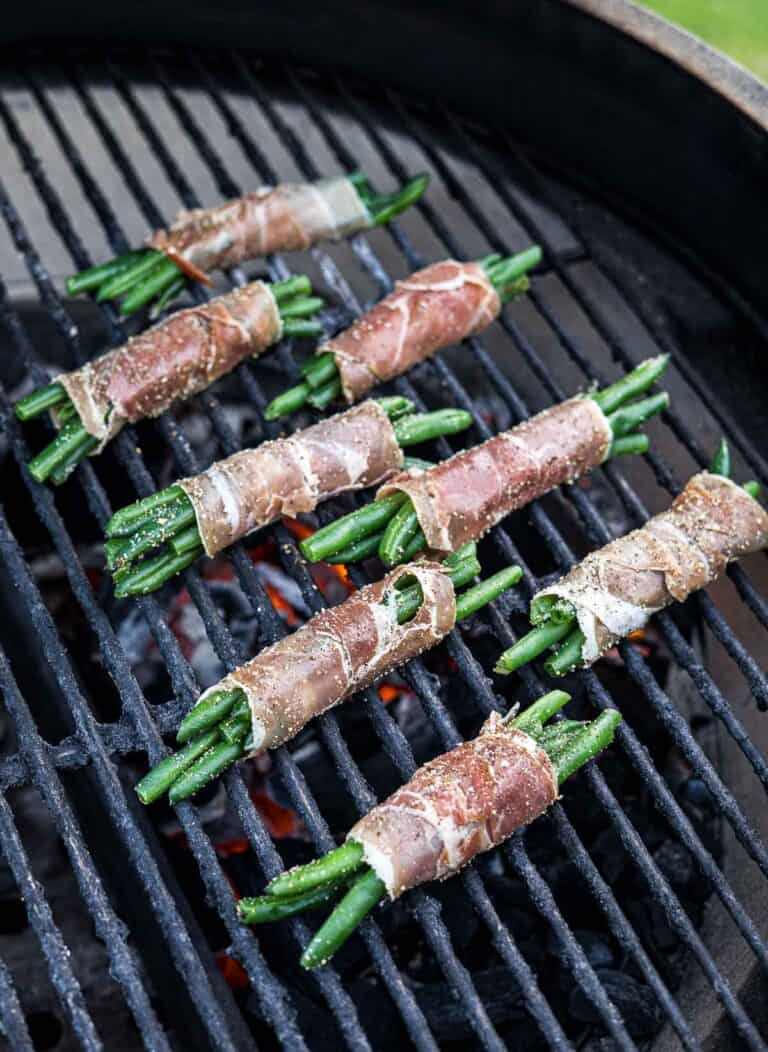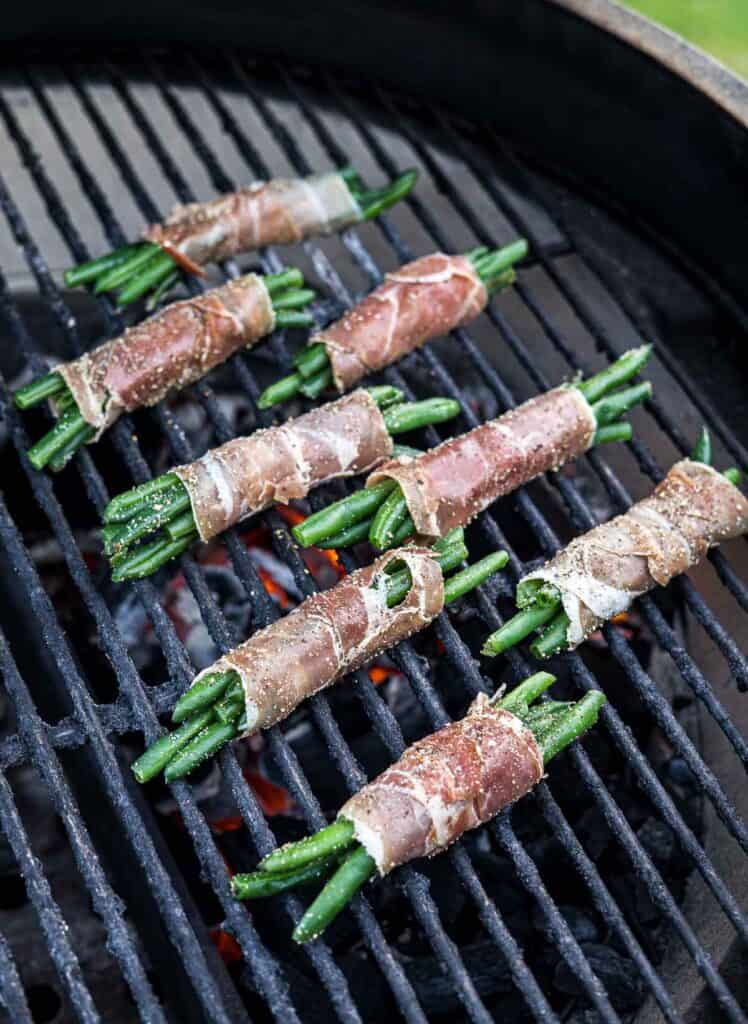 Gas Grill: If using a gas grill follow the same directions. We recommend firing up two burners.
Oven Modification: If using an oven then preheat the oven using the broiler. Use the bottom rack of the oven. Place the sheet tray in the oven and broil each side for 2 minutes. Monitor and rotate the green beans based on how much browning happens on the Prosciutto.
Scaling Up
It's easy to scale this recipe up. If grilling then set your grill for two-zone (or indirect grilling) so you can keep grilling the bundles with some scale. Then as the bundles are done you can place warm ones on the serving platter and if you still have more finishing, keep them warm on the indirect side of the grill.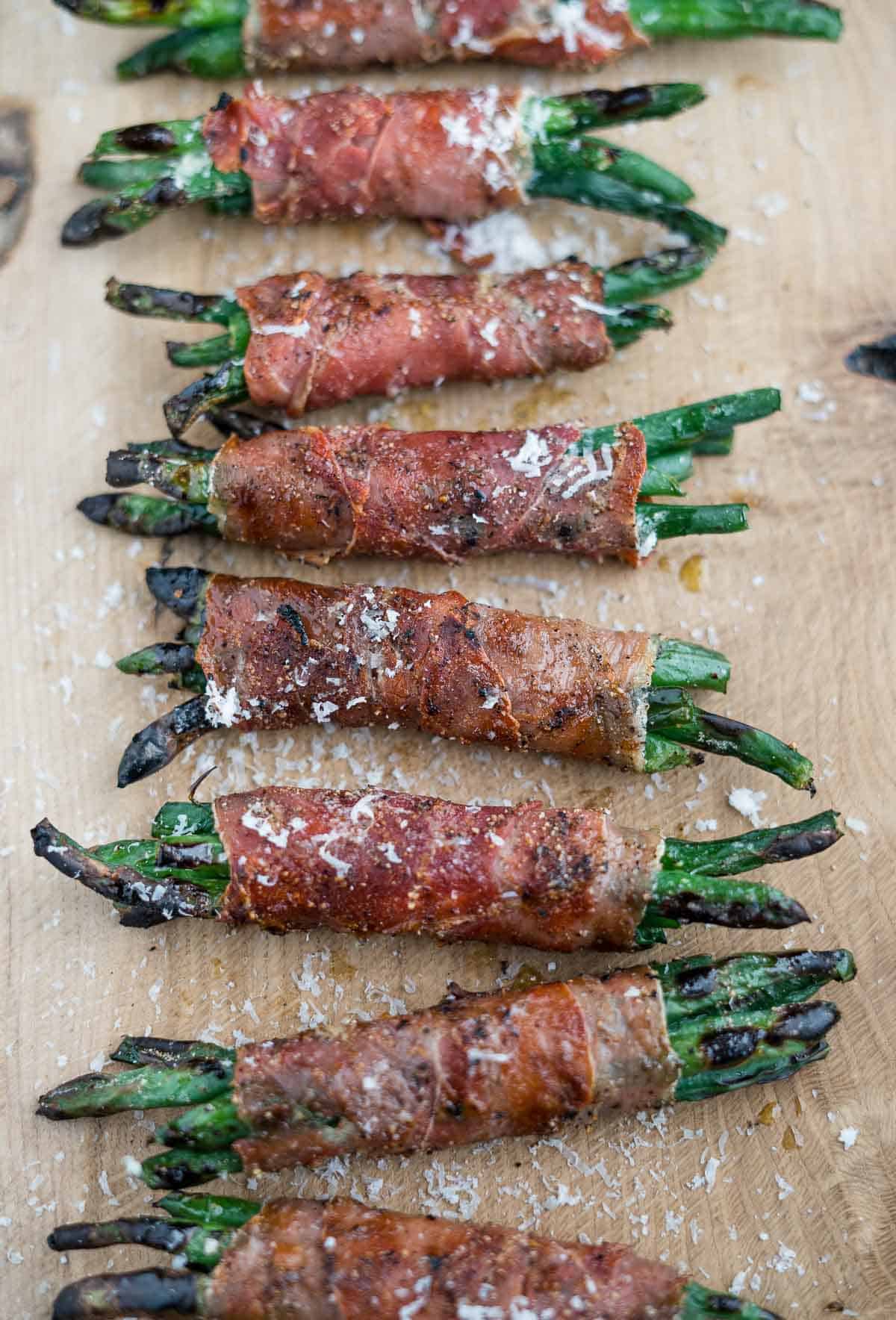 What to Serve With Green Bean Bundles
This is an elegant holiday appetizer idea for Thanksgiving and Christmas meals, like smoked turkey and smoked prime rib.
It's also an easy appetizer to pair with your favorite grilled steak or other grilled protein.
Other Prosciutto Recipe Ideas
If you are looking for prosciutto recipe ideas we have a few of our favorites.
Grilled Jalapeño Poppers – Instead of bacon, wrap the peppers in Prosciutto. Or in this recipe use jalapeño halves stuffed with brie cheese and wrap them with the prosciutto.
Hot Honey Pizza – We elevate our hot honey pizza with some fresh Prosciutto and Ricotta cheese.
Pear and Prosciutto Pizza – If you want one of the best fruit and savory meat pairings it's Pear and Prosciutto.
Frequently Asked Questions
Do you wash green beans before or after snapping off stem?
First look to see if your green beans are pre-washed. If you buy fresh bulk produce (or not pre-washed) then rinse green beans first and then remove or snap off the stem tip.
How to buy fresh green beans?
The most important characteristic to fresh green beans is that they should NOT be limp. They should be somewhat firm and snap if you break them in half. If they are in pre-packaged bags look at the color. They should be green with few splotches on them. Grab the bag and try to at least touch a few and see if they are limp or still crispy.
Should you trim both ends of green beans?
No, the only end you need to trim is the stem for this green beans bundle recipe.
Is Prosciutto safe to eat raw?
Yes. Prosciutto is cured ham and safe to eat raw or cooked. It's great on a charcuterie plate and is also great as a wrap to many cooked appetizers.
---
About Vindulge
Mary (a certified sommelier and recipe developer) and Sean (backyard pitmaster) are co-authors of the critically acclaimed cookbook, Fire + Wine, and have been creating content for the IACP nominated website Vindulge since 2009. They live in Oregon on a farm just outside Portland.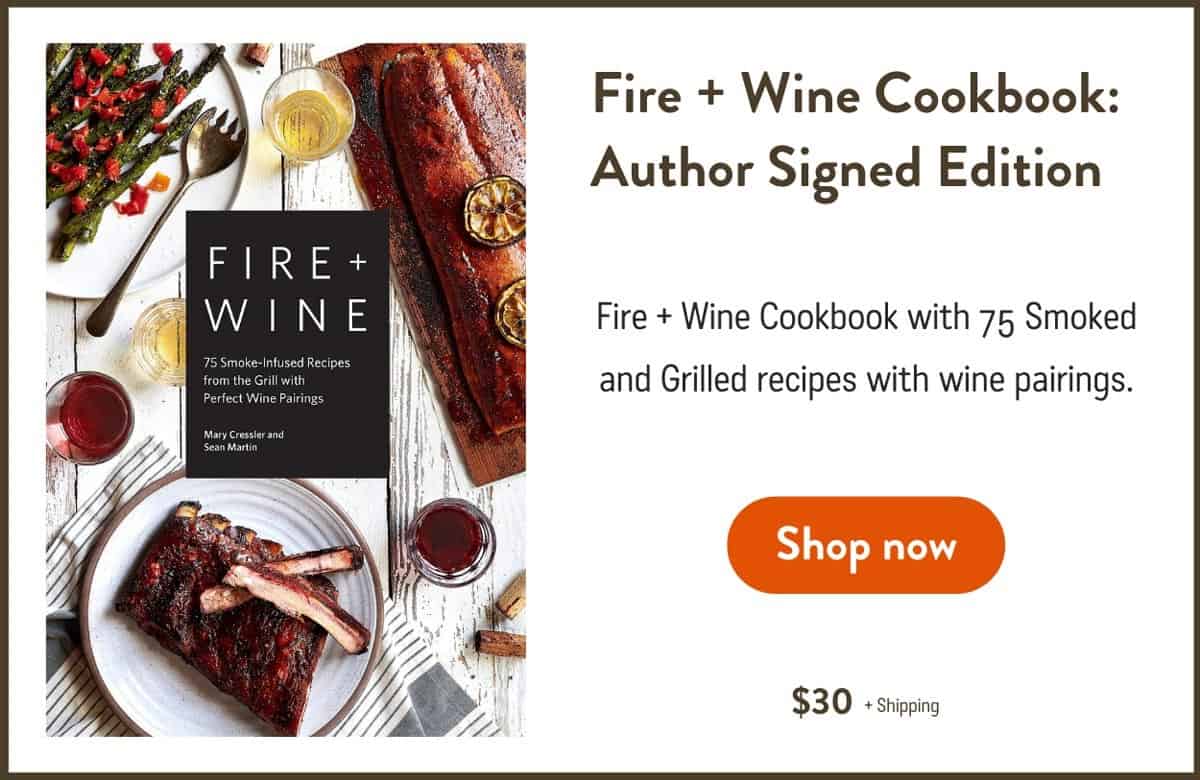 Tried this recipe? Give us a star rating and we would love to see! Mention @vindulge or use the hashtag #vindulge on all the social media handles. And consider subscribing to our newsletter where we drop all our favorite ideas and inspirations every week.
This post may contain affiliate links. This means if you click on the link, we may receive a small commission if you purchase through the link. We partner with brands we know and love and use and it helps keep the blog going!