This easy Pull Apart Bread is prepared using store-bought dough for a quick shortcut, and is infused with the classic flavors of Buffalo style wings, making it quick to prepare and cooked on the grill for a smoky and flavorful twist.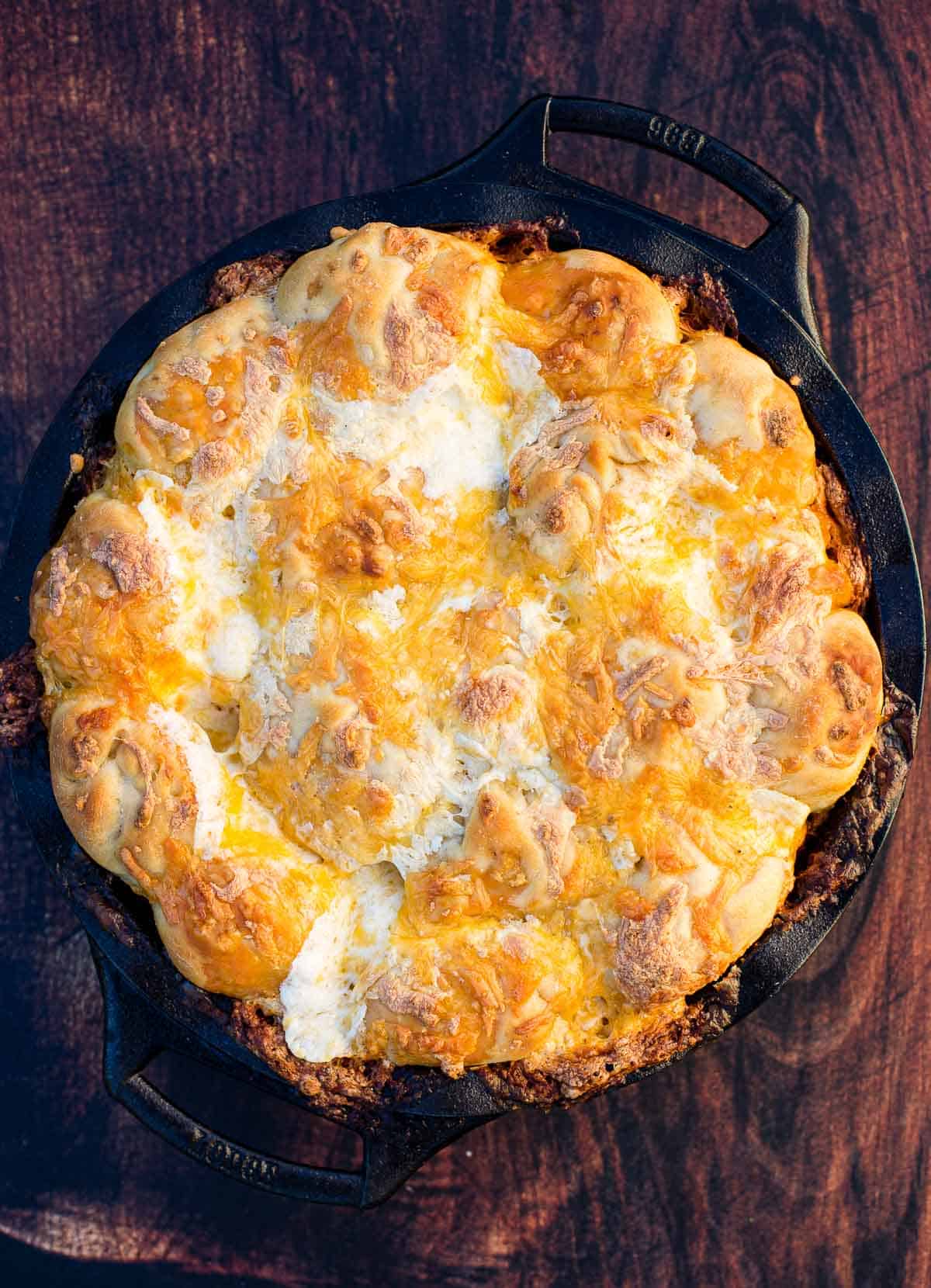 Pull Apart Bread is a delicious and comforting appetizer or side dish perfect for a tailgating party or lazy day. Similar to monkey bread, this cheesy pull-apart bread is great for a crowd.
Whenever it's football season or a holiday party, are you looking for a dramatic yet delicious appetizer that can be made ahead and ready when people arrive? A great recipe is a pull-apart cheese bread (or crack bread) to really impress your guests. The warm bread, cheese pull, and dipping sauce is pure comfort perfection.
Inspired by Buffalo Chicken Dip, this is a perfect recipe for pizza and bread lovers who are also obsessed with Buffalo Chicken Wings.
Jump to:
Ingredients for Buffalo Chicken Pull Apart Bread
To make this easy we are using store-bought pizza dough and pre-cooked chicken. Simple ingredients make for great flavor.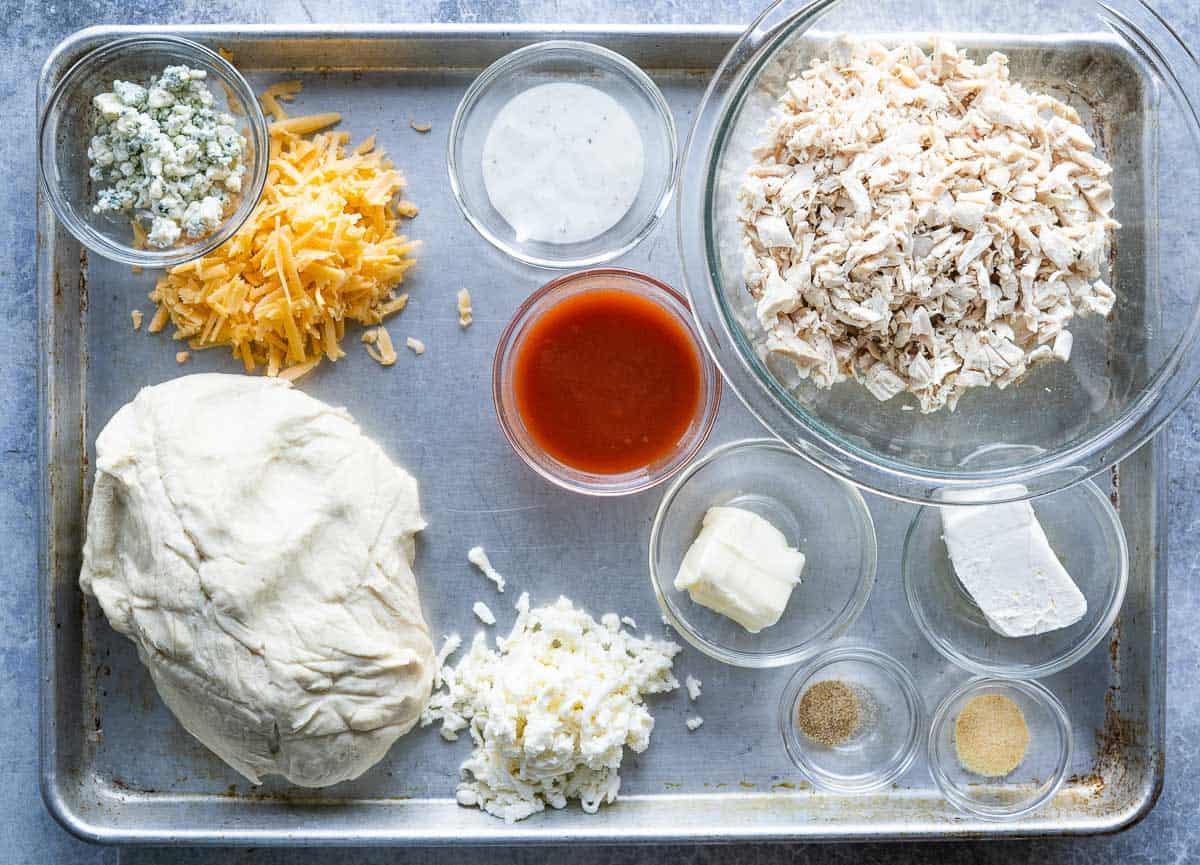 Pizza Dough – Most stores carry pre-made pizza dough. Be sure it's roughly 1-pound (or 450 grams) and room temperature dough. Alternatively you can also use our homemade dough recipe.
Shredded Chicken – If you want easy go with a pre-cooked rotisserie chicken. We like to use our smoked chicken recipe or our roasted grilled chicken.
Cheese – The best cheese is one that melts easily. We use a combination of sharp cheddar cheese, mozzarella cheese, and room temperature cream cheese. Feel free to use your preferred types of cheese but be sure it's a total of 2 cups.
Hot Sauce – It has to be Frank's RedHot Hot Sauce for that authentic "Buffalo" flavor.
Seasoning – We use a number of seasonings including ranch, softened butter, celery salt, and garlic powder.
Portions are in the recipe card.
Tools and Equipment
We are grilling and use a 10-inch cast iron pie pan, simply because it doesn't have handles it's easier to place into the grill over indirect heat. If your grill is large enough you can use a 10-inch cast iron pan with handles too.
You can also use a cast iron Bundt pan, or if using the oven a typical Bundt pan. They are nice because you can place your dip in the center of the finished pull apart bread. It also helps to have a teaspoon size scooper.
Filling for Pull Apart Bread
In a a large bowl combine the melted butter, Frank's RedHot, softened cream cheese, ranch, garlic powder, and celery salt. Stir to combine. Then add the shredded chicken. Stir to combine and set aside.
Tip for softening: If you didn't get your butter and cream cheese to room temperature you can place each in their own small bowl. Then microwave in 10 second increments until soft. The butter and cheese can scorch, so don't warm for any longer than 10 second increments.
Make Dough Balls
For this recipe we're making individual stuffed dough balls, and then stacking them around the cooking dish for this pull-apart style version. As the individual dough balls expand they still separate easily after it's baked. If you just stuffed a loaf of bread it becomes more difficult to serve when it's done because it's messy when cut up with a serrated knife.
You can stretch the dough into a large rectangle and cut a grid pattern, or use the easier method of dividing the dough until you have 32 pieces.
Place dough ball on a cutting board and use a sharp knife to slice the dough ball in half. Then divide each half into half again. This will yield 4 pieces total.
Divide each of those halves into half again for 8 pieces.
Now roll those 8 pieces into individual balls and then quarter each of them. You should now have a total of 32 small dough balls. This is why a room temperature dough is helpful so it is easy to work with.
Stuff The Dough Balls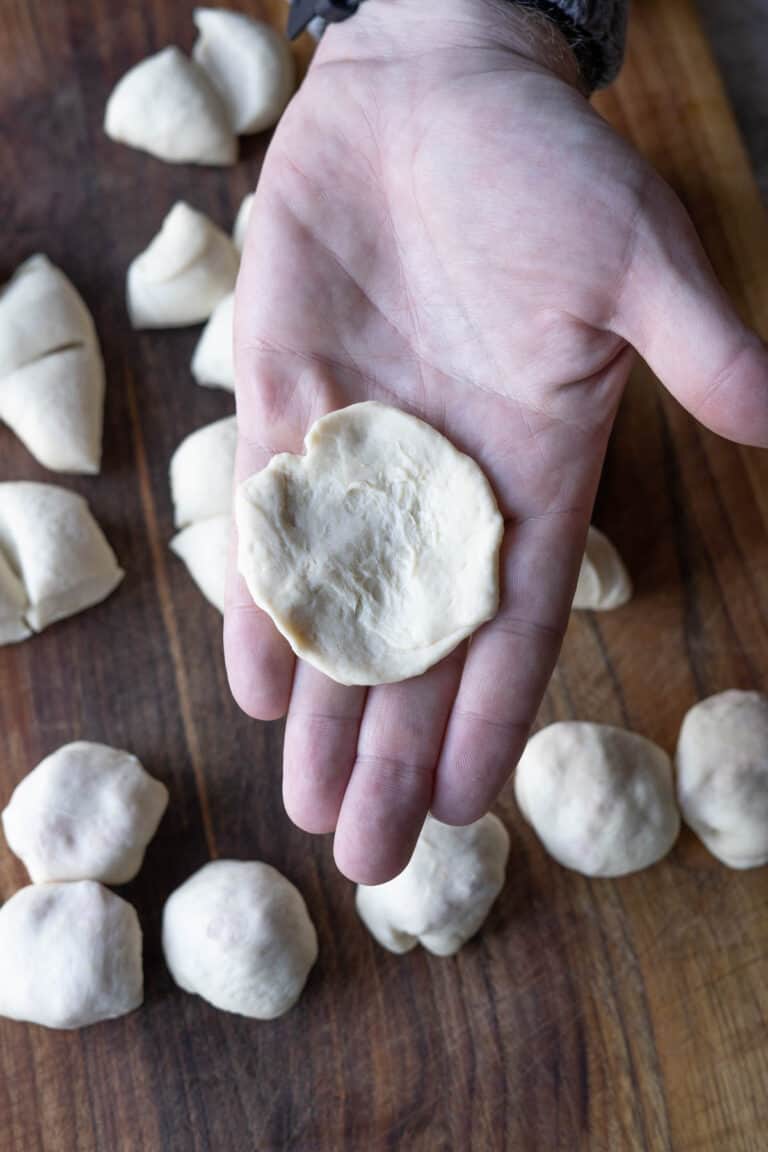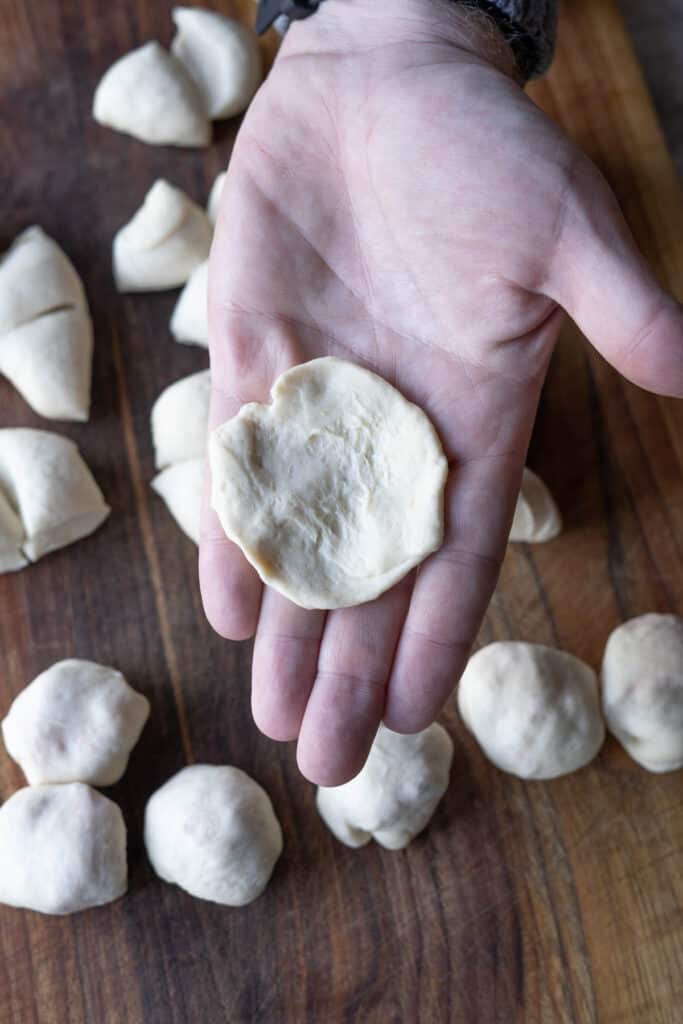 ​Have your cast iron or bundt pan ready. Flatten each dough ball into a 2-inch circle. Place a heaping teaspoon of the filling in the center of the dough. Using your hands, form the dough around the filling and gently roll in the palm of your hand to form a closed stuffed dough ball.
Place the first 16 dough balls in the base of the cast iron pan. Then drizzle a layer of ranch and hot sauce. Finish that layer with ½ the cheddar cheese and ½ the mozzarella cheese.
Repeat this step by making the additional 16 dough balls and then top with the remaining cheese. Then place into your preheated oven or grill.
Grill the Buffalo Pull Apart Bread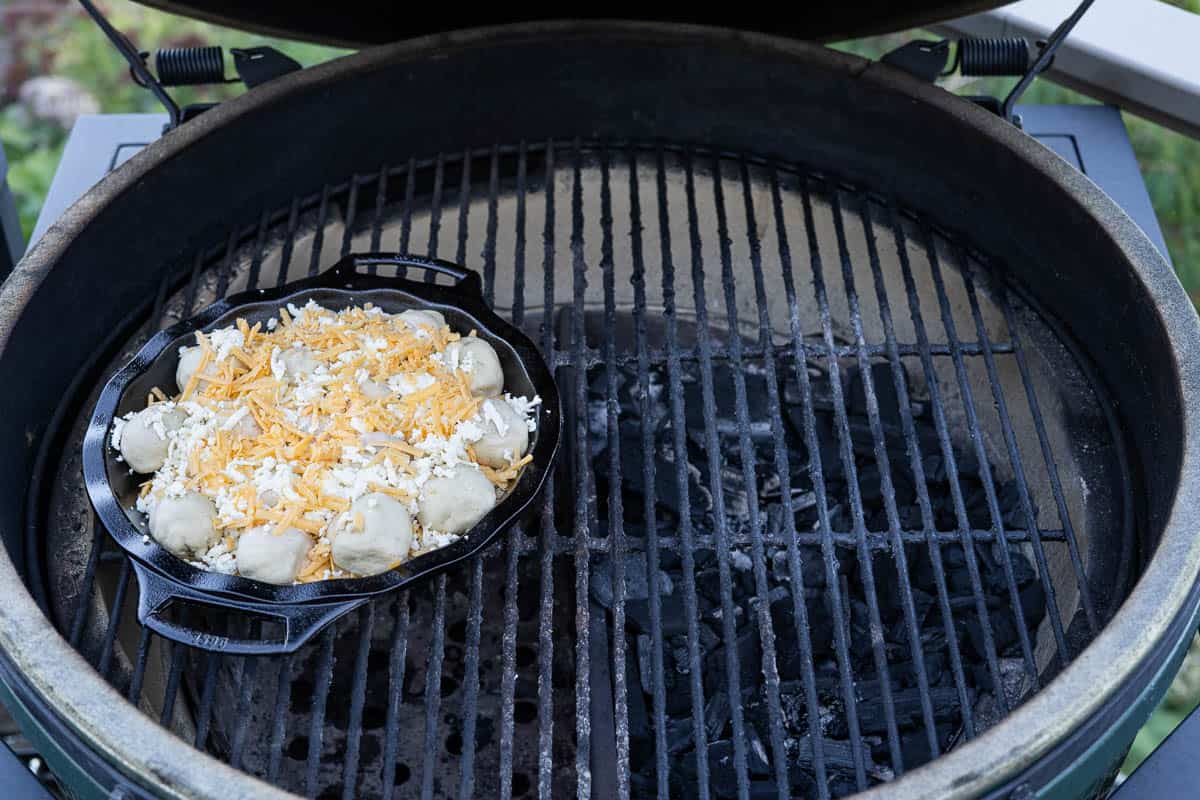 Preheat Grill: Preheat the grill to 400 degrees Fahrenheit and set up for two-zone or indirect grilling.
Cook Indirect: Place the pull apart bread on the indirect side of the grill, close the lid and bake. Rotate the pan 180 degrees every 15 minutes until the top of the cheesy bread is golden brown and the cheese is melted. This should take roughly one hour total. If the grill or oven is running too hot then start the cooking with a piece of foil over the top of the pan to cover the top. The aluminum foil should be loosely placed because the bread dough will rise as it cooks. Then remove after 30 minutes to get the golden color.
Remove with good high heat gloves and place on a trivet. Allow to cool for 8-10 minutes and then serve.
Note: If you cook over direct heat it will scorch and burn the base of the cheesy bread. Make sure to cook over indirect heat the entire time!
Oven Modification: Set the oven for 400 degrees and bake in the middle rack for up to 60 minutes or until the top of the pull apart bread is golden brown.
Serve
When done the texture of the bread will be super soft from the dough balls with crispy texture on the outside. The filling in the dough balls will be warm and delicious.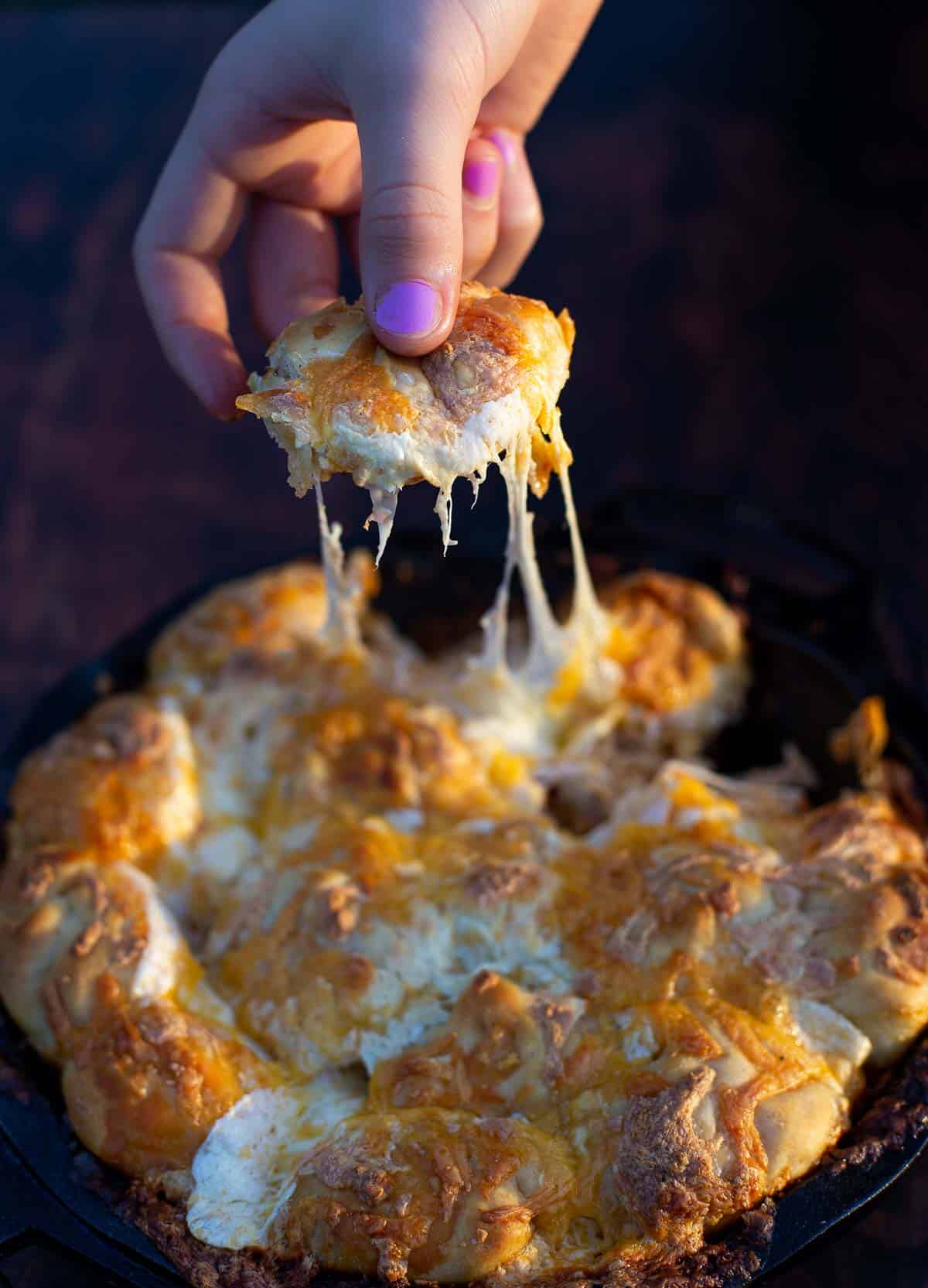 We like to serve directly from the pan after it's cooled with a side of ranch dressing for a cheesy ranch pull-apart bread. The melty cheese on the top of the dough will be a nice golden brown and great texture. You can also drizzle fresh hot sauce and diced chives over the top.
Other Appetizer Ideas
​Scan our tailgating recipe ideas or pick from some of our favorite appetizer ideas.
More Baked Recipes On the Grill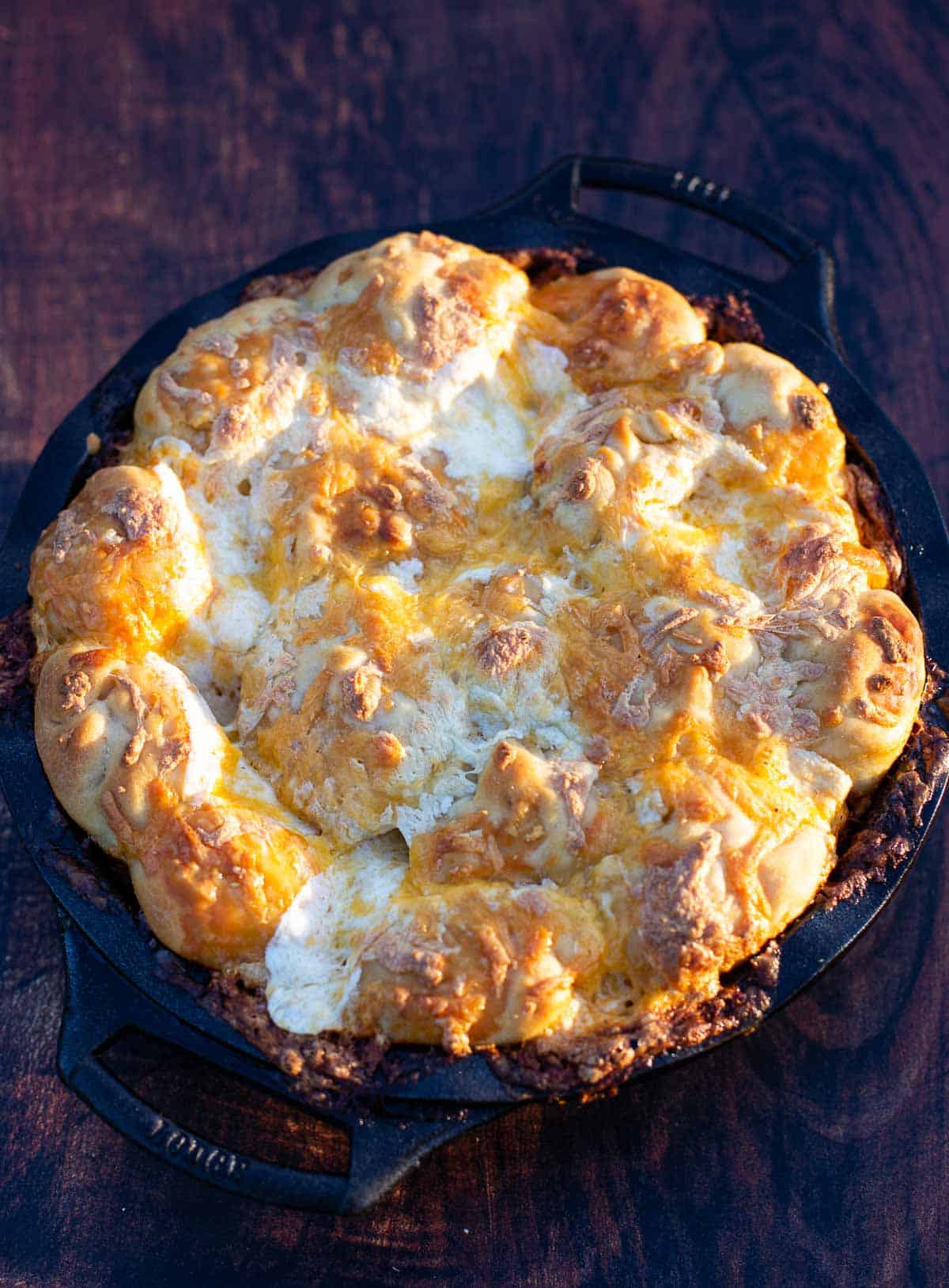 ---
Mary (a certified sommelier and recipe developer) and Sean (backyard pitmaster) are co-authors of the critically acclaimed cookbook, Fire + Wine, and have been creating content for the IACP nominated website Vindulge since 2009. They live in Oregon on a farm just outside Portland.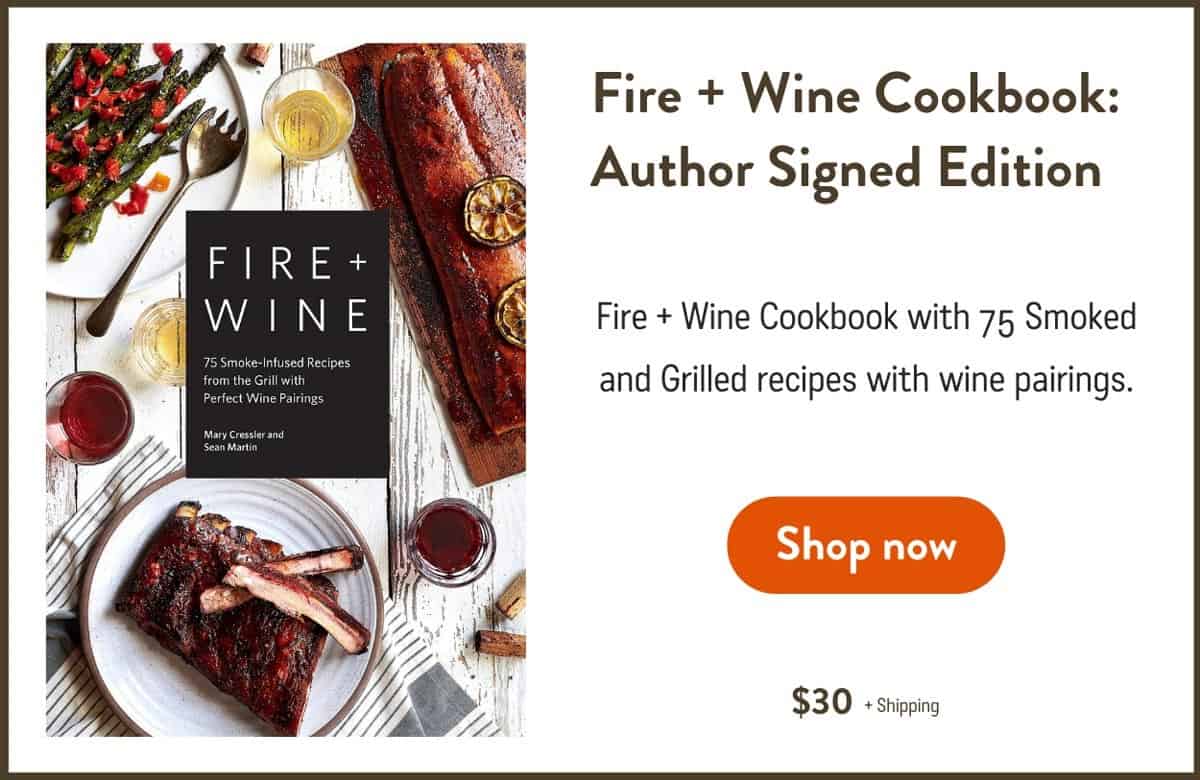 Tried this recipe? Give us a star rating and we would love to see! Mention @vindulge or use the hashtag #vindulge on all the social media handles. And consider subscribing to our newsletter where we drop all our favorite ideas and inspirations every week.
This post may contain affiliate links. This means if you click on the link, we may receive a small commission if you purchase through the link. We partner with brands we know and love and use and it helps keep the blog going!