There is nothing more delicious and comforting than warm golden homemade dinner rolls, and these skillet dinner rolls are cooked directly on your grill! These easy to make homemade rolls are prepped and cooked in under 90 minutes, and made in a cast iron skillet for that golden brown color and fluffy texture inside, and cooked the grill freeing up your kitchen.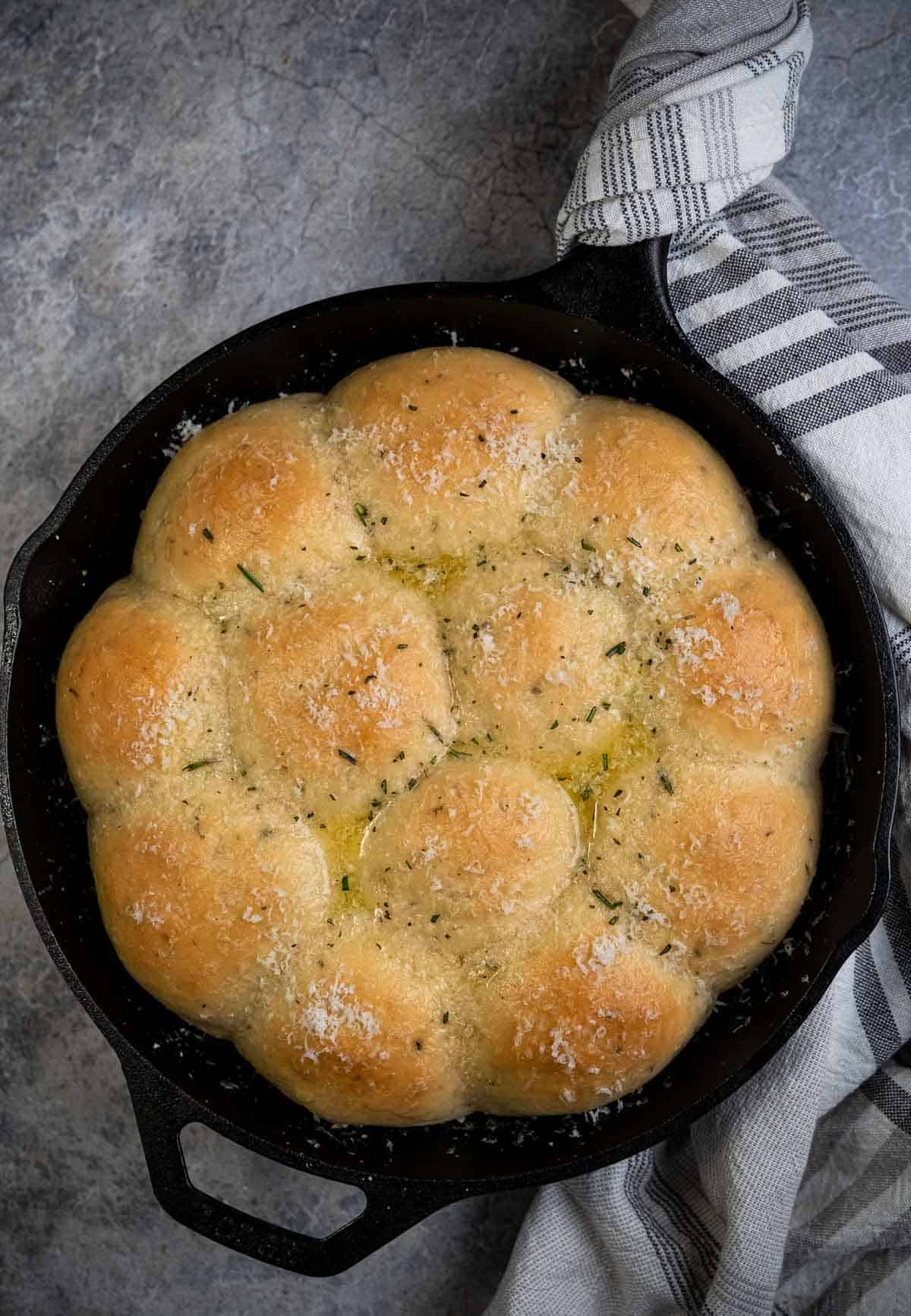 Impress your family this holiday season with these soft and irresistible dinner rolls cooked on your grill!
Jump to:
When it comes to easy dinner rolls it's all about the short cuts to getting the rolls to rise while ensuring a chewy and delicate flavor inside with a beautiful crusty flavor. These skillet dinner rolls use instant yeast as the key hack in getting fluffy rolls and to minimize your rising time when using traditional yeast and dough. The whole point of this easy roll recipe is to have a single rise and then bake in your grill.
Ingredients + Substitution Notes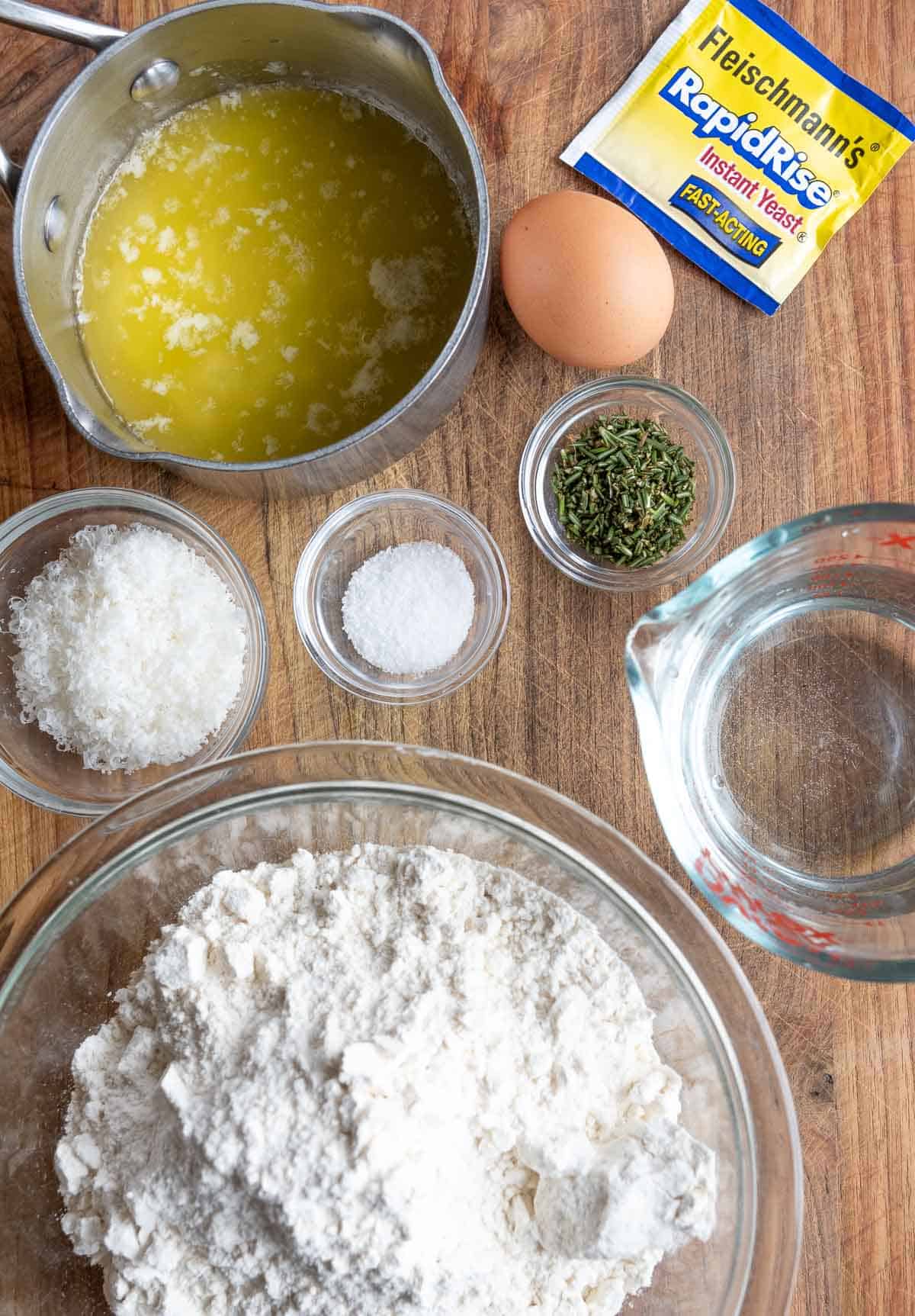 Instant Yeast – We use rapid rise yeast to help jumpstart the fermentation. It does not require warm water, like with a pizza dough, and will allow the rolls to rise both prior to and during the cooking process. Because this is a quick rise roll recipe we do not recommend using active dry yeast. That takes a longer rise time and kneading to build the gluten network. One packet of instant yeast will work per recipe portion. Do not use yeast that has passed its expiration date, otherwise it won't rise.
Water – Water offers the best rise and density level to the rolls. When we tested with milk it added a lot more fat (whole milk) which led to denser rolls. For this recipe we recommend room temperature water.
Unsalted Butter – Melted butter is added to the liquids, and also used at the end to the top of the rolls.
Egg – Egg helps act as a binder and additional protein.
All Purpose Flour – AP flour is best for this quick rise rolls recipe because it makes for a fluffier and less dense roll. The protein levels in bread flour are higher and will make for a much denser roll. We use three cups of flour, or 468 grams.
Kosher Salt – It's important to add good kosher salt for flavor and to help offset the yeast. Salt will temper how active the yeast can get.
Parmesan Cheese – Mix freshly grated Parmesan cheese with the flour and salt for a little more flavor inside the roll. We also sprinkle some at the end when they are still warm.
Fresh Rosemary – This is completely optional, but I love the aromatics and great flavor of fresh herbs, especially during the holidays. You can use any fresh herb that you like. A little portion goes a long way. So be sure to not over season.
Tools for Grilled Skillet Dinner Rolls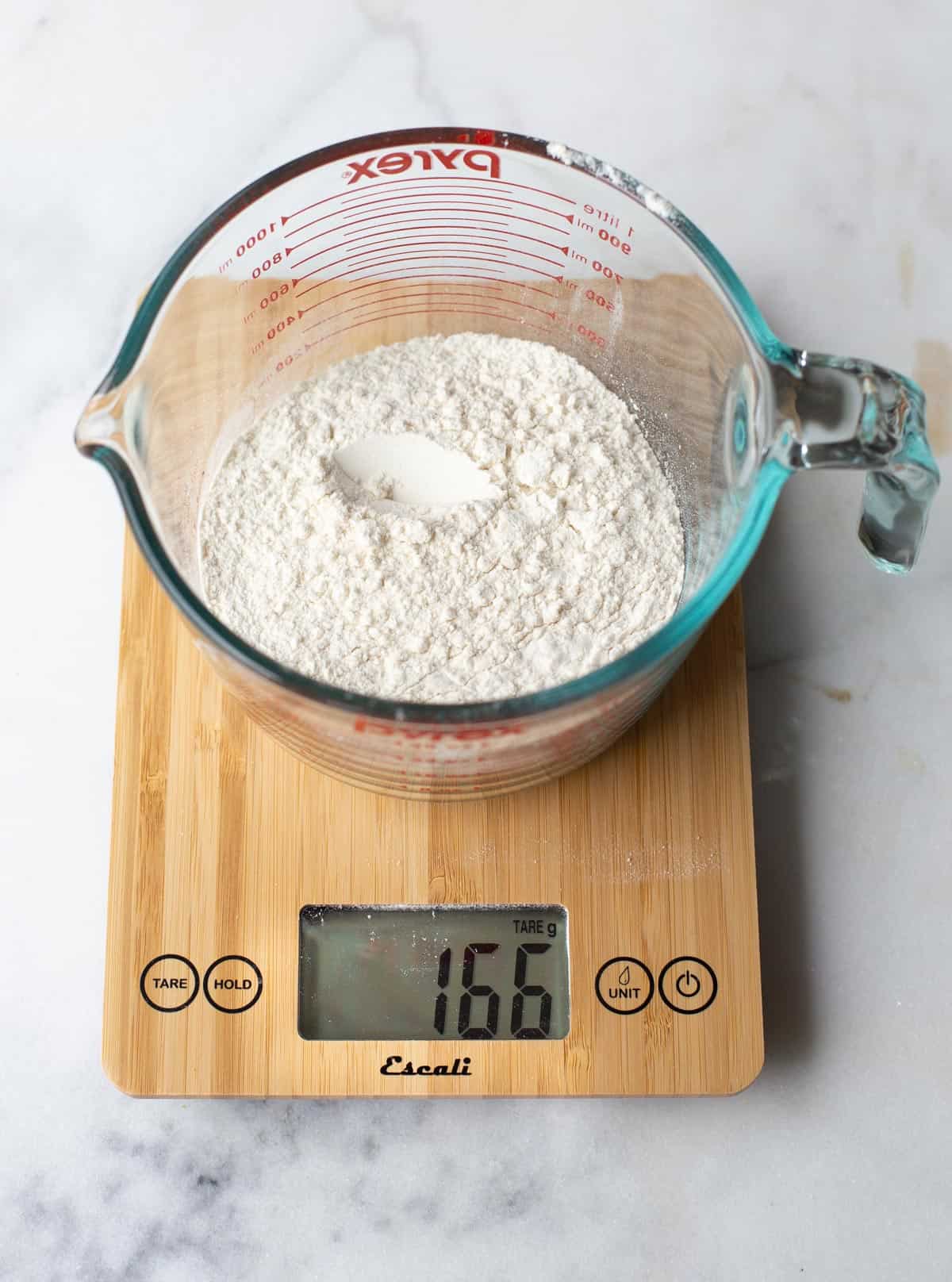 Digital Scale – Best for weighing the flour and for consistently sized dough balls.
Large Mixing Bowl – You can use your stand mixers or if using your hands to mix a large stainless steel or glass bowl.
10-inch Cast Iron Skillet – The cast iron retains heat well and adds to the golden brown base to the rolls. We recommend using a cast iron vs glass when cooking in your grill.
Dough Scraper – This will help divide the dough for your rolls.
Instant Read Thermometer – Used to measure the finishing temperature of the rolls. Typically we pull the rolls when the internal temperature is between 205 and 210 degrees Fahrenheit.
Step One: Mixing (5 Minutes)
Combine the wet and dry ingredients together. This starts the fermentation process and gives a quick knead to the dough ball.
Stand Mixer: Start with the paddle attachment. Combine yeast with all wet ingredients into the bowl of a stand mixer and turn on low speed to combine. Then add the dry ingredients to the yeast mixture, replace the paddle attachment with the dough hook and continue on low speed until the dough forms into a ball around the hook.
By Hand: If mixing by hand, use a large stainless steel or glass bowl. Combine all the wet ingredients and the yeast packet and whisk to combine. Then add the dry ingredients and mix by hand. Scrape off the dry ingredients from the sides of the mixing bowl as you stir. Occasionally squeeze the dough to combine. It will be slightly wet.
Step Two: Form Dough Balls (10 Minutes)
Now that the dough is formed it's time to divide into 12 equal dough balls. Use a digital scale to weigh an evenly sized ball if you can. If you don't have a digital scale, divide up the dough into four equal sized pieces, then roll out each of the pieces like a log, then divide each piece into 3 equal sized doughs and use palm of hand to roll into equal sizes like they were meatballs.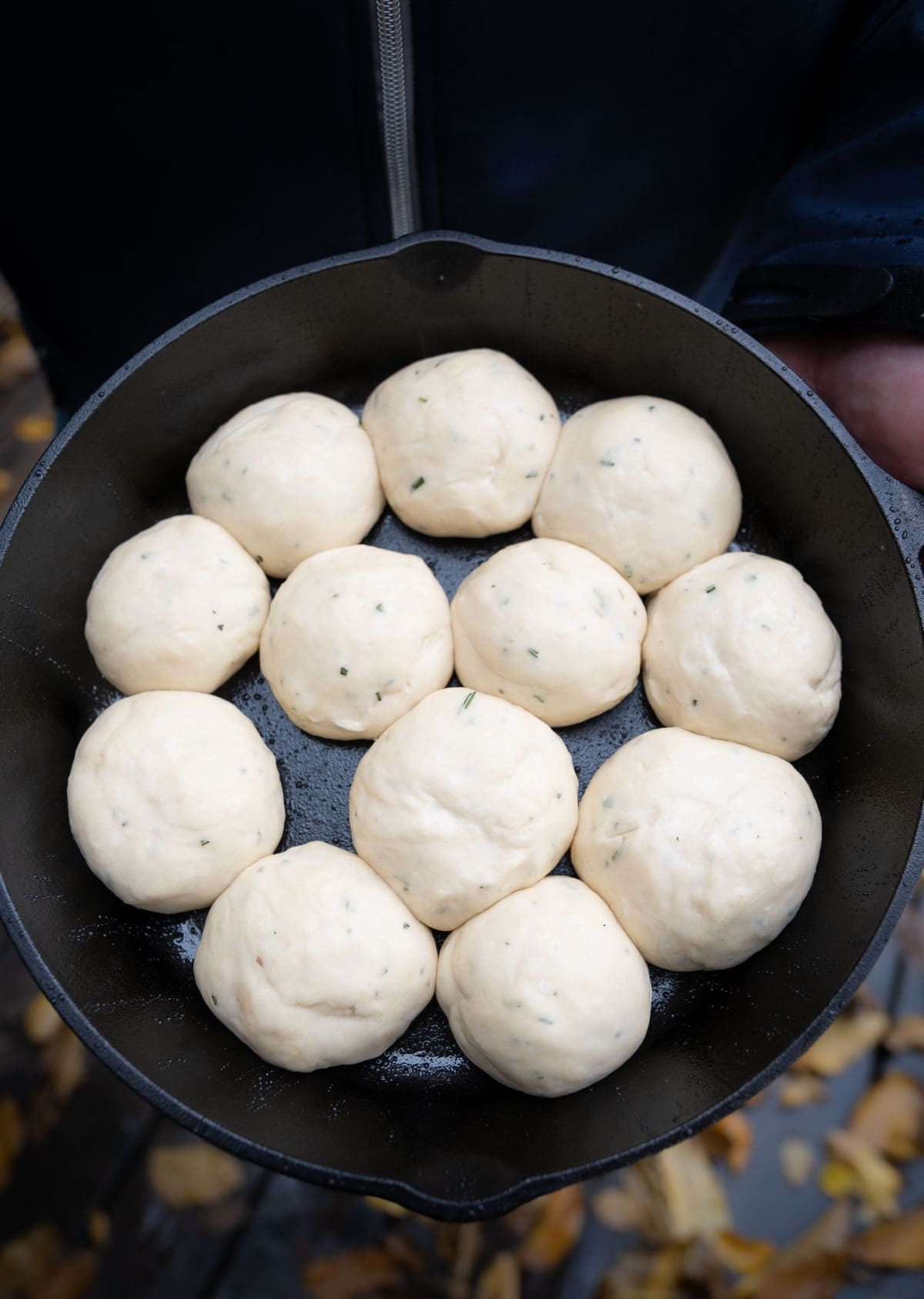 Step Three: Rise (30 Minutes)
Place the dough balls into an oiled cast iron pan. Let dough rise uncovered for 30 minutes. While the dough is rising, start your grill and set up for indirect grilling — Target 375 degrees F internal temperature. If you have a cold house (with ambient temperature is under 70 degrees F) then turn on your light in your oven when you start making the dough. Then place the cast iron pan in the oven with the light on to rise. If you don't have a light, and you have a cooler home, then allow 60 minutes for the initial rise. The key is to have the dough rise in a warm place for those tender and soft skillet dinner rolls we're aiming for.
Step Four: Grill Dinner Rolls (40 Minutes)
Place the cast iron pan on your preheated grill over indirect heat. Grill for 20 minutes and then rotate the pan 180 degrees. Continue grilling indirect an additional 20 minutes.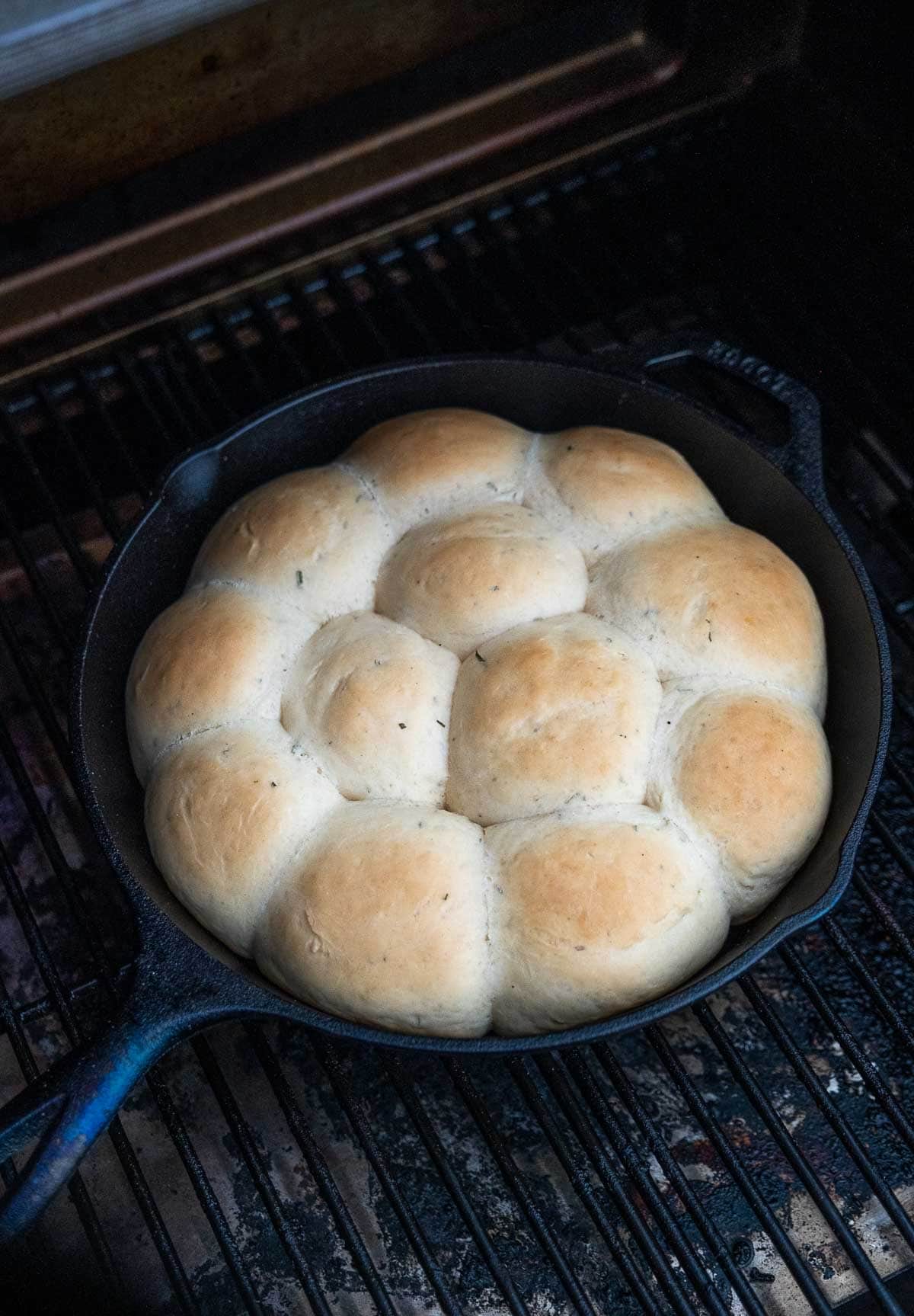 Rotating allows for even cooking so you have get an even golden brown color. All grills are different, some have hotter spots, so it's best to rotate for consistency. The skillet dinner rolls will have risen and the internal temperature of the rolls should ready between 205 and 210 degrees Fahrenheit.
Step Five: Finish (5 Minutes)
As soon as you remove the skillet dinner rolls from the grill, brush them with some melted butter over the top. Then sprinkle more Parmesan cheese and chopped rosemary. Remove the homemade skillet dinner rolls from the cast iron pan and serve warm.
You and your guests are going to LOVE these soft and flavorful rolls, I guarantee it. They're going to be coming back for seconds… and thirds!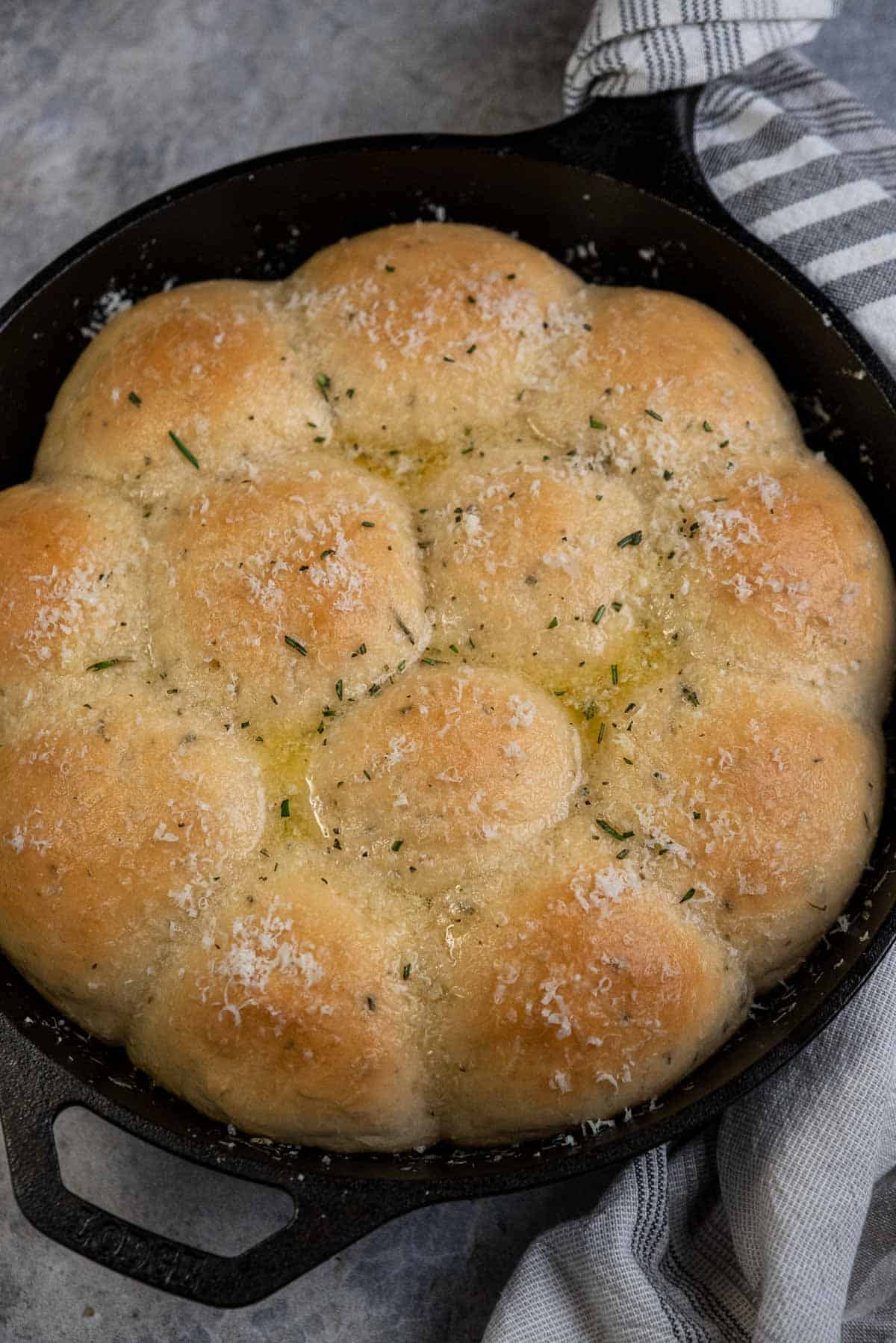 FAQ + Troubleshooting for Homemade Skillet Dinner Rolls on the Grill
Do I need to use warm or hot water to active instant yeast?
Unlike active dry yeast, which benefits from "activating" in warm water, these easy dinner rolls use the quick-rise yeast. This type of yeast does not need warm or hot water to rise, it activates as the liquid is applied.
What if my dough ball is too dry?
If your dough ball is very dry then place the dough ball on a cutting board. Add 1 tablespoon of water in small increments and knead the dough until it is slightly wet. If the dough is too dry it will bake and be too dense and won't brown as well.
What if I have sticky dough?
Add small sprinkles of flour until the dough ball is shiny and not overtly sticky. You do want the dough to be somewhat moist, but not sticky.
Make Ahead + Storage
The best dinner rolls are served warm the day you make them. But if you want to make ahead for a holiday meal, you can bake the rolls and store in an airtight container for up to two days. Rewarm them in the microwave for about 15 seconds.

If storing long term, make the rolls and put into a freezer bag. Place in the freezer for up to two months. Allow 24 hours for the rolls to thaw before rewarming.
Holiday Ideas
If you are looking for more holiday recipe ideas for your grill or smoker check out our entire collection of Holiday Recipes for Thanksgiving. Or check out some of our favorites to round out your meal.
Baking on the Grill
For more baking on the grill ideas here are some of our favorites.
---
Mary (a certified sommelier and recipe developer) and Sean (backyard pitmaster) are co-authors of the critically acclaimed cookbook, Fire + Wine, and have been creating content for the IACP nominated website Vindulge since 2009. They live in Oregon on a farm just outside Portland.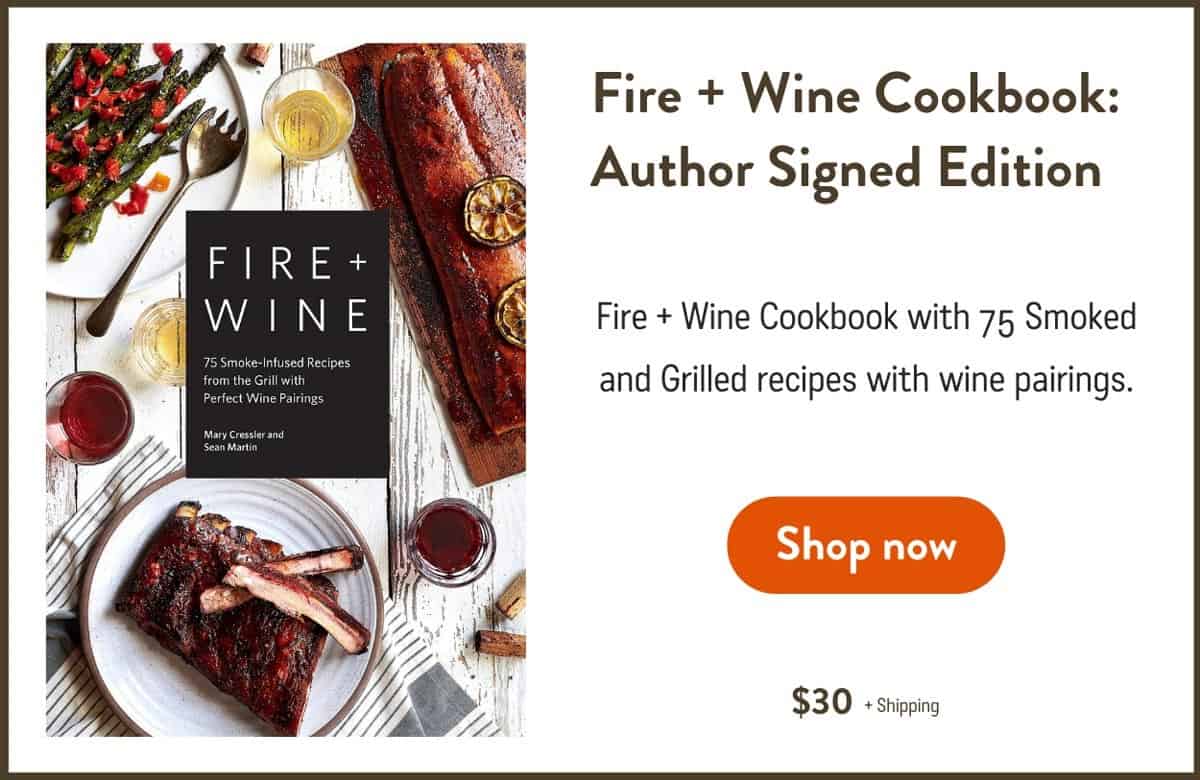 Tried this recipe? Give us a star rating and we would love to see! Mention @vindulge or use the hashtag #vindulge on all the social media handles. And consider subscribing to our newsletter where we drop all our favorite ideas and inspirations every week.