Fresh and crunchy or grilled and smoky, salads are a wonderful way to use seasonal produce and incorporate new and diverse flavors. In this post, we've rounded up our favorite & easy side dish salad recipes that can serve as the perfect compliment to your summer BBQ, or can stand alone as a light dinner meal.
We love to use seasonal ingredients in our cooking. We find it makes for the best flavor, price, and sustainability! What better way to use all those fresh fruits and veggies than a bright, crisp salad? But salads aren't just for summer! Just ask Williams-Sonoma and their Salad of the Day calendar.
Jump to:
So what do you include in a seasonal salad? Everyone knows that tomatoes taste best in the summer. But in the fall, roast turkey, apples and cranberries make for great add-ins. Winter brings crunchy broccoli and kale. While in the spring, scan your farmer's market for tender asparagus or top your salad with perfectly grilled salmon.
The salads listed below can be shared family style as a side dish to BBQ meat or a holiday roast. Or when topped with their own protein, can serve as a deliciously light dinner idea all on their own.
Delicious Side Salads Recipes
Serve alongside grilled chicken, BBQ ribs, or your Sunday roast.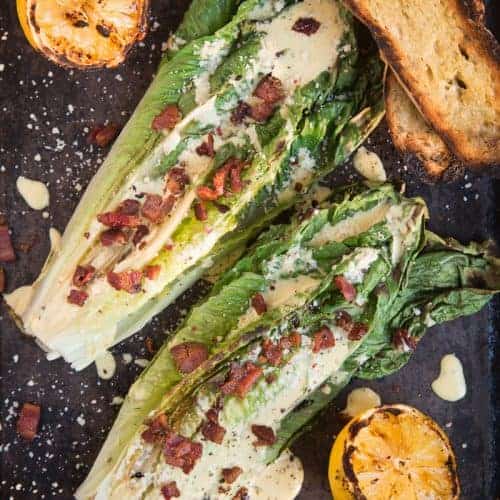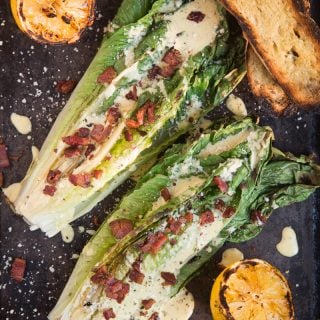 Grilled Romaine Caesar Salad Recipe
A simple and delicious grilled romaine Caesar salad elevated with some smoky crispy pancetta (or bacon), grilled lemon, and grilled baguette slices to sub for croutons, and instructions on how to grill romaine lettuce.
Full Recipe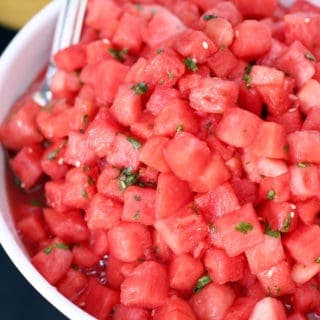 Watermelon Salad with Basil and White Balsamic Vinegar
A simple, delicious, and savory watermelon salad tossed with basil and white balsamic vinegar.
Full Recipe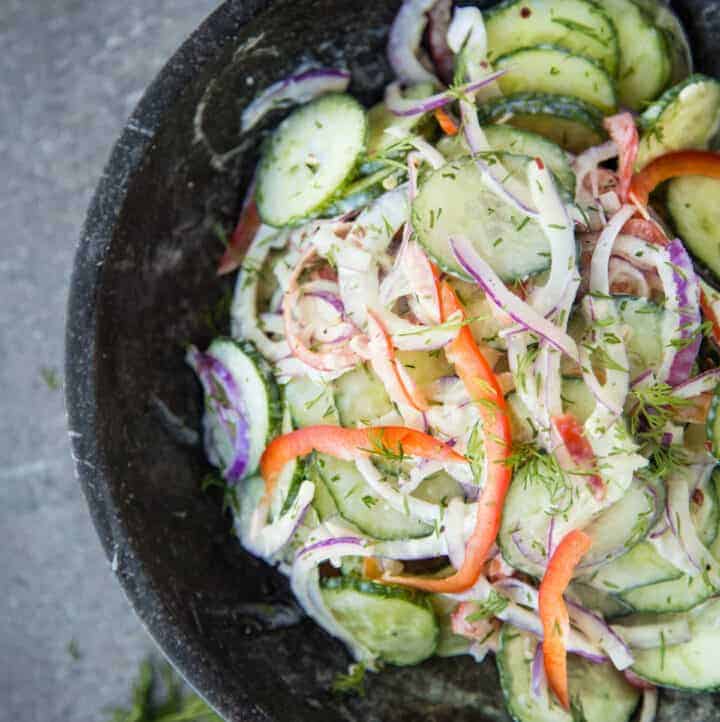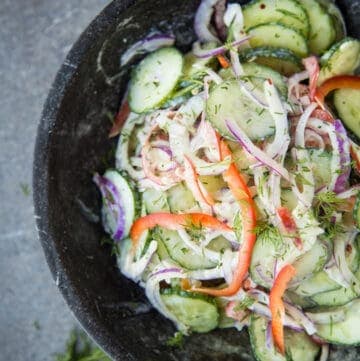 Cucumber Salad with Creamy Dill Dressing
White wine vinegar, dill, and Greek yogurt sauce balanced by fresh English cucumbers, red onions and peppers.
Full Recipe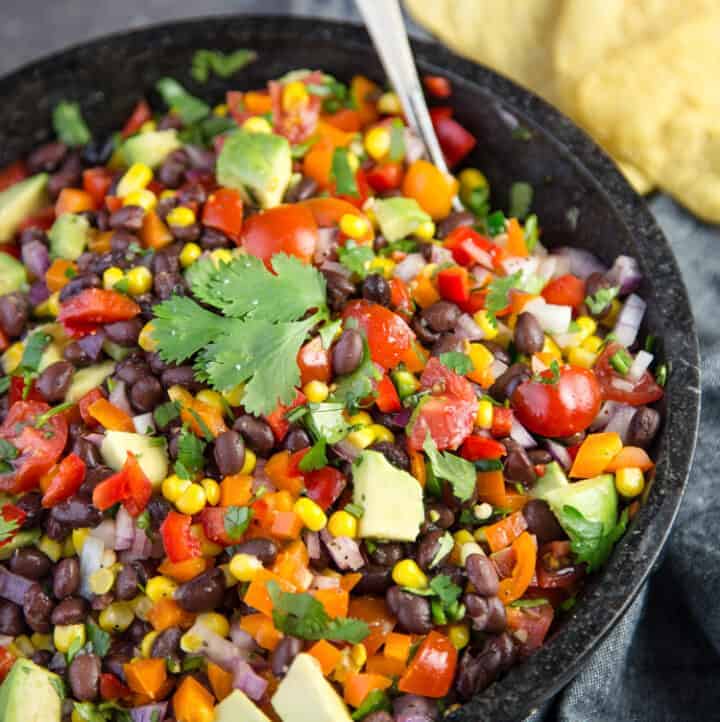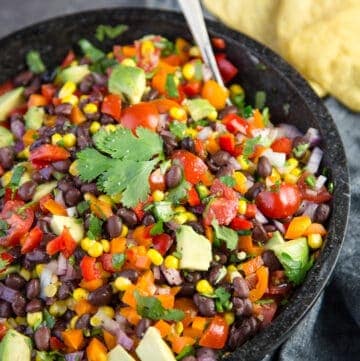 Black Bean Salad With Lime and Pepper Dressing
The perfect BBQ side dish that can double as a relish and topping for a variety of dishes.
Full Recipe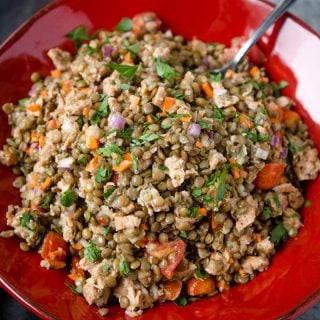 Cold Sausage Lentil Salad
A delicious and refreshing cold lentil salad with smoked sausage that can be served cold or hot.
Full Recipe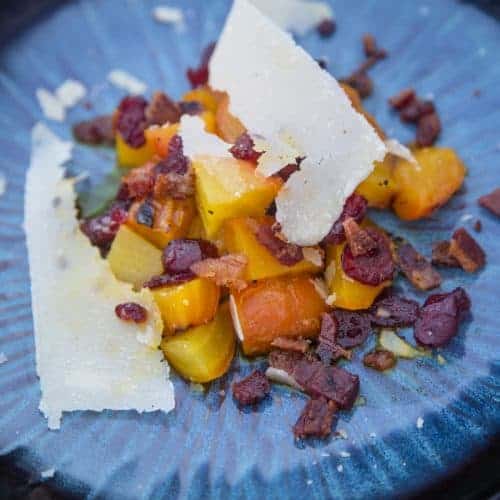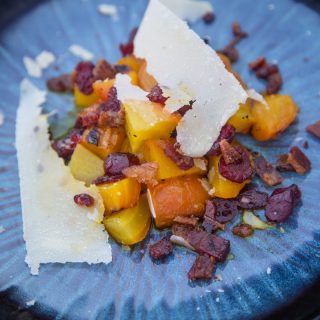 Grilled Beet Salad with Rosé Infused Cranberries and Bacon
Beets are incredible cooked on the grill, and even better topped with rosé wine infused cranberries and smoked bacon. This will be your favorite salad all summer long!
Full Recipe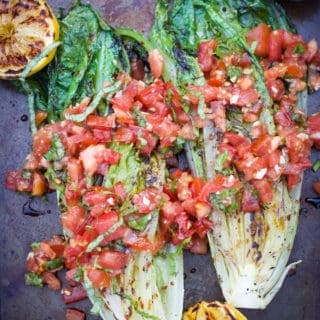 Grilled Romaine Lettuce with Tomatoes and Basil
How to grill romaine lettuce, along with an easy tomato basil and balsamic topping.
Full Recipe
---
Dinner Salads
On hot summer days, all I crave is a cool, refreshing salad. These recipes are packed with protein, nutrients and flavor!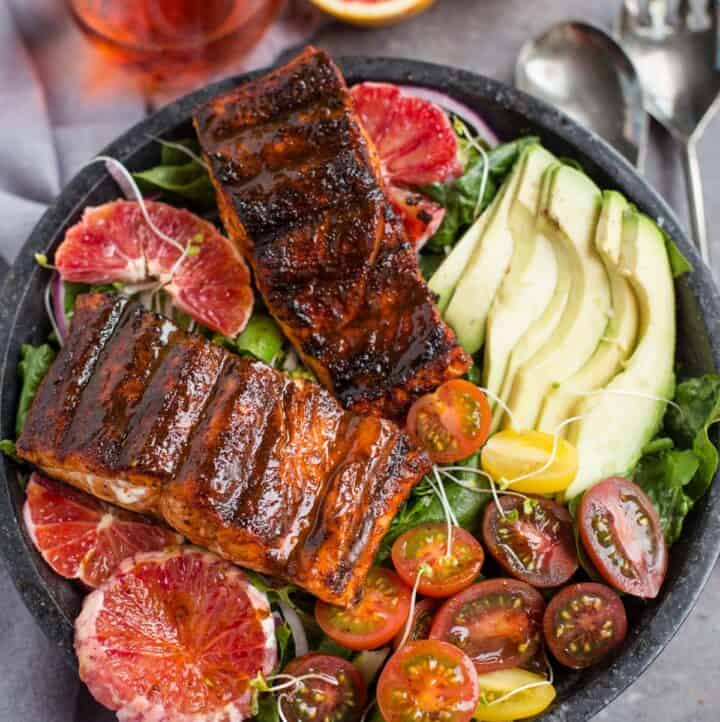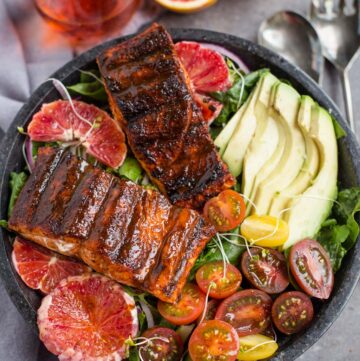 Grilled Salmon Salad Recipe
Grilled salmon seasoned with blackening spices tossed with a homemade citrus vinaigrette dressing makes for a hearty salad.
Full Recipe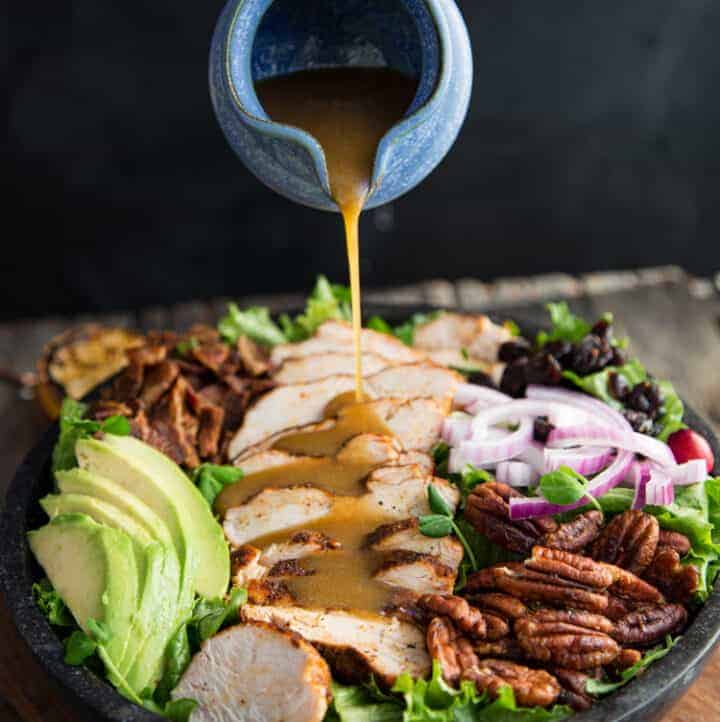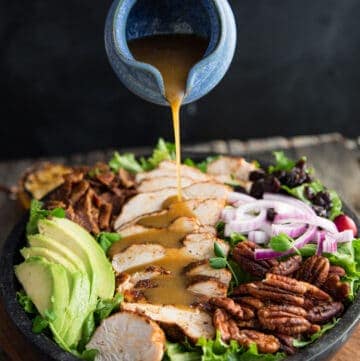 Grilled Chicken Salad with Candied Pecans and Balsamic Dressing
Candied Pecans for crunch, perfectly grilled chicken with a savory honey balsamic dressing makes this a grilled chicken salad with amazing flavor.
Full Recipe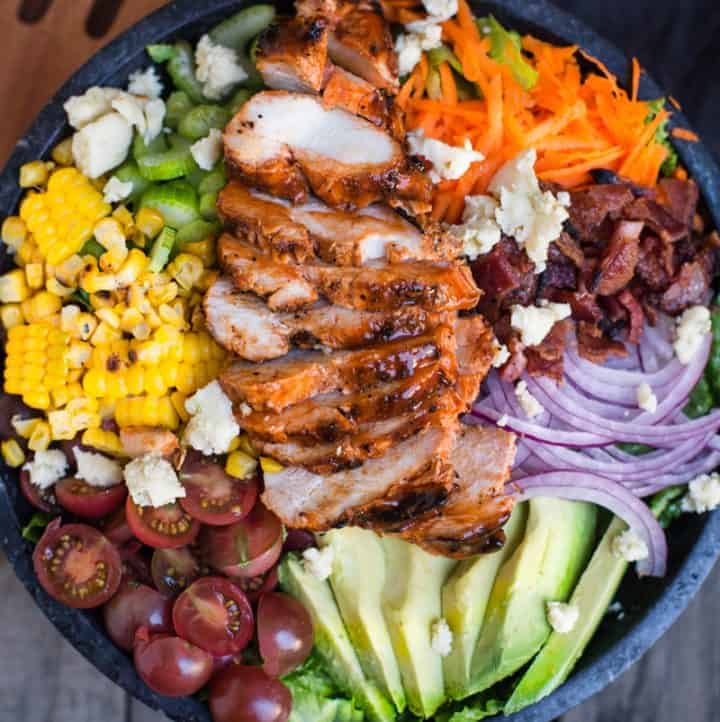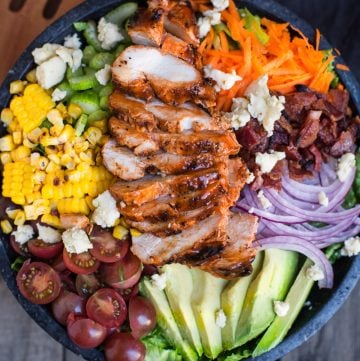 Grilled Buffalo Chicken Salad
Healthy Grilled Buffalo Salad recipe that satisfies all your wing cravings, without the guilt. Keto friendly, gluten free, sugar free, low carb, and can easily be adjusted for Paleo and Whole 30.
Full Recipe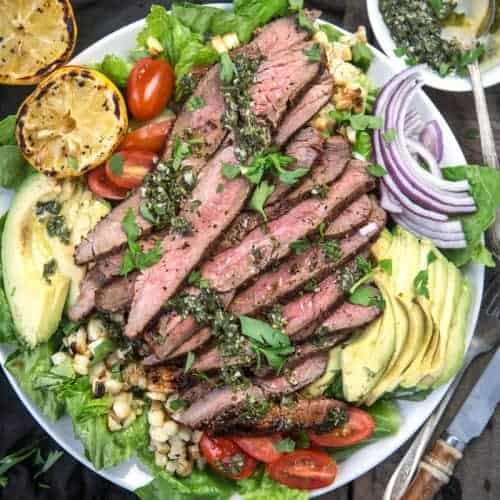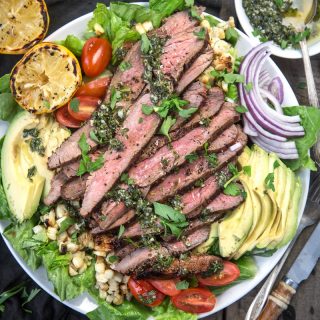 Grilled Flank Steak Salad
Grilled Flank Steak marinated in a savory soy and rosemary mix. Perfect for a hearty salad, or filling for a sandwich.
Full Recipe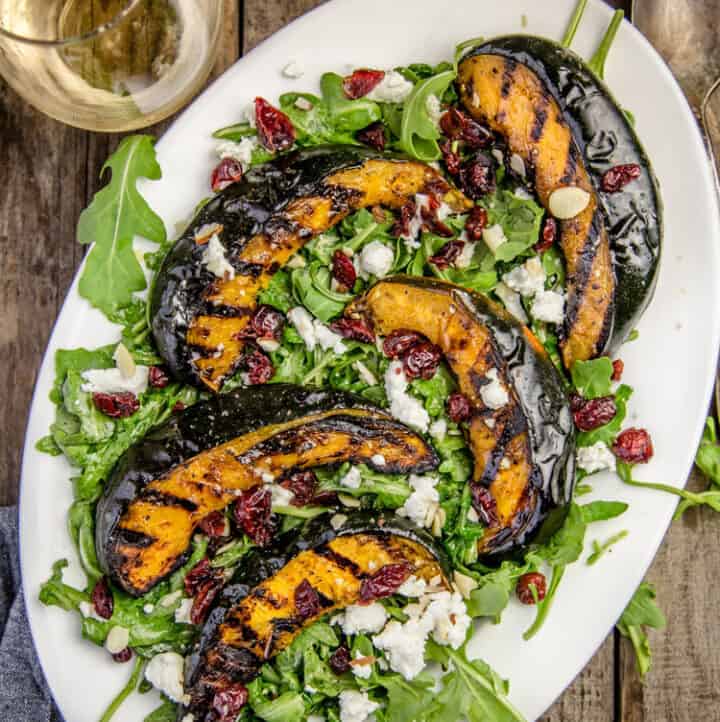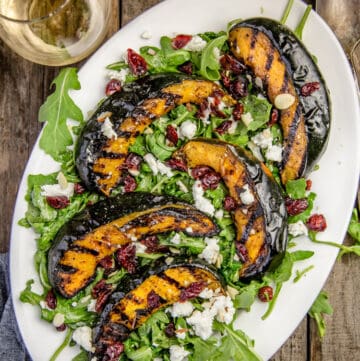 Grilled Acorn Squash
Grilled Acorn Squash Salad is the perfect side dish or hearty main dish for your fall entertaining or family dinners. Grilling acorn squash is super easy, and adds incredible flavor to this easy salad!
Full Recipe
---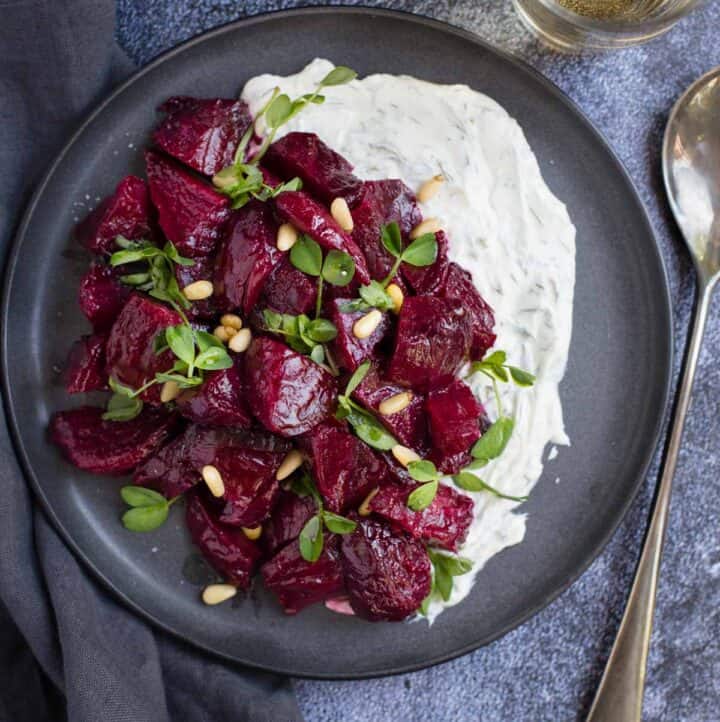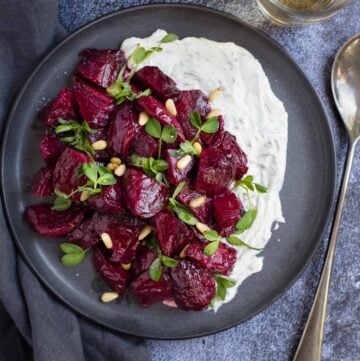 Smoked Beets Recipe with Goat Cheese Ranch
Smoking beets adds incredible flavor to this earthy root vegetable. The smoked beets are slowly smoked until tender, and then served with a creamy goat cheese ranch dip. This recipe was inspired by a restaurant dish I had at the Bird & The Bottle in Santa Rosa, California.
Full Recipe
---
This post contains affiliate links. We only recommend and promote products we use and love and contribute to great barbecued and grilled foods.
If you like these recipes we'd truly appreciate it if you would give this recipe a star review! And if you share any of your pics on Instagram use the hashtag #vindulge. We LOVE to see it when you cook our recipes.
---