Grilled Steak on its own is amazing, but sometimes adding a unique topping can take it over the top, like Roasted Poblano Peppers. This Poblano and Corn Salsa is just the thing. The rich, sweet, fire roasted flavor will make your next steak dinner a memorable one.
This dish is not spicy, but we have a variation if you prefer some heat.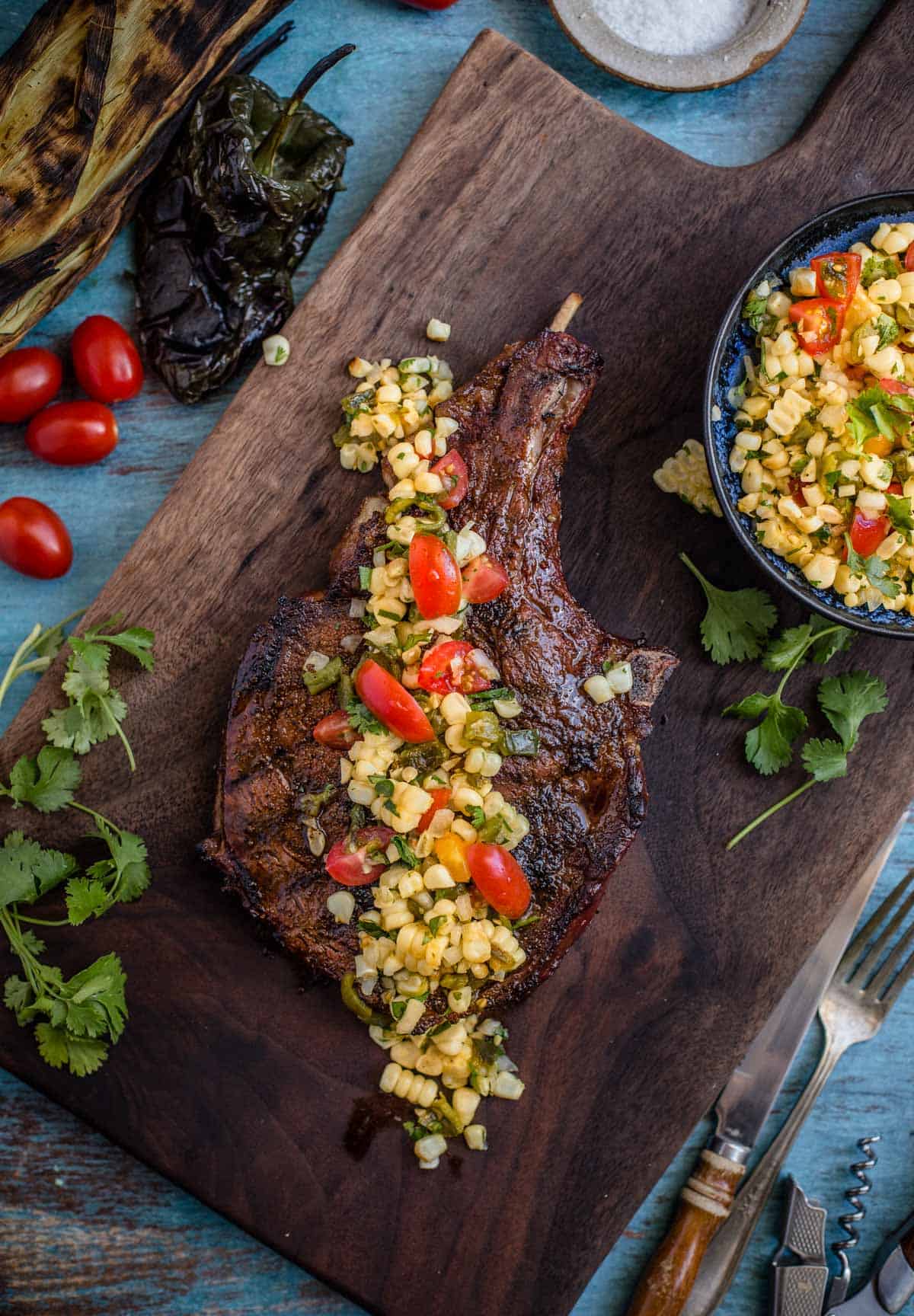 Often when grilling a steak, a little salsa, relish, or fun topping enhances flavor and adds texture (like chimichurri). We created a savory duck fat granola exclusively available in our cookbook Fire + Wine that is a great example of this. While a great steak can stand up on its own, this extra flavor brings a wow factor.
And when late summer produce is bountiful, like sweet corn and poblano peppers, this is the dish we are making. The best part is this also doubles as a great stand alone salsa.
Jump to:
Ingredients
The goal is to use fresh summer produce for this roasted poblano salsa. Feel free to add or substitute any of your summer favorites, whenever available.
Fresh corn on the cob – before grilling, be sure to review our tips on the perfect grilled corn.
Whole poblano peppers
Sweet onion
Garlic
Cherry Tomatoes
Lime Juice
Kosher Salt
See recipe card for quantities.
Instructions for Roasting Peppers on the Grill
The first step focuses on how to roast poblano peppers properly so they are properly charred but not burnt. Start with preparing your grill for two-zone grilling, targeting 500 degrees F over the direct heat source.
For roasting the peppers: Place poblano peppers over the direct heat. The peppers will cook quickly. Be sure to stay close to the grill and turn the peppers every 3 minutes so you have a dark char to the skin with some blistering. Remove when all sides are blistered. Place them in a plastic baggie so they can steam, which makes it easier to remove the skin.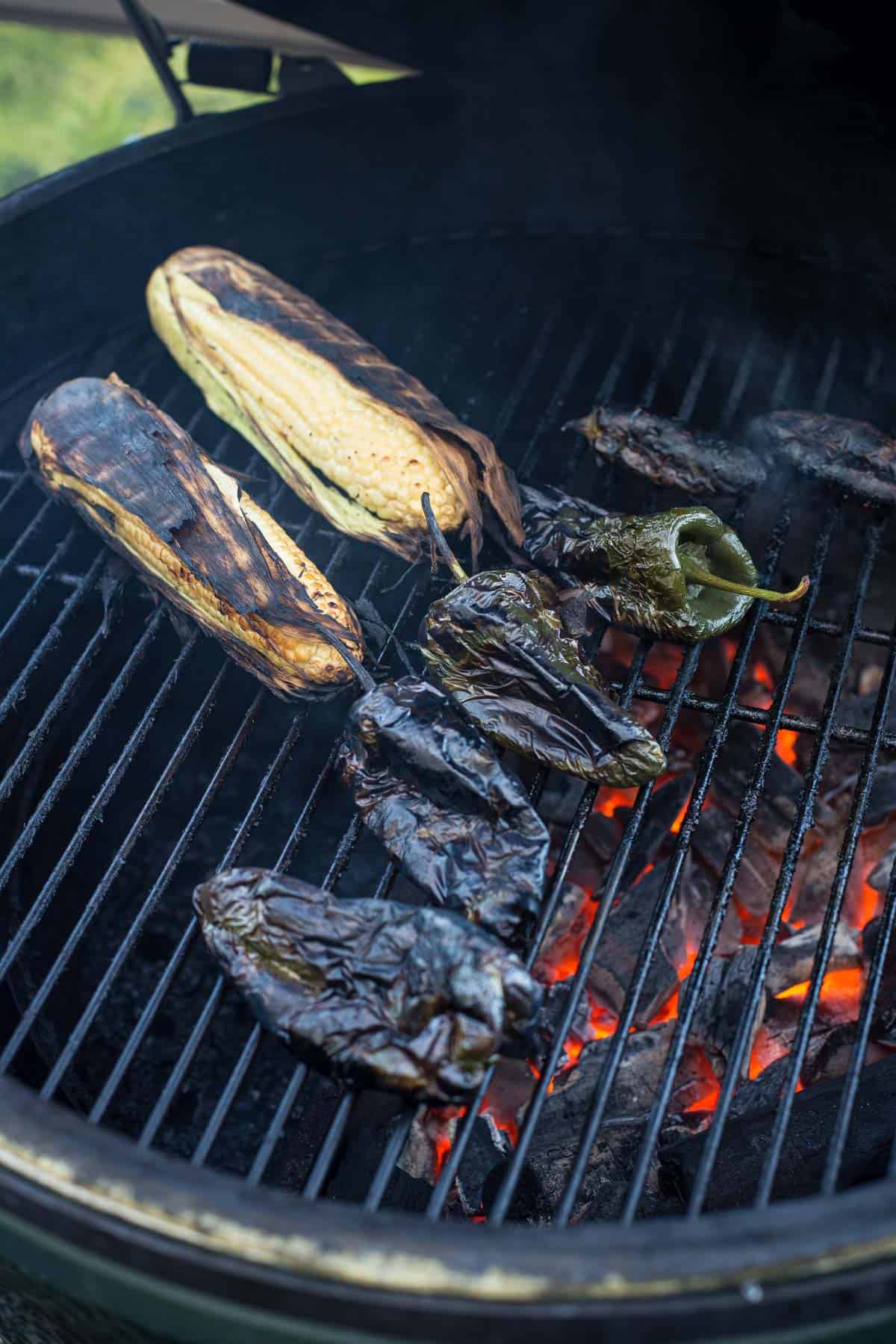 Hint: After the poblano peppers are roasted, place them into a plastic baggie and seal. Let them steam from the heat and then after 15 minutes, remove the peppers. This will allow you to easily remove the skin by peeling, or using a knife to scrape the pepper from the skin.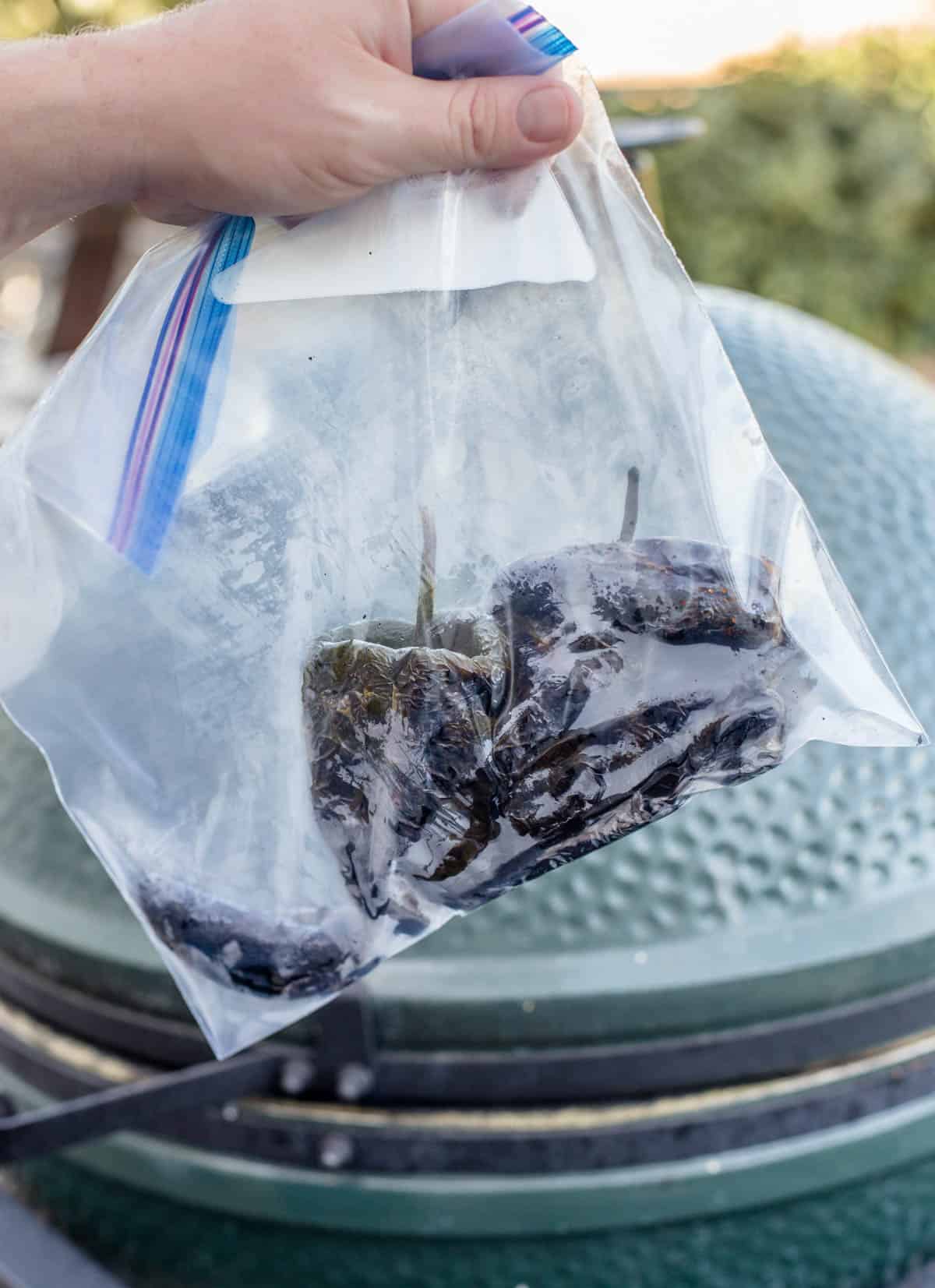 For the corn: While the peppers are roasting, grill corn over direct heat as well. Rotate the corn every 5 minutes so all sides on the husk are charred. Then gently remove the husks to give the corn a little more char and flavor. This will take total of 20 minutes. Now it's time to make the salsa.
For the poblano and corn salsa: Using a sharp knife, remove the kernels from the corn, and remove the skin from the peppers. Dice up the peppers and then combine all remaining ingredients in a large bowl. Season to taste in small increments. More citrus will add acidity, while small increments of salt can minimize any perceived bitter flavor.
Grilled Steak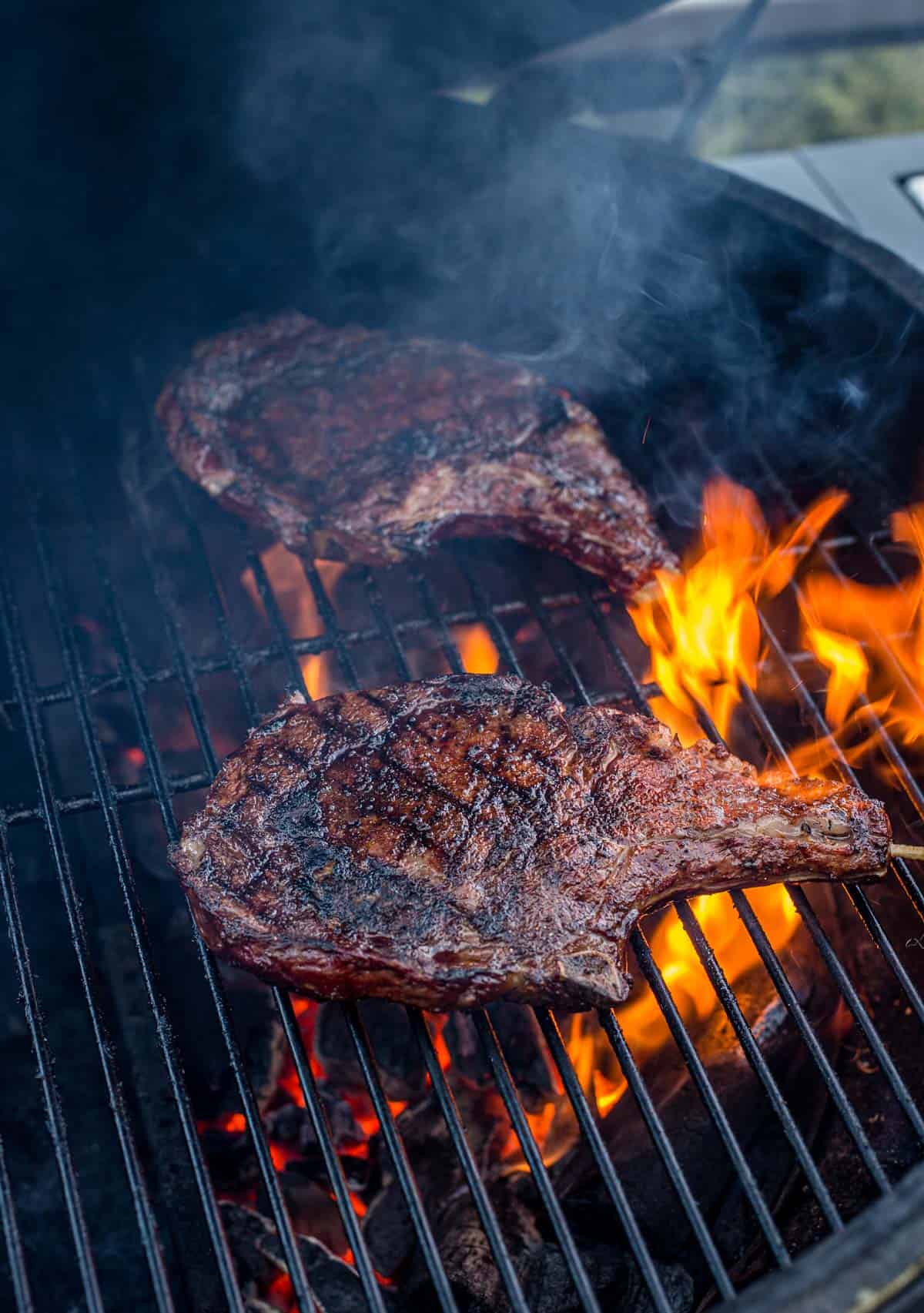 The perfect way to grill steak is using direct and indirect grilling (two-zone grilling).
Continue using the grill set up with two-zone grilling, targeting 500 degrees over direct heat.
Coat steak with olive oil to help the seasoning stick and then liberally apply the beef rub.
Place the steak over direct heat and sear for 3 minutes to get a nice char on the steaks. Flip and continue grilling over direct heat for an additional 3 minutes.
Move the steak to indirect heat and close the lid. Continue grilling for an additional 6 – 8 minutes or until the internal temperature of the steak reaches 120 degrees F for a rare steak.
Remove and let rest for 10 minutes. Then top the steaks with roasted poblano pepper and corn salsa and serve.
Steak Temperature Guide
While the USDA recommends cooking a steak to 145 degrees F, our chef temperature is based on our preference and also sourcing meat we trust. We prefer to cook our steaks to Rare or Medium Rare. Remember that carry over cooking will occur, so when the steak rests, the internal temperature will rise 3 – 5 degrees F. So if you want the steak at 125 F, then pull it from the grill at 120 using a good instant read thermometer like the Thermoworks Thermapen One.
Rare: 120-130 degrees F
Medium Rare: 130-140 degrees F
Medium: 140-150 degrees F
Medium Well: 150-160 degrees F
Well Done: 160 degrees F (and not recommended)
See more guidelines at USDA.gov.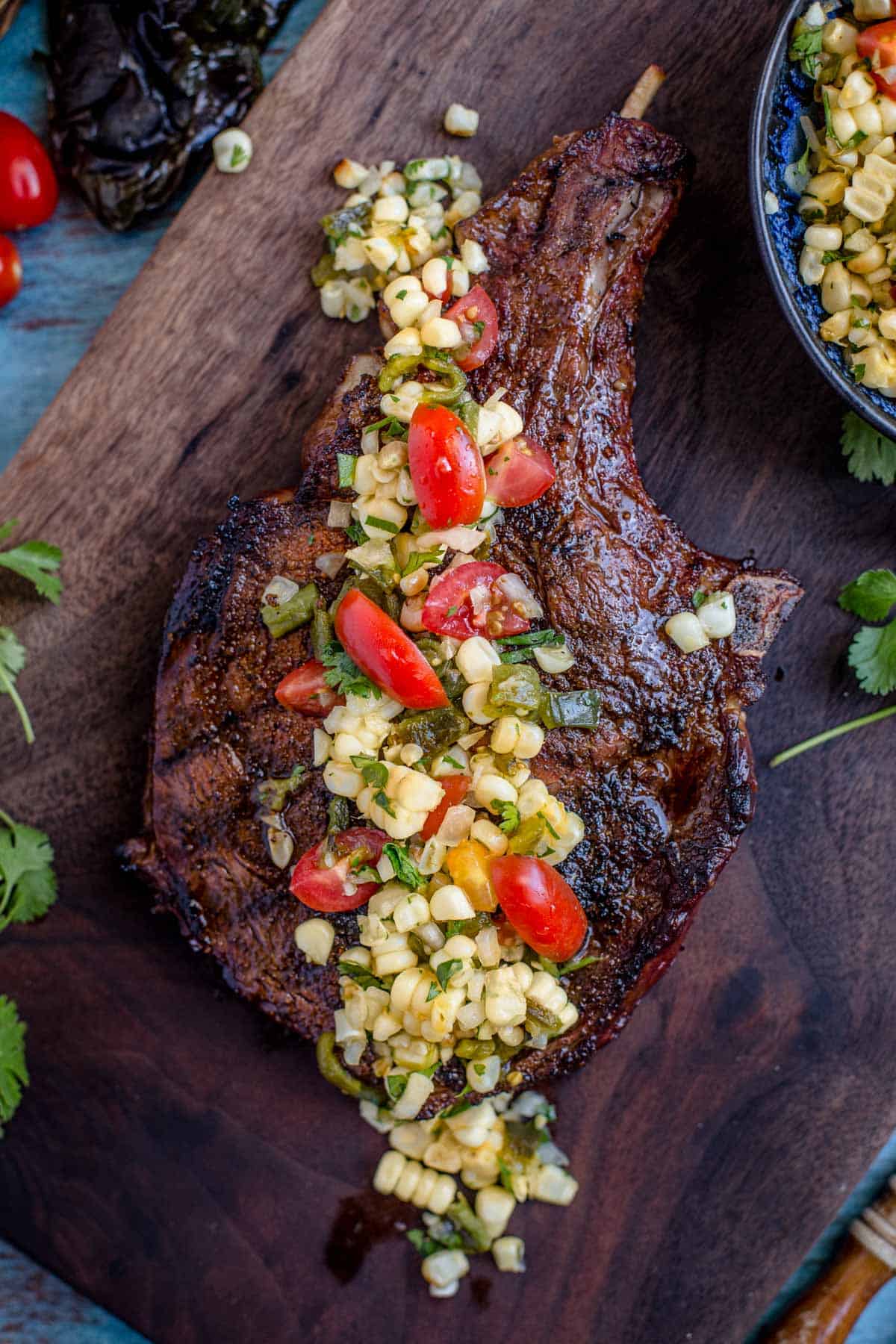 Variations
If you want to add some heat and spice to the salsa, roast a jalapeño or a serrano pepper with the poblano, then chop it up to add to the salsa. You only need one for the extra heat.
If it's Hatch Chile season you can often find freshly fire roasted Hatch Chile at the store and can use that in place of the poblano, but note that Hatch Chilies can be spicy.
Equipment
1 Gallon Plastic Bags – These bags will be used to store the warm peppers. It will make it easier to remove the skin as they steam.
Instant Read Thermometer – The Thermoworks Thermapen One is the fastest and best instant read thermometer on the market. Having the thermometer will assist in never overcooking your steaks again.
Long Tongs – Whenever roasting or cooking on the grill, a sturdy pair of long tongs are an important investment.
Lump Charcoal – It will add more wood smoke and char flavor vs. briquets.
Storage
The salsa can be made in advance and will stay fresh for up to 3 days in an airtight container and stored in the refrigerator. So if you need to make this in advance, feel free to do so.
Top tip
Buy thick steaks, at least 1 ½ inches thick. This allows easier ability to grill the perfect steak without over cooking it. Your butcher should be able to cut these up for you if you call in advance and request it.
Want even more flavor? Check out our guide on reverse searing for a smoked and seared steak.
More Grilled Steak Recipes
This post may contain affiliate links. This means if you click on the link, we may receive a small commission if you purchase through the link. We partner with brands we know and love and use and it helps keep the blog going!
---