Grilled Chicken finished with a simple glaze of our homemade hot honey is going to be your new favorite chicken recipe! This isn't your typical hot chicken. This version starts with grilled chicken, vs breaded and deep fried, making it a much lighter meal (not to mention much easier to make), but is still big on flavor.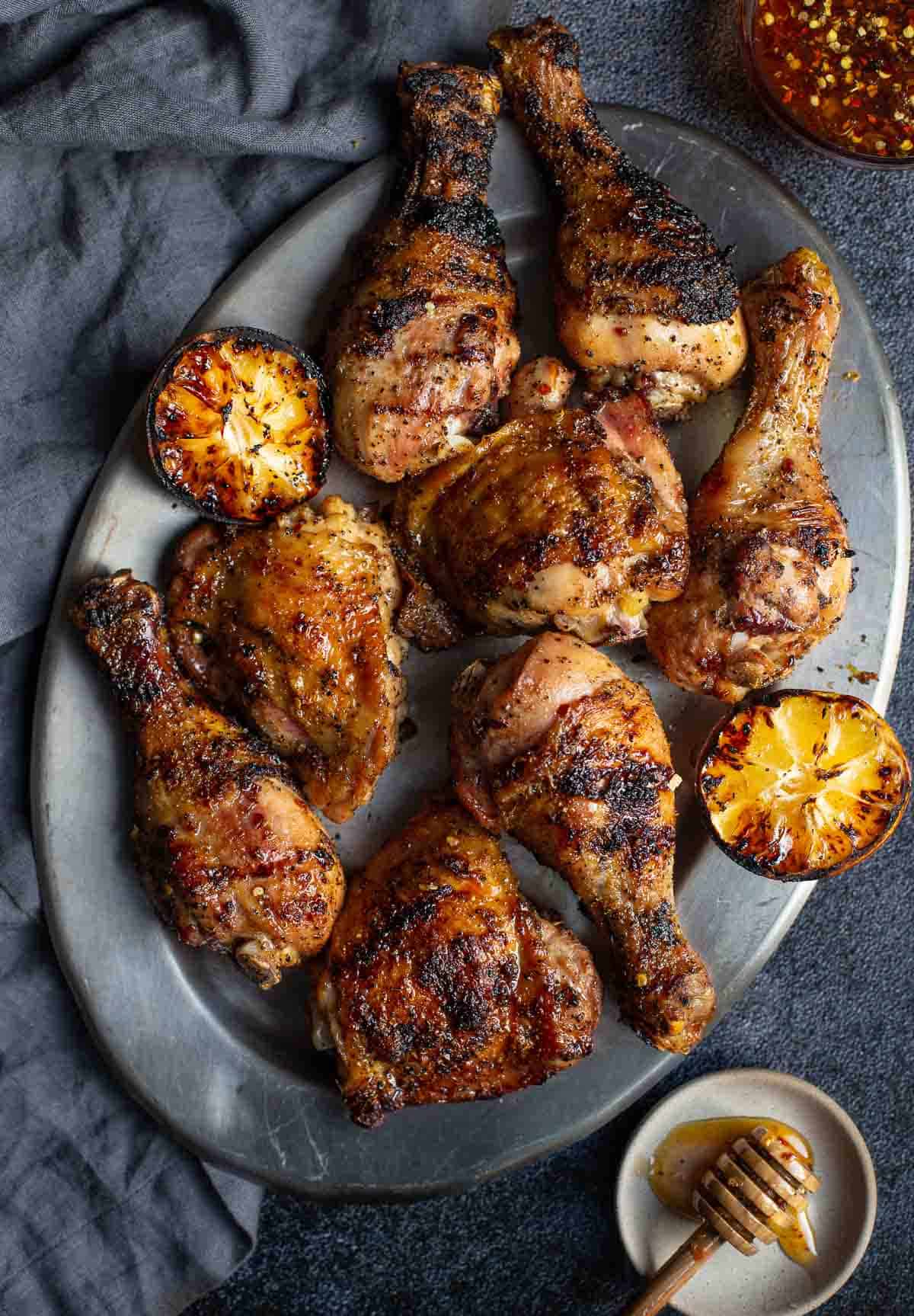 We love grilled chicken recipes because chicken is a blank canvas that we can flavor with an infinite number of ideas. And this one is a winner! Great for family dinners or summer cookouts.
Jump to:
Inspired by a combination of Nashville Hot Chicken and Hot Honey Sauce we decided to combine the two into a lighter grilled version. This hot honey chicken recipe uses savory and seasoned chicken grilled and then glazed with a delicious hot honey glaze. No breading or frying needed.
Ingredients for Grilled Hot Honey Chicken
Chicken legs and thighs: Bone-in (See variations if using chicken breast to adjust the cooking times)
Extra virgin olive oil
Tools and Equipment
Silicone Brush for the glaze
How to Make Grilled Hot Honey Chicken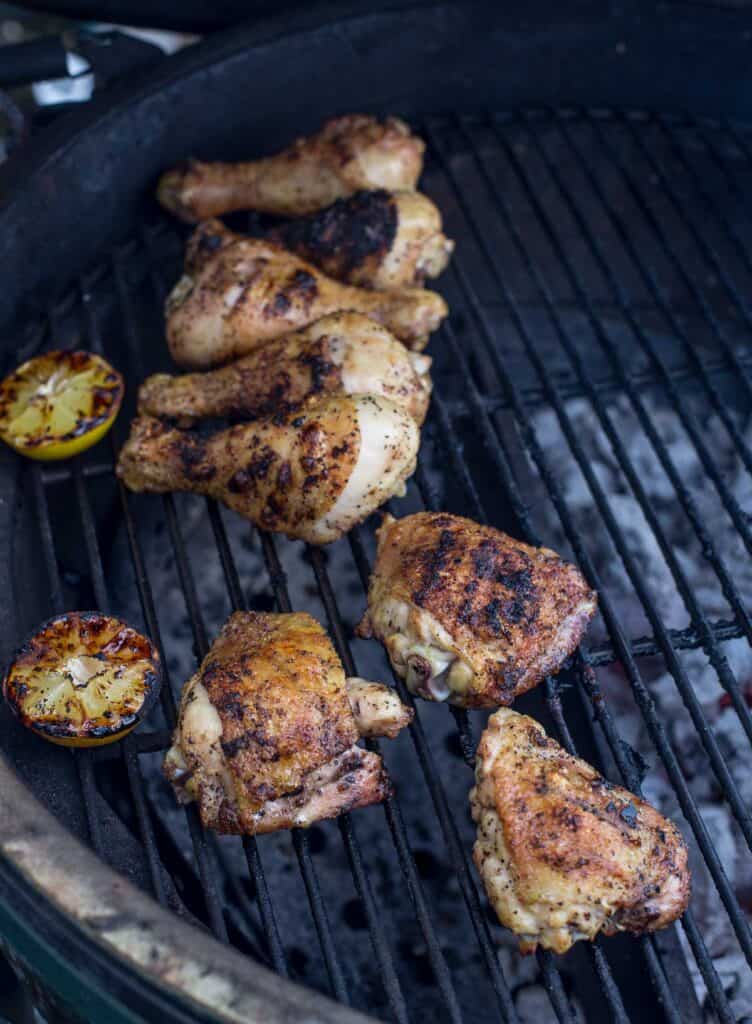 Preparation: Prepare the grill for two zone grilling and target the internal temperature at 500 degrees Fahrenheit. Coat chicken with olive oil and seasoning.
Grill Direct: Place seasoned chicken legs and thighs on the grill, skin side down, over direct heat. Let them grill for 4 minutes or until the skin has started to crisp up with some grill marks. Flip and grill over direct heat again over direct heat and continue grilling for 4 additional minutes or until the skin has crisped up on the other side.
Grill Indirect: Once the chicken has nice color and crisped up on both sides move the chicken to the indirect side of the grill. Continue cooking until the internal temperature of the chicken hits 165 degrees F (about 10 additional minutes). The legs will cook faster.
Glaze: Once the internal temperature of the chicken has reached 165 degrees F, glaze the chicken with the hot honey on both sides. Close the grill lid and continue to cook on indirect heat for 2 to 3 minutes to let the hot honey set and caramelize. Then remove from the grill and glaze the chicken pieces a second time. Serve after resting for 5 minutes.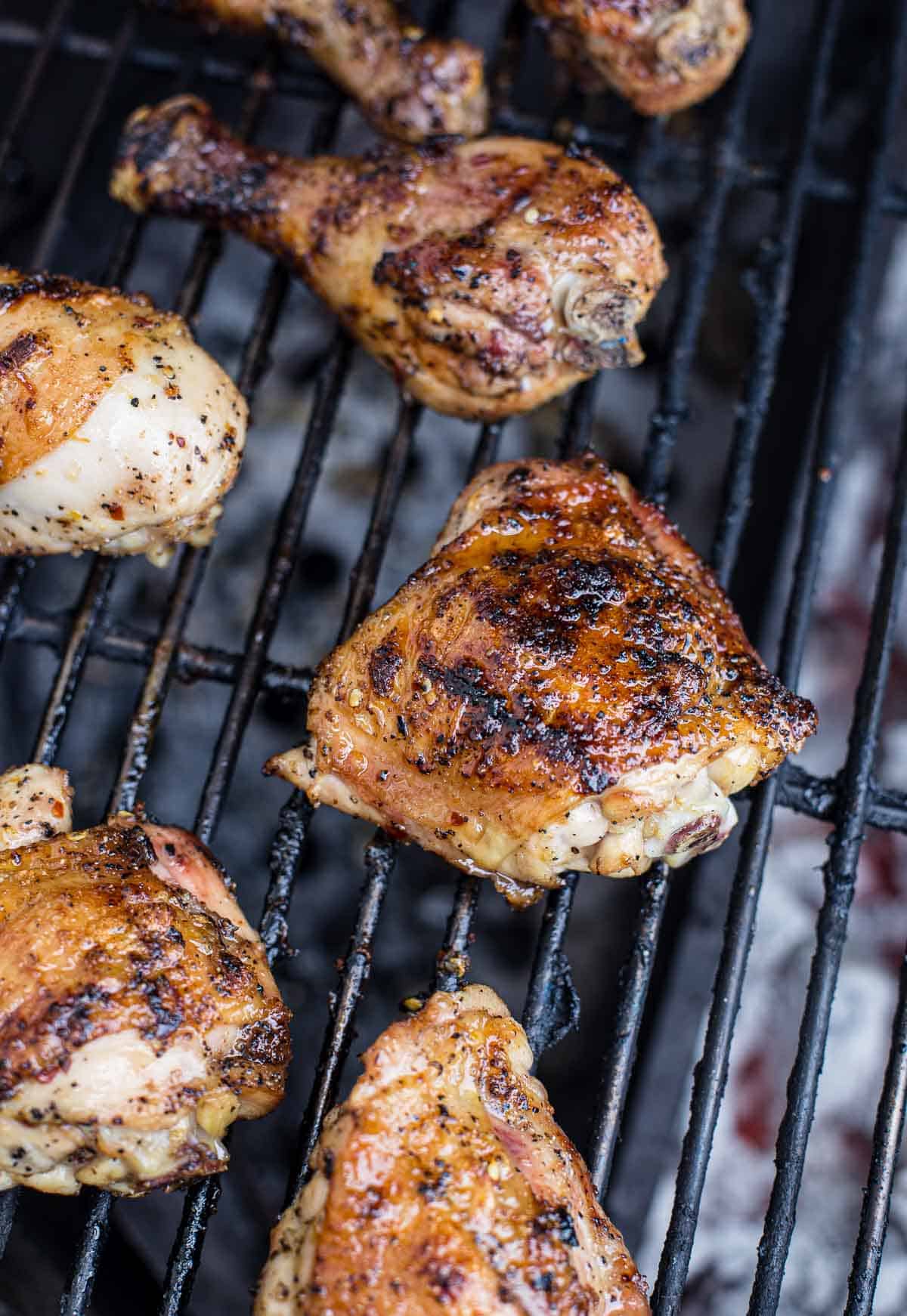 Variations
Chicken: You can us this recipe on chicken breasts as well, however if you do be sure to adjust your cooking times. The ideal internal temperature to begin glazing for chicken breasts would be 155 degrees Fahrenheit versus 165 (then remove the breasts when the internal temperature of the chicken reaches 160 degrees).
Related Article: Learn more about the perfect chicken temperature and why it matters for the right tenderness and flavor.
Related Recipes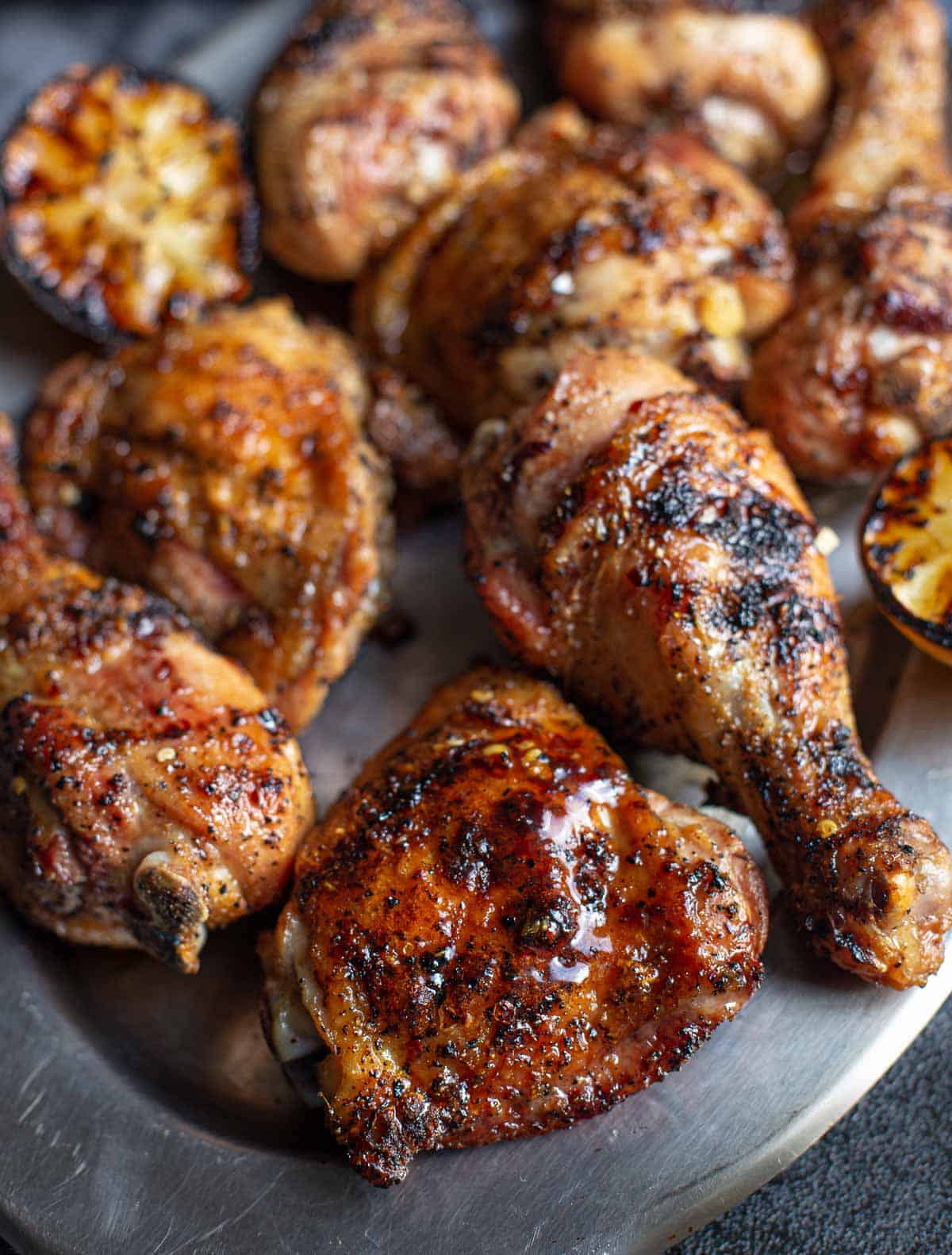 ---
Mary (a certified sommelier and recipe developer) and Sean (backyard pitmaster) are co-authors of the critically acclaimed cookbook, Fire + Wine, and have been creating content for the IACP nominated website Vindulge since 2009. They live in Oregon on a farm just outside Portland.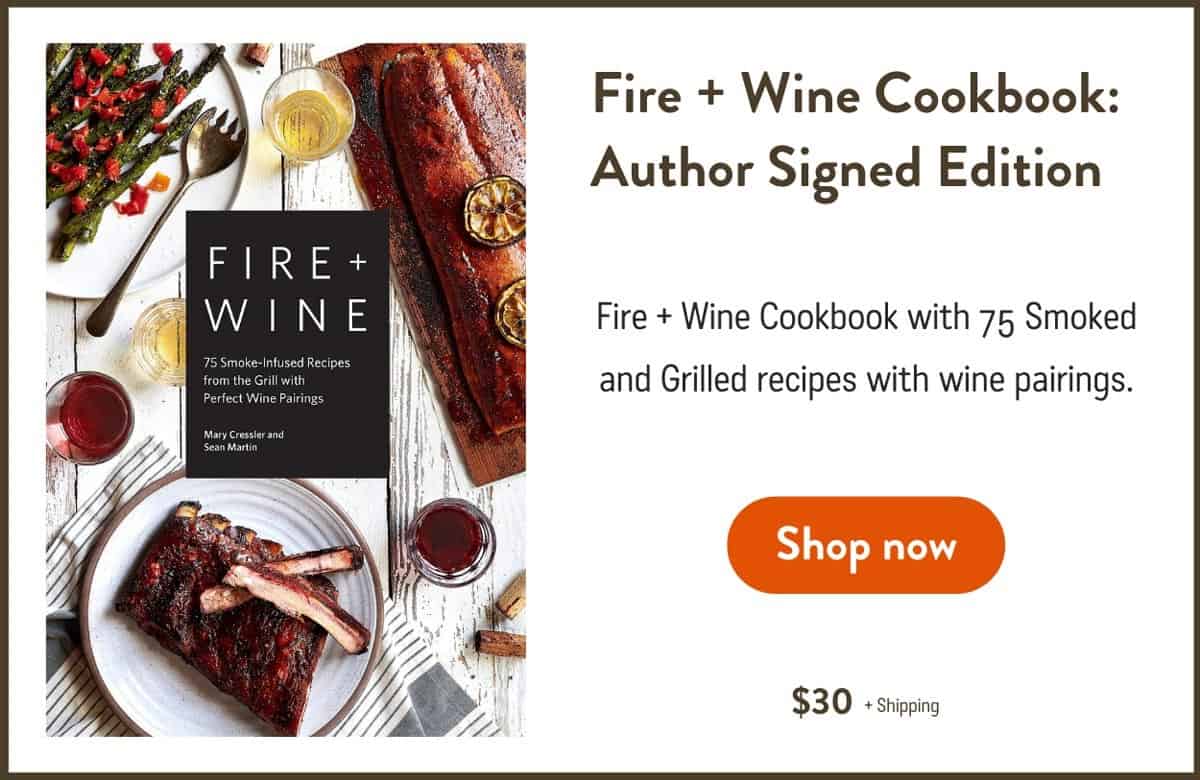 Tried this recipe? Give us a star rating and we would love to see! Mention @vindulge or use the hashtag #vindulge on all the social media handles. And consider subscribing to our newsletter where we drop all our favorite ideas and inspirations every week.
This post may contain affiliate links. This means if you click on the link, we may receive a small commission if you purchase through the link. We partner with brands we know and love and use and it helps keep the blog going!