Hot honey may seem like a fad, but it's here to stay (and for good reason!). This hot honey recipe is all about bringing mild heat with savory flavors. We take our basic hot honey and infuse it with some ginger and garlic giving it that extra wow factor. Perfect on anything from fried chicken, to pizza, to biscuits.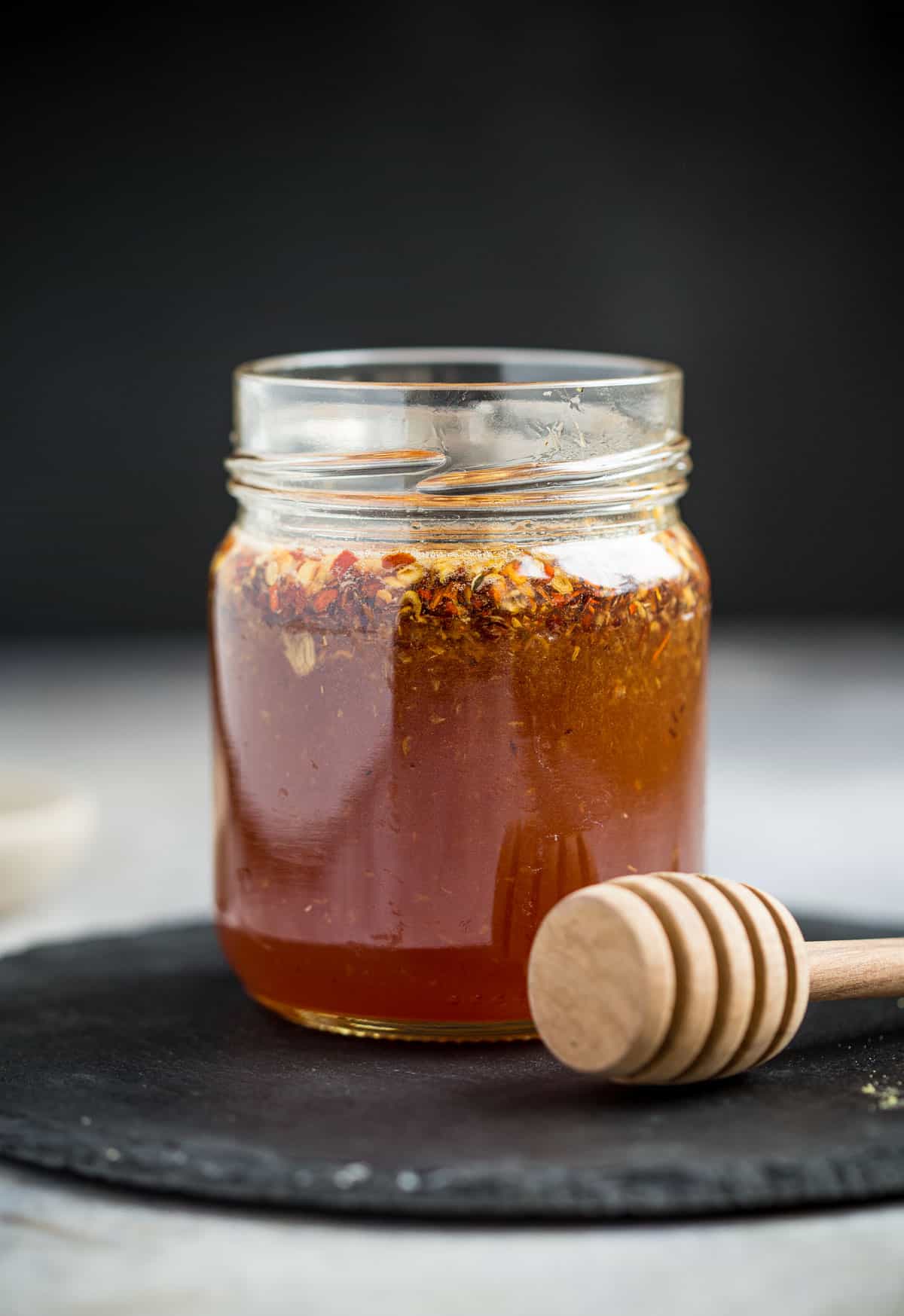 Jump to:
Recipe Highlights
Ginger and garlic bring a savory flavor to balance the sweet honey.
Apple cider vinegar adds acidity and bite as well as the heat from red chili pepper flakes.
Consider our 3-ingredient hot honey for an easier recipe, or smoked honey to add more dimension to the flavor.
Sometimes a little something extra can really elevate a recipe or dish. And hot honey is one of them. Hot honey is also very easy to make your own by infusing with your favorite flavors. This hot honey recipe is inspired by having a more savory flavor to add to fried foods, pizza, or even salad.
Ingredients
Honey – The base of the dish. Good quality honey, ideally local, is our preference.
Red Chili Pepper Flakes – Brings the heat and a little crunch.
Apple Cider Vinegar – Brings a nice finish and balance to flavor. We do not recommend using white vinegar.
Ginger – Grate the ginger using a microplane to make the texture easy to incorporate in the sauce.
Garlic Clove – Also use a micro plane to grate the peeled garlic clove.
Orange Juice – Adds some citrus to the aromatics.
Portions are available in the recipe card.
How to Make It
In a small sauce pot over medium heat combine all ingredients and bring to a simmer.
Continue to simmer at low heat for 20 minutes to incorporate the honey and red chili peppers. It will be very liquidy – that is normal. It will thicken as it cools.
Remove and place in your desired container and let cool to thicken.
Optional: You can strain the honey if you wish to remove the red chili flakes, but the added texture makes the flavors taste better over time.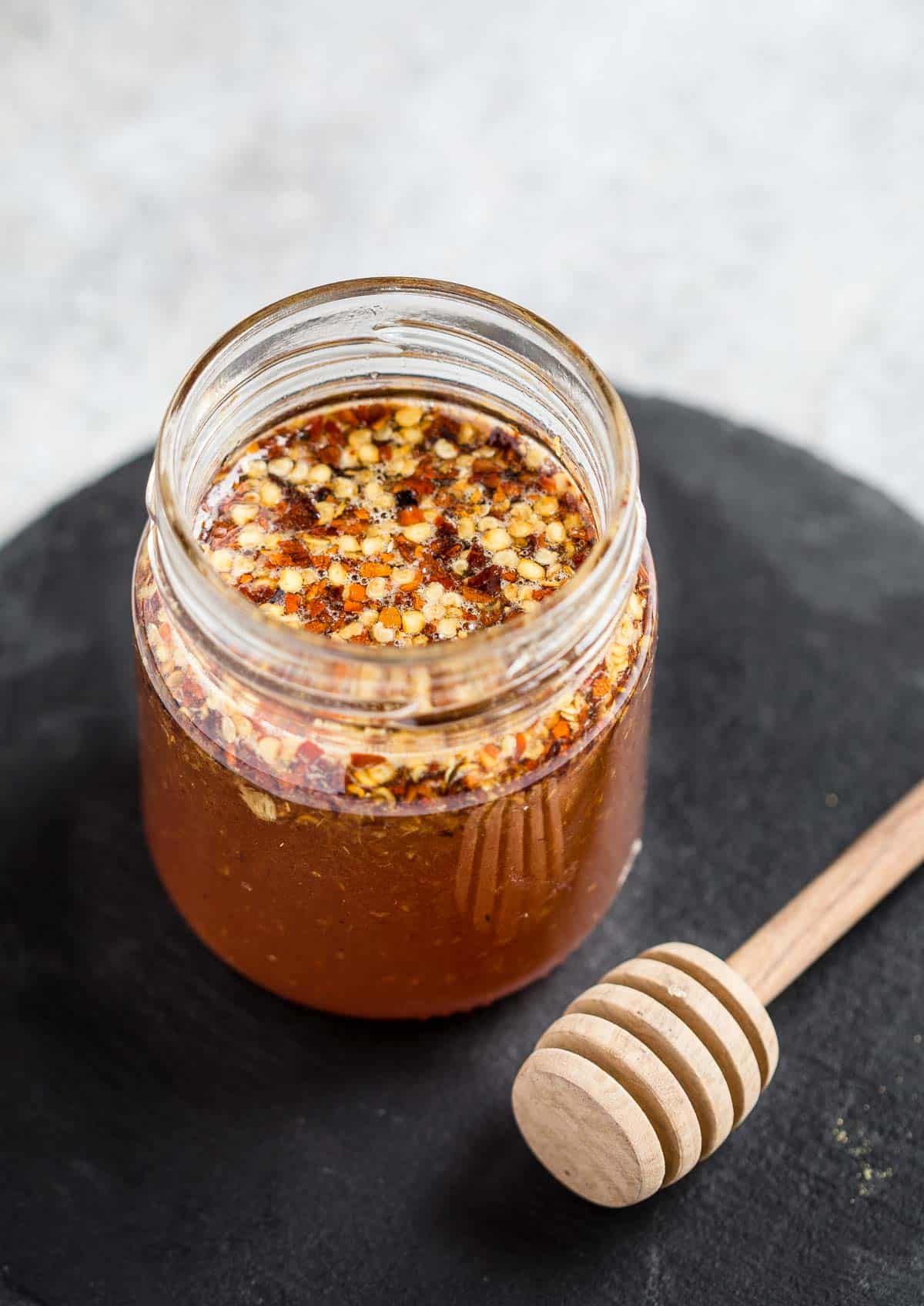 Storage
Store in an airtight container, like a mason jar, and drizzle as needed with a honey stick or spoon. It will last three months in a cool dark cupboard.
Recipe Inspirations
It makes a great gift or you can use on almost any number of recipes in the place of regular honey.
Any pizza especially our vegetarian pizza
Over cornbread
Salad dressing recipe that calls for honey
Drizzle over goat cheese on a cheese plate
Savory breakfast pancake
Anything fried (fried chicken in particular!)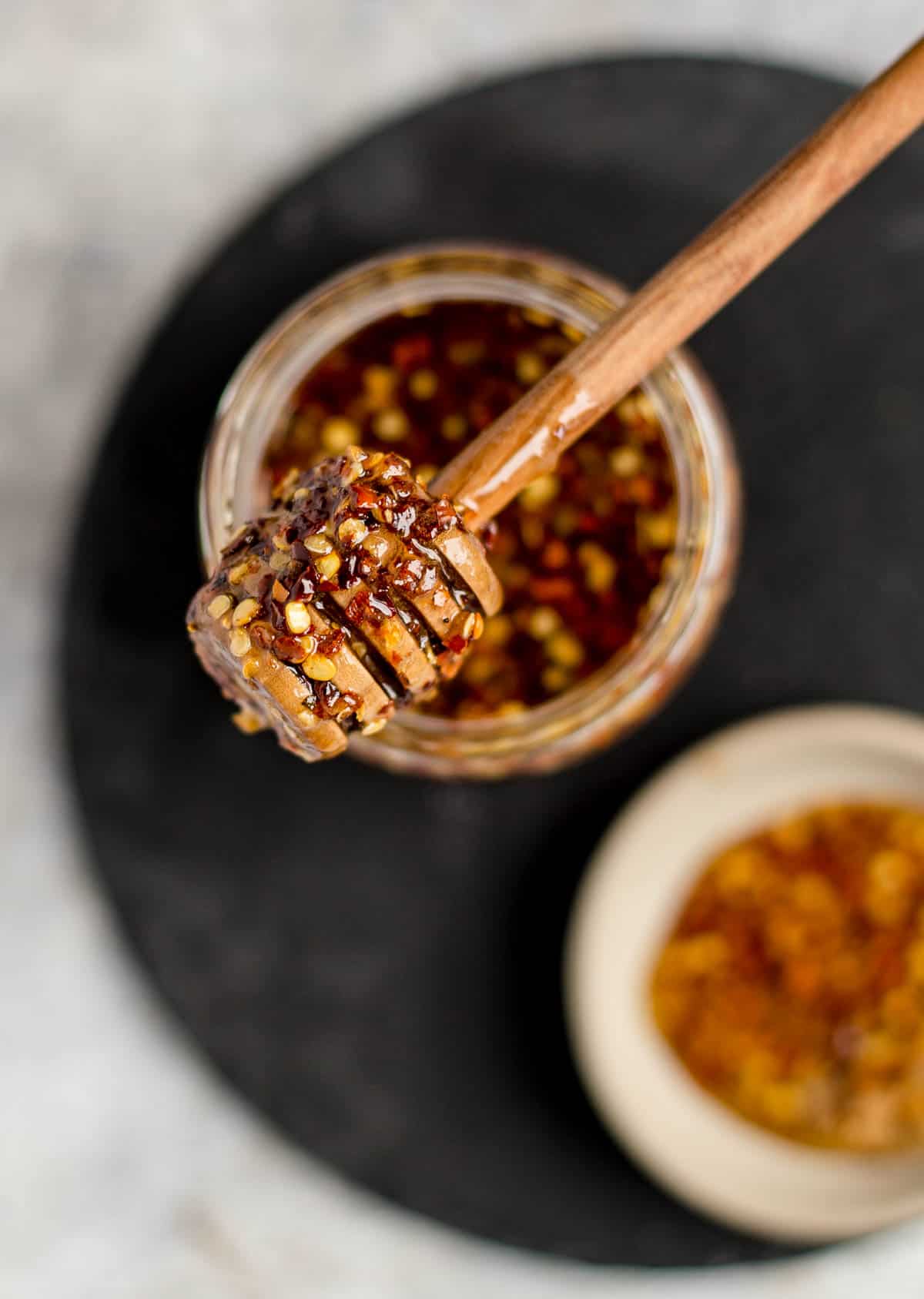 This post may contain affiliate links. This means if you click on the link, we may receive a small commission if you purchase through the link. We partner with brands we know and love and use and it helps keep the blog going!
Tried this recipe? Give us a star rating and we would love to see! Mention @vindulge or use the hashtag #vindulge on all the social media handles. And consider subscribing to our newsletter where we drop all our favorite ideas and inspirations every week.
---