Grilled Lamb Chops are one of my favorite meals, and grilling is one of the best methods to enhance the flavor of lamb. And whether you are grilling lamb lollipops or a lamb shoulder blade steak, this recipe and guide will get you grilling the best lamb chops every time with easy seasoning and quick results.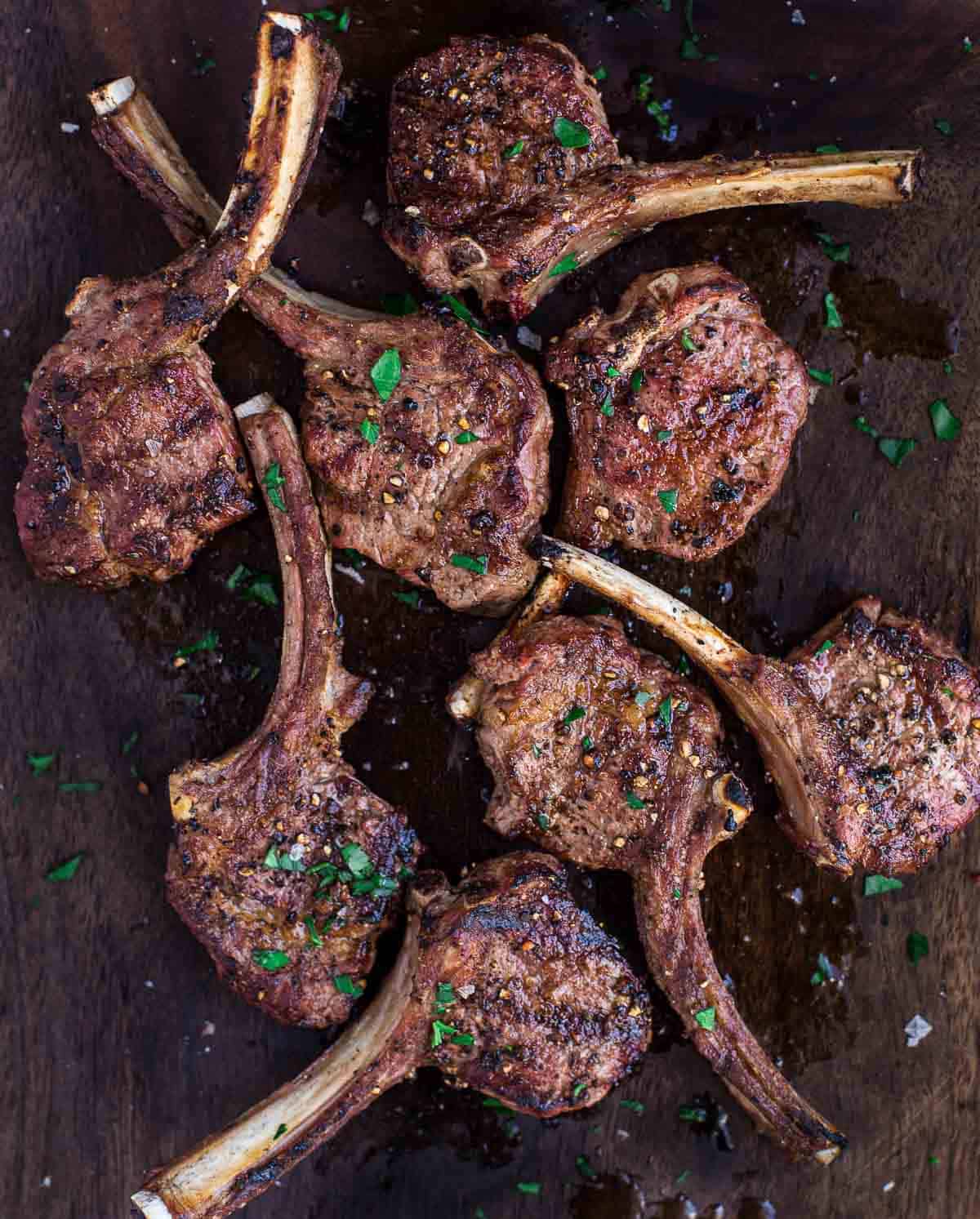 Jump to:
Lamb is often a meat that gets a strong reaction from our audience, whether catering live events or sharing recipes on social media. People love it or hate it. If the later, it's almost always because their prior experience was that it was vastly overcooked or lamb that wasn't fresh, therefore came across "too gamey".
But we're here to share our view that sourcing the right lamb and making sure you cook it properly and to the right temperature will completely change your view on this protein (that is if you aren't already a lamb lover).
Sourcing the Best Lamb
Lamb is quite often referred to as gamey. This is mostly because of a very specific branched-chain fatty acid (BCFA) in the fat combined with what the animals eat. And, like other animals, there are different breeds of lamb that have more pronounced flavor than others due to their diet and what part of the world they come from.
When buying lamb in the United States (where we are based) here are some things to consider.
American Lamb: Often American lamb starts on a grass diet and is finished with grain. So it tends to have less of that unique flavor.
New Zealand/Australian Lamb: This lamb tends to be mostly pasture raised on grass throughout their lives and tend to have the more pronounced flavor.
Mutton: Lamb over 1 year old have aged to the point where they are technically mutton (not lamb). This means that the flavor becomes more pronounced and it becomes less tender.
Choosing the Right Cut: Understanding Lamb Chops
The term "lamb chops" can refer to any number of lamb steaks. In this recipe we are using Rib Chops.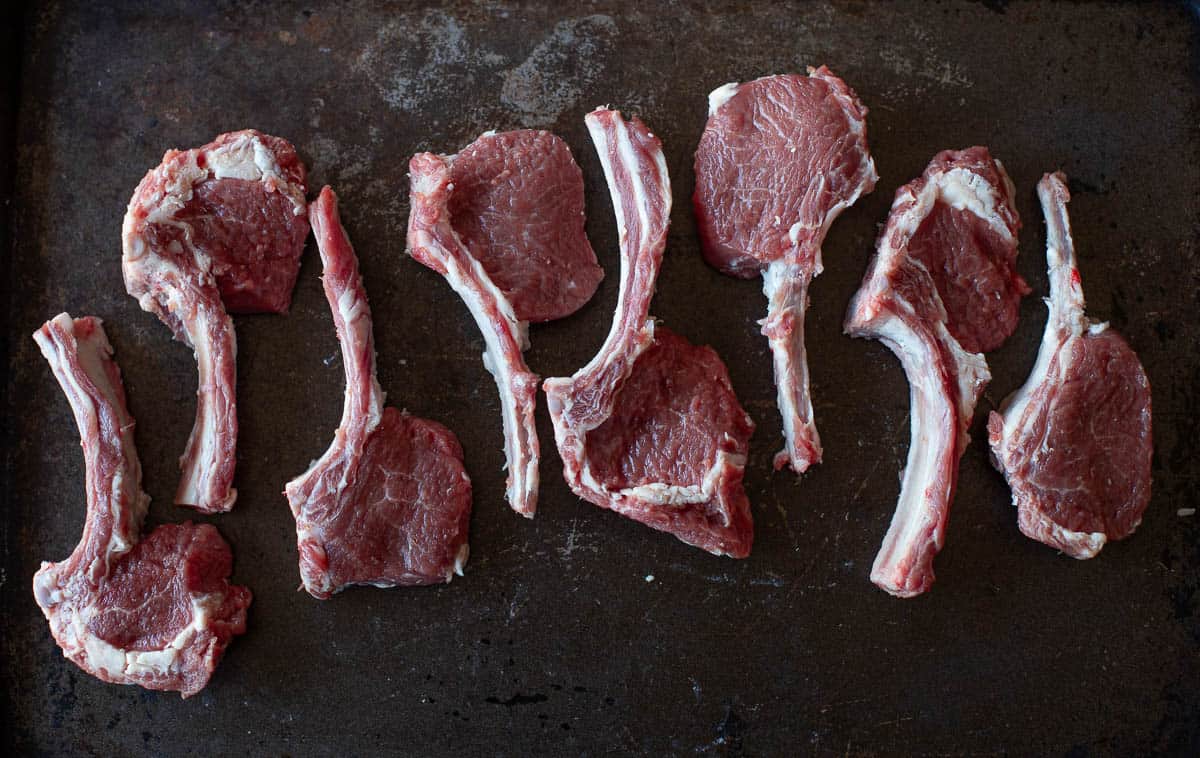 Rib Chops: Also known as rack of lamb, these chops are cut from the rib section of the lamb and include the bone. Rib chops are prized for their tenderness and rich flavor and are usually grilled or roasted. They are also called lamb lollipops when Frenched and served individually.
Loin Chops: Cut from the loin section of the lamb, these chops are very tender and have a mild flavor. Loin chops are often grilled or broiled and can be served with a variety of sauces or seasonings. They are similar in look to a Porterhouse steak.
Shoulder Chops: Also known as blade chops, shoulder chops are cut from the shoulder of the lamb and include both meat and bone. Shoulder chops have a rich, meaty flavor and are often slow-cooked or braised to tenderize the meat.
Sirloin Chops: Cut from the sirloin section of the lamb, these chops are leaner than other cuts. Sirloin chops can be grilled or broiled and are often served with flavorful marinades or rubs.
Leg Chops: Cut from the leg of the lamb, these chops are lean and flavorful. Leg chops are often grilled or broiled and can be marinated or seasoned with a variety of spices.
A rack of lamb is the best cut to buy for this recipe. If you use another cut adjust the cooking time.
Recipe Ingredients
Rack of Lamb – Ideally buy it already Frenched (with the bones trimmed and free of meat).
Olive Oil – We use extra virgin olive oil as a binder to allow the seasoning to stick.
Seasoning – This recipe is about simple and we use kosher salt, coarse black pepper, and granulated garlic.
Preparing the Meat: Trimming
The most economical way to make these grilled lamb chops is to buy an entire rack of lamb and then cut into the individual steaks. You will want a sharp filet knife for this process. This yields 8 single bone lamb chops or 4 two bone lamb chops.
Remove the Silver Skin: Start by removing the silver skin from the bone side of the lamb. This is similar to how you remove the silver skin from pork spare ribs. Using your knife and a paper towel, gently separate the silver skin from the corner of the rack with your knife. Then using your paper towel pull away the silver skin.
Trim Off Excess Fat: On a full rack of lamb you want to use your filet knife to remove excess fat and the silver skin from the flesh side of the chop BEFORE you cut into individual steaks. With your hands remove the heavier fat. Then run your filet knife under the silver skin and remove so you see all the flesh of the lamb.
Cut Into Chops: The bones overlap with each other, so it's best to start cutting the individual lamb chops from the bottom, or flesh side of the lamb, and then cut toward the bones.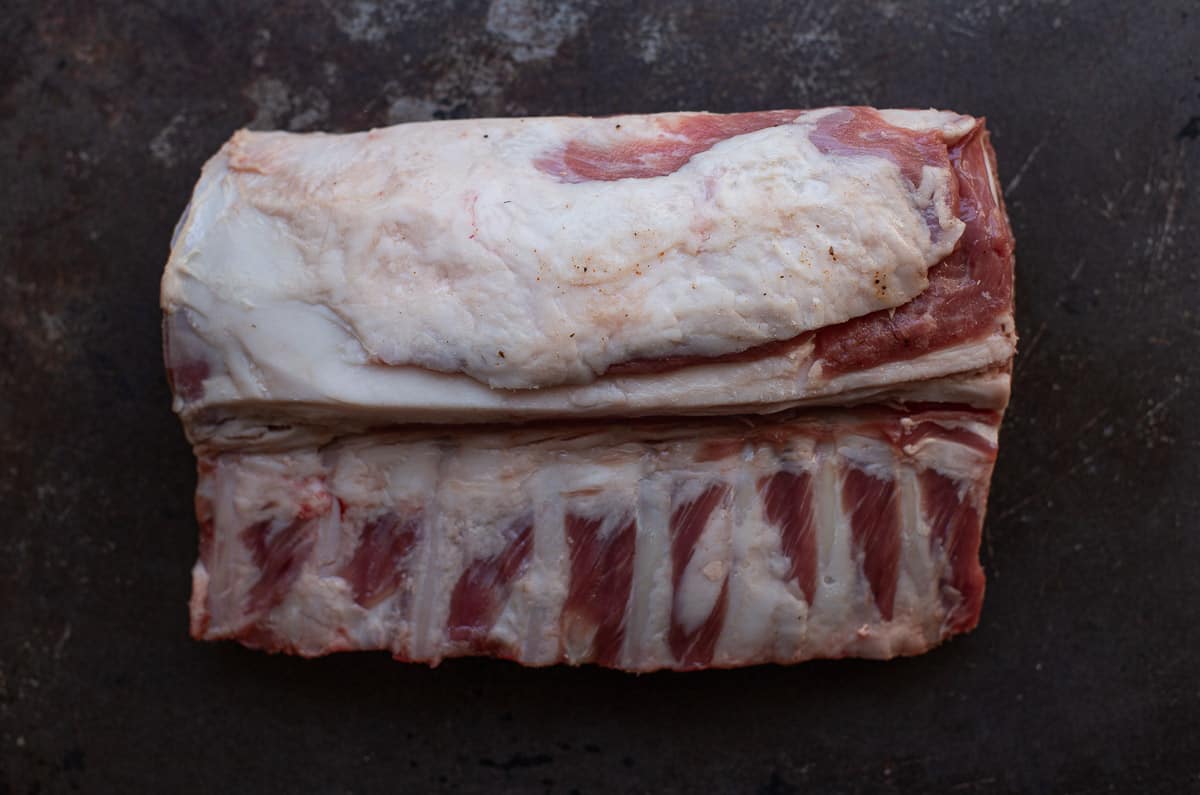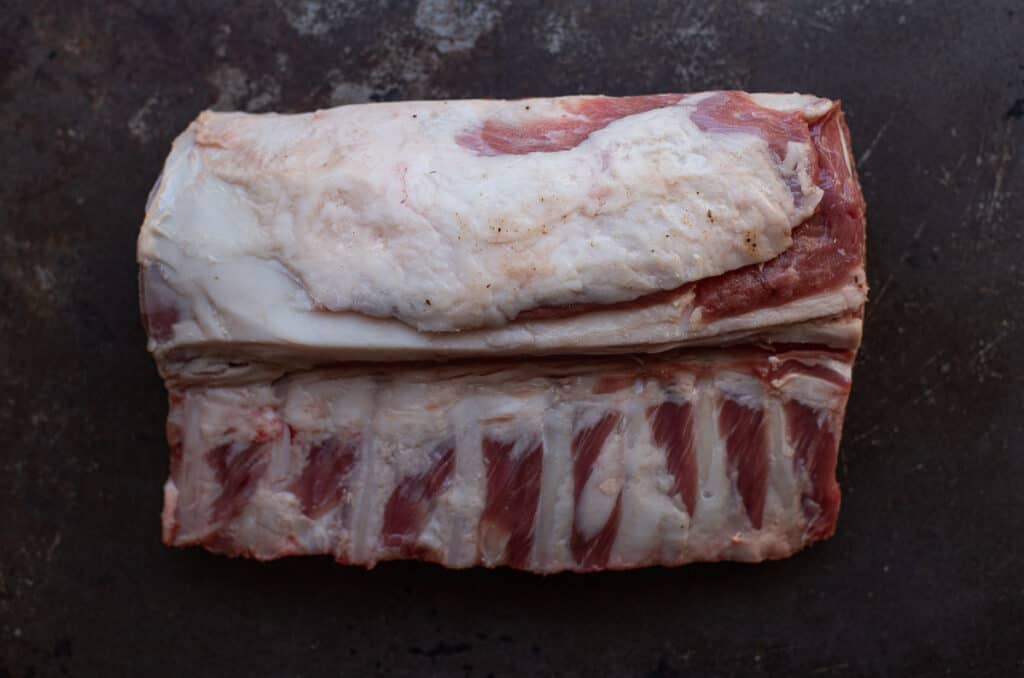 Frenched Lamb Chops: Frenched chops refer to a technique in which the bones have been cleaned of any additional flesh and intramuscular tissue. It's beautiful presentation but requires a lot of manual labor. It's best to buy them from the butcher case already Frenched and then you can trim and cut into the individual steaks.
Seasoning Lamb Chops
All over the world lamb is commonly served cooked over an open fire, from Brazil to Spain. And the most common seasoning that chef's all over the world focus on is a simple mix of good quality kosher salt and coarse black pepper. We also add some granulated garlic to the mix using our SPG seasoning so that the main star of the recipe is the grilled lamb chops flavor.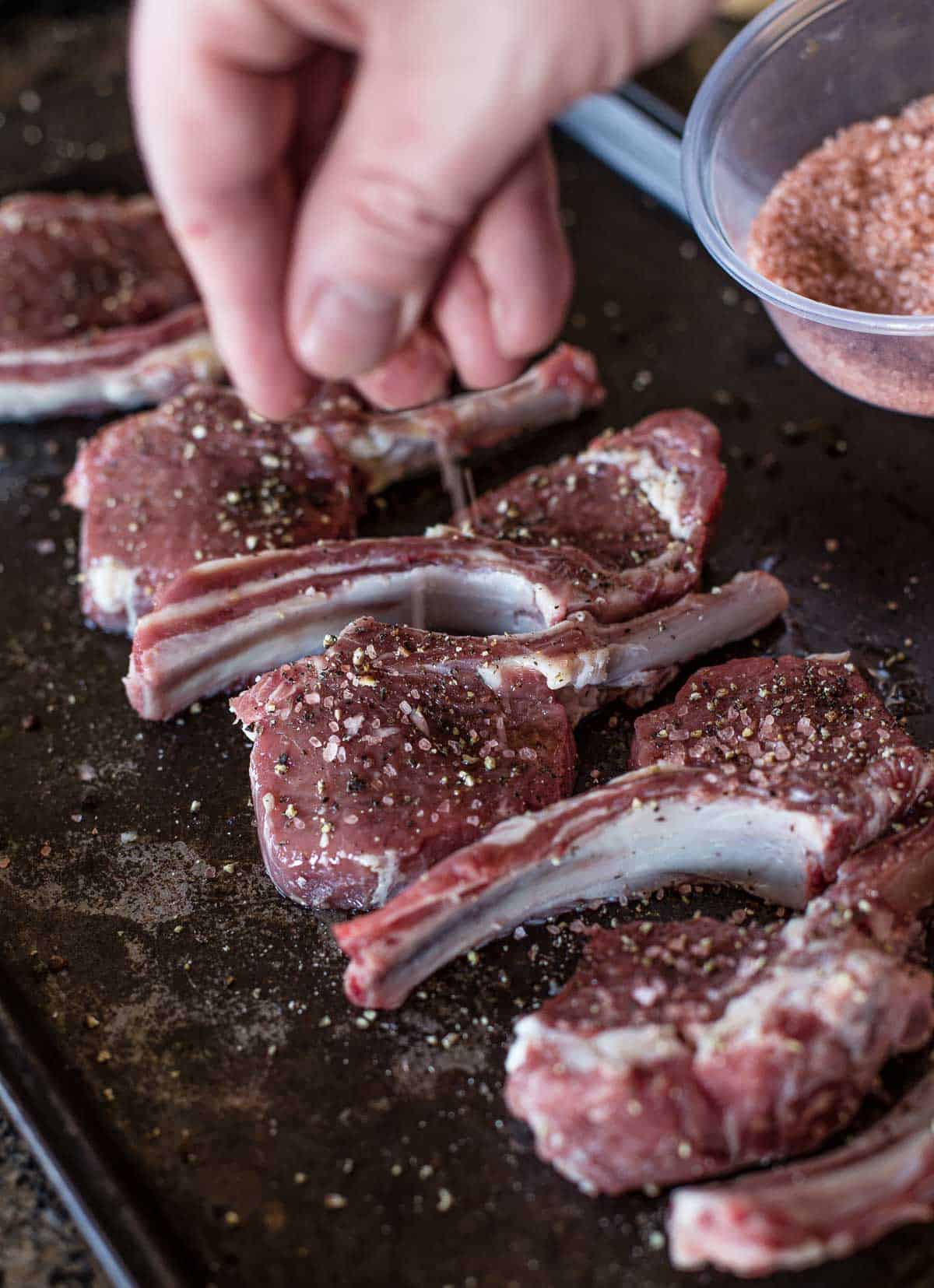 Coat the lamb chops in olive oil and then liberally sprinkle the seasoning over them. In this case we are using a thick good quality pink salt (along with garlic and coarse black pepper).
Preheating the Grill: Getting Ready to Cook
Direct grilling is the best method for quick and easy grilled lamb chops. And they only need a few minutes per side to cook properly. Target 500 degrees ambient temperature inside the grill. We recommend lump charcoal for the added flavor. Make sure the grill grates are preheated prior to putting the chops on.
Grilling Techniques: Tips for Perfectly Grilled Lamb Chops
Gas Grill: Turn two burners to high and allow the grates to get hot before grilling.
Weber Kettle/Big Green Egg or Kamado Grill: Set up for direct grilling without the conveggtor in place.
Pellet Grill: We don't recommend this recipe for a pellet grill, but if that is all you have then get the grill as hot as you can. Add grill grates or a cast iron pan and preheat in the grill. Cook the lamb chops on the grill grate or the cast iron pan to get the best sear.
To Grill: Place the seasoned lamb chops over direct heat and grill direct for 4 minutes. Then flip and grill up to 4 additional minutes or until the center of the chop reads 135 degrees Fahrenheit for a medium rare lamb chop.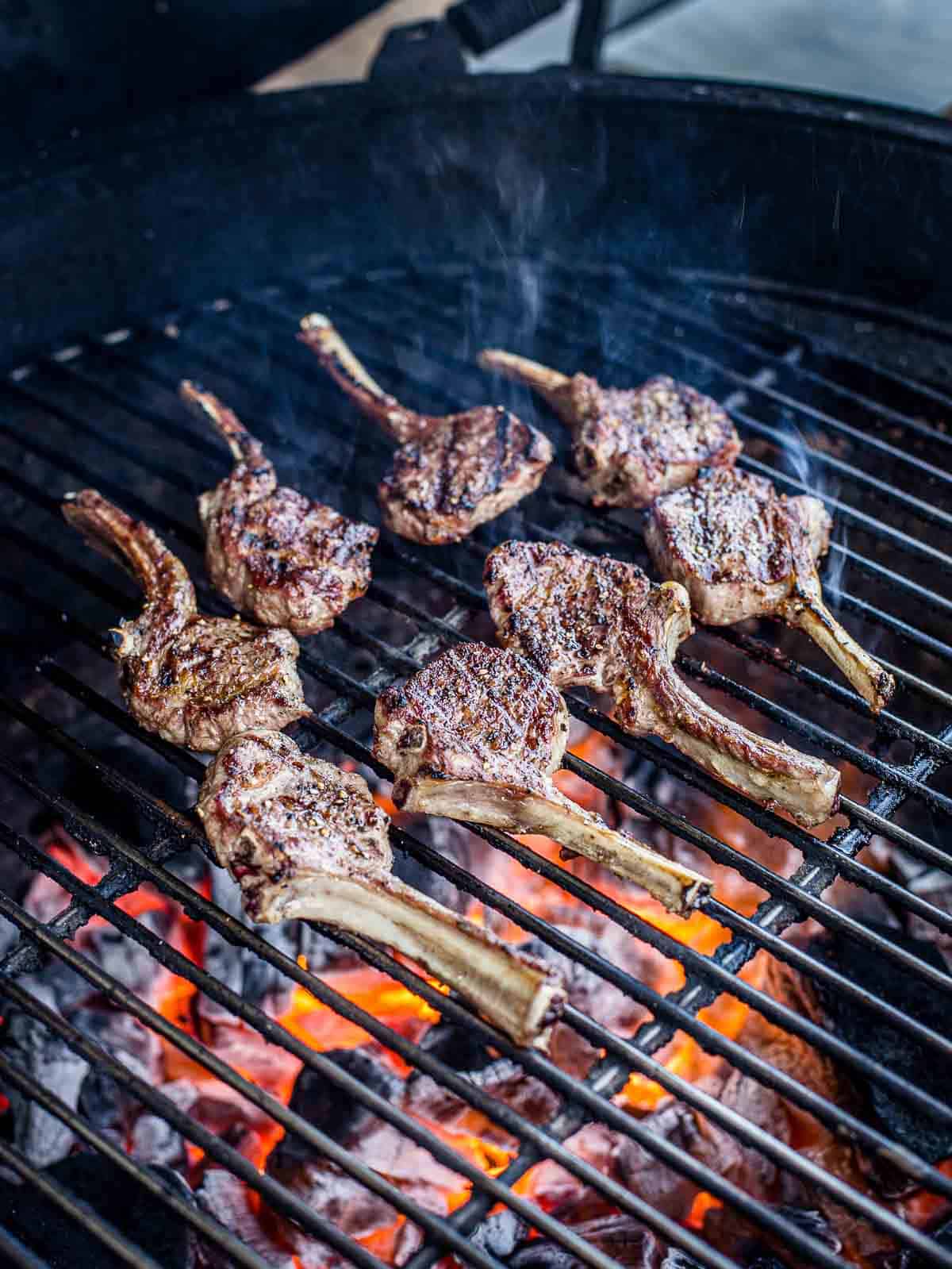 Checking for Doneness: How to Ensure Your Chops are Cooked to Perfection
First be sure you have a hot fire and hot grill grates. Next be sure you have invested in a good instant read thermometer, like the Thermoworks Thermapen One. In order to ensure that the lamb chops are grilled to perfection, it is important to use a good instant read meat thermometer.
When taking the temperature of a grilled lamb chop place the thermometer into the center (or thickest part) of the steak. Much like beef, lamb can be served from rare to medium rare depending on your preference.
Black and Blue: Under 120 – Just a kiss of sear and very chewy.
Rare: 120-130°F (49-54°C) – Good flavor, good texture. Very pink middle.
Medium Rare: 130-135°F (54-57°C) – Our favorite temperature for lamb that balances flavor and tenderness.
Medium: 135-145°F (57-63°C) – Starting to walk the tightrope of overcooked and chewy.
Medium Well: 145-155°F (63-68°C) – We really don't think you should go that high.
Well Done: 155°F and above (68°C+) – Not recommended and pretty sure we can't be friends (just kidding!).
Resting and Serving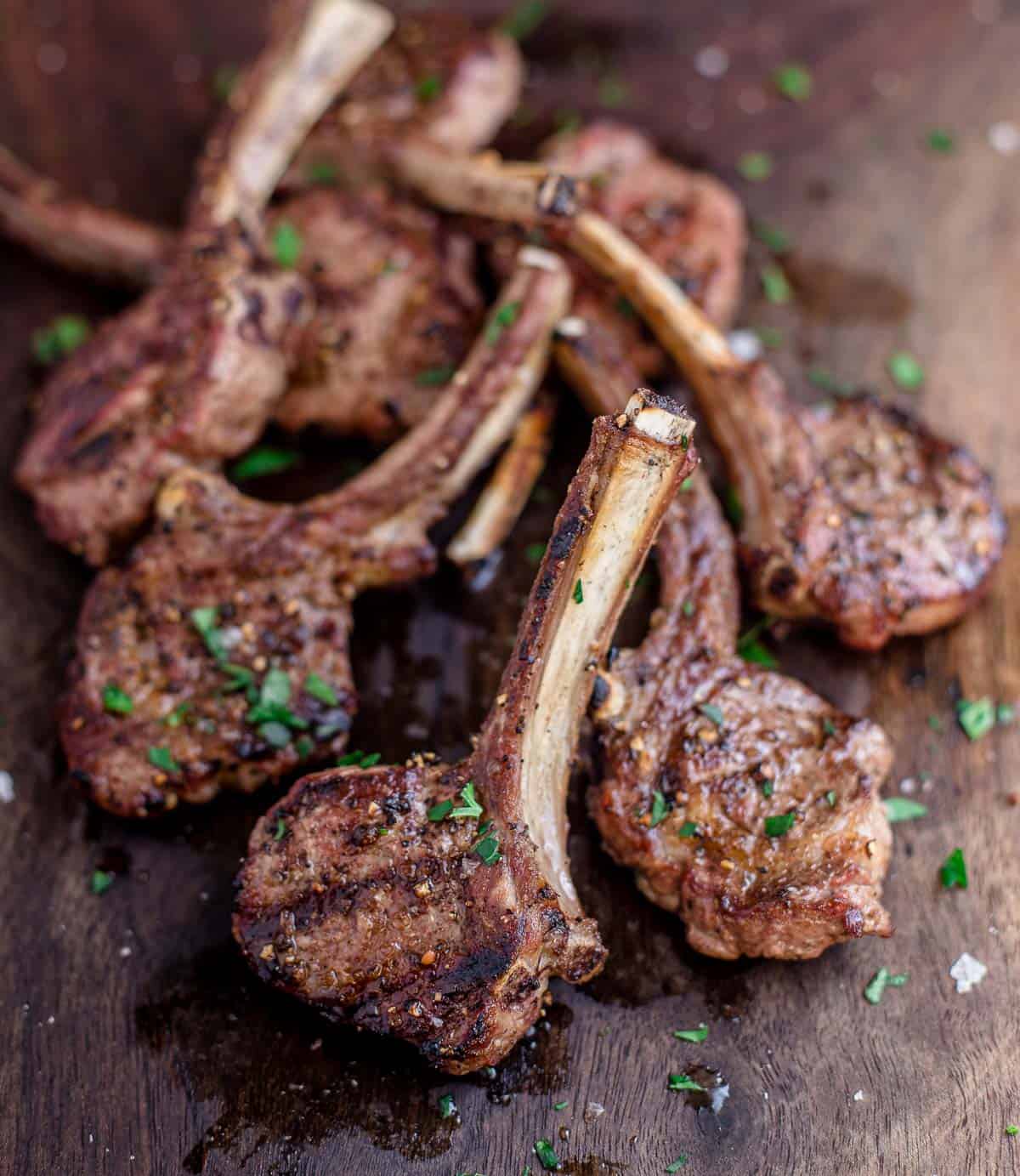 Since we are not slicing the grilled lamb chops, it's not as important to let rest too long. We do let rest for 5 minutes as we plate them and they are still tender and delicious.
Appetizer: These lamb chops are great served as an appetizer on their own or with some Jalapeño Chimichurri.
Best Sides for Grilled Lamb Chops
Our favorite sides include: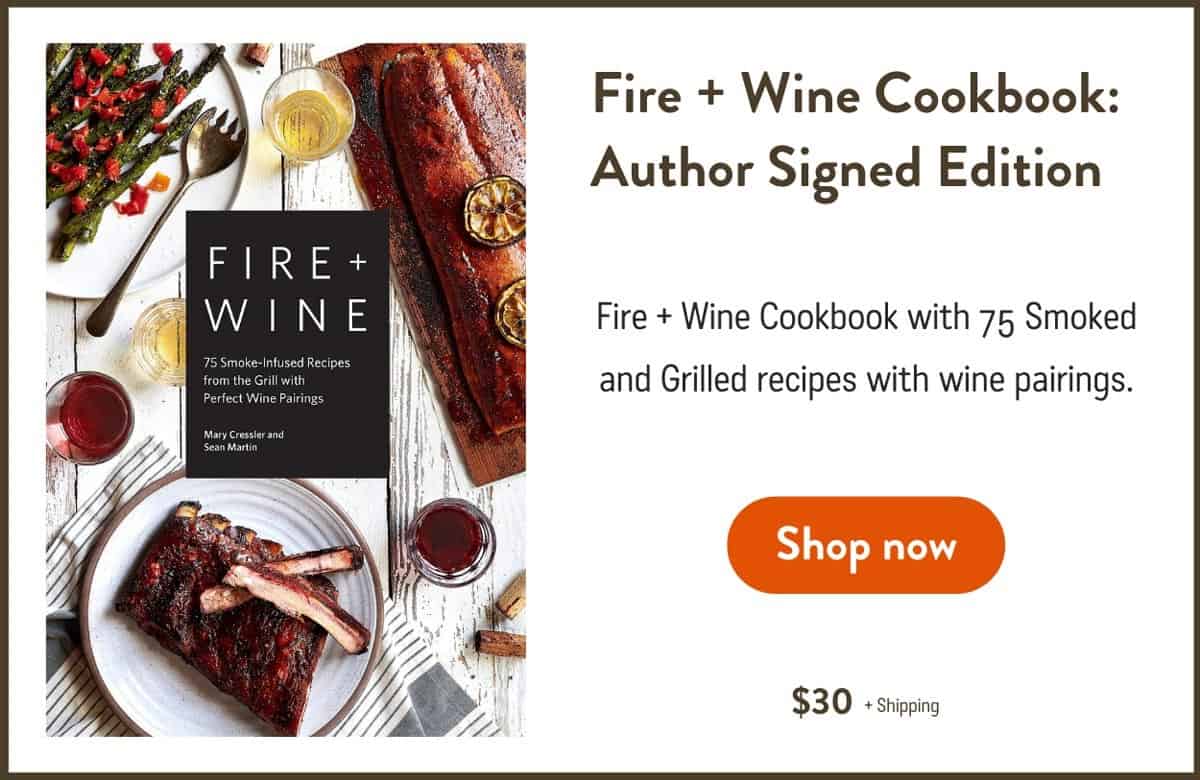 Wine Pairings: Recommendations for Pairing Wine with Grilled Lamb Chops
Any grilled lamb recipe is going to be perfect with a bolder style Pinot Noir. With the added earthy element of the live fire a nice Syrah would also be very delicious. Because these lamb chops are leaner than some other lamb cuts, avoid a big tannic wine like Cabernet Sauvignon or Cabernet Franc for this recipe.
Frequently Asked Questions
How can I prevent the lamb from sticking to the grill grates?
First a clean grill grate is important. Adding extra virgin olive oil to the lamb also helps. Lastly, being sure you wait until the grill marks have developed with a hot fire will release the lamb without it sticking.
Should I leave the fat cap on or trim it off before grilling?
Remove the fat cap before trimming and before grilling the lamb. Then season it.
Can I marinate the lamb before grilling?
You can marinate before grilling but we find for an easy recipe and great flavor it isn't needed. Just use good kosher salt as the primary flavoring ingredient.
Should I salt lamb chops before grilling?
Yes, be sure to salt and season prior to placing the lamb on the grill. If you want added flavor you can sprinkle some finishing salt over the top at the very end.
Should you grill or pan fry lamb chops?
While pan frying adds nice texture, grilling lamb chops adds a slight smokey element and flavor that is a very nice edition to the flavor of the lamb.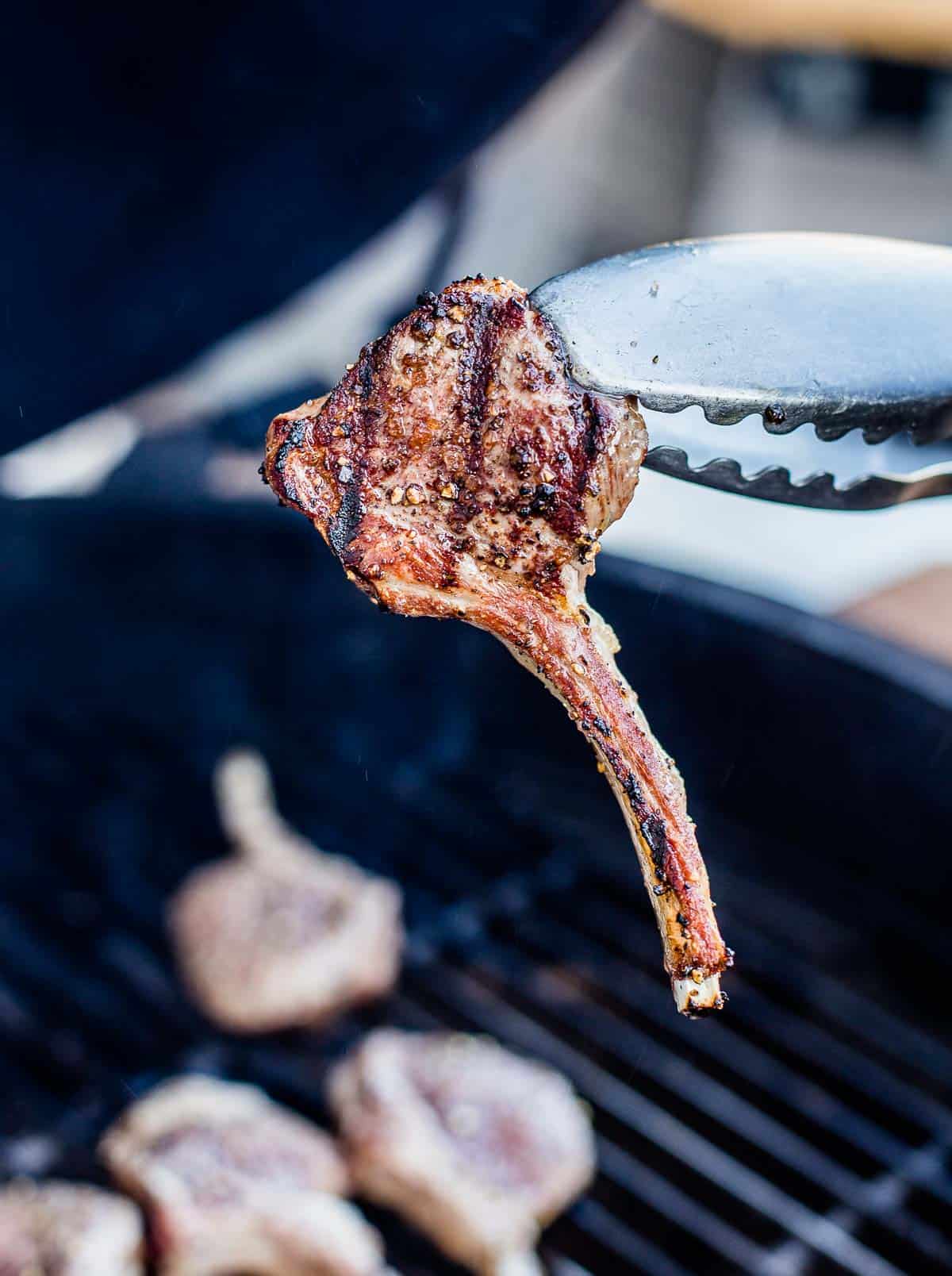 ---
Mary (a certified sommelier and recipe developer) and Sean (backyard pitmaster) are co-authors of the critically acclaimed cookbook, Fire + Wine, and have been creating content for the IACP nominated website Vindulge since 2009. They live in Oregon on a farm just outside Portland.
Tried this recipe? Give us a star rating and we would love to see! Mention @vindulge or use the hashtag #vindulge on all the social media handles. And consider subscribing to our newsletter where we drop all our favorite ideas and inspirations every week.
This post may contain affiliate links. This means if you click on the link, we may receive a small commission if you purchase through the link. We partner with brands we know and love and use and it helps keep the blog going!