Grilled Oysters make for an awesome appetizer and decadent treat for your favorite friends. This grilled oyster recipe highlights what oysters are best for, grilling, and a simple butter sauce with a secret ingredient, white wine.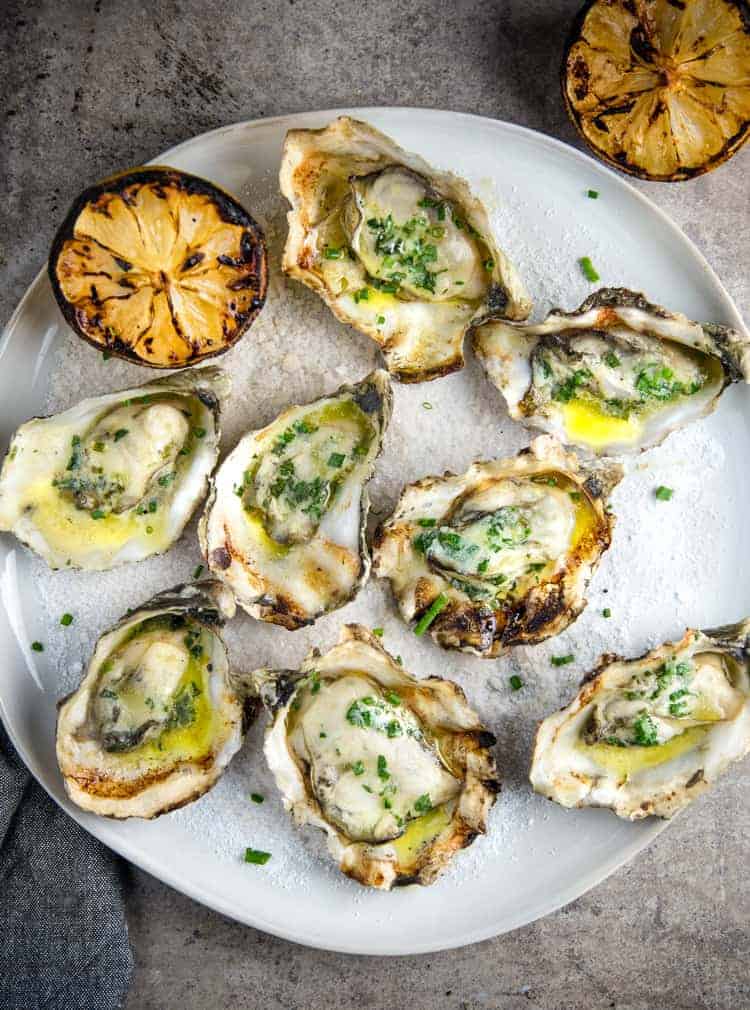 Grilled Oysters
We all know raw oysters can be absolutely incredible, and need very little to jazz them up. A squeeze of lemon, or a fresh herb mignonette will do. But I'm not gonna lie, grilled oysters can be equally indulgent, and will lure more people into trying them. You know the ones. Those who may be little apprehensive about trying raw seafood. These will convert them to the raw side. Grilled Oysters are a gateway food!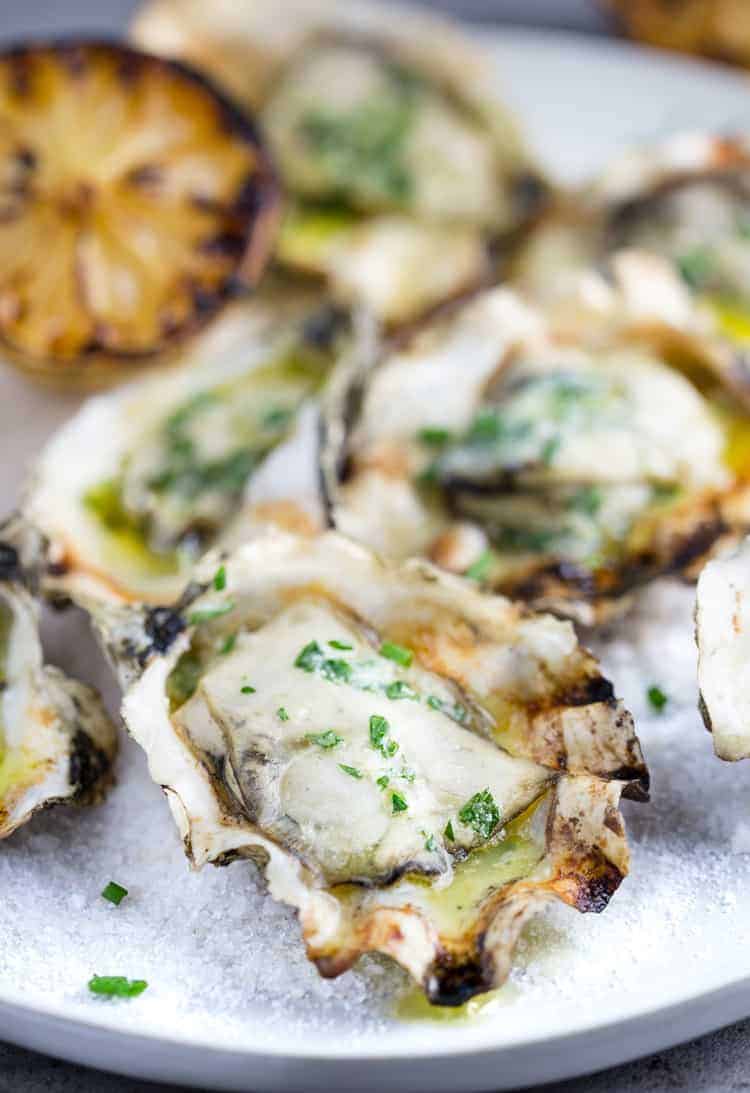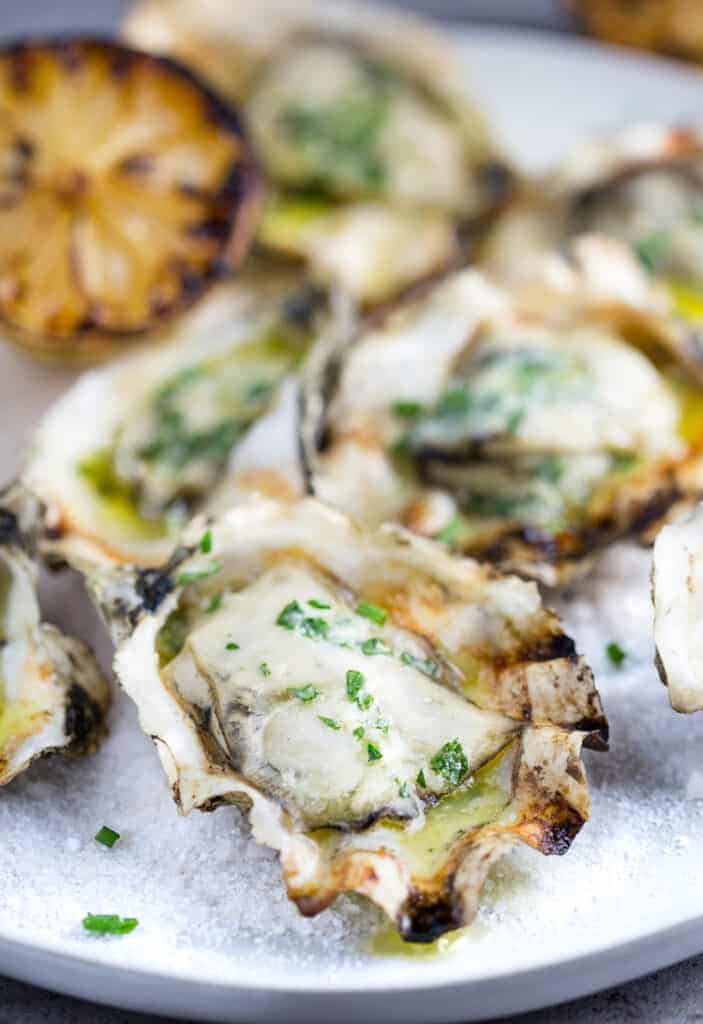 Even the raw oyster addict will LOOOOVE this grilled oyster recipe! These come with a super flavorful garlic white wine butter sauce, reminiscent of what you might find in a bowl of mussels. They're pretty darn dreamy, and I'm sure your guests at your next cookout will agree!
Best Oysters for Grilling
Oysters can be categorized into small and large. Large oysters are best so they can stand up to the heat.
Atlantic Oysters – These are great for the larger shell. Examples of Atlantic include Blue Point and Wellfleet.
Pacific Oysters – Smaller but still with a decent shell size, these oysters are a little sweeter. Examples include Hama Hama and Blue Pool.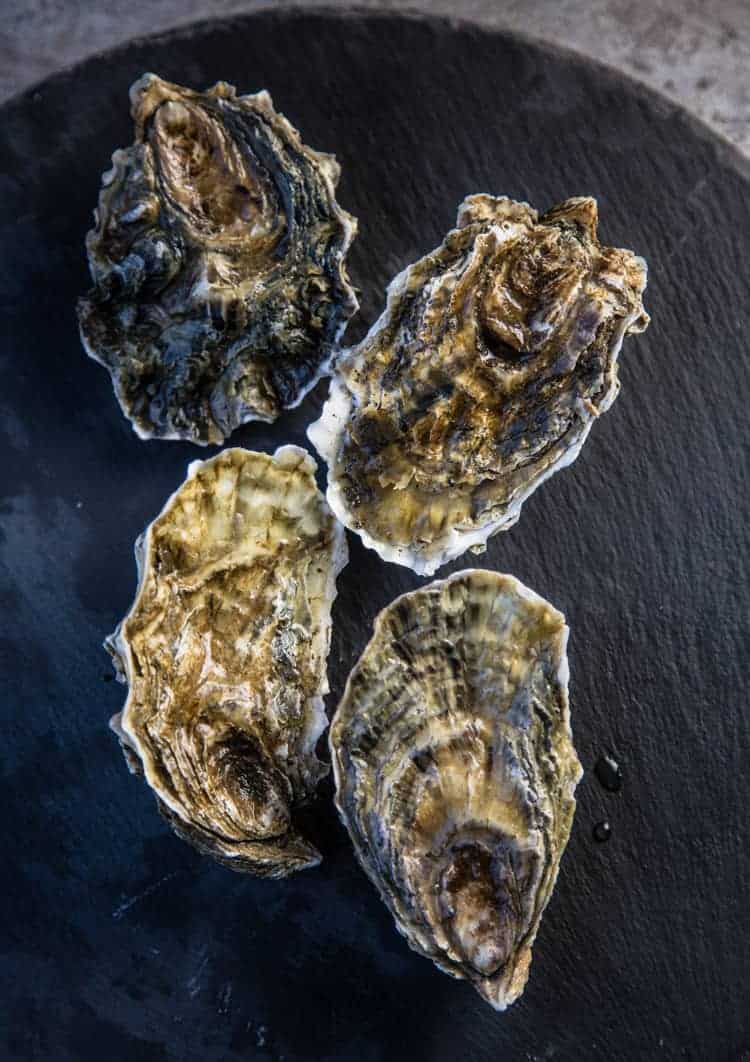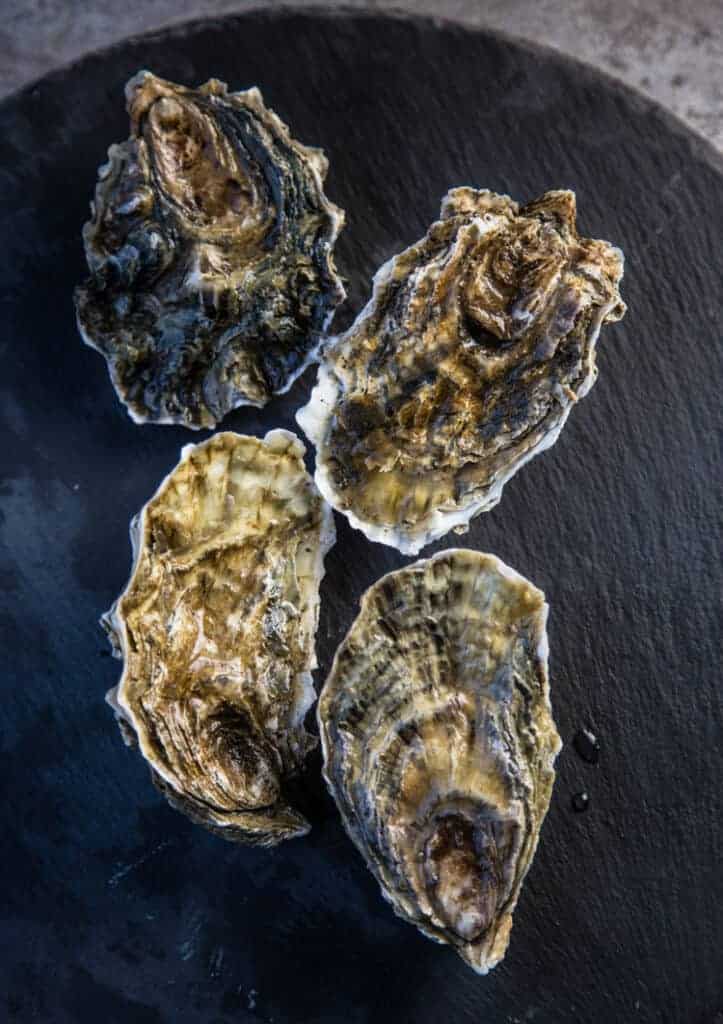 When buying oysters, they should be sitting in ice. Be sure when they are bagged, that they are bagged and then rested on ice during transport. Ideally buy the oysters the day you are going to grill them or the day prior.
If the day prior, then be sure to refresh the ice. Oysters in the store typically range around $1.00 each.
How to Prepare Oysters for Grilling
Before you get started you need to shuck your oysters. Be sure to use a shucking tool and hold the oysters in a thick kitchen towel. When holding the oyster be sure the flat side is up, you want to use the curved side to keep the juices and flesh in the oyster. If you want a good resource for shucking oysters, start here.
When you shuck the oyster it should not smell fishy. If it does, discard. This is why it is important to buy them fresh.
Or you may find them pre-shucked. We got a pound recently from Whole Foods, pre-shucked by the fish mongers for $1.25 per oyster. But if they are pre-shucked be sure they were shucked that day!! Oysters need to be served fresh so ask when they were shucked. Downside to pre-schucking is losing some of that liquid gold inside the oyster.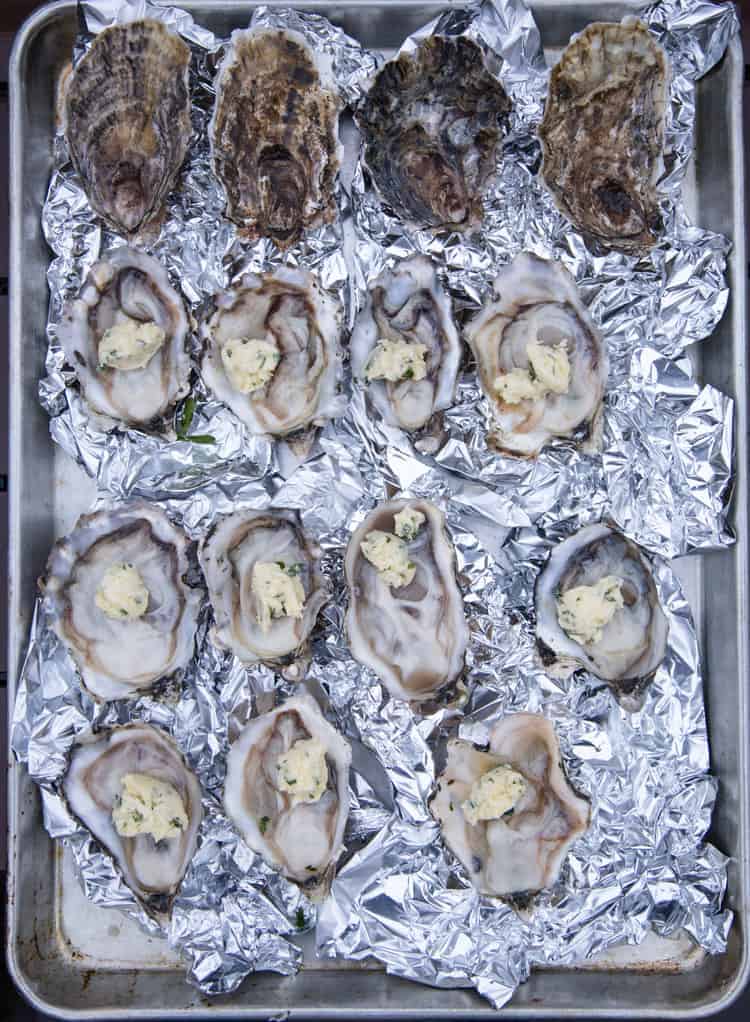 Chef's Tip – Once your oysters are shucked place them on a baking sheet with slightly crumbled aluminum foil to keep them from losing their liquid. This is a catering trick taught to us by a chef we used to work with. We've used it a ton in our own catering events. This way when you carry your oysters to the grill, they stay stable as they sit in the foil.
The last step is to use a small fork and gently loose the oyster meat, it makes it easier to eat after it's cooked.
Wine Butter Sauce
We're using a simple wine, garlic, and herb compound butter to top our grilled oysters just before placing them on the grill. We're taking what I love about mussels recipes and using those flavors to top our oysters with.
We start with room temperature butter, then mix in garlic, white wine, chives, parsley and salt and mix together with a fork. If your butter isn't room temp, you can easily just place everything in a food processor and pulse until everything is combined.
Whatever you don't use, place onto plastic wrap. Then fold the plastic wrap over and gently roll the butter into a log. Seal the plastic wrap and store in the refrigerator.
How to Grill Oysters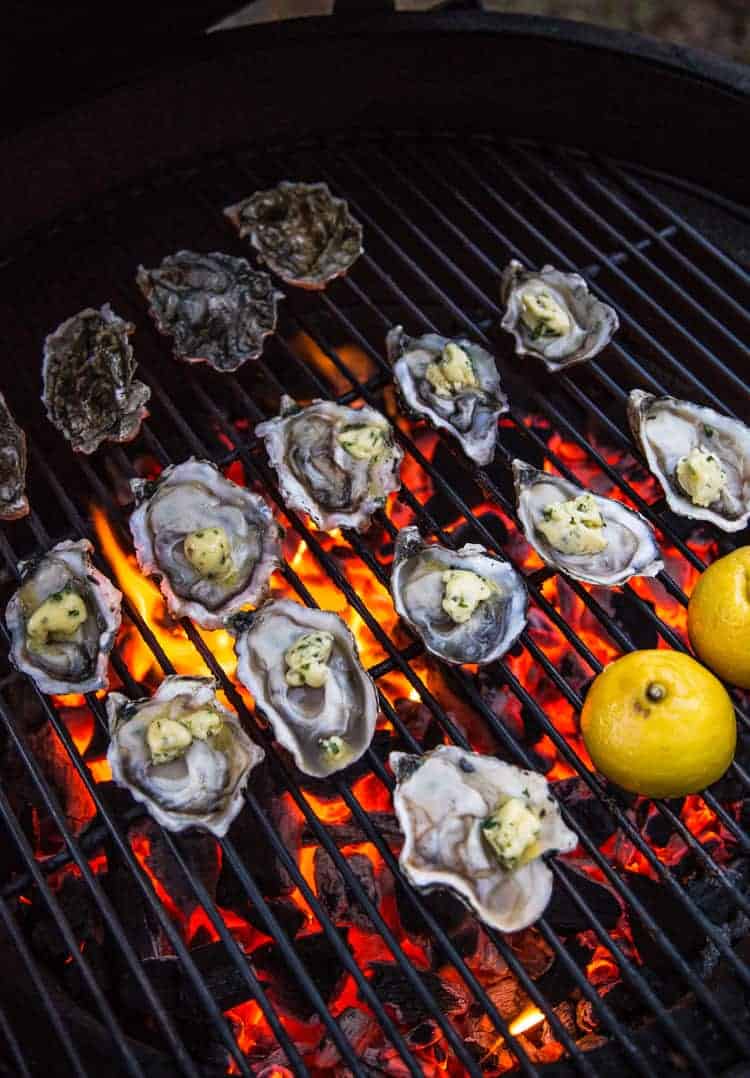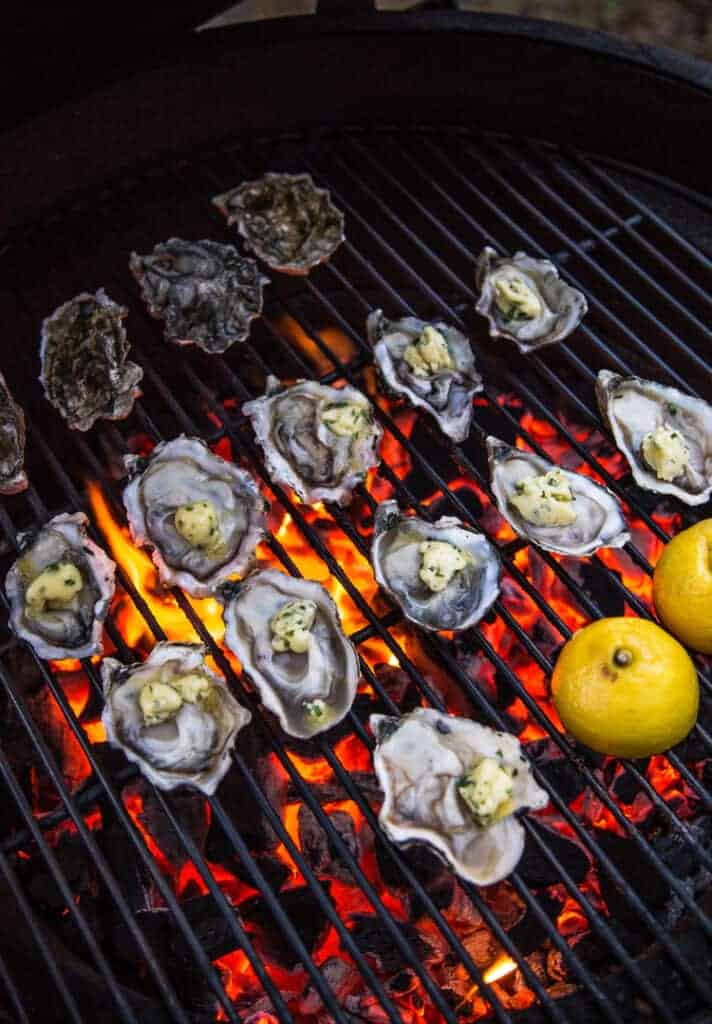 Preheat grill: Direct heat targeting 500 degrees Fahrenheit.
Shuck your oysters: or buy them pre-shucked.
Make butter sauce: Prepare the wine butter herb sauce.
Prep oysters: Place the oyster halves on a baking sheet with crumbled up aluminum (see photo) to keep them steady so they don't lose their juices. Place a heaping teaspoon of the butter on top of each oyster.
Grill oysters: place oysters on the grill, flat side up, for 4-6 minutes, until the sides start to look caramelized, and sauce has completely melted and is bubbly. Remove with heat resistant gloves and serve warm! It's ideal to remove oysters with your hand (wearing good gloves) to keep the juices stable. Using tongs could result in spilling some of the liquid.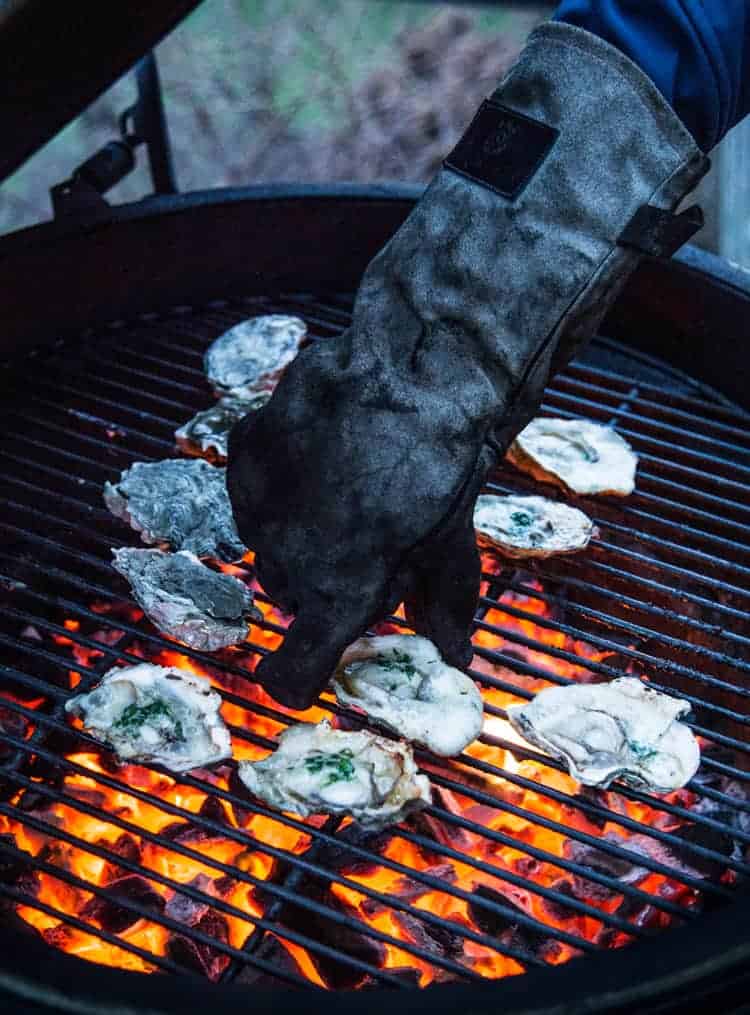 Chef Tip: we love to toast up some crusty bread to serve on the side to soak up any remaining wine butter sauce!
How Long To Grill Oysters
Grill the oysters over direct heat at 500 degrees F for 4 – 6 minutes. When the edges of the oyster flesh start to slightly brown they are ready to pull.
How to Grill Oysters in the Shell
You can grill the oysters in the shell. To modify the recipe, simply place the shell, flat side up over direct heat. When the shells slightly open, they are done. Then remove from the grill, open and remove the top of the shell and add the butter.
It is so much easier to shuck first than to grill a whole oyster.
Serving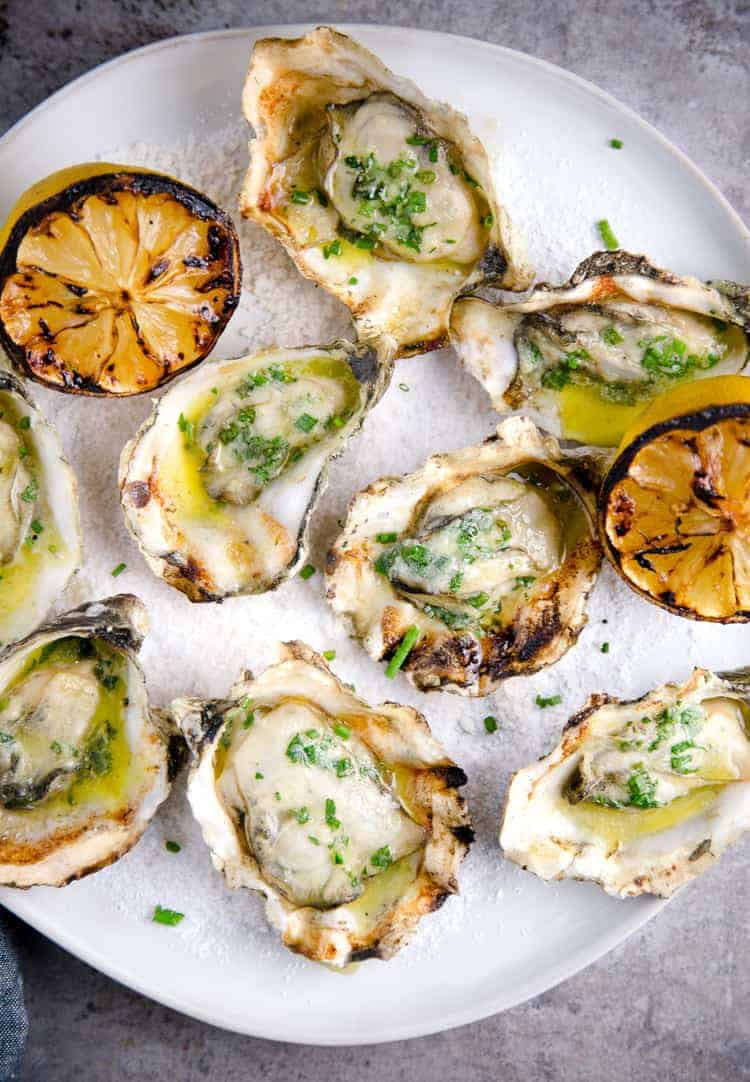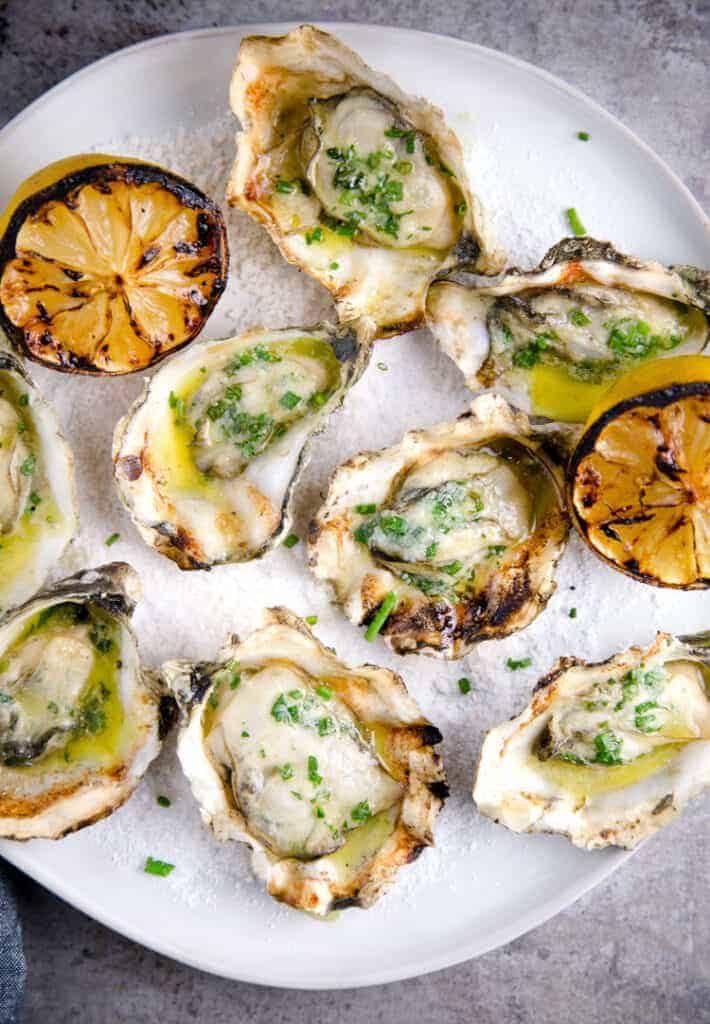 In a serving plate, place large coarse salt into the dish, or large kosher salt. As the oysters come of the grill place on the salted plate. The salt will let the oysters sit easily and not lose the delicious liquid. It isn't just for show!
But if you want to be fun with presentation grab different colored coarse salts for the platter.
Serve with a dash of grilled lemon.
More Seafood Recipes
This post may contain affiliate links. This means if you click on the link, we may receive a small commission if you purchase through the link. We partner with brands we know and love and use and it helps keep the blog going!