Grilled Sriracha Chicken is an incredible combination of whole cut up chicken pieces in a savory marinade, grilled to perfection, and then finished with a sweet and spicy sweet chili glaze.
Grilled Sriracha Sweet Chili Chicken is great for a whole quartered chicken, or even chicken breasts.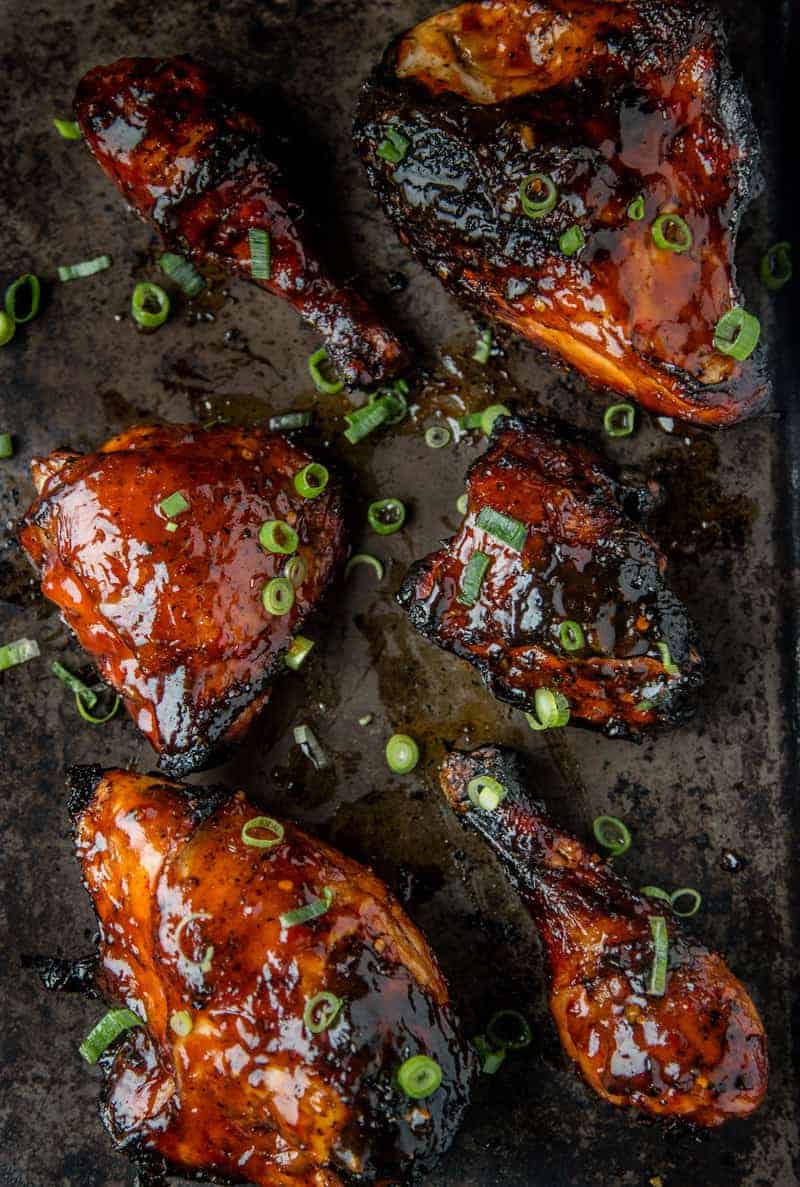 Chicken is a blank canvass, and we love to play around with grilled chicken to create different and unique flavors.
We love combining various flavor combinations to add complexity to a basic grilled chicken. In this case we're marinating the chicken, grilling it, and finishing with a combo of sweet Thai chili sauce, sriracha, and orange juice.
How to Marinate Chicken for Grilled Sriracha Sweet Chili Chicken
To marinate your chicken just combine all marinade ingredients into a large gallon size baggie and add your chicken pieces. Marinade in the fridge for a minimum of one hour and up to four. While the chicken is marinating, you can prep your glaze. We like to keep this simple by mixing sweet Thai red chili sauce and sriracha with a pinch of orange zest and some fresh squeezed orange juice. This adds a lovely citrusy flavor in the background.
How to Grill Chicken for Sriracha Grilled Chicken
Once this is prepped, just start up your grill. Preheat grill with coals on one side of grill using a charcoal chimney starter method. If using a gas grill, well, just turn it on to medium heat and let it do it's thang.
Place chicken on grill over direct heat and watch closely to avoid flare ups, rotate and flip frequently to get a nice crusty exterior. When you've established a nice crust on the outside, move to indirect side of the grill and place the lid to cover.
When the internal temperature of the meat reaches 155 degrees F brush your glaze then cover again. Remove chicken when the internal temperature is 165 degrees and re-glaze once more.
Let it rest for a few minutes, then feel free to dive in!
Best Chicken to Use
We love using a whole chicken cut up onto it's various pieces. We prefer skin on, because it adds great flavor and gets nice and crispy when grilled. But, you can also use this same method with boneless skinless chicken breasts. It's also a great recipe to use with wings!
How to Serve Grilled Sriracha Sweet Chili Chicken
Our favorite way is to serve it as a rice bowl. Cook up some rice and your favorite grilled (or roasted) vegetables. The sweet roasted veggies really compliment the flavors in the dish.
Serve with roasted potatoes.
Serve over some greens for a light dinner.
The result of this dish is the perfect balance of sweet, savory, and spicy. But not too spicy (even kids love it!). It's full of outgoing flavor and personality.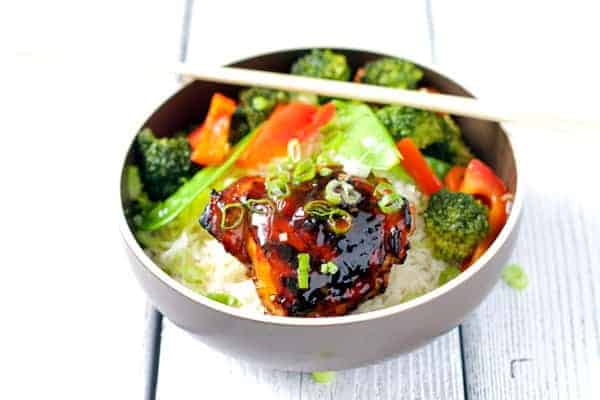 Wine Pairing for Grilled Sriracha Sweet Chili Chicken
We've got a lot going on here, from the tender savory grilled chicken, to the crispy sweet and spicy outside crust. We want a wine that can stand up to all these bold flavors, as well as something that can handle a little heat (mmmm Sriracha!). One option is a semi-sweet Riesling. The sweet fruit works quite well to counter the spicy sauce while matching the sweetness in the sauce. But a mildly sweet sparkling wine is an even better choice. Fruity Prosecco or something with a touch of residual sweetness and bright fruit work as an excellent palate cleanser for this dish, and the bubbles are a great balance for the glaze.
More Grilled Chicken Recipes
*This post was originally published in October of 2015, and revised in February 2019 with new photos and instructions.
If you like this recipe we'd truly appreciate it if you would give this recipe a star review! And if you share any of your pics on Instagram use the hashtag #vindulge. We LOVE to see it when you cook our recipes.