This Dry Brined Smoked Chicken is slowly smoked then finished with a Carolina style BBQ sauce glaze.
If you're looking for your next favorite chicken recipe then you've gotta try this!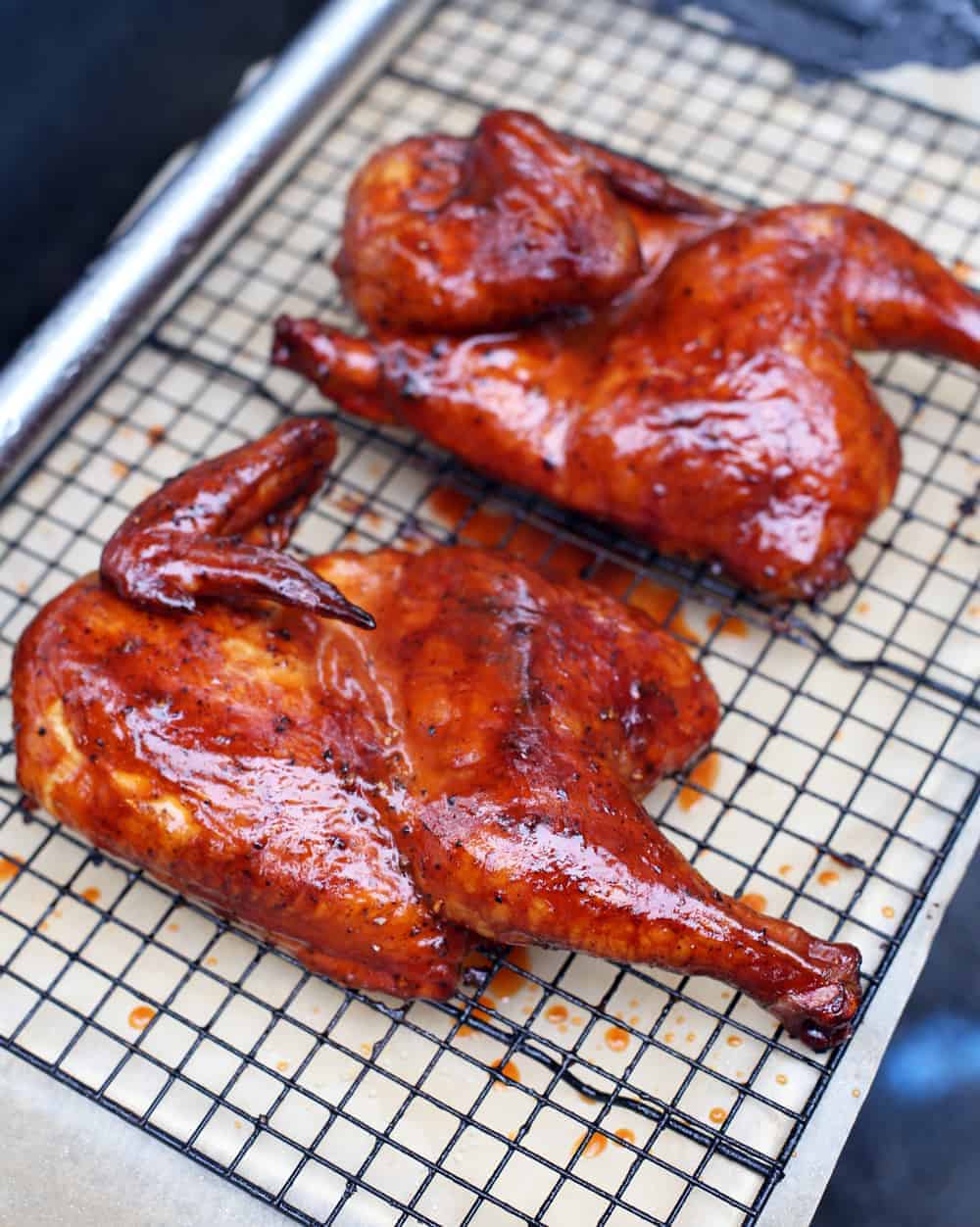 I don't know about you, but I feel like chicken never gets enough barbecue love. At least that's what life is like around here with my beef-loving pork-swooning husband. I get it. I totally understand why between brisket, pork shoulder, and rib eye folks don't always just jump to chicken as a flavor bomb for low and slow cooking. But I am here to challenge that assumption. If I can get my hubby excited about chicken, then it's possible for anyone! He's now a full believer in the potential of chicken, because of this recipe.
Dry Brined Smoked Chicken with a Carolina Style Glaze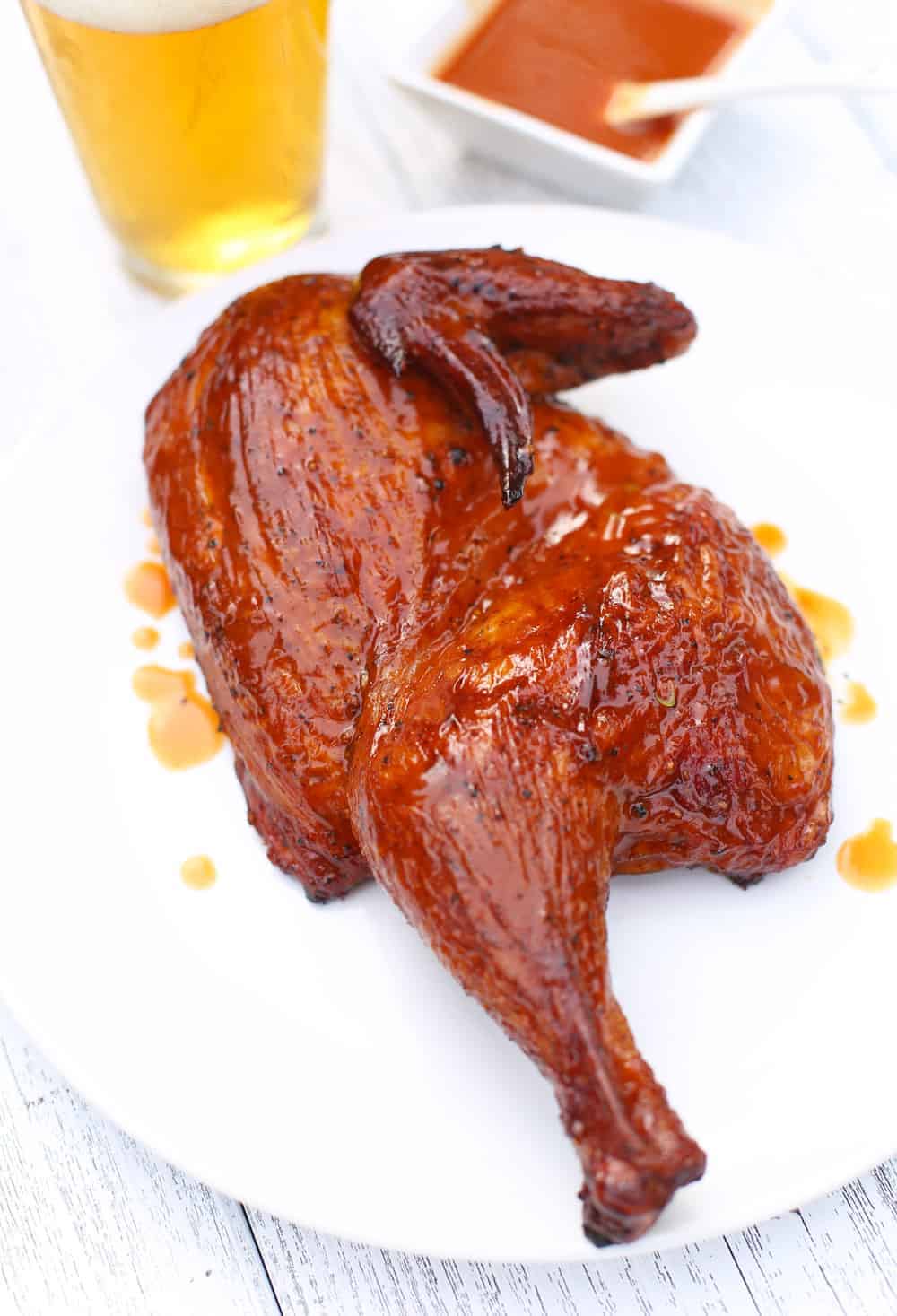 What chicken does is provide a blank canvass for flavor. When you cook it right and have moist delicious meat, it becomes an amazing flavor experience. And one of our favorite secrets to punch massive flavor into chicken are a dry brine + smoke + glaze.
The Cut
One option is to get a whole roaster chicken, and butcher it yourself. But what we like to do is buy the chicken and have the butcher cut it in half. First, you get more surface area of the bird exposed to smoke flavor. Having a whole roaster (also called "fryer") you have the open cavity, but you don't necessarily get all that smoke throughout. So try getting a whole bird and cut it in half.
How to Dry Brine Chicken
Simply put, you are salting the meat (or any dry rub with salt as a good base) well in advance of cooking so that salt pulls moisture out from the meat, dissolves the salt, and then is reabsorbed back into the meat again. This helps get a good flavor inside the meat.
Place your chicken in a large dish or on a baking sheet. Liberally sprinkle kosher salt on all sides of your chicken, and then place it in your fridge. Let it sit in your fridge (uncovered) for  a couple hours (up to six) for the full effect.
I don't have a photo of this step, but it's pretty self-explanatory.
How to Cook Dry Brined Chicken on the Smoker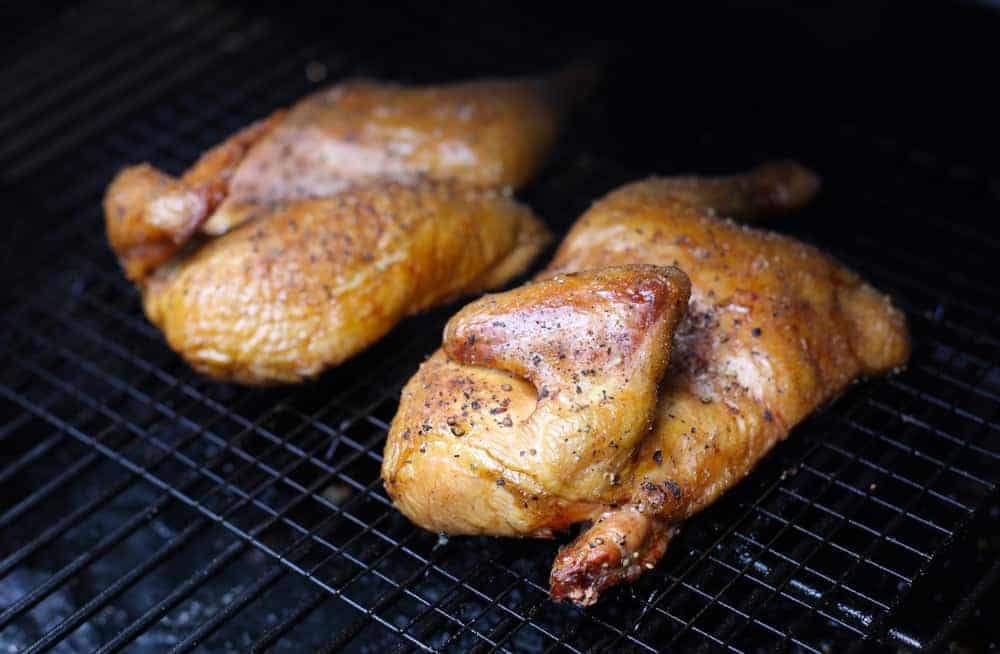 Start with a low heat, like 225 degrees, to get that smoke influence. We use oak or apple wood for flavor. If you want to highlight crispy skin, then run the smoker hotter, like 300 – 325 degrees. That can help render out the fat a little more.
The Carolina Style Glaze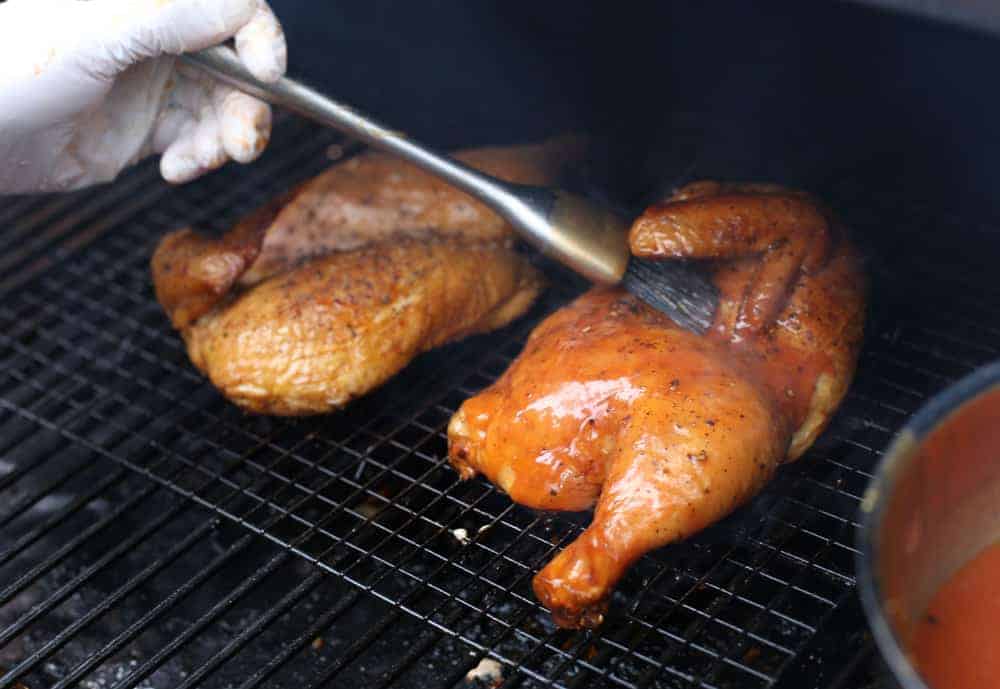 When using the glaze, this is where your favorite flavors can stand out (like mixing sweet with heat and savory). In our case, we used a Carolina style BBQ sauce, with some added agave nectar. Feel free to use your favorite style of BBQ sauce as your glaze.
This will give you that great sauced flavor from your favorite style of BBQ sauce. BUT don't glaze early. Sugar in the glaze will burn. So our secret is to wait until the bird is almost done, like right at 155 degrees versus the full finishing temperature (which is 165). Simply take your favorite glaze (or BBQ sauce) and spread it with a brush all over the bird. It will then begin to set and turn a rich color, caramelizing slightly and adding a lot of depth to flavor.
*Make sure to use a good thermometer, like this one.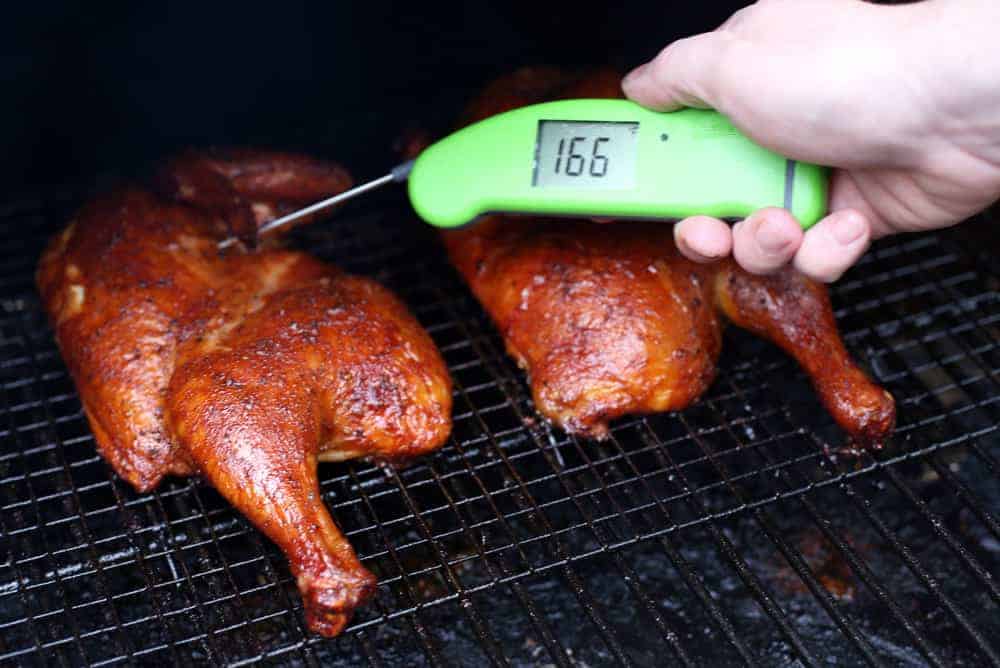 Then, when the internal temperature (IT) hits 165, you pull it from your cooker, re-glaze again and let it sit for about 15 minutes loosely tented with foil. Then cut and serve.
How Long to Smoke a Whole Chicken?
The average cooking time will vary based on a number of factors, but plan on roughly 2 hours for the total cook.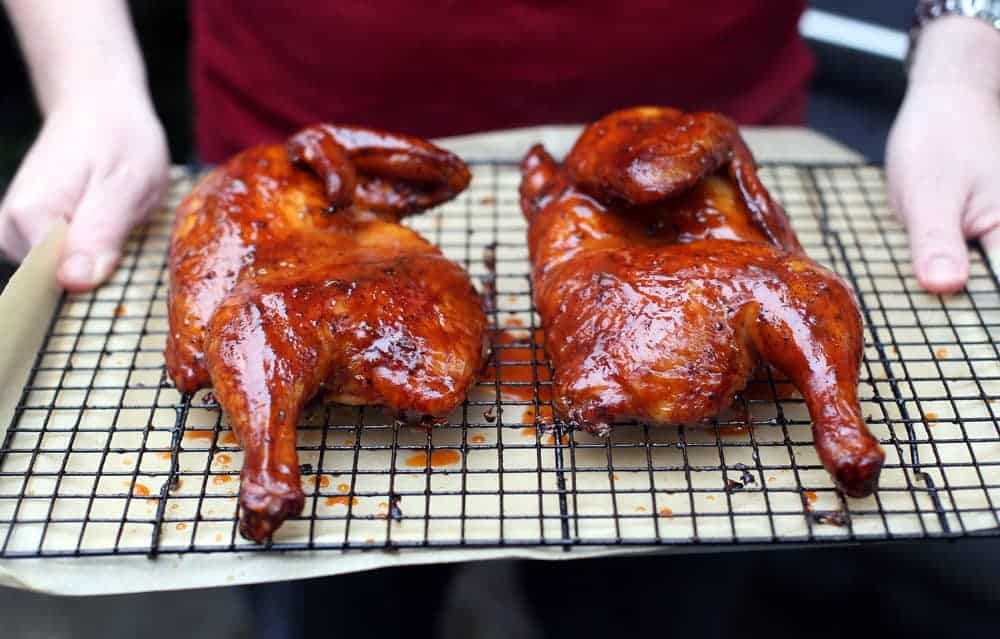 Seriously, even the biggest pork and beef lover will swoon over this beautiful finish.
Wine Pairing for Dry Brined Chicken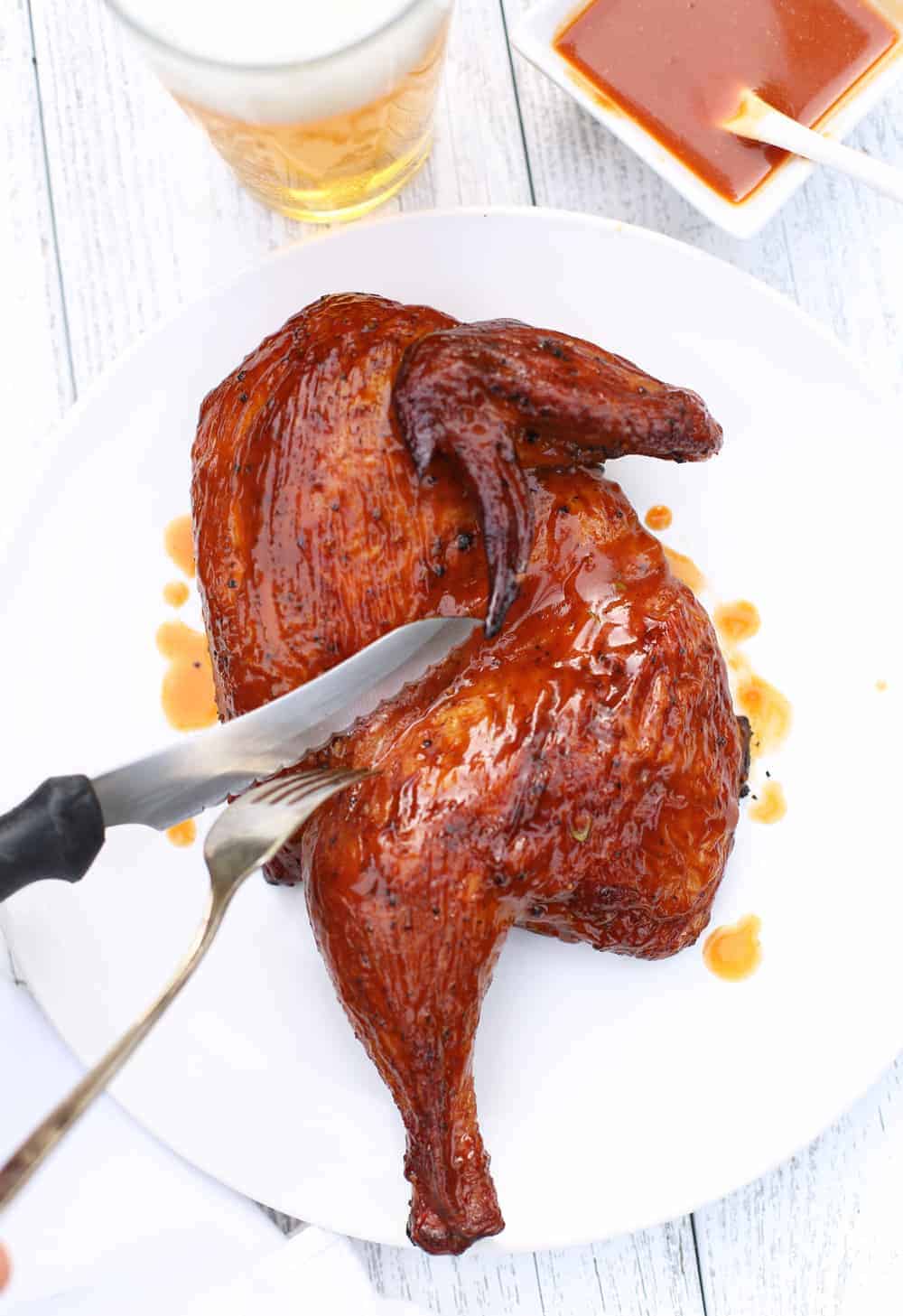 So what you drink with this gorgeous chicken will depend on what style of BBQ sauce you used as your glaze. We used a Carolina sauce which is full of vinegar and mustard. If you go with a KC, or sweeter-style BBQ sauce that will create an even sweeter glaze. We strive for a balance of savory/smoky/sweet, which we achieved. This allows for more options with wine. If your sauce is more on the sweet side you can opt for fruity reds like Zinfandel or Syrah. For the Carolina sauce, because of its vinegary pop, we stick to bold rosé's, rosé sparkling (ah-yeah), or even beer. For beer I'm a fan of a pilsner or pale ale with this sauce.
More Awesome Chicken Recipes for the Grill
This post may contain affiliate links. This means if you click on the link, we may receive a small commission if you purchase through the link. We partner with brands we know and love and use and it helps keep the blog going!
---
If you like this recipe we'd truly appreciate it if you would give this recipe a star review! And if you share any of your pics on Instagram use the hashtag #vindulge. We LOVE to see it when you cook our recipes.