How to add incredible flavor to Grilled Turkey Burgers by adding bacon paste.
Turkey burgers can tend to come out dry and flavorless. Adding bacon paste to ground turkey adds not only flavor but great moisture lacking in most turkey burgers.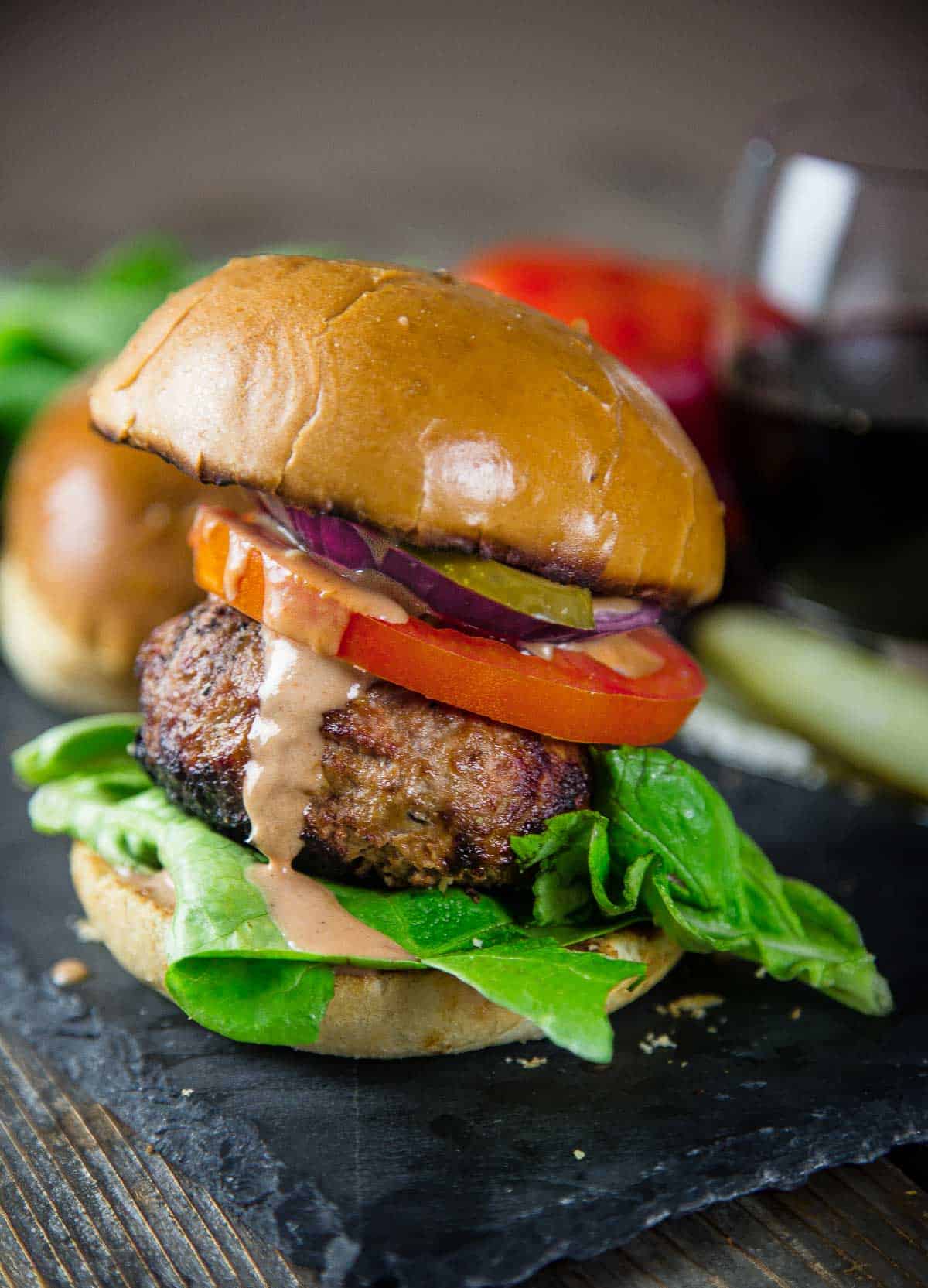 Jump to:
I'll be the first to admit, when I transitioned from a vegetarian back into a meat eater it was a slow process. I went through a phase where I was shy on beef and friendly with poultry. We ate a lot of chicken and turkey during those days!
Granted we still eat our fair share of poultry and I especially like to change it up in our family, providing a variety of proteins throughout the week.
And since one of our kids has proclaimed he's a pesca-bacon-tarian we've been cooking less beef around here. Hence turkey (also see smoked turkey).
But turkey burgers can be so boring and often lack moisture and tenderness. We discovered years ago a magic ingredient that revolutionizes the boring turkey. Okay so it might not revolutionize it, but it jazzes it up for sure. (can I see some jazz hands?!?!?!)
What Is Bacon Paste
This ain't your typical slice of bacon added to the top of a turkey burger to compensate for the lack of flavor found within the patty. Nor is it some expensive ingredient you have to buy at a specialty food store.
Nope.
Bacon paste can be made easily, right at home in your food processor.
You just take uncooked bacon and mix it in a food processor until it becomes a paste, and then mix the paste into your ground turkey.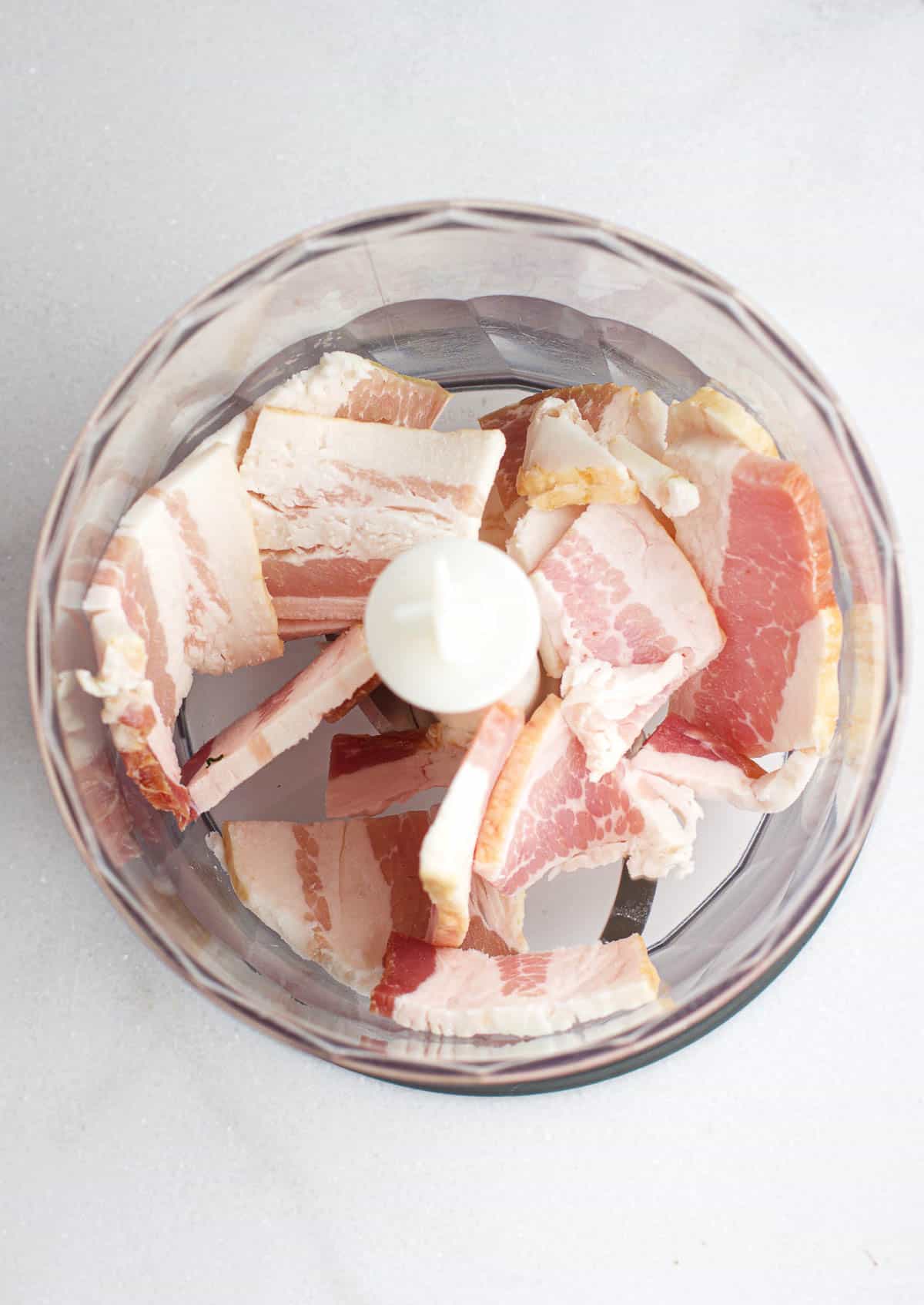 Our favorite ratio is 2 pieces of thick cut, uncooked bacon, for every 1 pound of ground meat. That's all you need to add a boatload of delicious flavor to your burgers. Seriously… a boatload.
Bacon paste becomes the binder and fat that not only keeps the burgers together, but also elevates the flavor of burger beyond your typical boring patty you may buy at the store.
The Best Meat for Turkey Burgers
With any kind of ground meat intended for burgers you want some fat. Ground beef is purchased typically by its fat content, so you'll see things like 85/15 or 90/10. That means the ratio of meat to fat. And fat is flavor. For ground turkey it's the same ratio, but turkey is generally a leaner cut of meat.
Ground Turkey
When buying ground turkey the same ratio rules apply, however something to consider is going to your local butcher and mixing up some white and dark meat ground to the same ratio's you would expect from a beef burger. 75/25 or 85/15 is fantastic. If you go too lean on a burger, regardless of turkey or beef, the flavor will be muted and it is much more likely to fall apart even with added binding agents.
Even with a good amount of fat in ground turkey it can still be dull tasting and dry. Which brings us to the bacon paste.
Just add the bacon paste into the ground turkey mixture and then form your patties.
And as opposed to adding cooked bacon on top (which you can still do as well. I won't ever judge for overdoing it on the bacon), adding the raw bacon paste to your burgers adds incredible flavor as well as fat (moisture) to ensure your burgers don't dry out.
Bacon and Nutrition
Did I mention the nutritional value of adding bacon paste? Did you know pork fat was named the #8 most nutritious food in the world by the BBC. Not lying! They claim Pork fat is more unsaturated and healthier than beef fat. So go add your bacon fat and feel no regret!
(Reminder, I am neither a nutritionist nor doctor, so take this information with a grain of bacon salt).
Mix & Grill Turkey Burgers
Add the rest of your ingredients to the ground meat, and mix to combine everything into patties.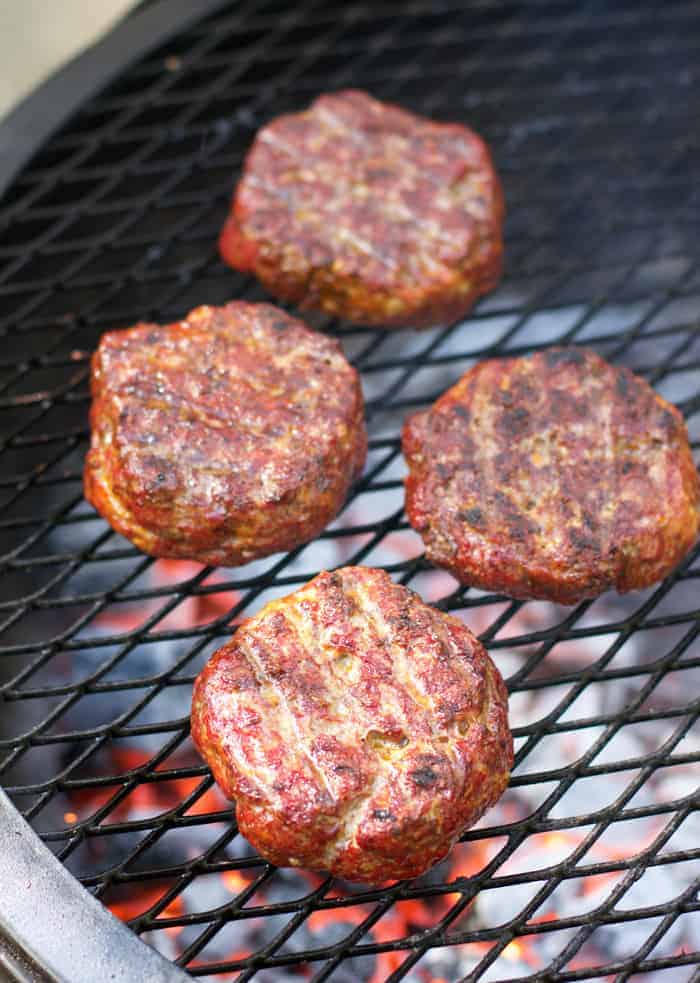 If you want to add cheese to your turkey burgers add it in the final minutes of cooking (see notes).
Wine Pairing for Turkey Burgers
I've written at length on what it means to be a good "burger wine".  For these turkey burgers, we kept them simple with basic toppings (tomato, onion, pickle). The bacon adds a great smokiness and savoriness that lends itself to several styles of wine.
If you want something big and powerful look to New World Syrah (California and Washington make excellent examples). For something medium bodied, try Côtes du Rhône (Syrah and Grenache based blends from France). For a refreshing lighter bodied alternative, Spanish Rosé is a nice choice with its bright fresh flavors and strong acidity.
Other Burger Recipes
If you are looking for more burger recipe ideas here are some of our favorites.
Side Ideas
Serve this with your favorite French fries or our oven roasted potatoes or our duck fat potatoes with Parmesan and thyme. You could also go big with our smashed potatoes with tarragon cream sauce.
More Recipes using Bacon Paste
Mary (a certified sommelier and recipe developer) and Sean (backyard pitmaster) are co-authors of the critically acclaimed cookbook, Fire + Wine, and have been creating content for the IACP nominated website Vindulge since 2009. They live in Oregon on a farm just outside Portland.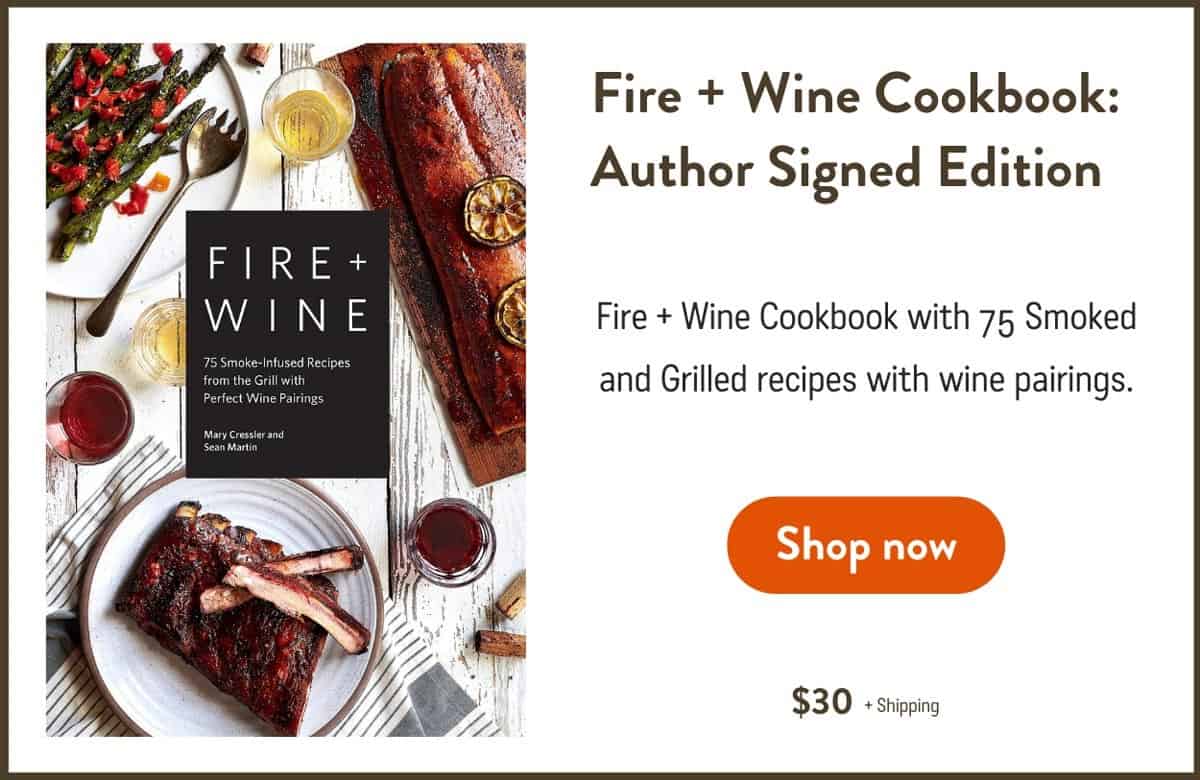 Tried this recipe? Give us a star rating and we would love to see! Mention @vindulge or use the hashtag #vindulge on all the social media handles. And consider subscribing to our newsletter where we drop all our favorite ideas and inspirations every week.
This post may contain affiliate links. This means if you click on the link, we may receive a small commission if you purchase through the link. We partner with brands we know and love and use and it helps keep the blog going!
---