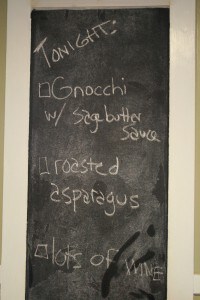 Up until this weekend if you had asked me about making homemade gnocchi my answer would have been "sure, if by homemade you mean cutting open a vacuumed sealed pack purchased at Trader Joe's then throwing them into boiling water, then yes I have".  Only there's nothing truly homemade about that process and in fact most of those vacuumed sealed packs taste like dirt. It's true.
I love to cook, but the idea of making homemade gnocchi has always been somewhat intimidating to me.  After my experience learning how to make it at Terre Margaritelli Winery, I was no longer intimidated. In fact I was inspired to put my newly acquired skills to the test and it was the first meal I made for my family upon my return home from Italy.  Though the ingredients for gnocchi are very simple, I learned that it is the technique that makes all the difference in making it a success.
Armed with my recipe from Jennifer McIlvaine, of Life Italian Style, and notes from my visit to Terre Margaritelli I went to town.  I was mixing and preparing what I could only hope to be, at best, an edible dinner for my family.  It turned out much better than simply "edible".  It was pretty darn good!  So good that even the most picky food critics I know ate every bite.
The Recipe from Life Italian Style: This is exactly as Jennifer wrote it. Any of my own notes and suggestions are in italics.
Gnocchi
(warning – this makes A LOT of dough)
Ingredients:
4 medium size potatoes (not too floury, not too waxy) – I used russet potatoes
1 egg, lightly whipped
About 500 g flour – equal to approx 4 cups regular all purpose flour
2 Tbs parmigiano reggiano
salt
Directions:
Put potatoes (with skin on) into a pot of salted cold water.  Bring to a boil, then turn down heat and let simmer until just tender – don't overcook!  I recommend about 40-45 minutes total.
Peel the skins off of the potatoes and mash them in a ricer or food mill.  (I did not have either utensil, so I used a large box cheese grater, and it worked just fine)

On a wooden cutting board, make a well with about 400 g of the flour.
Add the potatoes, egg, parmigiano (and more flour as necessary), and mix gently, pushing the dough together until it is well combined and not sticky – don't knead just massage it!
At first I thought this would be too much flour, so I started with 2 cups, then added more and more until the dough was no longer sticky. 4 cups ended up being just about the right amount.

Working with small pieces, roll out dough with your hands making a snake. Then using a quick up and down motion, cut the gnocchi to the desire size. Put the gnocchi onto a tray, avoiding that they touch each other. (I learned that in Umbria they do not make the fancy grooves in the gnocchi from a wooden tool or fork, though we did practice the technique, just to learn it. The gnocchi I made, however, was traditional Umbrian – no grooves… it was also much less work that way!)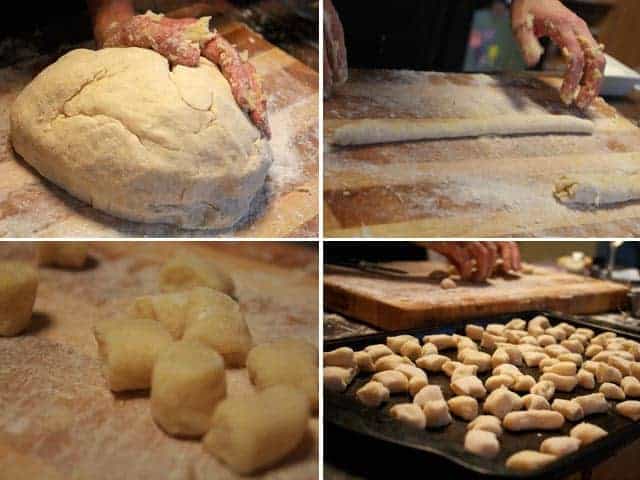 Drop the gnocchi in batches into boiling salted water. I used the same water I used to cook the potatoes.  Don't stir, wait for the gnocchi to rise by themselves (This is a quick process taking approximately 1 minute. So don't walk away from the pot). Then remove them from the water with a slotted spoon and drop the cooked gnocchi into a pan with sauce of your choice (tomato, pesto or just butter and cheese, etc…).

I made a simple sage butter sauce by heating up a couple tablespoons of butter and pieces of fresh sage until they were almost fried. It was nice, light, and full of flavor (I am a sucker for fried sage).  The gnocchi, however, would be great with almost any sauce you fancy. Next time I'm doing a pesto!

Even the Ultimate Food Critics (aka the picky 14 month old twins) loved it and ate every bite!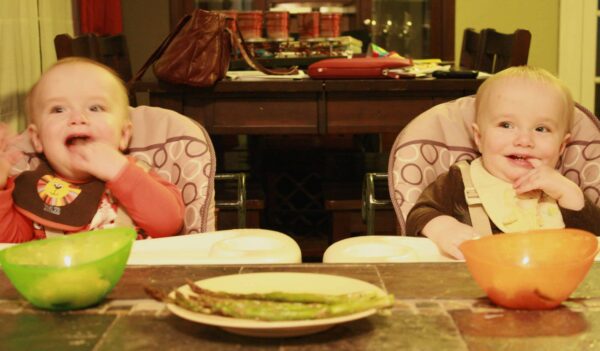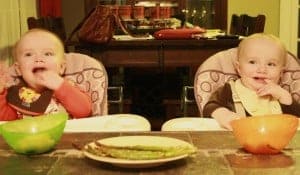 At our dinner at the winery they served this course with a red wine, their Mirantico; a blend of 50% Sangiovese, 20% Canaiolo, 15% Merlot, and 15% Cabernet Sauvignon (aged 6 months in oak barrels).
At home we paired it with a 2010 Terredora di Paolo Irpinia Falanghina. 100 % Falanghina grape, a bright and crisp white wine from the Campania region in Italy. I found this at my local wine store for $15 and was excited they carried it, as I first tasted it with the producer on my recent trip. I will have more on this wine and producer in the weeks to come.
Both wines were good choices and both great examples that something like this can pair with many different wines. The most important thing is that you DO pair it with something.  Wine is meant for food, and food is meant for wine.
Terre Margaritelli Winery makes six different wines, and all are great values.  In fact, one local dinner guest told me she frequently purchases wines from Terre Margaritelli for dinner parties.  The wines are such great values and delicious to boot.  You can't ignore such recommendations from a local!
Please try this dish for yourself (especially if you haven't made gnocchi by hand yet) and let me know how it goes.  And seek out Terre Margaritelli wines. They are great values and (I am told) available throughout the US.
For a related article on my visit to Terre Margaritelli click here.