Classic Hot Toddy for those cold winter nights or a great classic cocktail.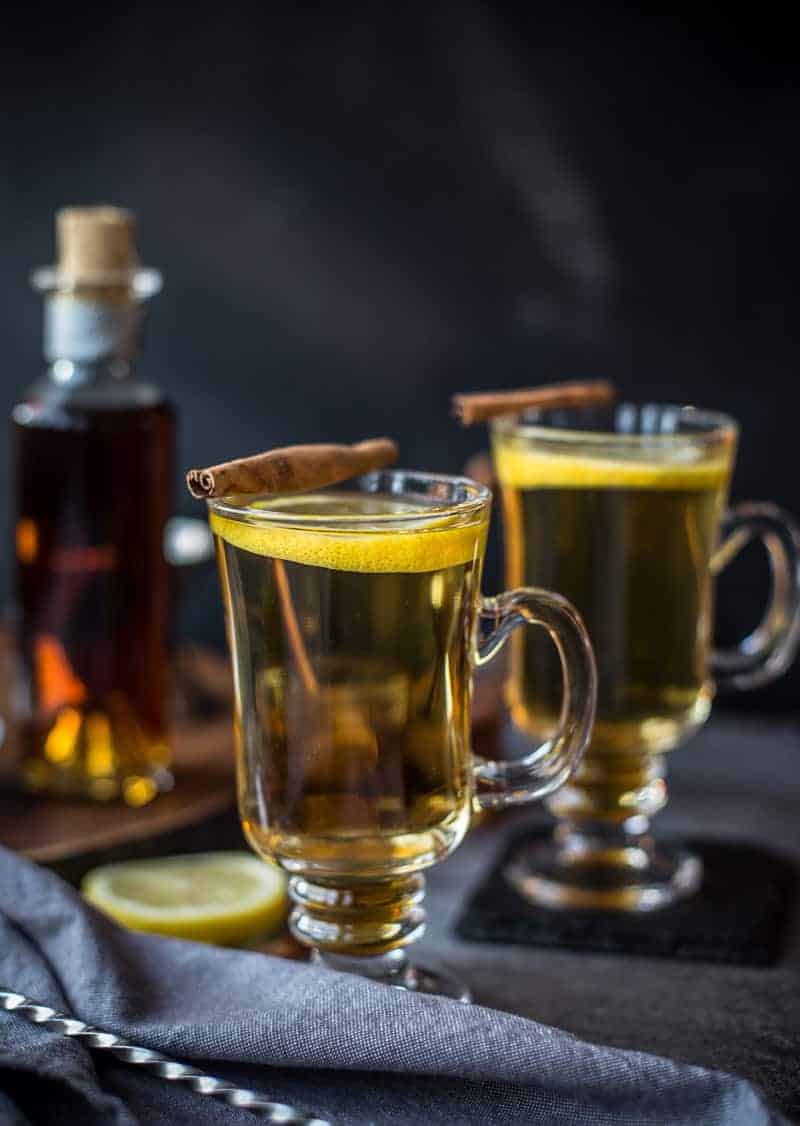 It's that time of the year — cold and flu season. Or just plain cold (as in freezing outside!!!). And as much as I love me my wine, there are times when only a hot toddy will do. This is especially true when I'm congested to the point where I can't even smell wine.
After traveling to the Cognac region of France several years ago I can't resist making the classic soothing fall and winter cocktail with Cognac. If you haven't tried it, you're missing out. It's incredibly smooth, and so flavorful! But first things first…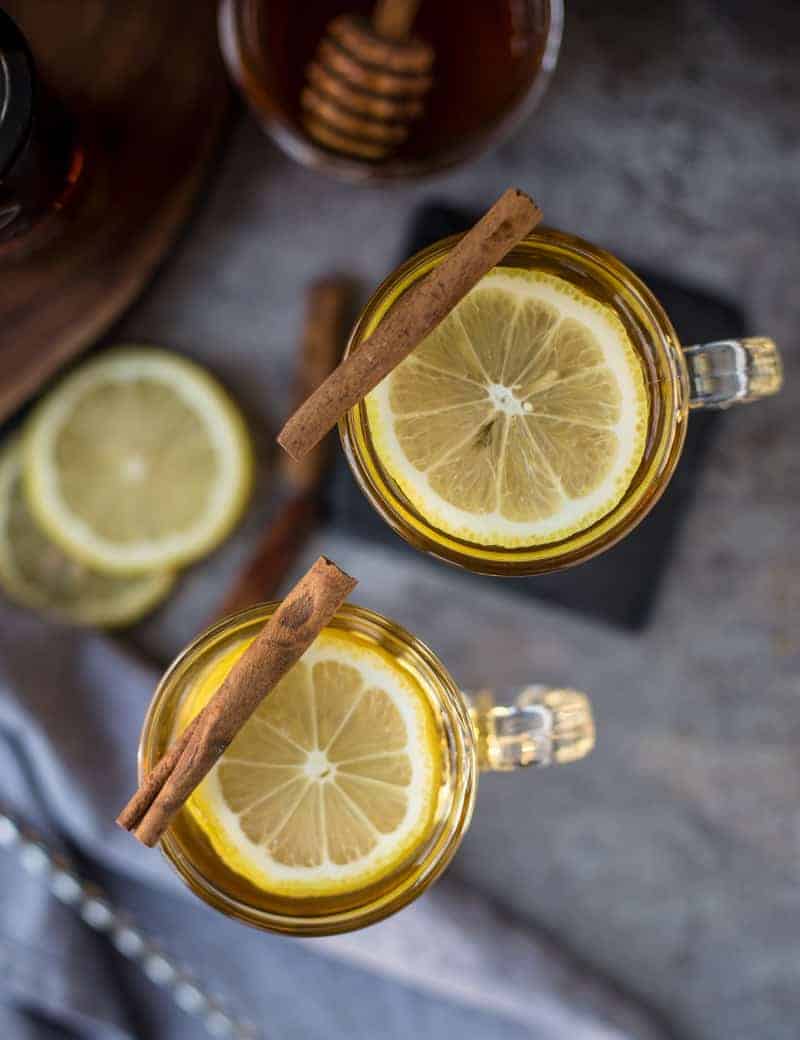 What is a Hot Toddy
Hot Toddies are a soothing warm cocktail typically made by combining hot water, honey, lemon, and a spirit such as bourbon, whiskey, or brandy. They are the perfect warm drink to enjoy on a crisp fall or winter night or if you are suffering from a cold because it soothe's the throat, body and soul, helping you to relax and uplift your mood.
What I've discovered through years of making hot toddies is the importance of using a good quality spirit — one you are happy sipping on its own. Just as I would never recommend cooking with a wine you wouldn't drink on its own, the same advice goes for the quality of spirit you use for this cocktail. This is because you aren't altering the flavor much, but simply diluting it with hot water, sweetening it with honey, and infusing it with a touch of cinnamon.
What liquor is best for a Hot Toddy?
Most commonly you'll find hot toddies made with:
But my preference is Cognac. If I don't have any Cognac on hand, I'll reach for bourbon.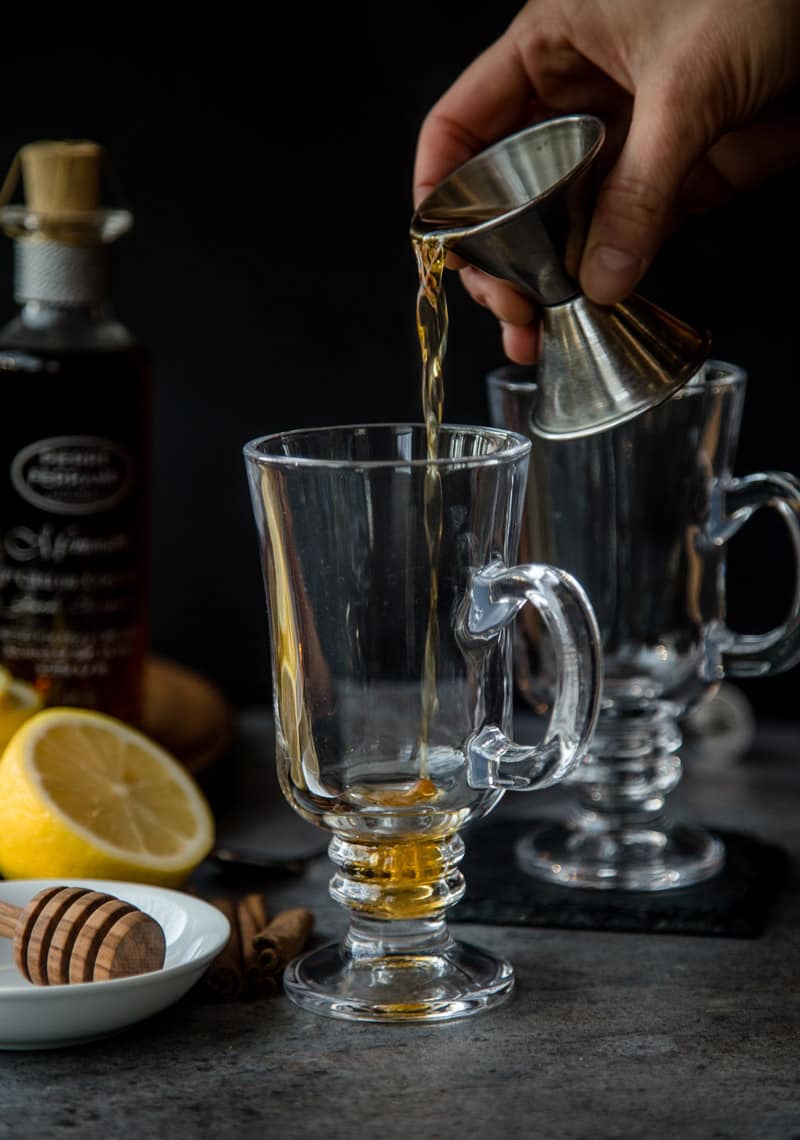 How to Make the Best Hot Toddy
Simple! Get some water nice and hot. I'm talking boiling. Once it meets the cognac (or other liquor) and honey it will cool down quickly to a drinkable temperature.
Start with your Cognac, then add the boiling water, honey (to your preference, I like to start with one tablespoon), then top with a lemon slice and, if you're a cinnamon fan, add a stick to infuse.
Enjoy the heck out of your delicious and comforting classic hot toddy!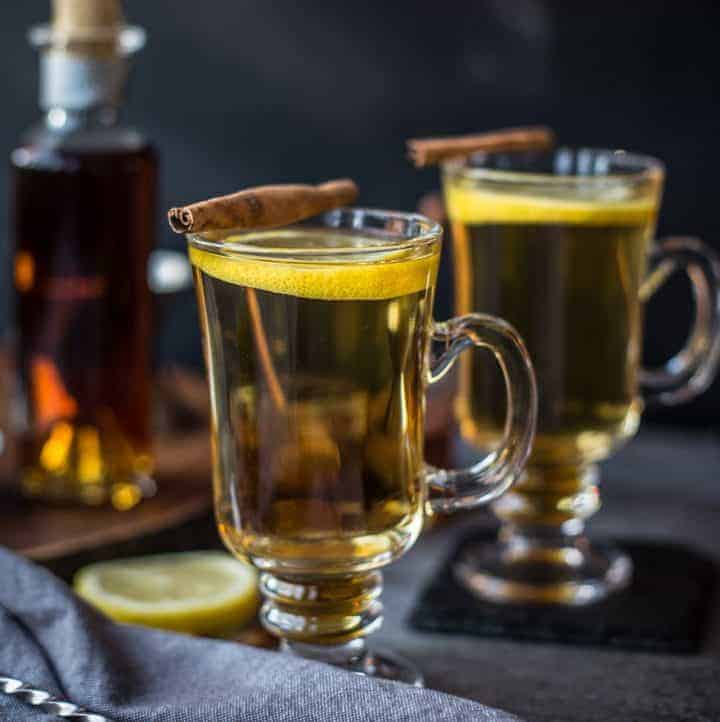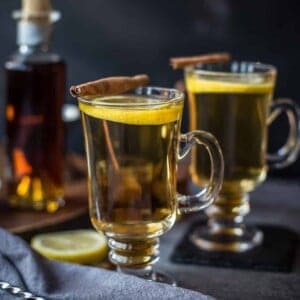 Hot Toddy with Cognac
Recipe for a Classic Hot Toddy made with Cognac. Perfect for a cold fall or winter night or to ease a common cold.
Print
Rate
Ingredients
2

oz

Cognac (or 1/4 cup)

(whiskey or bourbon work too)

1/2

cup

boiling water

1

tablespoon

honey

1

slice

of lemon

1

small cinnamon stick (optional)
Instructions
Pour the Cognac into a 6-8 oz mug or glass. Add boiling water and honey and stir until honey is dissolved. Garnish with lemon slice and cinnamon stick.

Sit on your sofa, cover yourself with a Snuggie, read a good book, and let enjoy this delicious soothing drink.
Notes
Note: You can substitute Cognac with Whiskey, Rye, or Bourbon also.

Does a Hot Toddy really work to cure a cold?
Okay, so the truth is there's no real "cure" for a common cold. So while this may not "cure" your cold, neither will NyQuil. They both work, however, to offer relief to your symptoms, and ease congestion and runny noses. And, while neither will cure your cold 100%, compared to NyQuil, at least Hot Toddies taste good!
---
Recommended supplies for the perfect Hot Toddy
(the two above links are affiliate links)
---
If you like this recipe we'd truly appreciate it if you would give this recipe a star review! And if you share any of your pics on Instagram use the hashtag #vindulge. We LOVE to see it when you cook our recipes. 
*This post was originally written in October, 2012, and updated in 2019 with new photos.