This Neapolitan Style BBQ Chicken Pizza recipe combines the delicate and chewy Neapolitan style crust with the sweet and savory flavors of BBQ chicken. Add thinly sliced onions, fresh tomatoes, and a dusting of cilantro to really make the taste buds shine.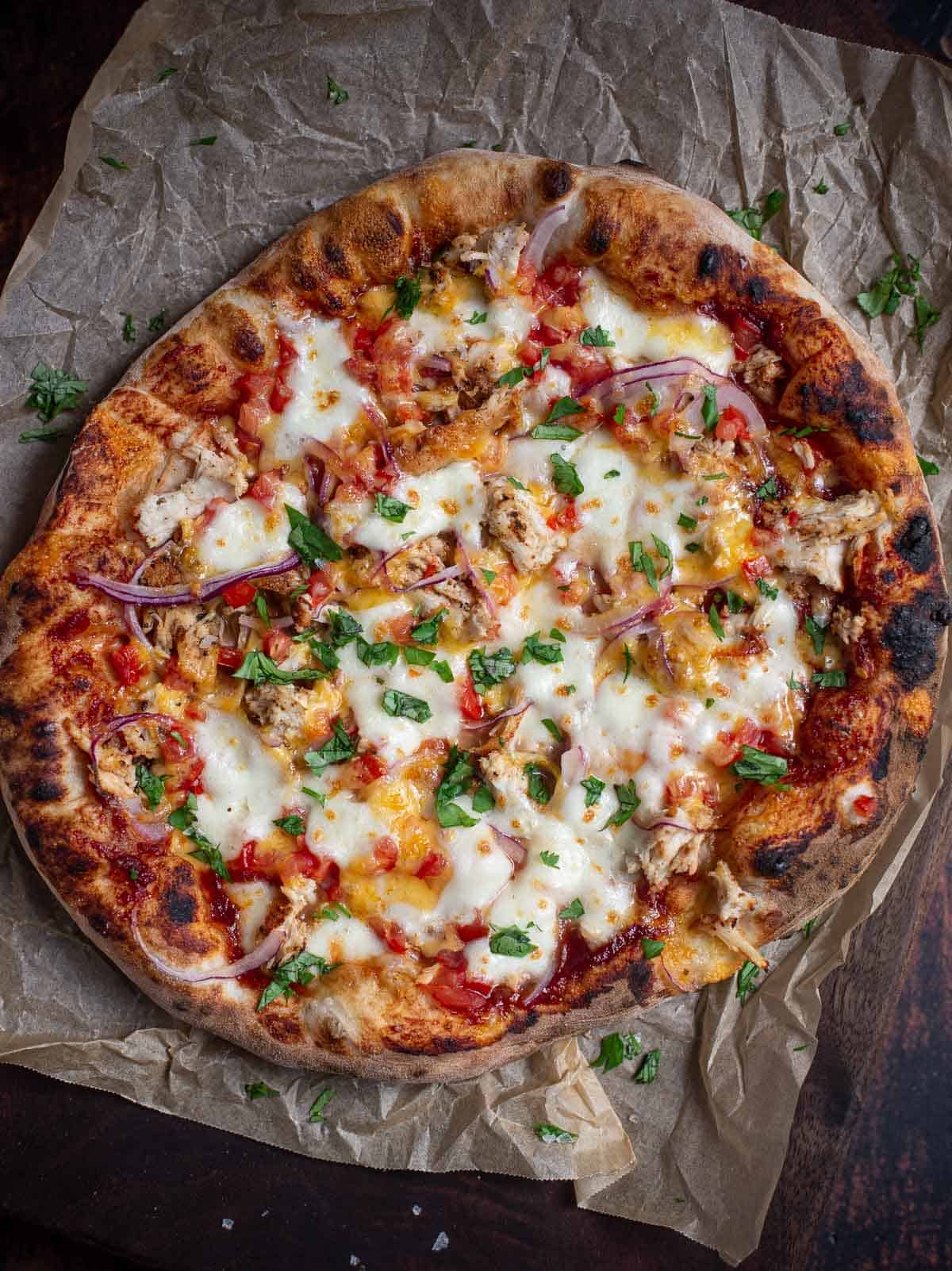 This Neapolitan BBQ Chicken recipe is written and focused on using an outdoor pizza oven that can reach temperatures of 900 degrees F. See below for how to modify for a grill or for your kitchen oven.
Jump to:
Ingredients for BBQ Chicken Pizza
Good Pizza Dough – We use our Neapolitan style pizza dough recipe. It's the perfect hydration level for high heat pizzas. If you are sensitive to gluten you can make this same BBQ chicken pizza with our gluten-free pizza dough recipe.
BBQ Sauce – We use our Red Wine BBQ Sauce (available to ship throughout the US), which is the perfect balance of sweet and savory with a rich red wine flavor. Or you can make it with our Pinot Noir BBQ Sauce recipe if you have more time to make it from scratch.
Cheeses – A mix of fresh mozzarella cheese and sharp cheddar add a nice balance of creamy richness with a sharp bite from the cheddar.
Chicken – We used grilled chicken breast with our chicken seasoning. Just shred up the chicken before putting it on the pizza. Alternatively you can buy a pre-cooked roaster chicken and shred that up too.
Veggies – Thinly sliced onions and fresh diced tomatoes are a nice balance of flavor to offset the richness from the cheese.
Garnish – Once the pizza is done, add some freshly chopped cilantro and finishing salt, this added flavor really makes the BBQ chicken pizza shine and guests wanting more.
Pro Tip – We do not recommend adding any additional toppings. As the pizza get heavier or more moisture due to sauces and cheese it can stick to your pizza peel and not launch onto the stone.
Expert Tips
If making your own dough, be sure to give at least 5-hours to rise and ideally 24-hours.
If you use a store bought dough be sure it's not too big. Ideally weigh it on a scale targeting 275 – 310 grams per dough. If it's too big then cut it in half (and then make two small pizzas).
Be sure any dough is room temperature prior to forming it.
You can call local pizza shops and typically they will sell you a dough.
Tools Recommended for Neapolitan BBQ Chicken Pizza
Wooden Pizza Peel – We like wood because it's much easier to slide the pizza onto the stone versus a metal peel (especially if cooking multiple pizzas).
Pizza Turning Peel – Any wood fired pizza at high heat needs to be turned multiple times. Be sure to buy a good pizza turning peel which has a smaller head and makes it easy to rotate the pizza for even cooking.
IR (Infrared) Instant Read Thermometer – You need the pizza stone to be at the right temperature (700 – 750 degrees F) and to measure it accurately you need a good quality IR Thermometer, like the one from Thermoworks.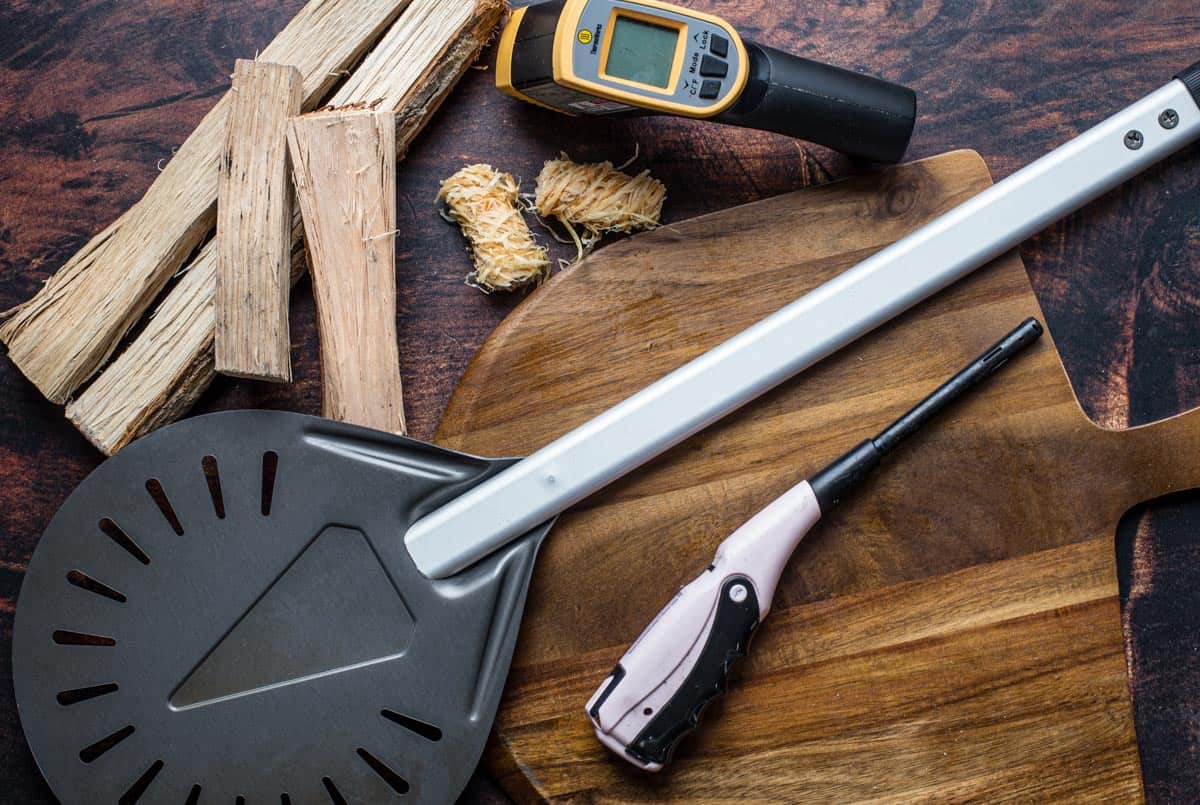 We baked this pizza in our Solo Stove Pi Pizza Oven using the gas accessory.
---
Related Article: The must have pizza tools and accessories.
---
Recipe Instructions
If you are new to using your pizza oven you can read our full article on how to make pizza in an outdoor pizza oven.
Prepare the Pizza Oven: Preheat your pizza oven targeting the pizza stone temperature between 700 and 750 degrees Fahrenheit. The internal heat level of the oven will be around 900 – 950 degrees F.
Form Dough: Dust wooden pizza peel with flour. Using your hands, gently press the room temperature dough on the pizza peel out form the center of the dough stretching the pizza out. Move the pizza slightly in a circle to evenly form. As the pizza gets wider, use your knuckles to slowly stretch the dough from the outer edges until it's 11 to 12-inches in diameter. Dust more flower if needed and be sure that if you shake the peel that the dough moves easily.
Build Pizza: Start with a layer of the BBQ sauce first. Then add the shredded chicken followed by the cheeses. Then top with onions and tomatoes. Using a flick of your wrist slide the pizza off the wooden pizza peel into the pre-warmed pizza oven when the stone measures 700 degrees with an IR Thermometer. Turn the pizza every 12-15 seconds using the pizza turning peel until all the edges are cooked.
Serve: Remove the pizza from the pizza oven and then place on a cutting board. Dust with the cilantro and finishing salt. Then cut the pizza into slices.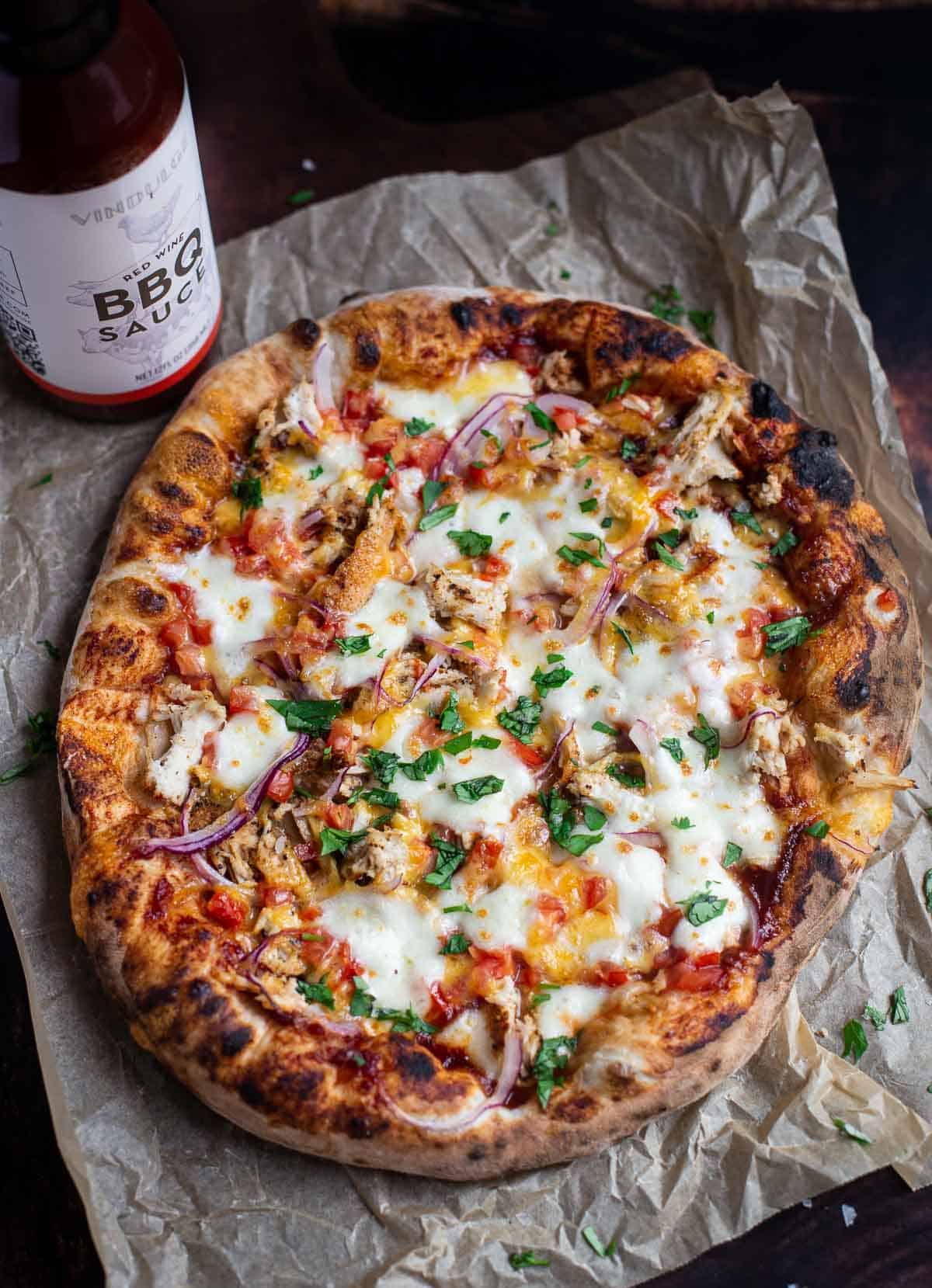 Modifications
Oven: Place a large pizza stone on the middle rack and set the oven at 550 degrees. Let preheat and warm for 20 minutes to get the stone up to temperature. Place the pizza on the center of the stone and bake for 5 minutes. Then, using a pizza turning peel, rotate the pizza 180 degrees (most ovens the back is hotter). Bake for another 5 minutes or until the crust is golden and the cheese is melted.
On A Grill: If you are grilling this pizza on a traditional grill then it's best to follow our Grilled BBQ Chicken Pizza recipe cooked at 500 – 550 degrees Fahrenheit.
Pellet Grill: Or if you have a pellet grill then you can set up your pizza stone on an upper rack and follow our pellet grill pizza instructions.
More Pizza Recipes
If you are looking at hosting a pizza party then here are a few more pizzas for inspiration or browse all of our live fire pizza recipes here.
About Vindulge
Mary (a certified sommelier and recipe developer) and Sean (backyard pitmaster) are co-authors of the critically acclaimed cookbook, Fire + Wine, and have been creating content for the IACP nominated website Vindulge since 2009. They live in Oregon on a farm just outside Portland.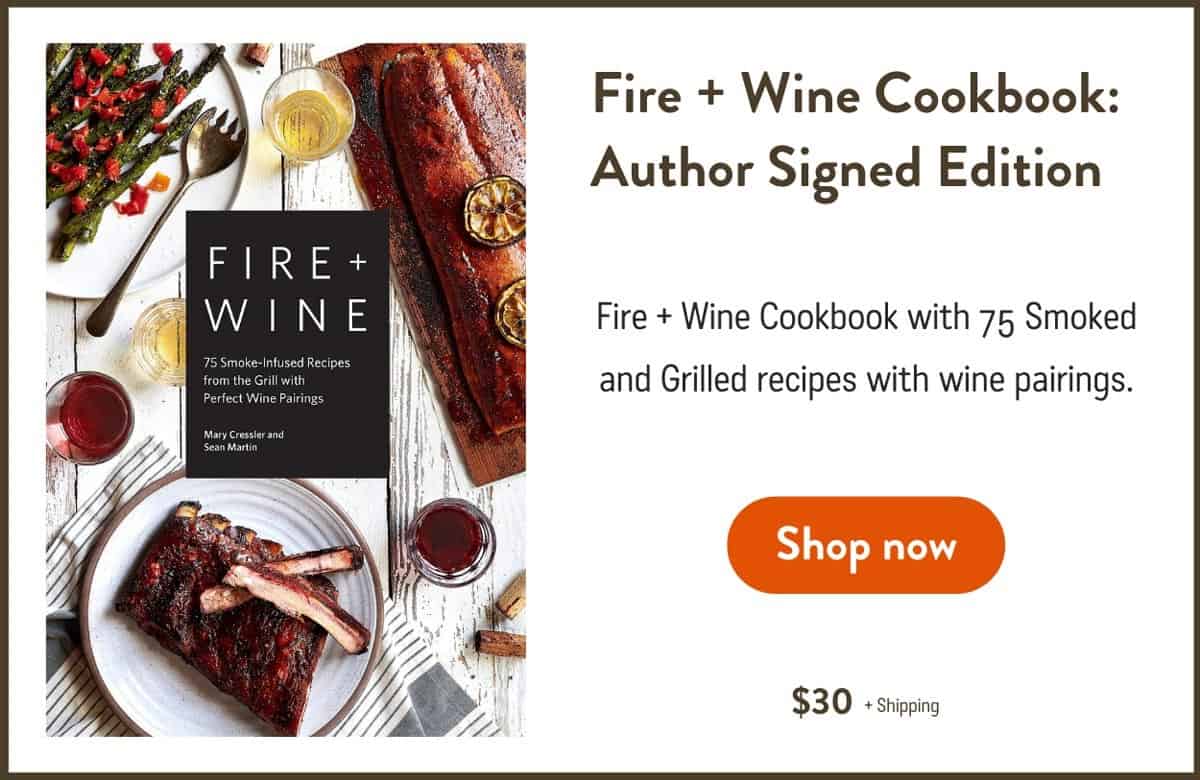 Tried this recipe? Give us a star rating and we would love to see! Mention @vindulge or use the hashtag #vindulge on all the social media handles. And consider subscribing to our newsletter where we drop all our favorite ideas and inspirations every week.
This post may contain affiliate links. This means if you click on the link, we may receive a small commission if you purchase through the link. We partner with brands we know and love and use and it helps keep the blog going!