Grilled Boneless and Skinless Chicken Thighs finished with our Red Wine BBQ Sauce is an easy weeknight meal that is full of flavor. Not only is it easy, it's super quick and can be used on its own or as an ingredient in salad, pizza, or anything else you can think of.
If you're looking for a stress-free, simple, weeknight chicken dinner, this is it!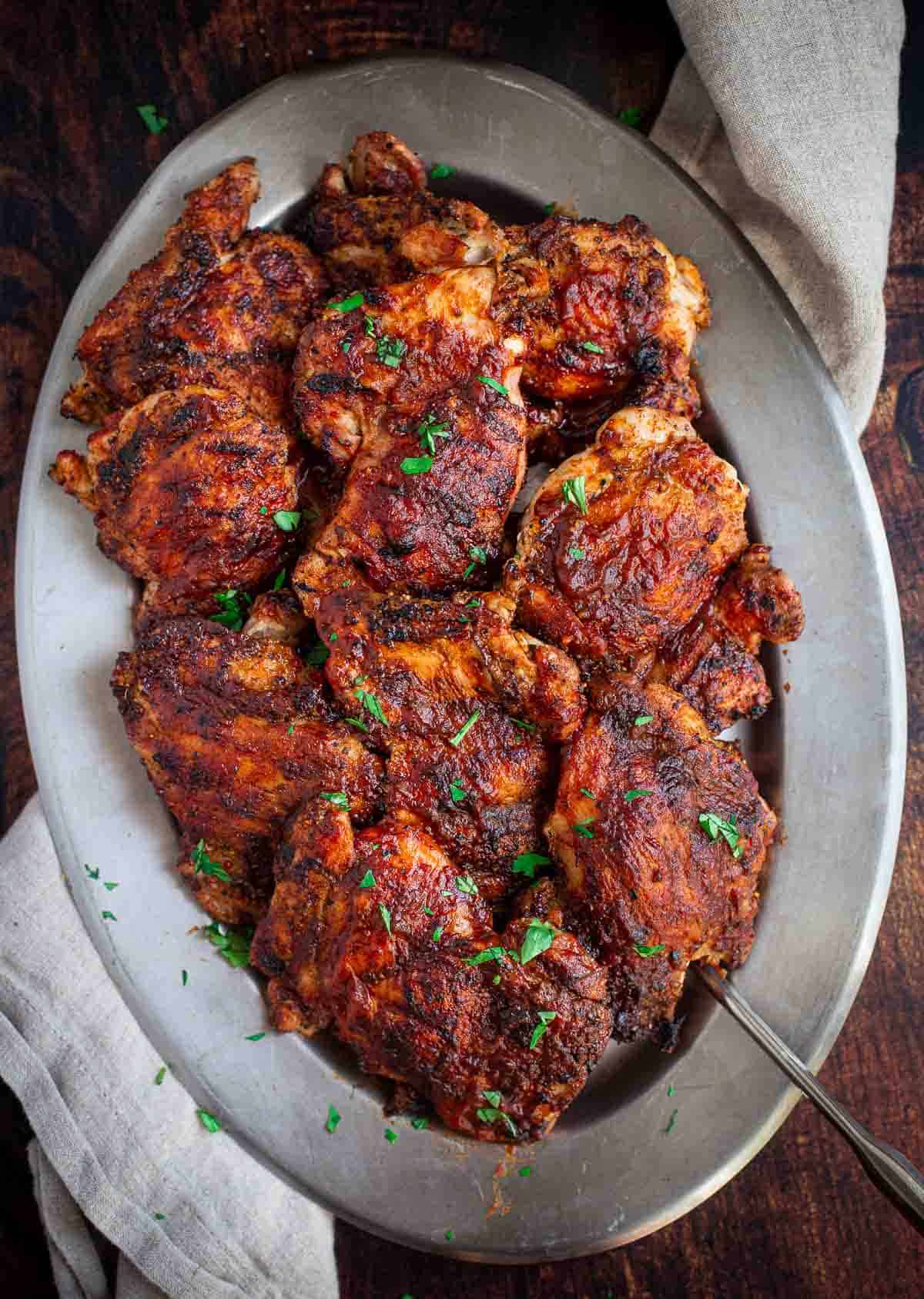 Putting a healthy dinner on the table for your family every night can get stressful. But it doesn't have to be. By using a couple time saving hacks (and investing in time saving products) you can have a nutritious and delicious dinner for your family in less than 20 minutes.
Jump to:
Ingredients for Grilled Boneless Skinless Chicken Thighs
Boneless-Skinless Chicken Thighs – See notes below if all you can find is bone-in thighs.
Extra Virgin Olive Oil – This allows the seasoning to adhere to the meat.
Seasoning – We use our chicken seasoning, which does not have any sugar in it and is both savory and herbal. This is something you can make in advance on the weekend and use it for poultry recipes for months to come for quick meals.
BBQ Sauce – You can use any sauce you like, for this grilled chicken thigh recipe we use our own Red Wine BBQ Sauce, which you can have shipped directly to you. (US only). Alternatively you can make our Pinot Noir BBQ Sauce from scratch in advance.
Tools
See a full list of the best grilling tools to have in your collection. For this recipe we are simply using:
Long Tongs – These are a must because it makes it easy to flip the chicken and not burn your arms.
Silicone Brush – Ideally one with a long handle to apply BBQ sauce to the chicken thighs.
Instant Read Thermometer – We use the Thermapen One as our go-to digital thermometer which measures the internal temperature of the chicken in less than one second.
Preparation
For grilled boneless and skinless chicken thighs, the meat is typically ready to grill as soon as you buy them. If you see any loose or excess fat around the edges, use a good boning knife and remove it prior to seasoning.
Grilling Boneless Skinless Chicken Thighs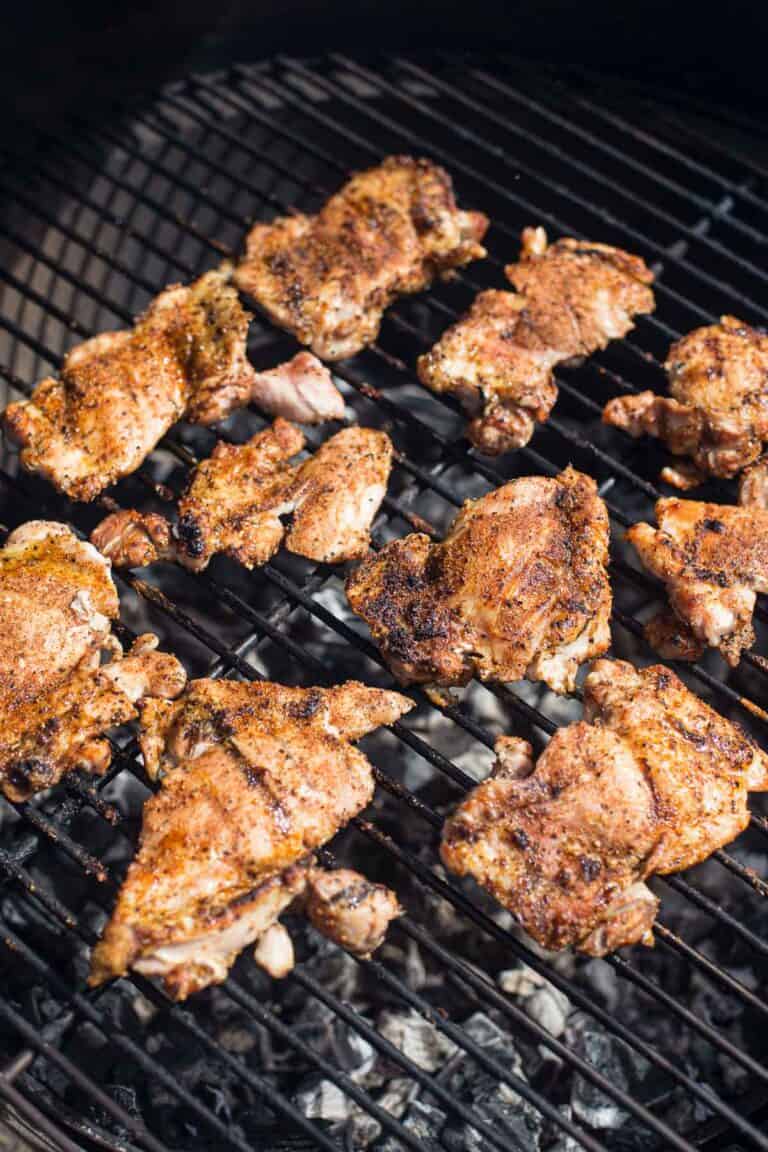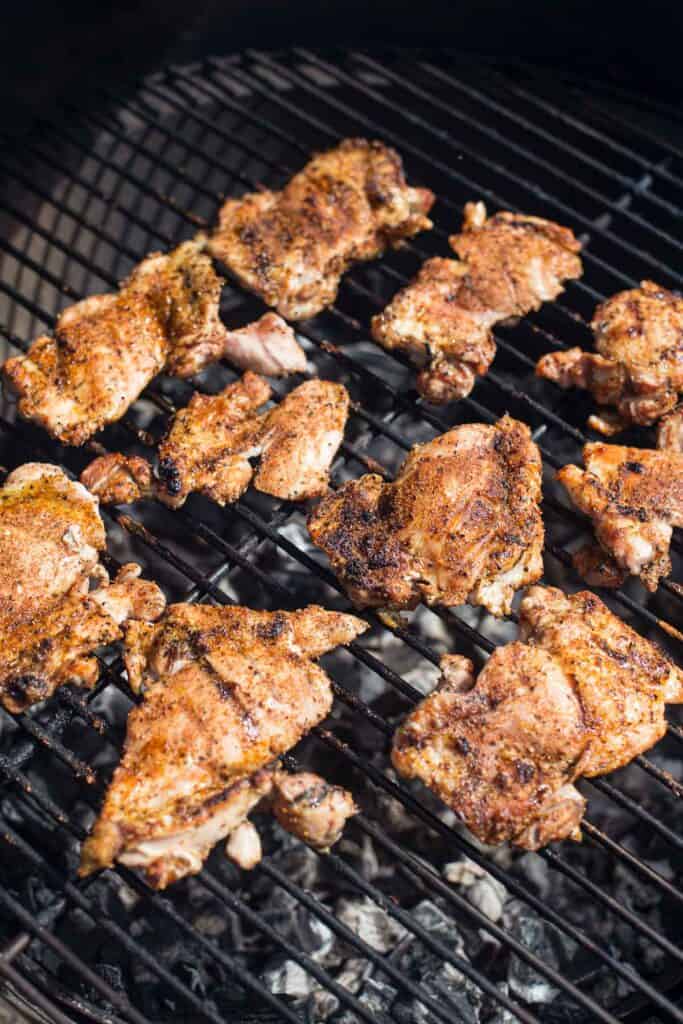 Preparation: Prepare grill for direct grilling using lump charcoal. Target the internal temperature at 450 – 500 degrees Fahrenheit. While grill is coming to temperature coat the chicken thighs with olive oil and chicken seasoning.
Grill: Place the seasoned chicken thighs over direct heat on the grill grates. Close the lid and grill for 6 – 8 minutes or until you see the color start to brown. Flip the chicken thighs and then apply the sauce (to the grilled side). Continue to grill over direct heat an additional 4 minutes and then flip again. Sauce the other side and grill for remaining 4 minutes or until the internal temperature of the chicken in the thickest section reads 175 degrees Fahrenheit.
Rest: Remove and let rest for up to 10 minutes, then serve with a side of more sauce.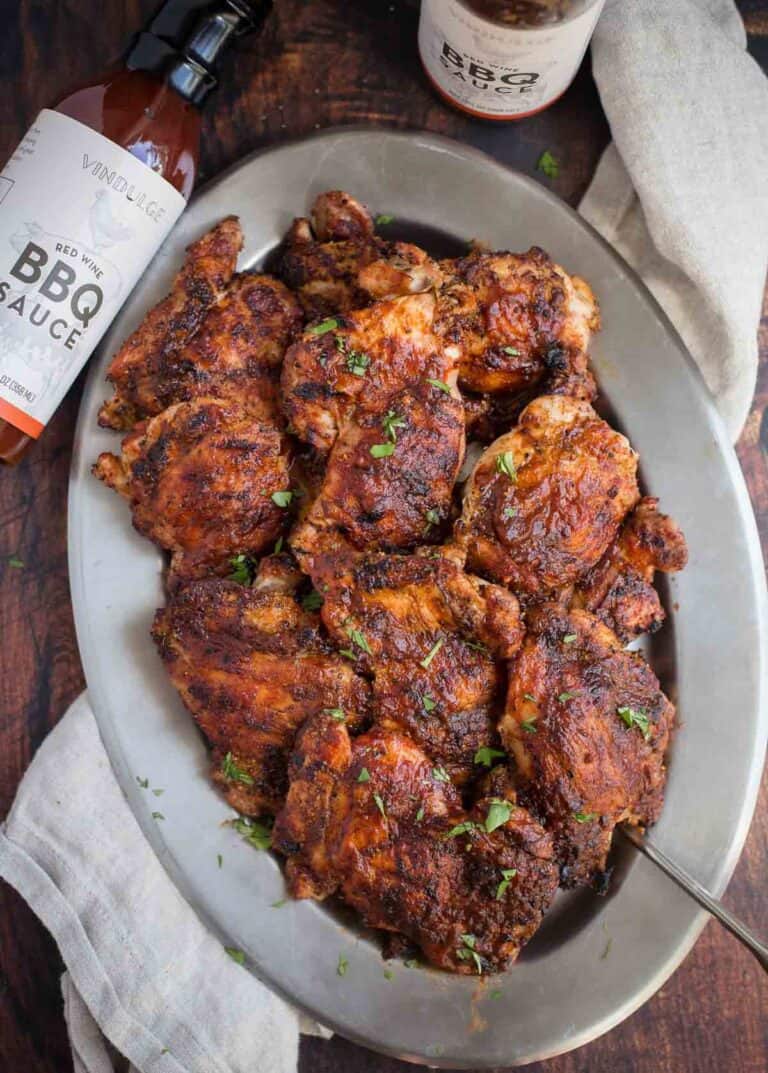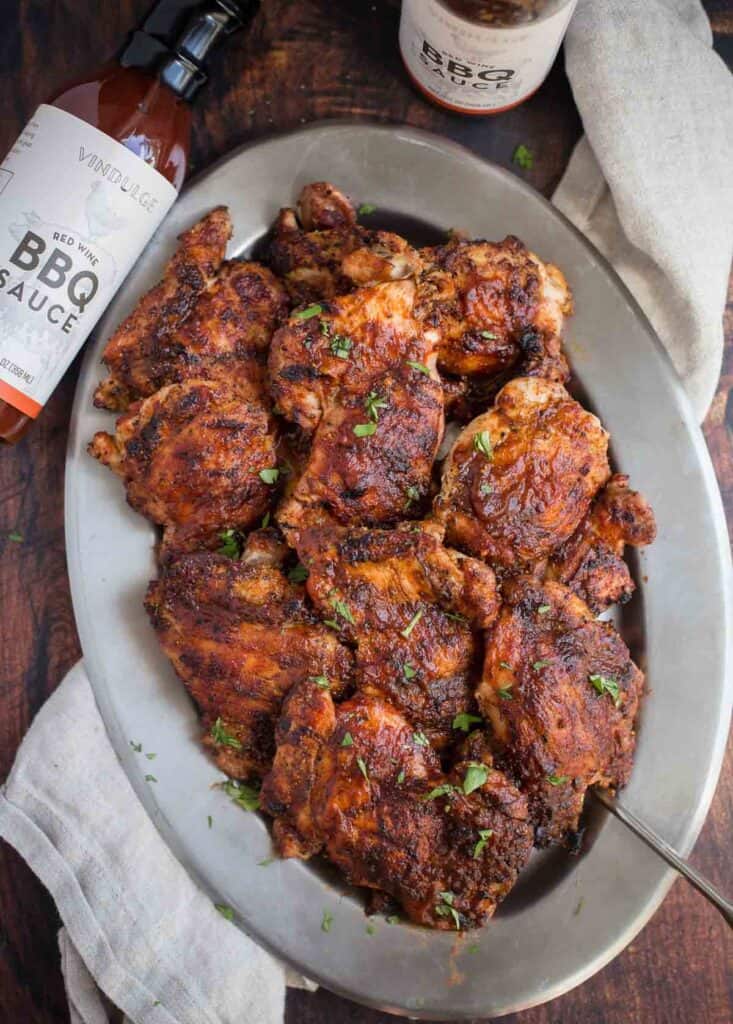 When Are Chicken Thighs Done?
According to the USDA, chicken is done when the internal temperature reaches 165 degrees Fahrenheit. However, when it comes to thighs, we prefer grilled chicken thighs cooked until 175 degrees Fahrenheit. The darker meat of chicken thighs has more moisture and cooking the meat to a higher temperature prevents the texture from being too chewy.
You can read more in our article about the proper chicken temperature and carry-over cooking.
Variations
If all you can find is a skin-on and bone-in chicken thighs, then follow our recipe for bone-in grilled chicken thighs.
Other Chicken Recipe Ideas
Check out our entire category for chicken and other poultry recipes. Or check out some of our favorites.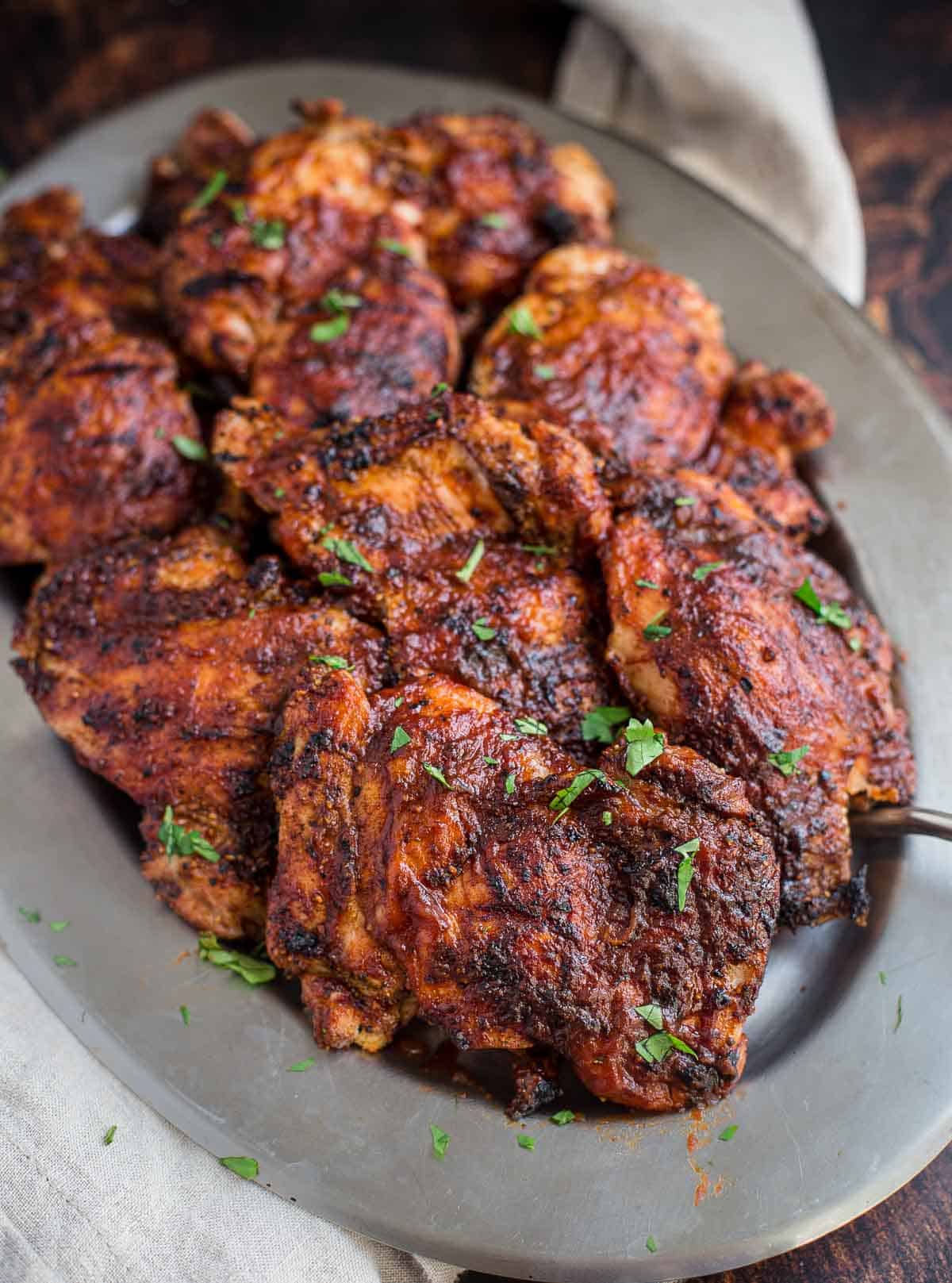 Perfect Side Dishes for Grilled Boneless Skinless Chicken Thighs
If you are looking for some fun ideas to pair with this grilled chicken thigh recipe here are a few. You can also review all of our side dish recipes.
About Vindulge
Mary (a certified sommelier and recipe developer) and Sean (backyard pitmaster) are co-authors of the critically acclaimed cookbook, Fire + Wine, and have been creating content for the IACP nominated website Vindulge since 2009. They live in Oregon on a farm just outside Portland.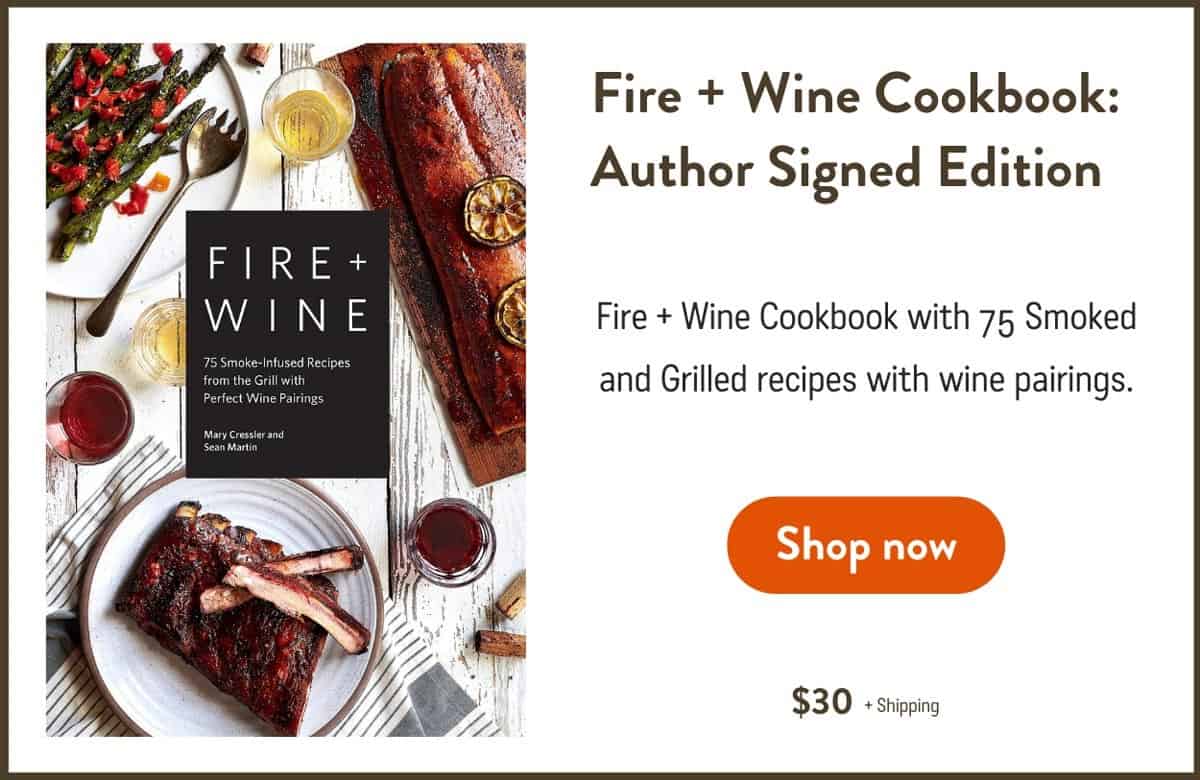 Tried this recipe? Give us a star rating and we would love to see! Mention @vindulge or use the hashtag #vindulge on all the social media handles. And consider subscribing to our newsletter where we drop all our favorite ideas and inspirations every week.
This post may contain affiliate links. This means if you click on the link, we may receive a small commission if you purchase through the link. We partner with brands we know and love and use and it helps keep the blog going!