Jazz up your holiday Cranberry Sauce with a homemade cranberry sauce with wine infusion. Add Pinot Noir and a touch of citrus and cinnamon for a head turner! This Red Wine Cranberry Sauce is sweet with a little savory, and a lot of deliciousness.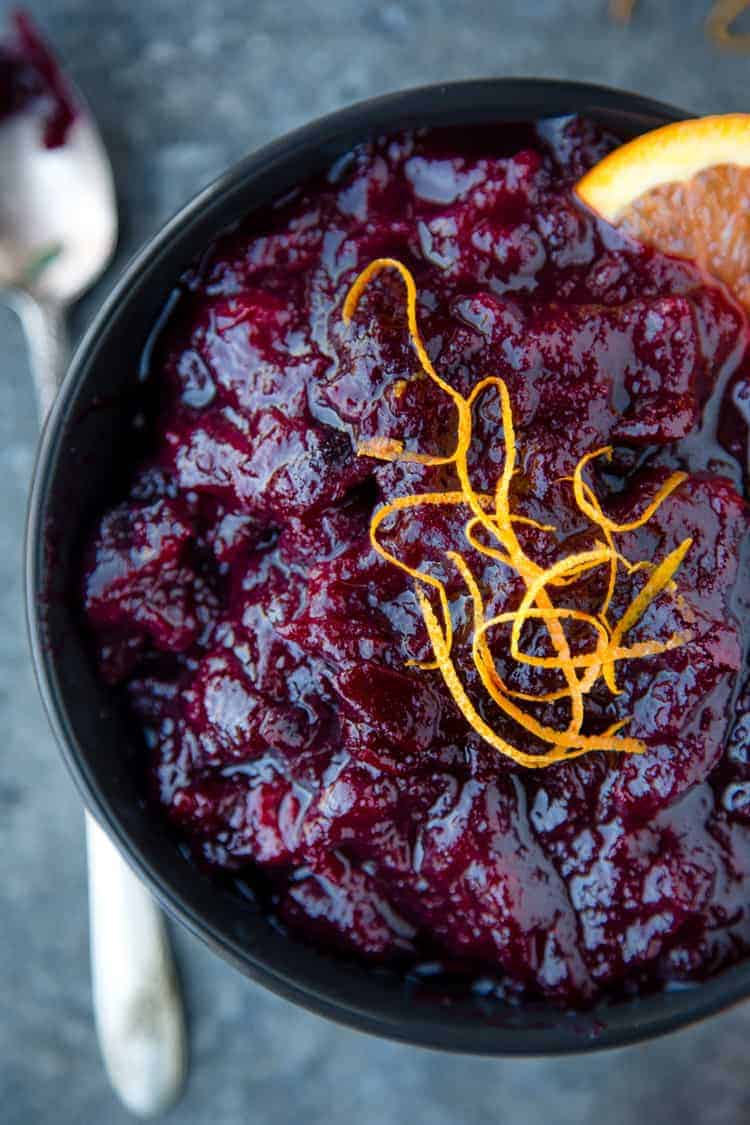 Cranberry Sauce is a staple of most Thanksgiving and holiday dinners. And let's be honest, how sad would a day-after-Thanksgiving turkey sandwich be without some sweet cranberry sauce tucked in the middle of your savory slices of smoked turkey.
Making homemade cranberry sauce is super easy to do, and beats the living daisies off the canned version (I'm serious!). Adding wine as your simmering liquid makes this sauce absolutely drool worthy!
How Are Cranberries Grown?
Cranberries are a fruit that grow on vines. You'll often hear of or see bogs in commercials. Cranberries do in fact grow in bogs but in very specific regions of the US (and other parts of the world) where glacial deposits created the right growing soil. Those bogs are flooded later in the growing season versus being filled throughout the cranberry lifecycle.
This is important to note because fresh cranberries, when cooked in a recipe, add a fair amount of liquid as they simmer and reduce. This is why a homemade cranberry sauce needs very little additional liquid.
You can read more about the health benefits of this superfood here.
How To Make Cranberry Sauce
A slow simmer is key to a good cranberry sauce.
Add fresh cranberries to a saucepan over low to medium-low heat.
Pour the liquid (in this case wine) and additional flavor elements.
Simmer for 15 minutes and then crush the cranberries using a potato masher or a fork.
Continue to simmer an additional 15 minutes over low heat.
Cool and serve.
Chefs Tip: Make the sauce a day or two before your holiday dinner.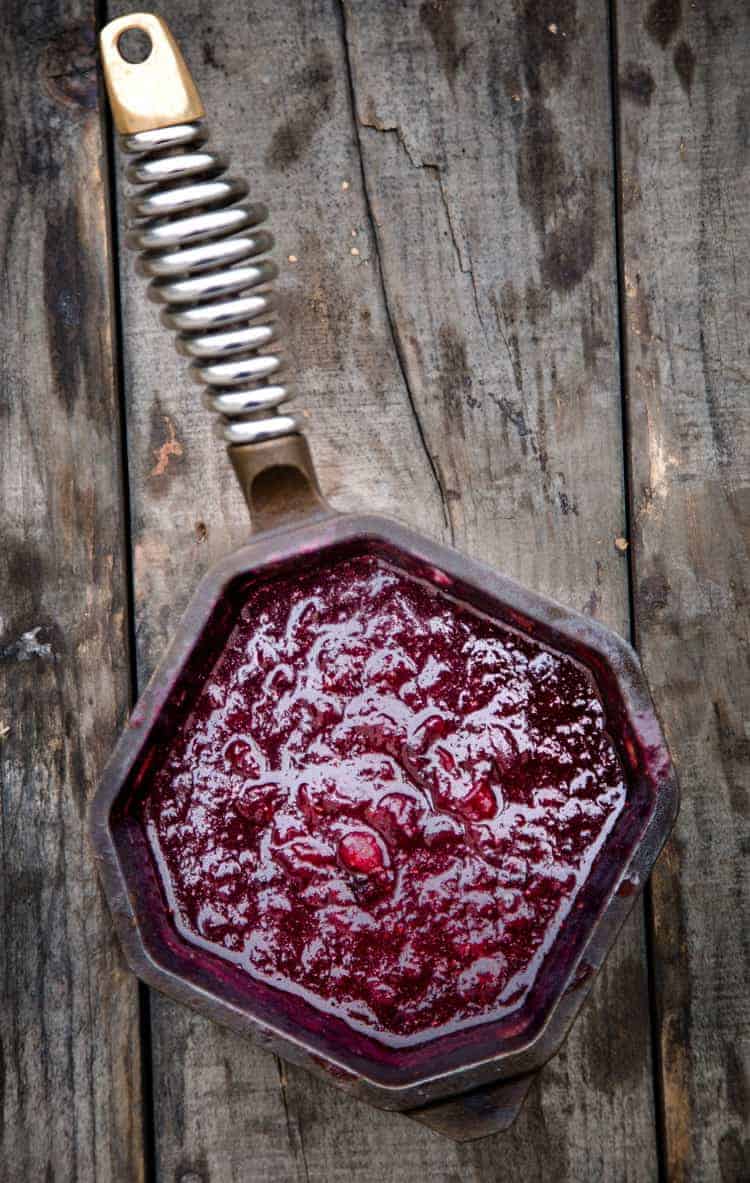 The flavor profile of this dish is slightly sweet, with a touch of cinnamon and citrus. If you wanted a sweeter version then upgrade the sugar to ¾ cup. Wine adds acidity as well, which is a great reason the sauce can be eaten on its own or to be used in other dishes.
Which Wine to Use for Cranberry Sauce
We've tested this recipe with several wines (red and rosé) and it's excellent with both options. The flavor will just vary based on what you choose.
Red Wine: Red wine will give it a deeper and richer flavor. Make sure to use a bright fruity red wine for this. Pinot Noir is the best choice, followed by Zinfandel or Malbec.
Rosé Wine: Rosé was surprisingly tasty with this recipe! Rosé will add a brighter and more fruity cranberry sauce. It won't be as rich or deeply flavored. So if you want a brighter, sweeter, more fruity sauce, go rosé. If you want a deeper and richer sauce, go red. Both are great choices.
Other Uses
This sauce is a great glaze for other foods. Whether as a dollop on steak skewers, or as a pork glaze. Try it with these beef skewers.
More Holiday Side Dishes
Red Wine Cranberry Sauce Recipe
*This post contains affiliate links, which means if you purchase a product that you like from the links on this site, we may receive a small commission. We only partner with brands we know, use, and love ourselves and it helps keep the blog going!