Collard Greens with Smoked Turkey is probably the most exciting thing to ever happened to greens. Smoked turkey leg infuses these perfectly cooked greens with amazing flavor. This is a delicious side dish with southern roots.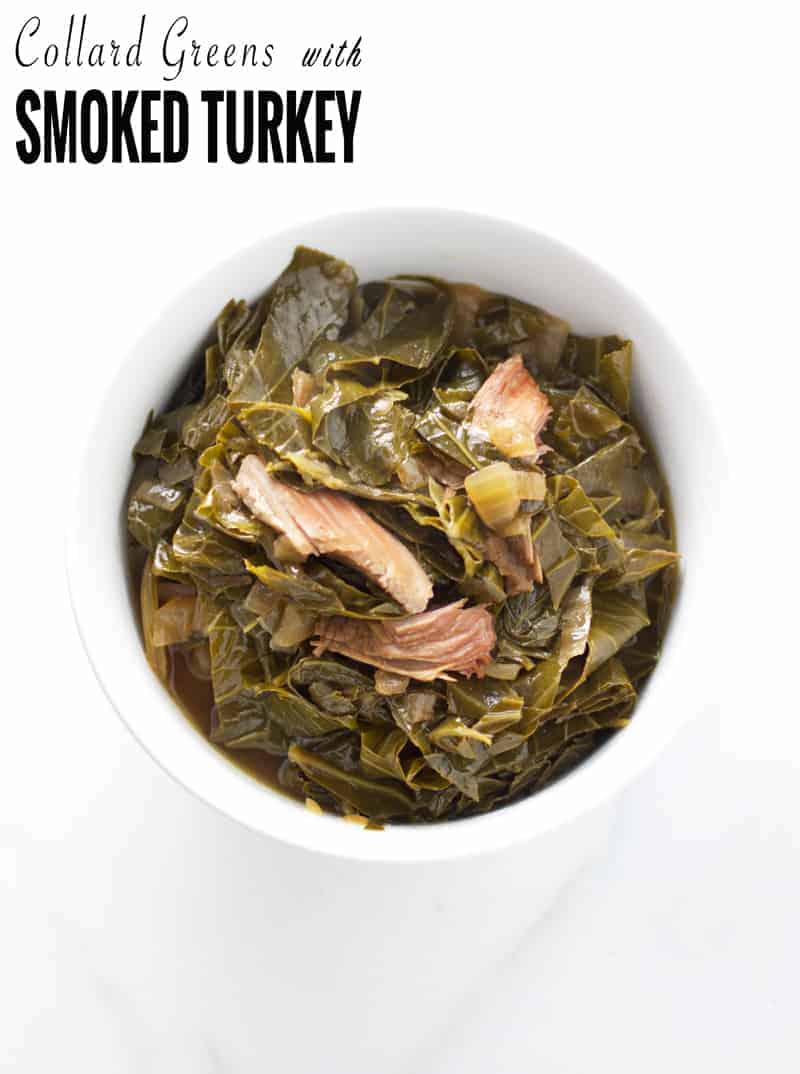 First things first. I need to tell you about these greens.
This is my hand model, Sean, channeling his inner southerner, prepping to make the meanest greens this side of the Mississippi.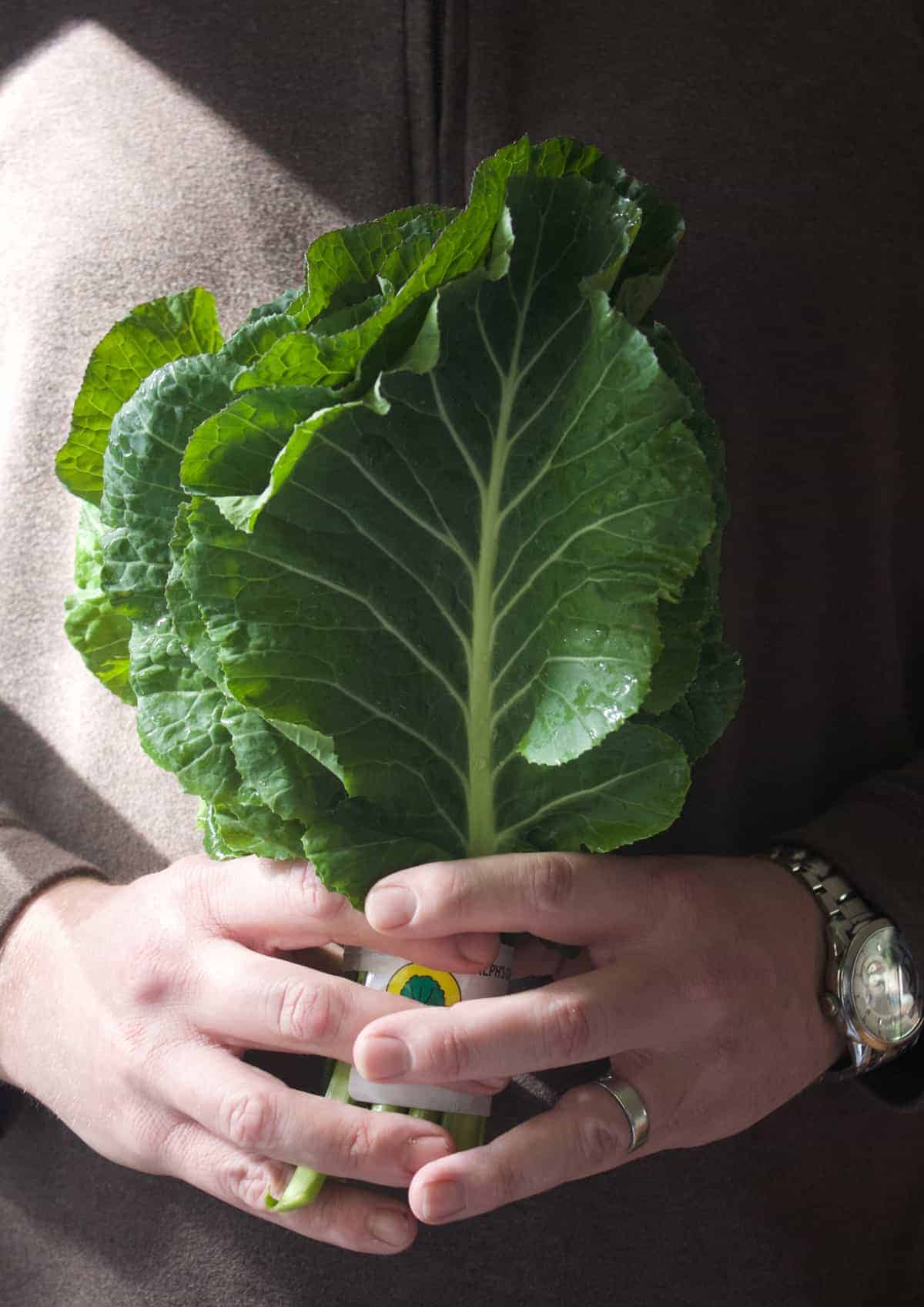 Just kidding. He's from Rochester, NY, not the south. But damn, that man can really cut to the soul of these greens. He's like the greens whisperer.
The Secret to Great Collard Greens (Smoked Turkey Leg!)
Actually we had some help from our friend, Lynn. She was visiting a few weeks ago and collaborated on this recipe. We smoked the turkey and Lynn worked her magic on the greens, and thankfully shared her secrets with us.
We've been able to replicate the recipe a few times since she left, so we're safe to share the secret to these magical smoky, amazing, greens, that I could eat every single day.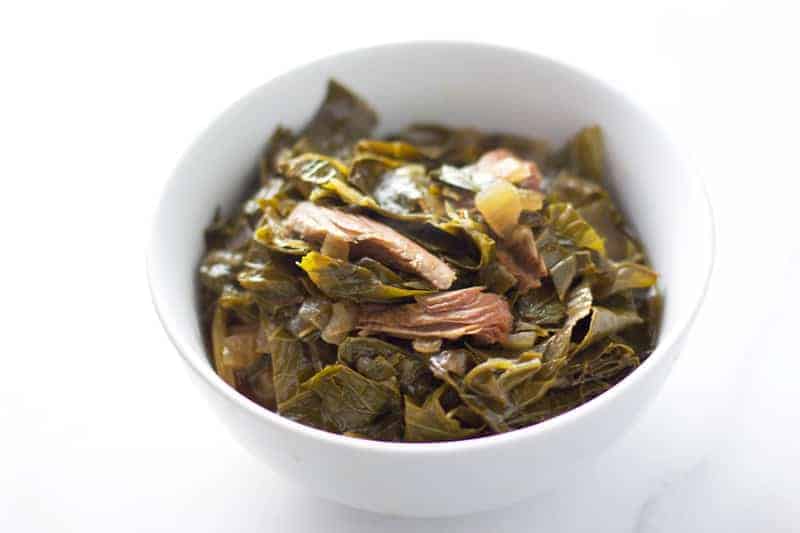 I'm not exaggerating, friends. These are pretty incredible. I think the greatest compliment one can give is telling you, "These collard greens are better than any I've ever had in any restaurant." That actually happened (by several people!).
Wowza!
We've now incorporated this recipe into our regular Ember and Vine catering season events. These have officially made the cut.
Trust in the greens, and they will trust in you.
There are a few things that make these so great.
Give Your Collard Greens a Massage
Like me after running a marathon, these bad boys need to be massaged.
The massaging is vital to start gently breaking down these dense greens before cooking. If anything, it just feels good to massage some greens. It's like a stress reliever.
Prior to chopping, roll up the greens, and gently roll them back and forth (in the bunch) to gently soften the leaves a bit. That's it!
Smoked Turkey Leg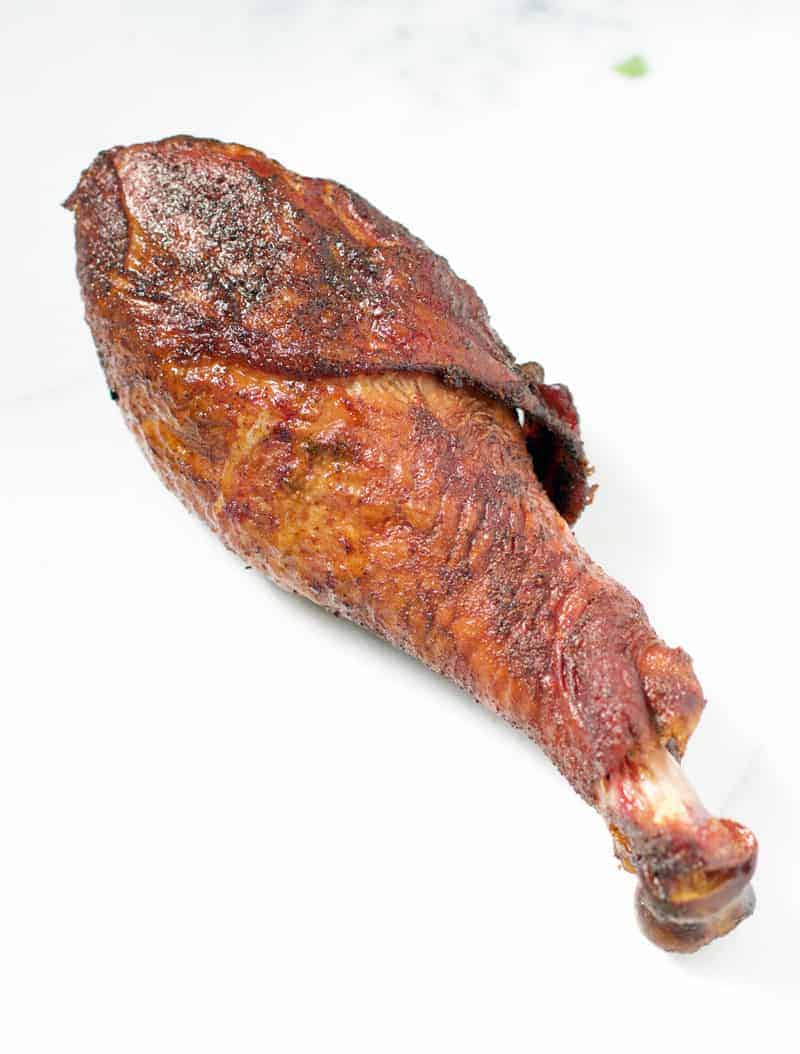 Most recipes for collard greens will use a ham hock or smoked turkey pieces. Now… you can take the easy way out and buy a pre-smoked turkey leg from the supermarket. BUT in our experience (and we used to take this short cut ALL the time, especially for our smoked gravy) these store-bought smoked turkey legs are pretty flavorless and don't add much magic to your end product. And you want the magic, don't you?
That's what I thought.
How to Smoke a Turkey Leg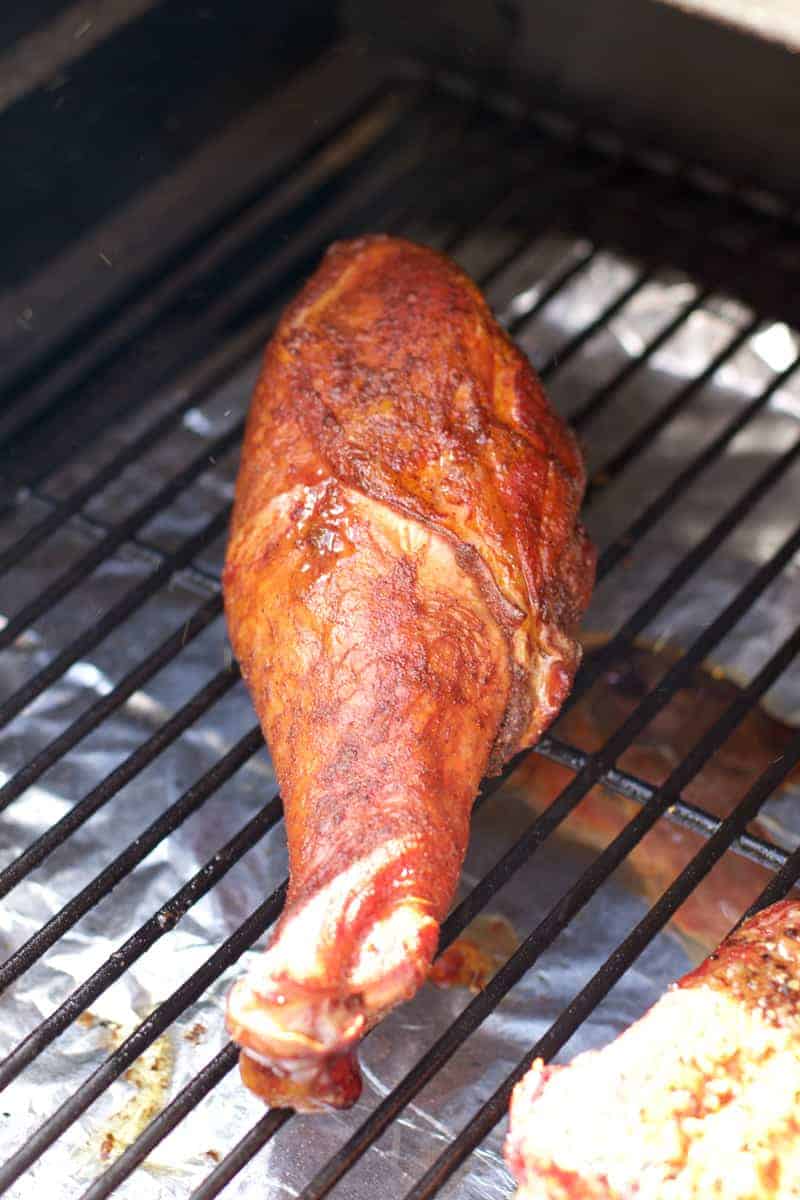 Just buy an uncooked, unsmoked, turkey leg, season it liberally, and smoke it at 250 degrees Fahrenheit until the internal temperature is 165 degrees. 
Can't find a leg? Use a thigh. This can take anywhere from 90 minutes to 2 hours depending on the size of the turkey leg.
You can do this in advance (hours or even days) of making your greens.
Then use that smoked turkey leg to infuse your greens.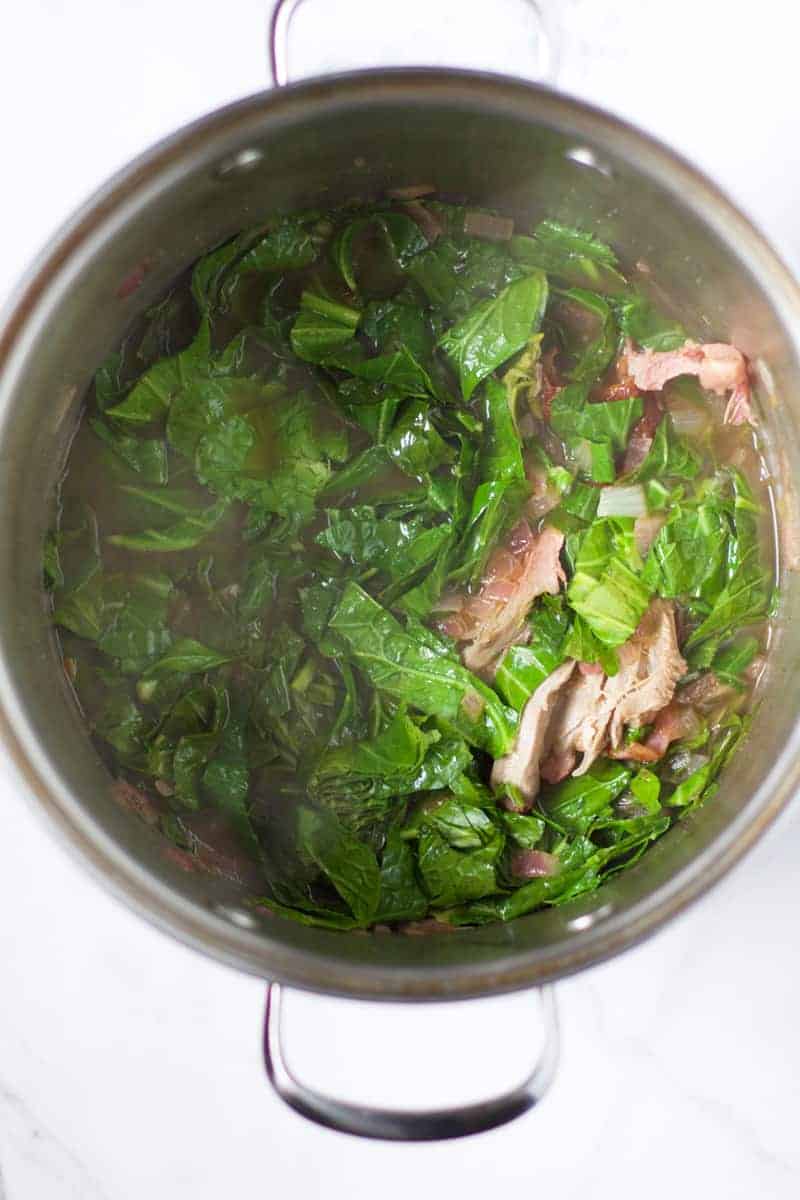 Third, don't be shy on the acid — i.e. vinegar!
We use a good amount of vinegar in this. At least 1 cup actually. We've tried both apple cider vinegar and plain 'ol white vinegar, and the consensus from our taste testers (including me) is that the apple cider provides just the right amount of sweetness. You can use either, but I love the apple cider vinegar. Either way it's a key ingredient and can help cut the bitterness of the greens, so use it liberally.
That's about it, friends.
Magical.
Collard Greens with Smoked Turkey Leg Recipe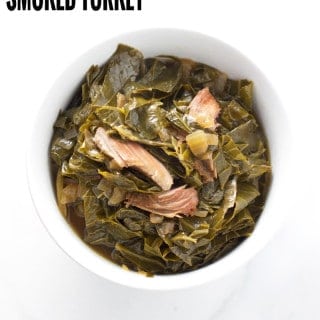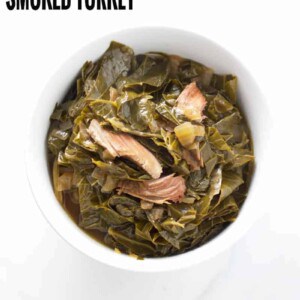 Collard Greens with (homemade) Smoked Turkey Leg
How to make smoked collard greens with a homemade smoked turkey leg.
Print
Pin
Rate
Ingredients
For the Smoked Turkey Leg:
1

turkey leg, about 1 1/2 pounds

1

tablespoon

olive oil, (just enough to coat the leg)

1

teaspoon

kosher salt

A few turns of fresh ground pepper

1-2

tablespoons

dry rub
For the Collard Greens:
2

tablespoons

extra virgin olive oil

1

red onion, diced

1

cup

apple cider vinegar, (white vinegar works well too)

3

cups

chicken stock

1/2

tablespoon

kosher salt

1/8

teaspoon

cayenne pepper

1/4

teaspoon

garlic powder

1/4

cup

Worcestershire sauce

The smoked turkey leg from above

1

lb

Collard greens, rinsed, de-stemmed, massaged for a couple minutes, and sliced 1-2 inches wide strips after
Instructions
For the Smoked Turkey Leg:
Preheat the smoker to 250 degrees F.

Coat the turkey leg with olive oil, salt and pepper, and your favorite BBQ rub. Place on smoker until internal temperature reaches 165 degrees (approximately 2 hours).
For the greens:
Start by preheating a large stock pot over medium high heat.

Add olive oil and the diced red onions and soften for about 6 minutes, stirring occasionally.

Add apple cider vinegar, chicken stock, salt, cayenne pepper, garlic powder and Worcestershire sauce and bring to a simmer.

Add turkey leg and adjust salt to taste. (You can let this simmer without the greens for up to an hour for more smoky stock flavor if you have time)

Finally add the chopped greens into the pot over a simmer and stir to mix. Cover and let sit for about one hour or until the greens are soft to taste. Take care to not let the stock come to a boil, keep the simmer as low heat as possible.

Serve in your favorite bowl and add some of the turkey from the leg in your dish.
Boom!
More Holiday Side Dish Recipes
If you like this recipe we'd truly appreciate it if you would give this recipe a star review! And if you share any of your pics on Instagram use the hashtag #vindulge. We LOVE to see it when you cook our recipes.
---