Collard Greens with Smoked Turkey is a go to collards recipe and awesome as a holiday side dish. Smoked turkey leg infuses these perfectly cooked greens with amazing flavor versus the traditional ham hock. This is a delicious side dish with southern roots and great flavor.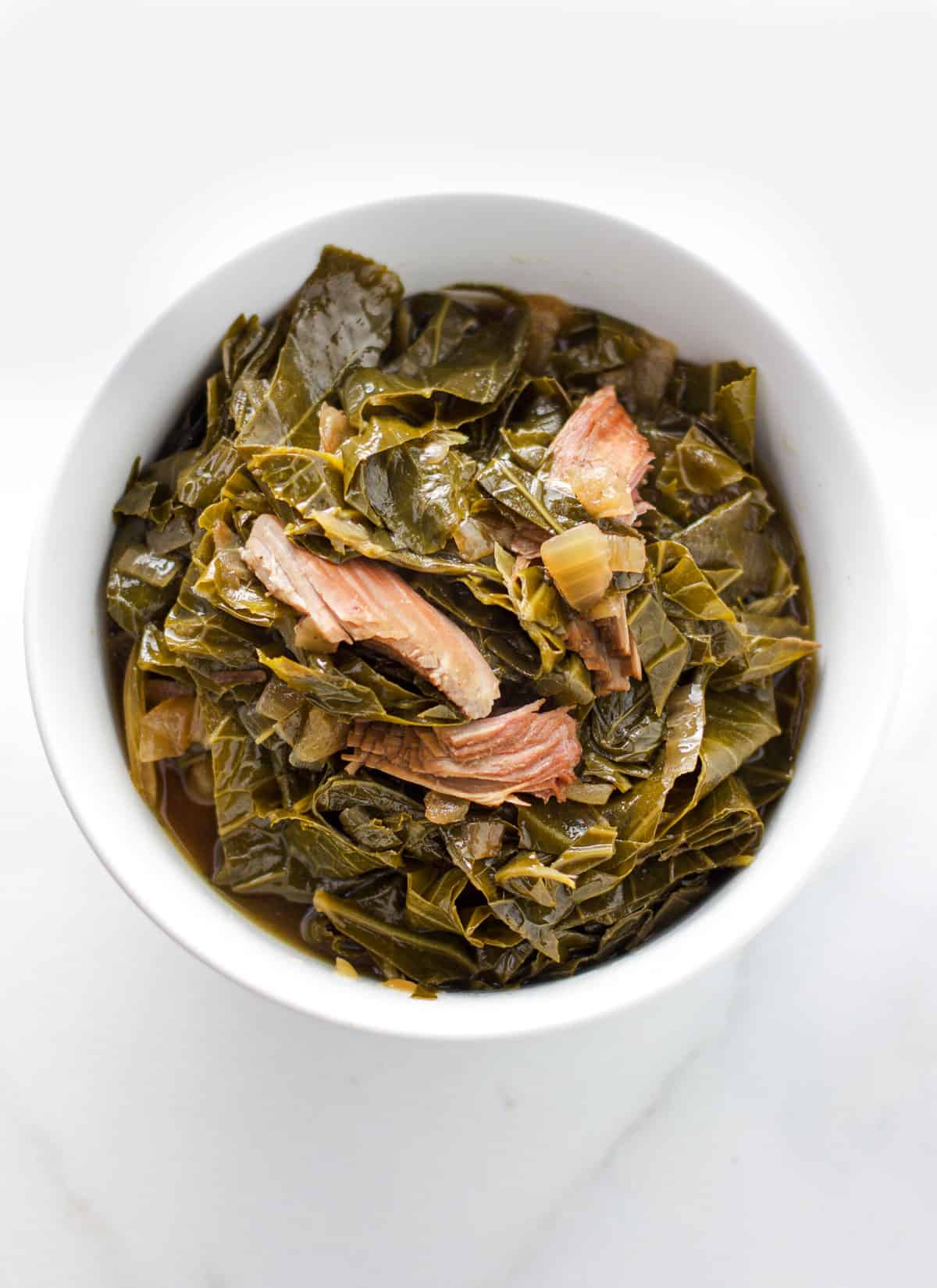 First things first. I need to tell you about these greens. They were inspired by our friend Lynn while we were visiting her home over a holiday. She shared with us her families collards recipe, which had three factors that contributed to their amazingness.
Massaging the greens
Using smoked turkey versus a ham hock
Vinegar
Jump to:
What Are Collard Greens?
Collard Greens are part of the same family of vegetables as cabbage and broccoli. That means for a collards recipe, the leafy green will have thick stems, and dense leaves. When buying collard greens it's important too look for good color (green) and hearty stems. They should not be wilted or browning. That is a sign they have been picked for a while and won't be great for any dish.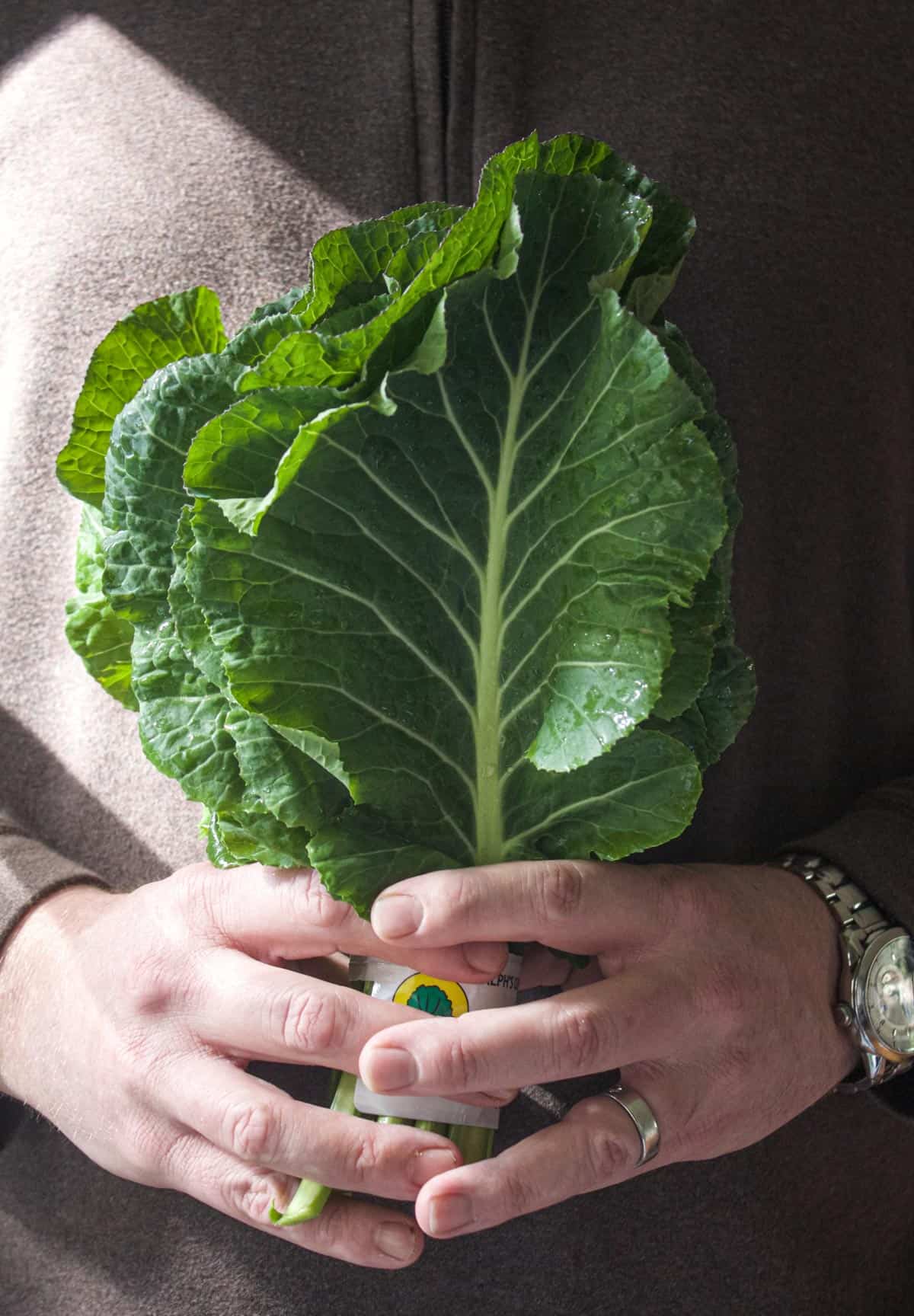 Preparing Collards
Rinse and dry the bunch.
Start by removing the harder portion of the stem by cutting up and around the thicker stalk. A sharp paring knife is perfect for this recipe. As you cut along the edge of the thick stem it will eventually soften mid way up the green. From there cut down along the harder stem and compost it.
Take a handful of the greens and roll them up into a cigar like roll. From there use your hands to gently roll and massage the greens. By doing this, it is breaking down some of the dense fiber of the greens which will help with a tender braised green.
Slice the rolled greens into thin slices.
Smoked Turkey Leg
Most recipes for collard greens will use a ham hock. Ham hocks are a great alternative as well and add a more pork-like flavor. But we absolutely love the smoked turkey leg for this (and very appropriate for the holidays)
If using turkey you can buy a pre-smoked turkey leg (or thigh). BUT in our experience (and we used to take this short cut ALL the time, especially for our smoked turkey gravy) these store-bought smoked turkey legs are pretty flavorless and don't add much magic to your end product. And you want the magic, right?
Just buy an uncooked, unsmoked, turkey leg, season it liberally, and smoke it at 250 degrees Fahrenheit until the internal temperature is 160 degrees.
Can't find a leg? Use a thigh. This can take anywhere from 90 minutes to 2 hours depending on the size of the turkey thigh.
You can do this in advance (hours or even days) prior to making your greens, which is great when prepping for a holiday meal.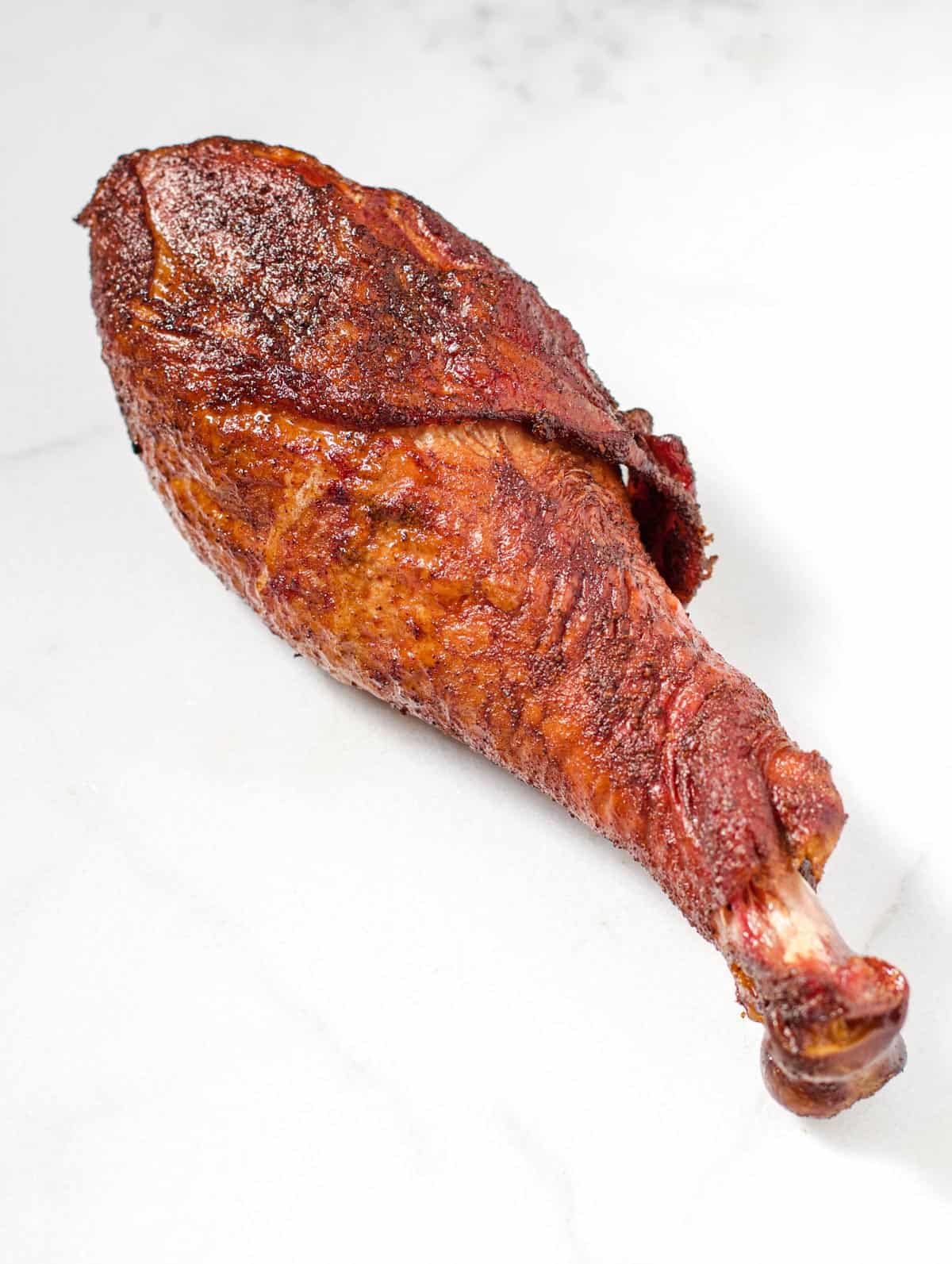 Then use that smoked turkey leg to infuse your greens as the greens braise.
How To Cook Collard Greens
With the smoked turkey done, and the collards prepped, it's now time to create a broth and then braise the greens. The vinegar was an important flavor profile Lynn shared with us and gives a great backbone to the dish.
In a large stock pot, sauté and soften onions. This will take roughly 6 minutes. We find red onions give the most flavor, but yellow or sweet onions are great alternatives.
Add the stock, apple cider vinegar, spices, and Worcestershire to a boil and then reduce to a simmer.
Once the broth is simmering add the smoked turkey leg and continue at a low simmer for one hour. The simmering will infuse the broth with the smoky flavor, and keep the turkey tender.
Finally add the chopped greens into the simmering pot and stir to mix, then cover. Be sure to keep the pot at the lowest heat possible for a simmer and stir every 15 minutes. We don't want to break the greens, just braise them. The greens should be tender and full of flavor after an hour. Salt and pepper to taste.
Serve in your favorite bowl and shred the turkey for some added topping.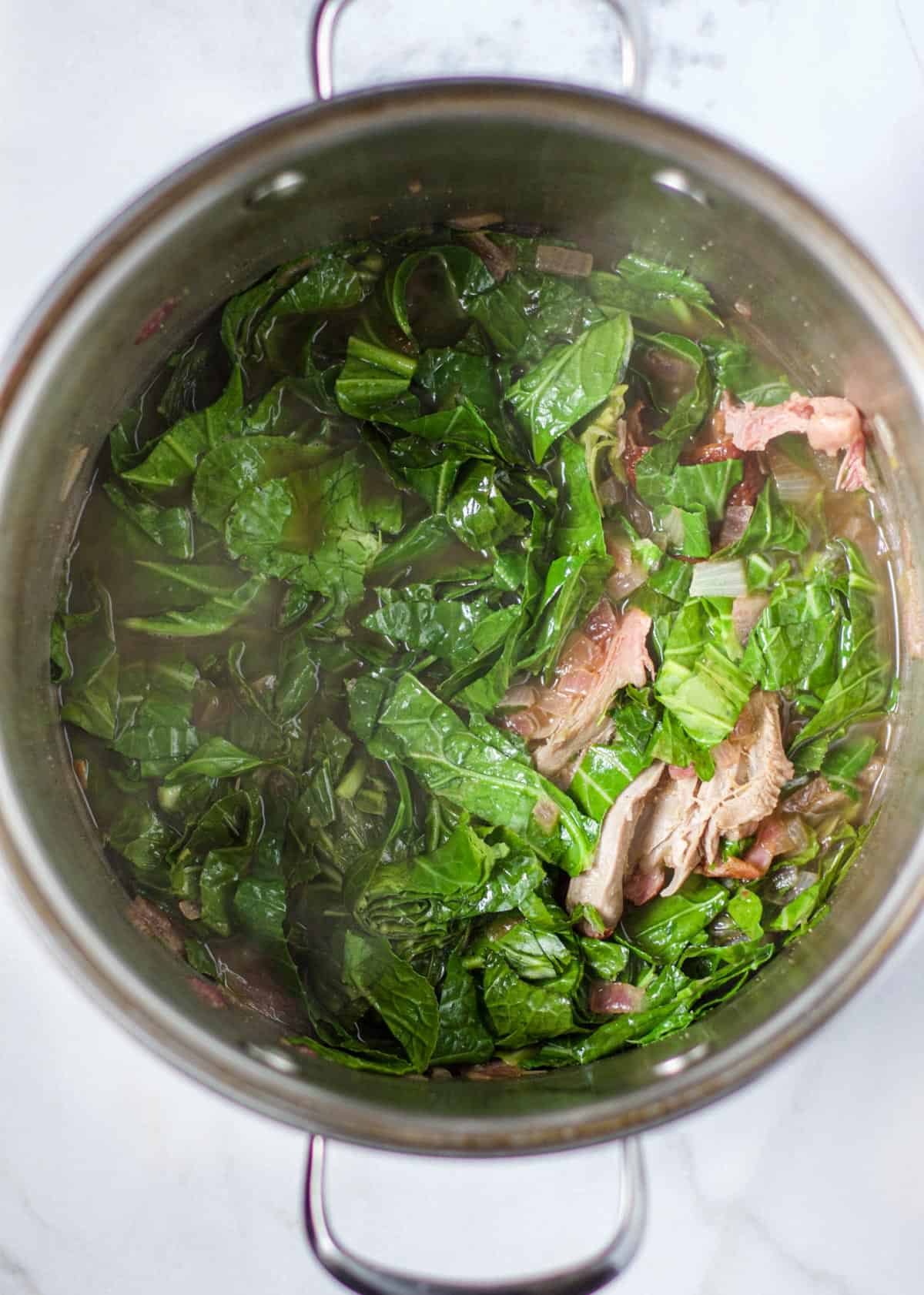 Holiday Main Dishes
Some of our favorite roasts are a great complement to this dish.
More Holiday Side Dish Recipes
We definitely encourage you to add this dish to your inventory and we are grateful to Lynn for sharing with us an amazing recipe with strong family traditions.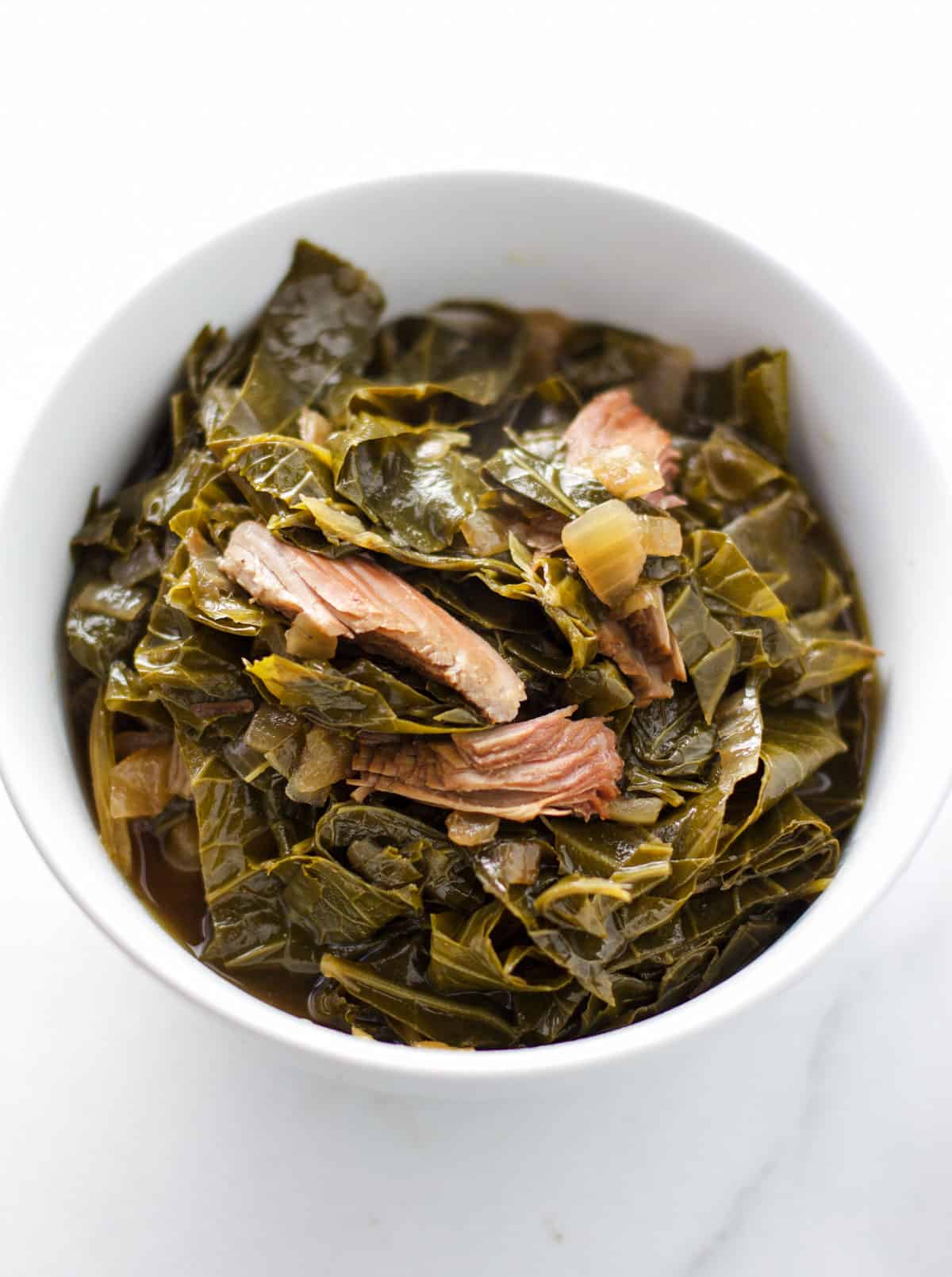 This post was originally shared in March of 2016 and updated in November 2020 with new photos, side dishes, and details for recipe steps.
If you like this recipe we'd truly appreciate it if you would give this recipe a star review! And if you share any of your pics on Instagram use the hashtag #vindulge. We LOVE to see it when you cook our recipes.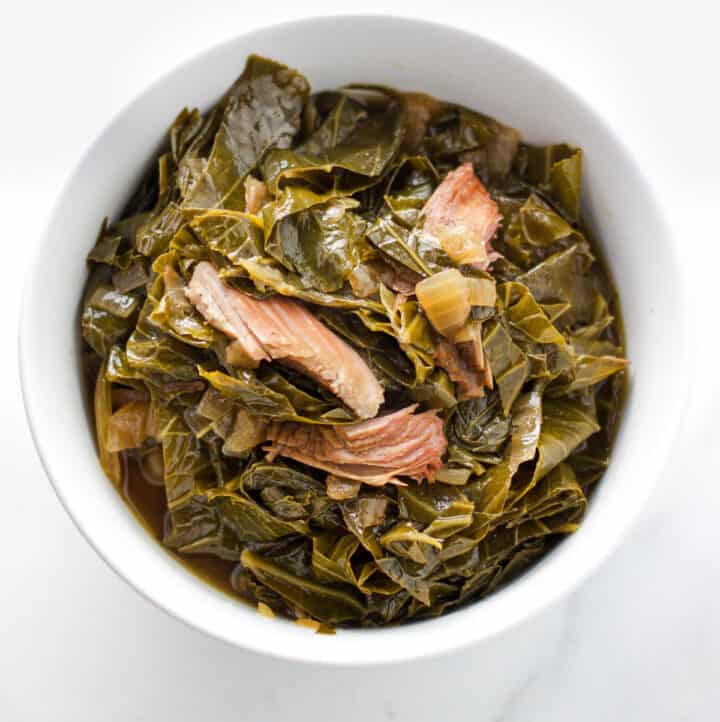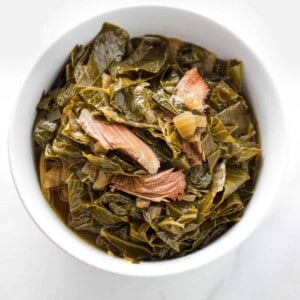 Collard Greens Recipe With Smoked Turkey Leg
How to make smoked collard greens with a homemade smoked turkey leg. One key tip is to be sure the collards are gently rolled or massaged to tenderize them.
Print
Pin
Rate
Ingredients
For the Smoked Turkey Leg:
1 ½

pound

turkey leg

1

tablespoon

extra virgin olive oil

2

tablespoons

poultry rub
For the Collard Greens:
2

tablespoons

extra virgin olive oil

1

small

red onion, diced

3

cups

chicken stock

1

cup

apple cider vinegar, (white vinegar works well too)

¼

cup

Worcestershire sauce

½

tablespoon

kosher salt

¼

teaspoon

garlic powder

⅛

teaspoon

cayenne pepper

1

smoked turkey leg (from above)

1

pound

collard greens, rinsed, de-stemmed, massaged for a couple minutes, and sliced 1-2 inches wide strips after
Instructions
For the Smoked Turkey Leg
Preheat the smoker to 250 degrees F using fruit wood.

Coat the turkey leg with olive oil and poultry rub.

Place on smoker until internal temperature reaches 160 degrees Fahrenheit (approximately 2 hours).
Collards Recipe
Start by preheating a large stock pot over medium high heat.

Add olive oil and the diced red onions and soften for about 6 minutes, stirring occasionally.

Add apple cider vinegar, chicken stock, salt, cayenne pepper, garlic powder and Worcestershire sauce and bring to a simmer.

Add turkey leg and adjust salt to taste. (You can let this simmer without the greens for up to an hour for more smoky stock flavor if you have time)

Finally add the chopped greens into the pot over a simmer and stir to mix. Cover and let simmer for one hour or until the greens are soft to taste. Take care to not let the stock come to a boil, keep the simmer as low heat as possible.

Serve in your favorite bowl and add some of the turkey from the leg in your dish.
Notes
Short Cut Tip: You can buy frozen pre-cooked smoked turkey legs or turkey thighs and substitute smoking them yourself.
Find the perfect wine pairing at the Vindulge Wine Shop
Nutrition
Calories:
457
kcal
|
Carbohydrates:
14
g
|
Protein:
46
g
|
Fat:
23
g
|
Saturated Fat:
6
g
|
Cholesterol:
151
mg
|
Sodium:
1035
mg
|
Potassium:
1009
mg
|
Fiber:
3
g
|
Sugar:
4
g
|
Vitamin A:
3856
IU
|
Vitamin C:
30
mg
|
Calcium:
247
mg
|
Iron:
5
mg
---