12 Rosé Recommendations Perfect for Summer. From light to bold, find out about rosé wines and some of our current favorites.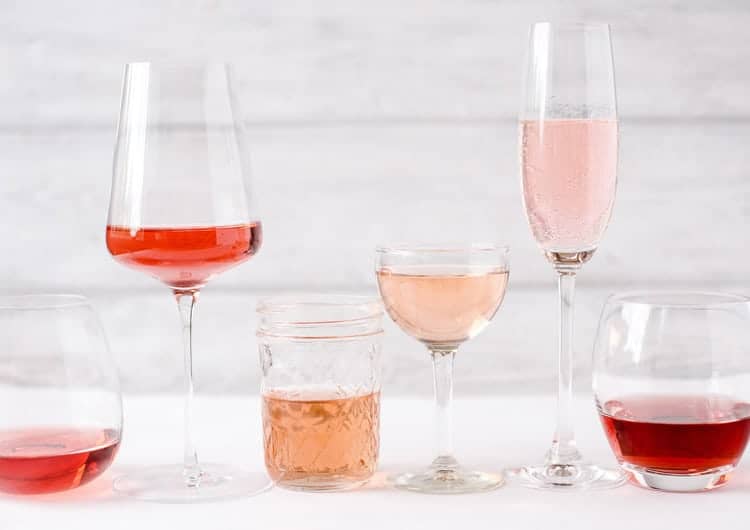 I like to review wines the way most people taste them, with food. Many of the wine reviews you'll see on this site are accompanied by a recipe. When we test recipes we usually open a few different wines of various styles that we think will work, then write about the best pairing.
But often we taste wines — either those sent as samples for review or those we purchase on our own – that are definitely worthy of mention even though they weren't part of a recipe. These wines below fit that bill.
Summer is knocking at our door, and for me that means bring on the pink! We love to drink rosé wine year-round, but they are fairly limited in what you can get. This time of year, rosé wines are everywhere. In fact, they're a little overwhelming. So we're going to start this post with a little primer about what the heck is this pink wine anyways? You'll notice that most of the wines on this list are from Oregon, and, well, that's because that's what we've been drinking this spring. There is a great flock of Oregon rosé this year, and I want you to know about it.
Bonus: a few of these wines made it to my Wine of the Week. That is a weekly feature I generally reserve for my newsletter subscribers, but wanted to give a sneak preview here. The reviews in my newsletter go into more detail and depth on the wines, and also show you where you can purchase them. If you're interested in our weekly WOTW feature, you can subscribe to our newsletter here to receive that and other exclusive features for our awesome group of subscribers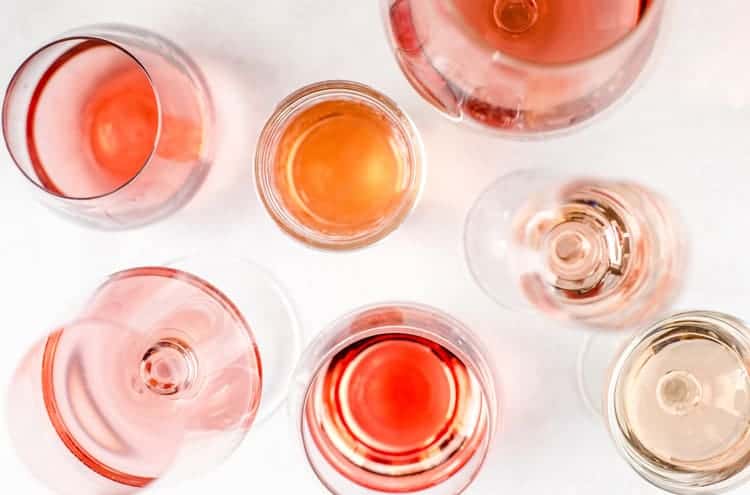 Bring on the  Rosé
Yes way, Rosé! Rosé is an amazing expression of winemaking that takes on so many flavors and variations throughout the world. We aren't talking about white zinfandel here. Rosé wine of today is sophisticated, acidic, great with food, and will run the full range of flavors.
These wines are generally produced from red grapes. When grapes are pressed (before fermentation), the juice of nearly every single grape runs clear. The skins give wine its color. With red wines, the grapes are pressed and ferment with their skins attached. With white wines, the skins are removed before fermentation, leaving that pure juice and clear color.
How is rosé wine made?
Letting skin of red wine grapes stay in contact with the juice for a few hours (up to 24 hours in some cases) to get a pinkish hue, before the juice is separated from the skins.
Blending red and white wine together – common for sparking rosé wine (but not so common in still rosé).
Saignée, or "bleeding," whereby grapes sit in their skins, allowing some the juice to "bleed" off into a new vat to produce a rosé. What remains of the red will be more concentrated and intense.
The intent of the style will be very specific from winemaker to winemaker. Slightly fruity, acidic, range of dry to sweet, all represent what to expect. The key is finding the style you like and experiment. Not a bad deal, right?
There's so much more to what goes into a great rosé, and I go into more depth in our upcoming book. You'll have to stay tuned to learn more. But for now this is a good start!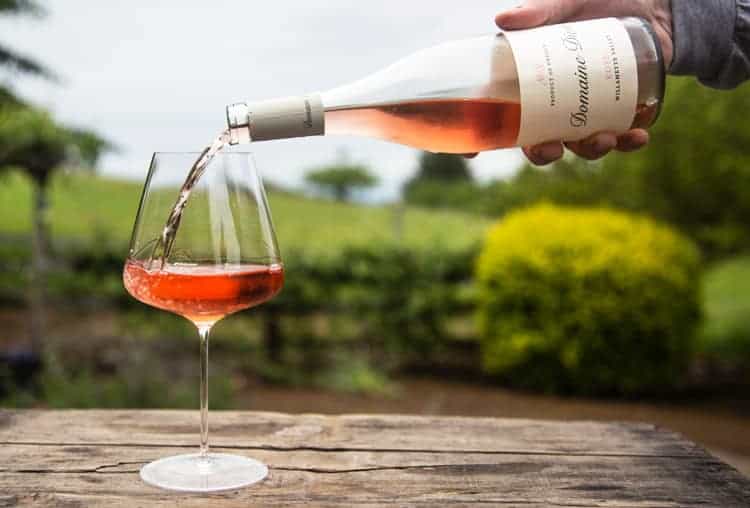 Favorite Rosés of 2019 (so far!)
2018 Domaine Divio Rose Rosé (Willamette Valley, Oregon)
This has to be one of the best ones we've had this season. It's what I love in an Oregon rosé. Made from 100% Pinot Noir grapes, this wine offers fresh strawberries, bright cherries, and mild watermelon. It's fresh and clean throughout with bright and crisp acidity. I could probably drink this one everyday this summer. Bright, light, fresh, crisp, and balanced. What more could you want in a summer sipper?
12.8% abv  |  $28
*Wine of the week, May 24
2018 Willakenzie Estate Rosé (Willamette Valley, Oregon)
I bought this at the winery after taking my mom wine tasting on Mother's Day. We all fell in love with it (even my mom, who only ever enjoys Moscato). Now this one tastes nothing like Moscato, but everything that's delicious about Oregon rosé. It's fresh, clean, bright, and very mildly tart in finish (in the best way). Mild cherry, some citrus, mild minerality on finish
Very mild and fresh, this Provence style rosé is going to be one I'll reach for again this summer.
13.6% abv  |  $28
2018 Chehalem Rosé of Pinot Noir (Chehelam Mountains, Willamette Valley, Oregon)
Crisp, with bright light red berry fruit, some cranberry, tangerine, and rich orange zest. A pretty wine with fairly mild-ish tones (not too light, not intense at all), with night fresh acidity driving it throughout. It's also quite versatile and will pair with a wide range or summer flavors.
13.2%  |  $25
2018 Child's Play Pinot Noir Rosé (Willamette Valley, Oregon)
The color on this was super bold, suggesting bold flavors inside, which it had (in the best of ways). Similar to the previous vintage of the same wine, this isn't your light and airy Provençale style of rosé, but it's still darn tasty with deep cherry, raspberry, and strawberry rhubarb pie flavors with lovely balancing acidity. This one's screaming for summer BBQs and cookouts. This wine can handle some bigger summer flavors! I'll even go as far as suggesting you pair it with your smoked ribs!
13.8% |  $30
2018 Sokol Blosser Estate Rosé of Pinot Noir (Dundee Hills, Oregon)
Made from 100% Pinot Noir grapes, this one came off quite citrusy and grapefruity. I almost could take it for a Sauvignon Blanc. It quickly opened up to some red berry fruit and a touch of peach. Nice and bright, just a bit different than what I'm used to for Oregon rosé. A good one for summer salads.
12% abv. |  $25
2018 Rain Dance Vineyards Rosé, Grand Oak Vineyard (Chehalem Mountains, Oregon)
Light, bright, and fresh with lots of tangerine and dried apricot. I really like the balance of this one. It would be perfect for this grilled beet salad with rosé infused cranberries!
14.1% ava  |  $24
2018 Stoller Family Estate Rosé (Willamette Valley, Oregon)
Year after year I look forward to Stoller's Rosé, and this year did not disappoint. It's pretty boldly aromatic with bright juicy strawberries, cherries, herbs, and citrus peel (think pink grapeftuit). It's energetic and lively in the mouth with mouthwatering acidity. It's on the bolder side this year, and could handle grilled meats, including a flank steak salad.
12.5% abv  |  $25
2018 Marshall Davis Pinot Noir Rosé (Yamhill-Carlton, Willamette Valley, Oregon)
Made from 100% Pinot Noir, barrel fermented and aged in French Oak for 3 months, this one had lots of orange rind and tangerine flavors along with some lime and tart cherries that felt a bit underripe (but in a good way!). Quite nice, light, bright, fresh and tasty.
12.7% abv  |  $25
2018 Lucy Rosé of Pinot Noir (Santa Lucia Highlands, Monterey County, California)
Made from 100% Pinot Noir, this is a bright, fresh, and super elegant wine. Very aromatic with fresh strawberries, sweet cranberries, and a touch of sour cherry. There's bright acidity with lemon zest and a hint of mandarin orange on the finish. And it's a treat to taste.
Inspired by a breast cancer survivor named Lucy, $1 from every bottle sold is donated to breast cancer research.
*Wine of the Week, June 14th
13.9% abv  |  $19
2017 Masciarelli Rosato (Colline Teatine, Central Italy)
Peach, strawberries, and citrus fruit on nose with some wet stone-like minerality. This one gets pretty lively in the mouth with some tangerine and orange peel. It's got some lingering acidity and a touch of Meyer lemon. Easy drinking and another solid value for the price.
12.5% abv  |  $12
2018 Mandrarossa Perricone Rosé (Terre Siciliane, Italy)
Bright tropical notes, papaya, pineapple, and guava meet with fresh juicy strawberries. Refreshing, mildly tart with lively acidity, this one's a great value at
$12% abv  |  $12
2018 Chateau Minuty 'M de Minuty' Rosé (Cotes de Provence, France)
Made from a blend of Grenache, Cinsault, Syrah, this light and bright easy drinking wine has lots of orange peel, strawberries and ripe pears. It's fresh and prime and ready for a picnic with a nice cheese and charcuterie spread.
12.5%. | $17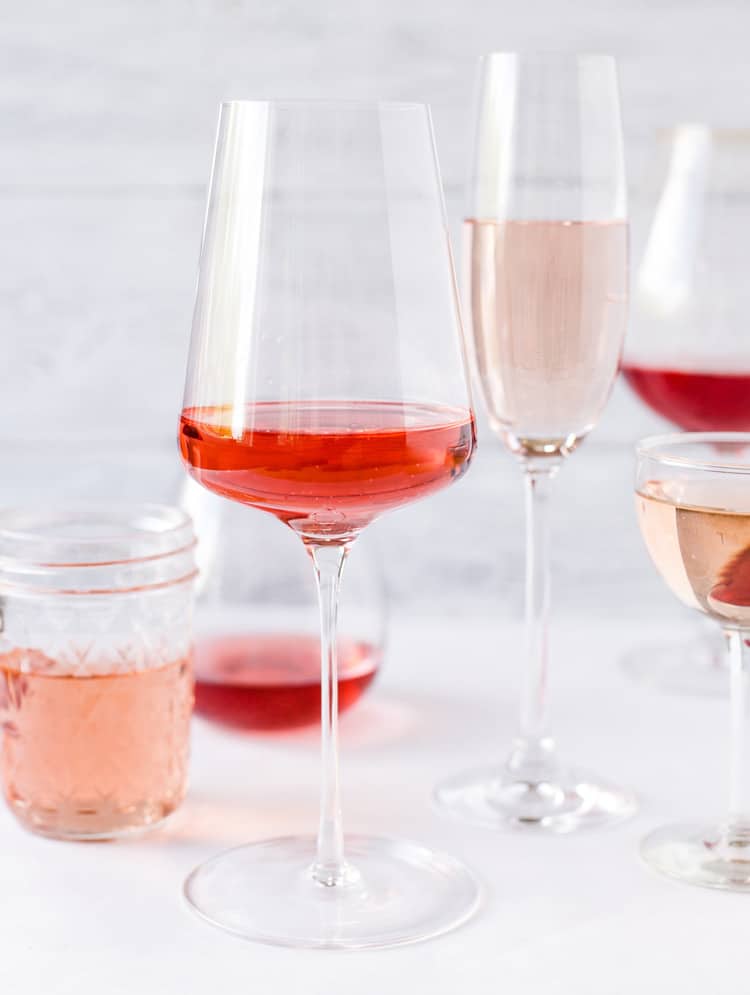 ---
If you want to learn about our featured Wines of the Week, make sure to subscribe to our newsletter for exclusive reviews, recommendations, and tips!
*Many of these wines were were media samples for review.  See my sample policy here.