Smoked Lamb Meatballs, made with ground lamb shoulder, are jam-packed with flavor and a offer an awesome way to jazz up any pita sandwich!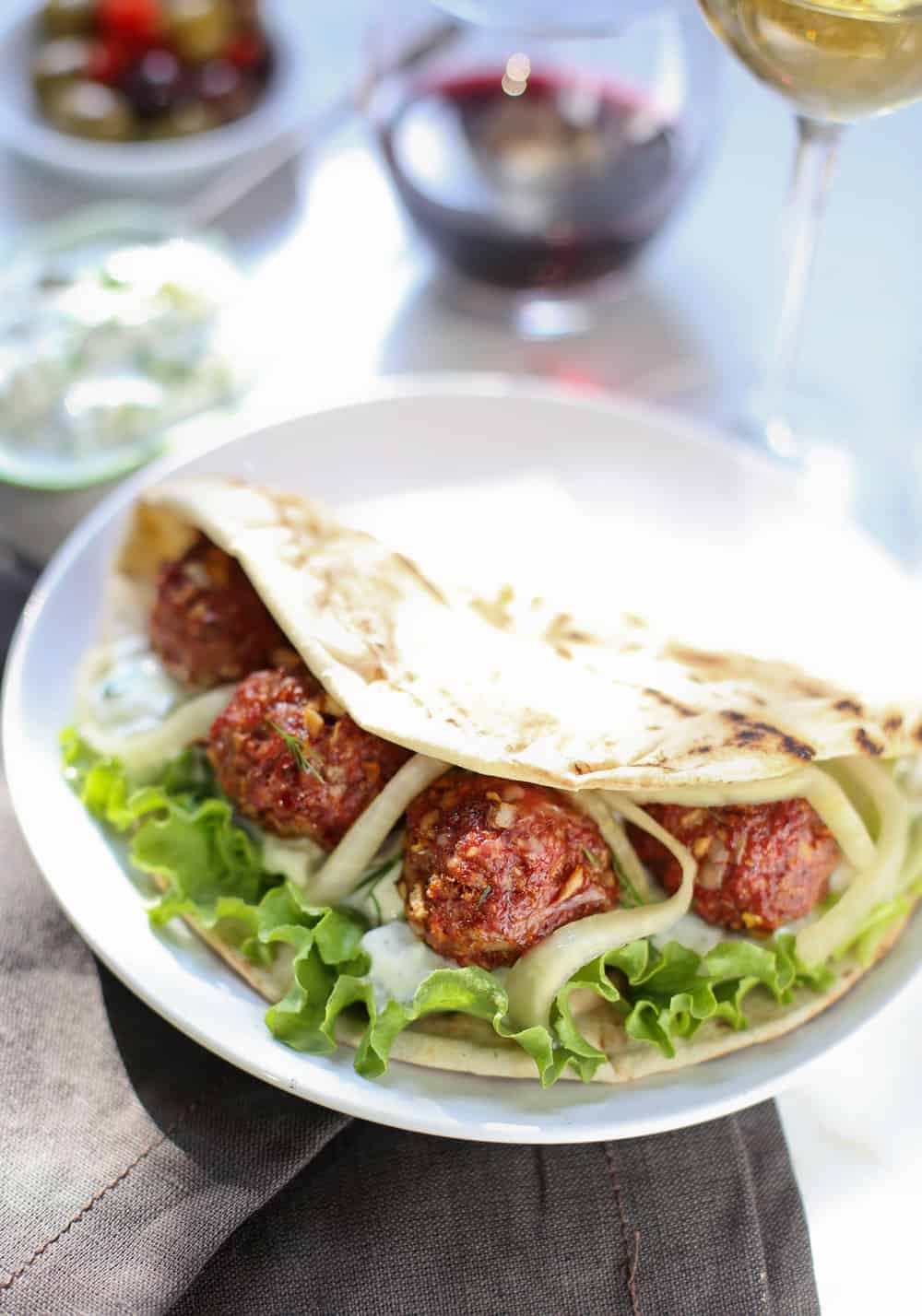 I never thought I'd be such a lamb fan. We never ate it growing up so I guess I was always a little weary of it. But I've really grown to love and appreciate it's distinct earthy and slightly gamey, not to mention savory, flavors. And it takes to smoke like a champ! We're constantly testing out new ways to enjoy lamb, like these lamb lollipops, lamb burgers, or smoked lamb chops, or even smoking an entire lamb shoulder (and pulling it much like you would pulled pork for lamb sliders).
We recently had dinner with some friends who made some tender and delicious lamb meatballs (thanks, Sara!), which inspired us to experiment with our own smoked lamb meatballs.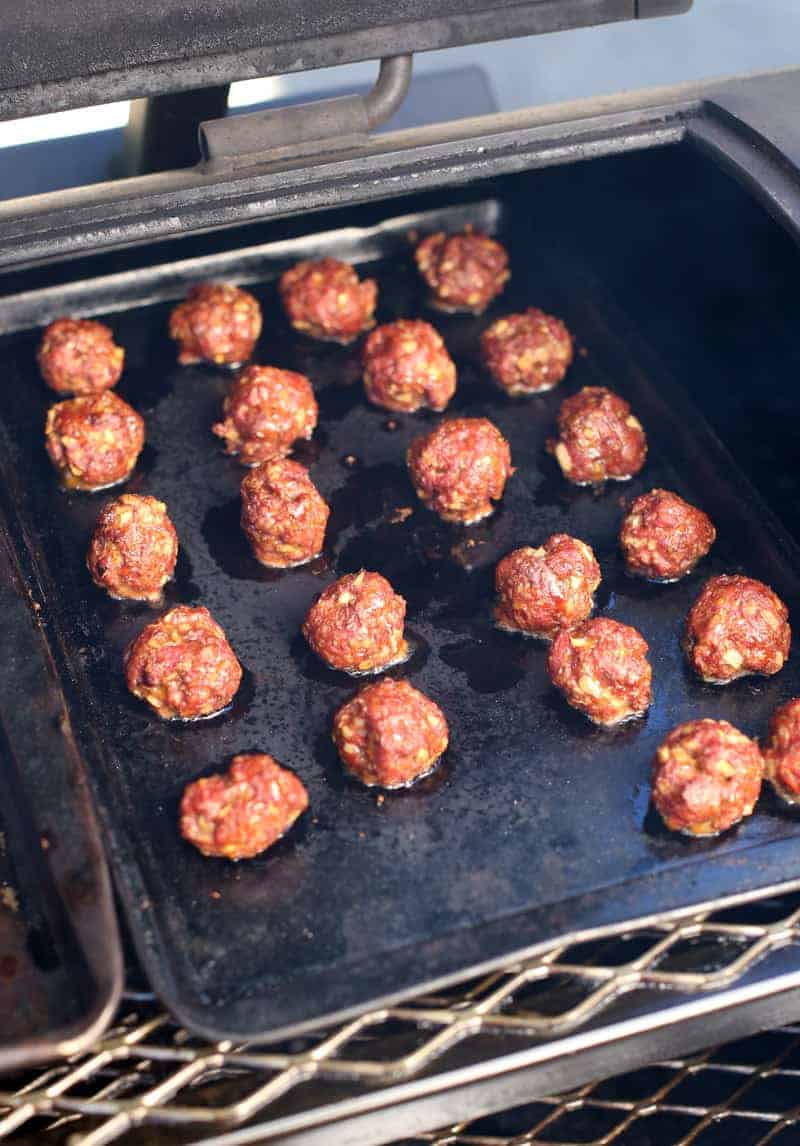 Hot damn! These rock.
We experimented with quite a few different combinations of flavors for these lamb meatballs. Some with heat, some without. In this testing we learned that a little bit of heat goes a long way with these, and really takes away from the gamey flavors. So we scaled back. We also discovered that some sweetness, from baking spices like cinnamon, adds the perfect touch. Lamb has such great natural flavors that you really don't need to add too much to create great meatballs.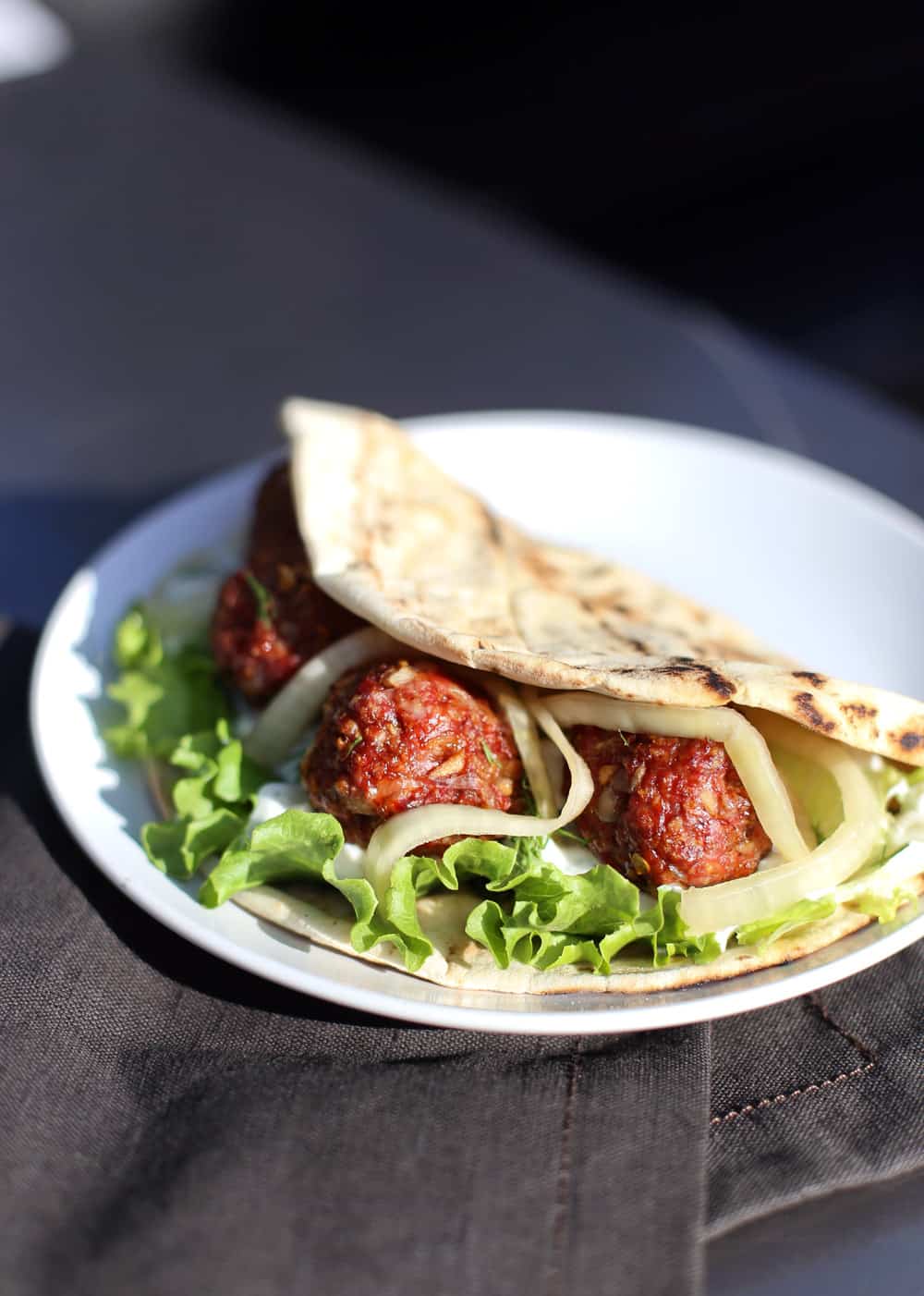 Encouraged by few bottles of Lebanese wines we wanted to try, we decided to go with a loosely Mediterranean influenced spread and make pita sandwiches. It's a great way to stretch your dollar with lamb, and encourages picky eaters to experiment too (our kids love pita sandwiches).
If you can't find ground lamb meat, which to be honest is quite rare, ask your butcher to grind up some lamb shoulder for you. We called our local grocery store in advance to ask if they'd grind up a few pounds of meat and they had it ready for us by the time we arrived so we didn't even need to wait around. It never hurts to ask!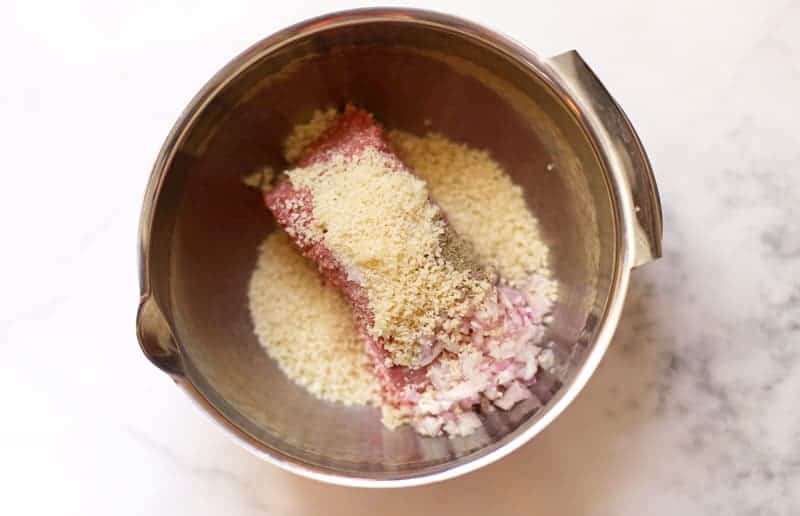 How to Make Smoked Lamb Meatballs
Start by setting up your smoker to around 250 degrees (F).
Mix the ground lamb with all the ingredients and roll into your preferred size meatball (we went with golf ball size to fit nicely inside the pita), then place on your smoker and cook until the internal temp of the meatballs reach 160 degrees. This should take roughly an hour, depending on any heat fluctuations inside your smoker.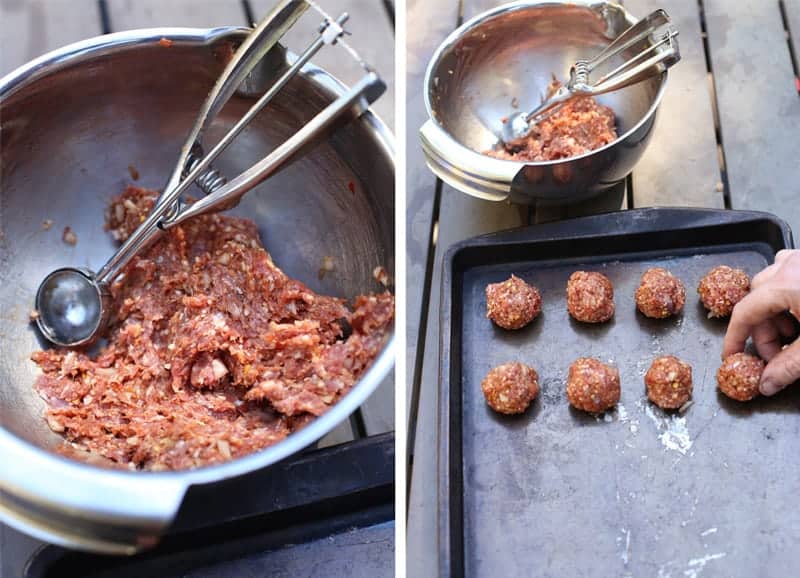 Make sure to always test the temperature of your meat using a good thermometer. Sounding like a broken record, I have to mention again that we love the Thermapen and also it's little brother (also much more affordable option) ThermoPop.
They just released a new ThermoPop that reads temps in around 3 seconds (that's 2 seconds quicker than the former ThermoPop). It's still not as quick as the Thermapen, but it's also about $60 cheaper. Boom!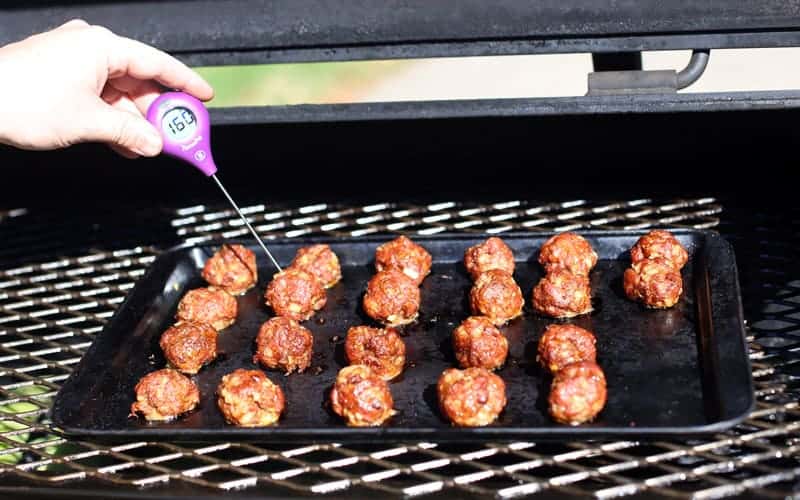 How to Prepare Smoked Lamb Meatball Pitas
We've enjoyed these several ways, including in a simple Pomodoro sauce served with pasta (yum!). But our favorite has been in these pita sandwiches. We just warmed up a pita and stuffed it with some fresh crispy greens, tzatziki sauce, some smoked pickled onions and these fantastic meatballs. The tzatziki is a great option if you do chose to make the meatballs on the spicy side. The yogurt-based sauce has a nice cooling effect on the spicy meat.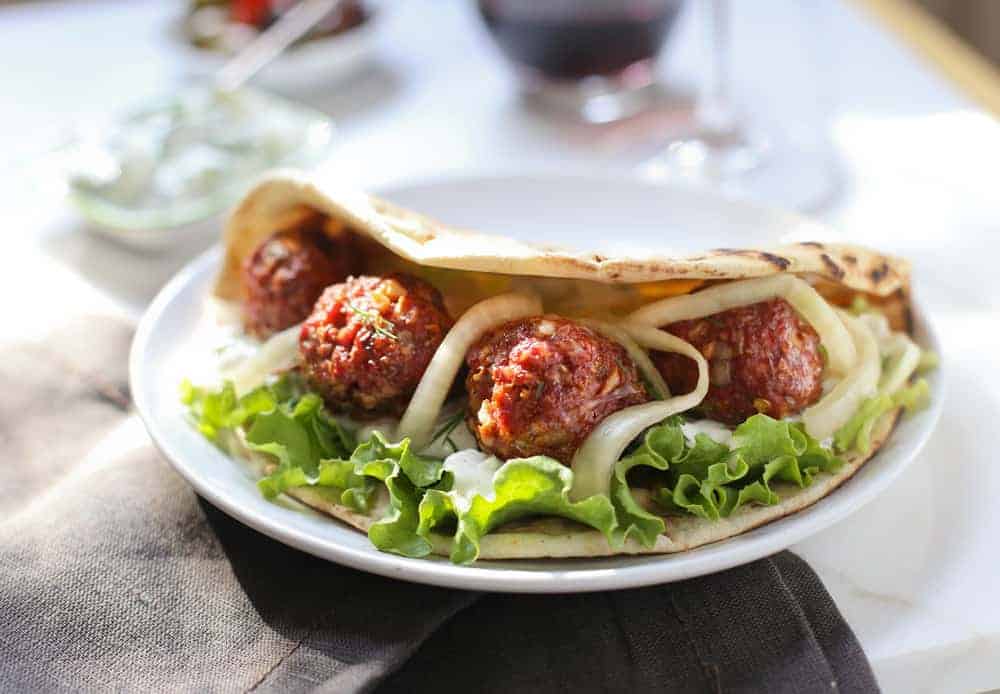 Boom. There you have it!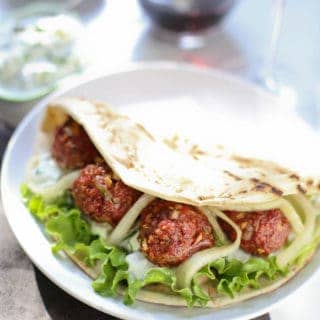 Smoked Lamb Meatballs for Pita Sandwiches
Smoked Lamb Meatballs, made with ground lamb shoulder, are jam-packed with flavor and a offer an awesome way to jazz up any pita sandwich!
Print
Rate
Total Time:
1
hour
10
minutes
Servings:
20
meatballs (4-6 servings)
Ingredients
For the Smoked Lamb Meatballs:
1

lb.

ground lamb shoulder

3

garlic cloves

finely diced

3

tablespoons

diced shallot

or onion

1

teaspoon

salt

1

egg

1/2

teaspoon

pepper

1/2

teaspoon

cumin

1/2

teaspoon

smoked paprika

1/4

teaspoon

red pepper flakes

1/4

teaspoon

ground cinnamon

1/4

cup

panko breadcrumbs
Instructions
Set smoker to 250 degrees using fruit wood (we used cherry).

In a large bowl, combine all meatball ingredients together and mix thoroughly with your hands.

Form into small golfball sized balls and place on a baking sheet (should yield around 20 meatballs).

Place the baking sheet with the meatballs on the smoker and cook until the internal temperature of the meatballs reach 160 degrees (approximately 1 hour).

Remove and serve (we like to use them in pita sandwiches).
Wine Pairing for Lamb Meatballs
We were trying to come up with something fun to pair with a few wines from Lebanon I received. Not having tried any wines from the country before I decided to try all three with the meatballs to see how the range complements with the food.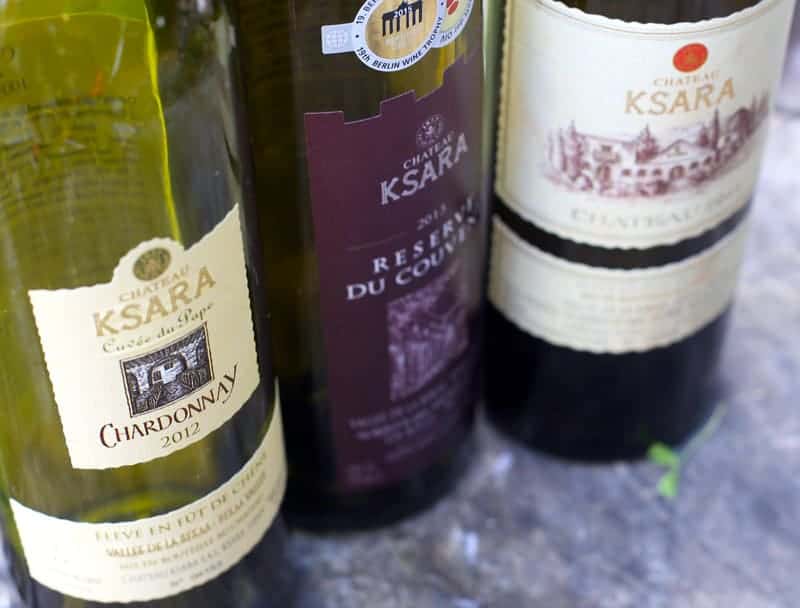 2012 Château Ksara Chardonnay (Bekaa Valley, Lebanon)
100% Chardonnay, this wine had a lively nose with ripe tropical fruit (mostly pineapple), and some tart apples. It was mildly creamy with lingering spice and minerality. Not intensely oaked, but did provide some sweet toasty notes. This was definitely the standout with the dish. It really held up nicely with the bold flavors of the meatballs and creamy tzatziki sauce. If you can't find this exact wine, try it with your favorite fruity Chardonnay. 13.5% abv | $18 
2012 Château Ksara Reserve du Couvent (Bekaa Valley, Lebanon)
40% Syrah, 30% Cabernet Franc, 30% Cabernet Sauvignon. I was really hoping this one would be a good red to match the dish. The thought of fruity Syrah and herbal Cab Franc sounded like it would be a winner. But this wine was definitely more earthy rather than fruity. It was quite nice, and very dry, but would be better off with some roasted meat rather than these spicy and herbal meatballs. I still think a Syrah or Cab Franc could be awesome with these meatballs, but perhaps something more new world and fruit forward. 13.5% abv | $13
2012 Château Ksara "Château Red" (Bekaa Valley, Lebanon)
60% Cabernet Sauvignon, 30% Merlot, 10% Petit Verdot, the red I didn't have much hope for as a good pairing ended up surprising me! I had assumed this would be the earthier of the two (based on the blend), but it was quite fruity and fresh. It was perfumed and filled with red and black berry fruit with some sweet vanilla and lingering spice. It provided the fruit and power needed to stand up to the bold meatballs. 13.5% abv | $20 
Where to find these wines locally: I saw quite a few Lebanese wines at Barbur World Foods here in Portland and also read about some at some of the local Lebanese restaurants. Worth a try to check out, or find an alternative in similar blends. 
What would you pair with these meatballs? And have you ever had any wines from Lebanon? I'd love to know your thoughts.
---
This post contains affiliate links for the ThermoPop instant read thermometer. As y'all know we're huge fans of these thermometers and use them all the time! I'd never recommend anything we don't use on a regular basis. These thermometers friggin rock! 
These wines were provided as samples for review. See my sample policy here. 
---
If you like this recipe we'd truly appreciate it if you would give this recipe a star review! And if you share any of your pics on Instagram use the hashtag #vindulge. We LOVE to see it when you cook our recipes.