Our secret to smoking burgers with incredible smoky flavor and moisture with the perfect char on the outside. Plus a recipe for Smoked Mexican Burgers with Chorizo and Smoked Poblanos.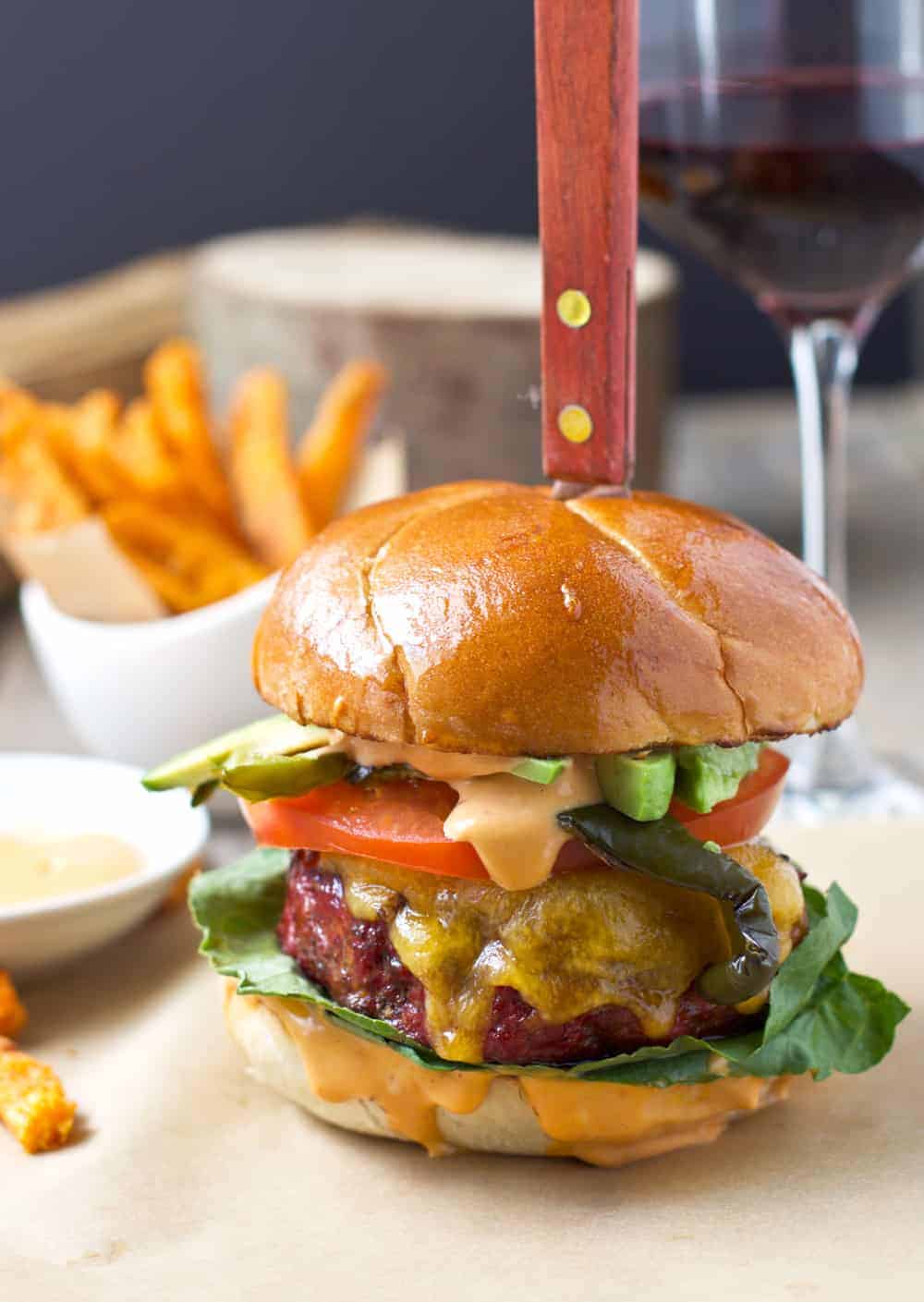 Burgers. Oh burgers.
I'll be honest; I was never a huge homemade-burger-at-home kind of gal. I used to reserve those for restaurants that are known for really amazing juicy burgers. When we would do them at home I would usually do my best to try to be "healthy" about it (by using ground turkey instead of beef). If you remember, we do have an amazing trick to add incredible flavor to turkey (spoiler alert, it's bacon paste).
But for beef burgers, they had to be amazing for me to dive in and commit to making them at home.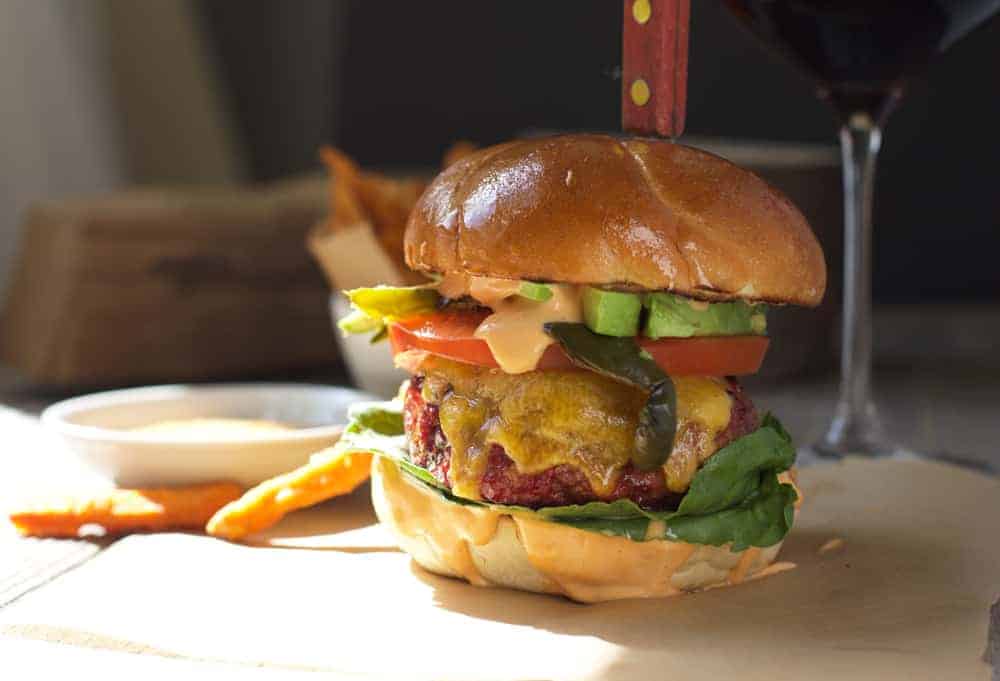 We've been smoking burgers for some time now (any kind, poultry, beef, salmon, you name it… even veggie burgers!), and what many smoked burger recipes out there are missing is that awesome char you get from grilled burgers. You know what I'm talking about.
That sear you can only get from direct heat.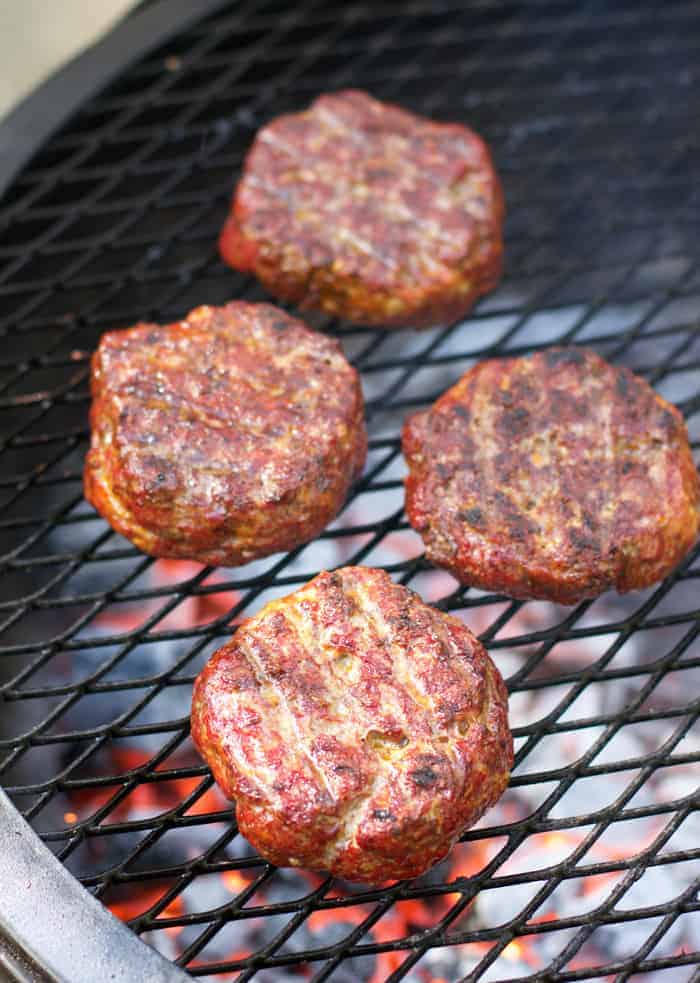 I missed that.
I'll also be the first to admit that before I started trusting in my digital thermometer I was the queen of overcooking meat. THE QUEEN! Overcooked meat is such a sad sad thing. My husband is the opposite. He liked everything raw (or at least it seemed that way to me). When Sean got his first grill he served me undercooked poultry twice in a row (he has since fixed that btw). I thought at first he was just trying to kill me off, but since learned that's just the risk you run when not using a thermometer. He would undercook. I would overcook. That's why one of our most critical tools for the grill is a good thermometer. In the end, you cook to temperature, not to time. That means you really need to invest in the right temperature tool. We started out with a cheap old thermometer from the grocery store (basically something that is the same design from the 1900's). It works fine, but the problem is they take a lot of time to get the proper reading, and they're also not 100% accurate. Opening and closing your smoker (or oven) lets out heat, so every second you wait for the reading you are losing essential cooking heat! Which is why we now use a digital thermometer, like this (this one is less expensive and works great too), for immediate results.
Which brings me back to these burgers.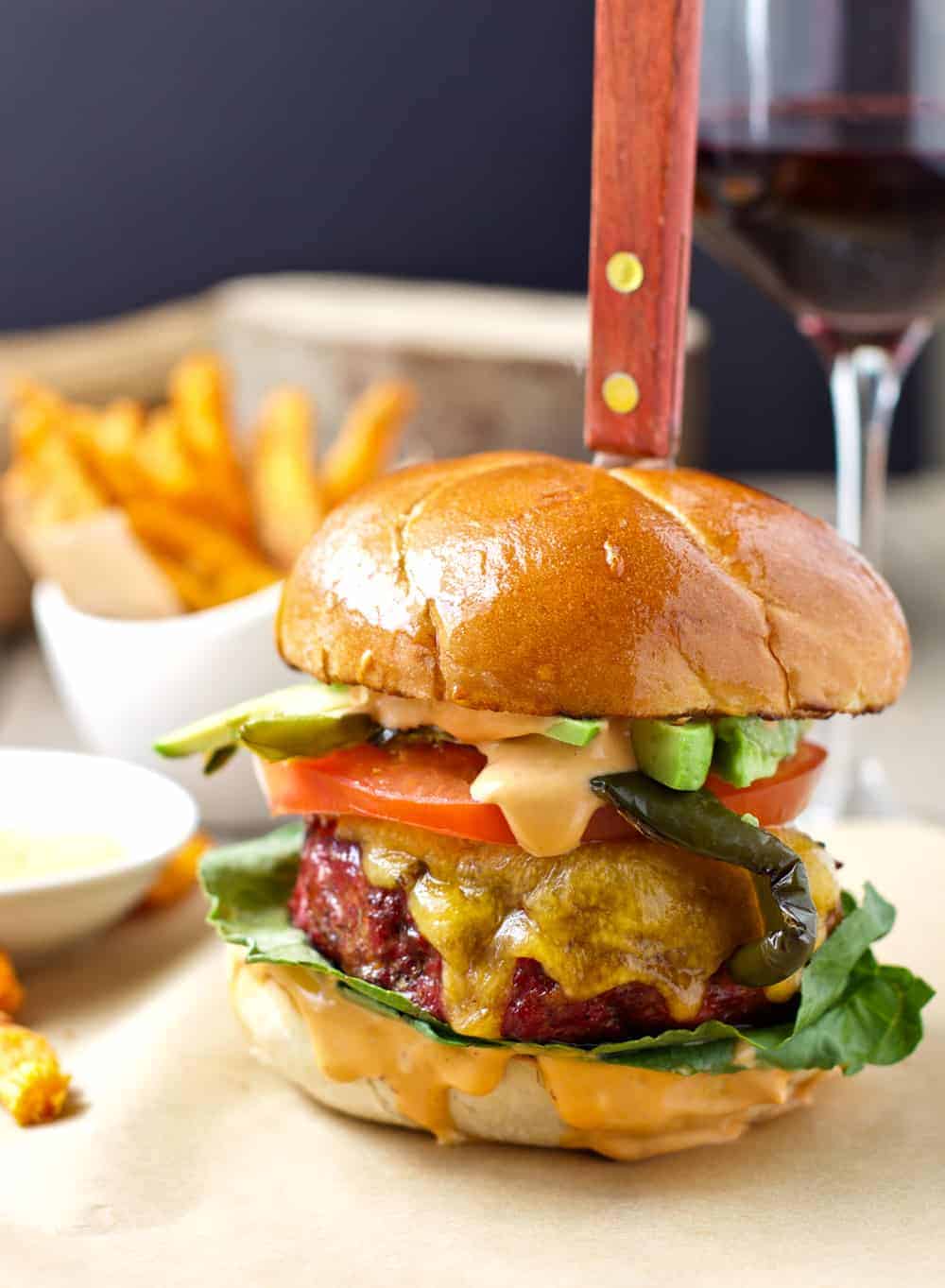 A good burger is many things, but one of the most essential things is that it should be juicy!!! I'm talking like 4 napkins for wiping your mouth and hands kind of juicy. Juicy burgers come from two things — having a good ratio of lean meat to fat, and not overcooking your meat. Fat gives you that juice we're looking for, as well as flavor!
For beef burgers we like to use at least 80% lean and 20% fat (i.e. 80/20). If you want an even juicier burger (who doesn't?!), then 70/30 (30% fat to lean) is an even better bet.  Local  markets tend to carry a lot of 85/15, which is fine too, but 80/20 seems to be the sweet spot for us.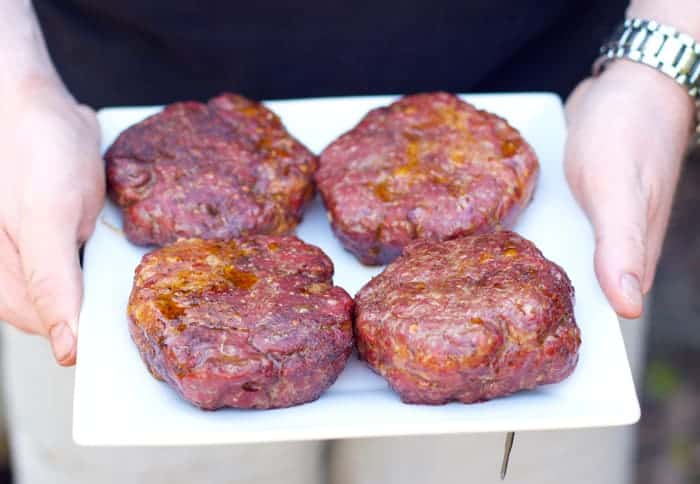 Now when it comes to smoking your meat, we like to make our patties fairly thick (about 1 inch), so that they can stay on the smoker long enough to soak up some of that delicious smoky flavor without cooking all the way through.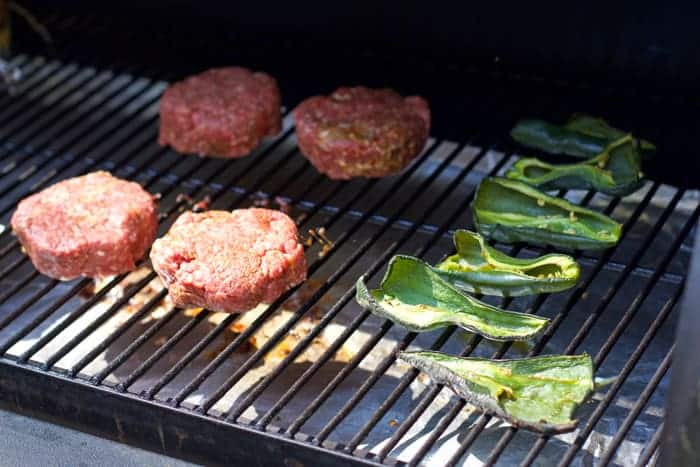 We smoke them for about 45 minutes at 200-225 degrees. Once the burgers come up to around 130 degrees we pull them off and transfer them to the grill to finish.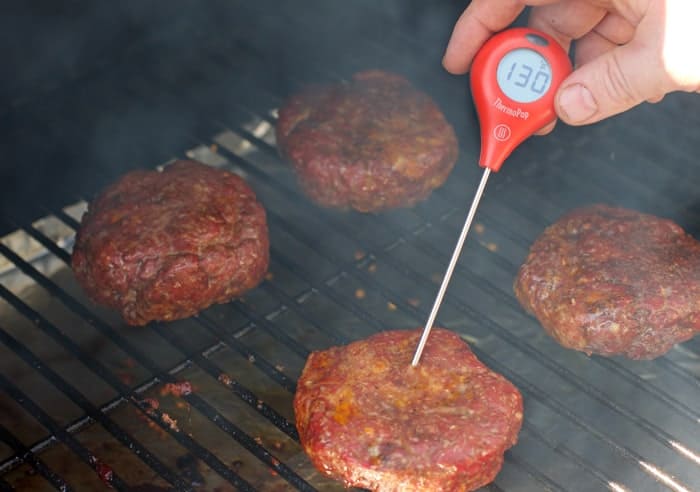 Now this may sound a bit labor intensive, to use both the smoker and the grill, and, well it is. But it's sooooo worth it!
You don't have to finish them on the grill. You can totally keep them on the smoker until they reach the recommended temp of 160, but if you want that sear, and I think you do, then I highly recommend you take that one extra baby step and finish them over fire, baby.
Once you transfer them to the grill they will finish cooking very quickly, so this is where you need your thermometer to keep monitoring. Don't let them get over 160, because that's where you'll start to loose all that moisture and flavor! This can happen quickly!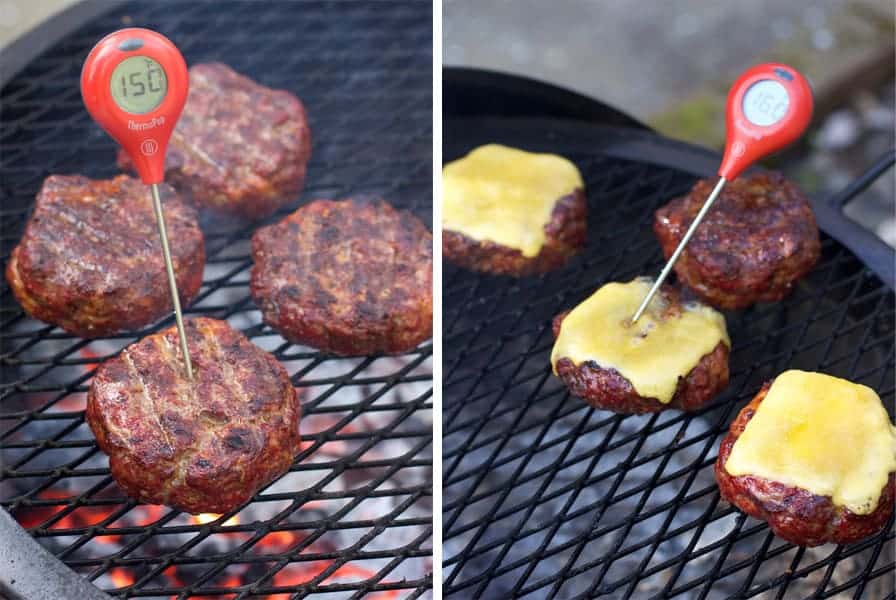 Once they get to around 150 slap on your cheese, if you're into that, and let it melt during those last few moments. Once you hit 160 you're in the safety zone for ground beef, so pull those bad boys off!!!
You can use your favorite flavorings to season up your meat. Sean likes a simple burger with few toppings or seasonings, like this: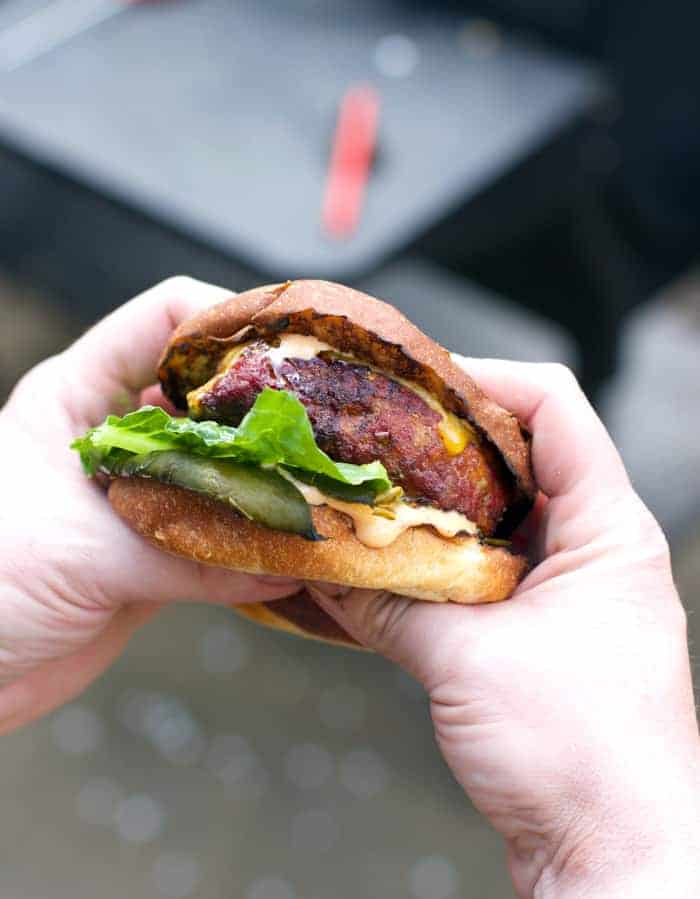 BUT, if you want to try something a-mazing, a touch spicy, and full of ridiculously awesome Mexican flavors, then try this recipe for Smoked Mexican Burgers with Chorizo and Smoked Poblanos.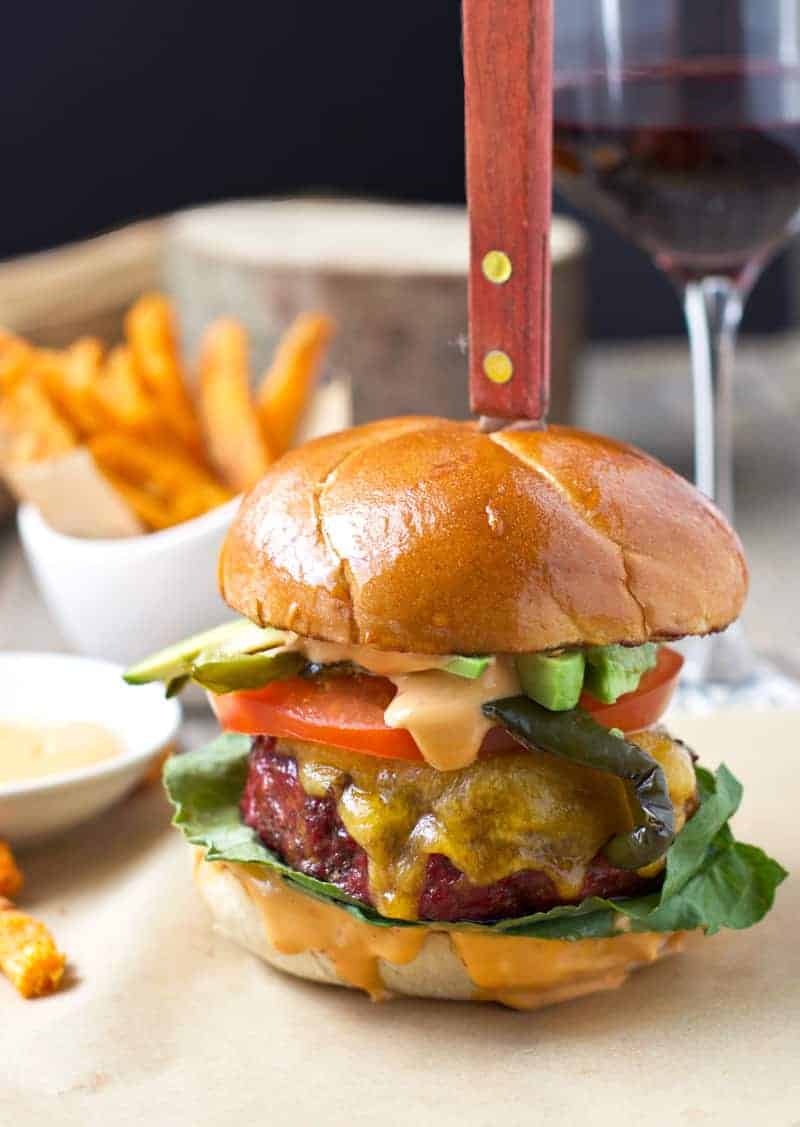 Ahhhh the flavors! The intensity of the chorizo mixed with the beef. The smoky poblanos. The chipotle aioli. The perfectly cooked and juicy meat. The love!!!
This, my friends, is the ultimate smoked burger. Warning: this may ruin you from ever going to another burger joint again. When you can make these, you really don't need anything else.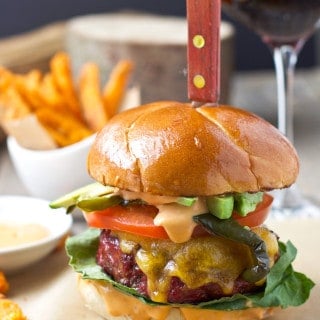 Smoked Mexican Burgers with Chorizo and Smoked Poblanos
How to smoke burgers with incredible smoky flavor and moisture with the perfect char on the outside. Plus a recipe for Smoked Mexican Burgers with Chorizo and Smoked Poblanos.
Print
Rate
Cook Time:
1
hour
30
minutes
Total Time:
1
hour
40
minutes
Ingredients
For the Burgers:
1 1/4

lbs

ground beef 80/20

¼

lb

ground chorizo

or spicy Italian sausage if you can't find it

1

teaspoon

garlic powder

1

teaspoon

paprika

1/2

teaspoon

kosher Salt

1/2

teaspoon

pepper

4

poblano peppers

sliced in half

4

potato or brioche buns
For the Chipotle Aioli:
½

cup

mayo

2

tablespoons

Chipoltle in adobe

just the juice (see notes below)

1

teaspoon

fresh lime juice

1

teaspoon

agave

or honey

Salt and pepper to taste

just a pinch of each
Optional Condiments:
Tomato slices

avocado, onions, lettuce
Instructions
For the Burgers:
Prep your smoker to 200 - 225 degrees with pecan or other fruit wood.

Combine your beef, ground chorizo, and seasonings. Form into 4 equal size patties (they should come out to approximately 1/3 to 1/2 lb each). Aim for around 1-inch thick patties.

Place on smoker for 45-60 minutes until the burgers reach approx 130 degrees (actual cooking time may vary based on environmental conditions. Always use a thermometer to check for proper temp).

While the burger are on the smoker fire up your grill.

Transfer the burgers to the grill and cook over direct heat until they reach an internal temperature of 160. (Add cheese and let melt around the 150 mark).

Remove from heat and add poblano peppers, aioli, and other toppings, to assemble your burgers.
For the poblano peppers:
Place poblano peppers on smoker while the burgers are cooking. Smoke for 45 min - 1 hour.
For the Chipotle Aioli:
Mix all aioli ingredients together. Adjust flavors to your preference. If you don't want it too spicy, go light on the chipotle.
Notes
For the aioli use just the juice from the jar, unless you like some heat from the actual peppers. If you do, feel free to cut about ½ a chipoltle pepper, finely chop it up, and add slowly to the mixture.
For the burgers. If you want to skip the step of finishing them on the grill, leave on the smoker until they reach 160 degrees. If you want to add cheese add it about 5-10 minutes before you're done cooking to allow it to slowly melt. It will melt slower on the smoker than on the hot grill.
Wine Pairing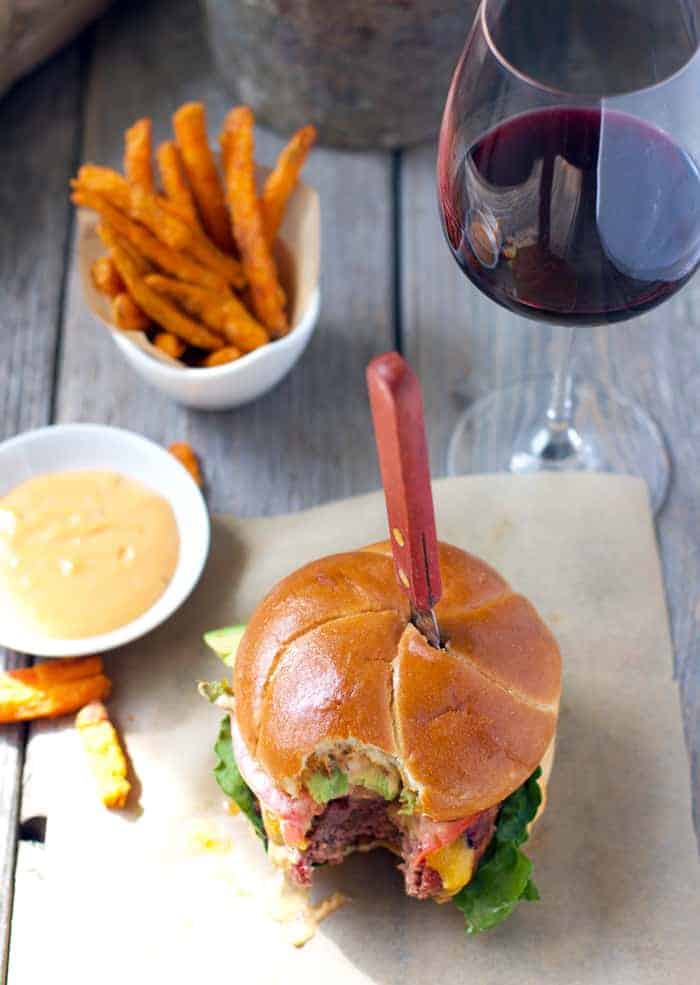 These burgers are bold and full of smoky flavors, juicy meat, and a bit of spice. I'm looking for a wine that can stand up to those smoky and spicy flavors from the meat and chipotle aioli, yet not overpower the gorgeous smoke flavors from the tender meat. For something with great flavor, but not too overpowering, I like bolder red wines that aren't too high in tannin, like Syrah or Malbec. But I wouldn't argue with a bold flavored fruity rosé to pair with this too, especially in the warm summer sun. The fruity flavors and colder temperature will refresh your palate between bites of these spicy burgers. Yum!
What about you? Do smoke burgers? Have you ever tried finishing them on the grill??
---
Disclosure: This post contains affiliate links for the ThermoPop and Thermapen digital thermometers. That means if you purchase one of these awesome thermometers we receive a small commission. I should also mention that this is a great time to invest in one of the more affordable ThermoPops. They are having great sale on them right now!

***This is not a sponsored post at all nor were we paid by anybody to write this! We are just huge fans of these thermometers and have been using our own Thermapen for years. Whether a Thermapen or not, we truly believe a good thermometer is absolutely essential for grilling and smoking meat!! 
---
For more delicious recipes check out the Recipe Index.
If you like this recipe we'd truly appreciate it if you would give this recipe a star review! And if you share any of your pics on Instagram use the hashtag #vindulge. We LOVE to see it when you cook our recipes.