Tired of traditional BBQ sauce? Try this sweet and savory Asian dipping sauce to jazz up your next batch of leftover smoked pulled pork! And since it's Tuesday, skip the tortilla for Taco Tuesday and make some killer lettuce wraps instead. Boom.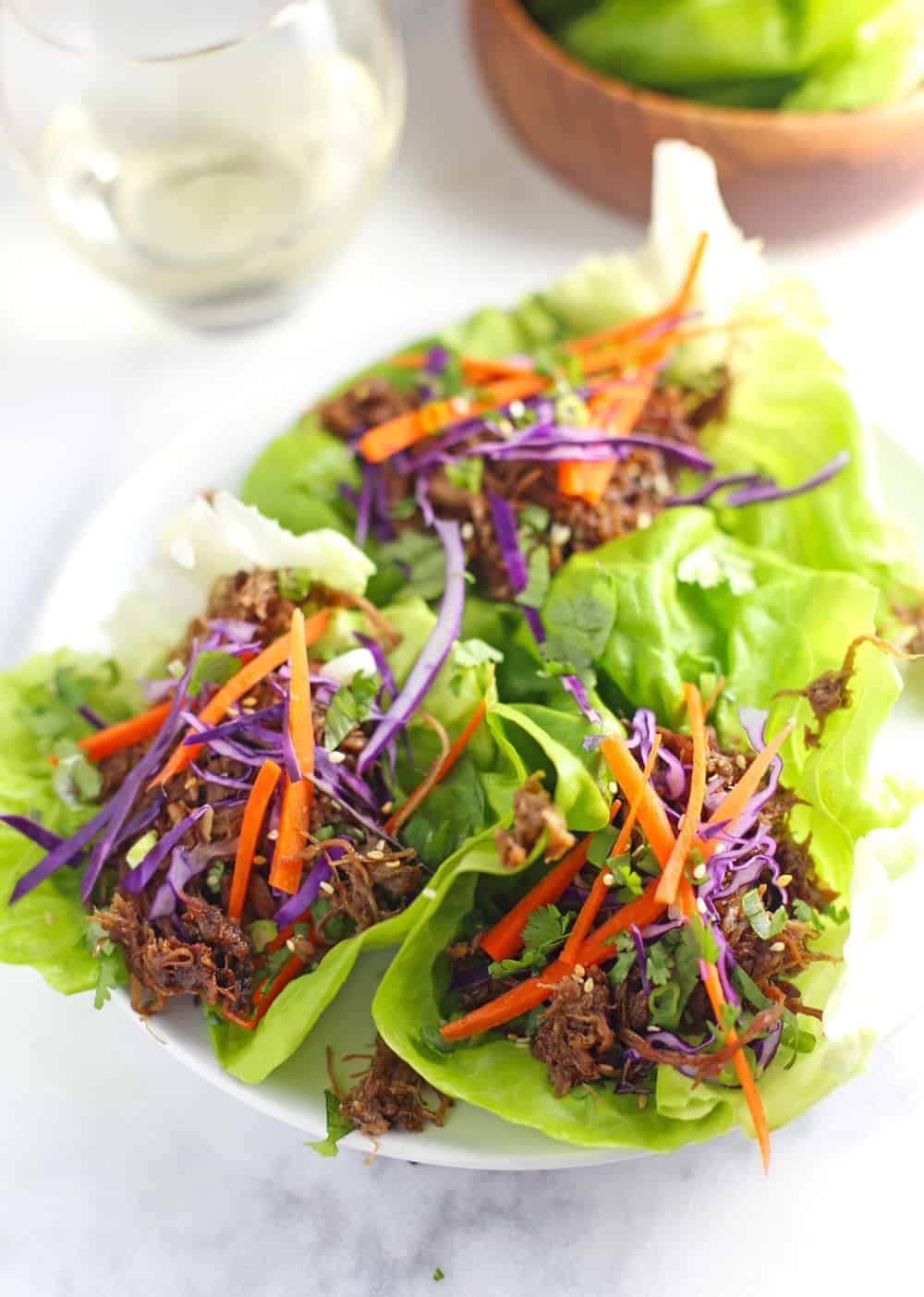 We're total suckers for Taco Tuesday. I blame the Lego Movie. But seriously, it's so easy to toss whatever you have laying around and layer it into a soft tortilla and chew away.
But, we've been trying to use up some leftover pulled pork lately. And I'm not gonna lie, I do get a little tired of the traditional bbq sauce, cheddar cheese, combo. I'm often craving  something a little more savory.
In fact, we came up with a fantastic recipe for a whole a pork butt that takes on more of those savory Asian flavors and spices (soy, ginger and spices like Chinese five spice). It's out of this world. But since we haven't published the exact recipe for the full Asian Spice Pork Butt here on the site, this is the next best thing.
(BUT if you are looking for those flavors, you can check out the recipe for Smoked Pork Ribs with Asian Spice Rub)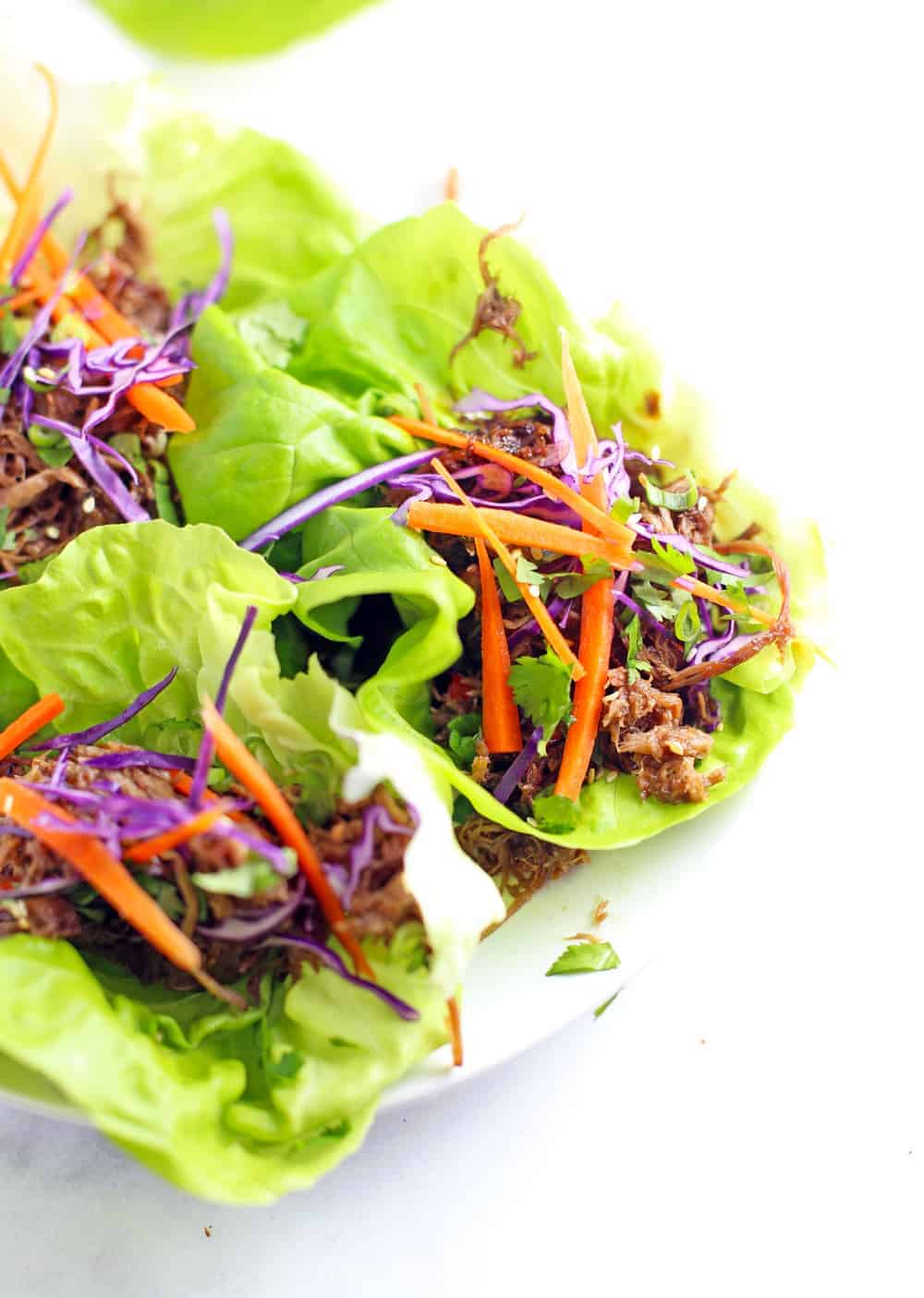 Smoked Pulled Pork Lettuce Wraps with Asian Dipping Sauce.
It's really quite simple.
Take any pulled pork you may have lying around. I'm totally cool with wherever it comes from (leftover smoked pulled pork, crockpot pulled pork, heck even if you buy the Trader Joe's store-bought pulled pork, whatever works for youl!).
Just start warming it up.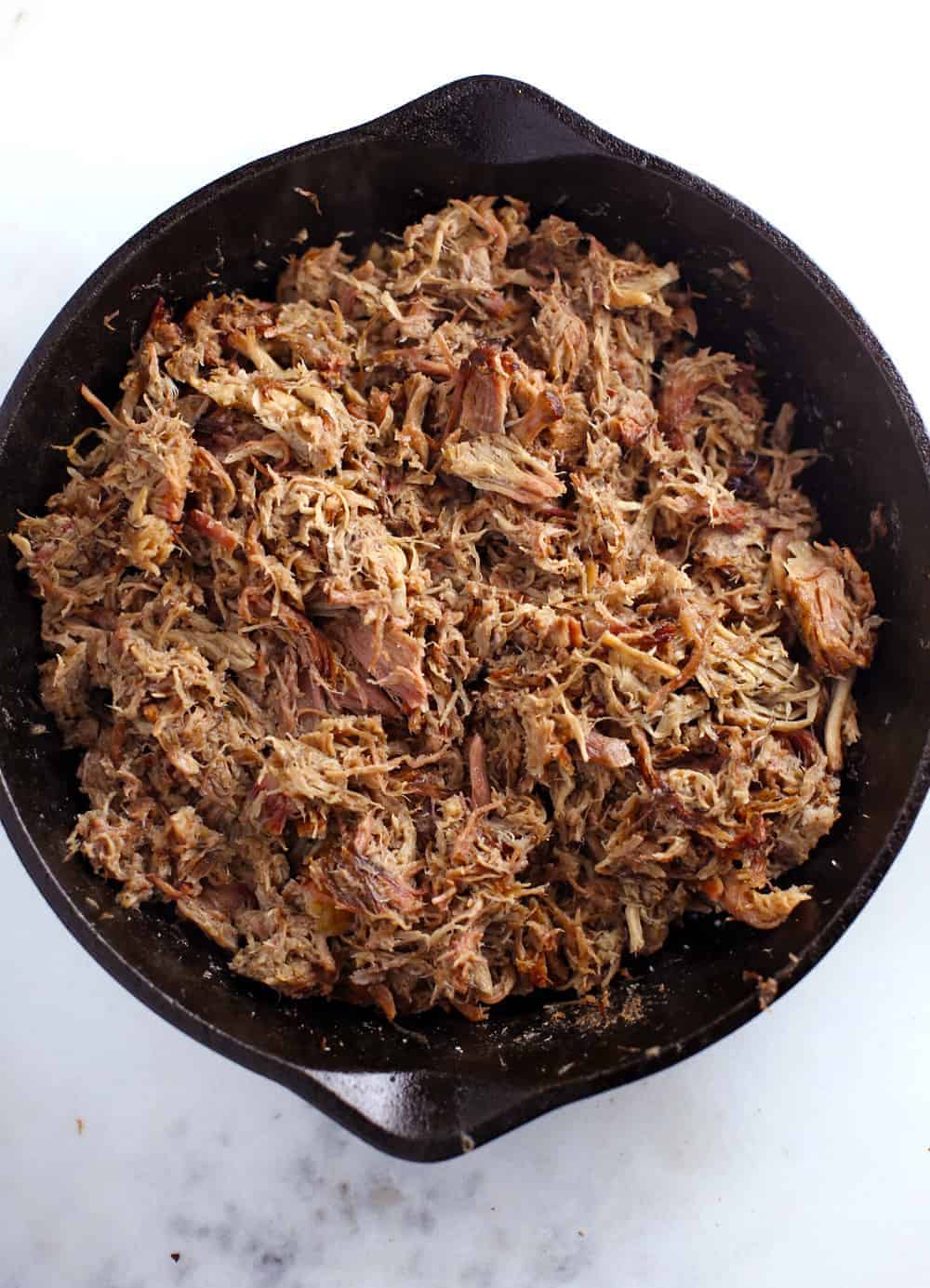 And while that's warming up make your sauce.
I don't have photos of the process, but it's totally simple. Combine some soy sauce, balsamic vinegar, brown sugar, green onion, rosemary, garlic, ginger, honey and let it reduce. It helps to add a bit of a slurry to get it to thicken up too. Once it gets to the consistency you want (should be thick, like maple syrup, but not as thick as honey) take it off the burner and toss a few tablespoons into the pulled pork and save the rest to serve over your lettuce wraps after you've loaded them up with all sorts of happiness.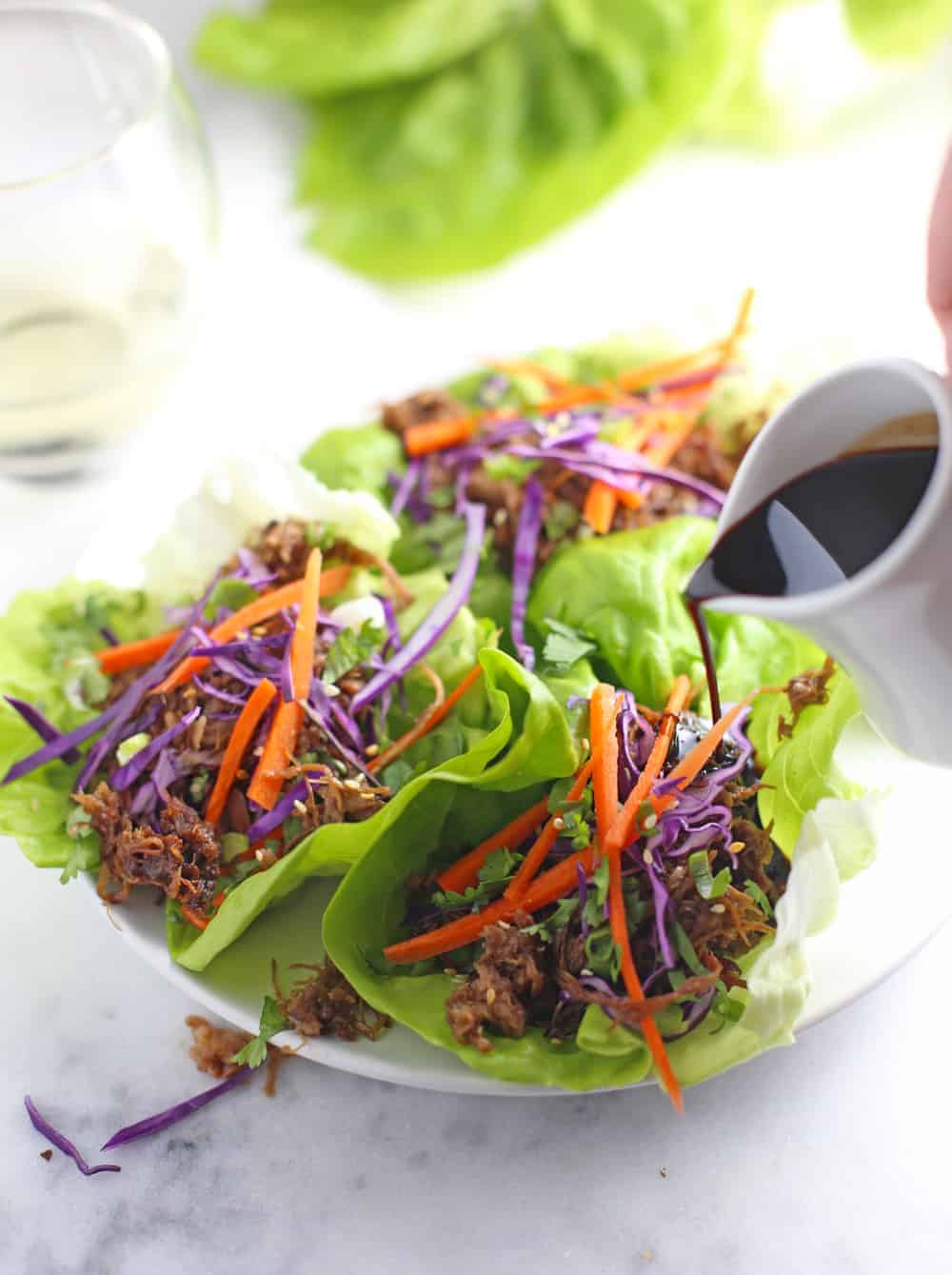 Speaking of "happiness" I'm obviously referring to all of the crunchy veggies and herbs you may choose to add (like carrots, cabbage, green onions… the options are endless!). So while the sauce is reducing cut up your desired veggies to add to your lettuce wraps, turn on some happy tunes, and pop open a bottle of wine and get ready for fantastic and healthy meal.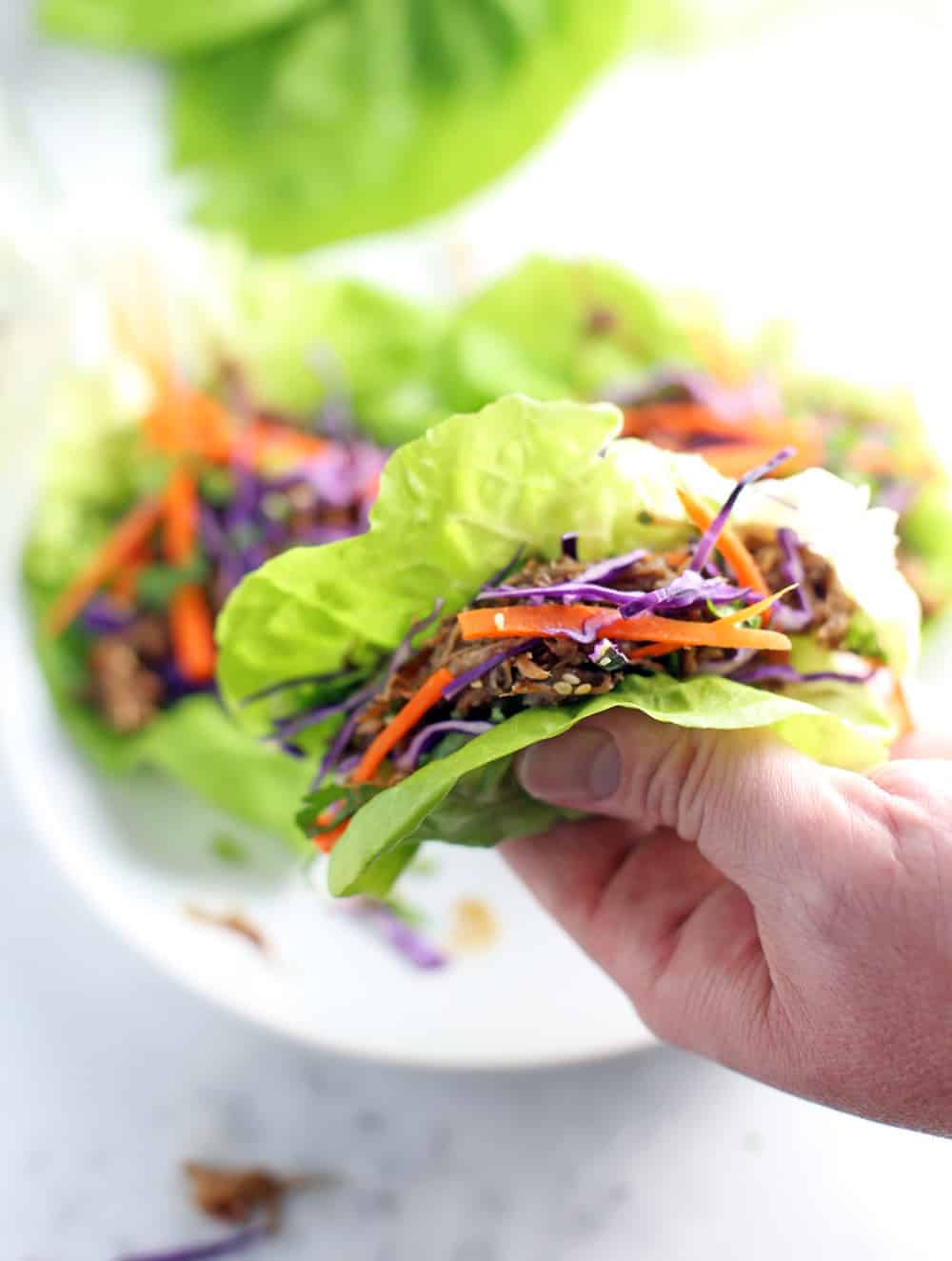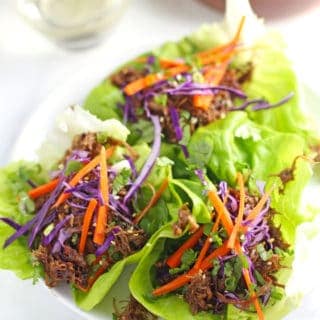 Smoked Pulled Pork Lettuce Wraps with Asian Dipping Sauce
A fun way to jazz up lettuce wraps. Use leftover pulled pork and combine with this Asian inspired sauce. Top with your favorite veggies and pair with a crisp Riesling.
Print
Rate
Ingredients
For the Sauce:
1

cup

soy sauce

1/2

cup

balsamic vinegar

2

tablespoons

brown sugar

1/4

cup

green onion

1

sprig rosemary

about 4-6 inches, the whole sprig, no need to break apart or chop

1

garlic clove

1/4

teaspoon

fresh ginger

grated or just a whole chunk

1

tablespoon

honey

1

tablespoon

slurry

a mix of 1 tablespoon water and 1 tablespoon cornstarch, this will help the mix thicken
For the Lettuce Wraps
2

cups

pulled pork

approximately 1 lb

2

carrots

julienned

2

cups

purple cabbage

shredded or julienned

1

head Boston

or "Butter" lettuce, leaves separated

1/2

cup

green onions

chopped (for topping)

1/4

cup

cilantro

chopped (for topping)
Instructions
For the Sauce:
Whisk all the sauce ingredients together in a small saucepan. Bring to a boil, then reduce to a simmer. Then strain after 12 minutes of reducing. Add back into the saucepan over heat.

In a separate small sealed container add 1 tablespoon of water with 1 tablespoon cornstarch or flour. Add the "slurry" to the saucepan with the strained sauce. Whisk to combine. Let continue simmering for 8-10 minutes until the sauce has thickened. Set aside.
For the Wraps:
In a large skillet heat up the pork on medium heat until warmed. Add 2-4 tablespoons of the sauce to the meat, as desired. Save the remaining sauce for topping your wraps. Remove from heat.

Assemble lettuce wraps: Scoop pork mixture into lettuce leaves, and top with your vegetables, onions, and cilantro. Drizzle with more reserved sauce as desired.
Notes
For our recipe for pulled pork, click here: https://www.vindulge.com/2016/07/smoked-pork-butt-pork-shoulder/
It's Wine Time!
Wine Pairing for Pulled Pork Lettuce Wraps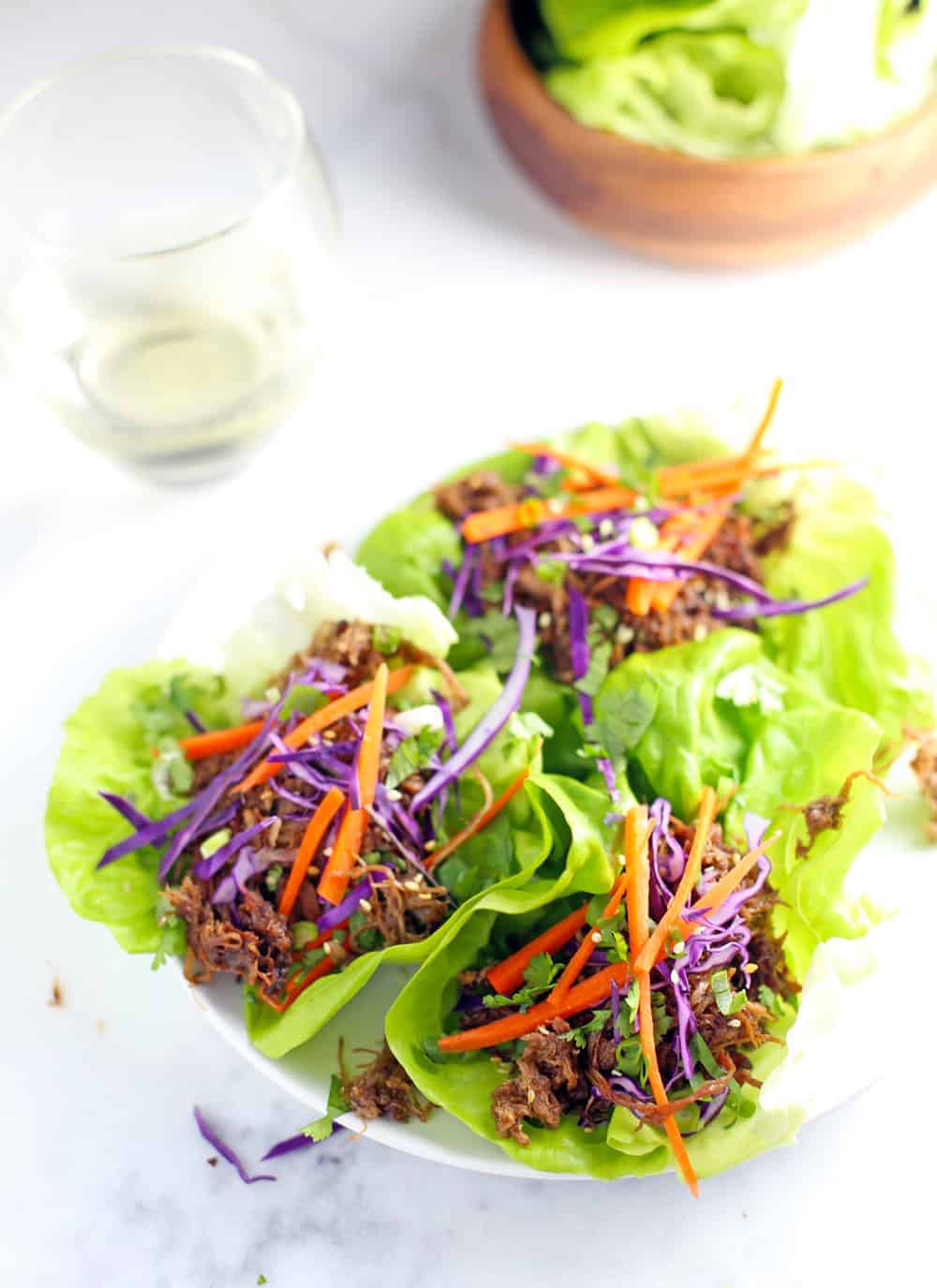 I love the mix of savory flavors you get from the sauce (especially from the soy and balsamic), mixed with the mildly smoky meat, freshened up by the crunch raw veggies and fresh herbs. This is a great one to experiment with both red and white wines. We tried it with some local Pinot Noir and it was actually quite awesome. The fruity Pinot along with its savory flavors were a pretty decent match for the dish.
But my favorite pairing so far has been Riesling. We've been playing around a lot with Riesling and smoked meat and I've gotta tell you, Riesling can stand up to some smoke, folks. And with the complexity of flavors we've got here, the acidity in the wine, brightness, and fruity flavors, this was a winner!
2015 Alexana Riesling, Revana Vineyards (Dundee Hills, Oregon)
We purchased this a few months ago direct from the winery. We loved the balance of both power and delicacy this wine offered. It starts out some ripe and bright green apple and fresh lemon and lemon peel, and has vibrant acidity throughout. The dish is rich from the smoked tender meat and powerful sauce, and needs a wine with good acidity and fruit to stand up to those flavors. This did the job and more. This is definitely a wine that proves Riesling can can do much more than pair with appetizers, simple salads, fish, or delicate dishes.  12.9% abv  |  $29 (purchased direct from the winery)
What about you? Are you a fan of lettuce wraps? What's your favorite style, and what do you like to pair with them?
---
*For our recipe and technique that we used for these lettuce wraps, check out this post on how to smoke a pork butt.  That post also includes some of my favorite uses for leftover pulled pork.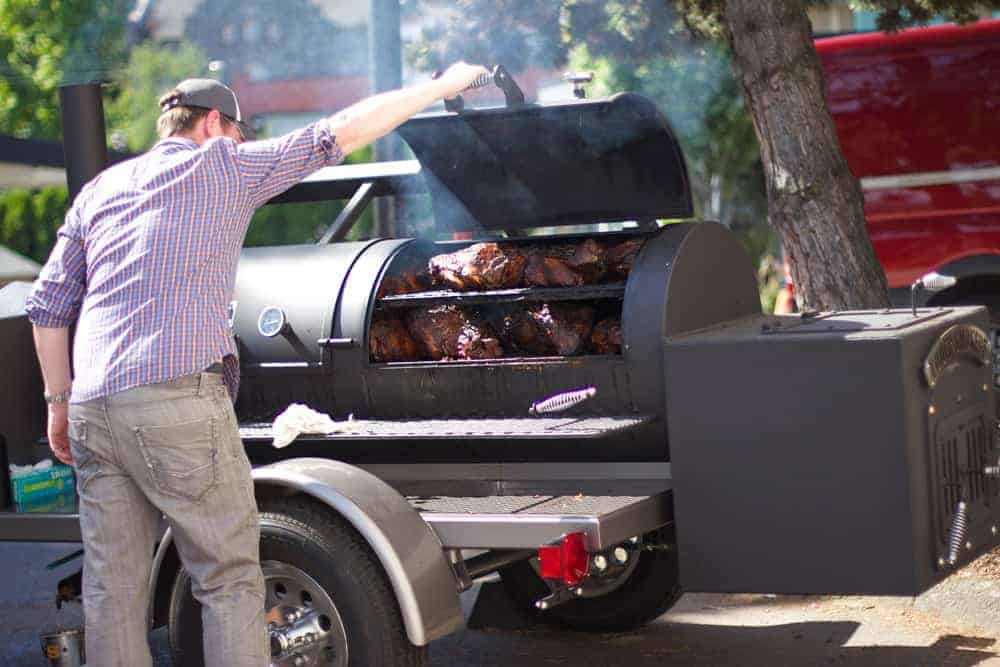 ---
For more tasty recipes, BBQ tips and tricks, check out the Recipe Index.
If you like this recipe we'd truly appreciate it if you would give this recipe a star review! And if you share any of your pics on Instagram use the hashtag #vindulge. We LOVE to see it when you cook our recipes.