Rumor has it that summer is officially over (insert sad face with tears flowing down the cheeks).  And even though my first summer in New England was rather humid, buggy, muggy, and hot, I still consider it my favorite season of the year.  I live for summer.  Sunshine, late sunsets, flip flops, the piña colada scent of Hawaiian Tropic sunscreen, and of course summer wines; including an endless supply of beautiful, fresh, chilled rosé wines.
I drink a lot of rosé in the summertime.  Okay let's be honest, I drink rosé year round, but most wine shops only keep a good variety stocked between Memorial Day and Labor Day (shame on them). Rosé is such a versatile food wine (especially if you grill 90% of your food like I do in the summer months).  In fact I wrote a guide earlier this summer on finding delicious rosés perfect for summertime grilling!  That article also included one of my favorite styles of rosé, those made from Pinot Noir grapes, and a few weeks back I discovered a couple new gems I wanted to share here…. Sancerre Rosé.   A wine that is so good you just can't restrict it to a summertime delight.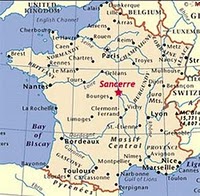 Sancerre is region located in the easternmost part of the Loire Valley in France, known and respected for the beautiful, crisp, mineral driven wines made from Sauvignon Blanc.  But what many folks don't realize is that there is also some Pinot Noir grown there, made into both red and rosé wines.
The first of these gems, a 2010 Domaine Jean-Paul Balland Sancerre Rosé, I found at a wine shop in New York City.   I hardly ever see Sancerre Rosé so when I saw this bottle I had to pick it up and immediately chill it in our hotel room.  I liked it so much that I went back to the shop the very next morning and bought more to take home.  About a week later Lot 18 was having a sale on a 2010 Pascal Jolivet Sancerre Rosé, so I had to order a few bottles of that one too.  I'm a sucker for a good sale, I know.
Both wines showed quite a bit of minerality, which you would expect from Sauvignon Blanc from Sancerre, but in addition to the minerality, you will also find fresh bright strawberry and cherry fruit from the Pinot Noir.   Bright, fresh, crisp and delicious… and just look at how beautiful they are!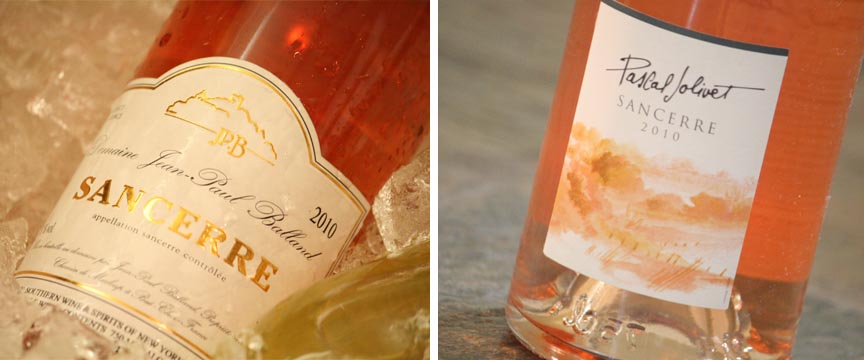 2010 Domaine Jean-Paul Balland Sancerre Rosé 
Purchased at Sussex Wines and Spirits in NYC
Imported by Southern Wine & Spirits of New York
$22 | Alcohol 13%
 
2010 Pascal Jolivet Sancerre Rosé
Purchased online from Lot 18
Imported by Frederick Wildman & Sons
$20 | Alcohol 12.5%
This wine is a blend of direct press and 'saignée' method (bleeding off of a portion of the juice from recently-crushed skins) rosé wine. The juice is produced from macerated Pinot Noir grapes that have not been sorted by hand or de-stemmed. The philosophy of the estate is to let nature take its course as much as possible.
If you like fresh, mineral driven wines with a good balance of fresh red berry fruit (think strawberry and cherry) then I highly recommend you find yourself some Sancerre Rosé or ask your local wine shop if they can hunt these down for you. I have included the names of the importers of these wines to help you in your search.
It doesn't need to be summertime to enjoy a beautiful rosé.  This wine would be excellent with your fall meals in addition to Thanksgiving dinner (which, let's be honest, will be here before we know it).
Cheers