Verde Chicken Tacos inspired by restaurant style chicken tacos. Shredded grilled chicken is braised in a simple salsa verde for an indulgent flavor bomb of chicken taco goodness. This is my kids' favorite chicken taco recipe ever! Find out how easy it is to make restaurant style chicken tacos with a simple hack.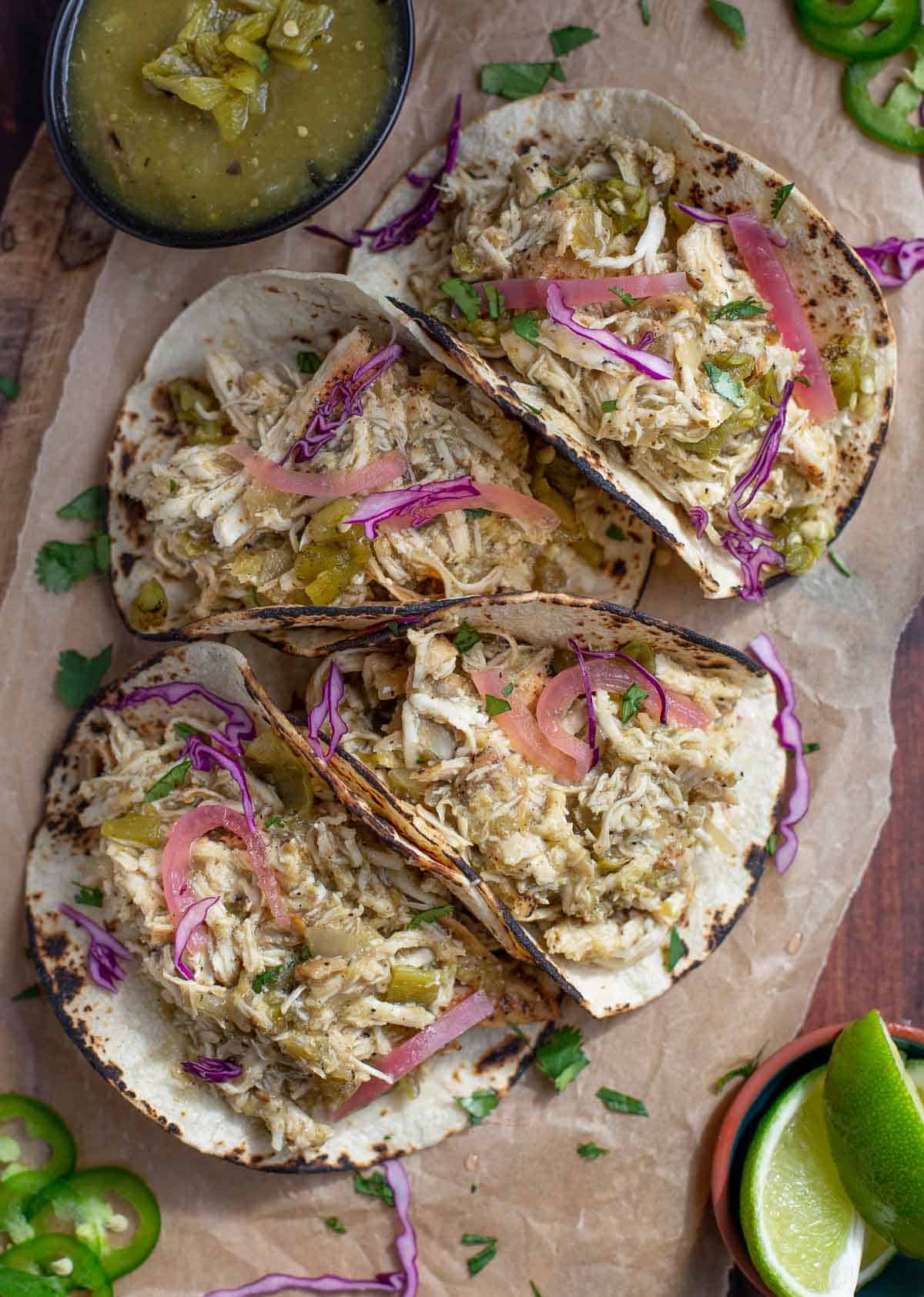 Tacos are on rotation at my house every week. We do them with every imaginable protein and vegetable. But when we go out to eat my kids are suckers for getting chicken tacos. And 9 times out of 10 the way they prepare the tacos is (boiled chicken) in a rich and flavorful verde braise, meaning some kind of green chili salsa braise. I can't blame my kids for favoring this style of taco. They're juicy and flavorful and the intoxicatingly delicious braise ends up falling all over the plate.
Then one day my kids wanted to go out for tacos and we couldn't, for one reason or another. So I improvised by attempting to make their favorite style of verde chicken tacos by using shredded grilled chicken and a can of my favorite green salsa. It's a hack I've used before (check out this verde chicken soup recipe for details).
Basically, I'm using a shortcut. Instead of making a homemade green chili braise myself, I'm using the actual salsa as a braise. It's a pretty magical hack. And my kids go nuts for it!
For this recipe I'm grilling up some chicken using our chicken seasoning. But if you happen to have leftover chicken from a whole roaster, or other chicken recipe, this will work wonders for that too!
Jump to:
Ingredients for Verde Chicken Tacos
Chicken: We are using boneless, skinless chicken breast. But you can use any chicken you want since it will be shredded up. For even easier preparation buy pre-roasted chicken from the grocery store (I won't tell!).
Chicken Seasoning: We use our poultry seasoning, but you can use any store bought seasoning you like. Since we're grilling, we just recommend using one without sugar (otherwise it will run the risk of burning when cooking at a high heat).
Green Salsa: Or salsa verde as a braising liquid. Since we're combining chicken with the salsa it comes together quickly. My favorite brand of store bought salsa is the 365 Roasted Verde Salsa from Whole Foods. Or you can use our homemade tomatillo salsa if you feel inspired, but really this is about easy.
Corn Tortillas – Yes you can go flour, but we love corn for tacos.
Taco Ingredients: From there you can then add to your favorite combination of taco ingredients, like purple cabbage, quick-pickled onions, jalapeños, or cheese. But since we're emulating restaurant style verde chicken tacos, we're keeping our toppings simple.
---
Related Article: What is a green chile?
---
Quick Tip
Instead of having to follow a long braising process, we grill the chicken until it's done and then shred it. From there we add to a skillet and simmer with the green chile salsa (salsa verde). You can use homemade or store bought (I'm telling you though that Whole Foods version makes for a super quick weeknight hack for these verde chicken tacos!).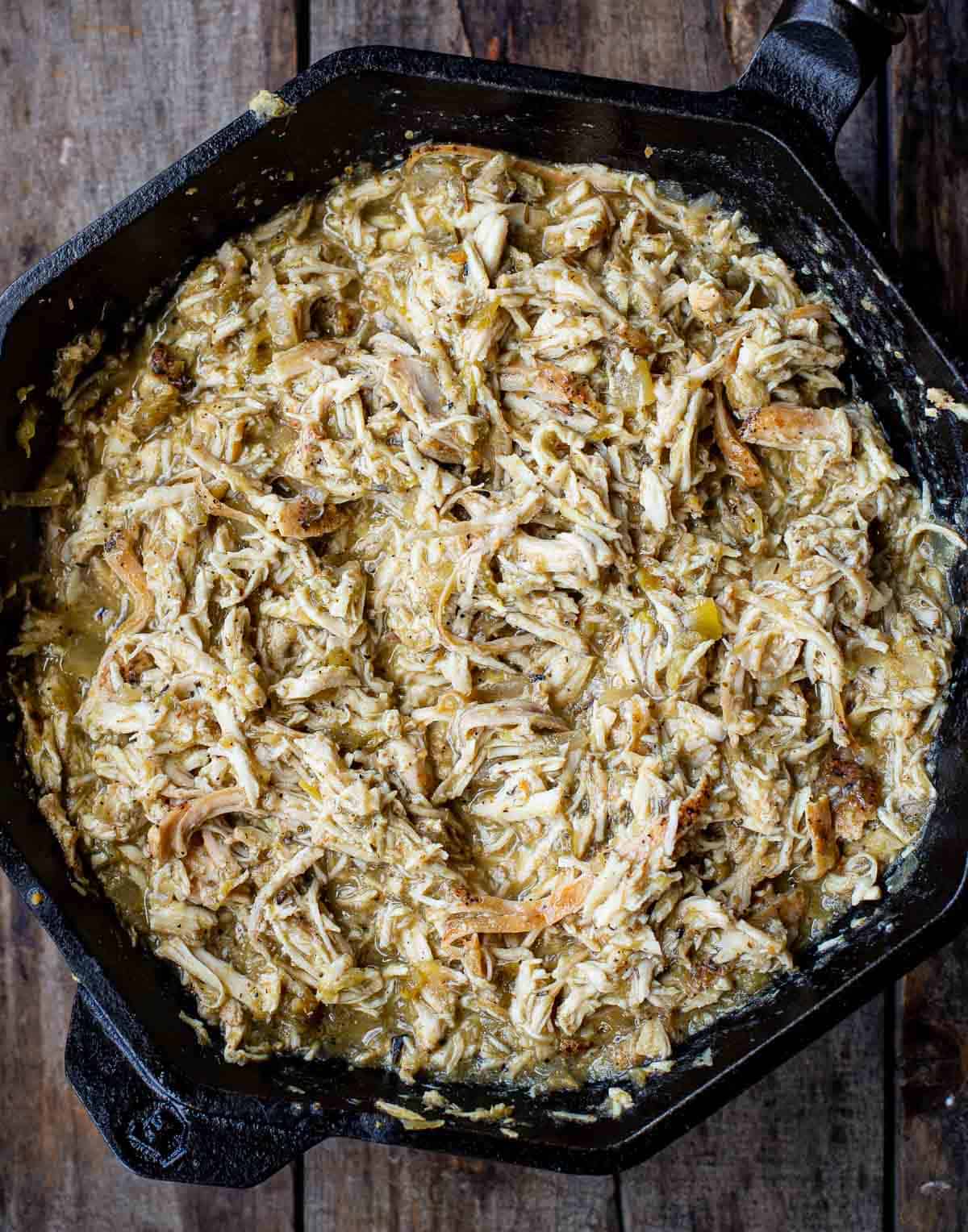 How to Make Verde Chicken Tacos
Pre-heat Grill: Prepare grill for two zone-grilling and 500 degrees F, ambient temperature. We prefer lump charcoal.
Grill Chicken: Coat the chicken breast with olive oil and seasoning. Place chicken on the grill grate over direct heat and cover. Grill for 6 minutes or until it browns. Then flip and continue grilling on direct heat, covered, until the other side browns. About 6 additional minutes. If the chicken does not read 160 degrees F in the thickest part of the breast then move to indirect heat to finish.
Shred Chicken: When the chicken is done on the grill, remove it and allow it to cool for a few minutes, then shred it in a large bowl with a fork while it's still warm.
Quick Braise Chicken: Meanwhile, warm a large sauté pan over medium heat with olive oil. Add the shredded chicken and green salsa. Stir and let come to a low simmer. Stir occasionally to let it seep into the chicken.
Make Tacos: Remove from heat and then use as fillings for tacos. Add your favorite taco ingredients (but keep it simple and let the braised meat shine).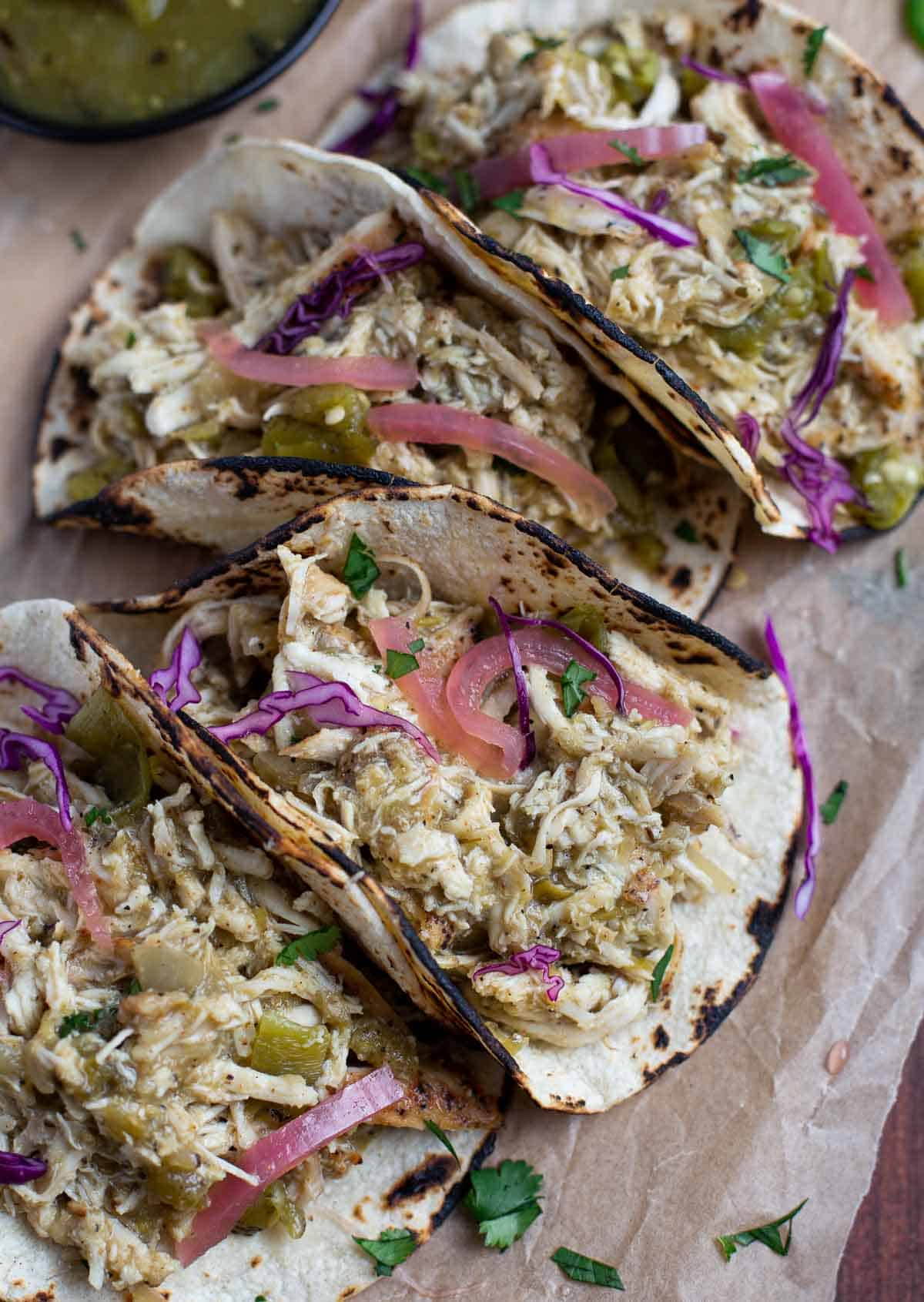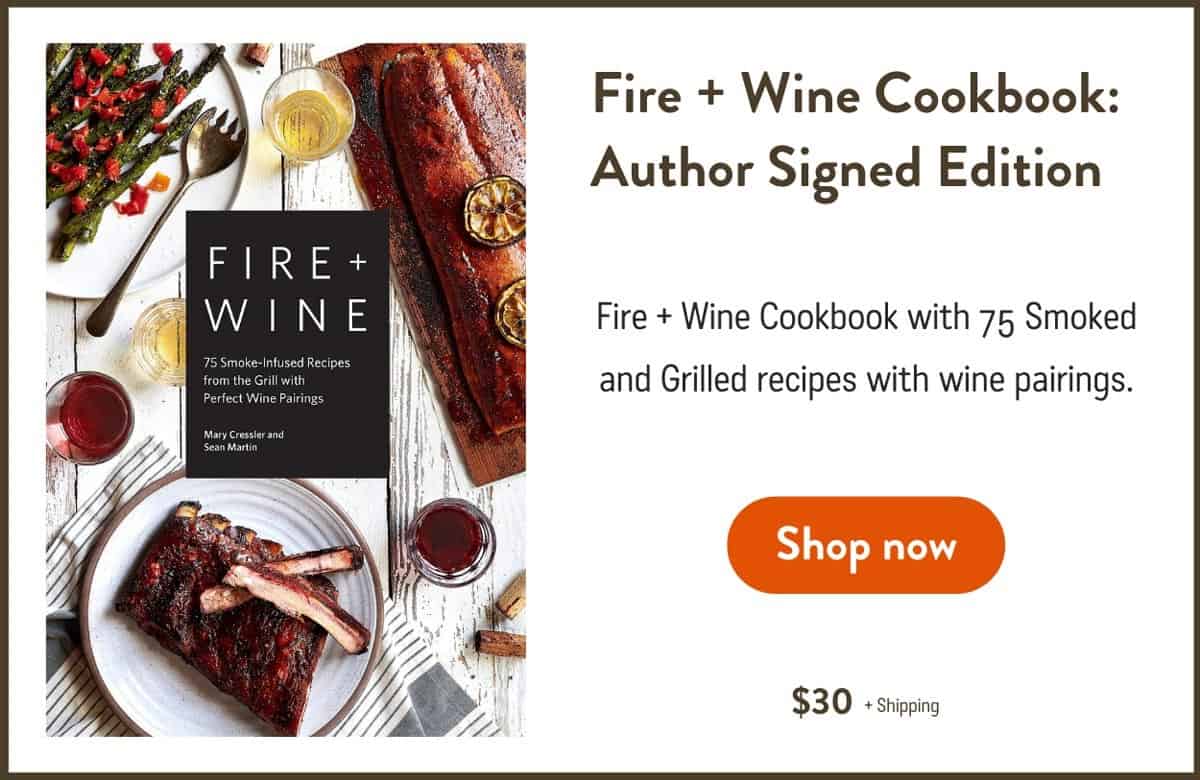 More Delicious Taco Recipes
---
Mary (a certified sommelier and recipe developer) and Sean (backyard pitmaster) are co-authors of the critically acclaimed cookbook, Fire + Wine, and have been creating content for the IACP nominated website Vindulge since 2009. They live in Oregon on a farm just outside Portland.
Tried this recipe? Give us a star rating and we would love to see! Mention @vindulge or use the hashtag #vindulge on all the social media handles. And consider subscribing to our newsletter where we drop all our favorite ideas and inspirations every week.
This post may contain affiliate links. This means if you click on the link, we may receive a small commission if you purchase through the link. We partner with brands we know and love and use and it helps keep the blog going!