Last week after Hurricane Sandy viciously rampaged through the east coast I received several calls and texts from friends and family back west.  After the initial "are you okay?", they all immediately reminded me that since moving to New England just two years ago we have experienced two hurricanes, two massive power outages (the worst lasting 10 days), a tornado that touched down within 20 miles of our home, an earthquake, multiple blizzards, the worst winter on record for Connecticut, and on and on.  "Come home" they pleaded.  And though I recognize we have experienced our fair share of bad weather and natural disasters since moving east, I couldn't help but think of how grateful we are for everything we have and how incredibly lucky we are to have come out fine through it all.  And despite the bad weather we've experienced since moving here, we have been able to travel to many amazing parts of this country we wouldn't have otherwise, spend quality time with our east coast family, and create some unique experiences and lasting memories.  Therefore I wanted to spend this past weekend celebrating the positives.
One of my favorite ways of expressing gratitude is through wine and food.  So, to celebrate the good things about living here, we made my favorite fall breakfast, inspired by our time in New England —  apple cider mimosas and pumpkin pancakes.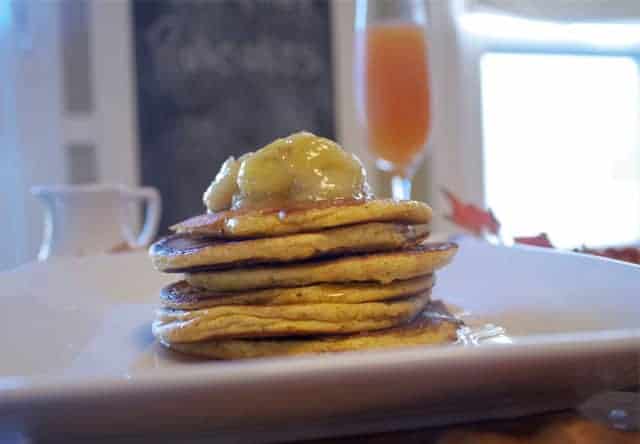 I sent the boys out to pick some leaves for decoration while we began to prep for the pancakes.  First priority?  Make a mimosa for the cook!  Since living on the east coast I have grown very fond of apples — and more specifically the act of going out with my family to pick apples in the fall.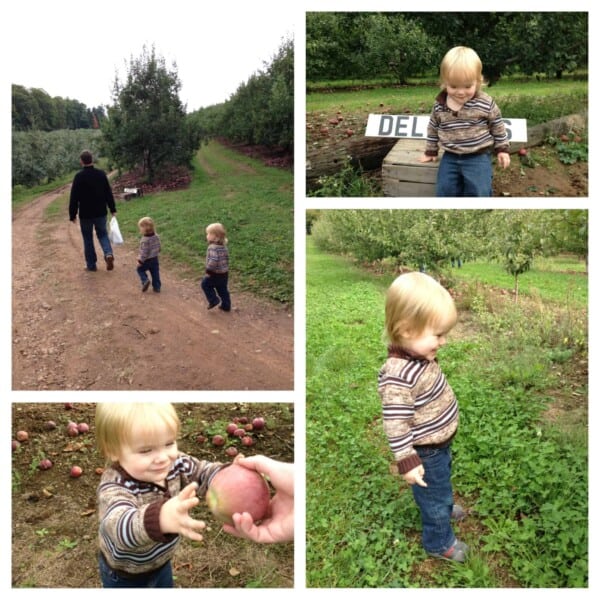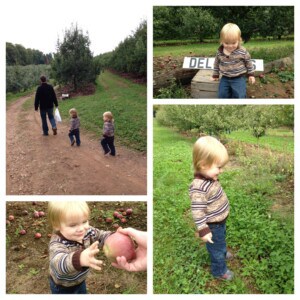 Not only is it a great time to be outside, with the crisp dry air and gorgeous surrounding fall colors, but it is so fun to watch my kids getting excited about picking the food they will soon eat.  And, as I discovered two years ago, I am still amazed by how different each apple variety tastes from the next.  I learned that also goes for apple cider!  The taste of freshly made apple cider is no comparison to the mass produced apple juice you buy at your local grocery store.  They are worlds apart in flavor, texture, and freshness.  Apple cider is unfiltered, so it is usually thick and often sweeter then apple juice.  I am so intrigued by the flavors of fresh cider that I've been on an Apple Cider Mimosa kick all season!  The most important part of making these — and one you simply cannot substitute — is using fresh cider!   These will not taste the same if you make them with your kids boxed apple juice, so don't even try it!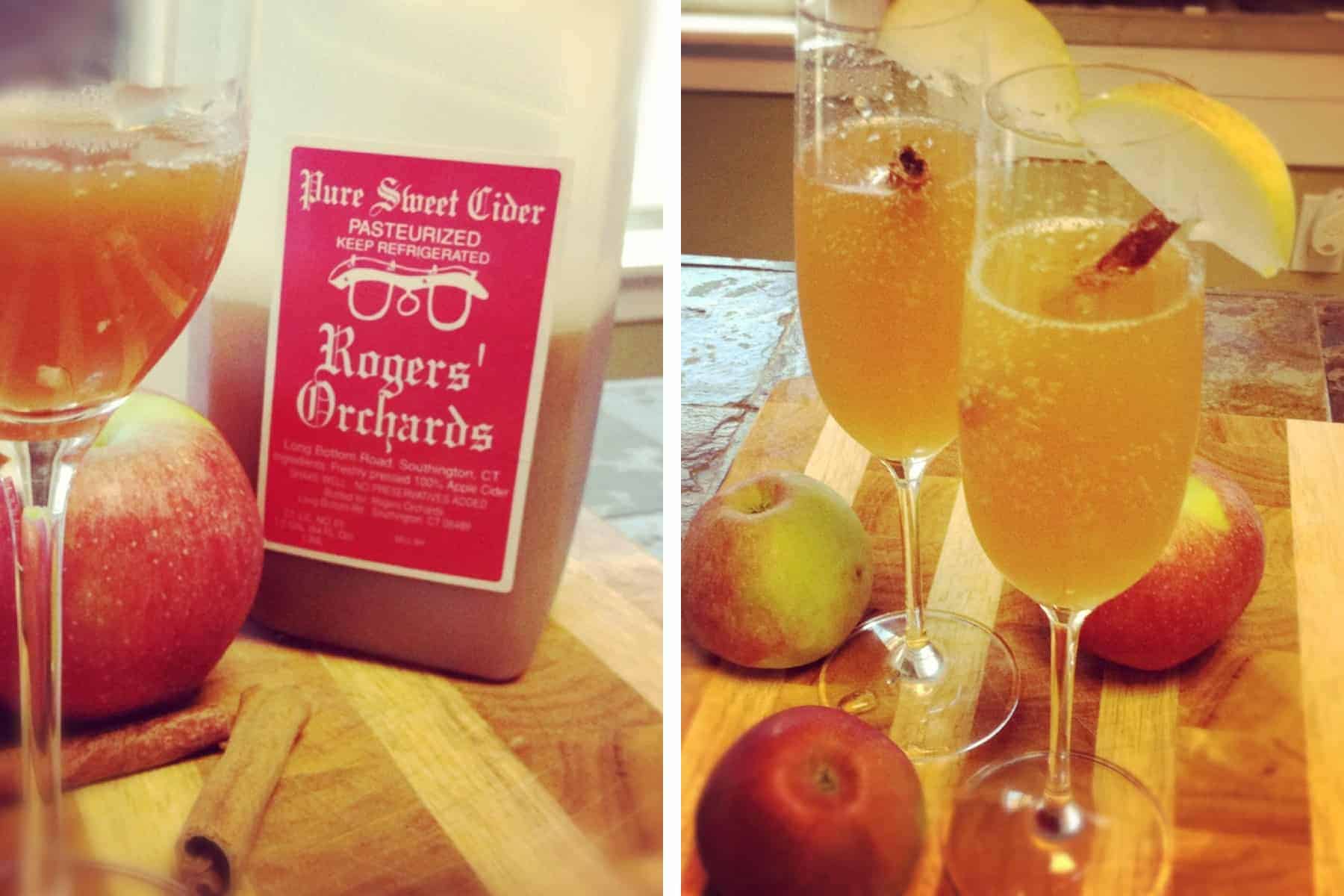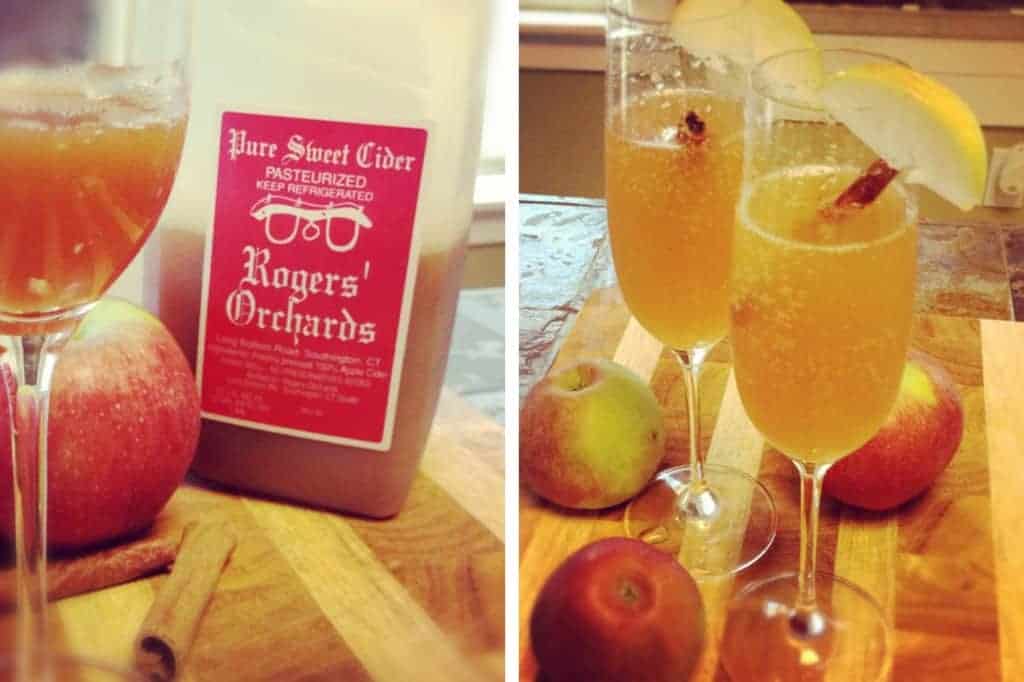 Apple Cider Mimosas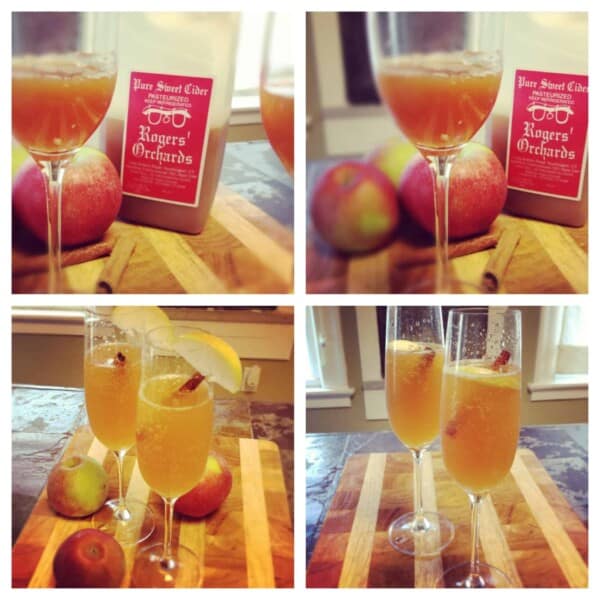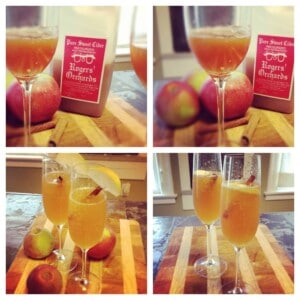 Apple Cider Mimosas
A fun fall cocktail, Apple Cider Mimosas made with fresh local Apple Cider!
Print
Rate
Ingredients
1

part fresh apple cider*

I purchased mine at Rogers' Orchards a few miles up the road from me

3

parts dry sparkling wine

I recommend using a dry sparkling wine because the cider is already very sweet and any additional sugar from the wine may interfere with the naturally sweet and fresh flavors of the cider

1

small cinnamon stick

for flavor

1

apple slice

for garnish
Instructions
Pour one part fresh apple cider into the glass, or approximately 2 oz, then fill the remainder of the glass with sparkling wine.

Stir with your cinnamon stick and let it sit and infuse with the mimosa.

Garnish with the apple slice and sip away!

If you make a second (and who wouldn't?!) go ahead and use the same cinnamon stick. It will still have a fair amount of spice.
Notes
This makes for a great fall themed brunch drink, and would be a perfect aperitif to welcome your guests with on Thanksgiving day. Make a kid friendly one by substituting the wine for non-alcoholic sparkling cider, or combine 1/2 apple cider 1/2 club soda or sparkling water.
Perfect Pumpkin Pancakes
As we sipped on our sweet morning treat we prepped for breakfast.  These light and fluffy pancakes are my favorite fall breakfast.  I request them almost every weekend!  I wish I could take credit for the recipe, but I can't.  That belongs to the Food Network, though we have slightly modified the recipe (we use regular  ol' all purpose flour not pastry flour, and we add 1/4 teaspoon ground ginger and 1 teaspoon of vanilla extract to the batter for added flavor. We also do not make the root beer syrup or cinnamon whipped cream although they both sound delightful).
We've tried about a zillion times to come up with our own fluffy pumpkin pancake recipe, but none of our efforts beat this recipe.  The most important technique is the whipping of the egg whites, then delicately folding them into the batter to create the lightest, fluffiest, pumpkin pancakes you can possibly imagine.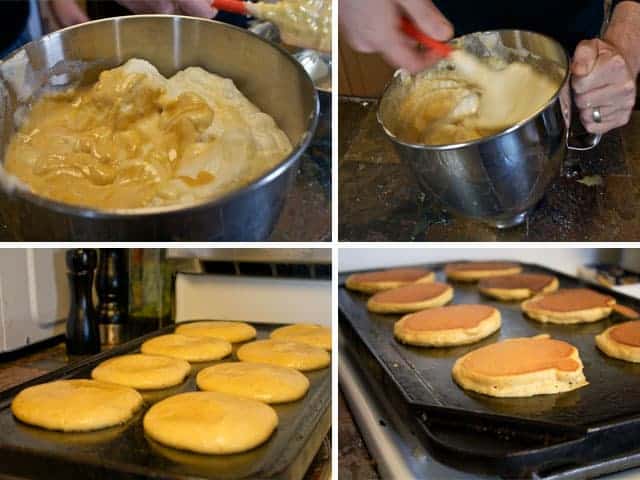 Topping them with caramelized bananas makes them so delicious you don't even need syrup!  But, since I live in New England that means we always have good quality pure maple syrup on hand… so why not indulge?!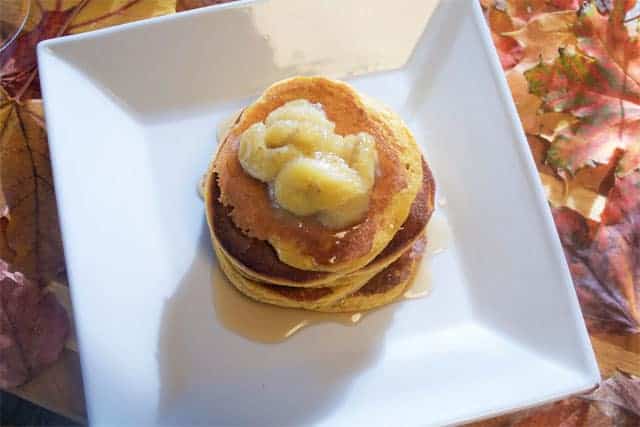 That morning, as the kids devoured their pancakes, we talked about how fortunate we have been, especially in the aftermath of the most recent storm.  This breakfast was the perfect reflection of our gratitude for what we have experienced since moving to New England, despite mother natures attempts at bringing our spirits down.