The rich flavor of Blackened Salmon is enhanced with the herbal and earthy flavor of Blackened Seasoning. This Blackened Salmon Steaks Recipe is an easy and quick way to make grilled salmon in less than 30 minutes.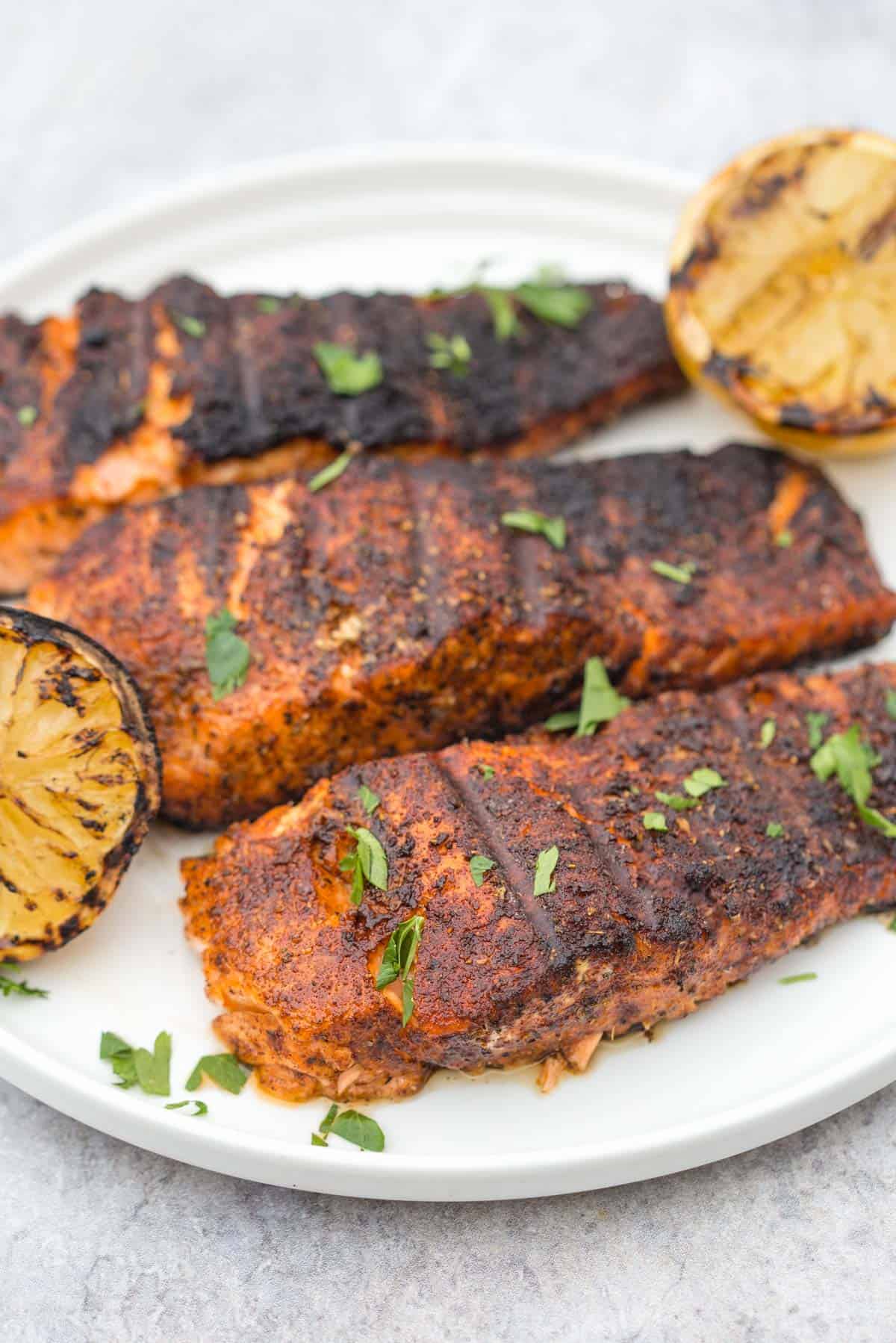 Blackened Seasoning is a specific seasoning that was created by Chef Paul Prudhomme to mimic grilled flavor in an oven or stovetop. And while we are actually using a grill (isn't that ironic), the earthy flavor really complements the rich and buttery flavor of salmon.
Jump to:
Buying Salmon
When buying salmon, buy them pre-cut into salmon fillets. Ask the fish monger for the center cut so you have even sizes and you're getting the thickest piece. The tail end of the salmon cooks faster and has less yield. Or you can follow our blackened salmon fillet recipe if you want to grill an entire fillet of salmon versus the smaller individual steak cuts.
We also like to use thicker salmon species for this blackened salmon recipe to avoid overcooking them on the grill. So ideally Chinook (or King Salmon) or Atlantic Salmon. You can also replicate this recipe with Steelhead as well.
For portions plan ⅓ pound per person. As the salmon grills, it will lose some of its weight. Also purchase skin on (it will be on one side of the salmon), the extra layer of skin on one side helps protect the salmon flesh as it grills over direct heat.
Chef's Tip: Ask the fish monger to remove the pin bones. Otherwise, you'll need a good set of tweezers to pull out the pin bones yourself.
Tools
If you plan to cook a lot of fish on the grill you need a good fish spatula for the small fillets and an oversized spatula for flipping sides of fish.
Grab a high quality instant read thermometer, like the Thermoworks Thermapen One. The most common reason people don't like salmon (besides fish allergies) is because they overcook it! This can easily be avoided by cooking it to the proper temperature.
This post may contain affiliate links. This means if you click on the link, we may receive a small commission if you purchase through the link. We partner with brands we know and love and use and it helps keep the blog going!
Preparation for Blackened Salmon
Remove any pin bones using tweezers.
Coat the salmon with olive oil as a binder for the dry rub.
We use our classic Blackened Seasoning for this recipe. It's a mix of sugar, herbs, and spices. For this recipe, plan 1 tablespoon of seasoning for each filet, and remember to generously apply the seasoning.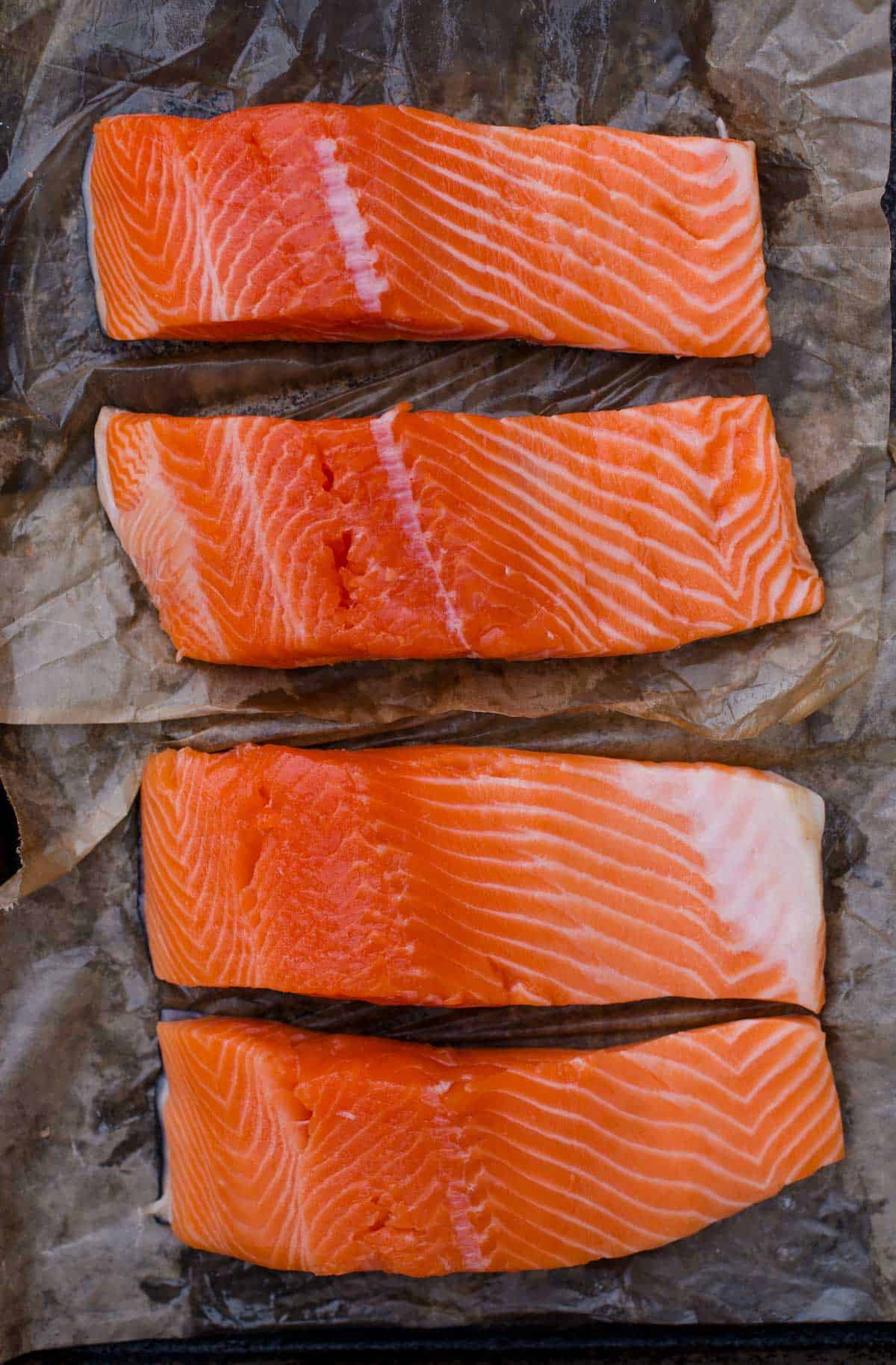 Be sure the grill grates are clean and oiled! this prevents sticking from any creosote or old cooks on the grates.
How to Grill Blackened Salmon
The goal is to have a high heat and then to sear both sides. Starting with the flesh side, and finishing on the skin side until the salmon reaches your desired doneness.
Prepare grill for direct (or one-zone) cooking using lump charcoal. Target 450 – 500 degrees Fahrenheit over direct heat. Typically this means your dome thermometer is at 400 – 425 degrees F.
Place the blackened salmon, flesh side down, over the direct heat. Grill for 8 minutes. After 8 minutes, using a fish spatula, gently nudge the salmon to see if it will release from the grill grate. If it's still sticky, check again after a minute. The salmon should release easily when the proper sear has occurred. Flip and grill over direct heat for additional 6 minutes or until the internal temperature of the salmon is 135 degrees for medium salmon. For medium rare remove when the internal temperature is 125.
Remove from grill and let rest for 10 minutes to allow for carry over cooking. Optional: Finish with a squeeze of grilled lemon, and serve with your favorite sides.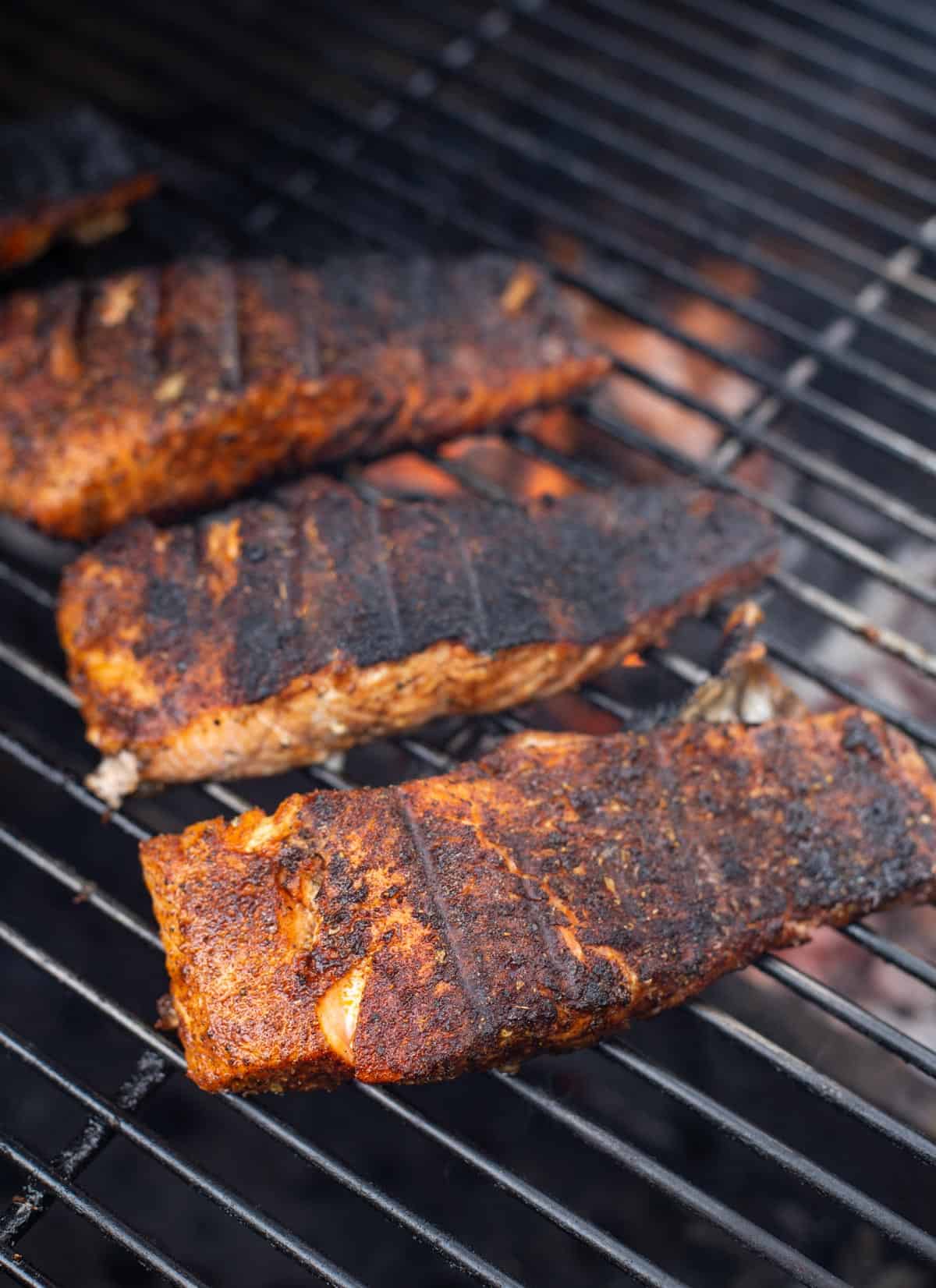 You can also visit our full run-down on how to grill salmon.
When is Salmon Done
You can cook salmon like steak based on your preference of texture and flavor. We like our salmon cooked to medium rare. The USDA recommends cooking salmon to 145 degrees Fahrenheit. If you're buying high quality salmon we recommend the following finishing temperatures.
Rare – 120 – 130
Medium Rare – 130 – 140
Medium – 140 – 150
Medium Well – 150 – 160 – Not recommended
Well Done – 160 – Not recommended
Pairing Wine with Blackened Salmon
Not all fish deserves a white wine. Salmon is especially versatile and can pair nicely with a number of earthy red varietals like Oregon and French Pinot Noir, Gamay Noir (especially Beaujolais), and even Cabernet Franc.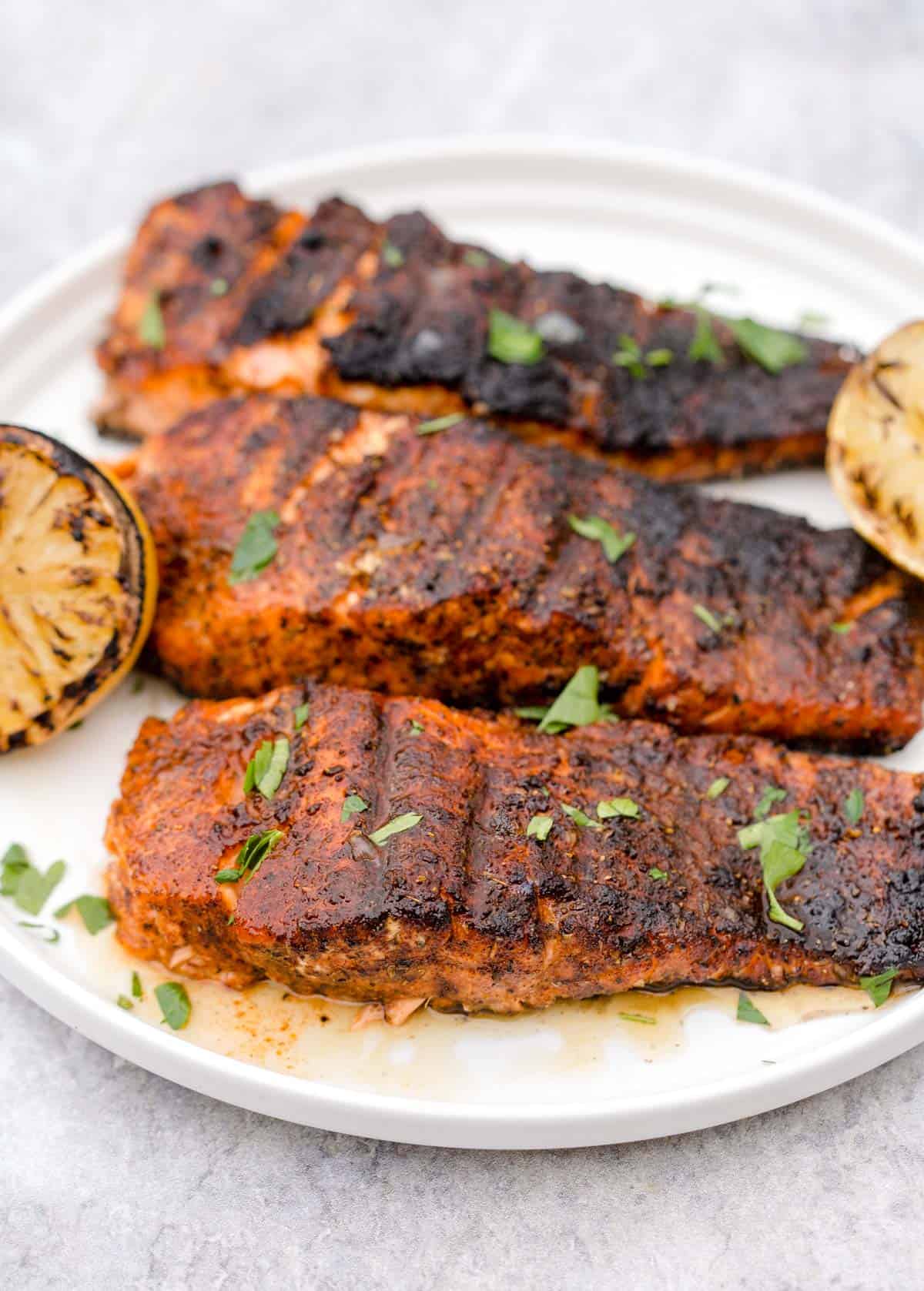 The earthy flavors of the blackened salmon seasoning and grilled notes are perfect with sparkling wine, they also work well with a big oaky Chardonnay or even a crisp dry Riesling.
More Salmon Recipes
---