Grilled Blackened Salmon Fillet is ready in minutes. This simple recipe combines the earthy and savory flavors of our blackening seasoning and the rich flavors of a wild caught salmon fillet. Grill over direct heat for an incredible and flavorful grilled salmon recipe that comes together in less than 20 minutes.
Or check out our recipe for blackened salmon steaks, the smaller cuts from the entire side of fish.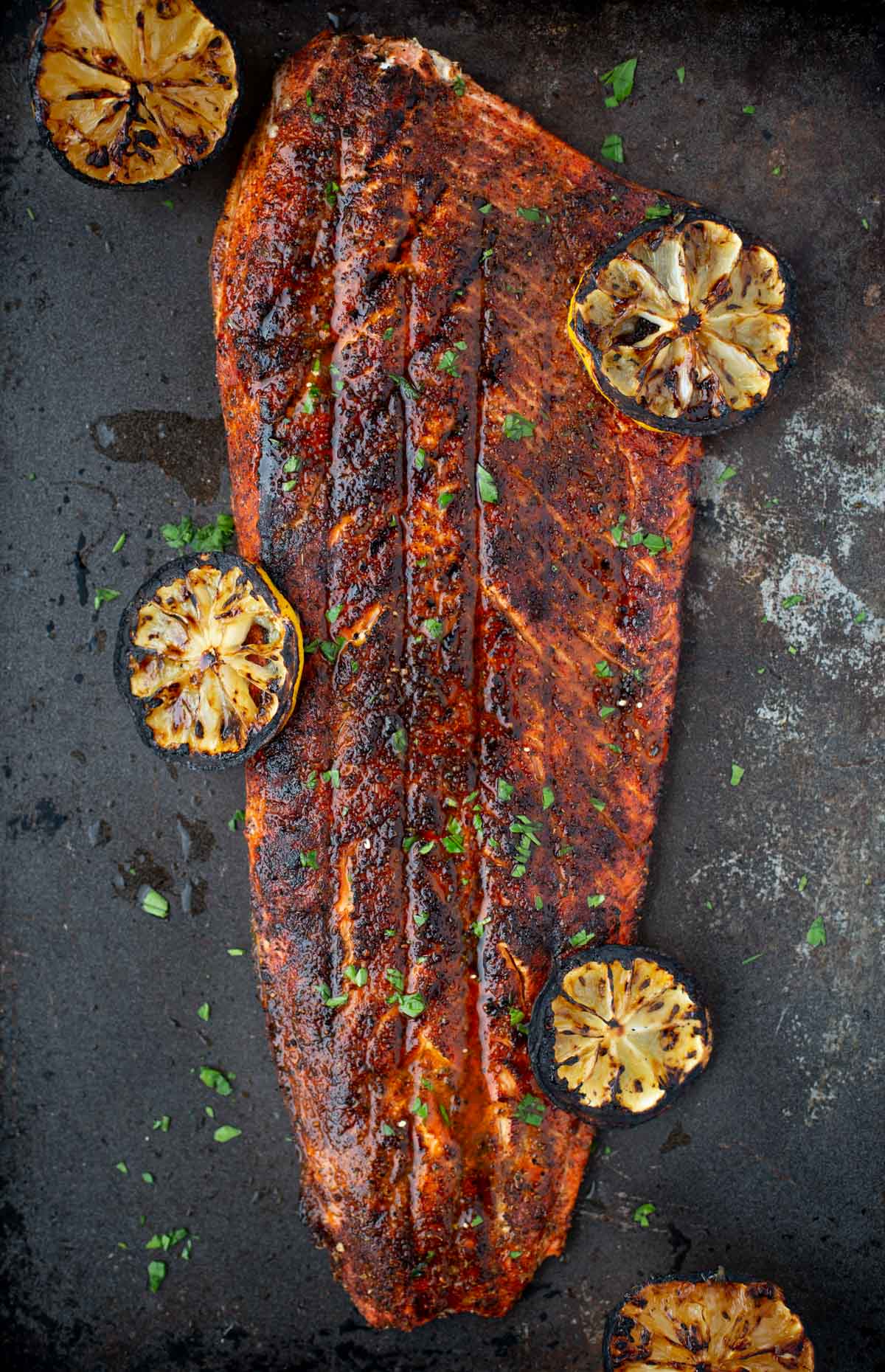 There is no shortage of quality salmon available throughout the Pacific Northwest. From our incredible smoked salmon recipe to our grilled salmon salad, to the picturesque cedar plank salmon recipe that graces the cover of our cookbook, we eat it every week. This grilled blackened salmon is a great weeknight meal because it grills so quickly, but does not lack in flavor ensuring the whole family will love it!
Jump to:
Salmon Fillets Versus Steaks
A whole salmon fillet can be easy to grill because you can cook it all at once and then serve it up. It also makes for great presentation for your family or guests. We especially like a whole fillet when we have a buffet-style meal for catering (it's a gorgeous centerpiece). The salmon steak is simply smaller fillets, or salmon steaks as they are called cut from the side of fish or along the spine.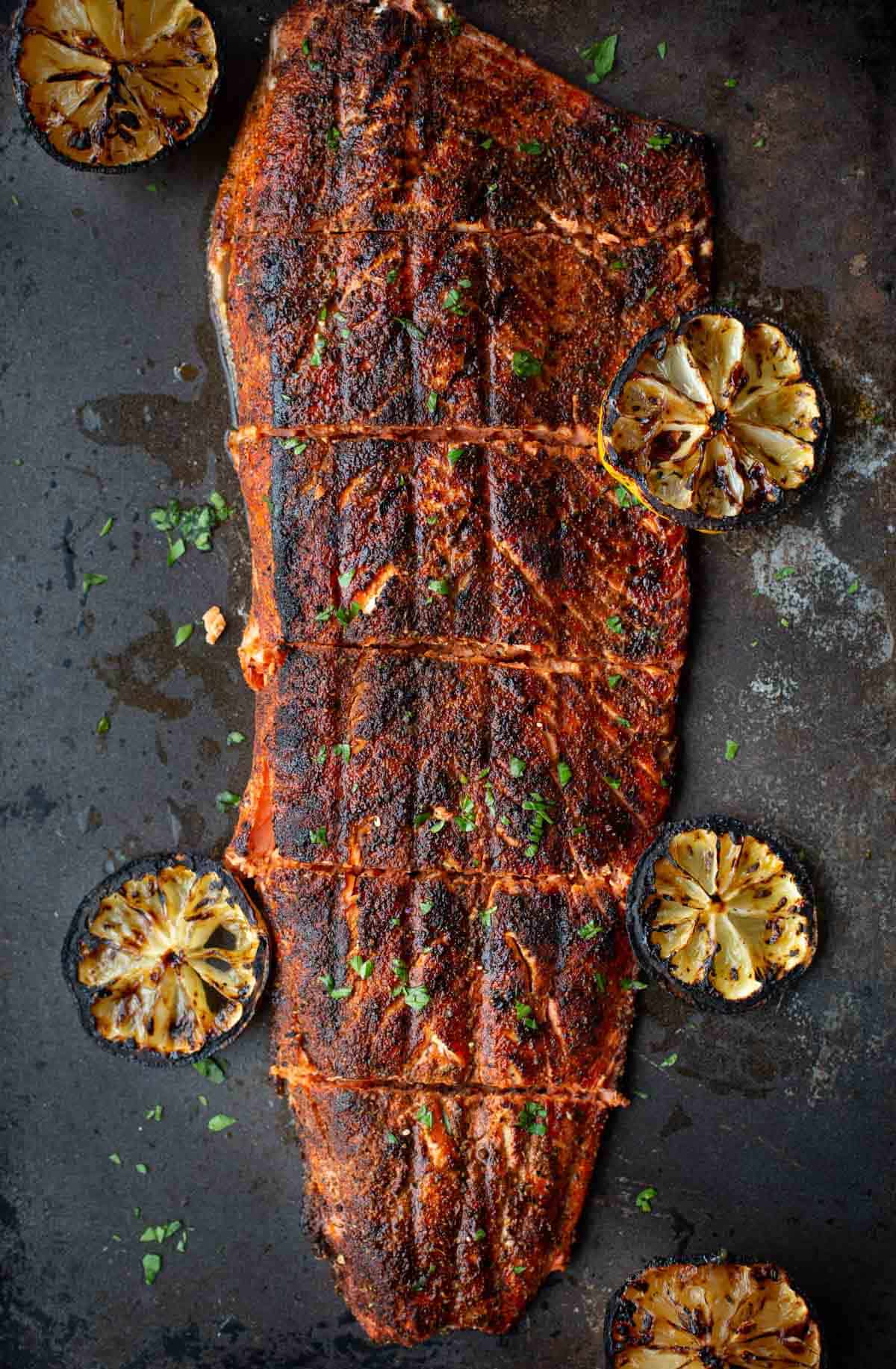 Ingredients for Grilled Blackened Salmon
Type of Salmon: For this salmon recipe, we use Sockeye. While typically a smaller and thinner cut than its King/Chinook cousin, it's perfect for a family of four or as part of a multi-protein meal. You can use this recipe for any salmon or steelhead variety. We source line or wild caught salmon. One thing to note is that line or wild caught generally has less fat than farmed Atlantic salmon, so it grills much faster.
When purchasing salmon, ask your butcher to remove any pinbones to make it easier for you to eat once cooked.
Chef's Tip – Fresh salmon filet should not smell fishy and should have a dark pink or reddish color.
Seasoning: We also use our blackening seasoning, which is a mix of spices, salt, pepper, and sugar to give an earthy aroma and flavor balancing out the buttery rich flavor of salmon. You can use any seasoning you like, however avoid one with too much sugar in the seasoning as it will burn faster over direct heat.
Preparing the Grill
The secret to perfectly grilled blackened salmon fillet is to make sure you have a CLEAN and well oiled grill and a large thin fish spatula. This makes it easy to flip the salmon without breaking the flesh. As the grill is warming up, gently clean the grates with your grill cleaning tool, be sure the grates have no leftover bits or creosote. Then apply a small amount of high heat oil (like avocado or olive) to a paper towel and apply to the cooking grates. It's then ready for grilling.
How to Grill Salmon Fillet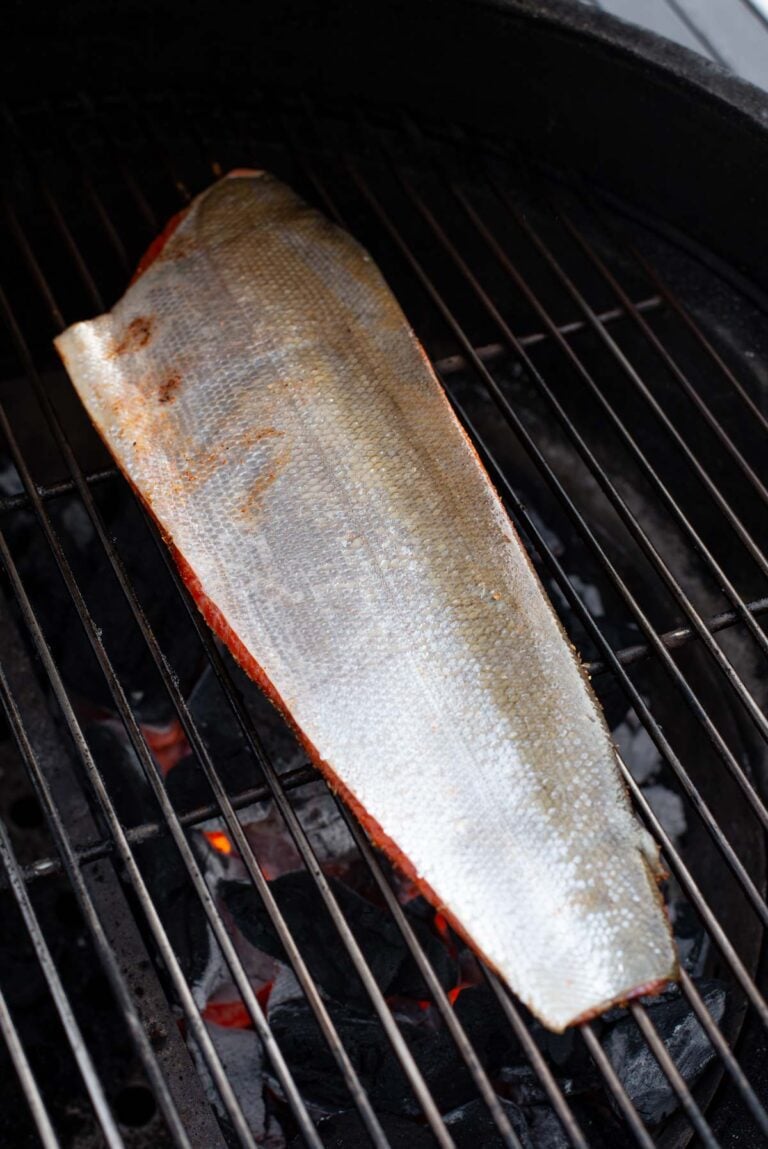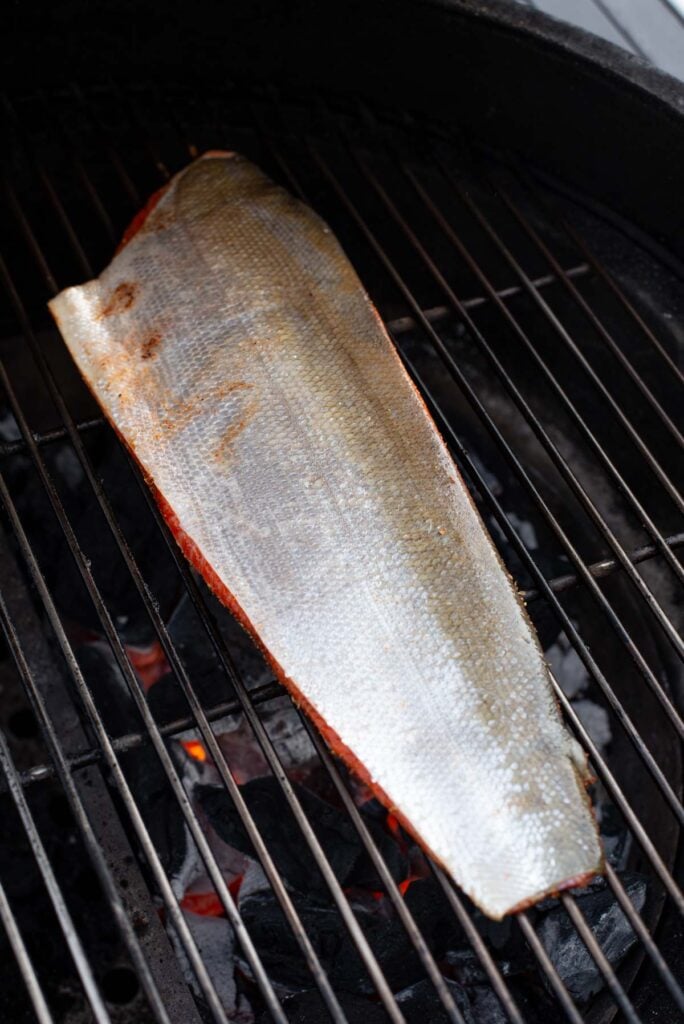 Preheat Grill: Prepare the grill for direct grilling, or for the heat source to be directly under the salmon. Target 425 degrees Fahrenheit as the internal temperature of the cooking chamber.
Season Salmon: Apply the olive oil to BOTH sides of the salmon and liberally apply the seasoning to the flesh side.
Grill Salmon: Place the salmon, skin side UP, over direct heat. Close the lid and wait six minutes. You know it's ready to flip because the salmon will easily lift away, or not stick to, the grill. This is why the large spatula is nice because you can gently start to flip it, and if it's still sticking, then you wait another minute until you can easily place the spatula under the flesh side to flip.
Flip: Flip to skin side down, and continue grilling over direct heat with the lid closed. After 4 minutes, begin checking the temperature of the salmon filet with a good instant read thermometer, like the ThermoWorks Thermapen One or Thermapop. The salmon is done when it reads 135 degrees Fahrenheit on the thermometer.
Grill Lemon: While the salmon is cooking, grill lemons, flesh side down, for about 6 minutes, or until grill marks appear. Remove and set aside to use while serving the salmon.
Serve with your favorite sides and douse with a splash of the grilled lemon.
Chef's Note: If you don't have a large fish spatula, then use two spatulas to flip it at the same time. You should only flip the salmon once. The skin will protect the underside of the salmon from scorching.
Wine Pairing for Grilled Blackened Salmon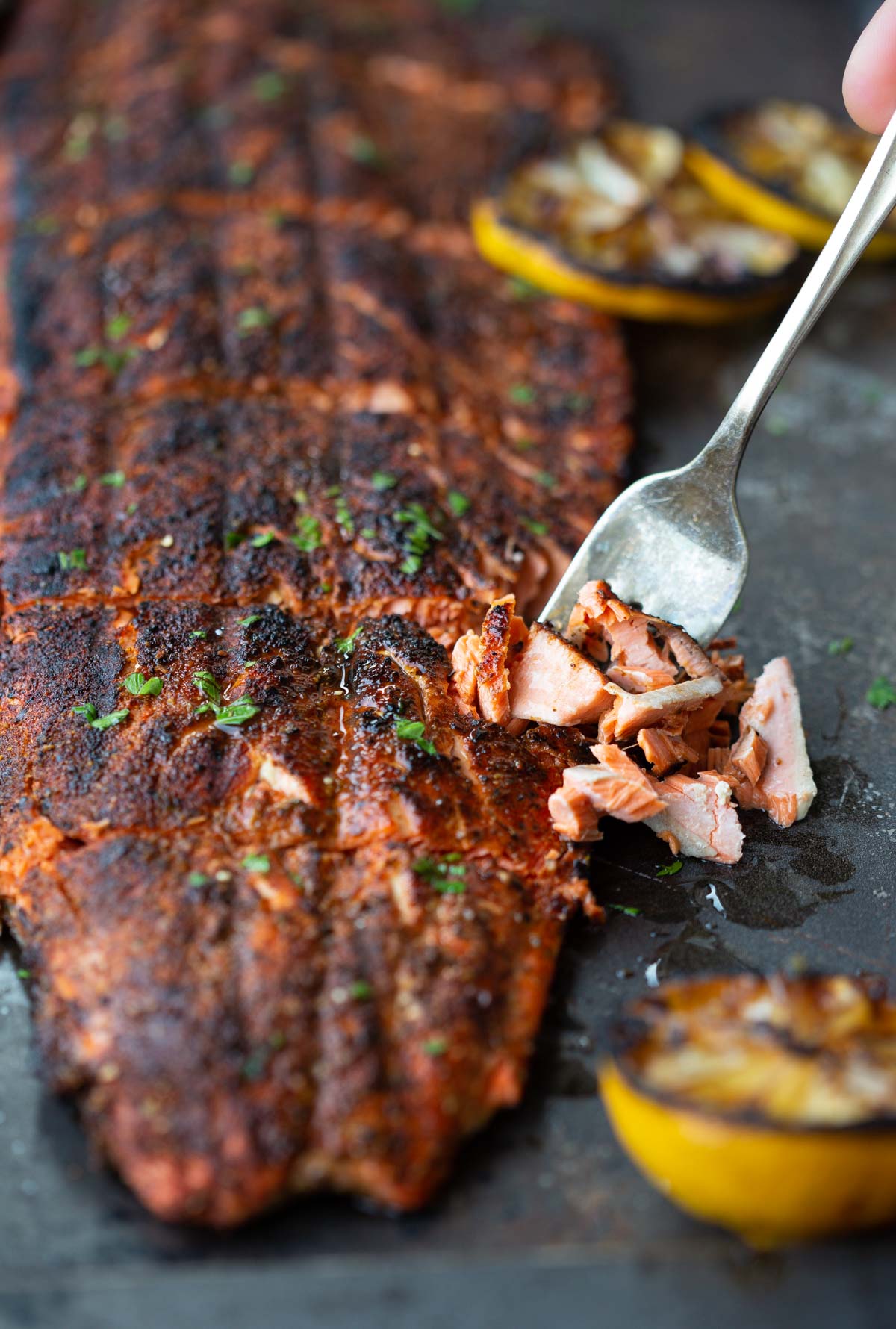 With the blackened seasoning and char from grilling I love to go with a light to medium bodied red for this one. A bolder style Pinot Noir is always a favorite with grilled salmon of any kind. Beaujolais or Rhone style reds also work great for this dish. If you want something a little bolder, you can reach for a lighter style Merlot if that's your thing.
---