"In early May, five top sommeliers from around the country gathered at Brooks Winery to create a personalized Pinot Noir blend for each of their respective restaurant programs. In order to create a successful wine, they first had to understand what goes into a blend, and at Brooks, that means getting to know upwards of 50 individual lots." (read more here)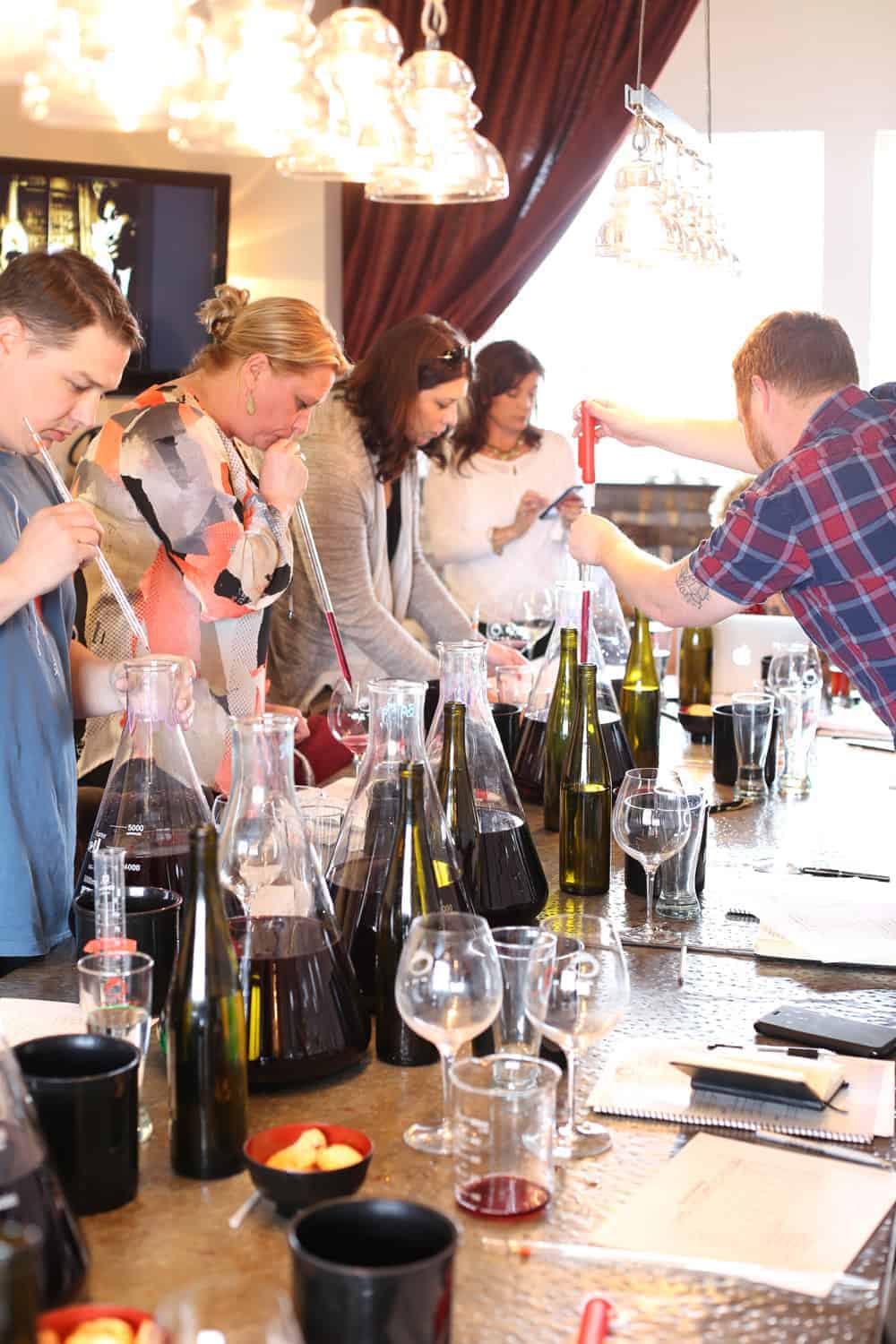 I was lucky to be a part of that awesome group, who gathered at this incredible property to understand the complexities and nuances that go into making a Pinot Noir blend.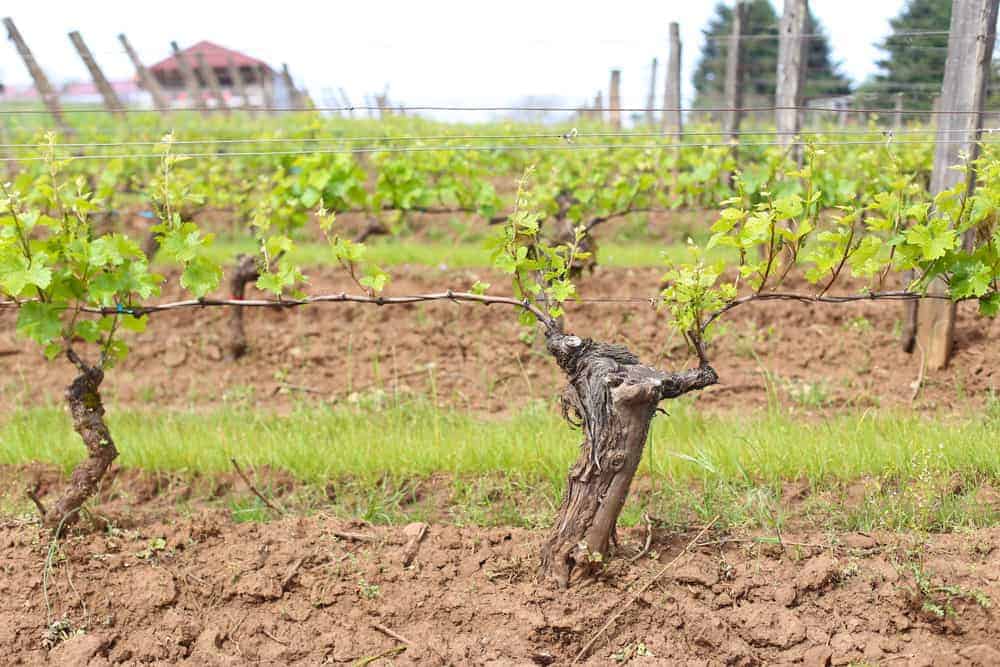 One thing I learned for sure, creating a custom wine is not an easy experience. At all!
I had the opportunity to write about the experience in this month's Oregon Wine Press and I highly encourage you to stop what you're doing right now and go check it out. And if you don't have the print copy lying around (I havent even seen the print version yet!!), you're in luck — Just click right HERE for the online version.
Don't worry, I'll still be here when you get back…
Ready… set… go…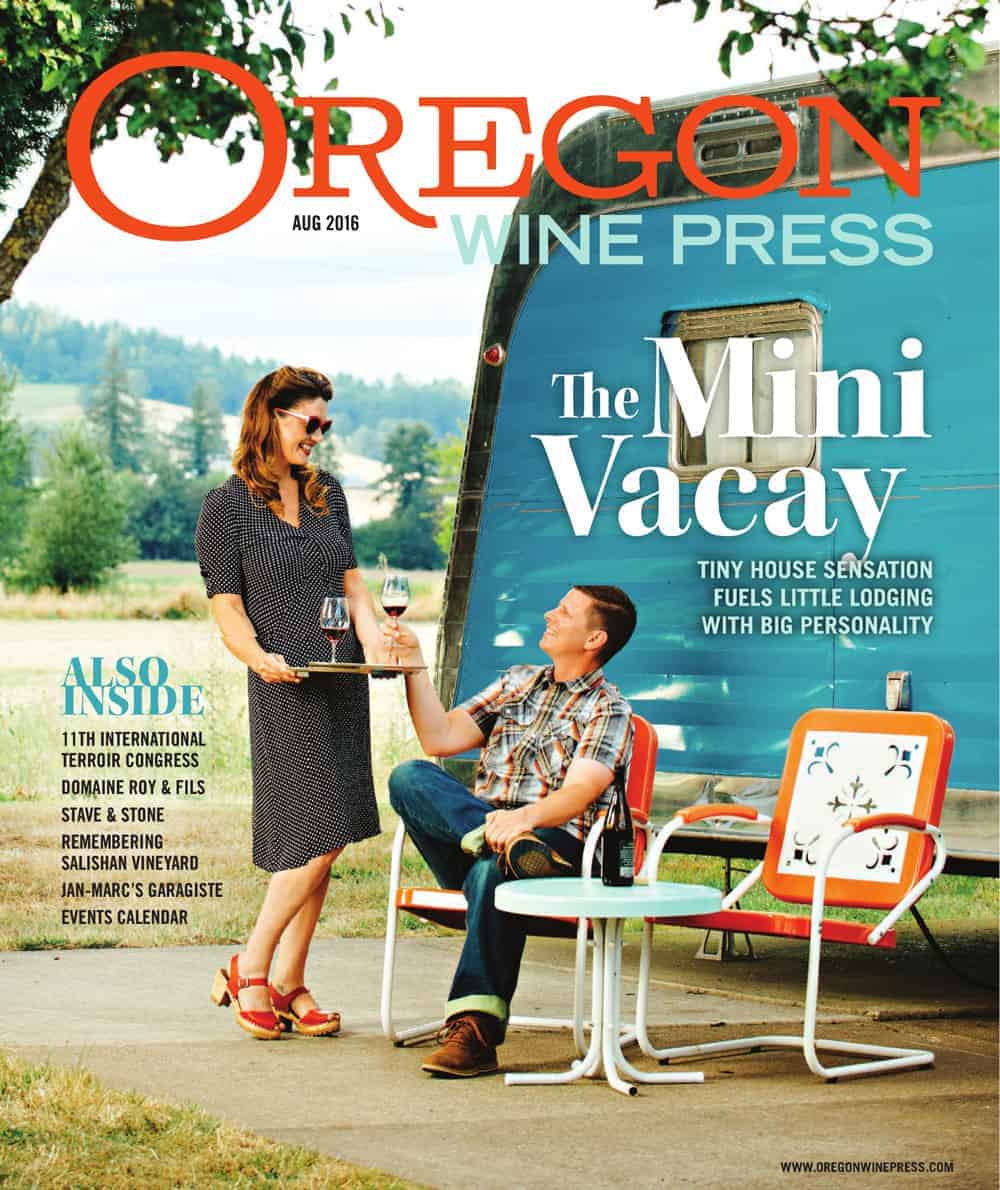 BOOM! Magic
Wasn't that fun?
I have to tell you. It was a pretty amazing experience. I thought I had a grasp on what it takes to make a blend. I was wrong. SO WRONG!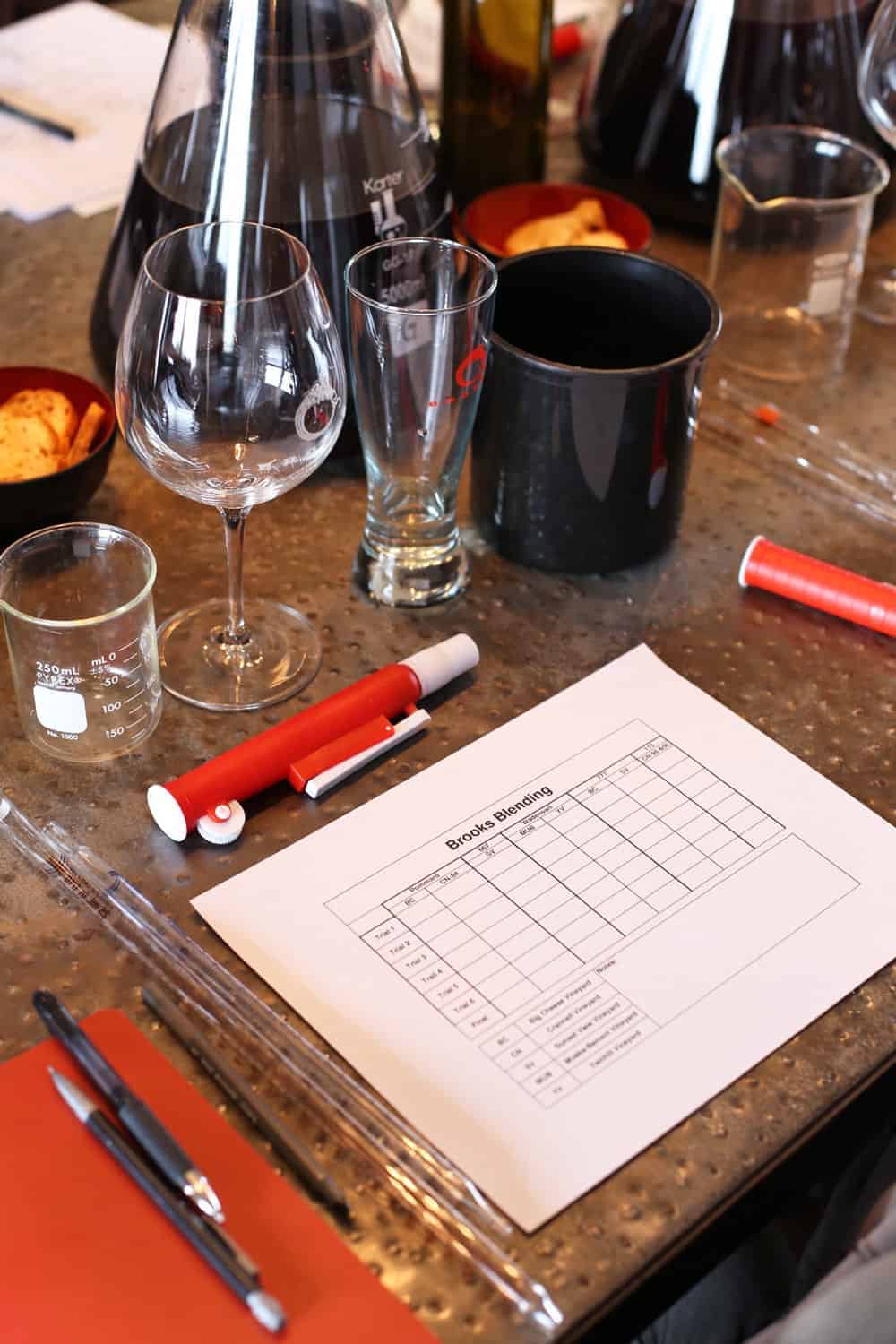 It involves so so much. Concentration. Focus. Understanding of location, soil types, and clones. Math. Chemistry. Patience. The psychic ability to see years into the future and predict how a wine will behave. And so much more!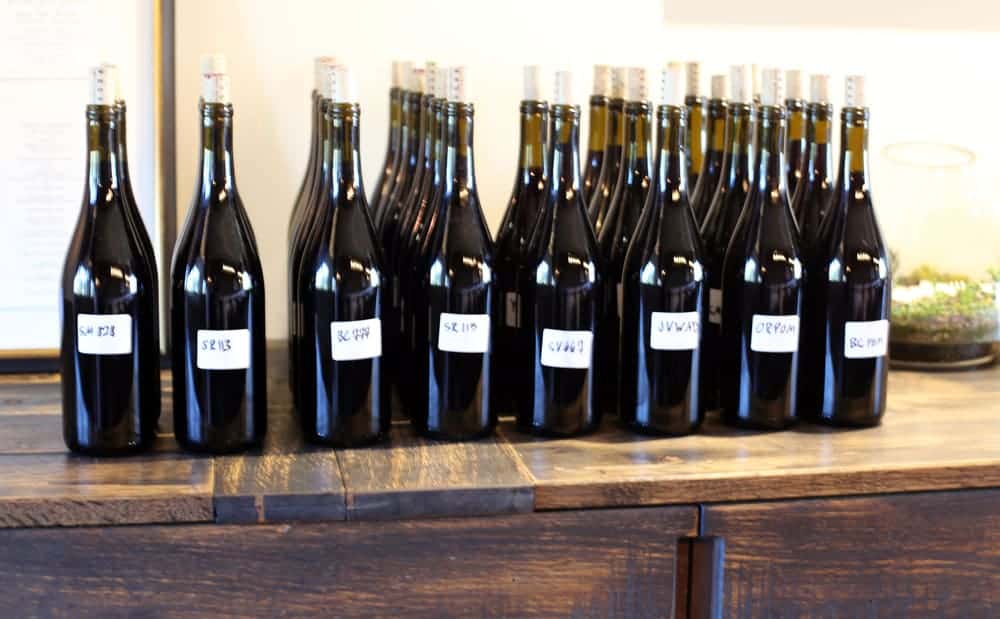 The experience was eye-opening and I was honored to have been invited.
I'd love to share some more photos of the experience, like some of the incredible team at Brooks, like this awesome gal….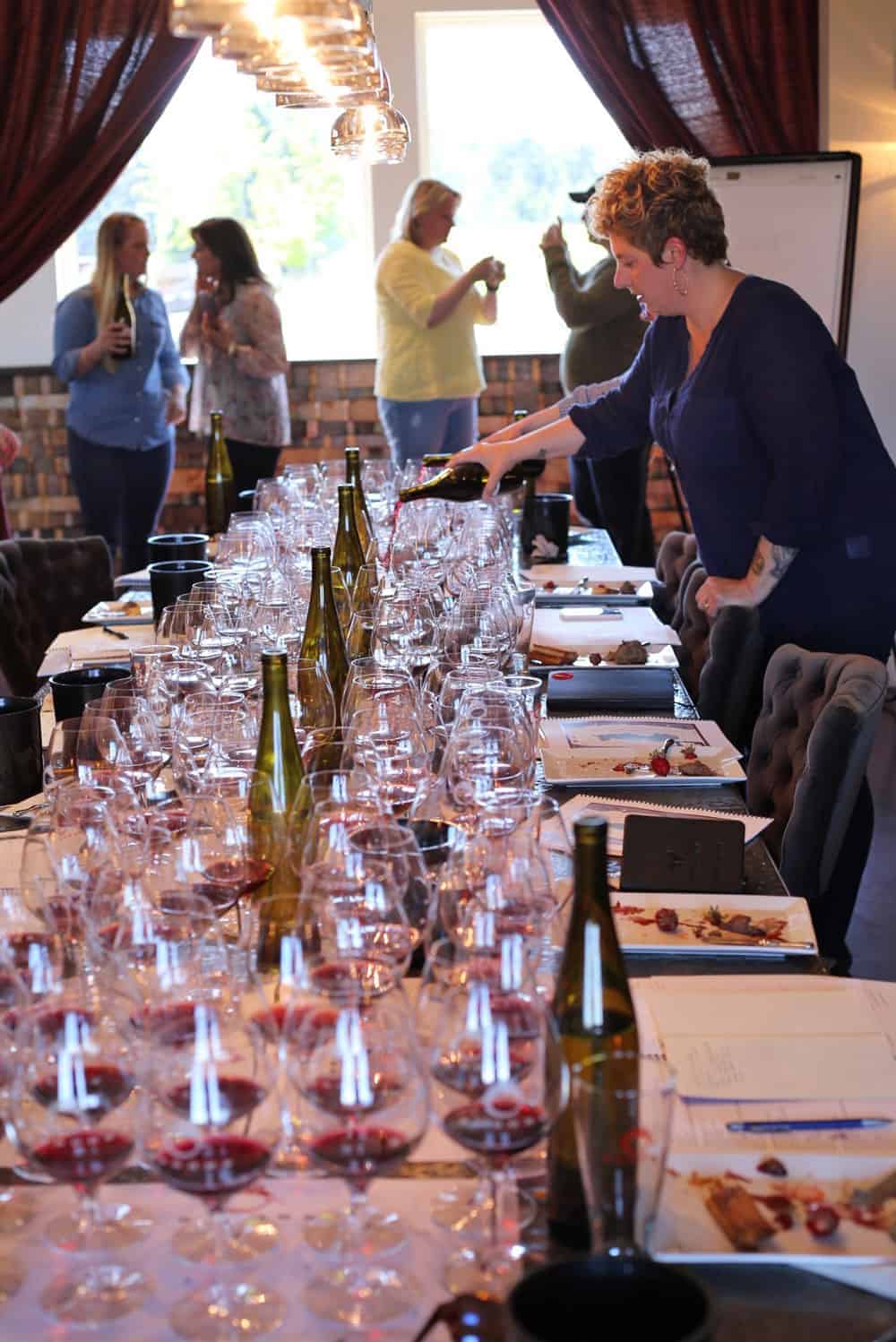 That's Jess Pierce, Director of Wine Education and Communications, pouring seamlessly into each glass. Look at those skillzzz.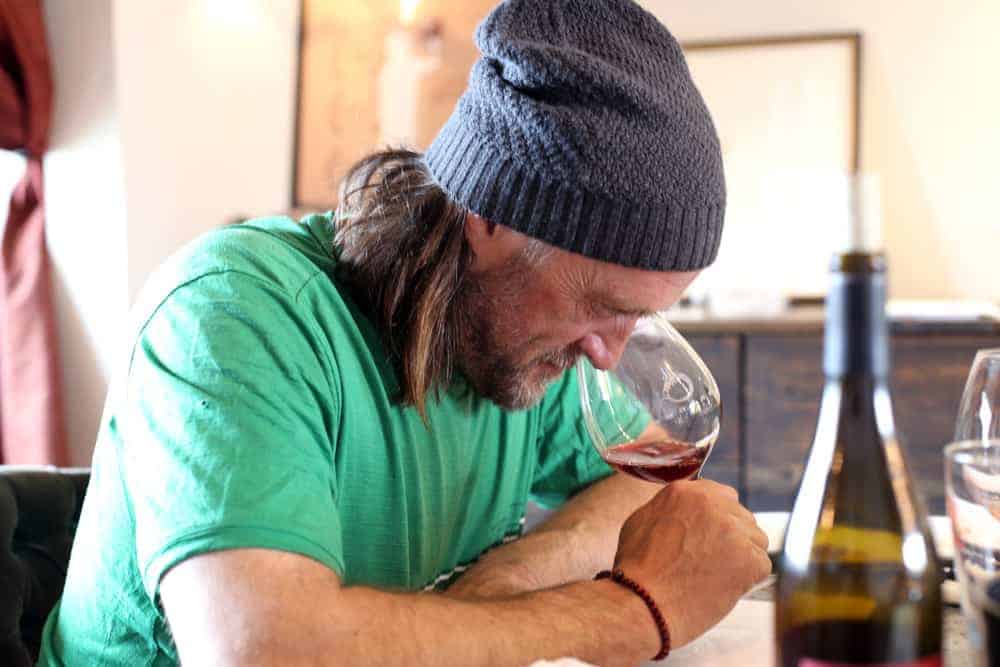 The very talented and methodical winemaker at Brooks, Chris Williams.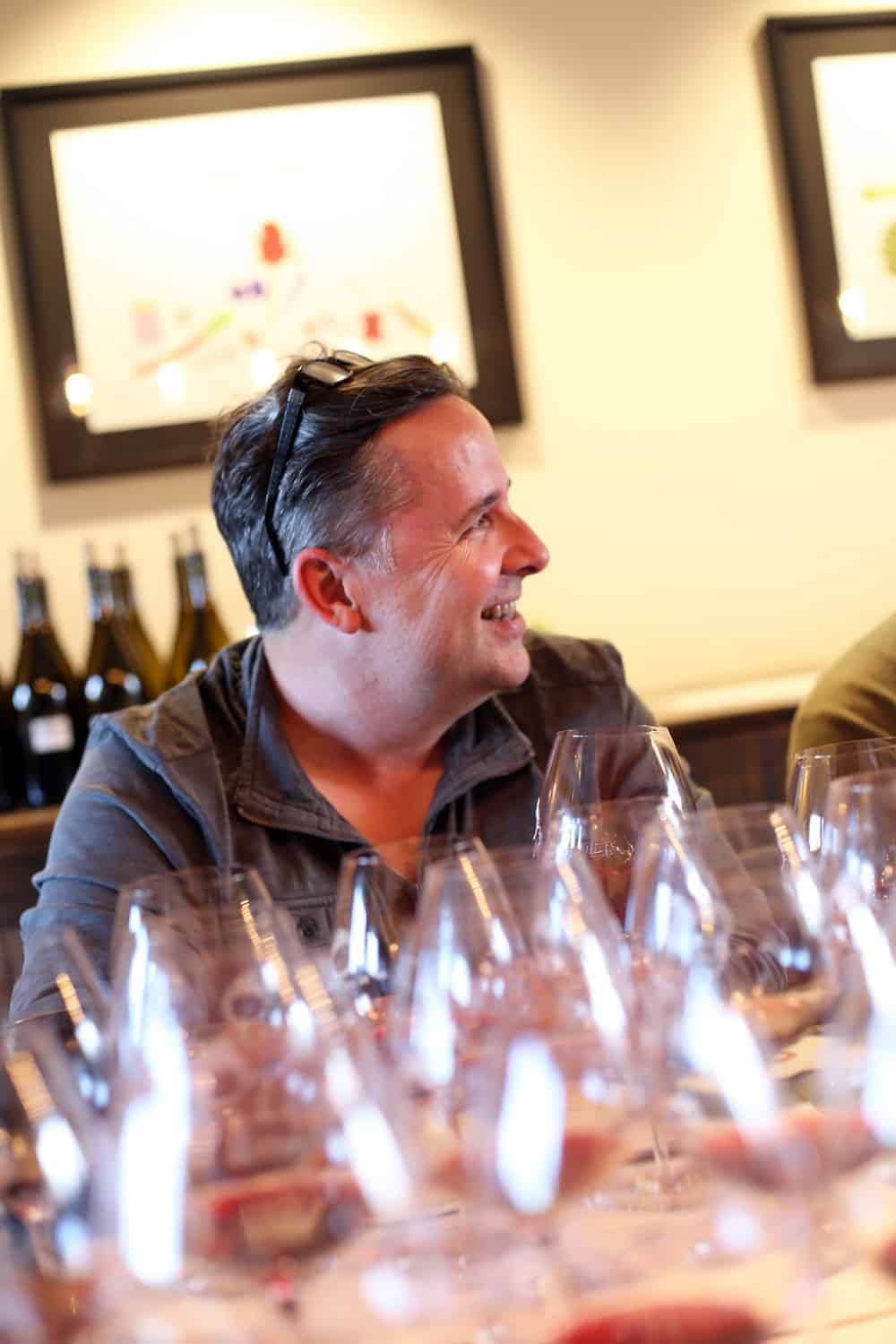 Chris Blanchard, Master Sommelier and consultant for Brooks. This guy is awesome has some great analogies for the process of blending wine. You can read all about it in the article! :0)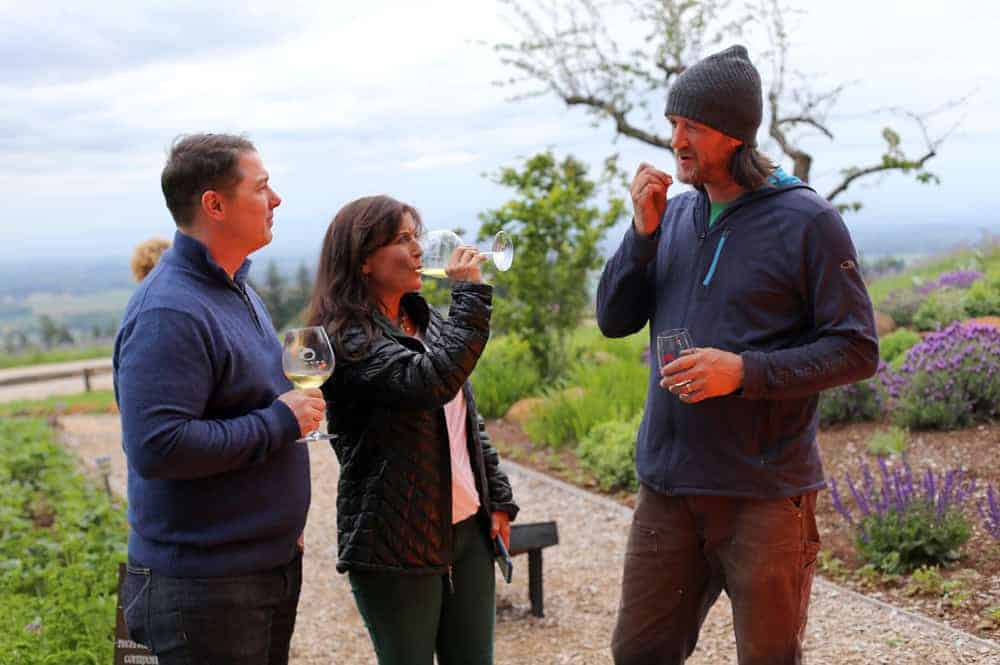 (left to right) Lucas Henning, Sommelier from Graft in Madison, WI; Janie Brooks Heuck, Managing Director of Brooks; and winemaker Chris Williams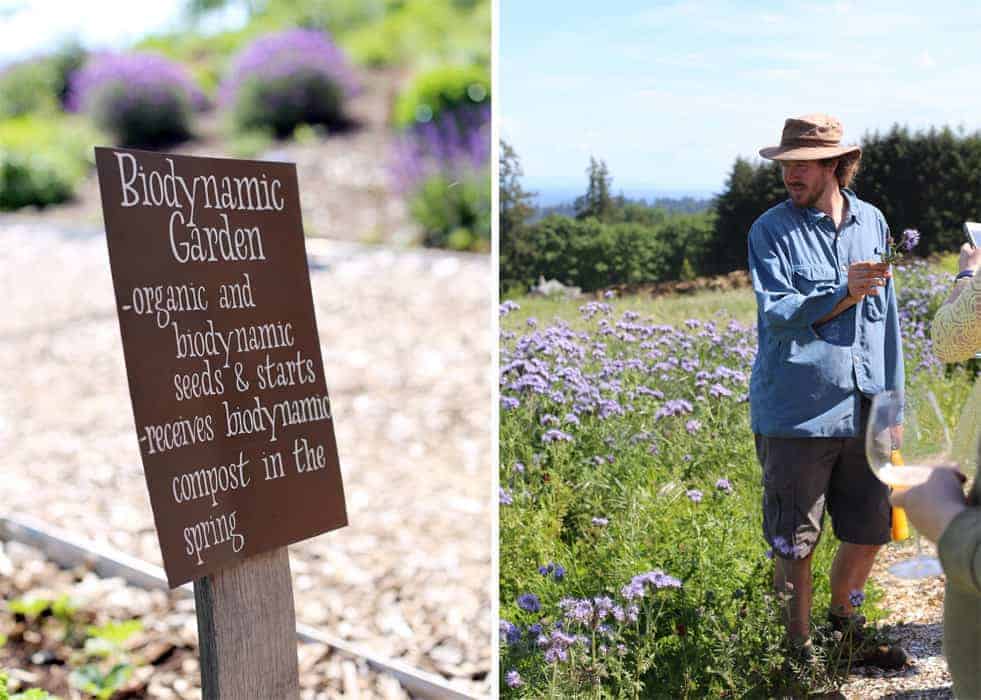 Getting the tour of the biodynamic gardens from Clay Wesson, Biodynamic Consultant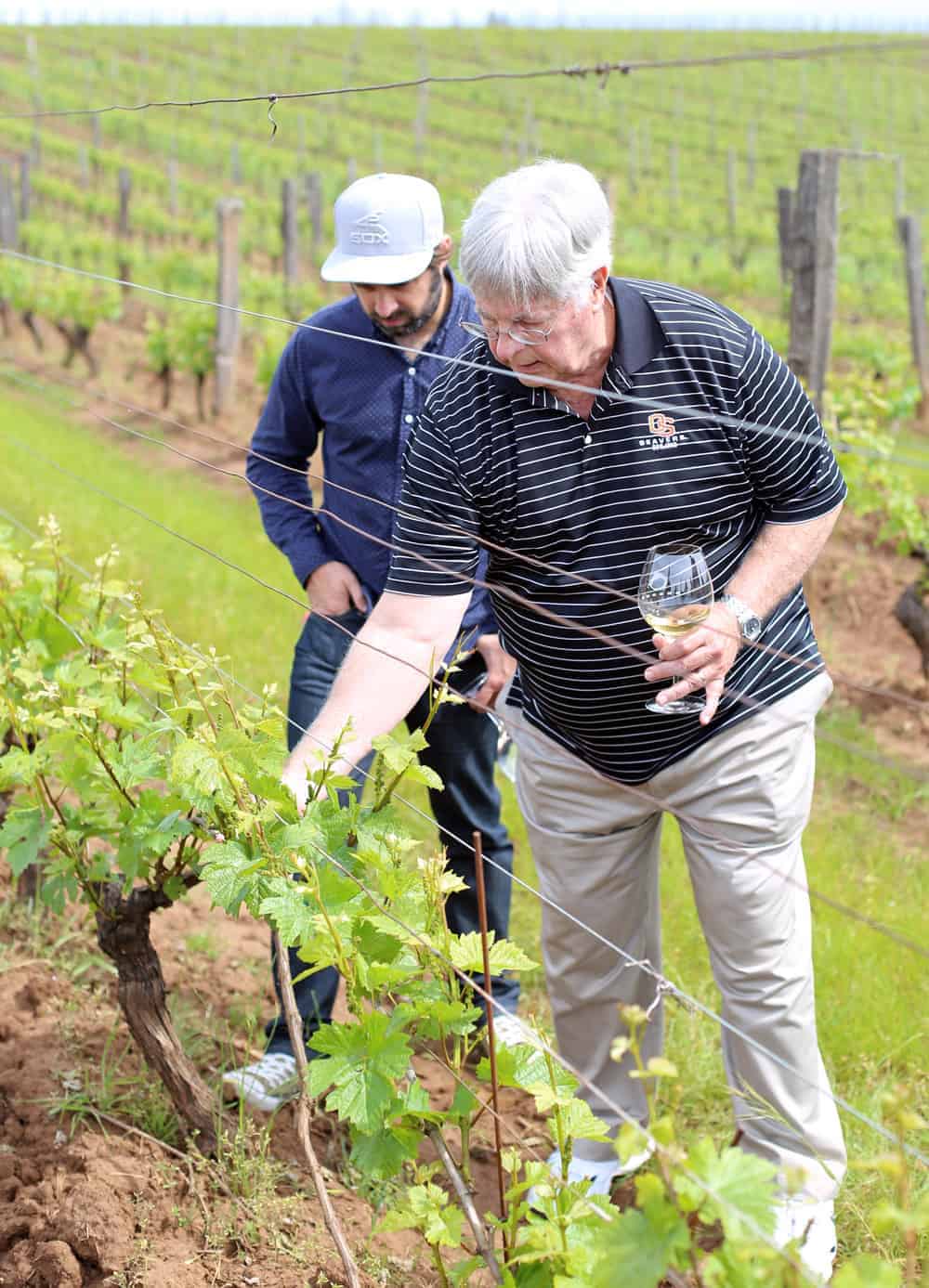 And then there's this guy!!! This is Don Byard, who planted the original vineyard on the estate starting in 1973. What a wealth of knowledge! Behind him is Ryan Arnold of Lettuce Entertain You Enterprises in Chicago.
And if you haven't been to Brooks, this is what you're missing out on…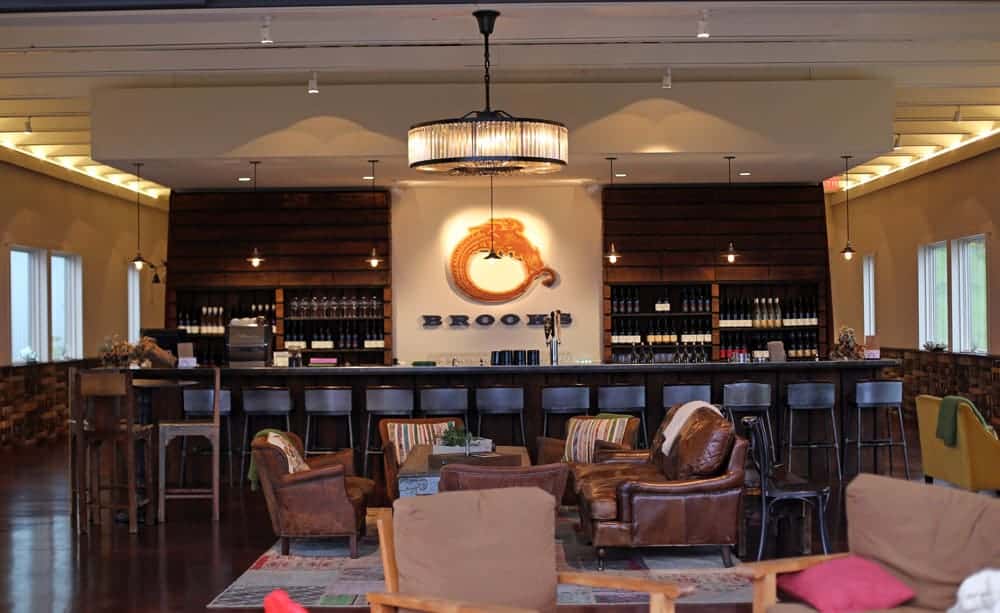 This incredibly comfortable and open tasting room that just screams, "Hey there, welcome, hang out and stay awhile. We've got plenty of wine (and also beer, and coffee) for you to just rest your sore feet and enjoy the views."…. like this.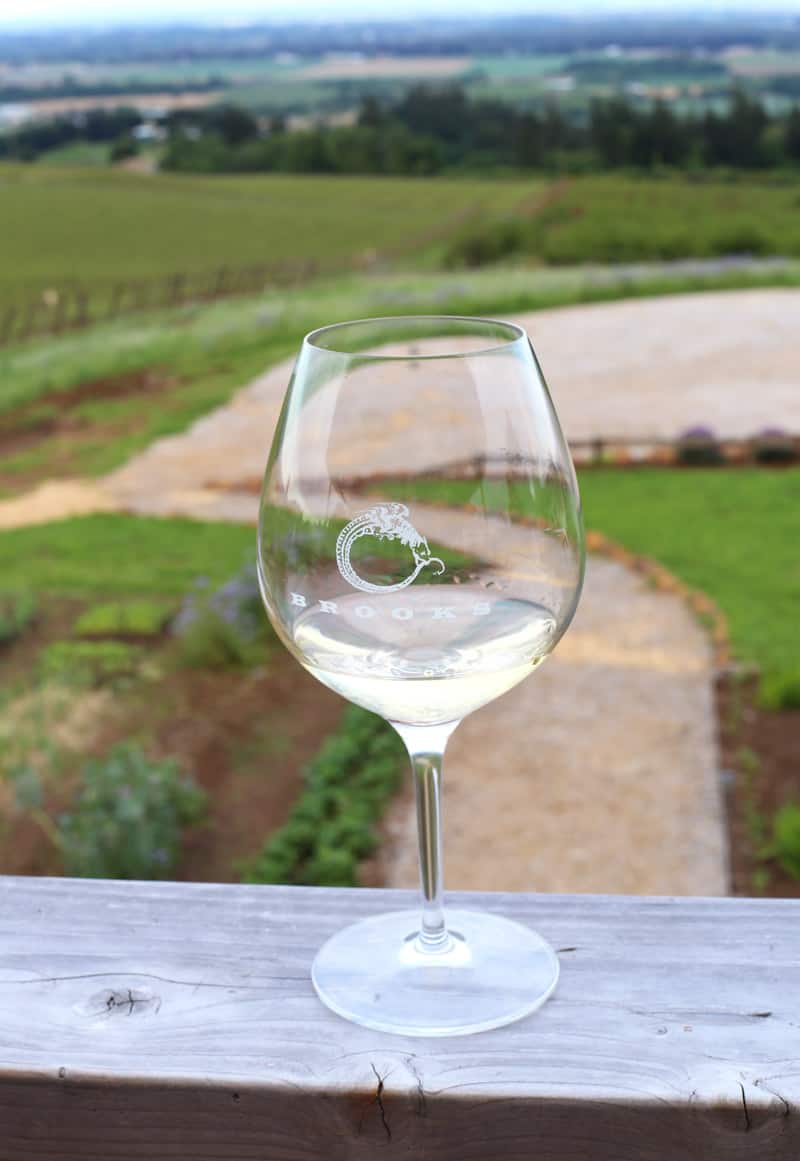 With a wine glass filled with one of their amazing Rieslings or Pinot Noirs.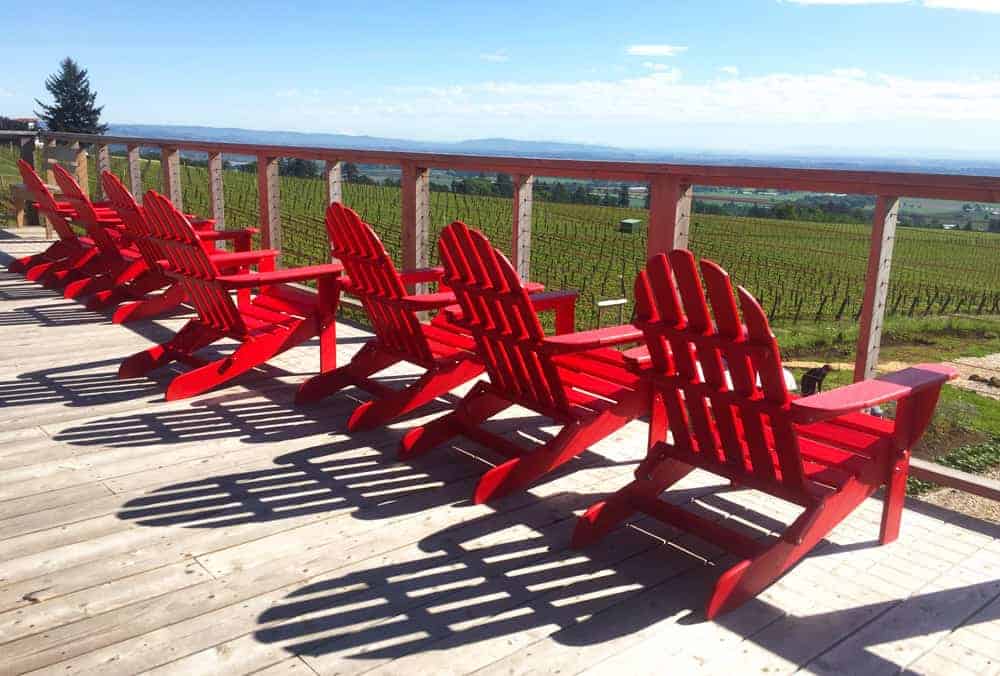 While sitting on these cozy chairs!
And if you're lucky, head downstairs from the deck to experience more fun times…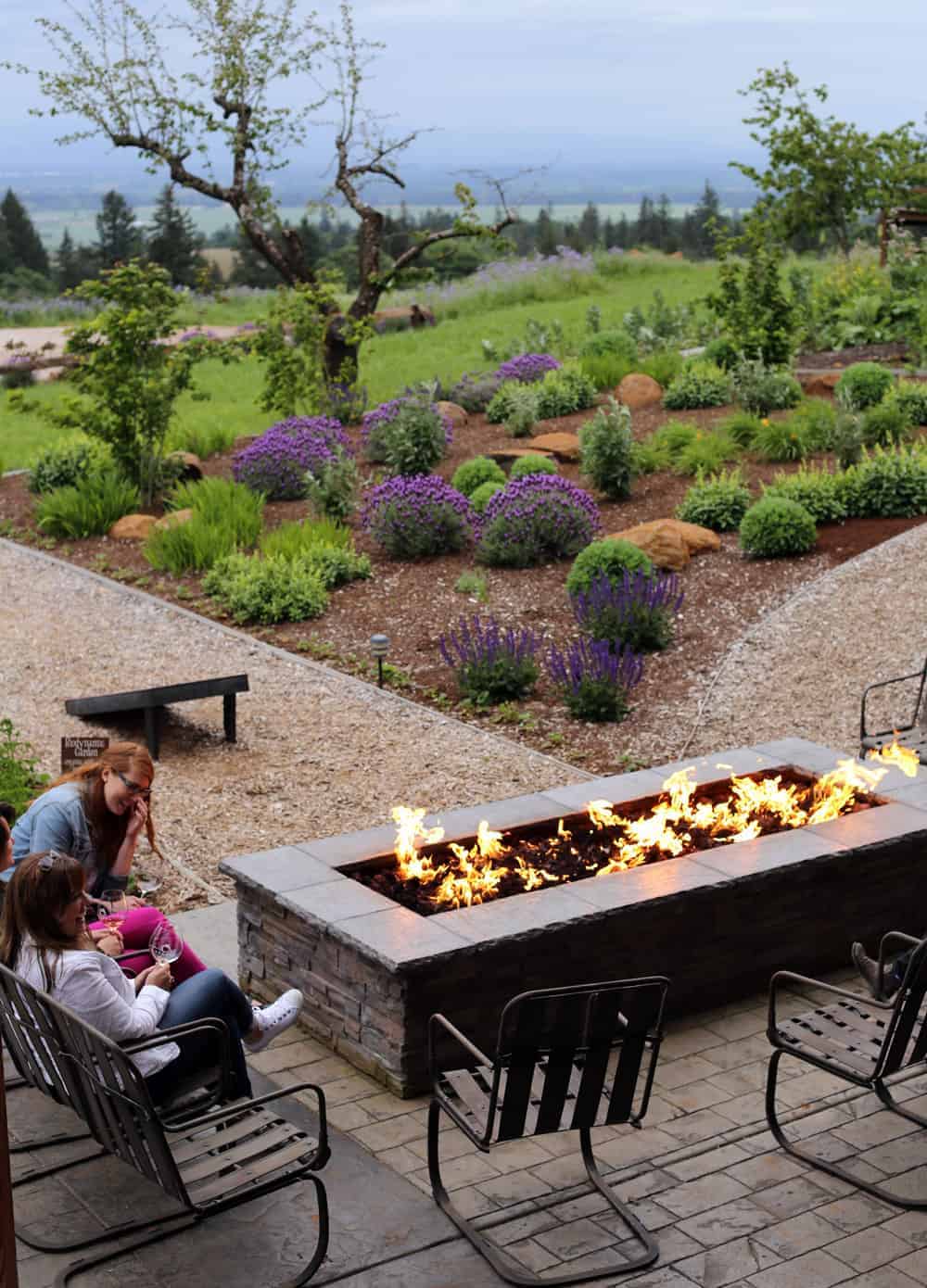 Now, back to the Brooks Blending Experience.
"On the first of this two-day event, we were asked to taste 32 Pinot Noir barrel samples broken down by clone and site. The lots represented nine clones from 15 vineyard sites planted between 1974 and 2009 located in five Willamette Valley AVAs…
"Throughout the next day, in a room more reminiscent of a science lab than a romantic barrel room — full of oversized flasks, measuring devices and nearly a dozen wines from which to choose — each somm went to work blending." (READ MORE HERE)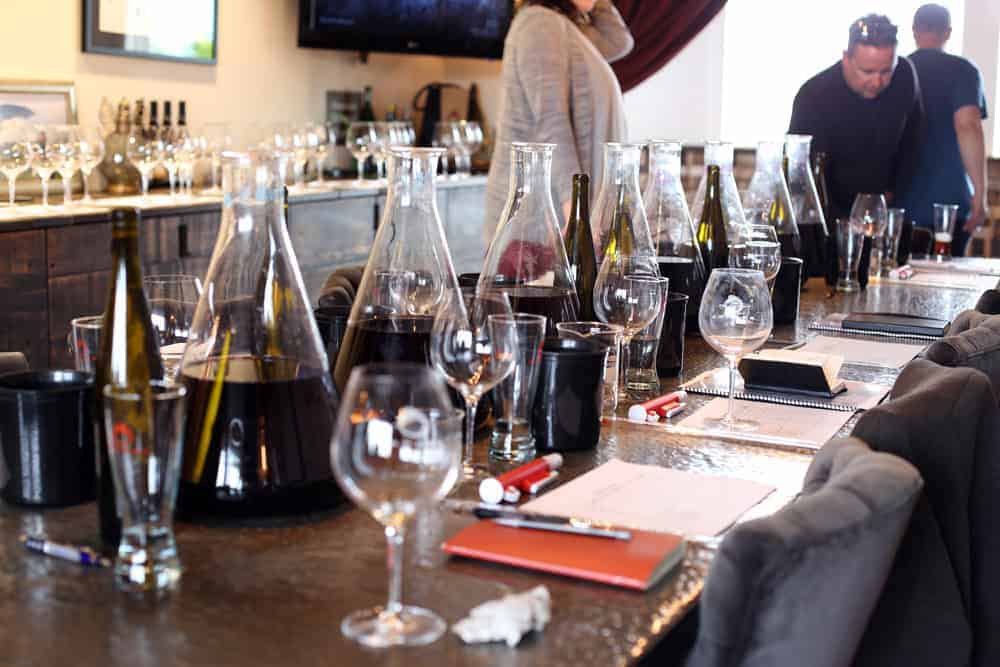 It was truly an awesome experience. And while not everyone can have this kind of experience, you are invited to taste it. The five sommeliers who made their own custom blends included: Ryan Arnold of Lettuce Entertain You Enterprises in Chicago; Steve Morgan, formerly of Formento's, also in Chicago; Brooke Sabel from Natirar in Peapack, New Jersey; Jennifer Knowles of The Jefferson Hotel in Washington, D.C.; and Lucas Henning from Graft in Madison, Wisconsin.
Their wines will be available at their respective restaurants as early as this September. Go visit them if you're in one of those towns!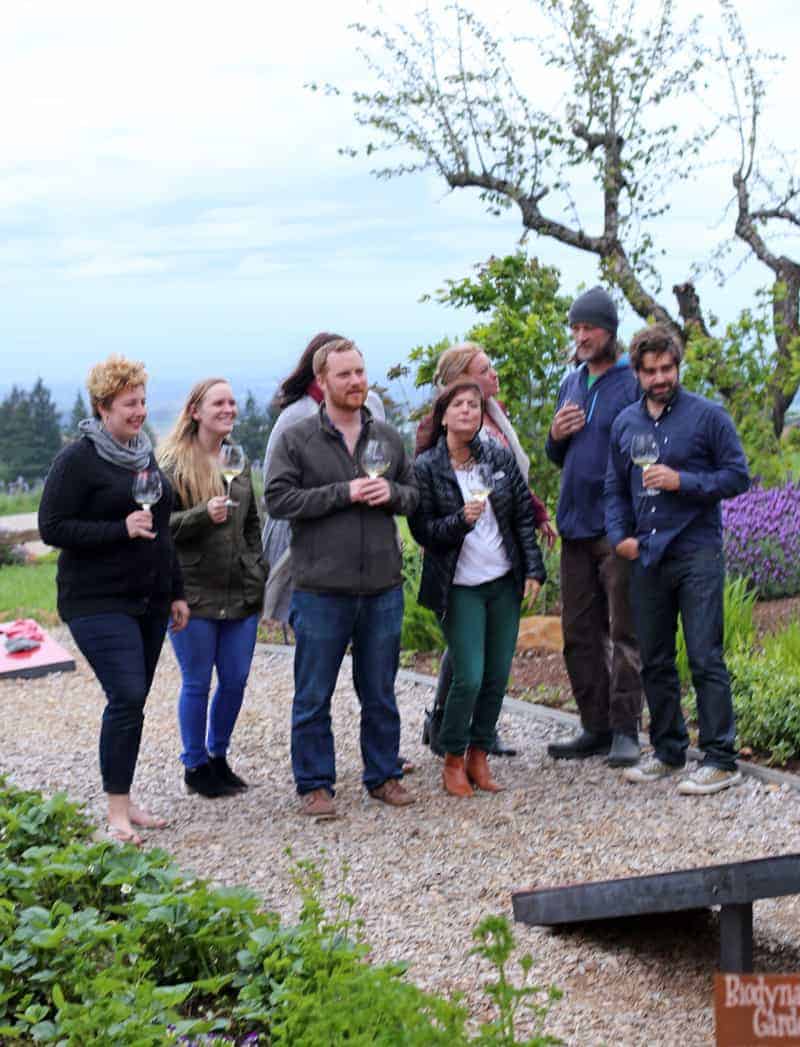 This was the ONLY photo I got of most of the group. Crazy right?! It's so embarrassingly blurry, but I had to share!
It was a true pleasure spending time with these passionate sommeliers. I learned a ton from them. And, in fact, one of my favorite interviews I conducted after the experience was over was with Jenn Knowles from The Jefferson Hotel in DC. The insightful snippets from our interview that made it into the article were only a small fraction of the amazing things she had to say. So, tomorrow I plan to share her full interview here, along with a few more photos of the Brooks Sommelier Blending Experience.
Ok, so if you haven't had a chance to read the article, That's Somm Blend, over on Oregon Wine Press, now's your chance.
---
Thank you to Janie Brooks Heuck and the entire team at Brooks for sharing this experience with me!
---