I just did a scan of my blog to see what I've written about Rioja and I came up with nothing.  Zero.  Zilch.  I've mentioned its wines in a few posts, but not a single post in four years is focused on the region of Rioja — considered by many to be Spain's most famous wine region.   What a shame.
It's time to give Rioja some love.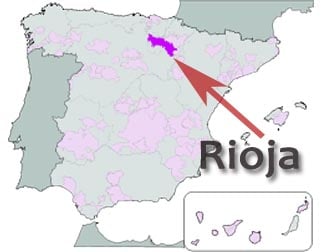 I don't intend to make this a complete lesson on Rioja, but instead provide a general overview of the region and its wines so you have a better understanding of what you are getting when shopping for Rioja wine.  Wines from Rioja can run the gamut of everyday fruity easy drinking wines, to earthy, complex, outstanding, and age worthy wines.  It's useful to know a little background on the wines before you hit the market so you can find one that fits your preferences.
To brush up on my own Rioja knowledge I've been reading the book The Wine Region of Rioja by Ana Fabiano.  Not only is it a wealth of information on Rioja, but it also provides some stunning pictures of the region.   When describing Rioja, Fabiano explains:  "The best analogy maybe that La Rioja is like a mixed salad with the best of everything in it.  Its ingredients include superlative climate, soil, products, vineyards, gardens, orchards, people, history, culture, agriculture, spirit, beauty, and tradition.  They are then dressed with a combination of beauty, calm, peace, and harmony. " (p4)
A few facts
The wines of Rioja, like many wine regions in Europe, are named after the region (La Rioja), not the grape varieties, which are listed below.
In terms of classification, Rioja was the first to receive a Denominación de Origen (DO) designation in 1926.  In 1991 it then became the first to be upgraded to a Denominación de Origen Calificada (DOC), which is similar to Italy's DOCG designation for wines of superior quality and a proven track record.  Today there are only two such regions in Spain (the other is Priorat) to have a DOC status.
Rioja has 3 subregions, each with their own characteristics:  Rioja Alta, Rioja Alavesa, Rioja Baja
Red, white, and rosado (rosé) wines are all produced here, but for the purpose of this post we're focusing on the reds.
Tempranillo (the grape variety) reigns supreme here, but there are several other permitted grape varieties, including:

Other Red Grapes:  Garnacha, Graciano, Mazuelo, Maturana Tinta
White Grapes: Viura, Malvasía, Garnacha Blanca, Tempranillo Blanco, Maturana Blanca, Turruntés, Chardonnay, Sauvignon Blanc, and Verdejo
What makes the wines here different from other regions?  Aging requirements.
Aging Categories
In the United States, a wine labeled "reserve" has no legal meaning.  Any winery can slap a "reserve" label on a bottle and call it a day.  It is up to each individual winery to decide which wines are labeled "reserve" or not and determine what it means to them.  So as a consumer I always ask a winemaker or sales person what it means to them, because it varies from winery to winery.
In Spain this term is regulated strictly by law, as you will see below.
Wines bottled as a DOCa Rioja are subject to strict aging requirements and are separated into four categories.  This is important information for consumers to know, as it will give you an idea of what the inside will reveal.  These aren't labeled in order of quality, but rather aging requirements.  You can find examples of all four styles of these in a wide range of both quality and price ranges.

Cosecha:  Aged less than 1 year in oak, and less than 1 year in the bottle before it's released.  In general these wines are meant to be consumed within a couple years of vintage date (not meant for long-term aging), and intended to be fruity, simple wines (but there are, of course, always exceptions to this).
Crianza:  Must be aged at least 2 years, with a minimum of 1 year in oak. The white wines must be aged 6 months in oak before release.
Reserva:  Must be aged a minimum of 3 years, with at least 1 year in oak.  The grapes for these wines are typically selected for their quality and are produced only in select years.  They can be consumed upon release, but also have the ability to age well. The white wines must be aged 2 years, with at least 6 months in oak.
Gran Reserva:  Selected from the very best vintages, these must be aged a minimum of 5 years, with a minimum of 2 years in oak. These wines can be aged for several years. The white wines must be aged 4 years, with 1 in oak.
If you are curious to know how these requirements may effect the wines, do what I did recently – get an example of each style and open them side-by-side and taste through them.  It makes for a fun Saturday afternoon with friends.  Don't feel like going through the work?  Just read my notes below to see what I discovered.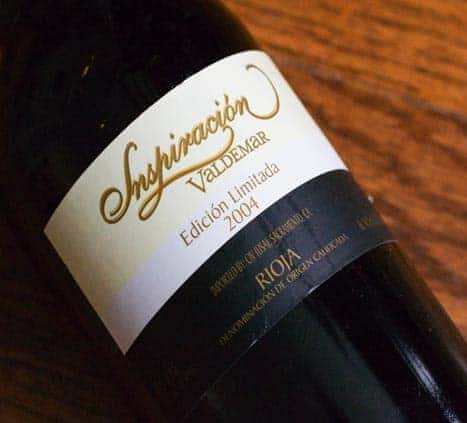 2004 Bodegas Valdemar 'Inspiracion Valdemar' Edicion Limitada
14% abv  |  $40  (media sample)
Grapes:  70% Tempranillo, 15% Experimental (whatever that means) and 15 % Graciano
Aging:  16 months in new French oak barrels
Earlier I mentioned there are exceptions to every rule. Well this is an exception for a "Cosecha" labeled wine.  It was aged much longer than the requirements, and is now 9 years post harvest date.  Very pretty nose showing some aged characteristics of stewed meats, along with some cola and black cherry and black currant with a lingering spice on the finish.
There is a stewed characteristic that I think would really compliment a beef or lamb stew.  Grilled steak would also be a nice pairing.
This was a great wine, but if I did this experiment again I would seek out a more typical example of a Cosecha – younger, lower priced, fruitier.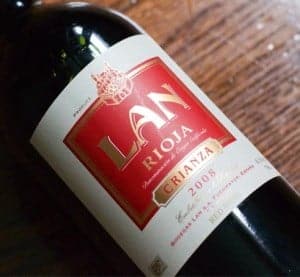 2008 Bodegas Lan Rioja Crianza
13.5%  |  $10  (media sample)
100% Tempranillo, from the Rioja Alta region
Aging:  12 months in American and French oak barrels, followed by several months in the bottle before released.
This is a great example of a typical Crianza and an excellent value at around $10.  It was also the favorite of my guests who sampled the wines with me (I'm guessing because it was the most approachable and fruity example among the lineup, which is very appealing to many).   Tart cherry and black berry fruit on the nose, with a bold and fruity body some tannin providing some grip and a spicy bite on the finish.
Though not a complicated wine, this wine does have some tannins that will be mellowed with casual meat dishes such as burgers or grilled meats.  And at this price this really should be a summer BBQ staple.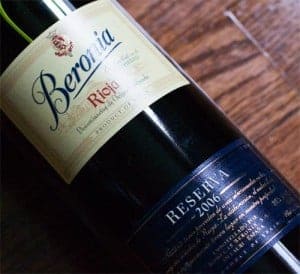 2006 Bodegas Beronia Rioja Reserva
13.5% abv  |  $25 (media sample)
90% Tempranillo, 5% Graciano, 5% Mazuelo
Aging: 18 months in American and French oak
Dark rich blackberry fruit and earthy leathery aromas, with savory clove, stewed tomatoes, mild vanilla and bold tannins on the mouth.  Earlier reviews of this wine show more fruit dominated notes, but I'm getting more earth tones.  This is a powerful wine, one that will continue age well.  I would be interested to taste this one again in about five more years.  Drink with savory meat dishes or stews.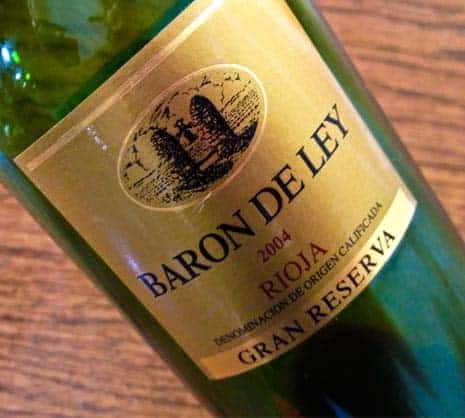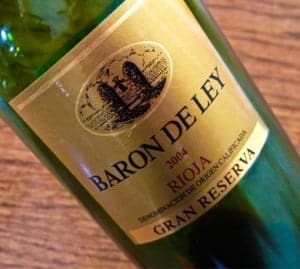 2004 Baron de Ley Gran Reserva
13.5% abv  |  $35 (media sample)
100% Tempranillo
Aging: 24 months in new and use French and American oak followed by more than 5 years in bottle prior to release according to the paperwork I was sent (though the label says 3 years).  If you do the math to date, it has now seen more than 6 years in the bottle.
Warning:  Let this one open (or decant) for at least a half hour.  This bad boy wants to breathe after being cooped up in that bottle for so long.   After a nice breather this wine shows oak and vanilla notes up front (though not distracting), along with lavender and dark berry fruit and a hint of tobacco.  This is a powerful wine, and another with the ability to age for several more years.
The idea behind the laws that regulate winemaking and aging requirements is to intentionally hold these wines back until they are ready to consume.  What you will find, particularly in some of the higher quality ones (like the Reserva and Gran Reserva in this line up), is an aging potential far beyond the release date.  The best examples of these wines are capable of long-term aging.  I'm talking decades people!
In the next post, I taste several examples of Riojas proving the long-term aging potential of the wines of this region, making me want to start collecting Rioja, which you fan find at a fraction of the price of collectable Bordeaux.