Grilled Hasselback Potatoes au Gratin is all about the cheesy decadent flavor of classic gratin, combined with the crispy texture of finely sliced Hasselback Potatoes. Combine the two techniques for an incredible Grilled Hasselback Potatoes au Gratin recipe cooked on the grill.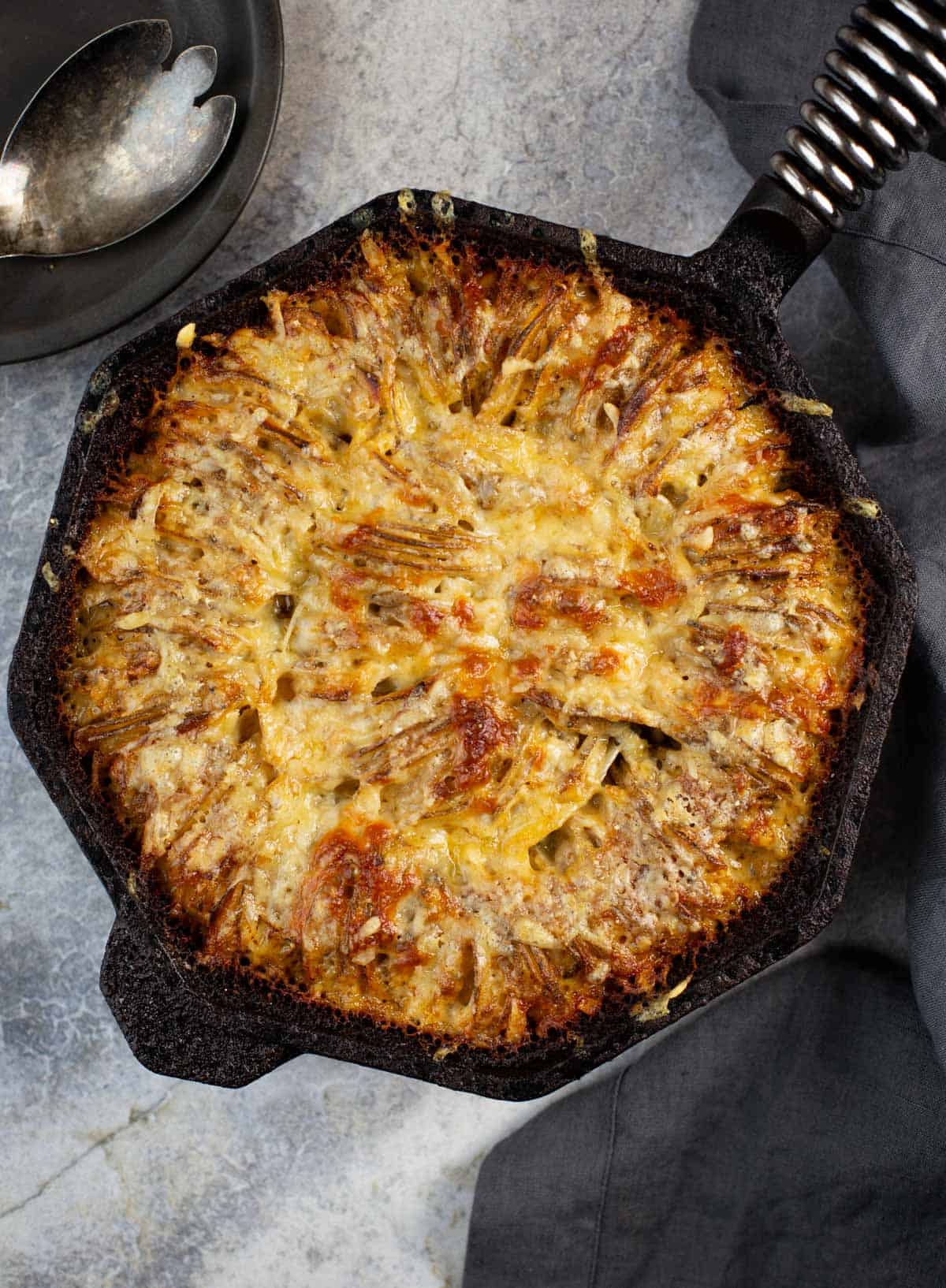 One of my favorite recipes in our cookbook is our Truffled Potato Gratin recipe. It's creamy, cheesy, with that mild truffle in the background. Excellent! We wanted to make a bit of a different version, with more classic flavors (sans truffles), for the blog as we approach the release of our second edition of Fire + Wine. This one is also inspired by Hasselback potatoes, which is a method in which potatoes are thinly sliced (but not all the way through) and topped with additional toppings. For this recipe, instead of layering the potato slices flat, like a classic gratin, we're holding them upright (like the shape of a classic Hasselback potato). It may seem like a lot of work, but believe me, it's pretty easy and straightforward. And makes for an excellent presentation for a family dinner or holiday side dish!
Jump to:
Why This Recipe Works
Hasselback refers to finely slicing potatoes (but not all the way through) and serving vertically, versus laying them down like traditional potato gratin.
This creates a creamy interior with the crispy texture of the outer edges (the best of both worlds!).
The cream base and mixed cheeses give it a rich cheesy texture and flavor.
Grilling the dish adds a lovely natural smoky element, but this can easily be adapted in the oven.
Au Gratin Potatoes vs. Scalloped Potatoes
Au Gratin refers to roasting or broiling potatoes with cheese. Scalloped potatoes are cooked with just cream. That is the simplest definition. We're going big with cream and cheese here! These are loaded with all the goodies.
Hasselback Style Potatoes
Hasselback potatoes are thinly sliced potatoes that are not sliced all the way through, keeping the potato shape intact, that are cooked vertically and often smothered in cheese or a sauce. They originate from the restaurant Hasselbacken in Stockholm, Sweden from the 1940s. It now references more of a style of cooking, where you are cutting and presenting a dish with vertical cuts.
In traditional potato gratin, the thinly sliced potatoes are laid on top of each other like dominoes that have fallen down. For Hasselback style gratin, you layer the potatoes vertically in the dish. You pack more potatoes into the style and get a better creamy and crispy flavor. Think of the tops being crispy, and the bottom (which is smothered in the cream mix) is nice and soft.
Ingredients
Potatoes – We prefer russet potatoes for this recipe. The level of starch and how they crisp up creates our ideal texture. You can substitute Yukon Gold or yellow potatoes as well. We are preparing 3 pounds of potatoes, but you may only use 2.5 depending on the exact size of the baking dish and how tightly you pack the potatoes.
Cheese – There are a lot of cheese combinations and you can customize your preferred flavor profile. In our case, we are using Swiss Emmental (which is similar to Gruyère or Comté), and also smoked white cheddar. The ratio is 1:1 for any cheese combination. It's very similar to a cheese ratio for our fondue.
Herbs – We're using our ultimate dry rub, and adding some fresh thyme for a simple mix of flavors. You can also substitute your favorite all-purpose dry rub if you so choose.
Liquid and Flavor – To round out the recipe we use heavy cream, which will braise the potatoes as they cook. We also like Dijon mustard to add a tangy element lifting up the flavors, and then some fresh finely diced garlic.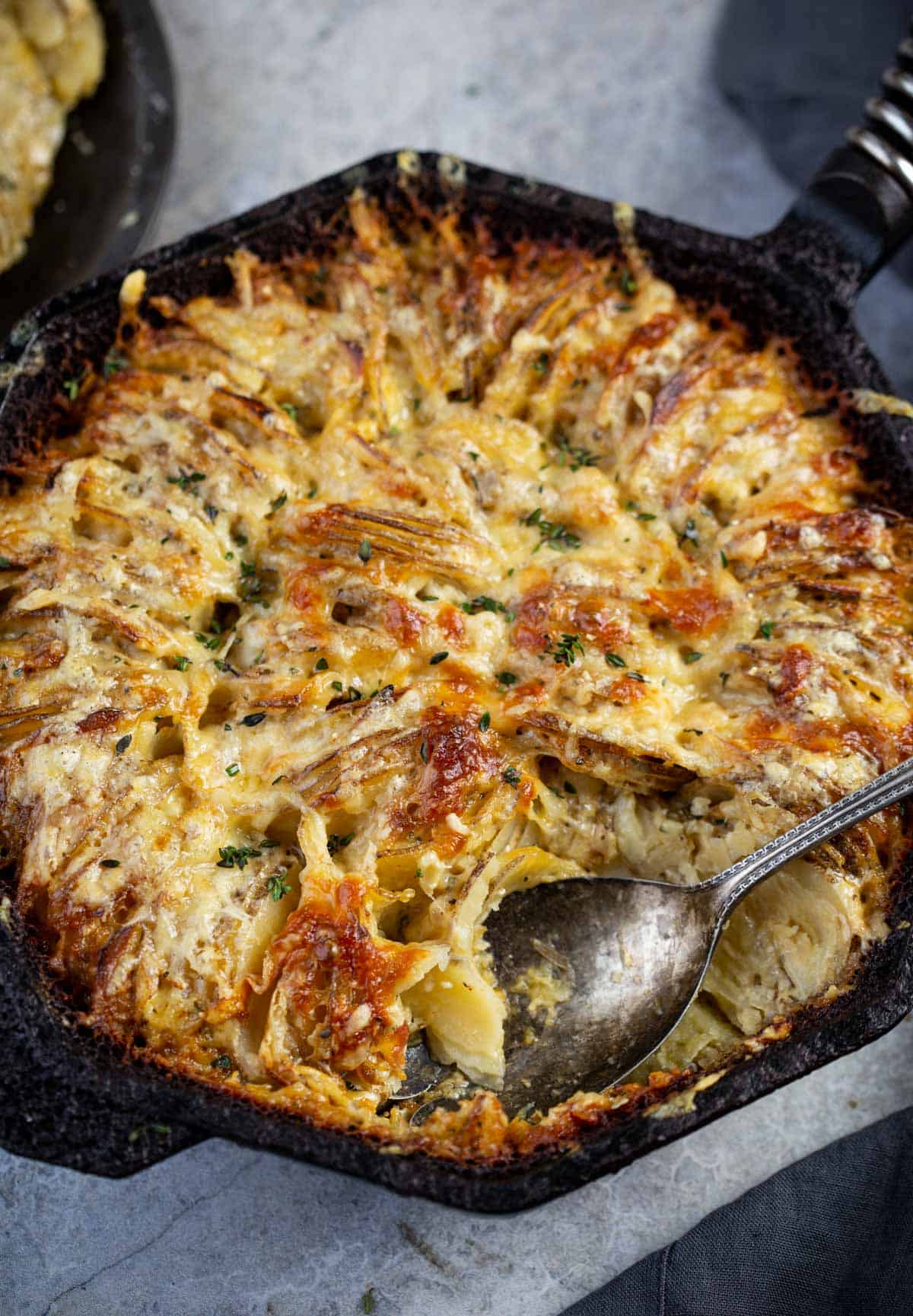 Preparation – Slice and Soak
An important tool to make Grilled Hasselback Potatoes au gratin easy to prepare is a mandolin. Having a mandolin allows you set get the thinnest possible potato slices that will soften and crisp up. Be sure to follow your mandolin user instructions to avoid any injuries to your fingers.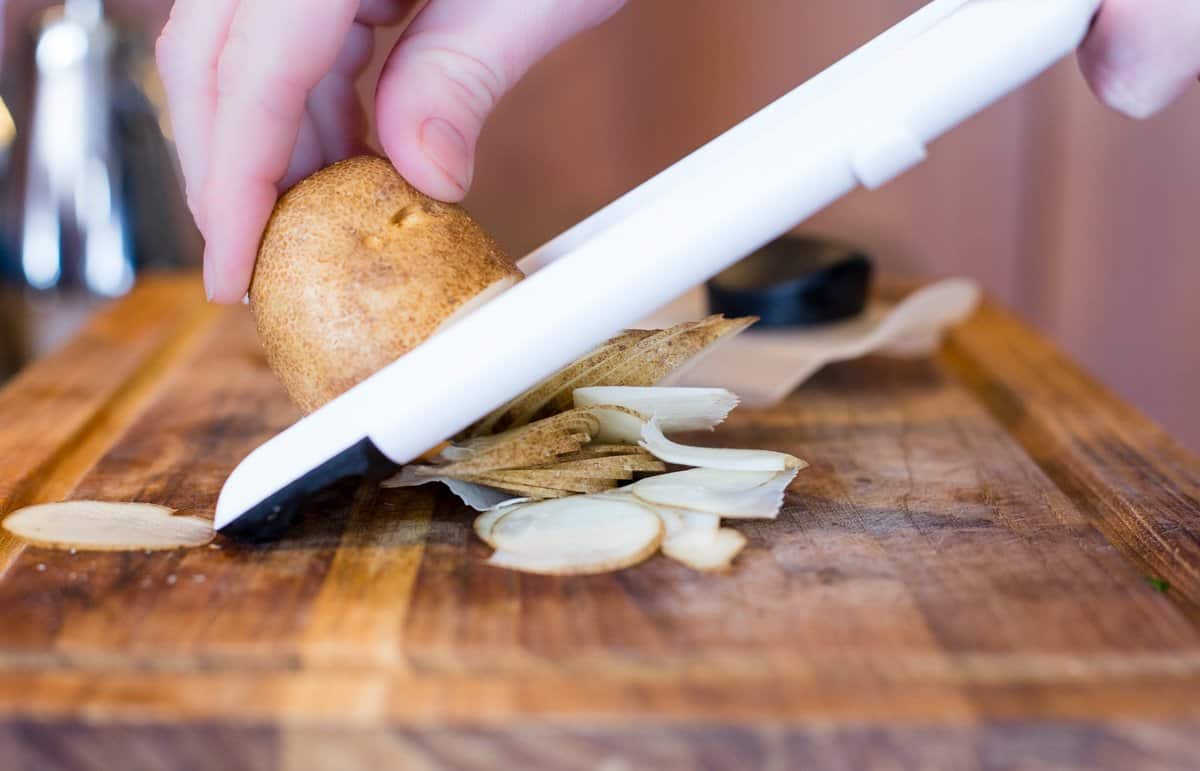 After you have prepared the potatoes, grab a large bowl. The bowl is important because you want to soak the potatoes in the cream and cheese mixture so you get that flavor into the potatoes. This is a good time to preheat your grill.
Prepare Cream Mix: Place the heavy cream, half of the cheeses, Dijon, dry rub, thyme, and garlic into the large bowl. Stir to combine. Note: You reserve the other half of the cheese to put onto the gratin during the last 30 minutes of cooking.
Coat the Potatoes: Place the potatoes into the liquid to soak and mix up using your hands ensuring all sides of every piece of the potatoes gets tossed in the liquid.
Prepare the Pan: In a buttered 10-inch cast iron pan layer the potatoes vertically next to each other and continue around the pan until all empty spaces are filled. The potatoes should be tightly packed.
The last step is pouring the remaining liquid into the pan. Do not fill the pan to the upper edge of the pan, leave at least ½ inch of room so it doesn't boil the potatoes. Cover with foil or a lid, and then cook it in the grill.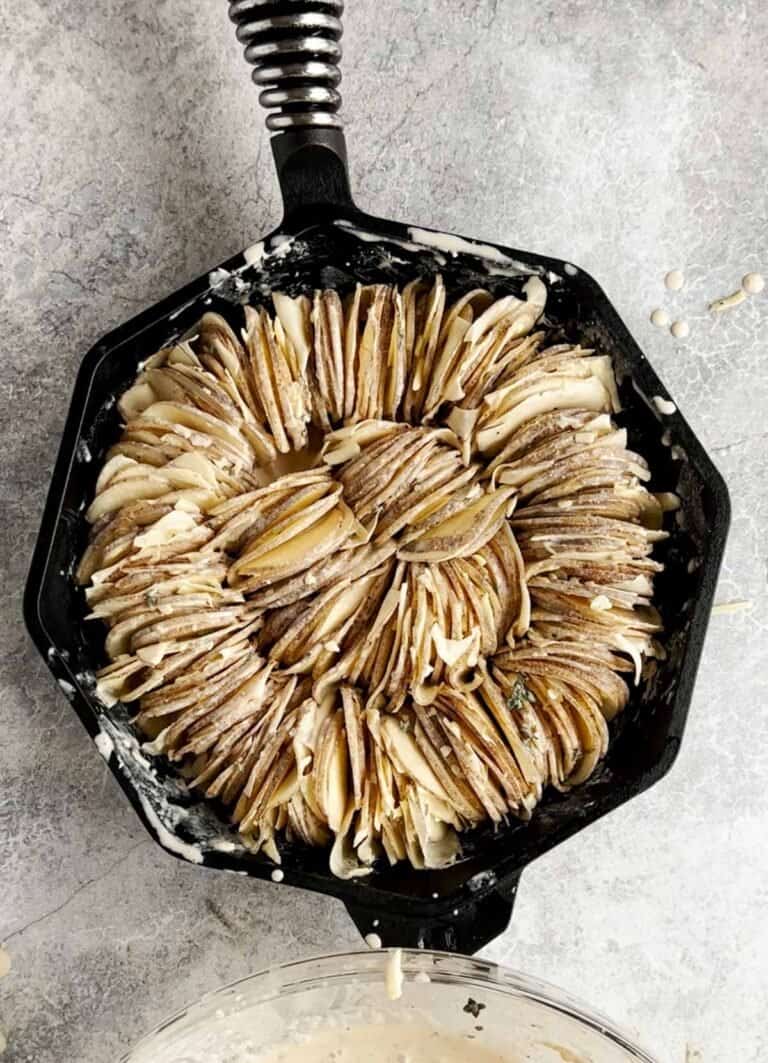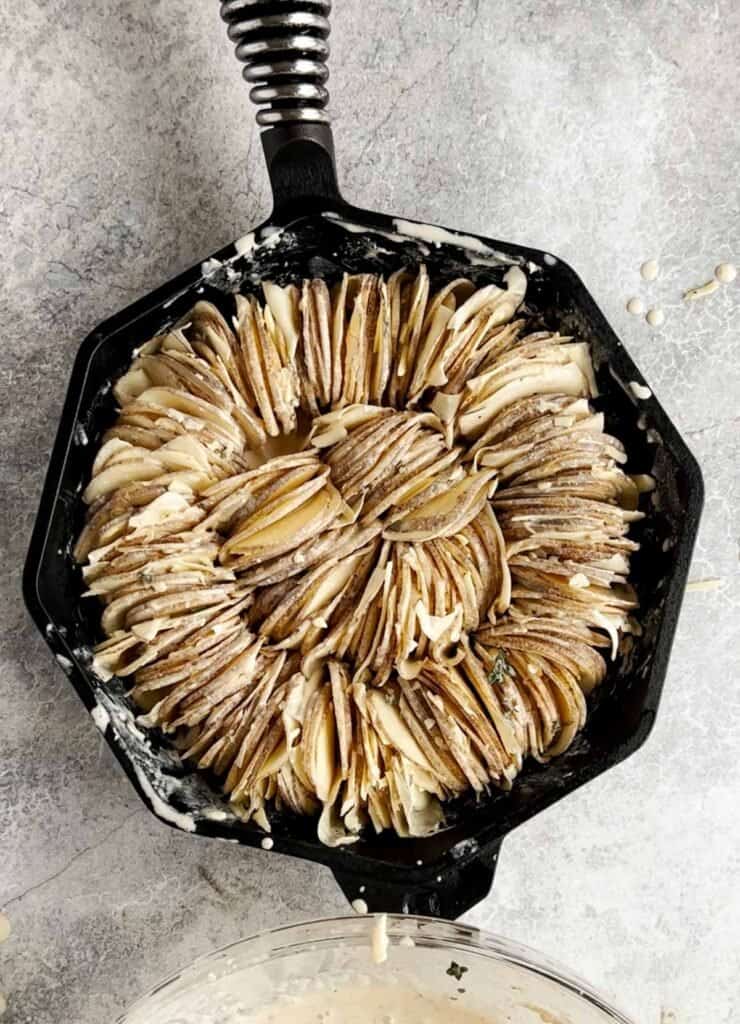 Troubleshooting – If you don't have enough liquid, add some milk in small amounts (1 tablespoon at a time) around the outer edge. You want the pan to be ⅔rds full of liquid prior to grilling.
Cooking Method – How to Make Potatoes au Gratin on the Grill
We're grilling our potatoes but you can easily adapt this to the oven. We are following a general guide of cooking for 30 minutes covered, 30 minutes uncovered, and then finishing for 30 minutes uncovered with cheese. This gives the rich and creamy interior and crispy exterior, while getting a nice crusty cheese on the outside.
Preheat Grill: Prepare the grill for two-zone cooking so you have an indirect side. You'll be cooking only on the indirect side. Target 375 degrees Fahrenheit in the cooking chamber.
Grill: Place the pan (covered with a lid or aluminum foil) on the grill and cook for 30 minutes. After 30 minutes, remove the lid (or foil) and cook an additional 30 minutes. This allows the tops of the potatoes to crisp up and the liquid to reduce. If you added the cheese now, you won't get that crispy texture.
Top with Cheese, Grill 30 more minutes: After cooking covered for 30 minutes, and then uncovered for 30 minutes, add the remaining cheese to the top of the gratin, close the lid to the grill and continue cooking. After 20 minutes, check to see if the cheese is melted, golden brown, and bubbly. If it is, then remove it. If it isn't let it go another 10 minutes.
Remove, and let cool 10 minutes and then serve right from the cast iron pan.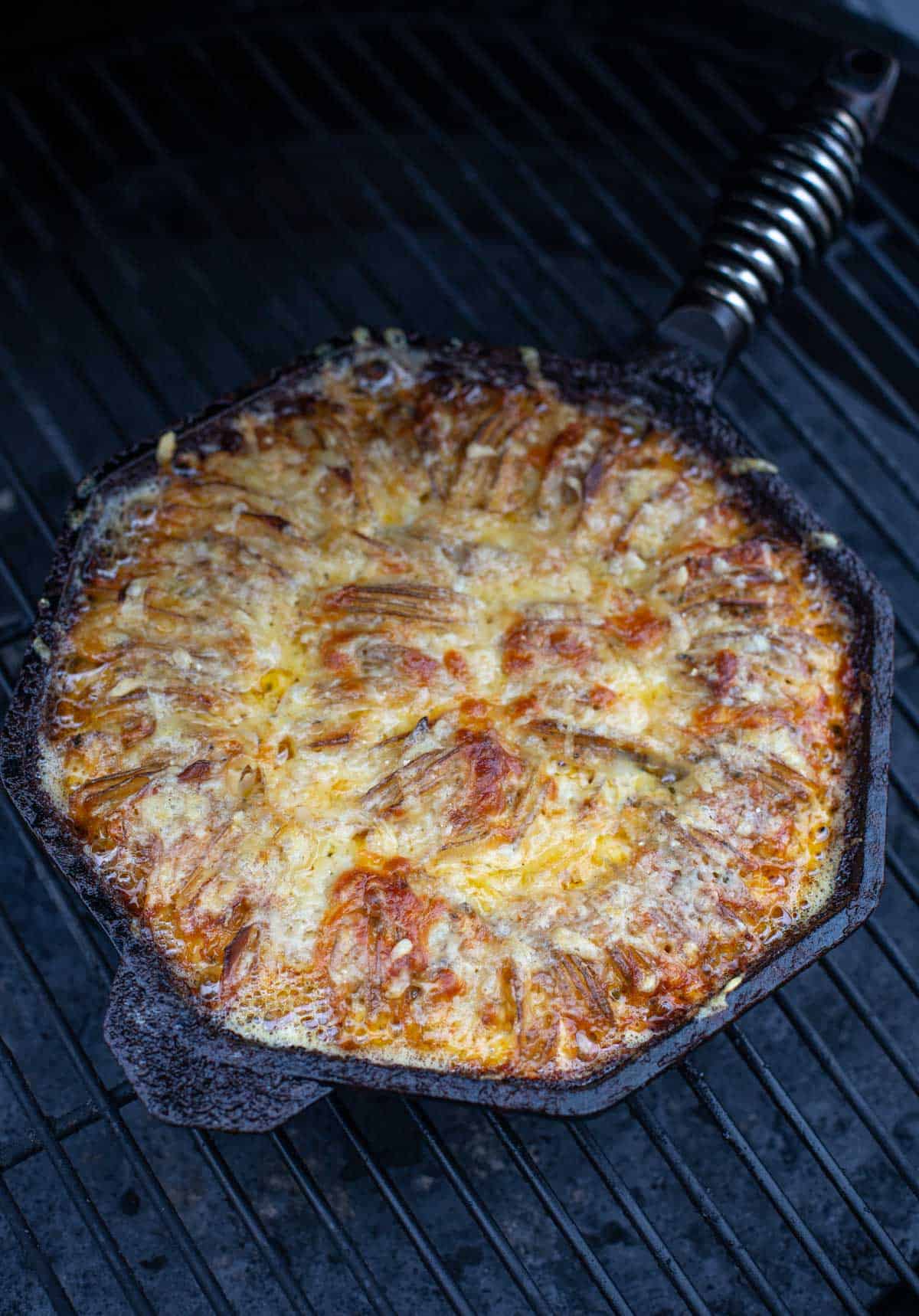 Wine to Pair with Creamy Potatoes Au Gratin
Creamy, cheesy, and indulgent, this dish is screaming for a bigger style Chardonnay to match the richness. I you want to go in a different direction, sparkling wine will be a great option to refresh and cleanse the palate after each bite of potatoey cheesy deliciousness.
Main Dish Ideas to Pair with Potatoes au Gratin
This is a fantastic dish to serve alongside any holiday dinner, such as Thanksgiving or Easter dinner, but it's also a great side for the following family dinners:
Other Potato Recipe Ideas
This post may contain affiliate links. This means if you click on the link, we may receive a small commission if you purchase through the link. We partner with brands we know and love and use and it helps keep the blog going!
---